This site is supported by our readers. We may earn a commission, at no cost to you, if you purchase through links.
As an experienced crafter, you know that having the right furniture and storage solutions is key to an organized and functional craft room.
When setting up your space, first take measurements and assess your storage needs. Get inspired by photos of beautifully arranged craft rooms, then design your ideal layout.
Think through furniture placement, storage solutions, and lighting. Whether you're looking to upgrade with new craft furniture or repurpose what you have, focus on maximizing desktop space, shelving, and storage.
Invest in furniture pieces like storage cabinets, utility carts, and shelving units tailored to crafters' needs.
With some planning and strategic furniture choices, you'll create a craft room that suits your unique style, allows room for your supplies, and keeps your projects orderly.
Now you can spend less time searching and more time crafting!
Key Takeaways
Use ample desks and storage options such as utility carts and shelving units to maximize workspace and organization.
Go vertical with solutions like pegboards and wall-mounted racks to save floor space.
Add task lighting such as gooseneck lamps near work areas for optimal visibility.
Repurpose thrifted furniture into functional pieces like shelving units to save money.
Planning Your Craft Room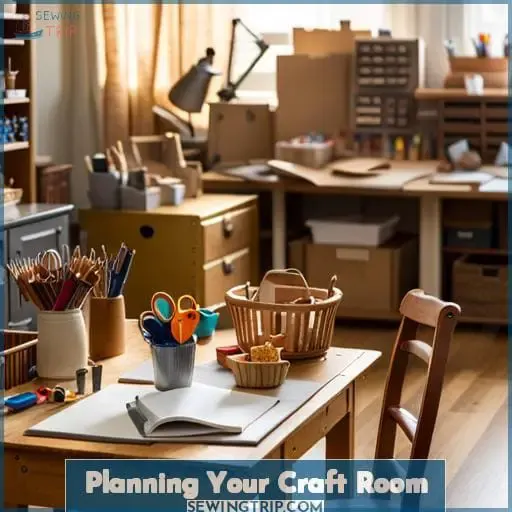 Before you start buying furniture and supplies, take time to thoughtfully plan your craft room layout and storage solutions. Carefully measuring the physical space and mapping out your workflow will ensure your new crafting sanctuary maximizes functionality.
Analyze how you'll use the area and identify must-have organizational features like ample shelving, drawers, and desktop space to neatly accommodate your tools, materials, and works-in-progress. Evaluating your existing collection of crafting gear along with future needs will determine the furniture, storage bins, and organizational accessories required to keep your new creative space clutter-free.
An organized system tailored to your unique space and hobbies allows you to craft efficiently.
Measure Space
You need more space than you've got to properly organize your clutter, don't you? Measure the room's dimensions, including windows, doors, and unusual angles. Sketch the layout to scale on graph paper, marking obstacles. This visualizes and maximizes the workspace.
Arrange desks, shelves, and storage units on paper first. Having an efficient floor plan ensures your craft room accommodates projects and inspires creativity.
Storage Needs
Getting organized feels so good, doesn't it?
Before shopping, evaluate your storage needs:
Tools
Materials
Works in progress
Completed projects
Dresser drawers neatly store fabric. Wall shelves display finished art. A standing desk near a window inspires creativity.
Craft Room Inspiration

Before diving into craft room inspiration, first determine your space and needs. This lays the foundation for building your creative sanctuary.
Now, let your imagination soar as you envision the possibilities for your dream craft room. Surround yourself with visual inspiration – peruse pictures of others' spaces bursting with color and personality.
Note elements that speak to you: a cozy reading nook, chalkboard walls displaying works-in-progress, shelves of neatly organized supplies.
Collect ideas for your own furniture wish list. Do you see yourself crafting for hours at a sit-stand desk? Would built-in shelving fulfill your storage dreams? Capture inspiration knowing that soon, your perfect craft room will become a reality.
Though every crafter's style is unique, the common thread is a space thoughtfully designed to nurture creativity.
Designing Your Craft Space

When designing your creative haven, consider furniture like a sit-stand desk or built-in shelving to nurture your crafting dreams.
A cozy reading nook surrounded by inspiration boards displaying works-in-progress
Shelves bursting with neatly organized supplies in a rainbow of colors
A rolling craft cart that moves where creativity strikes
A desk positioned to let natural light illuminate projects
Comfortable seating for pausing to admire your handiwork
Carefully design the heart of your home craft space. Choose furniture that suits your style, sparks inspiration, and keeps your supplies neatly at hand. Build your creative sanctuary around you for flourishing productivity and enjoyment of your craft.
Organizing Your Craft Supplies

Organizing your craft supplies in a dedicated space maximizes efficiency. Store frequently used tools within arm's reach. Label clear bins holding brushes, adhesives, and materials by type for easy access.
Display works-in-progress for inspiration on shelving. Make use of vertical areas with pegboards to neatly hang small parts. A place for everything and everything in its place clears mental clutter so you can craft clutter-free.
Thoughtful organization multiplies possibilities by freeing you to make. While thoughtfully designing your craft sanctuary is important, don't neglect optimizing storage and organization to fully enjoy your space.
An organized craft room with supplies neatly stored allows you to create freely.
Craft Room Storage Solutions

Your craft room possibilities are endless with smart storage solutions. Repurpose a thrifted dresser or bookshelf into custom shelving. Paint with bold, complementary colors for an energizing backdrop. Install pegboards, racks, and hooks on the wall to neatly store tools within arm's reach.
Roll a storage cart wherever inspiration strikes to keep essentials on hand. Display special mementos and works-in-progress to spark creativity.
With a bit of imagination, you can transform salvaged wood or furniture into functional bespoke storage.
An organized sanctuary sets your mind and hands free to joyfully make.
Craft Room Furniture Ideas

When designing your craft room, consider key furniture pieces like large desks to spread out projects and ample storage solutions to contain your bountiful supplies. Mobile carts that allow you to move tools wherever needed are also useful. With strategic furniture choices, you can create a functional workspace to support your creativity and passion for crafting.
Thoughtfully outfitting your haven will help you stay inspired, focused, and productively engaged in projects you enjoy. The right furnishings will turn your space into a place where you can happily pursue your crafting passions.
Desks
Stand at a sturdy wood drafting desk with storage cubbies underneath.
Upcycle an old countertop piece into a long rectangular work surface.
Choose a compact corner desk to maximize space in a small room.
Display projects on a vintage Anco Bilt industrial workbench with cast iron legs.
Pick a desk that fits your workflow and creative spirit. An organized, inspiring workspace awaits your next masterpiece.
Storage
Tidy up your workspace with stackable plastic drawers that slide out smoothly for grabbing necessities in a pinch. Keep your craft materials organized in labeled bins for efficient use of space. Add a table space for your color press, screen printing presses, and other supplies.
| Column 1 | Column 2 | Column 3 |
| --- | --- | --- |
| Row 1 | Row 2 | Row 3 |
| Row 4 | Row 5 | Row 6 |
With storage solutions tailored to your needs, you'll maximize productivity and inspiration.
Carts
Here are some tips for getting inspiration flowing with a mobile cart in your craft room. A sturdy, rolling utility cart with a desktop organizer keeps your favorite tools on-the-go. Wire storage carts also maximize your space for increased productivity. Varying your workflow energizes creativity.
Craft Room Lighting Tips

You'll glow in your little haven once perfect lighting brightens your creative space.
Install overhead lights with dimmers or multiple bulbs for versatility.
Position task lamps near work areas or machine stations. Gooseneck styles direct light.
Mix ambient and task lighting for overall illumination plus focused beams where needed.
Add puck lights under shelves as inexpensive accent lighting to highlight displays.
Thoughtfully lighting your sanctuary tailors it to suit all your crafty tasks. With the ideal setup, your space transforms into a glowing retreat that energizes your inspired efforts and creative flow.
The possibilities shine bright for all you'll accomplish in a well-lit workspace designed just for you.
Labeling Craft Supplies

Keep things clear by properly marking your craft supplies. A labeling system in your creative space establishes order so you'll know what's what and where it goes. Invest in a label maker to customize and print reusable tags. Affix neatly printed labels to shelves, bins, and containers identifying contents.
Create fun, colorful labels to add whimsy. For frequently used tools and materials, labels right on the items themselves help avoid mix-ups.
Maintain your system by immediately labeling new items and redoing faded, outdated tags. An organized workshop minimized frustration so you can craft uninterrupted. When supplies are meticulously marked, you'll work confidently in the flow without losing focus hunting for misplaced pieces.
Upgrade Your Craft Room

With your supplies neatly labeled, you're ready to take your craft room to the next level. A dedicated creative space inspires the imagination. Upgrade your crafting corner into a workshop that energizes your inner artist.
Painting or wallpapering the walls in an uplifting color.
Installing new flooring like vinyl planks or craft room carpet.
Adding more light with lamps, sconces or pendant lighting.
Replacing worn furniture with fresh craft store finds.
Surround yourself with comfort and inspiration. Display vibrant artwork and favorite crafts. When your personal haven nurtures creativity, projects will flourish. The possibilities are endless in a room designed just for you.
Frequently Asked Questions (FAQs)
What are some low-cost options for furnishing my craft room on a budget?
Look for secondhand furniture like desks and shelves at thrift shops. Upcycle wood crates into storage bins. Use tension rods and curtains to create inexpensive shelving. Check dollar stores for bins, baskets, and organization items.
Paint an old dresser a fun color to add personality. Don't forget the power of paint and contact paper to refresh existing pieces.
How can I create a kid-friendly craft area within my existing space?
Make it inviting and safe for kids. Use kid-sized furniture, open shelves for easy access, and soft floors. Display their art proudly. Keep mess manageable with labeled bins. It will foster creativity if it feels like their special space.
What safety precautions should I take when setting up my craft room?
Store sharp tools securely and use child locks. Keep cords neat and utilize surge protectors. Install suitable lighting and ventilation. Mount heavy items appropriately and anchor furniture.
Are there any space-saving furniture ideas for small or awkward shaped craft rooms?
Optimize small or awkward spaces with multifunctional furniture like storage ottomans, slim rolling carts, and adjustable height tables. Look into space-saving solutions such as wall-mounted folding workstations, corner-fitting desks, and modular storage cubes.
Get creative! Consider wall-mounted fold-out workstations, corner desks, rolling carts, and modular cube storage to maximize your space. Ottomans with storage inside are great multifunctional pieces. Adjustable height tables allow you to change your workspace as needed.
What are some ways I can incorporate technology like a computer station into my craft area?
Install a wall-mounted monitor or swing arm desktop monitor to view tutorials or follow digital patterns. Positioning a height-adjustable standing desk allows for computing while crafting. Place your printer nearby for convenience. Set up a camera on a tripod to livestream or photograph projects step-by-step.
Upgrade lighting with app-controlled smart bulbs to illuminate your workspace. With creativity, you can design an efficient high-tech haven for crafting.
Conclusion
You've made tremendous progress optimizing your craft sanctuary. With ample storage, smart furniture, and clever organization, your upgraded space overflows with creative potential. The room enlivens your spirit each time you enter, fueled by beautiful surroundings and an efficient workflow.
Your imaginative vision shines through in each unique project. Moving forward, may your craft room continue to be a personal refuge where ingenuity flourishes.