This site is supported by our readers. We may earn a commission, at no cost to you, if you purchase through links.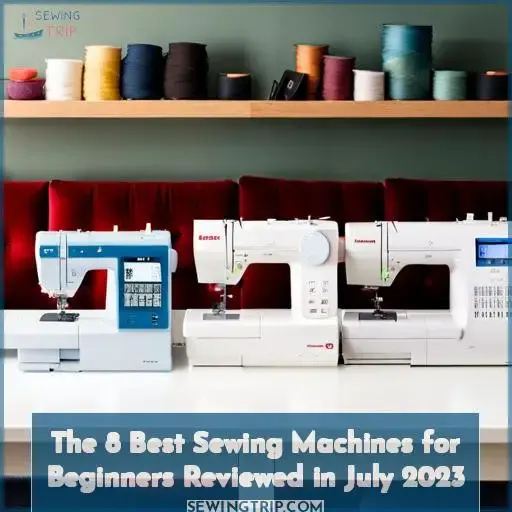 Excited to sew and tired of picking out tangled threads? I get it. Learning to use a sewing machine for the first time can feel overwhelming.
Let's review the 8 best sewing machines that'll make you a master sewist in no time. With the right features, like adjustable needle positions and multiple presser feet, you'll be stitching fun creations before you know it.
Don't let the machines intimidate you – I'll walk you through everything you need to get started.
Sewing opens up a whole new world of DIY possibilities. Grab some fabric and let's get stitching!
Key Takeaways
Look for basic features like automatic threaders, adjustable settings, utility stitches, and free arms.
Consider reputable brands like Brother, Singer, Janome, and Bernina that offer warranties on their machines. The warranty provides peace of mind that the machine will be repaired or replaced if defective.
Purchasing quality accessories like shears, needles, and thread are worthwhile investments for any sewing novice.
Learning to sew requires patience. Expect a learning curve as you gain experience using your new machine. Don't get discouraged with initial challenges. With practice, your skills will steadily improve.
How to Choose Your First Sewing Machine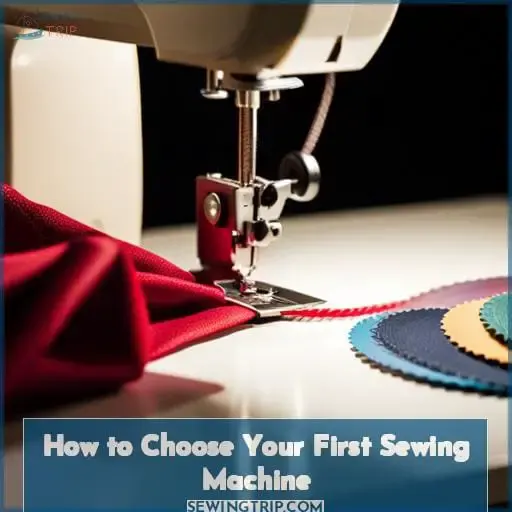 When picking your first sewing machine, choose one with clear instructions that's easy for your skill level. Look for models with features like automatic threaders, multiple presser feet, and adjustable stitch width and length.
Test-drive computerized and mechanical machines to see which you prefer. Don't worry about tons of fancy stitches yet—you can always upgrade later. Focus on finding a machine with smooth stitching that feels comfortable to use. Check that it can do utility and zigzag stitches, make buttonholes, and has handy extras like free arm access and storage.
Pay attention to must-have parts like feed dogs to move fabric and accessories like a buttonhole foot. Getting started on a simple, user-friendly sewing machine will set you up for success in all your projects, from hemming pants to quilting a blanket.
8 Best Sewing Machines for Beginners Reviewed
Good day fellow sewist! Today I have a fantastic lineup of sewing machines for newcomers to the craft. We'll look at the versatile Brother CS6000i, the powerful Singer Heavy Duty, the hardy Janome HD1000, the portable Magicfly Mini, the lightweight Bernette B35SML, the upholstery-ready Consew 206RB-5, the budget-friendly NEX, and the feature-packed Juki HZL-70HW.
These machines run the gamut from mechanical basics to computerized wonders, offering options for all types of sewing, travelers, classrooms, clothiers, quilters, upholsterers, and hobbyists.
1. Brother Sewing and Quilting Machine CS6000i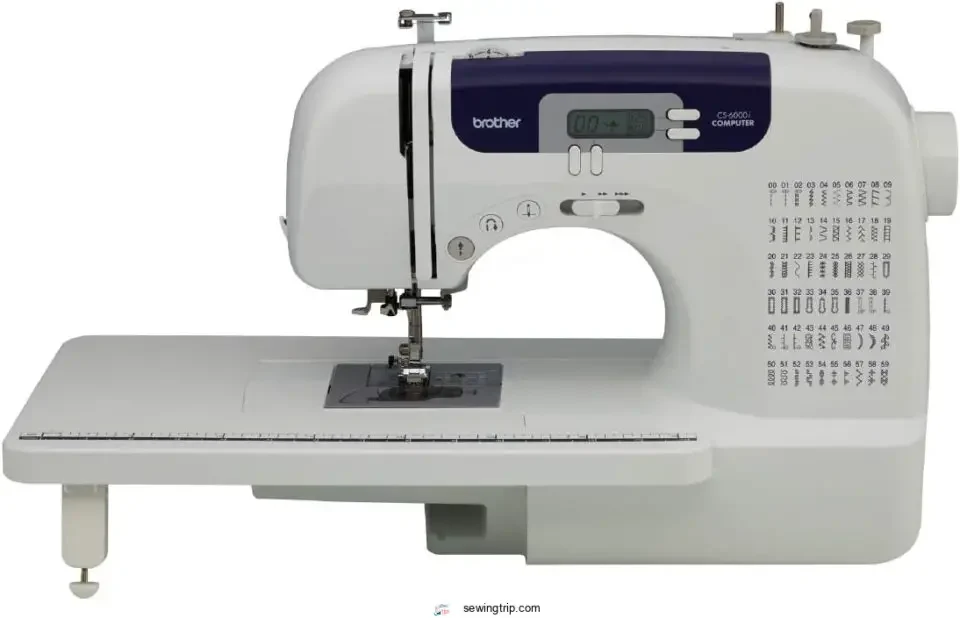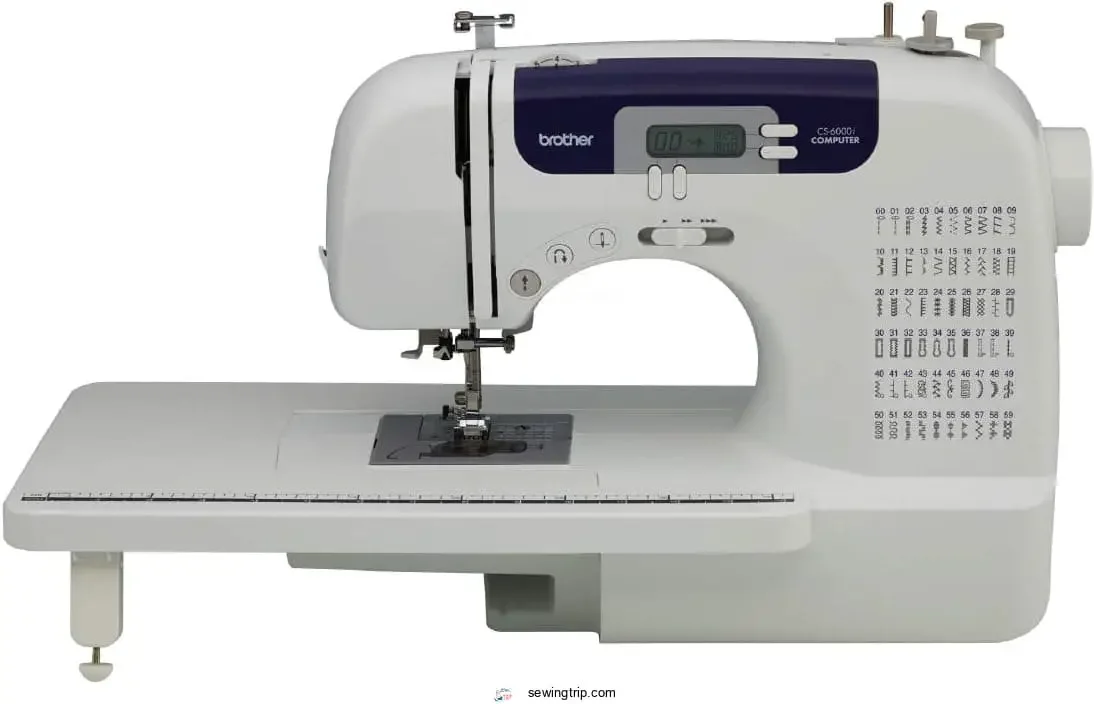 View On Amazon
You're gonna flip over the Brother CS6000i sewing machine 'cause it can whip up quilts, clothes, and crafty creations with a crazy-huge array of stitches and table space galore! I gotta say, this is one of the best starter machines around for tackling all sorts of sewing projects.
With 60 built-in stitches, an automatic threader, easy stitch selection on the LCD, and a 25-year warranty, you'll be sewing smooth seams in no time.
The hard case keeps everything protected, and extras like multiple presser feet let you sew zippers, buttonholes, and more. While the plastic body may feel flimsy, this baby can handle lightweight fabrics like a dream.
The handy accessories, like seam ripper and needles, have you covered as you learn the ropes. I highly recommend the CS6000i for fashionistas, quilters and crafters looking for tremendous versatility without breaking the bank.
60 built-in stitches
LCD stitch selection
Automatic needle threader
Wide table
25 year warranty
Lightweight plastic casing
Can be tricky to use auto threader
2. SINGER Heavy Duty Sewing Machine With Accessory Kit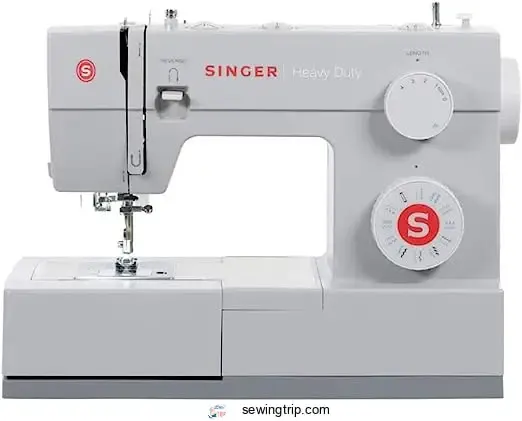 View On Amazon
With 60 built-in stitches and a heavy-duty metal frame, the SINGER Heavy Duty tackles thick fabrics and creative projects with its versatile presser feet and powerful motor. The versatile presser feet—like zipper, buttonhole, and button sewing foot—let you easily make professional finishes.
And the 60% stronger motor zips along at 1,100 stitches per minute, much faster than standard machines.
Whether you're sewing fashion, crafts, home decor, or want to quilt, this machine can handle a range of fabrics from sheer to heavy denim. I do recommend watching the instructional DVDs for tips on using the Automatic Needle Threader, adjusting tensions, and more.
While this SINGER is very user-friendly, the manual threader may take some getting used to. Overall, this feature-rich sewing machine is a workhorse that will grow with intermediate sewers.
Built-in stitches for variety
High sewing speed
Heavy-duty metal interior
Manual threader tricky
Noise level on high speed
3. Janome HD1000 Sewing Machine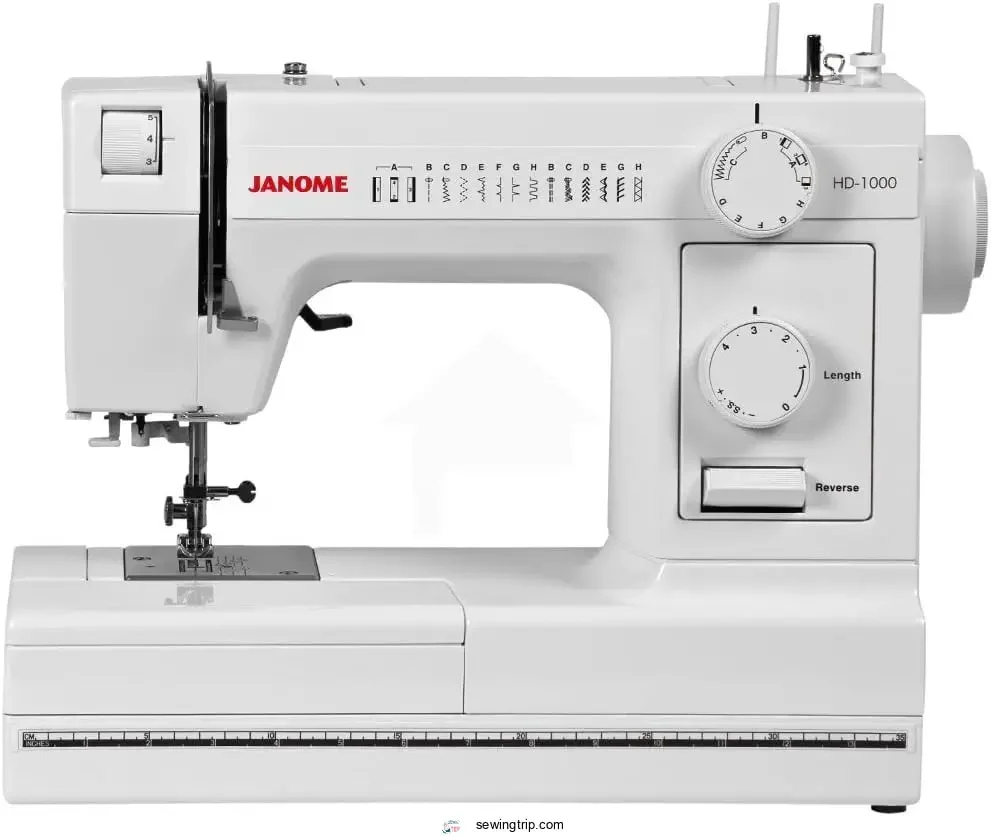 View On Amazon
Position your fabric underneath this durable aluminum Janome HD1000, and you'll effortlessly tackle thicker materials while the quiet sewing lets you focus on each stitch. As your instructor, I always recommend this mechanical workhorse for beginners or anyone seeking a basic, quality machine.
With 14 built-in stitches, the HD1000 adapts to utility and stretch fabrics with the turn of a dial. Practice buttonholes and free motion techniques with the specialty feet and drop feed included. Once you get the hang of winding bobbins and threading needles, this Janome will become your trusty sidekick for crafts and mending alike.
Sturdy metal construction
Low noise operation
Value pricing
Not computerized
Needle threader complaints
4. Magicfly Mini Sewing Machine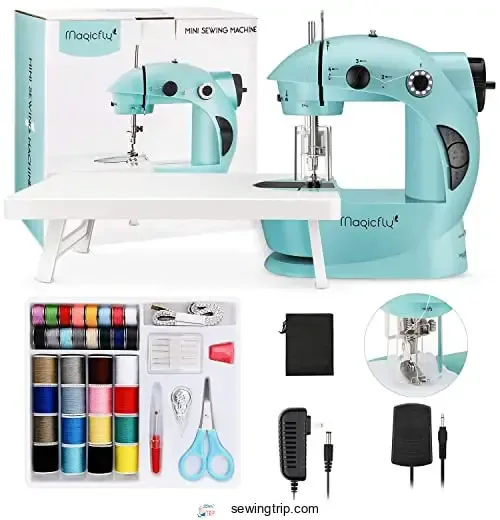 View On Amazon
Grab this lightweight Magicfly portable mini and go wherever your projects take you. While its simple stitching tackles scrunchies and crafts with ease, the AC/DC power and 2.2-lb ease keeps bulk and cords from weighing you down. Use the pre-threaded machine and sample fabric to test drive basic sewing.
For quick scrunchies or doll clothes, this budget buy beats lugging a heavy machine. But skip heavy materials like jeans, or you may get quality and reliability issues. Still, the Magicfly keeps hobby sewing portable, affordable, and approachable for beginners.
Lightweight and portable
Battery or outlet power
Inexpensive price
Pre-threaded with sample fabric
Easy to operate
Not for heavy fabrics
Some quality concerns reported
Limited to basic sewing
No backstitch function
Not long-lasting
5. Bernette 35 Swiss Design Sewing Machine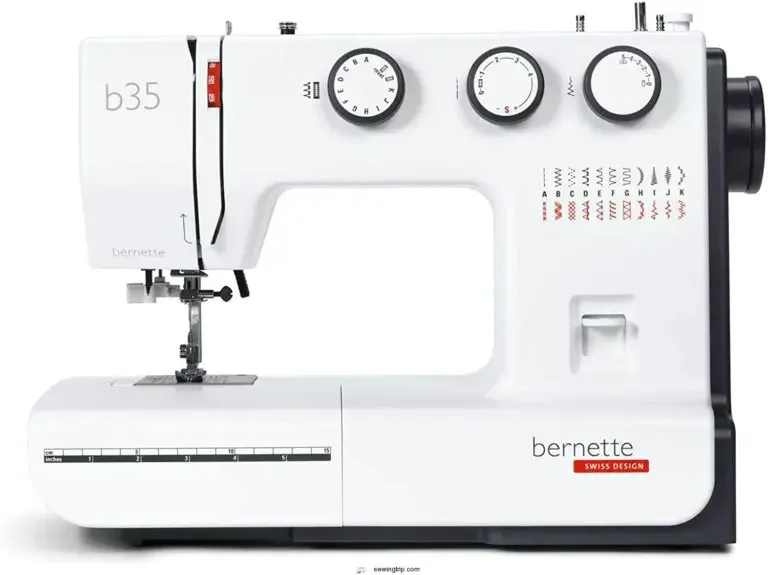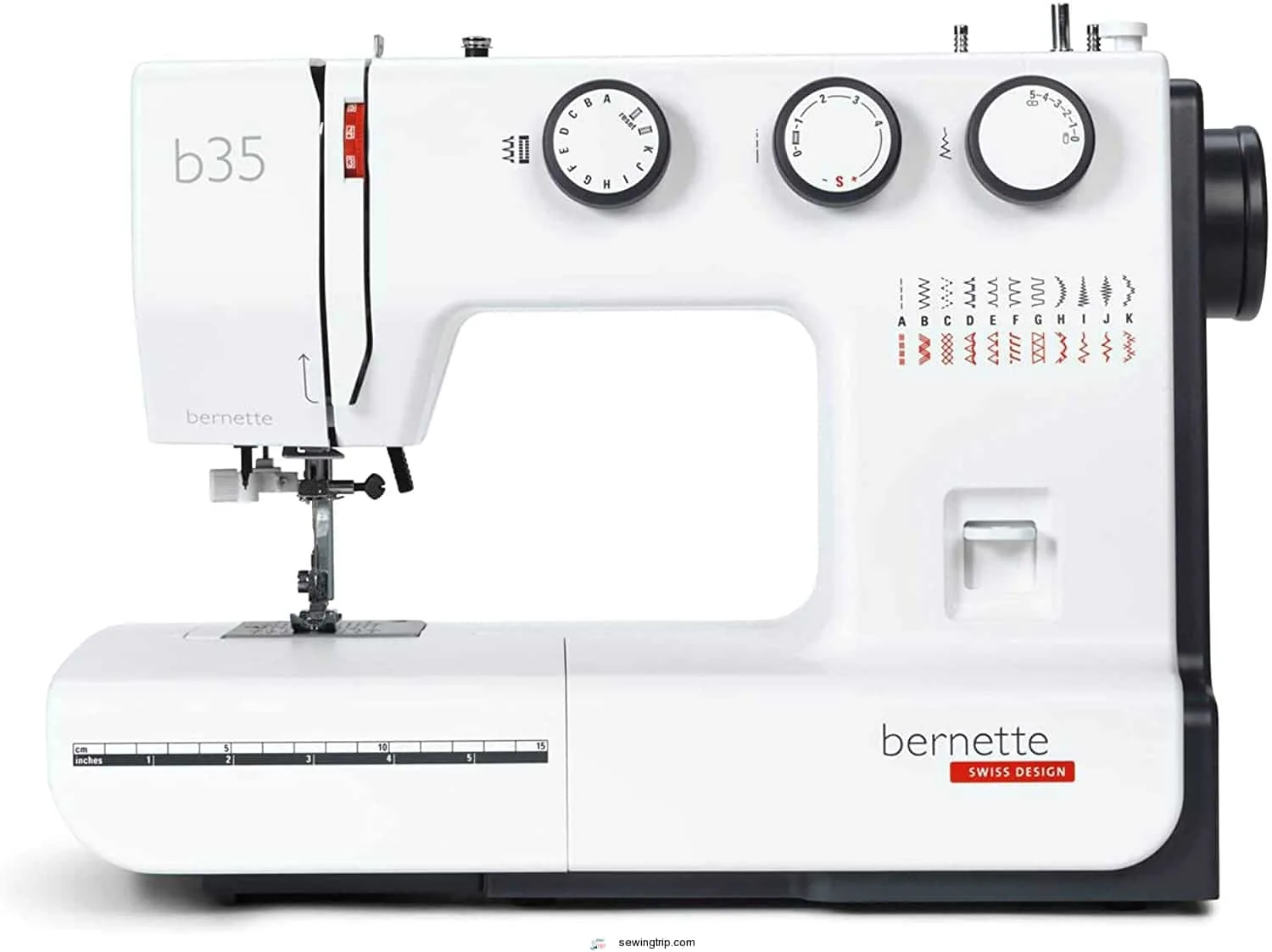 View On Amazon
Bring home Bernette's affordable and friendly B35 to tackle thicker fabrics while keeping other features simple. With 23 stitches and a one-step buttonholer, you'll power through denim and home dec pieces with ease.
Adjustable settings let you sew anything from sheer curtains to that favorite hoodie. Though not computerized, handy tools like a needle threader, thread cutter, and snap-on presser feet give you versatility without complexity.
Automatic one-step buttonhole
Adjustable stitch settings
Lightweight and portable
Affordable price
Can sew thicker fabrics like denim
Not computerized
Manual needle threading
Some issues with needle threader
Limited built-in stitches
6. Consew 206RB-5 Walking Foot Industrial Sewing Machine With Table and Servo Motor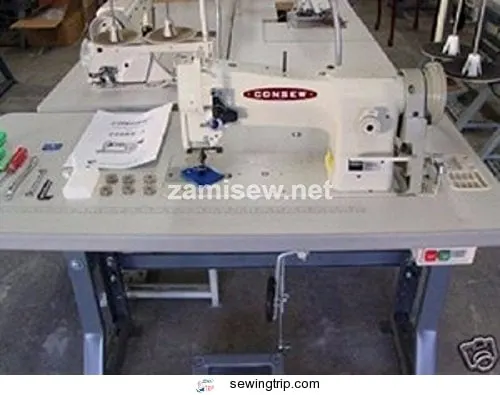 View On Amazon
Consew 206RB-5 Walking Foot Industrial Sewing Machine With Table and Servo Motor
Scratch all the household projects, Doreen, this industrial-grade Consew 206RB-5 is built to pierce multiple layers of leather, vinyl, and other thick stuff with its walking foot design. My uncle used one just like it to upholster his '67 Camaro back in the day. With a heavy cast iron build and centralized arm lubrication, this USA-made workhorse can churn through heavy-duty materials.
The walking foot prevents fabrics from slipping and binding. Adjust the walking motion to handle everything from upholstery to auto interiors. A high 14mm presser foot lift lets you maneuver bulky items. The large bobbin means less stopping to rethread.
A couple drawbacks: the table needs modification to fit properly, and some key parts were missing for my friend.
Heavy-duty construction
Walking foot avoids fabric slipping
Large bobbin capacity
Sews very thick materials
Table requires modification
Some parts missing
No included instructions
Heavy and bulky
7. NEX Sewing Machine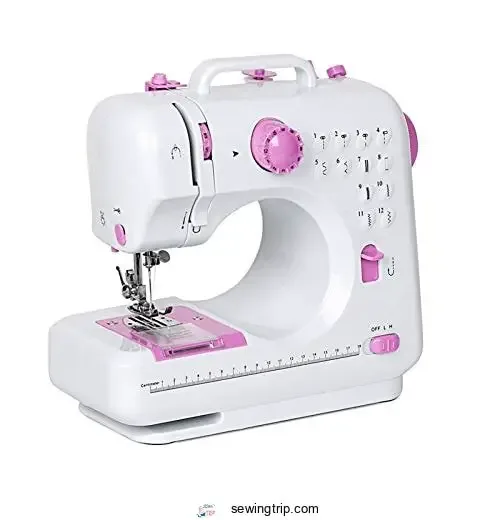 View On Amazon
Some of these starter sewing machines bite off more fabric than they can chew, but the NEX Mini feasts on light fare like kids' clothes, crafts, and toys. Keep your projects small, and this little pink sewing friend won't let you down.
With multiple speeds, you can ease into each stitch, guided by the bright bulb lighting your work. The NEX slides from battery to outlet power, so you can sew quilting squares at the cabin or monograms at home.
While precision parts come from across the sea, the user manual's written for our shores. Call the friendly tech support line when threading leaves you tangled. For tween crafters under supervision and adults pressing play on a new hobby, this starter machine's a peach.
But for canvases, denim, and curtains, its pink plastic parts may meet their match.
Portable and lightweight
Variable speed for control
Illumination
Cord and battery power
U.S.-based tech support
Durability issues reported
Small projects only
Manual not beginner-friendly
8. Juki HZL-70HW Sewing Machine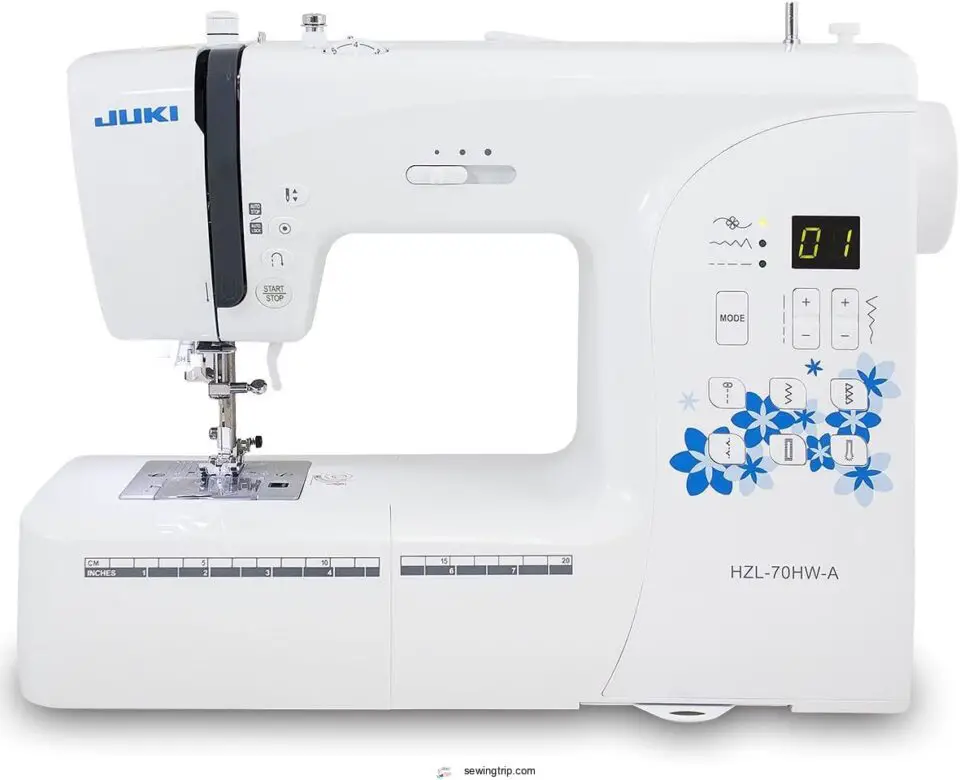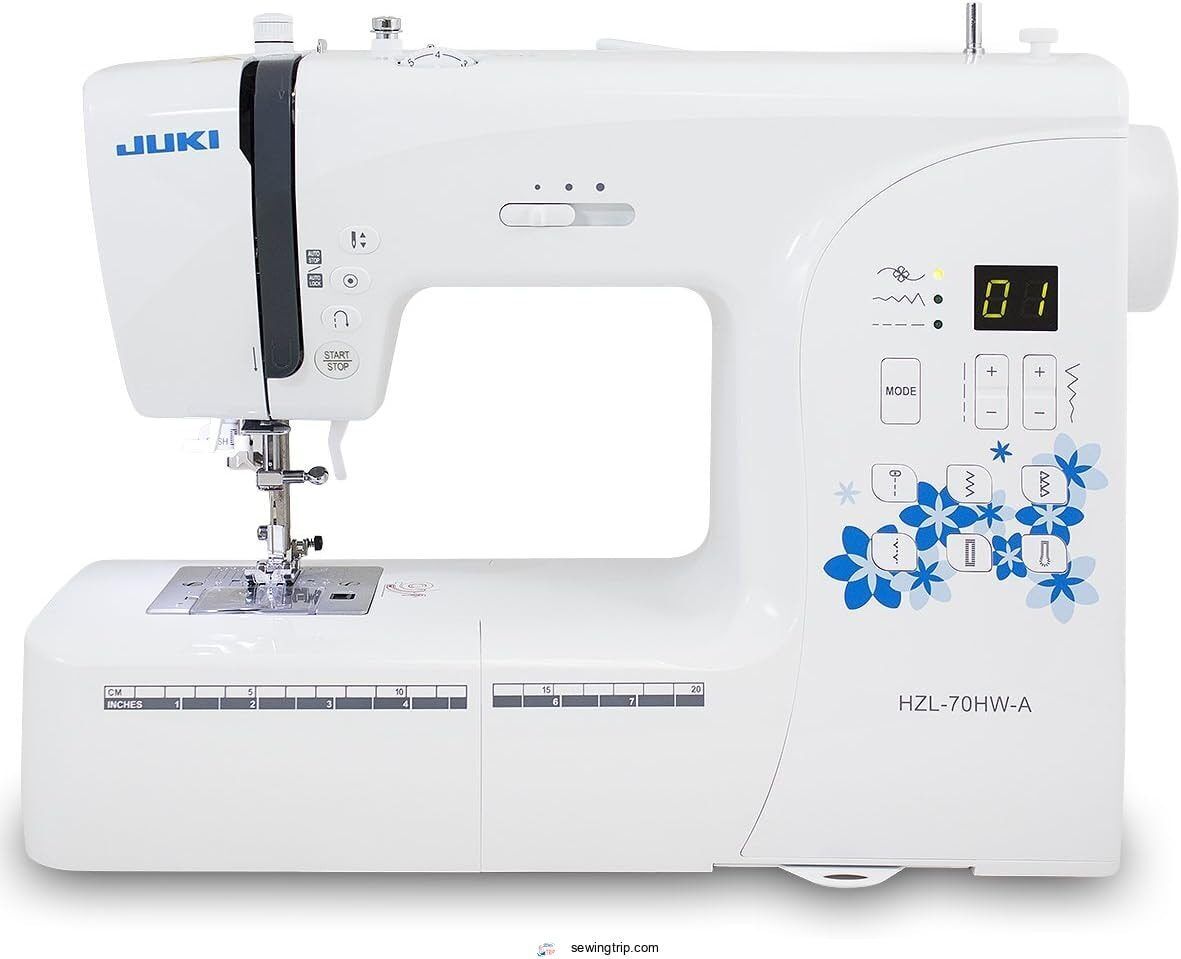 View On Amazon
You'll find this portable computerized Juki sews lightweight fabrics like a dream, though its tension may make your eye twitch till you get it down pat. I know learning a new machine can be vexing, but give this sweet Juki time—with care and practice, her stitches will be sublime! Don't let the bobbin jam get you down, dear.
Simply brush away lint and rethread top and bottom with patience learned from sewing seasons past. For now try smooth cottons and let denim be, as forcing thick seams may break needle and thread. But do delight in the LED light keeping your seams bright, and in stitches galore making your projects shine.
Soon Juki's speed will seem just right, her song a comfort as her needle dances across the fabric of your design.
Affordable price for features
Comparable stitch quality to pricier brands
Portable and quieter than similar machines
Can jam frequently
Not suitable for heavy duty sewing
Tension tricky to set perfectly
Key Features to Look for in a Beginner Sewing Machine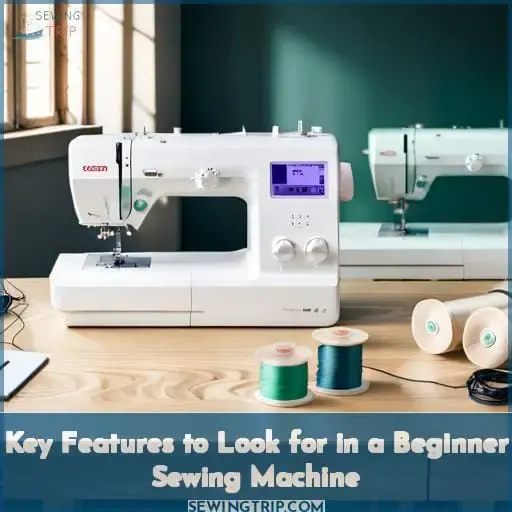 Step closer to stitching success, knowing power lies within essential features like easy threading, smooth fabric feeding, buttonholing, and lighting, along with accessories to elevate sewing skills. Seek out machines with automatic needle threaders, top loading bobbins, adjustable tension, and settings for different fabrics.
Walking feet prevent shifting of slippery satins or leather in quilted, bag, and garment projects. Multiple presser feet, like zipper, buttonhole, and blind hem feet, provide mastery over details. Generous stitch selections empower versatile creations, although a dozen basics suffice for simple clothing or crafts.
Extension work areas and specialty plates for free motion sewing open creative doors. Today's digital machines calculate optimal stitch length and width, while mechanicals allow direct adjustments.
Embrace the journey, accessorizing your sewing sanctuary and skills through each milestone.
Mechanical Vs Computerized Sewing Machines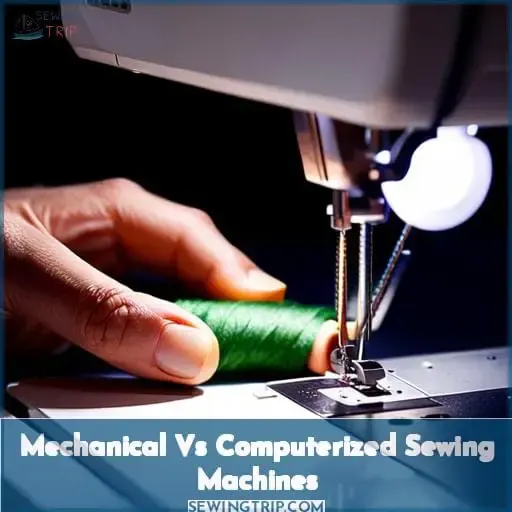 As ya select a machine, ya'll opt for computerized frivolity or mechanical simplicity. Mechanical machines, controlled by hand cranks and dials, keep sewing old-school. Their straightforward design makes diagnosing and repairing issues easier, though limited built-in stitches and features exist.
With programmed ease, computerized models cruise through decorative stitches, automatically adjust settings, and save customized creations. Ya'll master straight and zigzag with a flip of the foot pedal. Yet touchscreens intimidate traditionalists, and glitches frustrate.
For total control, mechanicals excel, from hand wheel to manual tension. Computerized options assist in execution of programmed stitches and auto stop buttons help beginners.
Consider ya comfort zone – electronics or manuals, simplicity or versatility. At their hearts, all sewing machines share common bones and sinews, so choose the model that fits ya'll best.
Tips for Learning to Use Your First Sewing Machine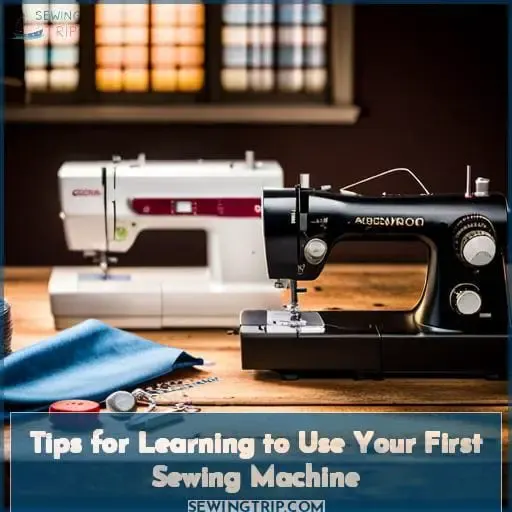 Dive right in and get your hands dirty threadin' that needle, windin' the bobbin, and goofin' around with stitch options to familiarize yourself with how the machine operates.
Take it slow and steady – Rome wasn't sewn in a day! Master straight stitches before zigzag.
Refer back to the manual anytime you hit a snag. Them diagrams keep you on track.
Try out an array of fabrics, from gauzy cotton to sturdy denim. Adjust settings for different materials.
Have fun experimenting with different presser feet like the buttonhole, zipper, and blind-stitch varieties.
Practice builds confidence. Make mistakes and learn from 'em. With patience and persistence, you'll be customizing patterns and sewin' creations in no time.
Frequently Asked Questions (FAQs)
What sewing machine brands have the best warranties for beginners?
Janome and Juki offer 10-year limited warranties to cover defects. Bernina provides a 5-year mechanical warranty, which is decent. Brother and Singer usually come with limited 25-year warranties, so those are solid choices too if you get one of their entry-level models.
I would advise avoiding basic machines under $100, as they often lack good warranty coverage.
What accessories and attachments do I need when starting sewing?
High-quality shears, a seam ripper, hand needles, pins and a pincushion, a measuring tape, thread, a thimble, sewing machine needles, and an assortment of machine feet like zipper and buttonhole feet. Investing in these fundamentals will make learning to sew much more seamless and pleasurable.
How do I choose a sewing machine if I want to sew clothing, crafts, and home decor projects?
When choosing your first sewing machine, focus on one with multiple stitch types, a few presser feet, and user-friendly controls. A model that handles light to medium-weight fabrics will allow you to sew clothing, crafts, and some home decor as you're learning.
What are common mistakes or frustrations I should watch out for as a sewing beginner?
Rushing into complex projects before mastering basic skills. Take it slow with simple patterns at first. Don't get discouraged if your stitches are uneven initially – practice makes perfect. Ensure your sewing area has adequate lighting. Double-check your machine settings frequently, and don't force fabrics.
Remain patient, and don't give up! Sewing has a learning curve, but you'll get the hang of it in time.
Are cheaper beginner sewing machines durable enough for frequent use?
Don't fret, many affordable machines endure daily use. Select metal frames over plastic bodies. Clean lint routinely. Lubricate as needed. Quality matters more than cost. Follow instructions carefully.
Conclusion
You're on the hunt for the best all-round sewing machine to kickstart your creative journey. The top picks reviewed boast user-friendly design, versatile stitching capabilities, and value-for-money durability.
Whichever model you choose, the key is finding one that suits your skill level and inspires you to keep learning. With so many options, it's about striking the right balance between quality, functionality and budget.
Don't feel limited starting out – today's entry-level machines can handle far more than you think! The key features to prioritize are ease of threading, stitch selection, and smooth performance on varied fabrics.
With the right guidance and practice, sewing can become a beloved hobby for life.
Trust your instincts, invest wisely and enjoy the whole process of learning your machine inside-out!