This site is supported by our readers. We may earn a commission, at no cost to you, if you purchase through links.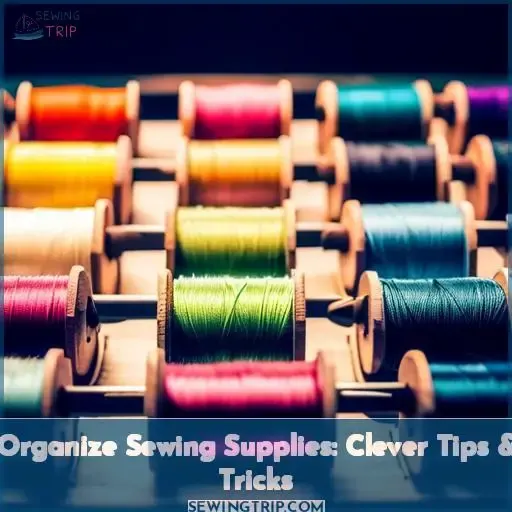 Are you drowning in sewing supplies? If so, it's time to take control of your crafting chaos! With a few clever tips and tricks, organizing all your sewing materials can be easy.
Whether you're an experienced seamstress or just starting out on the journey into the world of fabric and thread, this guide will help you get organized. From purging unnecessary items to organizing notions like thread spools and scissors, we've got everything covered when it comes to how to organize sewing supplies.
So grab those rulers, needles and pins because these ideas are sure to make any sewer swoon!
Key Takeaways
Utilize storage solutions like drawers, bins, and pegboards for organizing sewing supplies.
Convert an unused dining room into a sewing sanctuary.
Keep printed paper patterns neatly in labeled drawers and PDF patterns in colorful file folders.
Store fabric rolls, folded yardage, and scraps in dated, clear bins.
Sewing Room Organization Ideas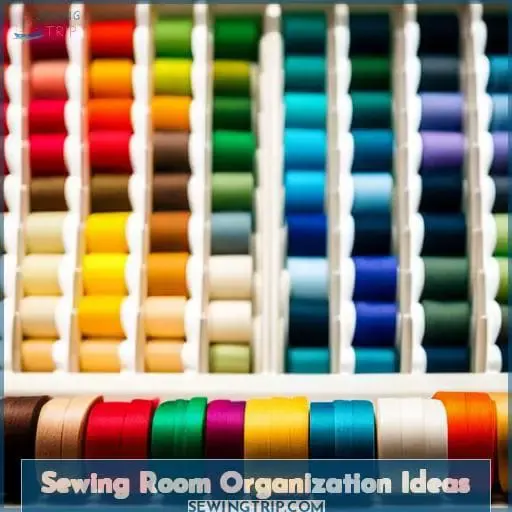 Utilize storage solutions like drawers, bins, and pegboards to keep your sewing space clutter-free. Revamp an unused dining room into your sewing sanctuary. Stash printed paper patterns neatly inside labeled drawers and PDF patterns in colorful file holders atop shelving units.
Store fabric rolls, folded yardage, and scraps in dated clear bins. Arrange thread spools by color across pegboards and mount often-used tools like rotary cutters and scissors nearby for quick access.
Dream up a layout allowing ample work surface for cutting, sewing, and pressing. Don't let clutter block your creativity. A tidy, well-organized sewing room empowers your imagination and mastery of craft.
Purging and Prioritizing Sewing Notions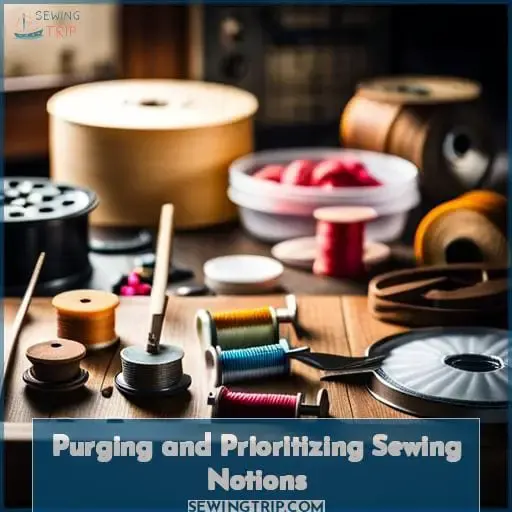 Don't you think it'd be best to first go through your sewing notions and trim down what you don't really use before figuring out how to store everything?
Sort drawers and shelves by type of supply.
Toss broken tools and dried up glues.
Evaluate which notions you actually use.
Save specialty supplies for current projects.
Limit scissors to just a few essential pairs.
Purging your sewing area first helps you see what you really need access to. This curation process lets you focus on keeping your most-used notions and quality tools handy. Streamlining to just the essential accessories you rely on clears clutter and creates space for effective storage systems.
So tackle purging first, then optimize your sewing space by designing storage around your practical needs.
Organizing Sewing Thread in a Rainbow Pattern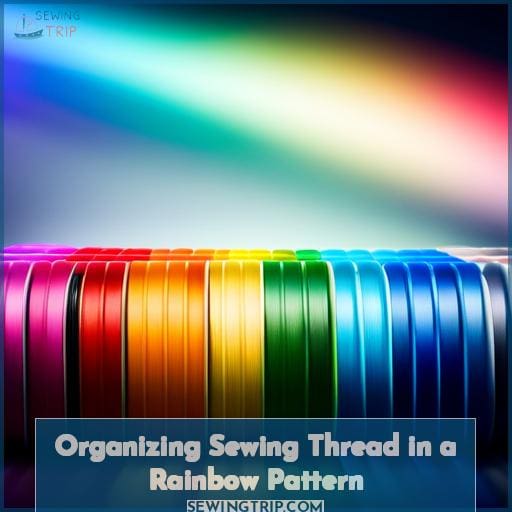 You've cleared out clutter, now it's time to set up an organized system for your sewing threads. One fun way to do this is by arranging them in a rainbow pattern. This makes thread colors highly visible and selection intuitive.
To create a rainbow thread organizer:
| Color | Example Thread Brand |
| --- | --- |
| Red | Coats & Clark |
| Orange | Gutermann |
| Yellow | Sulky |
| Green | Mettler |
| Blue | Isacord |
| Purple | Robison-Anton |
Group your spools by color family in storage containers or thread drawers. Arrange the groups in rainbow order left to right. For quick identification, put lighter shades on top to darker on bottom in each color section.
Keeping your threads in a bright rainbow makes your sewing space more inspiring and threads easier to locate.
Organizing Sewing Needles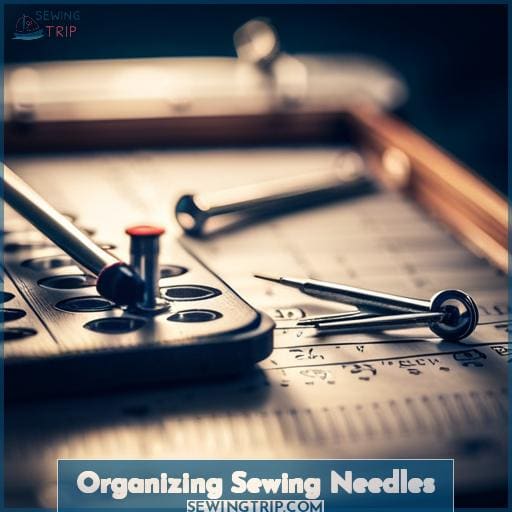 Have a needle organizer with pockets to sort needles by type.
Invest in quality needles. Replace damaged needles often for the best results.
Sort needles by type – universal, jeans, embroidery, quilting. Group sizes together within each type.
Label your needles using painter's tape and a permanent marker. Include the size and type.
Storing your needles properly saves time and prevents frustration. Keeping them organized stops you from losing or mixing up sizes and types. Sorting them into a dedicated needle organizer with pockets labeled by type and size means you can quickly find the right needle for your project.
Proper storage also helps needles last longer by protecting the eyes from damage. Investing a bit of time into needle organization pays off tremendously in convenience and quality results.
Organizing Scissors and Measuring Supplies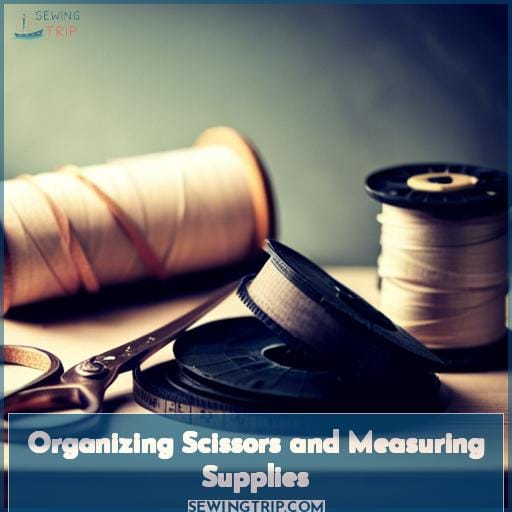 You could arrange your scissor collection neatly in a standing file or magazine holder. Keep your fabric shears sharp and damage-free by giving each pair its own slot. Mini snippers for thread cutting and embroidery scissors can have their own place too.
Similarly, store tape measures, seam gauges, and curve rulers together in a customized wall file. Gather measuring tools of all sizes in the slots, creating an orderly display. For frequently used vinyl tapes, roll and secure each one with a binder clip.
With organized essentials close at hand, you're ready to cut and sew with precision.
Dollar Tree Storage Containers for Sewing Supplies

Shop the Dollar Tree for affordable storage containers to organize your sewing notions.
Plastic shoeboxes for thread storage by color
Clear plastic bins for buttons, zippers, elastic
Small parts organizers for needles, pins, bobbins
Tackle boxes for scissors, rotary cutters, rulers
Cosmetic cases for machine feet, bobbins, accessories
Look through the Dollar Tree's assortment of plastic containers in all sizes and colors to find solutions for your sewing room. Measure your storage furniture to determine which boxes will maximize your space.
Group like items together and use containers with lids or dividers to keep small parts tidy. Label everything clearly so you can find supplies quickly. With a bit of creativity, you can give your sewing space a makeover on a budget using the Dollar Tree's organizing products.
Organizing Sewing Supplies in Containers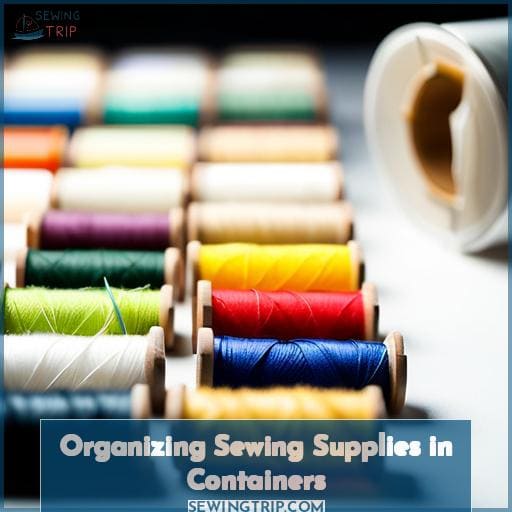 Stocking drawing hooks for needles and threading tapes onto spools anchors a well-docked craft space. Repurposing everyday containers like mason jars, tackle boxes, or wheeled storage bins optimizes limited space for portable sewing.
Stack thread spools in rainbow rows inside glass jars – the transparency spotlights colors. Line toolboxes with felt to prevent jostling and stash specialty feet, bobbins, manuals inside.
Store bulkier fabrics folded in stackable bins, rolling them room to room as sewing migrates. DIY dividers partition bins into cubbies for notions, threads, scissors. Whatever vessel you voyage with, sail through clutter by designating everything a berth before shoving off.
Pegboard for Sewing Tool Organization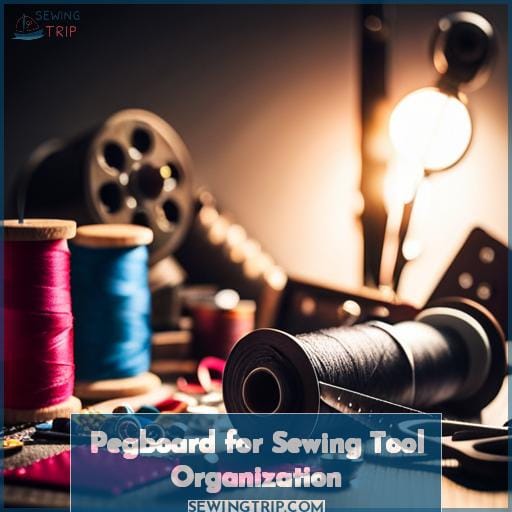 Try efficiently displaying scissors using pegboard and hooks for increased accessibility. Install pegboard panels in your sewing room for versatile storage options. Use sturdy hooks or nails to hang scissors of all sizes within arm's reach.
Display vintage shears like artwork. Reserve one area for daily-use scissors and rotate special pairs into that prime real estate.
Get creative with command hooks to store oddly shaped or oversized rulers and yardsticks. Use wall-mounted magazine files and upright office folders to neatly organize and protect your rulers. Check tackle boxes and toolbox organizers for inexpensive containers to corral embroidery floss, bobbins, and other small notions.
Customize your pegboard to suit your needs and works in progress. Frequently used tools right at your fingertips inspire creativity.
Organizing Rulers in Your Sewing Space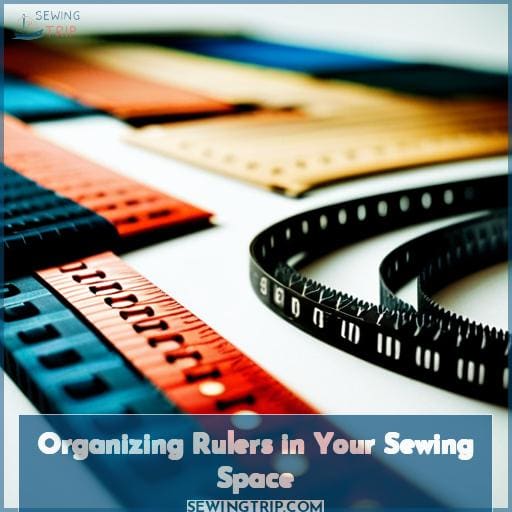 Pegboard is great for organizing small tools, but what about those long, awkward rulers? Get them under control with these tips. First, buy some clear plastic containers meant for under-bed storage. They're just the right size for most rulers.
Label each one with the ruler sizes inside. Store them on a shelf for easy access.
Next, install a tension rod in your closet. Hang rulers from the rod using pant hangers.
Finally, use a vertical magazine file on your wall. Store each ruler upright in a separate divider.
With a little effort, you'll have ruler anarchy under control.
Rolling Carts for Sewing Tool and Notion Storage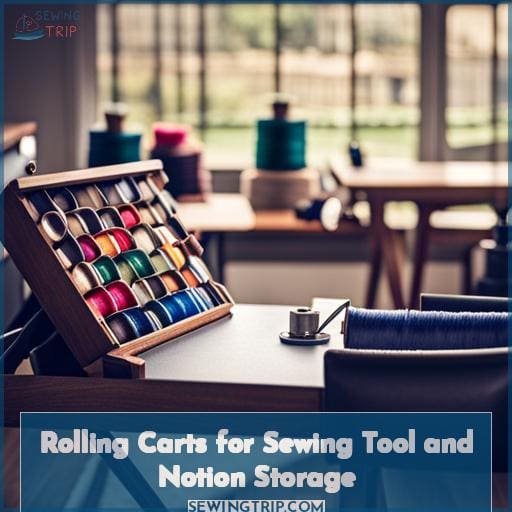 For convenient storage and access, snag a rolling cart to move your supplies from room to room. Whether you're mid-project in the kitchen or need to bring your sewing machine to the dining table, a rolling cart keeps everything together.
Seek out push carts with smooth glide drawers, open shelving, and lift-out trays to customize your tool storage. Look for versatility too – use the top flat surface for cutting and layouts. And don't forget locking casters for stability when you're sewing up a storm.
Rolling carts are ideal for small spaces since you can quickly roll them out of the way. With your sewing treasures stashed and ready to roll, you'll enjoy the freedom to sew whenever inspiration strikes.
Conclusion
Bringing it back to the basics, if you want to keep your sewing supplies organized, it's all about having the right storage solutions. From using Dollar Tree for affordable organizing supplies to rolling carts and pegboard for tool storage, to alternative containers like toolboxes and utensil drawers for organizing, there are plenty of ways to organize your sewing supplies.
With these clever tips and tricks, you can create a clutter-free workspace that will keep your sewing projects running smoothly.