This site is supported by our readers. We may earn a commission, at no cost to you, if you purchase through links.
You're hardly alone in your love of cross stitch. Did you know nearly 5 million people in the U.S. enjoy this timeless craft? Let's dive into the fabrics that make it possible to turn mere thread and needle into intricate works of art.
Whether you're a seasoned stitcher or just picked up your first skein of floss, you'll need the right fabric to keep those x's looking crisp. Aida, linen, cotton, and more await your experimentation. With the rainbow of threads out there, your only limit is imagination.
Key Takeaways
Aida, linen, cotton, and more are different fabrics commonly used for cross-stitch.
Each fabric has its own unique qualities and suitability for different types of cross-stitching projects.
Factors such as fabric texture, thread count, and design complexity should be considered when choosing the right fabric.
Special tools like Q-Snaps and hoops can help maintain fabric tension during the cross-stitching process.
Aida

You can easily turn any fabric into a cross-stitch canvas with Sticky Fabri-Solvy. Aida may be the most common cross-stitch fabric, but its utilitarian look doesn't suit every project. While Aida's stiff texture helps the x-shaped stitches stay uniform, it lacks the soft drape and elegant sheen of fabrics like linen or silk.
Thankfully, with Sticky Fabri-Solvy, you can cross-stitch on any material. Just stick the soluble stabilizer onto your fabric of choice, draw or print a dotted grid, and start stitching.
When the design is complete, simply rinse away the Fabri-Solvy and marvel at your exquisite stitchwork on the lovely fabric underneath. With this clever product, your creative vision is no longer limited by Aida. You're free to cross-stitch on any fabric with custom grids, opening up endless possibilities for your counted work.
Linen/Evenweave

Unlike aida, linen and evenweave have irregular thread spacing, so your stitches may vary in shape when cross stitching.
When deciding on fabric, consider these key points:
Linen has a distinctive texture with slubs that add dimension.
Evenweave can be stitched 1 over 2 to reduce the stitch count.
Both fabrics come in a range of thread counts for different effects.
Linen and evenweave allow for more intricate designs than aida.
Popular brands like Zweigart offer linen and evenweave specifically for cross stitch in a variety of colors and counts, making your fabric choice an integral part of the design process.
While aida's uniform holes make it straightforward for beginners, exploring linen and evenweave unlocks new creative possibilities. Their organic irregularity invites you to develop a more nuanced technique and produce work with captivating depth and texture.
With an openness to adjusting your methods, linen and evenweave fabrics can help you master the art of cross stitch.
Cotton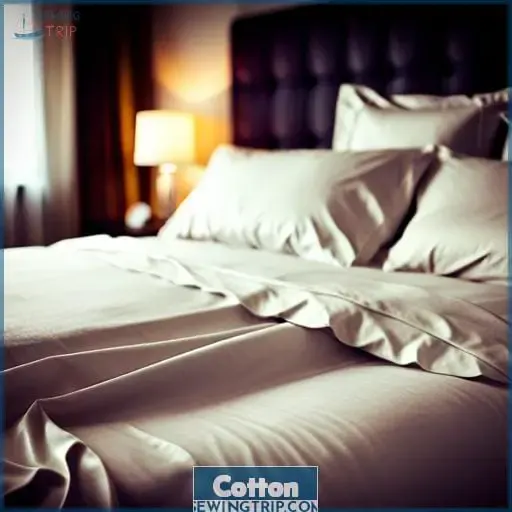 Although cotton can be used for cross stitching, it lacks the uniform weave that makes aida and evenweave/linen ideal fabric choices. Cotton gives cross stitch a different look since the threads and holes are less symmetrical, leading to variations in the stitch lengths and shapes.
Any plain cotton fabric can be utilized by using waste canvas, a temporary grid that is later removed. Waste canvas allows you to cross stitch designs on clothing, dish towels, canvas totes, and other cotton items.
The open weave of waste canvas keeps the stitches from becoming distorted on the cotton fabric underneath. Once your design is complete, gently remove the waste threads to reveal your creative work on the cotton surface.
For a fun challenge, try cross stitching the same pattern on aida and cotton to compare the techniques and results. The irregularity of cotton can add appealing dimension to cross stitch designs. With options like waste canvas, creative stitchers shouldn't shy away from cotton.
This versatile fabric expands the possibilities for unique and useful cross-stitched cotton creations.
Knitting/Crochet

Because knitting or crochet is one-sided, cross-stitching the piece beforehand means keeping the design on the publicly viewed side.
Yarn pieces worked on larger needles may be too open and loose for cross stitches to grab securely. The back of knitting and crochet will likely show messy, distorted stitches from tension differences.
Consider testing swatches first to identify suitable yarn textures and needle sizes.
While tricky with raised stitches or varying thicknesses, cross stitch patterns can be incorporated into knit and crochet pieces. Perhaps use waste canvas on a knitted blanket's flat stockinette section. Or stitch motifs along a smooth crocheted shawl's openwork.
Framing finished pieces with stitched designs outward works well for displaying one-sided knitting and crochet cross-stitch pieces. Showcase your creative skills by thoughtfully blending beautiful yarn textures with embroidered designs.
Pretty Much Anything

You can cross stitch on pretty much anything using stabilizers like Sulky's handy self-adhesive sheets.
Using waste canvas, soluble canvas alternatives, or sticky Fabri Solvy variations opens a world of possibilities for non-traditional surfaces. Let your inspiration guide you to fabric treasures like denim, burlap, or upholstery material.
Print custom grids on sticky stabilizers to transform these fabrics into cross stitch canvases.
Mix textures and materials for uniquely personalized projects. From backpacks to shoes, the only limit is your imagination. Embellish ready-made items or upcycle thrift store finds. Cross stitch empowers self-expression, so embrace liberating techniques to customize your space.
Adorn walls with stitched art, display stitched accessories, or add delicate details to soft furnishings. Wherever you indulge your creative spirit, cross stitch threads can elevate the ordinary through an accessible and enjoyable craft.
Fabric

While cottons work beautifully, a stabilizer makes cross stitching a breeze on almost any fabric. Stabilizer vs Fabric? With innovations like sulky solvy, stabilizers level the playing field.
Fabric compatibility is no longer an obstacle since this remarkable stabilizer adheres to synthetics and silks too. Stitching innovations like pre-marked grids printed on solvy empower precision and mastery.
Solvy solutions eliminate the need to trace patterns or hoop fabric. Simply cut and stick this ingenious stabilizer, then stitch away with abandon.
Whether you favor avant-garde designs on satin or heirloom samplers on linen, solvy grants the freedom to indulge any textile. So don't limit your cross stitch dreams – special fabric is no longer required. Liberate your inner artisan and craft on whatever fabric you fancy with this revolutionary adhesive stabilizer.
Needles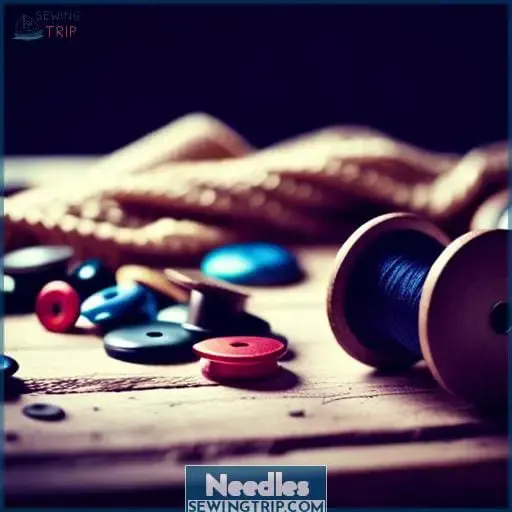 Consider cross stitching with an embroidery needle of an appropriate size for optimal stitching on any fabric. Choose needles sized 24-28 based on your fabric count. Higher counts need thinner needles.
Thicker fabrics like Aida cloth suit size 24-26 needles, while delicate linens and evenweaves shine with 26-28 needles.
Select cross stitch or tapestry needles as their elongated eyes easily accommodate multiple strands of floss. When using waste canvas or soluble stabilizers, stick with sharps or milliners to pierce the stabilizer's weave.
For metallic threads, consider twisted needles like Bohins or Tulips to limit fraying.
Needlework brands like John James, DMC, and Bohin offer quality needles for all techniques. With the right needles, you'll achieve neat, uniform stitches on any fabric. Experiment with sizes and shapes until you find your favorites.
The needles empower your creative journeys, helping coax designs into reality. Say goodbye to frustrating stitches and hello to effortless, liberating stitch work.
Hoops/frames/q-snaps

Combining the clever engineering of Q-Snaps with user-friendly quilting hoop textures can make fabric tension maintenance in cross stitching deceptively simple. The key to maintaining proper tension across your fabric is choosing the right size and material for your hoop, frame, or Q-Snap.
Start by selecting the smallest size that will fit your project, as keeping excess fabric taut takes more effort. For larger projects, Q-Snaps shine with their adjustable, screw-tightened sides that evenly distribute tension.
If you prefer classic wooden hoops, look for softer edges that grip fabric gently without cutting in.
Don't forget to rotate your hoop or reposition your Q-Snap regularly to avoid creases. With the right tools, it's easy to keep your cross stitch fabric taut for neat, even stitches. Experiment with hoops, scroll frames, grime guards, and Q-Snaps to find your ideal mix of functionality and comfort that enables tension maintenance to feel like second nature.
Thread/floss

You'll adore DMC's vast array of floss colors for any design. With over 500 shades, you can bring any pattern to life. Experiment with monochromatic palettes in muted tones or vibrant hues. For extra dimension, blend DMC Effects for a touch of metallic shimmer, glow-in-the-dark magic, or opalescent pearlescence.
Variegated threads like Étoile add lovely color gradients within one strand. Store your treasured collection of floss in numeric order for easy access. Embrace the rainbow, unleash your inner color alchemist, and immerse yourself in the creative process.
Whether aiming for realism, paying homage to an era, or evoking emotion, the perfect colors await.
Let your choice of floss threads empower your artistic vision as you stitch each X on the grid with passion and purpose.
A Pattern

There are various options for acquiring cross stitch patterns, whether purchasing kits containing the pattern or buying digital or printed patterns individually.
Size: Will the finished project be the desired dimensions? Check the fabric count.
Complexity: Is the pattern intricate or simple based on your skill level?
Color: Do you like the hues and color combinations? Will they complement your space?
Theme: Does the pattern imagery and style appeal to your tastes?
The pattern design will determine the look of your finished piece, so choose thoughtfully.
Sources for patterns include:
Online marketplaces like Etsy, which offer instant digital downloads. Thousands of unique patterns are available.
Cross stitch magazines and books with the latest designs. These feature a variety of themes and designers.
DIY patterns using photo conversion software or graph paper. Get creative and make your own designs!
Customizing the colors or textures can make a pattern feel more personal. And don't be afraid to start small with a beginner-friendly pattern as you build skills.
Conclusion
You really can cross stitch on just about any fabric with the right tools! Aida, linen, evenweave, and cotton all make wonderful cross-stitch canvases. But knitting, crochet, clothing, and even hard surfaces open up a world of creative possibilities too.
Waste canvas and special stabilizers like Sulky's 8.5×11 Stabilizer Pack allow you to cross stitch on almost anything. So gather your floss, needles, and stabilizer, then let your imagination run wild.
The only limit is your creativity when you utilize the right materials for cross-stitching on different fabrics.