This site is supported by our readers. We may earn a commission, at no cost to you, if you purchase through links.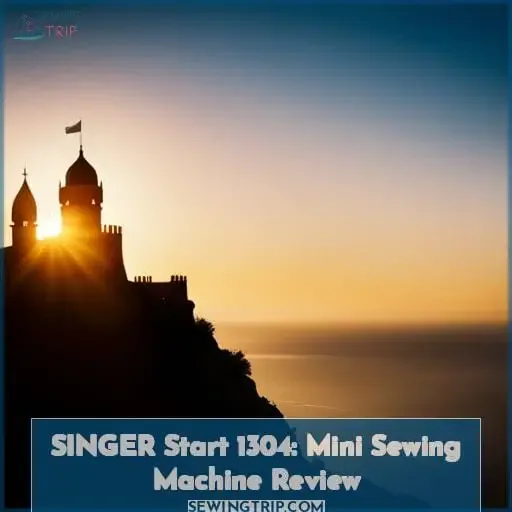 Are you looking for a dependable sewing machine to get yourself started with crafting? The SINGER Start 1304 Mini Sewing Machine is one of the most popular options out there. This review will take an in-depth look and assess whether this model would be a good fit for your needs.
Designed specifically for beginners, the Singer Start 1304 boasts some impressive features. It includes free arm stitching, heavy-duty metal frame construction, and twin needle capability. These features make it easy to use, even if you are just getting into sewing projects.
You can also count on reliable performance when dealing with more complex fabric types or tougher materials like denim. With the Singer Start 1304, you don't have to worry about jamming or tension issues often associated with other machines in its class.
We'll explore all these aspects further in this review, so read on!
Key Takeaways
Popular choice for beginners
Features free arm stitching, heavy-duty metal frame, and twin needle capability
Good for complex fabrics like denim with no jamming or tension issues
Portable and lightweight at under 7 pounds, suitable for classes and trips
SINGER Start 1304: Review and Specs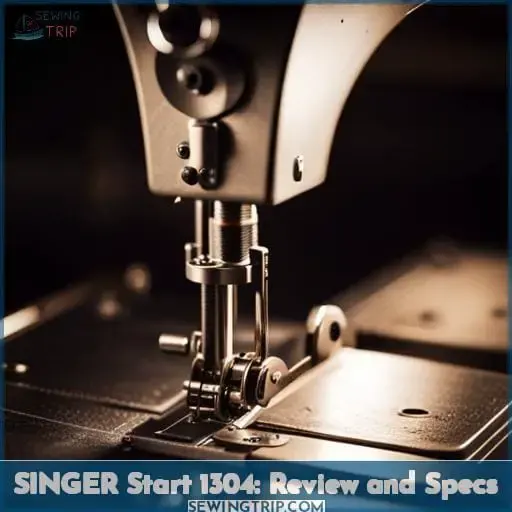 Delving into the world of stitch and thread, let's unravel the intrigue surrounding the SINGER Start 1304 sewing machine. This compact wonder, hailed as a mini powerhouse, beckons both novices and seasoned stitch-masters to explore its creative canvas.
Wondering why this mini marvel is making waves? Allow the bobbin to unravel, and the needle to tell the tale.
About the SINGER Start 1304 Sewing Machine
Step into the world of sewing with the SINGER Start 1304 – a nimble sewing companion that stitches together creativity and simplicity, designed especially for those taking their first thread-laden steps into the realm of fabric finesse.
This mini machine opens up exciting possibilities for beginners, with its user-friendly design focused on sewing essentials like basic stitches, buttonholes, and handy accessories. Weighing in at under 7 pounds, it delivers unmatched portability to craft on the go.
While limited in stitch selection, its capabilities prove plenty powerful for kickstarting passions for sewing. From clothing fixes to handmade gifts, this petite powerhouse helps budding stitchers dip their toes into sewing without becoming overwhelmed, welcoming all to discover the joy of thread and fabric.
Why a Mini Sewing Machine?
You'll find mini sewing machines like the Singer Start 1304 handy for quick fixes, small projects, and traveling light.
They're extremely portable for taking to classes or on trips.
The compact size is perfect for small living spaces.
They simplify sewing techniques for beginners and allow young people to learn sewing skills with ease.
While limited in functionality compared to standard machines, Singer Start 1304's mini design provides advantages for on-the-go sewing and starter projects.
Features of the SINGER Start 1304 Sewing Machine
Have a seat and let's explore some key features of the SINGER Start 1304 sewing machine. This budget-friendly model comes equipped with a free arm for sewing cylindrical pieces like pant legs and sleeves, along with a heavy-duty metal interior frame that allows you to work on thicker fabrics.
It's also twin-needle capable, so you can easily sew two parallel rows of stitching on your projects.
Free Arm
View On Amazon
The free arm on the SINGER Start 1304 lets you access those hard-to-reach crevices like a tube sock's heel, so you can sew a hem in the round with ease. You'll be able to encase the sleeve of a hoodie or repair the inner thigh seam of your favorite jeans with precision, thanks to this handy feature.
Embrace the freedom that comes from having full maneuverability when stitching up a pothole in your pocket or closing a stubborn hole that just won't quit. The SINGER Start 1304 empowers you to mend life's little wardrobe malfunctions and preserves understanding between you and your closet.
This portable powerhouse has got your back when it comes to those fiddly fixes that need finesse to finesse just right.
Portability
Affordability
User-friendly operation
Limited stitch options
No automatic needle threader
Vertical bobbin
Heavy Duty Metal Frame
You would struggle sewing thicker fabrics like denim with the plastic body. Battle-tested singers and musician reviewers know that sturdy construction matters when making your dreams a reality. Sturdiness levels up your heavy-duty capability by harnessing sewing power durably.
Let the benefits of a metal frame empower your search for liberty and understanding through creative expression.
Twin Needle
You can sew with two threads at once using the included twin needle.
Dual thread lines
Machine quilting
The twin needle enhances creative abilities on this all-purpose machine. However, threading difficulties, limited stitch options, and slower stitches per minute are drawbacks. Consider specialty needles or alternative machines for expanded twin needle use.
Troubleshooting the SINGER Start 1304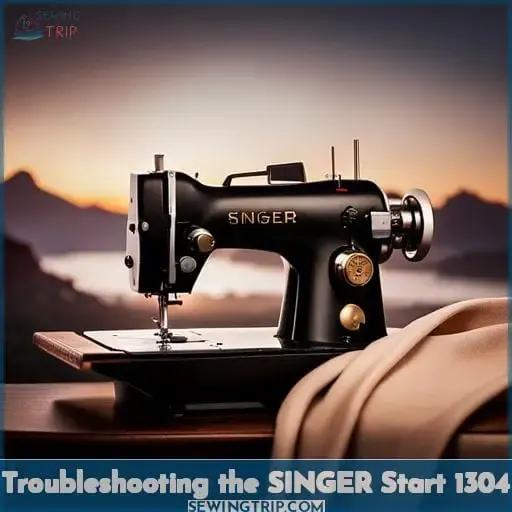 Hey there, it's time for some troubleshooting. When working with the Singer Start 1304, you'll likely encounter some jamming, tension, and upper thread issues. Don't worry – just grab your seam ripper and let's walk through a few quick fixes to get you sewing again in no time.
Jamming
Hey, jamming's no fun, so before sewing, check that bobbin's spun just right. 'Cause if thread and bobbin ain't grooving together, you got yourself a tangled mess. Make sure tension's tuned, change needles often, and know your machine. With care and patience, you'll be stitching in no time.
Tension
Occasionally adjusting the thread tension may help resolve uneven stitching with the SINGER Start 1304. When those perfectly balanced stitches aren't coming out just right, don't despair. A few simple tension tips can get you back in tune for smooth sewing. Play with the tension control – loosening or tightening as needed – until your thread dances in harmony again.
Upper Thread
Regularly ensuring the upper thread is following the correct path from spool to needle can prevent frustrating thread jams with the Singer Start 1304. Like an artist preparing to paint their masterpiece, meticulously threading each guide and component creates a canvas primed for creative expression.
What Others Are Saying About the SINGER Start 1304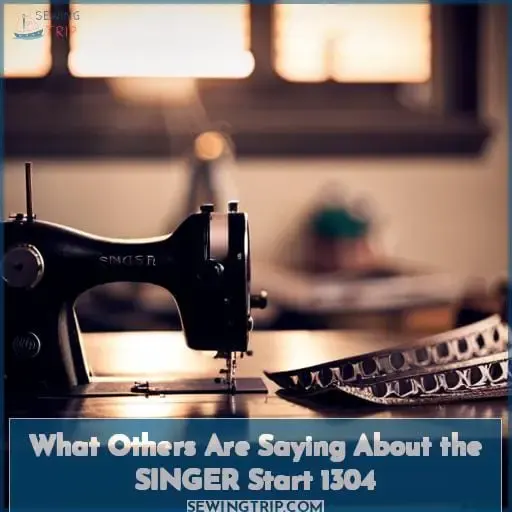 Welcome to our review of the SINGER Start 1304 sewing machine! As one of the most affordable and user-friendly models aimed at beginners, this mini machine certainly earns its praises and complaints from Singer themselves, professional sewists, and everyday consumers.
We'll provide you with the full scoop, so buckle up for a spin through the features, performance, and real owner experiences with the 1304.
From the Manufacturer
You'd be amazed to know SINGER boasts their Start 1304 model is the perfect first machine to inspire sewing passion for generations!
Lightweight build promotes portability.
Simple mechanical operation.
Easy threading mechanisms.
Built-in sewing light for visibility.
Free arm flexibility.
SINGER praises their Start 1304 mini machine for its beginner-friendly features, lightweight portability, and mechanical simplicity.
What the Pros Say
Professional reviewers highlight the Singer Start 1304's simplicity and ease of use for beginners, while noting its limitations for more advanced projects. They praise its straightforward operation, portability, and affordability but suggest more featured machines for those seeking to grow their skills.
User feedback shows it as an ideal first machine, though some express frustrations with threading and stitch consistency.
Consumer Feedback
Taking everything into account, you find the SINGER Start 1304 receives mixed consumer feedback. The ratings are a rollercoaster ride, with owners either loving or hating this mini machine.
Value: Good for light sewing if you learn its quirks
For simple skills, it can be a win. But for sustainable growth, seek options with less fussy feedback.
SINGER Start 1304 Vs Alternatives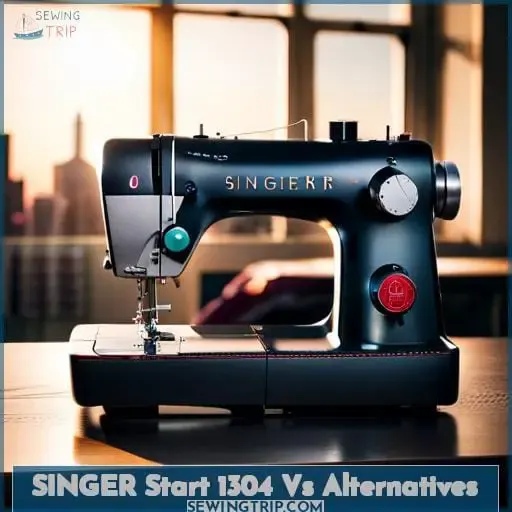 Dreaming of starting your own fashion line? Now is the time to invest in a reliable sewing machine. While the compact Singer Start 1304 is a great choice for beginners, aspiring seamstresses may want to compare it to the Brother GX37, SINGER 3232, and Janome C30 before making a decision.
These alternatives offer more built-in stitches, automatic features, and room to enhance your skills.
Brother GX37
Laughing at the limitations of the Start 1304? Consider the even more basic Brother GX37 instead. With only 4 stitches and a basic buttonhole, it offers even less functionality than the Start. However, its super lightweight build and 9-pound weight make it incredibly portable.
The GX37 appeals to those seeking ultra-minimalism and travelability over features. While less capable, it fulfills basic mending needs. The super-slim GX37 suits minimalists.
SINGER 3232
Another comparable option to the Singer Start 1304 is the Singer 3232 Simple. Seriously, the Singer 3232 offers 23 built-in stitches, a one-step automatic buttonhole, and a convenient free arm. Reviewers note smooth sewing performance across fabrics like denim and stretch. Although priced higher than the 1304, the 3232 comes with added capabilities like extra built-in utility and decorative stitches.
Overall, it could be a worthwhile upgrade if you're seeking more functionality than the starter 1304 provides.
Janome C30
You would appreciate the Janome C30's portability and reliability for basic sewing tasks. Despite its plastic shell, it performs smoothly on common fabrics. Users praise its easy setup and learning curve, as well as its handy built-in stitches, reverse button, and LCD screen.
While not a craft-specific machine, it is suitable for beginners seeking a lightweight model for everyday sewing projects.
How to Set Up and Use the SINGER Start 1304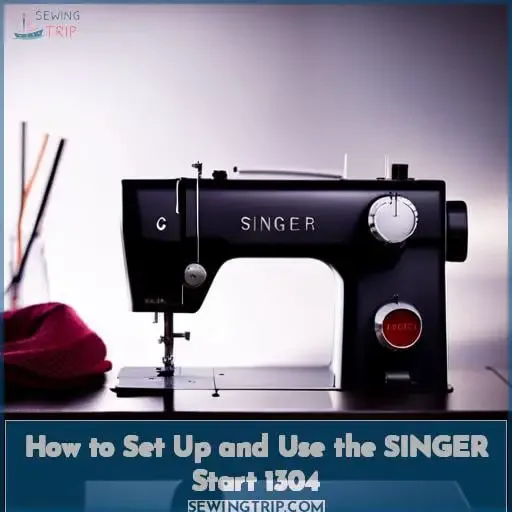 Hey there, let's dive right into setting up your new SINGER Start 1304 sewing machine. Inside the box, you'll find the sewing machine, three snap-on presser feet for all-purpose sewing, buttonholes, and zippers, accessory storage, bobbins, needles, a screwdriver, a foot pedal, a power cord, and an instruction manual to walk you through each step.
With just 6 built-in stitches, a threaded bobbin, and manual threading, this mini machine keeps sewing simple. Just follow the diagrams to thread the needle and bobbin, snap on the foot you need, select your stitch, and start sewing using the foot pedal control.
In no time, you'll be test driving those basic stitches to create beautiful projects.
What Comes in the Box With the SINGER Start 1304?
With this acclaimed starter machine, you'll find essential accessories for beginning your sewing journey in the box:
Threading tools
3 snap-on presser feet
Needle set
It comes with everything a beginner needs to start sewing right away. The included threading guide and presser feet handle basic sewing techniques. Additional handy features like the built-in thread cutter simplify the setup process.
Which Presser Feet Are Included?
You'll receive 3 snap-on presser feet with the Singer Start 1304: an all-purpose foot for basic stitching, a buttonhole foot for precise buttonholes, and a zipper foot for inserting zips. These allow for essential sewing techniques for clothing repairs, crafts, and simple projects.
However, limited compatibility restricts creativity. If you desire more control over your sewing, consider a computerized machine.
SINGER Start 1304 Stitches
The SINGER Start 1304 comes ready with just 6 built-in stitches to help simplify getting started and learning the basics.
Straight stitch
Zigzag stitch
Buttonhole stitch
Satin stitch
With just the essentials, this mini sewing machine keeps stitching straightforward for beginners. Focus on mastering the basics without the distractions of advanced stitch options.
How to Set Up and Thread the SINGER Start 1304
To set up and thread your SINGER Start 1304, picture it as a journey: just like guiding a thread through a needle's eye, you'll embark on a path of creativity, weaving your way toward stitching success.
Begin with your SINGER Start 1304 and the excitement of a new sewing adventure.
Open the travel case to unveil your canvas of creativity.
Prepare the bobbin by following the bobbin setup guide – a crucial foundation.
Insert the needle, poised to pierce through layers of fabric, like a maestro's baton.
Adjust the tension, finding the perfect harmony between the threads, like tuning an instrument.
Select your stitch – it's like choosing a musical genre, each with its own unique rhythm.
With denim in hand, apply pressure on the pedal – the tempo at which your creation takes shape.
As the fabric dances beneath the needle, follow the steps like a conductor leading an orchestra.
For guidance, consult the owner's class video – your mentor in this sewing symphony.
Revel in the power you hold to transform fabric into art, stitching your way to liberation and understanding.
How to Use the SINGER Start 1304
Ready to dive into using the SINGER Start 1304 for your sewing projects? Here's a rockin' guide to get you started on your journey of creativity and craftsmanship:
Threading Basics: Begin by following the easy threading instructions in the manual. Thread your machine through the upper thread path, making sure it goes through the tension discs and the take-up lever.
Stitch Selection: Explore the 6 built-in stitch types on the SINGER 1304. Use the stitch selector dial to choose the one that suits your project – whether it's a straight stitch for simple hems or a zigzag for added flair.
Bobbin Setup: Load your front-load bobbin by following the manual's step-by-step guide. Make sure to properly insert the bobbin into its casing and place it in the bobbin holder.
Now that you've got the basics down, unleash your sewing prowess with the SINGER Start 1304. Sewing techniques and troubleshooting tips are your allies on this journey of stitching brilliance.
Pros and Cons of the SINGER Start 1304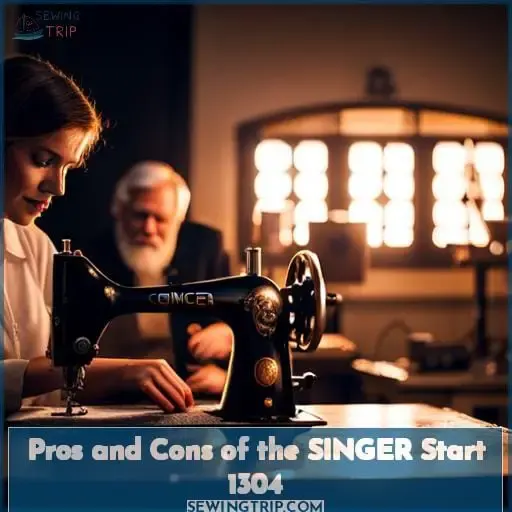 Delving into the stitching symphony of sewing machines, let's compare the SINGER 1304 to its sibling, the SINGER M1500. The rhythmic hum of stitches resonates as we also assess the melodic talents of the SINGER 1304 in comparison to the Brother XM2701.
Singer 1304 Vs Singer M1500
When comparing the Singer 1304 and M1500, you would find the M1500's additional built-in stitches and automatic features worth the extra cost for long-term sewing growth. As a veteran home sewer, the M1500's knee control, drop feed, and automatic needle threader provide much-needed convenience during lengthy projects.
Though initially more expensive, the M1500 offers new sewers more room to grow in their skills without needing constant upgrades. While the 1304 covers basics like hems and seams, the M1500's decorative stitches, eased bobbin winding, and zigzag sewing empower your creative expression.
Singer 1304 Vs Brother XM2701
Compared to the Brother XM2701, the SINGER Start 1304's features are more limited for sewing projects. The SINGER 1304 trails behind the XM2701's versatility and functionality. It only has 6 built-in stitches, no automatic needle threader, slower speed, and lacks adjustable stitch length and width.
However, the SINGER still offers solid performance for basic sewing needs. It simply can't match the Brother's wider range of stitches and settings that professional sewers despise. For casual sewers on a tight budget, the no-frills SINGER gets the job done. But those desiring long-term expandability will appreciate the XM2701's extra capabilities worth the small price bump.
Ultimately, it depends on the current skill level and future sewing goals when choosing between these two entry-level models.
Conclusion
What a coincidence – the SINGER Start 1304 is the perfect mini sewing machine for those just starting out! With six built-in stitches and a free arm for small cylindrical items, this lightweight machine is easy to use and offers great value for basic sewing and crafting needs.
While it might not be suitable for long-term growth, the SINGER Start 1304 is praised for its portability, affordability, and user-friendliness. It also comes with a 25-year warranty, so you can trust the quality and performance.