This site is supported by our readers. We may earn a commission, at no cost to you, if you purchase through links.
Are you looking for a sewing machine that can keep up with your on-the-go lifestyle? Portable sewing machines have become increasingly popular in recent years, offering the same features as their larger counterparts but in a lightweight and compact design.
In this article, we'll discuss the top three portable sewing machines available today, who should consider one of these machines, and key features to look out for when shopping.
Top 3 Portable Sewing Machines
Exploring portable sewing machines? Consider three top options: the Magicfly Portable Beginner Sewing Machine, perfect for those starting their sewing journey; the Brother CS7000X Sewing Machine, a versatile choice for beginners and experienced sewers; and the SINGER Simple 3232 Sewing Machine, designed with user-friendliness in mind.
Each machine offers unique features to suit different sewing needs, so let's delve into what makes them stand out.
Portable Beginner Sewing Machine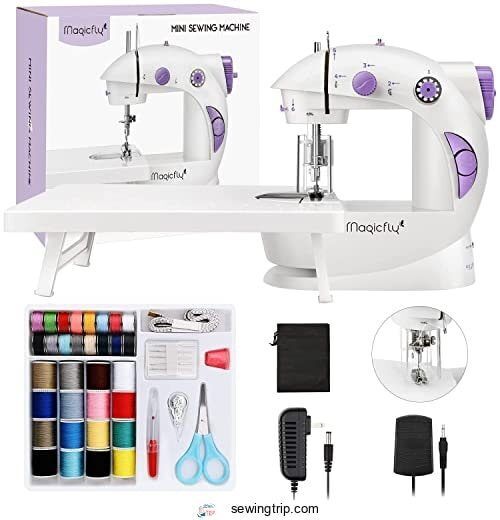 View On Amazon
If you're just starting your sewing journey, here's a nifty fact: the Magicfly Portable Beginner Sewing Machine comes with a practical sewing kit and dual-speed functionality, making it a quality choice for beginners looking for a cost-effective option.
This electric sewing machine offers the convenience of both AC/DC power and battery power, allowing you to sew wirelessly with the included foot pedal. It ensures stronger stitching with its dual-speed functionality and double-thread design.
You can adjust the speed to your preference – high for efficiency or slow for precision.
The practical sewing kit includes 32 bobbins, 5 needles, scissors, a threader, tape measure, seam ripper, thimble, and an extension table for added workspace. It's designed with beginners in mind, marked for easy threading, and boasts a compact size for easy handling.
While it offers one stitching type with fixed width and length (no backstitch function), it's perfect for small repairs and basic sewing projects.
Versatile dual-speed functionality.
Practical sewing kit included.
Compact and easy to handle.
Suitable for beginners.
Cost-effective option.
Limited stitch options.
Not ideal for larger projects.
Mixed opinions on seam quality.
Some initial difficulty with tension adjustment.
No backstitch function.
Brother CS7000X Sewing Machine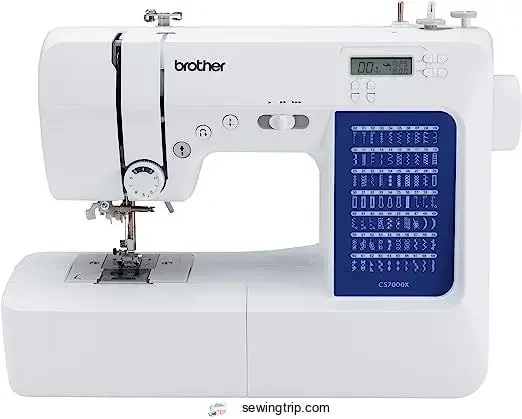 View On Amazon
Explore the Brother CS7000X – a versatile sewing machine perfect for both beginners and experienced sewers, offering 70 built-in stitches and a range of convenient features. This electric sewing machine boasts an automatic needle threader, ensuring a hassle-free start to your sewing projects.
Its jam-resistant drop-in top bobbin and durable metal frame construction provide reliable stitching.
The CS7000X includes a wide table, 10 sewing feet, a quilt guide, a protective hard case, and a trilingual user manual, making it an excellent value for your sewing needs. With a fixed needle bar for cleaner stitching and a spacious needle-to-arm workspace, this machine is designed for efficiency and precision.
Versatile with 70 built-in stitches for various sewing projects.
Automatic needle threader for easy setup.
Durable metal frame construction ensures stability.
Includes a wide table and multiple sewing feet.
Suitable for beginners and experienced sewers.
Spacious needle-to-arm workspace for larger projects.
Portable and lightweight, ideal for travel or RV use.
May require a walking foot for quilting thicker materials.
Lacks a built-in thread cutter, requiring separate scissors.
While portable, it may move slightly when sewing heavy or bulky projects.
SINGER Simple 3232 Sewing Machine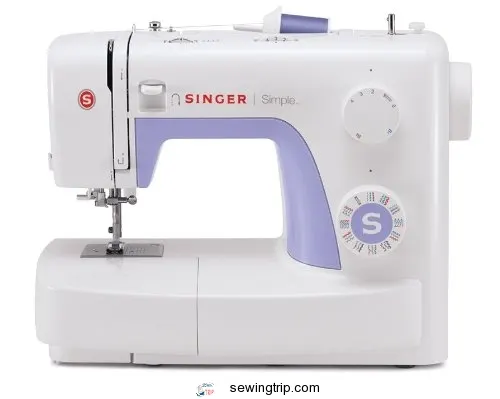 View On Amazon
Step into the world of the SINGER Simple 3232 Sewing Machine – where versatility and user-friendliness converge to help you unleash your creative sewing potential. This electric machine empowers your sewing projects while remaining portable. It features 32 built-in stitches, an automatic needle threader, a 1-step buttonhole function, and a heavy-duty metal frame.
32 built-in stitches
Automatic needle threader
1-step buttonhole function
Heavy-duty metal frame
Portable and lightweight
Needle threader requires patience
Not suitable for heavyweight/specialty fabrics
Limited accessories
No speed control
Who Should Consider a Portable Sewing Machine?

If you're just learning to sew or looking to pick it back up as a hobby, a portable sewing machine is an excellent option to consider. Travelers who want to be able to sew on the go and those with limited space at home can also benefit from the compact size and lightweight design of a portable sewing machine.
Beginners and Novice Sewers
You'll love how user-friendly and budget-friendly portable sewing machines are when you're just starting out. Use simple stitch options and thread the needle easily for simple projects. Learn sewing basics at home or on the go without less space.
Portable size makes learning accessible before upgrading abilities. Built-in lighting assists. Focus on fundamentals without intimidating settings. Start small, keep costs low, but open creative doors.
Travelers and On-the-Go Sewing
Take your lightweight portable sewing machine along on trips to handle unexpected clothing repairs. Traveler's options like the compact Brother CS5055PRW Project Runway machine offer sewing on-the-go convenience with features like eighty stitch functions and LED lighting in a streamlined, easy-to-carry size.
Choosing the right portable model means considering your needs for portability versus more robust features.
Limited Space or Storage
Folks with limited space or storage should consider a portable sewing machine because they take up only a fraction of the space of traditional sewing machines. These compact machines offer sewing solutions for storage-friendly options in small spaces.
Product dimensions and weight allow portable sewing machines to fit comfortably in tight quarters. Consider a space-saving portable model for sewing tasks when square footage is scarce.
Key Features to Consider

Looking for the perfect portable sewing machine for your creative needs? Consider key features like the number of built-in stitches and buttonhole styles, ease of use and user-friendly options, as well as the machine's overall portability and compact size.
Built-in Stitches and Buttonhole Styles
Look for a variety of built-in stitches and fast, easy buttonhole styles when choosing a portable sewing machine. Having numerous pre-programmed stitches allows you to easily access decorative patterns and essential stitch types like zigzag.
Automatic one-step buttonhole functions add convenience and provide professional results without the need for manual adjustments. Portable machines with diverse built-in stitches and multiple buttonhole options offer versatility for your sewing projects.
Ease of Use and User-Friendly Features
You'll love how easy these machines are to use right out of the box. Affordable and compact, they boast beginner-friendly designs for ease of operation. Most portable sewing machines have user-friendly features like automatic needle threaders, top drop-in bobbins, adjustable stitch length and width, speed controls, and a built-in light to aid the sewing process.
Though lightweight and portable, they pack a punch in versatile functionality. With practice and patience, you'll be creating beautiful stitches and projects in no time.
Portability and Compact Design
As a crafter, you'd be amazed at how lightweight and compact modern portable sewing machines can be. Did you know some weigh as little as 2 pounds and are smaller than a sheet of printer paper? With a portable sewing machine, creativity is always within reach.
Compact sewing allows you to stitch in small spaces, easily pack it for sewing classes or vacations, and store it in tight areas. The portability benefits let you pursue your passion anywhere, turning every place into your own creative haven.
Pros and Cons of Portable Sewing Machines

With their compact size and ease of transport, portable sewing machines offer crafters convenient creativity on the go. However, their lightweight construction and streamlined functionality may prove frustrating when tackling heavy fabrics or complex projects requiring specialty stitches.
Pros of Portability and Lightweight Design
When stashing a portable sewing machine into your suitcase, it'll enable on-the-go repairs and spur-of-the-moment projects.
Luxurious hotel room customizations
Beachside patch-ups
Home decor creativity in tiny apartments
Sewing circles at the park
Fashion inspiration turned into reality
Portability allows you to bring your sewing mojo wherever you wander. A lightweight, compact machine won't weigh you down.
Cons of Limited Functions and Heavy Fabrics
Portable sewing machines can struggle with heavy fabrics. Their lightweight construction lacks the power to handle thick materials. Limited stitch options lead to skipped stitches and uneven tension. Thread easily tangles in small bobbins.
Without variable speed control, precise stitching is difficult. Portability comes at the cost of power and versatility for complex projects.
How to Choose the Right Portable Sewing Machine

When selecting the right portable sewing machine for your needs, it's important to first assess the types of projects you'll tackle and your budget. Consider which features are must-haves based on your skill level and planned uses before evaluating options that offer good value for the price.
Assessing Your Needs and Sewing Projects
You'll want to consider your specific sewing needs and planned projects before deciding if a portable sewing machine is the right choice for you. Determine if portability is essential or if you need more advanced features. Evaluate your frequency of use, types of fabrics, and complexity of projects.
A portable machine may suffice for basic mending and lightweight fabrics, but intricate sewing, thick materials, and frequent use warrant a more versatile machine. Prioritize must-have features and portability to select the optimal sewing machine.
Considering Price and Value for Money
Let's break this down without breaking the bank! Evaluate different price ranges for portable machines. Budget-friendly picks often lack advanced features but fulfill basic needs. Mid-range offers more versatility.
Top-tier machines boast additional convenience worthy of the premium cost for some. Compare prices and features to determine the value meeting your needs and budget. Focus on must-haves first before considering extra frills you can live without. With numerous choices, a sweet spot portable machine awaits your budget.
Conclusion
A portable sewing machine is an excellent choice for those looking for convenience and versatility. Whether you're a beginner just starting out or an experienced sewer looking for a travel companion, the right portable sewing machine can make projects easy and enjoyable.
Consider the types of projects you plan to tackle, the features you need, and the price of the machine before purchasing. With the right machine, you can create beautiful garments and home decor items wherever you are.
Don't be afraid to ask questions and consult with a sewing machine dealer to ensure you're getting the best product for your needs. Portable sewing machines are the perfect companion for those who want to take their sewing with them, wherever they go.