This site is supported by our readers. We may earn a commission, at no cost to you, if you purchase through links.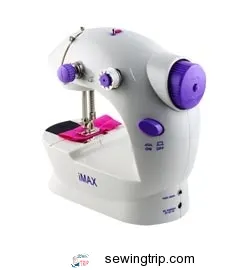 A portable sewing machine cannot replace the regular sewing machine, but it can serve as a strong backup. With a powerful motor they will sew through a lot of materials.
A perfect place to start for any beginner or professional who needs a small spare sewing machine.
First, let's compare the top 5 portable sewing machines 2021.
Then I'll go into the details discussion and each one.
Comparison of Best Portable Sewing Machine 2021
| Features | Janome Merlot Sew Mini Sewing Machine | Brother XM2701 Sewing Machine | Janome Fast Lane Portable Sewing Machine | Imax FHSM-202 | MICHLEY LSS-202 LIL'SEW Mini |
| --- | --- | --- | --- | --- | --- |
| Number of stitches | 2 | 27 | | 1 | 1 |
| [0AutomaticNeedleThreader[0AutomaticNeedleThreader | No | Yes | No | Yes | Yes |
| Stitch per minute | 350 | 800 | 350 | – | – |
| Color Options | 3 | 1 | 8 | 1 | 1 |
| Finger Guard | No | No | Yes | No | No |
| LED lighting | No | Yes | No | Yes | No |
| Speed controller | No | Variable Speed | No | 2-speed | 2 speeds |
| Weight | 7 lbs. | 12.6 lbs. | 5 lbs. | 2.09 lbs. | 1.76 lbs. |
| Battery powered | No | No | No | Yes | Yes |
| Size | 13.8 x 12.2 x 7 inches | 12.1 x 5.9 x 15.3 inches | 10.5 x 5 x 9 inches | 9.2 x 8.4 x 5.4 inches | 7.7 x 4.5 x 8.3 inches |
Here are my
5 Best Portable Sewing Machines for 2021
You have many options to to choose from!
Janome Merlot Sew Mini Sewing Machine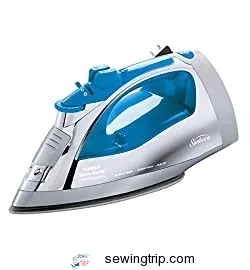 This is a sewing machine that will fit in your handbag. Wherever and whenever you feel like carrying out your sewing projects, this portable sewing machine fits in perfectly.
More like a sewing machine, you can take to class or a client's place to complete a project. You can even turn it into a travel sewing machine.
As they intended it for a beginner, there is a reverse button that makes sewing easier.
Looking at the cost and function, this is a nice offer. There may not features, but this sewing machine is ok for kids or everyone who is always on the go. Characteristic summary:
7 pounds total weight
4-Point Conveyor
Wall Plug
Powerful Engine
J Style Drop In Bobbin
1 presser feet included
Brother XM2701 Sewing Machine – Portable / Advanced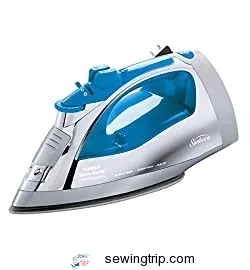 Brother has packed a lot into this mini sewing machine. A look at it will reveal how careful Brothers Engineers were in the design. In the end, it came out as a simple sewing machine that even professionals love. Interestingly enough, they made this machine not only for novice users but also experts in the sewing profession.
Packed with six presser feet and an instructional DVD to help you unwind quickly.. the LED lamp you can work or practice at odd hours. The threading and bobbing winding system of this portable sewing machine is exemplary, making sewing easier and faster.
Don't look down on the Brother XM2701, because driving over material in an instant is what it's made for. You also have plenty of sewing options that will bring out your creativity. However, the LED light is a concern. Still, this machine as it should be for the price and portability. Characteristic summary:
Six presser feet
LED light
Twin needle
Automatic needle threader
Instructional DVD
2 pounds
Extra Spool Spin
Janome Fast Lane Portable Sewing Machine – Stylish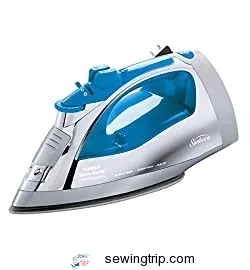 Janome Fast Lane sewing machine comes in eight different colors and all that to get started. Regardless of the unshakable nature of the conveyor, a variety of materials can still . The uniqueness of this sewing machine is the safety measure in place to protect both young and old users. There is a plastic finger guard that will keep your finger from getting stitched.
You can get this in any color your little girl likes or any color that suits you too. This machine is without all the bells and whistles like the other machines, but the basic functions are sufficient.
We are talking about mini sewing machines, but it is indeed comparable. Do not disregard the basic functions, even experienced users will still realize a project with it. Characteristic summary:
10 built-in stitches
[0Availablein8colors[0Availablein8colors
Finger guard
5 pound weight
Power Cord
Handwheel
J-Post Spool
Positioning of the left and center needle
Imax FHSM-202 – Small Sewing Machine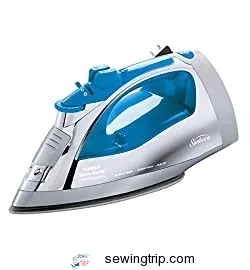 Best described as perfect, strong and basic. Just feed in the material, take your mind off the delicate look of this mini sewing machine, your jeans or denim will perfectly. The Imax's dual threading mechanism ensures a perfect stitch, you can even control the stitching speed to a level you can handle.
Imagine a sewing machine that is easy to use by anyone and doesn't hurt the pocket. It performs well on any task. Small but powerful, the Imax LSS-202 will ride over almost any material you feed it. Its machine's chief strength is its weight, only 2 pounds.
You don't have to look too far for the perfect sewing machine for your girls. This is good enough to learn the age-old craft. There is even a light around the needle section to help with lighting at night. Summary of functions:
Top drop-in coil
1 built-in stitches
110 volt power
1 pound
Battery and Electricity Supply
Automatic Thread Rewinding
Speed Regulator
2 x 8.4 x 5.4-inch size
MICHLEY LSS-202 LIL'SEW Mini – Battery Mini Sewing Machine Option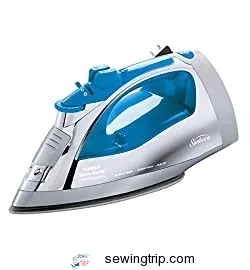 Apart from the pint format, there is no difference between the performance and delivery of this sewing machine compared to the bigger one. This is the smallest but excellent machine on the market. At the same time for a very pocket-friendly price.
In case you've dreamed of a sewing machine that can slip into your bag and sit on your lap, Mitchley LSS-202 is perfect. There may only be two built-in stitches, but they are strong enough to sew in your jeans, blankets and blinds.
Like most mini sewing machines, they can power it from the battery or power cord. However, this portable sewing machine performs better through the power cord. Undoubtedly good value for money as it packs a lot for less. Features Summary:
42 Piece Sewing Set
2 built-in stitches; zigzag and straight stitch
Yarn bag
Handwheel
Foot pedal and adapter
2 pound weight
Battery / electricity.
Final Verdict
Most of the portable sewing machines discussed may not be understanding, but they have not questioned their efficiency and performance. MICHLEY LSS-202 LIL'SEW SEW MINI 2-SPEED has emerged as a significant change. With a pocket-friendly rate, size, and features, it's good value for money.
Looking for the perfect gift for your young daughter, goddaughter, nephew or nephew? Janome Fast Lane Portable Sewing Machine is the way to look. With a beautiful design and beautiful colors. This little sewing machine embodies beauty and performance.
---
What Makes a Sewing Machine Portable?
There are certain attributes that qualify a sewing machine to have " portable, mini or small " attached to it.
Size and weight.
A look through one of the portable sewing machines recommended above will reveal the average weight of between 2 and 7 pounds. This makes mobility and set-up easy. The machine slips into your backpack or carrying case, ready to follow you anywhere.
The power source
The power source of a portable sewing machine should also allow it to be used anywhere. There must be an arrangement for an alternative power supply. A good portable sewing machine should allow for the use of batteries and the traditional source of electricity.
References
bestsewingmachinereviewspot.com