This site is supported by our readers. We may earn a commission, at no cost to you, if you purchase through links.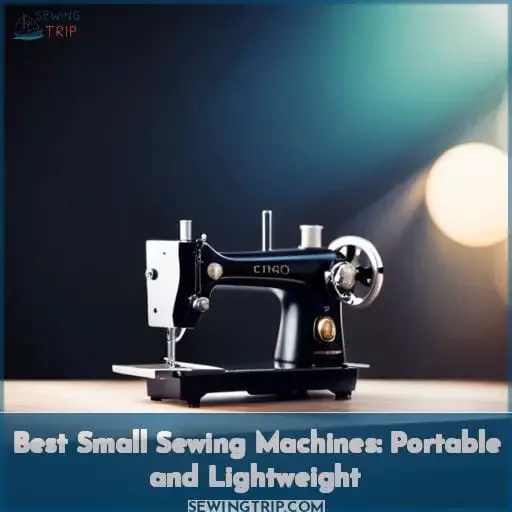 Are you looking for a lightweight, portable sewing machine so that you can take your craftsmanship on the go? The market is bursting with options – from mini machines to full-sized models.
According to a survey conducted by Craftsy in 2019, 84% of crafters opt for these compact versions due to their portability. Searching for the perfect small and portable sewing machine doesn't have to be hard! In this article, we review 7 great options including Brother Sewing Machine Lightweight XM2701 27 Stitches 6 Feet, Singer Start 1304 Sewing Machine, Lady Lilac Sewing Machine, and more.
We'll also discuss who should consider one of these mini machines as well as what features are important when choosing one.
7 Best Portable Sewing Machines
Explore the world of portable sewing machines with these seven top picks: Mini Sewing Machine With Kit, Brother Sewing Machine Lightweight XM2701 with 27 Stitches and 6 Feet, Mini Sewing Machine for Kids, Singer Start 1304 Sewing Machine, Lady Lilac Sewing Machine, Nex Sewing Machine Portable Children Crafting Mending, and KPCB Tech Mini Sewing Machine Beginners Sewing Kit.
Whether you're a beginner, a kid, or simply in need of a compact sewing solution, these machines offer a range of features to suit your needs.
1. Mini Sewing Machine With Kit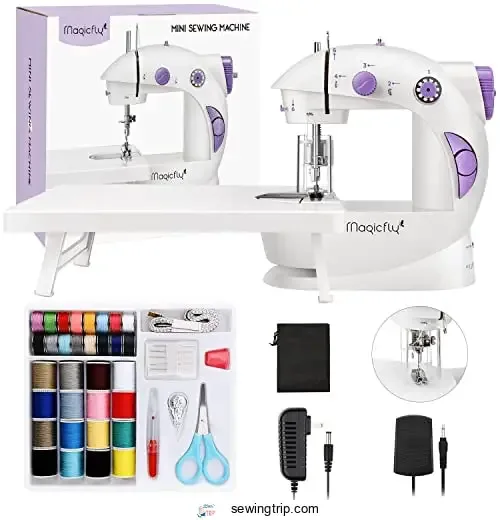 View On Amazon
If you're seeking a compact and user-friendly option among the best choices in this category, the Magicfly Mini Sewing Machine with Kit is worth considering. This electric sewing machine offers the flexibility of both AC/DC and battery power options, making it portable and convenient for various sewing situations.
It features dual-speed functionality, allowing you to choose between high and slow speeds to match your sewing needs. The included sewing kit is a valuable addition, complete with bobbins, needles, scissors, a threader, tape measure, seam ripper, thimble, and an extension table.
Beginners will appreciate the threading directions marked on the machine, making it accessible even for those new to sewing.
The compact size and fixed stitch width/length make it suitable for minor clothing repairs, crafts, and lightweight fabrics.
Dual-speed functionality for versatile sewing.
Comprehensive sewing kit included for convenience.
Compact and portable design, ideal for travel.
Suitable for beginners with clear threading directions.
Battery-powered option for on-the-go sewing.
Good value for the price compared to traditional machines.
Lightweight and easy to thread, making it user-friendly.
Limited in functionality, not suitable for heavy-duty sewing.
Fixed stitch width/length with no backstitch function.
Some users may experience issues with thread breaking and bobbin winding.
Not recommended for hemming or curtain edges.
Mixed experiences reported when sewing thicker fabrics.
Thread handling and bobbin removal can be challenging for some users.
2. Brother Sewing Machine Lightweight XM2701 27 Stitches 6 Feet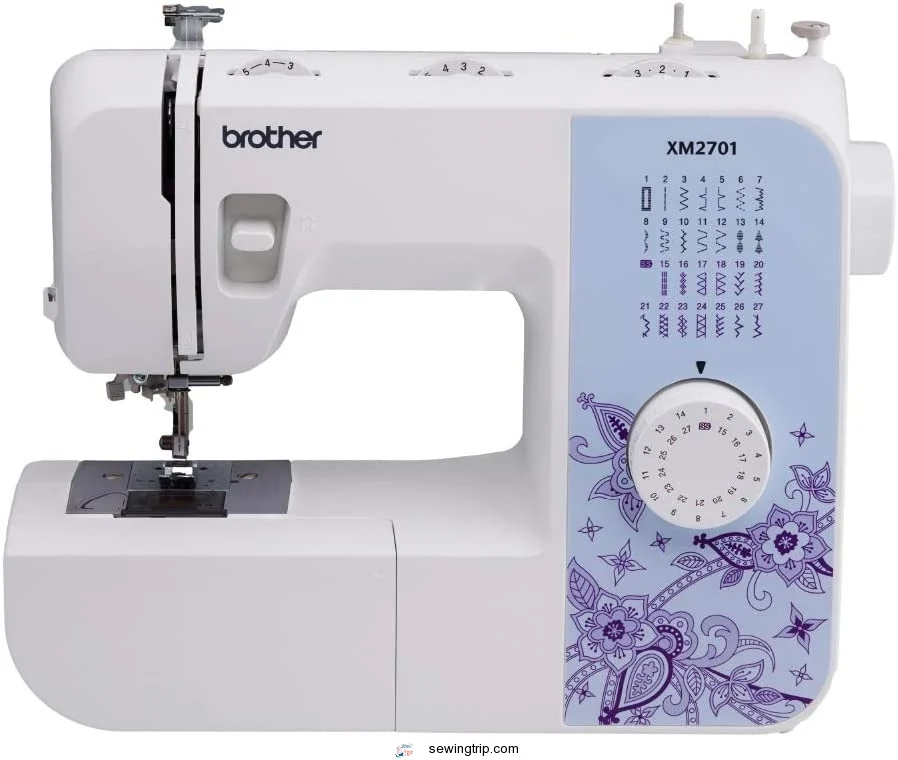 View On Amazon
Looking to explore your creative side even further? Consider the Brother XM2701 sewing machine, which boasts an impressive array of 27 stitches and 6 presser feet, making your sewing journey a delightful adventure!
This lightweight machine is perfect for both beginners and experienced sewers, offering versatility and ease of use. With its automatic needle threader and easy-to-follow threading diagrams, you'll spend less time fussing with setup and more time sewing your projects.
The XM2701 features a top-loading jam-resistant bobbin system and an automatic bobbin winding clutch for seamless sewing. Its LED bright work area ensures clear visibility, and the built-in free arm makes sewing cuffs and sleeves a breeze.
Wide range of 27 built-in stitches for versatile sewing options.
Automatic needle threader and easy threading diagrams for hassle-free setup.
Lightweight and portable design.
LED work area for clear visibility.
Six quick-change sewing feet included.
Top-loading jam-resistant bobbin system for smooth sewing.
Short power cord.
Limited stitch applications for advanced projects.
Not suitable for heavy-duty fabrics.
Basic inbuilt features compared to more advanced models.
May require additional accessories for specific sewing tasks.
3. Mini Sewing Machine for Kids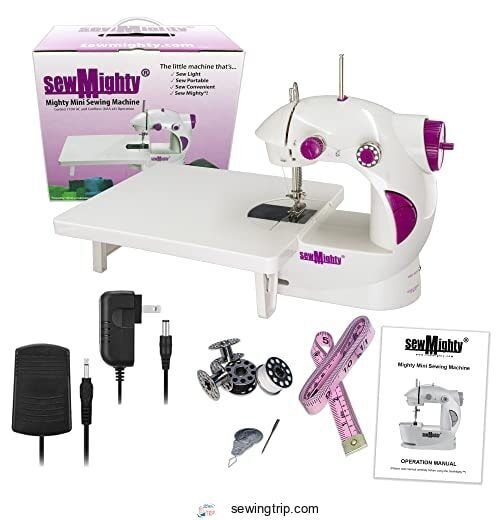 View On Amazon
Explore this compact gem of a sewing solution, designed with beginners in mind and often likened to a versatile artist's brush among the sewing world's tools – the Mini Sewing Machine for Kids by Sew Mighty.
This lightweight and portable sewing machine offers a user-friendly experience, making it an excellent choice for those new to sewing.
It features a two-speed sewing capability, allowing beginners to start at a comfortable pace and gradually increase their sewing skills. The automatic bobbin winder and integrated work light enhance convenience, while the cuff notch simplifies cuff alterations.
Whether operated with the included foot control pedal or without, this machine provides flexibility in usage.
Its compact design easily fits in a shoulder bag, making it a perfect travel companion. Plus, it can run on four AA batteries or standard 110V AC power, offering versatility in power sources. Everything you need to get started is included in the box, from bobbins to a needle threader, ensuring a hassle-free sewing experience.
Simple and user-friendly, making it ideal for beginners and kids.
Portable and lightweight design for on-the-go sewing.
Can operate on either batteries or AC power, providing flexibility.
Comes with essential accessories, including bobbins, needle threader, and foot pedal.
Pre-threaded out of the box, saving time on setup.
Limited to one stitch, which may not suit advanced sewing projects.
Lacks the capability for reverse stitching.
Not suitable for heavy fabrics, better for lightweight materials.
Some users may find a slight learning curve, but it becomes easier with practice.
Initial directions might be a bit confusing for beginners, requiring patience to understand.
4. Singer Start 1304 Sewing Machine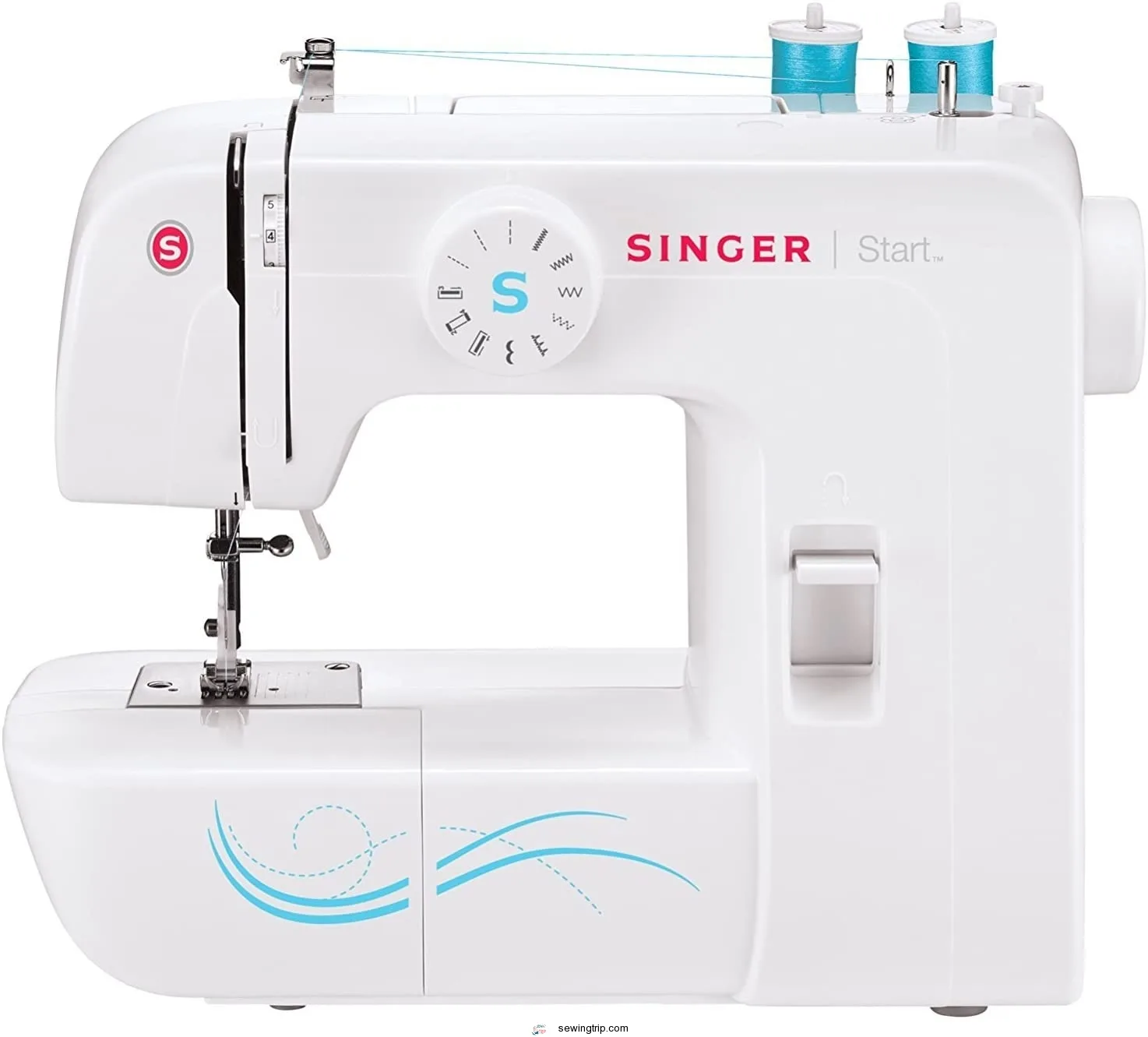 View On Amazon
Discover the Singer Start 1304 – your gateway to unleashing your sewing creativity with its user-friendly features and versatility. This basic mechanical sewing machine offers 6 built-in stitches and 57 stitch applications with preset width and length, making it suitable for a wide range of sewing projects.
Weighing only 7 pounds, it's lightweight and portable, perfect for beginners and occasional sewers. The automatic bobbin winding system with a numbered diagram simplifies setup, and the included accessories like the All-Purpose Foot, Zipper Foot, and Buttonhole Foot enhance your sewing experience.
With a 25-year limited warranty, the Singer Start 1304 is a reliable choice for household mending and beginner sewing.
Simple and user-friendly, making it great for beginners.
Lightweight and portable, easy to move and store.
Versatile with 6 built-in stitches and 57 stitch applications.
Automatic bobbin winding system for hassle-free setup.
Comes with essential accessories for various sewing tasks.
Backed by a 25-year limited warranty for peace of mind.
The power cord to the foot pedal is stiff and short, limiting mobility.
Some users find it a bit challenging to access the bobbin area.
Limited stitch options may not suit advanced sewers.
Not suitable for heavy or layered fabrics.
The machine's operation can be somewhat noisy.
The light source could be brighter for improved visibility.
5. Lady Lilac Sewing Machine
View On Amazon
Imagine the thrill as you find the Lady Lilac's compact size and limited stitches still fulfill your basic sewing needs on the go. Weighing only 5 pounds, this mini sewing machine lets you handle basic mending, alterations, and crafts whether at home, traveling, or in small living quarters.
Its built-in storage, easy reverse, finger guard, top drop-in bobbin, and threading diagrams facilitate quick setup and basic operation.
Compact, only 5 lbs
Built-in storage
Easy reverse
Top drop-in bobbin
Threading diagrams
Only 12 stitches
No light for threading
Possible bobbin issues
Not suitable for serious sewing
Lacks features of higher quality machines
6. Nex Sewing Machine Portable Children Crafting Mending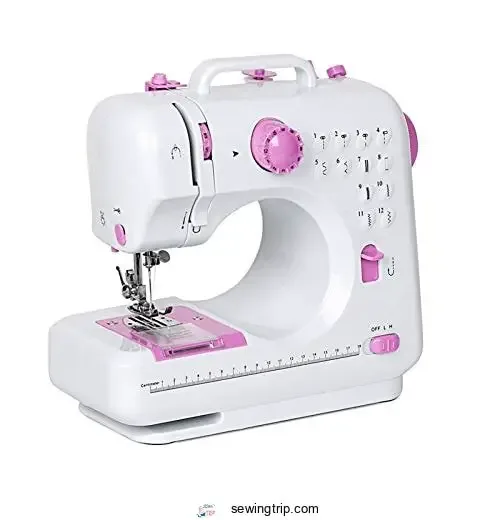 View On Amazon
Consider the user-friendly NEX sewing machine and its multi-purpose functionality for quick stitches, crafts, and clothes mending 'round the house. This little pink machine offers beginners and kids a less intimidating entry into sewing with its 12 built-in stitch patterns, adjustable speeds, and illuminating bulb.
Its compact size takes up minimal space and runs on batteries or a DC adapter for portability.
While threading, bobbins, and handling thicker fabrics may require minor troubleshooting, the NEX sewing machine can tackle simple alterations, quilting, and home decor projects with ease. With proper adult supervision, it allows budding tailors and seamstresses an accessible avenue to discover the creativity and utility of sewing.
Compact, lightweight, and portable design
Easy to operate for beginners and kids
Suitable for basic sewing and craft projects
Requires little storage space
Powered by adapter or batteries
Limited to lighter weight fabrics
Only offers one stitch type
Thread tangling may occur
Manual threading can be tricky
Some find operation noisy
7. KPCB Tech Mini Sewing Machine Beginners Sewing Kit
View On Amazon
Check out this cute and cozy purple mini sewing machine that comes with everything a beginner needs to start stitching up some fun projects. This compact sewing machine by KPCB Tech is designed for first-time sewers, with a lightweight build and user-friendly features ideal for basic sewing tasks.
Powered by an included AC adapter or 4 AA batteries, it offers flexible usage whether at home or on the go. The double thread capability allows you to handle lightweight fabrics without manually knotting the thread.
The machine only offers a single stitch, but it has a built-in thread cutter, bobbin winder, and illuminated work area, providing handy functionality in a mini-sized machine.
With the Beginner's Sewing Kit, you get 42 essential accessories like needles, bobbins, scissors, tape measure, and more. An extension table and foot pedal maximize convenience. This mini sewing machine is best for sewing light fabrics and simple projects.
Its portability, ease of use, and included accessories make it a practical choice for sewing novices.
Compact and lightweight design
Beginner-friendly operation
Portable for crafting on the go
Good value starter kit
Only one stitch available
Not ideal for heavy fabrics
Some challenges with threading the needle
Noisy operation
Who is This Mini Sewing Machine For?

You don't have to lug a heavy sewing machine around to get those on-the-go projects done! The perfect portable mini sewing machine is ideal for:
Beginners just starting out who want an easy introduction to sewing without a huge investment.
Kids who can learn basic sewing skills on a simple, safe machine.
Travelers who need a compact, lightweight option to bring along in small spaces.
Crafters working on small projects like soft toys or mini quilts.
Anyone short on space that wants the functionality of a full-size machine in a tiny package.
A portable mini sewing machine may have limited stitches and features, but it makes up for it with its size, weight, and price. These pint-sized powerhouses can handle many fabric types and are versatile enough for clothing repairs, crafts, and more.
So don't let a lack of space stop your next sewing adventure – a mini sewing machine can pack a big punch!
Is This a Good Sewing Machine for Kids?

As a parent, you may be wondering if a mini sewing machine is a good choice for your aspiring young sewist.
Many mini sewing machines boast kid-friendly features like plastic bodies, finger guards, and slow speed settings. Operating one fosters hand-eye coordination, focus, and motor skills. With supervision, a child can learn sewing basics, from threading a bobbin to selecting stitches.
Starting simple with felt or cotton, they can create imaginative designs on small projects. Alternatively, toy sewing machines allow creativity minus needles. A kids' sewing kit inspires by including fabrics, patterns, floss, and embroidery hoops.
Consider your child's age, dexterity, and interest before deciding if a mini sewing machine is suitable. With patience and guidance, sewing can be a rewarding, creative outlet for kids.
What to Consider When Choosing the Best Mini Sewing Machine

When choosing a portable mini sewing machine, you'll need to evaluate its size, weight, and construction to determine if it fits your needs. Also, consider any user-friendly features, the number of stitches, and accessories included that will allow you to easily complete your desired projects.
Size and weight considerations
Coming in at just 5 pounds, the super lightweight Lady Lilac sewing machine provides easy portability for on-the-go sewing.
Compact dimensions for storage
Light enough to easily transport
Sturdy construction to withstand travel
The ideal travel-friendly machine will have a design optimized for portability without sacrificing durability or functionality. Prioritize compact size, low weight, and features catering to portability needs when selecting your mini sewing companion.
Material durability and construction
In examining portable sewing machines, consider the material durability and construction. Plastic housings may be lightweight but less durable for long-term use compared to metal frames. Look at the structural integrity and material resilience when selecting a portable sewing machine for extended longevity.
Consider factors like housing construction, frame quality, and overall durability. Solid construction from quality materials ensures a portable sewing machine can withstand frequent use when traveling or in small spaces, while flimsier builds may deteriorate faster.
User-friendly features and accessories
You'll treasure those user-friendly accessories that make sewing a breeze. Consider convenient built-in features like automatic needle threaders, jam-resistant drop-in bobbins, and thread cutters. Opt for adjustable stitch width and length controls. Prioritize portability with compact, lightweight machines under 5 lbs.
Accessories like extension tables, dust covers, and multiple presser feet add versatility to your projects. Choose a machine with user-friendly threading diagrams, easy tension adjustments, and smooth foot pedal operation.
With the right features and accessories, mini sewing can be intuitive, portable, and creatively fulfilling.
Sewing Features & Considerations

When shopping for a portable mini sewing machine, carefully consider stitching options, user-friendly features, and construction material. Plastic machines tend to be more lightweight and budget-friendly, while metal machines are often more heavy-duty and precise.
Weigh your priorities, such as intended projects, skill level, and frequency of use, to decide which material suits your needs.
Stitching options comparison
Focus on the number of built-in stitches when comparing stitching capabilities, as more options allow tackling diverse projects. Examine stitch quality and versatility across different material types. Analyze the breadth of utility stitches like zigzag, blind hem, and stretch, along with decorative options.
Review adjustable stitch width and length controls that influence neatness, consistency, and function. Consider multiple presser feet that expand stitch versatility. Portable sewing machines may offer limited built-in stitches, so choose one with sufficient variety for your needs.
The quality and versatility of stitches enable the execution of an array of sewing techniques on your portable sewing machine.
User-friendly features overview
Bring with you auto needle threading for worry-free starts like the river flows steadily on its course.
Automatic needle threaders
Quick-set bobbin winders
Step-by-step threading diagrams
Variable speed controls
Built-in thread cutters
Opt for models with intuitive designs, helpful onboard tutorials, and multiple accessories for a seamless sewing experience. Portable doesn't have to mean limited – with the right mini sewing machine, you can tackle projects anywhere with ease.
Material: plastic vs. metal
Consider whether a plastic or metal sewing machine better suits your needs. Plastic machines are typically more lightweight and affordable, while metal machines offer greater durability and stitching power.
Plastic bodies can be prone to cracking over time, whereas metal bodies withstand more use. However, plastic allows for innovative, compact designs that enhance portability. Evaluate your skill level, budget, and projects to determine if a sturdy metal machine or streamlined plastic model aligns with your sewing goals and lifestyle needs.
Either material works for travel sewing with proper care. Let your aspirations and circumstances guide you.
Conclusion
Finding the perfect portable sewing machine can be a challenge. Luckily, there are many small, lightweight, and mini sewing machines that are perfect for crafting, mending, and quilting. From the iRUNTEK Handheld Mini Sewing Machine to the Brother CS6000i, there's a portable sewing machine for everyone.
When choosing the best mini sewing machine, consider factors like size, weight, material, skill level, and intended projects. Additionally, consider features like stitching options, automatic needle threaders, and drop-in bobbins.
With the right mini machine, you can craft, mend, and quilt with ease – no matter where you go.
References
bestsewingmachinereviewspot.com