This site is supported by our readers. We may earn a commission, at no cost to you, if you purchase through links.
Drawstring bags are simple and easy to make and offer multiple uses. You can design larger bags to serve as makeshift toy boxes or to store your sewing supplies.
With a little extra flair, they can become gym bags, travel toiletry bags, lunch bags, gift bags or even dice bags (for you board game players out there).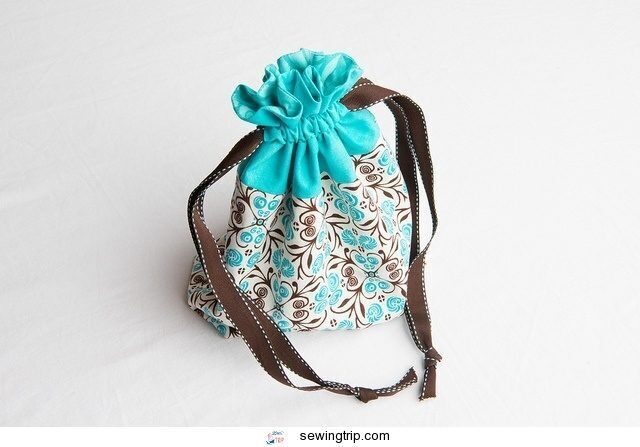 By Mark Aylor (Creative Commons Attribution-Share Alike 2.0 License)
Drawstring bag patterns are easy to follow and the project should take only an hour from start to finish!
Let's get started.
What do you need to make a drawstring bag?
When it comes to DIY drawstring bags, they require very few materials.
Fabric of your choice.
Ribbon (or other lengths material for your drawstring).
Thread for sewing the seams.
A non-slip ruler.
]
A rotary cutter or fabric scissors.
Crayon or pencil for marking fabric.
Iron.
Size Chart
When it comes to the amount of fabric and ribbon needed, it all depends depending on the desired size of the bag. Here is a list of bag sizes to follow:
X-Small: 5 inches wide x 3 inches long x 2 ½ inches deep.
Small: 8 inches wide x 6 ¼ inches high x 2 ½ inches deep.
Medium: 11 ½ inches wide x 9 inches high x 4 inches deep.
Large: 14 ½ inches high x 11 ¼ inches wide x 5 inches deep.
X-Large: 17 ½ inches long x 13 ¾ inches wide x 6 inches deep.
Amounts of fabric and ribbon
Fabric
X-Small bag—¼ meter of fabric.
Small bag—¼ meter of fabric.
Medium bag–½ yard of fabric.
Large bag–yard of fabric.
X-Large Bag—yard of fabric.
Ribbon (two lengths)
X-small bag – 2 yards.
Small bag – 2 yards.
Medium bag–2 metres.
Large bag—3 metres.
X-Large Bag–3 yards.
Pattern of the drawstring bag the first step, it's just a matter of cutting the ribbon and fabric to the right sizes. Remember what your old shop teacher used to say: measure twice and cut once. This is very important! Once you've made a cut, you can't undo it. By Milada (Creative Commons Attribution-Share Alike 2.0 License)The ribbon
Cut two pieces of ribbon and set it aside for now.
X -Small: 20 inches each.
Small: 26 inches each.
Medium: each 34 inches.
Large: each 42 inches.
X-Large: each 48 inches.
The fabric
Cut with the rotary cutter or fabric scissors and the non-slip ruler make a rectangle of fabric with the dimensions:
]
X-Small: 6 in. x 12 in.
Small: 9 in. x 18 in.
Medium: 12 in. x 24 in.
Large: 15 in. x 30 in.
X-Large: 18 in. x 36 in.
Take your fabric rectangle and fold the rectangle in half lengthwise (with the pattern on the inside), with the sides together to make a square.
Your square should be:
X-Small 6 in.
Small: 9 in..
Medium: 12 in.
Large: 15 in.
X-Large: 36 in.
Once you have your square of fabric, iron the bottom fold to keep the edges aligned.
]
How to make a drawstring bag
When it comes to sewing your drawstring bag, hand sew or a sewing machine.
If you rely on sewing in a straight line, you will also need pins to hold the edges together as you sew. However, using a sewing machine makes the project much faster.
Step your fabric square so that the folded edge is at the bottom. fabric.
Stop two inches from the top of each side. These are the sides of the bag.
Step Two
At the top edge, working one side on a turn, fold the two-inch section down a quarter inch and iron it flat.
Fold it again, another ¾ inch, and iron it flat.
0]
Sew the bottom of the hem with a 1/6 inch margin. Do this on both sides.
And now you've made the drawstring channel!
Boxing Out the Corners
Now that you've sewn the side seams and the drawstring, it's time to unpack the bottom corners of your bag.
This step is not strictly necessary, but it removes tension from the bottom corners and can help prevent your seams from tearing later.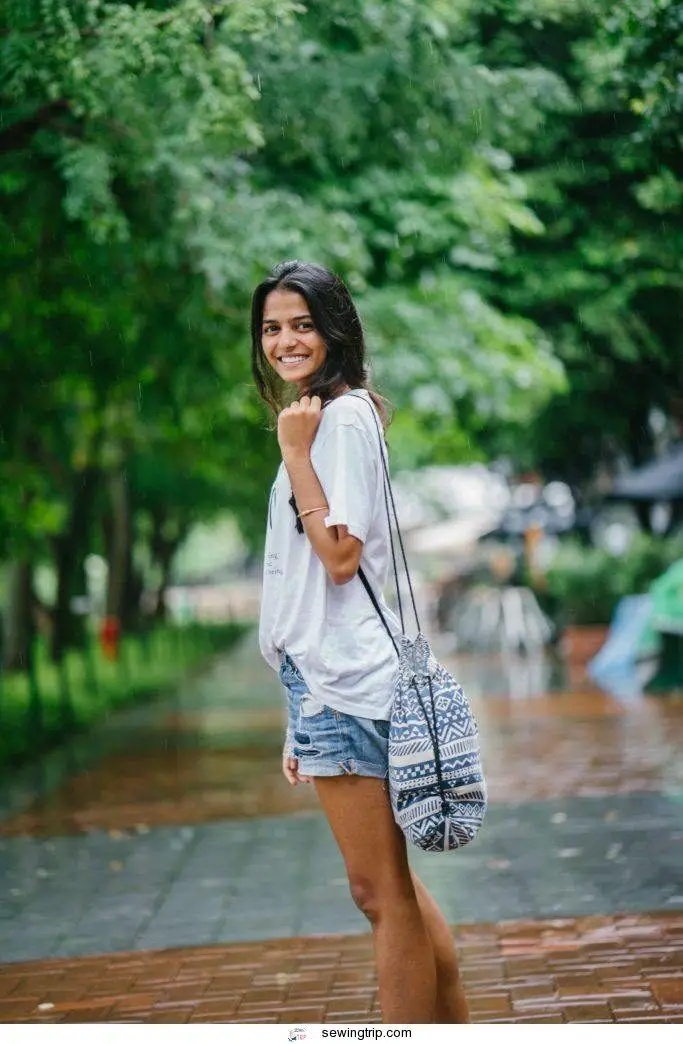 Step Three
Take your bag and turn it on its side so that your side seam is now in the middle of the fabric. Take the side seam and align it with the fold at the bottom, creating a small triangle.
Now draw a line perpendicular to the top point of your triangle.
How far down in the triangle's point do you draw your line?
X-Small: 1 inches.
Small: 1 ½ inches.
Medium: 2 inches.
Large: 2 ½ inches.
X-Large: 3 inches.
Step Four
Sew a seam along the line. Now repeat this process with the other corner, measuring twice and make sure your line is equal to the angle of your first.
Step Five
Now that you've framed your corners, cut off the tips of the triangle pieces below the seam, so you don't have any excess fabric in your bag.
Finally turn your bag right side out!
The Drawstring
The easiest method of threading your ribbon through the channels is to attach a safety pin to the end.
This prevents you from losing the ribbon end in the middle of the channel.
Step Six
Now thread your first piece of ribbon through one side and then around the other, so that both ends are on the same side.
Do this again with the other ribbon, starting from the other side. Tie the ends of the ribbons together and bound them! When you grab and pull the buttons, your bag will snap shut!
Here's a video showing how to make a drawstring bag.
Conclusion
Now you have made your first drawstring bag!
They are simple, fun, and offer a variety of creative possibilities. like a are many ways to personalize any gift, it can reuse them over and over again!
---
Have you tried making your own drawstring bag?