This site is supported by our readers. We may earn a commission, at no cost to you, if you purchase through links.
Ready to unleash your inner fashionista? Let's show you how to make a stunning, one-of-a-kind tote bag that will turn heads and fill you with pride. With just some fabric, thread and basic sewing skills – plus our beginner tutorial – anyone can create the perfect accessory for work or play.
So grab those supplies because it's time start crafting! Once you have all of the necessary materials in hand, this project is easy as pie. As we guide your through each step of making a stylish tote bag using canvas or cotton fabrics, keep in mind that reinforcing seams and using heavy duty needles are key components for success.
Even if this is your first foray into DIY projects like these – never fear! We'll provide measurements large enough so even novices can sew confidently without feeling overwhelmed by the task at hand.
Key Takeaways
Use durable materials such as canvas, cotton, or linen for your tote bag.
Cut two 15×20 inch rectangles for the outer pieces and gather the essential sewing tools you will need.
Sew the straps onto the outer fabric for extra durability. Also, create a pocket for the lining.
Follow the sewing instructions. Customize your tote bag to your liking. Use the sewing tips provided for a strong and stylish end result.
How to Make a Tote Bag – Beginner Tutorial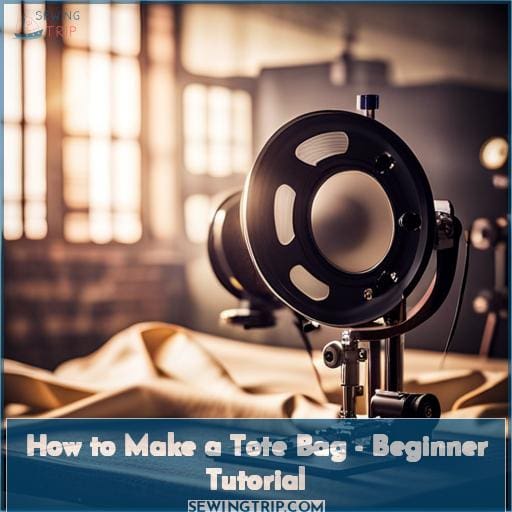 Let's get started on making your own tote bag! Gather your fabric, scissors, and sewing machine because it's time to cut out the pattern pieces. Be sure you have about one and a half yards of fabric. First, cut two rectangles that are each fifteen by twenty inches – these will form the outer pieces.
Supplies Needed
You'll need a variety of sewing tools like fabric scissors, pins, a rotary cutter, and a basic sewing machine to make the tote bag for a beginner. Select a sturdy canvas or cotton fabric for the outer bag. Include coordinating cotton for the lining.
Choose interfacing to give structure and durability. Cotton webbing creates custom straps. Tote bag handles need strength. Add pockets or other embellishments as desired. Experiment with color, texture, and embellishments for a unique tote.
Cutting the Pattern
Let's slash that cotton canvas into the right shapes and sizes with a steady hand on the rotary cutter before moving onto the fun part of assembling our handy tote. With the pattern pieces laid out, slice them precisely. Take care when cutting; a rotary cutter can nip eager fingers.
Mark any notches. Now we're ready to pin the exterior and lining fabric together before feeding them through the growling sewing machine.
Step-by-Step Instructions for Sewing a Tote Bag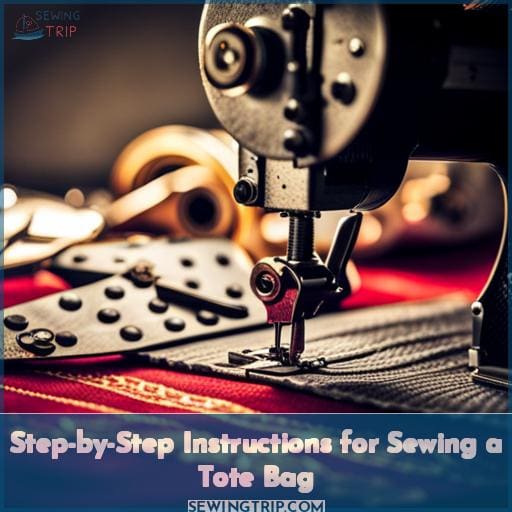 Whether you're a beginner or an experienced sewer, these step-by-step instructions will guide you through sewing the straps, attaching the pocket, and assembling your tote bag. First, you'll sew the straps. Next, you'll move on to fastening the pocket. Finally, you'll connect all the components together for a complete and sturdy tote.
Step 1: Sewing the Straps
Next, position your webbing at the top edges of the outer fabric, right sides facing. Align the raw edges and pin the straps in place along the top edge. Sew the straps to the outer fabric using a 1/2 seam allowance, backstitching at each end for reinforcement.
Fold the straps up and press. For added durability, consider stitching an X-box or square across the straps where they meet the bag. Well-secured straps are essential for comfortably carrying your handmade tote and preventing breakage.
Step 2: Sewing the Pocket
Securely stitch the sections, slipping so the pocket's permanently sewn. Next, align the pocket fabric rectangles with right sides facing. Sew around three sides with a 1/2 inch seam allowance, leaving the top open. Clip the corners to reduce bulk.
Turn the pocket right side out and press flat. Pin the pocket to the lining, positioning it above the bag bottom. Edgestitch the top opening closed. Now, the inner pocket's neatly secured inside your handmade tote before the final side seaming.
Step 3: Attaching the Pocket
Now attach the finished pocket to the lining piece of the tote using a wide zigzag stitch. Carefully pin the pocket in place 3/4 inch down from the top edge. Be sure the pocket is centered and the raw edges align.
Topstitch around all 4 sides with a 1/4 inch seam allowance to securely attach the pocket to the lining.
Step 4: Sewing the Sides of the Tote
Hug the sides together and slide the painter's tape down to secure your progress. Now stitch closed the side seams with a 1/2 inch seam allowance. Take it slowly, pulling the layers through carefully. Pivot at the corners. Remove the clips and painter's tape. Give those sturdy side seams a good press – your tote is really taking shape! Sewing the sides brings this liberating craft project closer to completion.
Step 5: Creating Boxed Corners
Place the side seams perpendicular to the work surface and make two creases across the bottom corners. Unfold and align the inner corner of the crease along the sewn side seam. Measure and trim excess fabric in the triangle below the corner.
Repeat for all bottom corners. Zigzag or fray check the raw edges. Refold along the creases and sew across the triangle box corners with a 1⁄4" seam allowance.
Best Fabric for Tote Bags?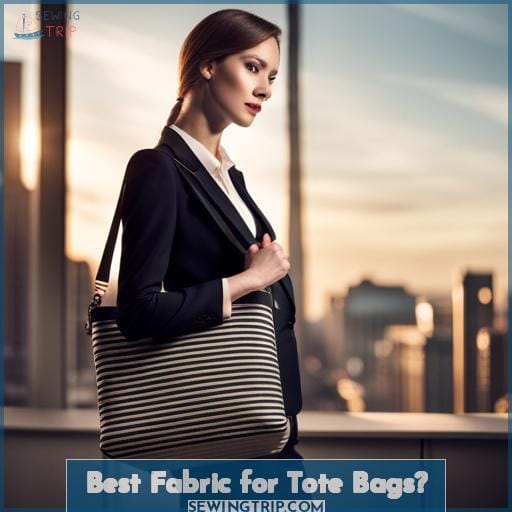 When choosing fabric for your tote bag, consider canvas, cotton, or linen. Canvas is durable yet pliable, cotton offers softness with strength, and linen provides a sophisticated drape. The three fabrics all have unique benefits that make them suitable for tote bags.
Canvas is hardwearing and can withstand a lot of use. Its texture also helps it stay structured. Cotton is both sturdy and soft against the skin, so a cotton tote will be comfortable to carry. Linen has an elegant look and feel. Its natural fibers give tote bags made from linen a refined style.
Canvas Fabric
Bold textures belie your beautiful canvas tote's hardworking nature. Woven from sturdy cotton or linen threads, canvas offers durability to withstand daily use. Thicker than quilting cottons, it maintains structure in boxy shapes and oversized bags.
Play with simple stripes or bold graphics for a fashion statement; pair with a lighter cotton lining to minimize bulk. Follow care instructions to prevent shrinkage; spot clean stains as needed. Customize your carryall with patches, appliques, or bold painted designs.
With thoughtful choices, your canvas tote will be a trusty companion for years to come.
Cotton Fabric
Cotton makes a wonderful material for your bag. Its natural fibers are soft, breathable, and machine-washable. Cotton comes in a rainbow of colors to match your style. It is durable enough to withstand daily use.
Opt for medium-weight cottons like duck cloth or canvas. Prewash the fabric to prevent shrinkage. Use cotton thread and a longer stitch length. Press the seams open or to one side. Consider finishes like zigzag stitching or pinking to prevent fraying. With the proper sewing techniques, cotton creates a customizable, long-lasting tote.
Linen Fabric
Linen gives your tote that natural, breezy vibe. Its coarse, textured weave adds rustic charm while remaining refined. Linen is lightweight yet strong, resisting stretching while retaining its shape. Go bold with vivid dyes or muted earth tones. Consider linen-cotton blends for softness and structure.
Raw edges add casual flair, or get fancy with lace and pom poms. Gently spot clean and line dry out of direct sunlight.
Large Tote Bag Measurements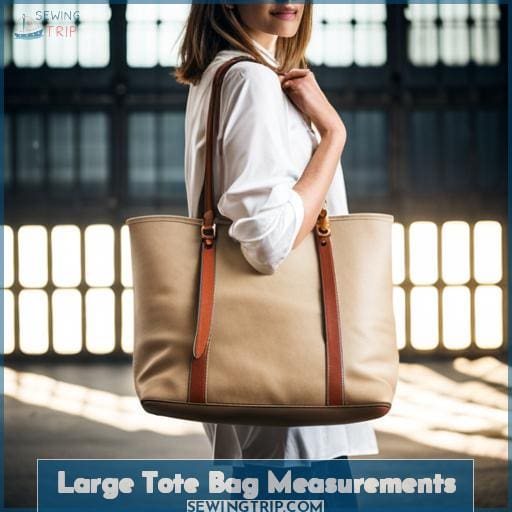 When designing your tote, think about how you'll use it. A larger tote with longer straps can be carried over the shoulder. Measure across your body from shoulder to hip to determine strap length. For a generous tote, cut your fabric pieces 18-20 inches wide and 16-18 inches tall.
This'll allow you to create a bag around 16 x 14 x 5 inches, perfect for carrying books, beach items, or even groceries.
Play with fun fabrics like canvas, denim, or bright cotton prints. Don't be afraid to add your own flair with pockets, contrasting straps, or appliqués. A magnetic snap or buckle closure keeps items secure. With the right fabrics and design, you can create a bold, spacious tote to take anywhere.
Decorating Your Tote Bag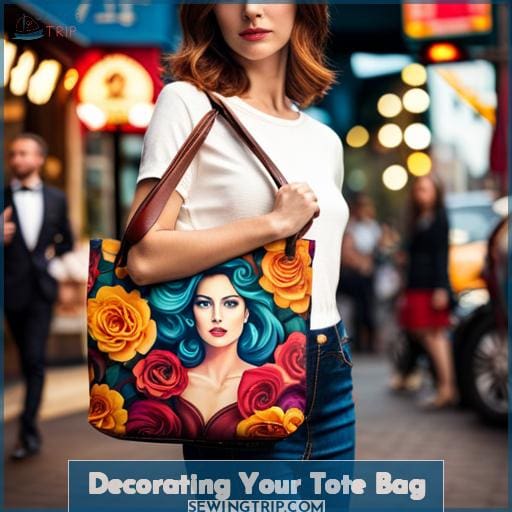 Personalize your tote bag with fun fabrics or creative details like pockets, trim, or applique. You can make it your own with custom lining, colorful straps, embroidered initials, fabric paint, iron-on vinyl, fabric markers, buttons, bows, or other embellishments to dress up this utilitarian carryall.
Vary the size and shape of pockets or add special linings to make it truly unique. Stitch on patches, lace, ribbons, rickrack or other trims for extra flair. Add an embroidered monogram or iron-on applique for a personalized touch.
Get creative with fabric paints, markers or stamps to add patterns, words or images.
Appliques and Embroidery
You'll love adding your own creative touches to personalize it.
Applique shapes or motifs cut from coordinating fabrics.
Embroider letters, numbers, or designs by hand or machine.
Accent with decorative stitching, piping, or trim.
Add fabric paints, iron-on vinyl, or fabric markers for one-of-a-kind flair.
Sew on buttons, beads, bows, or other embellishments.
With just a bit of creativity, you can make your tote truly unique! Experiment with appliques, embroidery, and other embellishments to give your bag personal style.
Fabric Paint and Markers
Add some flair by using Rit dye, markers or fabric paint for personalized patterns. Complement your style with custom graphics. Mix colors across the bag or choose distinct sections. Bold stripes and polka dots make a statement. Add nature motifs like leaves or animals.
Opt for abstract shapes or swirls. Embellish with your name. The possibilities are endless when you take a DIY approach to tote design.
| Fabric Paint | Fabric Markers |
| --- | --- |
| Dimensional acrylic fabric paint | Oil-based fabric markers |
| Textile medium fabric paint | Double-tipped fabric markers |
| All-purpose textile paint pens | Water-based fabric markers |
Unleash your creativity to make your bag uniquely you. Vibrant colors, fun patterns, meaningful words – let your tote reflect your personal flair.
Iron-on Transfers
Consider using iron-on transfers for quick and easy decoration.
Pick personalized designs to make your bag unique.
Avoid thick fabrics like canvas that won't accept transfers well.
Follow package directions closely for the best transfer results.
Express your style on the go with custom iron-on designs. Totes decorated with meaningful imagery or sayings become an everyday reminder to live authentically.
Tips for Sewing Canvas and Drop Cloth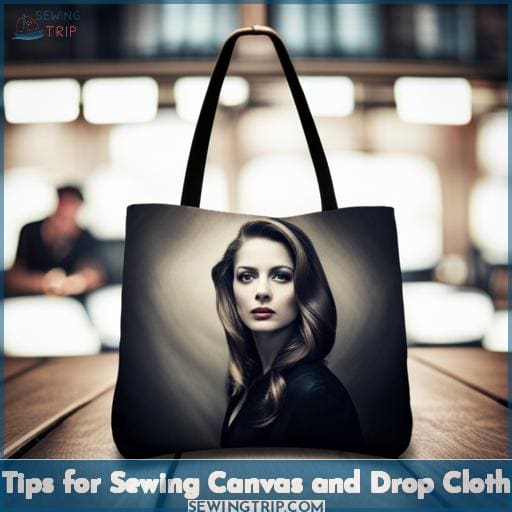 When sewing heavy fabrics like canvas or drop cloth, you'll want to take a few extra steps to ensure a quality end product. Make sure to reinforce seams by stitching over them twice and use a heavy-duty needle so the thick fabric doesn't cause skipped stitches or breakages.
Attaching a walking foot will help feed the layers through smoothly without puckering. Varying your stitch length can also be helpful for getting through multiple layers. Take your time and don't pull too hard on the fabric as you sew to avoid skipped stitches and distortion.
Using longer stitches on the initial pass and shorter ones on the second can add extra strength. Consider using an awl to open up the weave ahead of the needle so it can pierce the fabric more easily.
With some patience and the right tools and techniques, you can achieve a sturdy, durable seam on heavyweight canvas or drop cloth.
Using a Heavy-Duty Needle
Snap that heavy-duty needle in place 'cause this canvas doesn't mess around. You'll need that reinforced tip and enlarged eye to pierce multiple layers without complaining. Select a size 18 for lightweight canvas or a size 16 for thicker, tighter woven drop cloths.
And don't forget to change that needle regularly – a dull point leads to skipped stitches, frustration, and thread jams. Keep multiple sizes on hand and swap out often for smooth sailing through those robust fabrics, my friend.
Reinforcing Seams
Don't overlook reinforcing your seams with zigzag stitching or fray check. Protecting those stitches now prevents heartache later when your bag starts falling apart.
Use thick thread for topstitching seams.
Opt for longer zigzag stitches on industrial machines.
Apply fray check on exposed seam allowances.
Try interfacing on lightweight fabrics.
Secure stitching at stress points.
Focus on strategic seam reinforcement so your handmade tote withstands daily use.
Using a Walking Foot
By attaching a walking foot to your sewing machine, you'll glide easily over thick canvas layers. This quilting foot helps feed fabrics at the same rate, preventing uneven stitches on heavy materials like canvas or denim.
Adjust the presser foot pressure and stitch length to prevent seam puckering. First, test on fabric scraps. For best control, sew at a slow, steady pace. With practice, a walking foot expands your sewing machine's abilities for professional results on any project.
Finishing Edges With Zig-Zag Stitch or Fray Check

You've ever wondered how the tailors of old secured fabric edges for longevity? Fray Check prevents ravelling with its liquid magic, so brush it on raw seams or hems to strengthen your canvas tote against the sands of time.
When fraying edges threaten to unravel your handiwork, reach for this clear wonder sealing solution. With just a few strokes of the applicator, Fray Check binds and stiffens to guard exposed material.
Unlike zig-zag stitching that takes skill to finesse the tension just right, this no-fuss liquid creates smooth, finished seams lickety-split. Secure edges effortlessly without even threading a machine. Let every fiber stay snug as a bug, protected from wear and tear.
Smooth flowing Fray Check reinforces in a jiffy then dries transparent, leaving clean seams behind.
Choosing the Right Sewing Machine for Tote Bag Making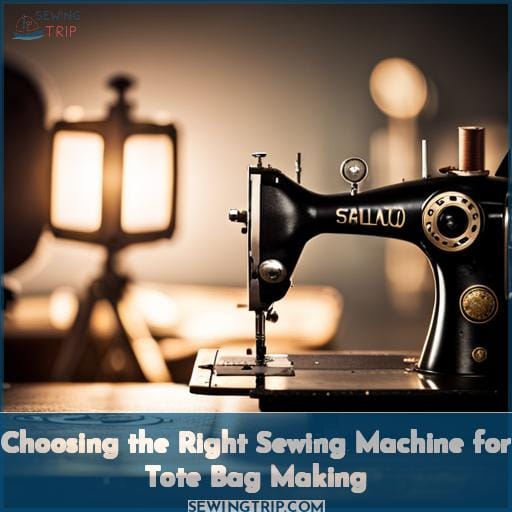 Choosing the right sewing machine is crucial for easily making your own tote bags. For beginners, look for an entry-level model with basic functionality, like the Brother CS6000i. It has 60 built-in stitches and enough accessories to get started on simple projects like totes.
Key features to consider when choosing a sewing machine
When pickin' your machine, prioritize ease-of-use and versatility for the novice sewer.
Basic stitches like straight and zig-zag
Adjustable stitch length and width
Easy threading and bobbin winding
Budget options from trusted brands like Singer and Brother offer these basics at affordable prices. Focus on simple machines with just enough variety for tote bags and future crafts. With proper care and maintenance, an entry-level machine will serve you well on your sewing journey.
Understanding different types of stitches
You'll want a machine with basic utility stitches like straight stitch and zigzag. Having options for stretch stitches, decorative stitches, and buttonholes provides versatility too.
| Utility Stitches | Decorative Stitches |
| --- | --- |
| Straight | Satin |
| Zigzag | Blanket |
| Stretch | Applique |
| Buttonhole | Cross |
The more stitch patterns, the more creative possibilities for your tote bags! Selecting the right needle and thread, stitch length and width will optimize results.
Budget-friendly options for beginners
Look within for a budget-friendly sewing companion on your tote-making journey. Seek a machine with basic stitches to handle canvas and cotton. Prioritize ease of threading, bobbins, and tension adjustments. Test drive models at local craft stores.
Used machines work if the mechanics check out. Embrace imperfections as you learn. Customization comes with experience. Trust the process. You're empowered to create your own unique tote.
Using the Right Tools for Tote Bag Making
You will need the right tools for making your tote bag. Begin with Clover Fine Quilting Pins for handling delicate fabrics, an Olfa rotary fabric cutter that allows you to cut precisely through layers, and Fiskars' Original Orange Handled Scissors which give comfort and control when cutting various materials.
Clover Fine Quilting Pins

View On Amazon
Grab those thin Clover quilting pins to easily pierce through delicate fabrics when constructing your tote. The 0.6mm diameter pins effortlessly pierce multiple layers of lightweight cottons or linens, keeping your fabrics neatly together as you stitch.
Don't worry about melting glass heads either, as these clever pins have iron-proof tops. Just be aware that they may bend under heavy weight canvas or denim. Opt for sturdier pins there.
Sharp, thin pins easily pierce lightweight fabrics
Iron-proof glass heads
Good for quilting and sewing delicate fabrics
Can bend under heavy fabrics
Mixed durability for some users
Olfa Rotary Fabric Cutter With Cover and Replacement Blade
View On Amazon
Snip precisely through fabric layers with Olfa's lightweight rotary cutter. Its ergonomic handle and quick blade change help craft precise patterns in a breeze. With its extremely sharp, tungsten steel blade, this handy tool slices multiple layers of cotton like butter.
The finger groove handle gives you control as you glide it across your project for smooth, accurate cuts. When it's time to swap blades, simply pop open the quick change cover and switch it out safely.
Using a rotary cutter saves tons of time versus scissors, especially when cutting curved shapes or many identical pieces.
Sharp blade for clean cutting
Lightweight and comfortable to hold
Easy blade change mechanism
Can cut through 8 layers of cotton fabric
Saves time versus scissors
Not ideal for very thick fabrics like denim
Requires a cutting mat for best results
Blades dull over time and need replacing
Fiskars Original Orange Handled Scissors Ergonomic Fabric Paper Crafts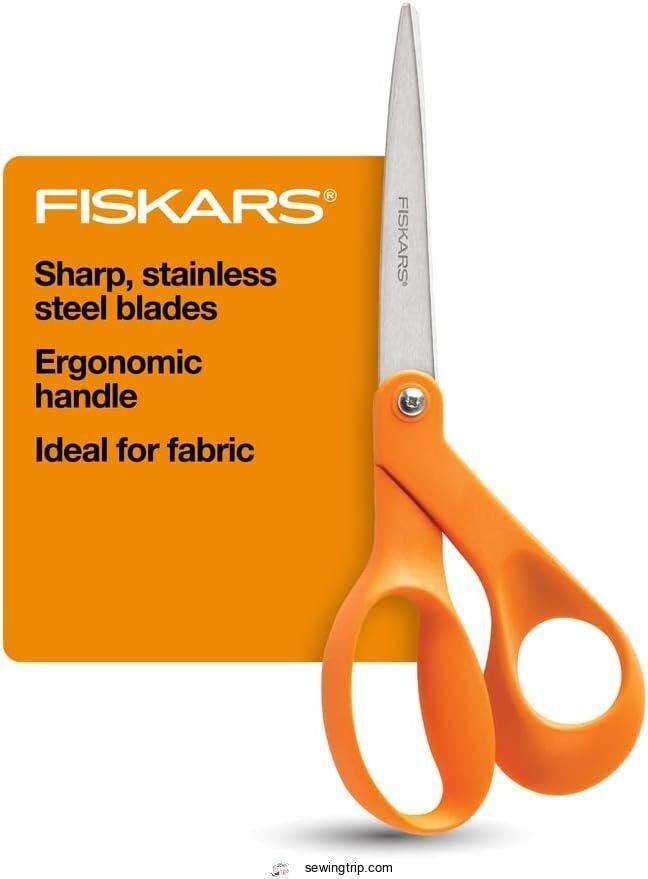 View On Amazon
Slice precisely through fabric layers with the lightweight, sharp Fiskars orange-handled scissors. The precision-ground stainless steel blades allow clean cutting all the way to the tip of the scissors, so you can make clean cuts even in tight spaces when cutting your tote bag pieces.
The ergonomic bent handles keep your fabric flat to prevent shifting while cutting your canvas and lining fabric for the tote.
Sharp blades for clean cuts
Lightweight and comfortable handles
Bent design keeps fabric flat
Durable and long-lasting
Not suitable for very thick fabrics
Left-handed models aren't always available
Can be expensive compared to other scissors
Pin It for Later!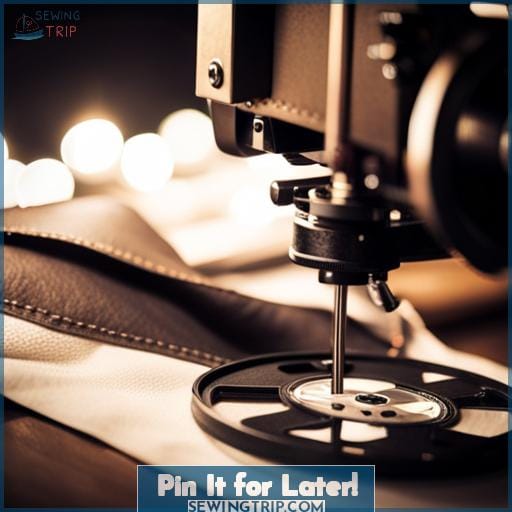 Don't forget to pin your tote in place while you're sewing to keep everything aligned perfectly. As you cut and arrange the fabric pieces, insert quilting pins along the edges before running them through the machine.
This prevents layers from shifting and ensures straight, crisp seams. Strategically place pins at curves or corners too. For thick canvas or layered sections, add extra pins to avoid puckering. Always pin perpendicular to the fabric edge so pins can be easily removed as you sew.
For fast assembly, use Clover's fine glass head quilting pins – they'll glide smoothly. Once pinned, check alignment, then sew slowly, removing pins as the fabric enters the foot.
Conclusion
Making a tote bag can seem intimidating, but with the right supplies and a few simple steps, it doesn't have to be. With this tutorial, you can learn how to make a tote bag that's strong, stylish, and sure to impress.
From selecting the best fabric and cutting the pattern to decorating and finishing your bag with the perfect stitch, this guide will show you everything you need to know to make a tote bag that's perfect for you.
With the tips and techniques outlined here, you'll have the confidence to create a tote bag that's both practical and beautiful.