This site is supported by our readers. We may earn a commission, at no cost to you, if you purchase through links.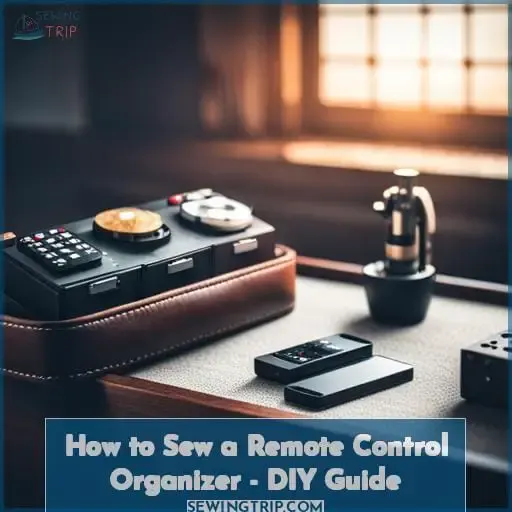 Are you ready to tackle a simple sewing project that will bring order and organization to your home? If so, then learning how to sew a remote control organizer is the perfect place for you to start.
You'll be able to keep all of those pesky controllers neatly tucked away in one spot where they can always be easily accessed.
Key Takeaways
Select medium to heavy-weight fabric like cotton, linen, or canvas for the remote control organizer. This will provide sturdiness.
Prepare bias strips from coordinating fabric for neatly finishing the edges. These can be made from scrap fabric.
Sew pockets of tightly woven fabric onto the main fabric piece to hold the remotes. Use durable fabric so the pockets do not rip.
Attach gripper fabric orVelcro to the back so the organizer stays in place and does not slide around. The texture will help it stay put.
Getting Started: Materials and Tools Needed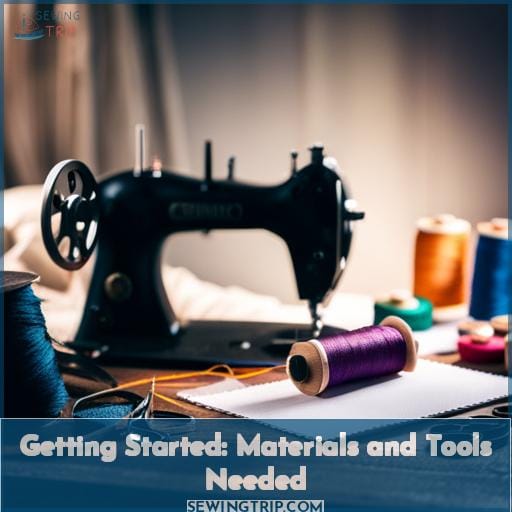 You'll need sturdy fabric, thread, and needles before diving into this craft, so gather your supplies like a squirrel gathering acorns for winter.
Start by selecting a medium to heavy-weight cotton, linen, or canvas fabric that will stand up to everyday use. Measure and cut your fabric pieces carefully, using sharp fabric scissors or a rotary cutter and mat.
Mark the fabric pieces with a fabric pen or tailor's chalk. Don't forget the all-important sewing machine, fully stocked with matching thread. Hand-sewing needles, pins, trims, and other notions will also come in handy. A flexible tape measure, seam ripper, pin cushion, and fabric shears are essential sewing tools that no avid crafter should be without.
With some clever cutting, precise stitching, and a few afternoons of diligent work, you'll create a custom remote holder that corrals all your devices.
Cutting the Fabric and Preparing the Binding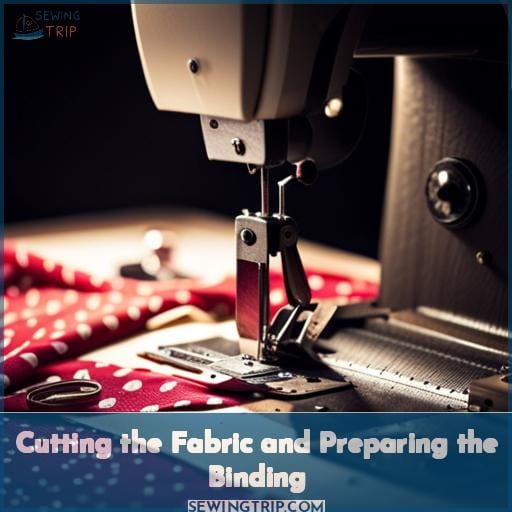 Now cut your fabric to size and prepare the binding to finish off the edges neatly.
Using your rotary cutter and cutting mat, carefully measure and cut your main fabric pieces according to the dimensions specified in your organizer pattern. Take your time to cut precisely – accurate cutting is the foundation of a professional finish.
For the binding, cut bias strips 1 1/4 wide across the diagonal grain of your fabric. This allows the binding to shape smoothly around curves and corners. Join the strips together end-to-end with diagonal seams to form one continuous piece.
Press the binding in half lengthwise with wrong sides together. Having neatly cut fabric and prepared binding will make assembling your remote control organizer quicker and easier.
Next you'll be ready to sew the main pieces together, attach the binding, and create those handy pockets to keep all your remotes in their place. With good preparation, you'll achieve a polished organizer that organizes your electronics in style.
Sewing the Pocket for the Remote Controls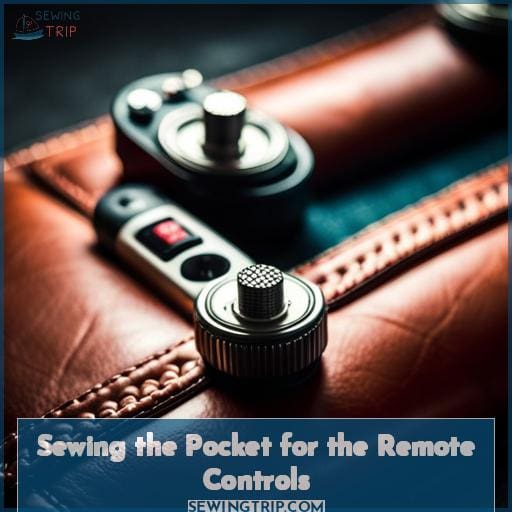 Simply align the pocket piece over one fabric piece, right sides facing, and stitch around three sides before flipping right side out.
Feel empowered knowing exactly where your remotes are located. No more wasting time searching around cushions.
Gain back control of your living space by reducing clutter from loose remotes.
Enjoy the mental lift of an organized home with a designated spot for electronics.
Take pride in your creative abilities by sewing a functional home accessory.
When selecting fabric for your remote organizer, opt for a tightly woven cotton or linen that'll hold its structure. Stitch the pocket with a 1/2 seam allowance using a straight or zigzag stitch. Topstitch around the sides after turning right side out for a crisp, professional finish.
Proper placement of the pocket piece allows for easy slipping in and out of remotes. With some simple sewing, you can take charge of your remote controls and maintain organization.
Attaching the Pocket to the Main Fabric Piece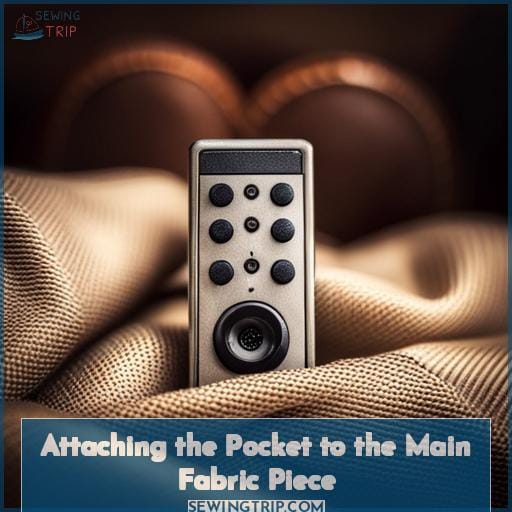 Tuck the finished pocket between the main fabric pieces before stitching to cleverly conceal the raw edges. Carefully pin the pieces together, aligning the edges precisely. Use plenty of pins to ensure the layers do not shift during sewing.
Here are some key alignment tips:
| Fabric Side | Placement |
| --- | --- |
| Right side | Align raw edges along the 14" sides |
| Wrong side | Center pocket on the fabric, pinning the edges in place |
As you stitch the pocket to the main piece, go slowly and check alignment often. Remove pins just before they reach the presser foot. Press seams neatly when finished. Proper preparation results in a beautifully constructed organizer pouch.
Your remotes will be neatly tucked away and easy to grab when needed. A tidy home is a happy home! With some basic sewing skills and quality materials, you can customize storage solutions tailored to your space and needs.
Adding the Gripper Fabric for Stability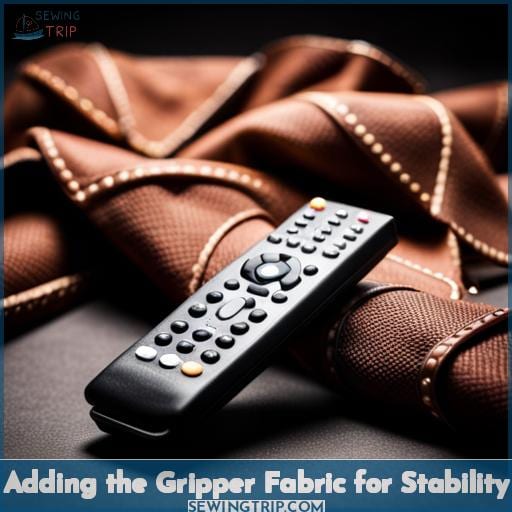 Hold on tight as we get this organizer secured with some gripper fabric that'll really make it hug those remotes.
Cut a piece of gripper fabric the same size as your main fabric piece.
Center it and pin in place. Consider using clips instead of pins for less damage.
Machine sew around all 4 sides with a 1⁄4" seam allowance.
Trim excess seam allowance to reduce bulk.
Choosing the right gripper fabric is key for keeping your remotes firmly in place. The small rubber dots on the back grip surfaces without damaging them. This no-slip material's the secret to giving your organizer stability so it doesn't shift around.
Securing a layer of gripper fabric to the back ensures your homemade remote caddy stays neatly in position. While gripper fabric's ideal, you could also try interfacing or even a towel scrap. The possibilities are endless when you DIY. However you achieve it, a stable base's essential for your remote organizer to function as intended.
This useful storage solution will keep all your remotes in their rightful place, making it quick and easy to find the one you need.
Sewing the Binding Onto the Remote Control Organizer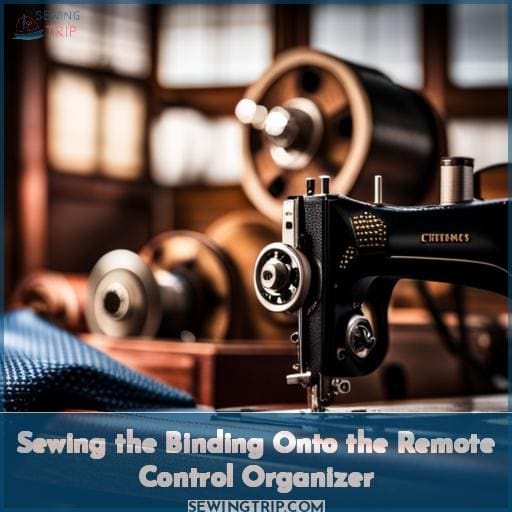 Keep up the excellent work, stitching the binding around the edges to neatly finish your clever creation. Take time binding the perimeter with a matching fabric, gently turning the corners with your handy sewing stiletto.
Watch the mitered corners, softly pressing them into perfect 90 degree angles. Experiment with different binding techniques like double-fold binding for a tidy finish or rounded corners for a softer look.
Have fun trying decorative stitches along the binding, varying zigzag or satin stitches to personalize it. Try mixing fabrics or trims for extra flair, like velvet for luxury or grosgrain ribbon in a pop of color.
Refine the details with precision, smoothing each seam flawlessly, as this last step elevates a simple organizer into a showpiece. Your vision will come together beautifully with the final flourish of binding, creating a functional yet fashionable way to control the remotes.
With an admirable spirit for organization and passion for creativity, you have transformed household clutter into a stylish, personalized piece. Well done on imagining such an inventive solution for taming technology in style.
Optional: Personalizing and Customizing the Organizer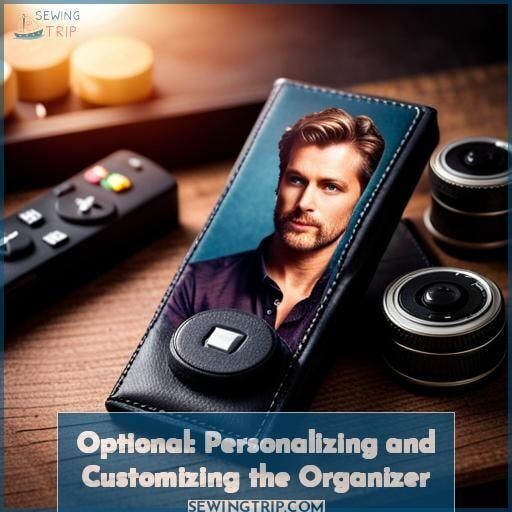 Saddle up, get creative customizin' that sucker however you fancy! Personalizin' your remote control organizer is a fantastic way to finish off your sewin' project and make it truly your own.
Fun fabrics. Pick a funky fabric print that reflects your personality – bold florals, preppy stripes, retro geometrics.
Creative embellishments. Add interest with trims, buttons, appliqués or other embellishment options. Sew on ric rac trim or lace edgin'. Accent with colorful pipin' or cute buttons.
Color choices. Make a color statement by selectin' a vibrant hue or usin' coordinatin' colors for the pockets and bindin'.
You can employ various personalization techniques like fabric paintin', stenciling, stamped designs and photo transfers to make it extra special. Ultimately, it's your call – have fun puttin' your own spin on this useful remote control organizer sewin' project! Selectin' personalized materials and decorations will result in a customized handmade home accessory that sparks joy whenever those remotes need organizin'.
Tips for Sewing Success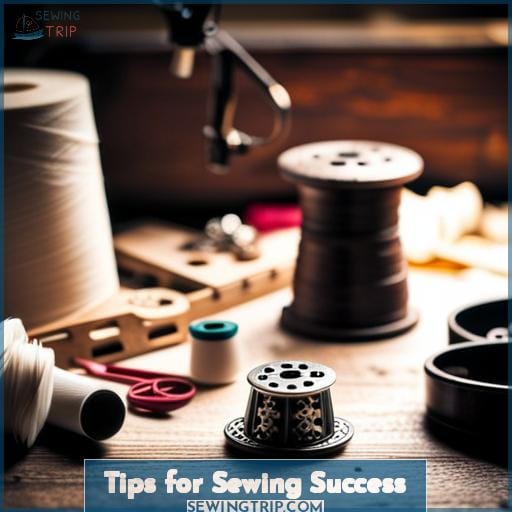 Choose the right needle. Be sure to use the appropriate size and type of needle for your fabric. Using the wrong needle can lead to skipped stitches, snagged fabric, or damage to your machine.
Check thread tension. Proper thread tension helps create clean, professional-looking seams.
Use quality thread. Invest in good thread made of 100% polyester or cotton. Stay away from cheap thread which can frequently break or snag.
Press seams. Press seams flat with an iron before topstitching for a crisp, clean finish.
With the right preparation and a bit of practice, you'll be churning out custom remote holders in no time. Taking it slowly, being patient with yourself, and learning as you go will make you a sewing pro in the long run.
Enjoying Your Handmade Remote Control Organizer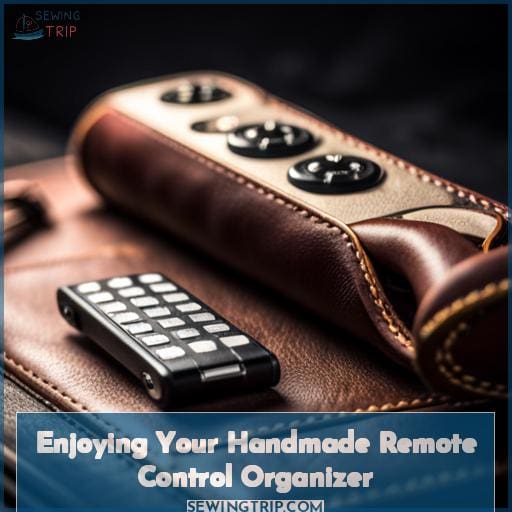 You'll love fashioning your personalized remote caddy to stow your clickers in style. Carefully choosing attractive, coordinating fabrics lets you seamlessly incorporate your remote organizer into any living room design.
Make it yourself to flawlessly complement your décor with stylish solids, lively prints, rich textures. You decide. Arrange internal compartments to conveniently corral clickers, game controllers, magazines, and books.
Group multimedia remotes or stash your favorites upfront for grab-and-go convenience. Wherever placed, remotes stay put, no more frustrating searches under couch cushions or behind furniture. Enjoy the satisfaction of whipping up a practical, pretty remote holder in an afternoon.
With some fabric, thread, basic sewing skills you can organize your coffee table clutter once and for all. So this weekend, pull out your sewing machine and get creative with a crafty remote caddy.
Conclusion
Congratulations! Now that you have completed this tutorial, you are adept at making a remote control organizer. With your newly acquired skills, you can create a unique and fashionable storage solution that is ideal for any room in your home.
Not only will your remote control organizer keep all your remotes in one convenient spot, but it will also add a personalized flair to any space.