This site is supported by our readers. We may earn a commission, at no cost to you, if you purchase through links.
Writing your own clothing is a skill that can give you confidence, satisfaction, and freedom. And with the right tools and techniques, you too could be creating amazing garments in no time.
Sewing trousers may seem daunting at first glance, but it doesn't have to be! With just a few simple steps, anyone can create stylish pants from scratch using fabric of their choice.
In this article, we'll explore how to sew a simple trouser – from selecting the pattern through cutting out pieces of fabric all the way down to hemming them into place for perfectly fitting trousers every time!
Key Takeaways
Selecting a Trousers Pattern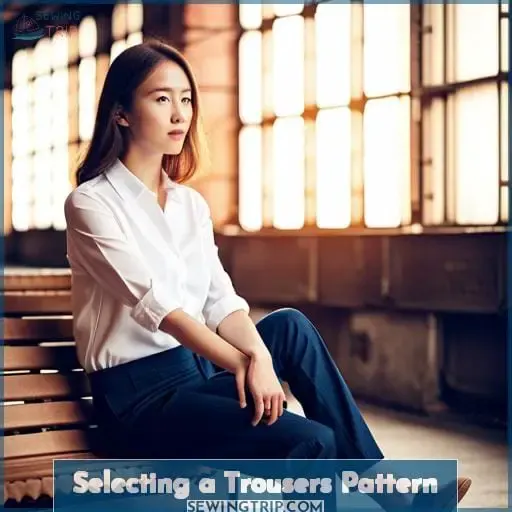 You've come to the right place to learn how to make a simple pair of trousers. Selecting the appropriate pattern is crucial in creating a stylish and comfortable pair of pants. Make sure to choose a pattern that fits your measurements, budget, and desired style.
When selecting fabric, look for woven fabrics with added spandex for maximum comfort. Adjustments may need to be made depending on your body size or if you are using a free pattern. Before attaching pockets, transfer dart markings onto the back of the fabric using tailor's chalk.
Then, pin the pant legs together at the seams. To ensure the proper hem length, try the trousers on after inserting each leg into one another along the crotch line. Finally, sew the zipper or elastic waistband in place, securely fastening the pants around your waistline.
Choosing the Right Fabric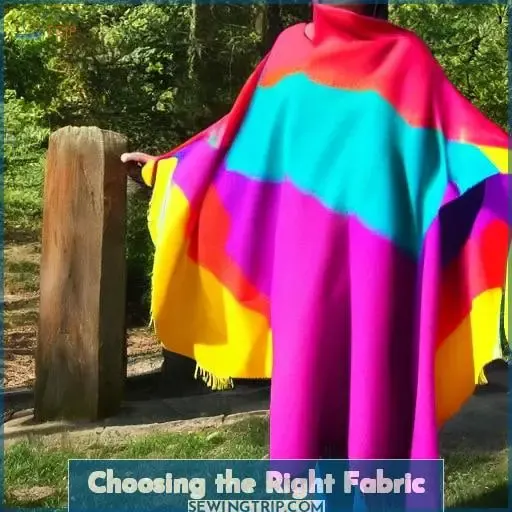 When selecting fabric for trousers, it's important to choose a woven material with added spandex for comfort and ease of movement. Natural fiber blends, such as cotton/viscose or polyester/cotton, are ideal because they are easy to sew, durable, and comfortable.
Cotton fabrics come in many weights, from lightweight muslin to heavy canvas, making them perfect for creating darts and sizing pockets properly. When stitching seams, consider the type of stitches you'll be using. Heavier fabrics require stronger stitches, while lighter ones do better with more delicate stitching techniques.
To adjust length without compromising fit or style, add two inches (5 cm) extra allowance to the back piece during construction if making loose-fitting pants. Shaped pants usually don't need the additional allowance due to their tapered profile at hemline level already accounting for different heights between front and back pieces.
Finally, opt for natural fibers that have been blended with man-made materials like spandex.
Measuring Your Body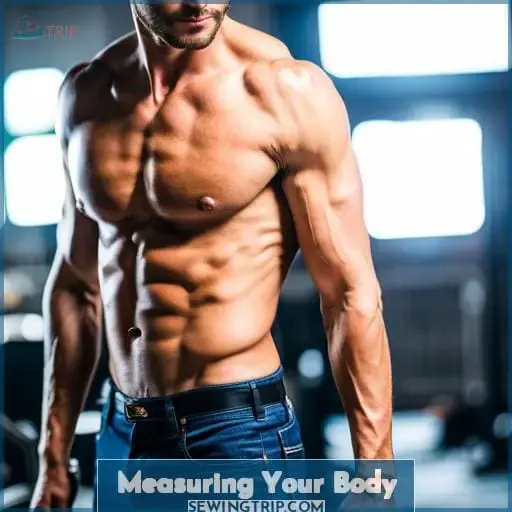 It's important to take accurate body measurements for trousers, as the best materials for making pants are woven fabrics with added spandex for comfort. According to master tailor Mia Danilowicz, who has worked at award shows such as the Oscars and Golden Globes, it's essential to have an exacting fit in order to create a flattering garment.
To begin your fitting process, you'll need a pattern selection that will guide your project and ensure a good fit. When taking body measurements, it's helpful to use tailor's chalk or pins so they remain visible on the fabric throughout each step of construction.
When selecting fabric types, avoid stretchy knits since these can be difficult when sewing trouser pocket details. Instead, opt for woven fabrics like cotton twill or corduroy, which are good choices according to Laura Kim and Fernando Garcia's teachings through MasterClass Annual Membership tutorials.
Before cutting out any pieces, make sure you measure from the line of the waist down across the hip all the way around the thigh up until the top line of the groin where the pocket should reside. This ensures proper length pant leg along with a comfortable rise at the crotch area before hemming the bottom edge.
Cutting Out the Pattern Pieces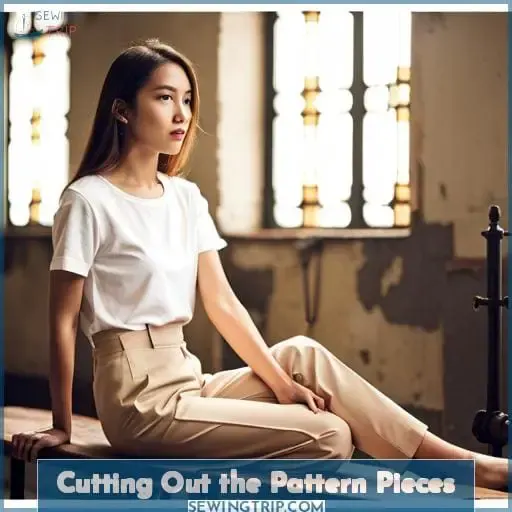 Cut out the pattern pieces with sharp scissors, taking care to transfer any dart and pleat markings from the paper onto the back of your fabric.
Arrange the pieces on top of each other according to size lines, ensuring that all edges of the paper pattern pieces are aligned. Before pinning them together, make sure you have selected a fabric that is easy to sew and will yield good results after washing.
The sewing process should be done carefully. Start by stitching along both side seams with a straight stitch. Then, attach the pockets before inserting the pant legs into one another at the crotch line.
Don't forget about the stay band. Baste-stitch the pocket tops in place so they don't fold out while wearing the trousers! Finally, trim the pant legs down as desired and hem their edges to complete your custom trousers.
Transferring Markings to Fabric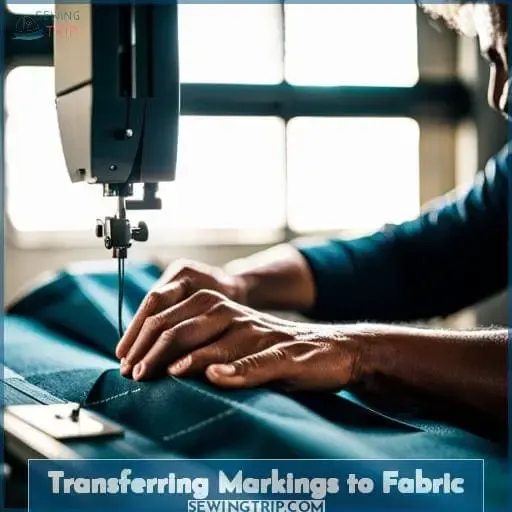 Now that you've cut out your pattern pieces, it's time to transfer the markings onto your fabric. Before transferring any markings, make sure to add interfacing if necessary and preshrink the fabric by washing and drying it.
You'll also need some basic sewing materials such as tailor's chalk or a disappearing ink pen, which can be purchased at a local fabric store. Once you're ready to begin transferring marks onto the garment pieces with either chalk or pens, keep in mind that tapered leg styles will require french curves for smooth transitions between side seams and bottom hems.
For elastic gathering on waistbands or cuffs, use pins close together along edges for easy removal after stitching is finished. Alternatively, use small snips of thread instead of pins when dealing with soft fabrics like silk charmeuse since regular pinholes can leave behind permanent indentations on delicate fabrics.
To finish off seam allowances, remember not to include any raw edges exposed – they should be enclosed within other methods such as topstitching (single line), zigzag stitch (multiple lines), binding/facing/bias tape, etc.
Lastly, don't forget to attach a piece of elastic cut according to the width measurement taken around the natural waistline before hemming trousers.
Attaching Pockets
Pin the pockets in place before attaching them to your trousers. To ensure proper pocket placement, use tailor's chalk and a ruler or pattern pieces to mark where each pocket should be attached. Ironing seams will help keep fabric flat, while adding darts can alter fit. Stitch along the outer edge of each pocket with a straight line using small backstitches for extra reinforcement, if desired.
Next, top-stitch around the edges of both pockets for an even better finish and design detail that is often seen on professionally made garments from fashion designers! After stitching has been completed, turn your trousers inside out and make sure all sides are neatly pressed down by ironing again.
You now have stylish pants perfect for wearing out in public!
Sewing the Inseam and Outer Edge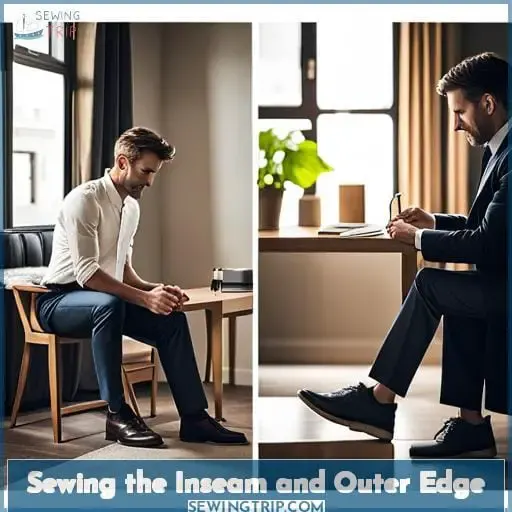 Next, carefully sew along the outer edges of each pant leg and inseam for a tailored look. Begin by selecting a trouser pattern that fits your skill level and desired fashion design.
Take body measurements before cutting out paper pattern pieces with sharp scissors; transfer any dart or pleat markings to the back of your fabric using tailor's chalk. Then, pin two pieces of fabric together at their right sides, taking care to match all notches correctly.
Stitch around the outside edge as well as down both legs' inner seam for precision sewing techniques.
Finally, insert one pant leg into another and sew along the crotch area. This step can be tricky, so take extra time if needed! Install either an elastic waistband or zipper depending on preference. Then, trim excess fabric from the hemline and secure with pins before stitching it up according to individual taste in hemming options.
Sewing the Crotch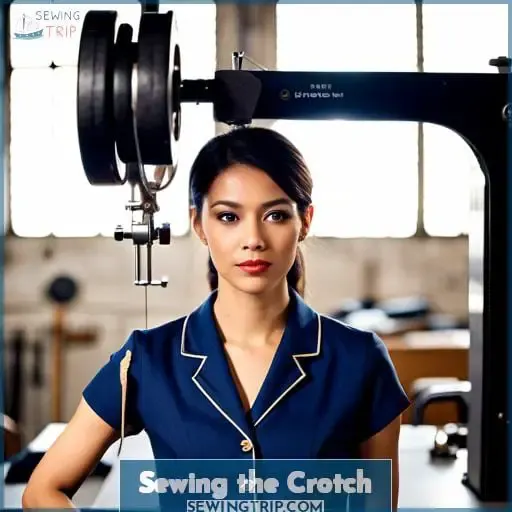 Holding the fabric pieces together, you'll need to stitch along the crotch line for a perfect fit.
Selecting a suitable fabric that won't fray easily;
Allowing enough seam allowance when cutting out your pattern pieces;
Placing darts correctly on back leg fabric pieces for shape and definition; and
Securing pockets with tailor's chalk before pinning pant legs together.
Before beginning this process, make sure you have access inside your waistband of your pants by creating an opening with scissors or a small knife where necessary. This will allow you to feed through the elastic loop later on without any problems or bumps along the way.
It will also help create a smooth elastic loop while inserting it into the casing pocket once all seams are sewn securely around both legs' front and backside of trousers.
Having done this step carefully, it is time to secure all stitches down firmly at edges using zigzag stitch finishing technique, ensuring comfortability level during long wearing hours throughout the day!
Installing a Zipper or Elastic Waistband
Secure the trousers by adding a zipper or elastic waistband to complete the look. Before starting, it's important to select fitting tools and fabric for your project. Measurements should be taken with tailor's chalk before cutting out pattern pieces and adjusting seam allowances for a good fit.
When selecting a pattern, make sure you choose one that has an adjustable waistband so adjustments can be made as needed throughout construction of the pants. For an elastic waistband casing, use free patterns from various sites online or draw up your own using sewing tools like scissors, pins, ruler, etc.
Once all pieces are cut out correctly, sew them together following directions closely. When attaching belt loops, don't forget to secure them properly with thread knots at both ends! Finally, check whether you need any further adjustments on length or shape before putting in your zipper/elastic closure.
Hemming the Trousers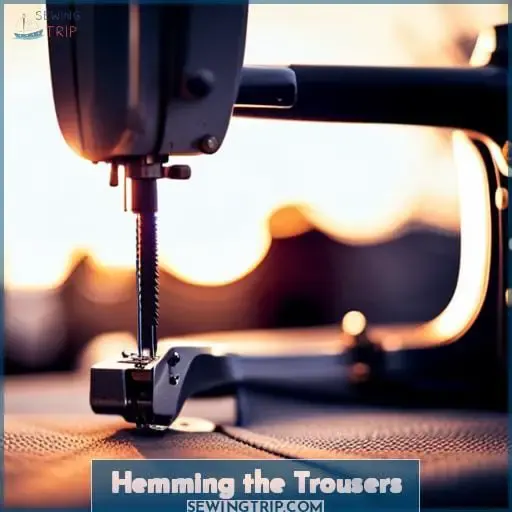 Finally, to complete the trousers, you'll need to hem them for a polished look.
To do this, start by putting tailor's chalk on the inside of each leg and mark where you want it to be hemmed. Turn up the pant leg twice before making sure that an even length is achieved all around. Once marked with tailor's chalk, use pins or clips to keep everything secure when sewing your hems together later on.
To sew your hems together, use a straight stitch along both sides of each trouser leg. Make sure they are neat and precise so as not to distort any pleats or darts that were created earlier during construction.
Finally, thread ends in neatly at the backside after trimming surplus threads off from the front side – giving these pants a professional finish!
Frequently Asked Questions (FAQs)
How do I know which trousers pattern to choose?
Choose a pattern that fits your body measurements and desired style of trousers. Select an appropriate fabric for the project, paying attention to stretchy components if applicable. Look for simple instructions with clear diagrams or videos to guide you through the process.
Consider a budget pattern such as See & Sew for easy-to-follow directions and helpful tips on construction techniques like pockets and waistbands.
What type of fabric works best for trousers?
The ideal fabric for trousers is woven material with spandex added for comfort. It's important to find a style that fits well and is comfortable, and then use the measurement guide on the pattern to begin.
You can choose from budget patterns like See & Sew, which offer clear instructions.
Are there any specific techniques for measuring my body for trousers?
To measure your body accurately for the perfect trousers, use a tape measure to mark your waist, hips, rise, inseam length, and leg width. For extra precision, add 1-2 inches of ease to each measurement. This will ensure comfort when wearing your trousers.
To ensure the right fit, use contrasting thread to baste test pieces together before cutting out the fabric.
What is the best way to cut out the pattern pieces for trousers?
To cut out the pattern pieces for trousers, use sharp scissors to carefully follow the markings on your paper pattern. Ensure that you transfer all dart and pleat markings to the back of your fabric, and then cut out each piece precisely.
How can I ensure accurate dart and pleat markings on my fabric when making trousers?
To ensure accurate dart and pleat markings, use a sharp pair of scissors to cut out the paper pattern pieces. Prior to pinning them together, transfer all markings onto the back of the fabric with chalk.
Conclusion
Wrapping up your trousers is simple. Once you have followed the steps above, you can be sure that you have a pair of trousers that will fit you perfectly. All that's left to do is to show them off. It's time to put your hard work into action and wear your fresh trousers with pride.
With a little bit of patience and practice, you'll soon have a wardrobe full of handmade trousers that you can rock.