This site is supported by our readers. We may earn a commission, at no cost to you, if you purchase through links.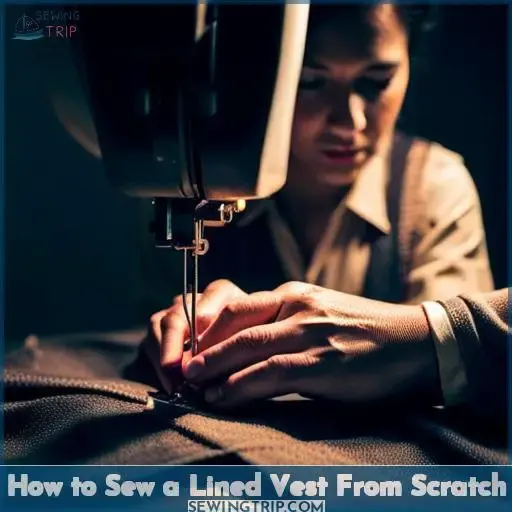 Gather 'round, friends! Today we'll be crafting a lined vest from scratch. I know a cozy, customizable vest sounds tempting, but slow down—we've got work to do first. Don't worry; I'll walk you through each step: drafting the pattern, cutting the fabric, and stitching it all together.
With a few key materials and a dash of determination, you'll have a unique vest lined and ready to wear in no time.
Key Takeaways
Cut fabric carefully after pinning the paper pattern.
First, sew the side seams with a 1/2 inch seam allowance.
Carefully insert the lining, match the seams, and distribute fullness evenly.
Hem the vest and lining separately.
Vest Sewing Supplies Needed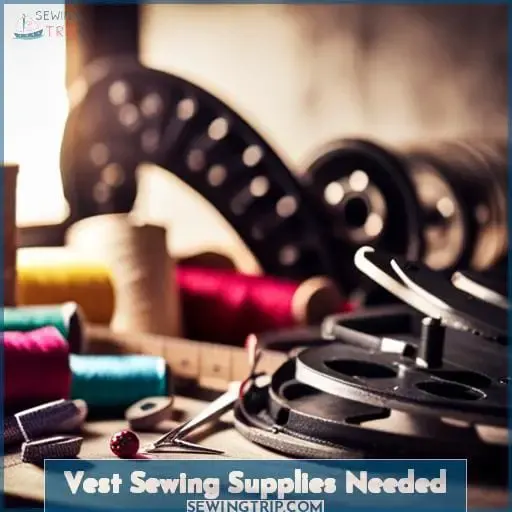 Here are the main supplies you'll need for this vest project. You'll need to buy about one and a half yards of your chosen vest fabric and matching lining fabric. Also, don't forget common sewing notions like matching thread, scissors, pins, a sewing machine, and other basic sewing tools we regularly use.
Fabric
Cotton poplin – it's crisp and lightweight.
Linen blend – it's breathable for warm weather.
Corduroy – it has structure yet stretches.
Chambray – it's soft with a dressier look.
Denim – it's durable and casual.
Choose a fabric with the right stiffness, breathability, versatility, shrinkage resistance, and durability for a successful vest that will hold its shape.
Notions
To fasten the vest securely, make sure the thread matches the buttons. Pin the fabric firmly before cutting to avoid slippage. Select fastenings like snaps or buttons for the closure style. Match the thread color to the buttons or fabric.
For a professional finish, use silk thread and decorative buttons. Pick a simple neckline shape unless you are experienced at sewing collars. Consider complementing lining colors for an accent. Add custom pockets sized for his wallet and phone.
Hand stitch slowly through leather using an awl and waxed thread. With practice, you'll master precise stitches on this worthwhile project.
Make Your Vest Pattern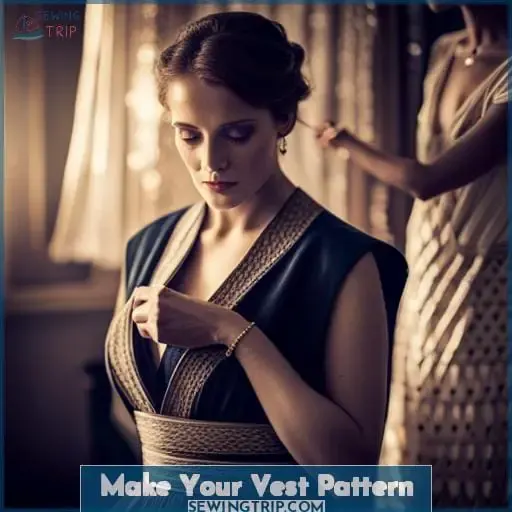 To start the process of making your vest pattern, trace an existing tank top or t-shirt by laying it flat and drawing the outline, adding 1/2 inch for seam allowance. For a more customized fit, you can draft your own vest pattern from your measurements using drafting paper.
To do this, first determine your chest, waist, and hip measurements. Then use these measurements to draft the front and back pattern pieces according to a drafting method of your choice. The armholes and neckline can be drafted based on an existing pattern or traced from a close-fitting tank top.
Add seam allowances of 1/2 inch around all edges once the pattern is drafted. The pattern can then be cut out from pattern paper or fabric and sewn together to create your vest. When drafting the pattern, be sure to blend curved lines to avoid sharp corners for a more professional finish.
Mixing straight lines, gentle curves, and angled edges will result in a well-fitting vest pattern tailored specifically to your body measurements.
Trace Existing Garment
Lay the newspaper flat and trace the tank top or t-shirt using a fabric marker, being sure to extend the lines 1/2 inch beyond the edges for seam allowances. This creates the front, back, and optional side panels for your vest pattern. For optimal fit, fold the shirt front in half to trace each side separately.
Mark the shoulder and fold lines. Layer the paper pieces to inspect sizing before cutting your fashion fabric. Contrasting binding along the armholes and neckline adds interest. Decorative topstitching frames the edges with flair.
Draft Your Own
While drafting your own vest pattern, imagine your loved one wearing this thoughtful gift you're creating.
Use a smooth, firm fabric like denim, twill, or corduroy.
Take accurate measurements of the chest, waist, and hips.
Trace onto pattern paper, adding 1/2 seam allowances.
Check the fit by pinning paper pattern pieces to muslin.
Drafting a custom vest pattern takes more time yet yields a better fitting, cherished gift. Match the fabric type to your recipient's style for a vest that suits their personality.
Cut Out Your Vest Pieces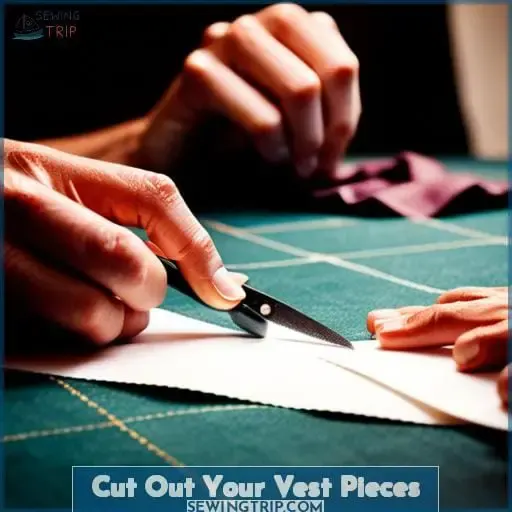 Next, pin your patterns carefully and cut the fabric for both vest and lining. Lay t-shirt tracing on top of vest material before using pins to hold it in place. We don't want any slippage while cutting. Repeat this process for lining, ensuring pieces are identical.
I'm excited for you to put your own creative spin on this project. Will you add decorative touches like contrast stitching or funky buttons? The possibilities for vest customization are endless! Think about necklines, pockets, fabrics.
If unsure, my video tutorial covers all the options so you can decide what fits your style and skill level.
Sew the Vest Shell

Let's get to sewing. Start by carefully sewing the side seams of your vest shell and lining separately, being sure to follow the 1/2 seam allowance marked on the pattern. Then, with right sides together, sew the vest shell to the lining all the way around, leaving the shoulder seams open so you can turn it right side out—be extra careful pinning here for smooth seams.
Stitch Side Seams
With all vest pieces cut out, now connect the sides by sewing the side seams – keep those stitches straight!
Pin the front and back sections together at the sides. Sew one side with a 1/2 inch seam allowance.
Reinforce the shoulder seams by stitching them twice to support the weight of pockets.
Leave the bottom edges raw for now to neaten after assembling the vest lining.
Add topstitching to the front edges for crisp, tailored shape.
Open the side seams later to insert the lining.
Next up – we'll add pockets to hold keys and phone!
Attach Front to Back at Shoulders
Ordinarily, sew the shoulder seams and continue constructing your trendy new vest.
Now jazz up your vest by:
Choosing a special fabric
Picking a snazzy fastening option
Adding a splashy lining detail
Styling it with a bow tie or necktie
So elevate your vest making to the next level and have fun expressing your personal flair. With a few creative touches, you'll be strutting a distinctive look in no short order.
Add Lining and Finishing Touches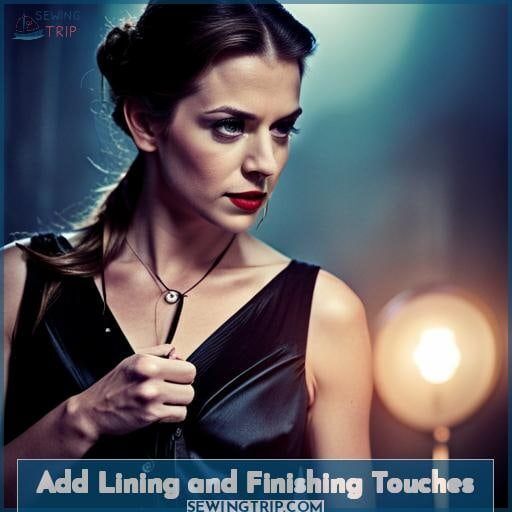 You're almost to the finish line! Carefully insert the lining, add your choice of closure, and hem for a polished look to complete your vest.
Insert Lining
Shove the lining inside the vest shell without delay or your project'll be in the soup! With the shell sewn, it's time to insert the lining. This step makes the vest more durable and comfortable against skin. Review fabrics and notions before proceeding.
| Do This | Not That |
| --- | --- |
| Match up seams | Rush the process |
| Evenly distribute fullness | Force fabric |
| Work slowly | Stitch carelessly |
| Check fit as you go | Skip basting first |
Consider vests for each season. Add lightweight linings like silk in summer or warmer interfacing for winter wear.
Add Closure and Hems
Now fasten up your vest with snaps or buttons.
Select the right closures based on vest fabric. Buttons for thicker materials, snaps for lighter ones.
Evenly space closures down the front edges. Mark spots before attaching.
Sew buttons on one side, make buttonholes or attach snaps on the other.
Hem the vest and lining separately. Staystitch raw edges. Press well. Your custom vest is complete!
Conclusion
Sewing your own lined vest can be very satisfying! As the old adage goes, practice makes perfect, so don't get discouraged if your first attempt isn't picture-perfect. With some perseverance and the right sewing techniques, you'll craft a quality homemade vest that fits you flawlessly in no time.