This site is supported by our readers. We may earn a commission, at no cost to you, if you purchase through links.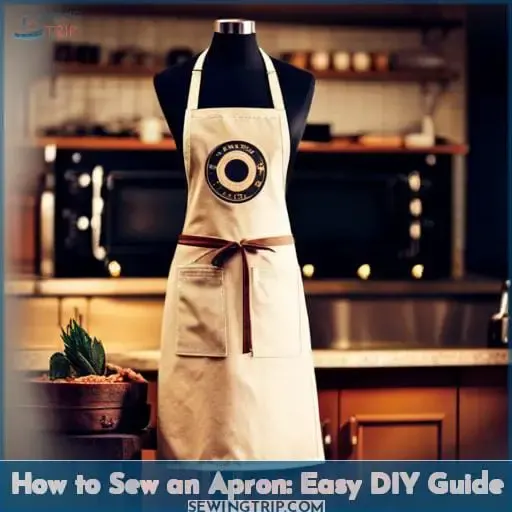 Have you ever wanted to be able to sew an apron as easily and quickly as something out of the shops? Don't worry, it's not impossible! With this simple guide on how to sew an apron, you'll have the perfect one-of-a-kind accessory for your kitchen in no time.
Even if you've never sewn before, anyone could make their own stylish aprons with just basic sewing supplies and some fabric that suits their style.
So what are we waiting for? Let's get started crafting our very own homemade masterpiece now!
Key Takeaways
Gather quality materials such as fabric, thread, scissors, a marker, and a sewing machine.
Cut a large rectangle for the main piece and prepare strips for the neck strap and back ties.
Create the apron shape by marking and folding the fabric.
Add details like pockets, a neck strap, and ties, and finish the edges with hems and trim.
DIY Apron: Supplies and Materials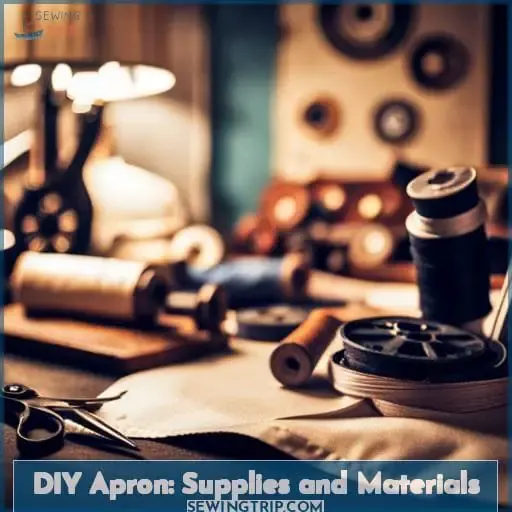 When making a DIY apron, you'll need to decide which fabric best suits your needs. Cotton and linen are great choices, though you'll also require thread, scissors, a marker, and a sewing machine to assemble the project.
Fabric Options
For a more robust apron, consider splurging on some heavy-duty canvas fabric. Cotton canvas is durable but gets softer with washings, so it's perfect for an apron that'll last. Linen is pricier but breathes well, resisting stains. Play with different printed cottons for a more personalized look.
Don't skimp on inferior poly-cotton blends; they pill and fade. Measure your body and sketch possible shapes before buying yardage. Splurge a bit for quality materials that suit your style and build an apron that feels uniquely you.
Additional Supplies Needed
While crafting your apron, grab thread and scissors to finish the edges neatly. Beyond fabric, snatch sewing essentials for sturdy seams and customized style. Thread keeps stitches secure as you shape the apron. Scissors cut clean lines and trim threads.
Pencil markings guide neat hems and pocket placements. Bias or twill tape binds curved seams smoothly. Embellish with ruffles, trims, or appliques. Add personalized flair with fabric paint, iron-on decals, or embroidered initials.
A selvage edge finishes a vintage look. With these extras, create unique, durable aprons for cooking or crafting.
DIY Apron: Cutting and Preparing the Fabric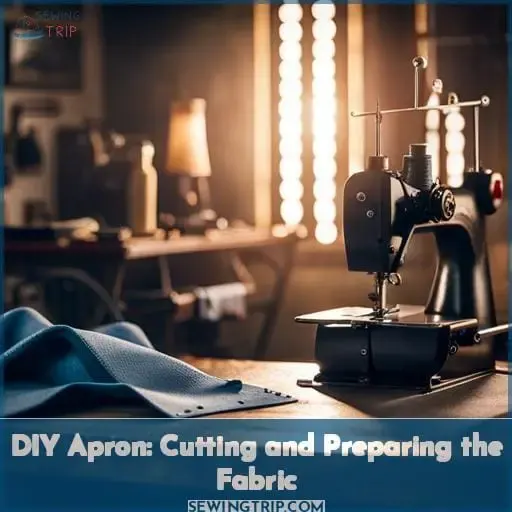 Let's begin creating your homemade apron. First, grab your fabric and scissors to cut out the pieces according to your simple apron cut list. Then, carefully mark and measure the fabric before cutting out the apron shape based on the desired dimensions.
Simple Apron Cut List
Well, let's gather up those pieces of fabric – we're off to the races, folks! When it comes to creating a simple DIY apron, getting the fabric cut just right is crucial.
Here's your simple apron cut list to get started:
Main Piece: Cut a large rectangle, usually around 27 inches in height and 20 inches in width. This forms the body of your apron.

Neck Strap: Prepare an 18-inch strip for the neck strap.

Back Ties: Cut two 36-inch strips for the back ties.

Pockets (Optional): If you want pockets, cut squares of your chosen size and shape.
With these measurements in hand, you're ready to move on to the next steps and craft your customized apron.
Marking and Cutting the Apron Shape
Now shape the apron by marking 4 inches from the folded edge for the top and 18 inches from the opposite side for the underarm curve. This step is where your creative customization comes into play. The apron shape defines its style, so take your time to ensure it matches your vision.
Whether you prefer a classic look or a unique twist, this cutting technique sets the foundation for your sewing instructions. Fabric selection also matters here; choose a material that suits your needs and aesthetic preferences for the perfect DIY apron.
DIY Apron: Creating the Apron Shape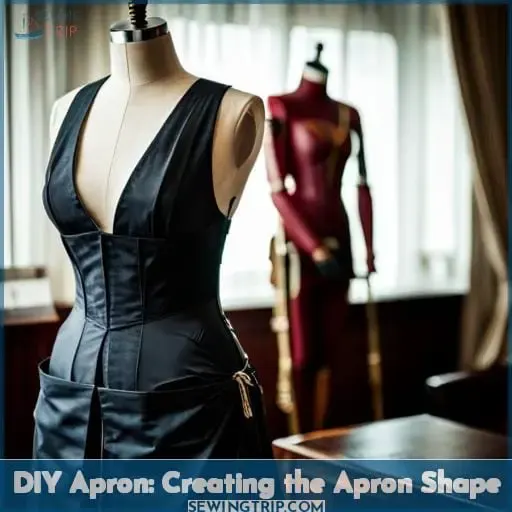 After cutting out the apron shape, carefully fold and pin the curved edges to prep them for finishing. Use small, frequent folds to ease in the extra fullness around the arm holes so the finished edges lay flat.
Here are 4 tips for creating neat curved edges on your apron:
Clip the seam allowance on the curves at regular intervals to help the edge lie flat when turned.
Topstitch the curved edges for a professional finish. Use a short stitch length for best results.
Grade or trim the seam allowance on one side to reduce bulk.
Press well, coaxing the fabric into shape with the iron if needed.
When constructing your apron, experiment with different fabrics and shapes for a truly custom look. French seams or bias tape provide a tidy finish. Don't be intimidated by sewing curves, even if you're a novice stitcher.
DIY Apron: Adding a Pocket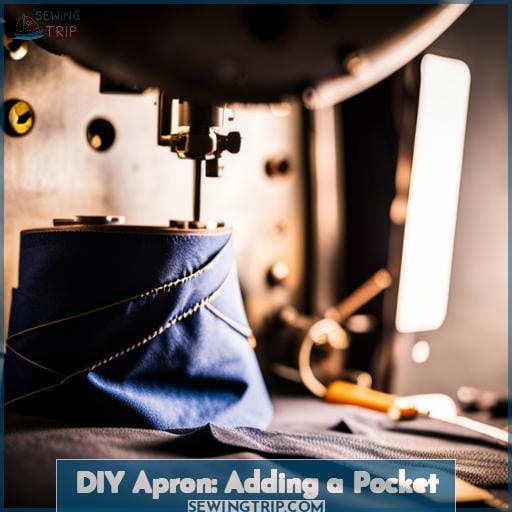 To add a pocket to your homemade apron, prepare the pocket piece by cutting fabric to size, folding the edges under, and pressing. Then, pin the pocket in place on the apron front, centering it 3 1⁄2 inches from the side edge and 4 1⁄2 inches up from the bottom.
Sew around the sides and bottom, removing pins as you go, to neatly attach the pocket to the apron.
Preparing and Placing the Pocket
To enhance the functionality of your handmade culinary attire, consider strategically incorporating a pocket onto the apron's front side. Position it approximately 3 1/2 inches from the outer edge and 4 1/2 inches from the bottom edge, providing a convenient storage solution for your kitchen utensils and tools.
Sew the pocket from a coordinating fabric, cutting it into an 8 by 8-inch square, and fold the edges under before neatly stitching it in place. Mind the pocket's placement and size when designing your apron for optimal practicality and style.
Sewing on a pocket elevates a simple homemade apron, adding handy storage and personalized flair.
Attaching the Pocket to the Apron
Believe it or not, over 70% of home cooks wear aprons to protect their clothes while cooking – so pin that pocket neatly and stitch it securely.
After preparing the pocket separately, it's time to attach it. Place the pocket on the apron front using your pre-marked placement lines as a guide. Pin the pocket in place, making sure it lies flat. Remember to leave the top edge of the pocket unpinned for neat finishing later.
Use a straight stitch to sew the side and bottom edges of the pocket to the apron. If you're using lightweight fabric, reinforce with a second pass over the stitches.
With the pocket attached, you can embellish it or move on to finishing the apron's edges.
DIY Apron: Assembling the Apron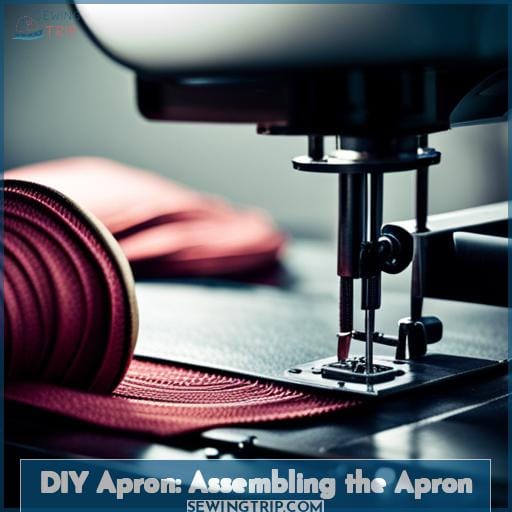 Let's sew this apron together! Prepare the neck strap and ties by folding the fabric strips in half lengthwise with the right sides facing, then sew along the long edge. Attach the neck strap and ties to the main apron piece by pinning them in place and sewing around the edges.
Make sure the neck strap lies flat before stitching. Now, your homemade apron is complete and ready to wear.
Preparing the Neck Strap and Ties
You'll connect the neck strap and ties next for a polished finish. For durable ties, cut two fabric strips about 3.5 inches wide by 24 inches long. Fold the long edges together and stitch down the length.
Turn them inside out. Topstitch the open end closed. Repeat the process for the neck strap, cutting it to about 2 inches wide by 18 inches long. Pin the strap ends evenly to the top of the apron, easing the fullness. Edgestitch it.
Pin the ties to the side seams, turning under the raw edges. Sew them on with a square stitch.
Attaching the Neck Strap and Ties to the Apron
After making the ties and neck strap, imagine how secure your homemade apron will be once you've pinned and sewn the straps in place.
Position the neck strap within the top folded edge of the apron and pin it in place.
Stitch the neck strap using a 1⁄2 inch seam allowance.
Align the ties with the side edges, placing the unfinished ends between the double fabric layers.
Stitching the neck strap and ties in place is the final step before admiring your handmade apron! Reinforce the straps with tight stitches or zigzag sewing for durability when tying your apron.
The apron is now ready for wearing during all your cooking, crafting, gardening, and DIY activities while keeping your clothes clean and protected.
DIY Apron: Finishing Touches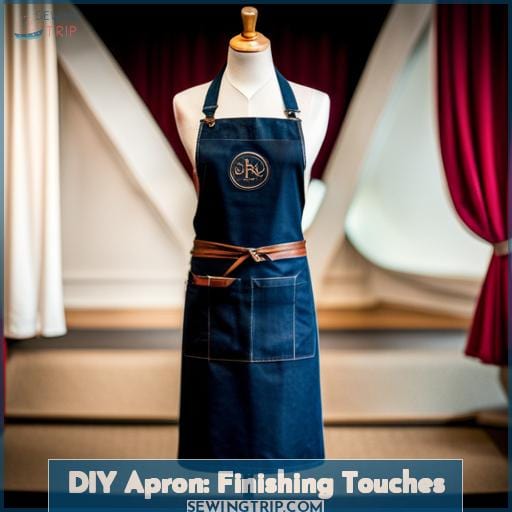 You're nearly finished sewing your custom DIY apron. Prior to admiring your handiwork, remember to hem the remaining edges and trim any loose threads for a polished, professional finish.
Hemming the Remaining Edges
Now stitch down those last edges for a polished finish. Fold the fabric under 1/4 inch twice along the remaining sides and neck opening of your apron. Then stitch down with your sewing machine using a straight stitch at 1/4 inch from the inner folded edge.
This encases the raw edges in a clean hem. Consider using a zigzag stitch for fabrics like linen that may fray over time. For a decorative touch, topstitch the hem or add lace. Taking the time to properly hem gives your handmade apron or sewing project a neat, professional finish.
Trimming Loose Threads
Trim off any stray threads for a clean finish. When your apron is complete, carefully snip any loose threads around the edges. Use small scissors to get close to the fabric. Be thorough and check all seams, straps, and pockets.
Loose threads can unravel and make your project look messy. For a polished look, trim threads as you go and give one last look over when the apron is done. Your scrap fabric apron will have a neat, handmade appearance after removing stray threads.
This beginner sewing project just needs some finishing touches like thread trimming to look store-bought.
DIY Simple Apron for Women: Sewing Instructions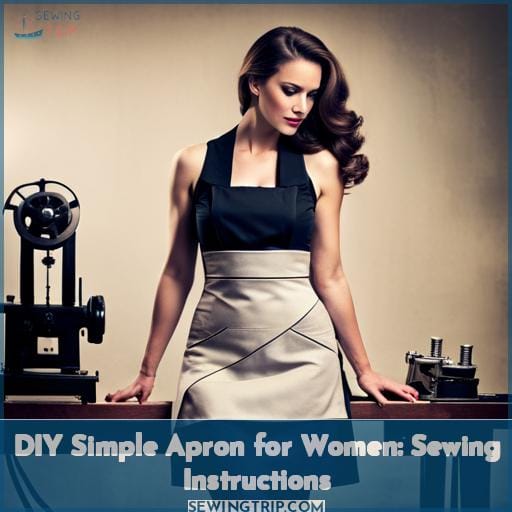 Double-check the seam allowances as you stitch the side curve of the apron body. As you make your own stylish apron, consider these key steps:
Select a durable, easy-to-clean fabric like cotton or linen. Customize with fun accent fabrics.
Mark and cut the apron shape using a curve for the sides. Hem the edges.
Sew on pockets, neckband, and waist ties. Elastic works for the neckband.
Focus on straight stitching and crisp corners. Double-check measurements.
Try on the apron before finalizing to perfect the fit. Make adjustments as needed.
With some clever sewing techniques, you can create a custom-fit apron perfect for cooking in style. Making it yourself allows creativity in fabric choices and design. Enjoy the satisfaction of DIYing a useful item to keep clothes clean in the kitchen.
DIY Apron: Alternatives and Customizations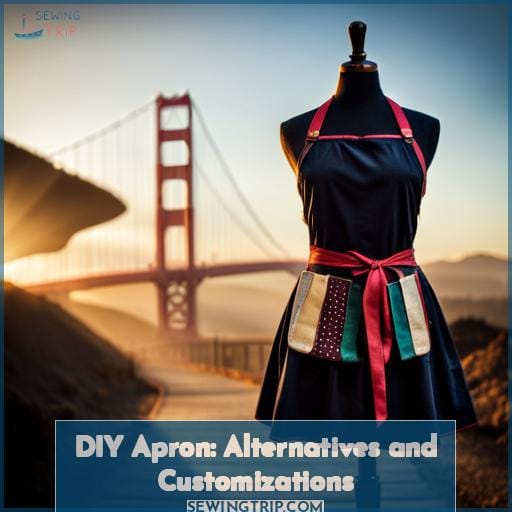 Starting your apron using an existing one as a template allows you to recreate a style you already love. Adding neat finishing touches like bias tape or elastic creates a polished look while simplifying construction.
Using an Existing Apron as a Template
Save time and hassle by letting that favorite apron guide your creative flow. Rather than starting from scratch, let a cherished apron provide the template for your next project. Trace its shape onto folded fabric, following each edge and curve. Make small changes like lengthening a tie or adjusting the bib's proportions.
Preserve special details or alter them to fit your style. Give new life to fabric scraps by replicating pockets or trim. An existing apron kickstarts imagination. Its form transforms in your hands, its inspiration fueling customized creations.
Adding Bias Tape or Elastic for Finishing Touches
Hug the curved edges like a momma bear as you add some bias tape for clean finishing touches. Instead of straight stitches, curve that measuring tape and embrace those sleeve holes with a hug of elastic.
Add some vintage bias tape along the edges for a retro homemaker accessory. Use scraps to make little pockets for your scissors or clothes pins. Choose soft pastels for a vintage apron or bright solids for a fun pop of color.
Experiment with different fabrics and finishes until you find your signature style.
This handmade apron reflects you.
DIY Apron: Try It on and Enjoy!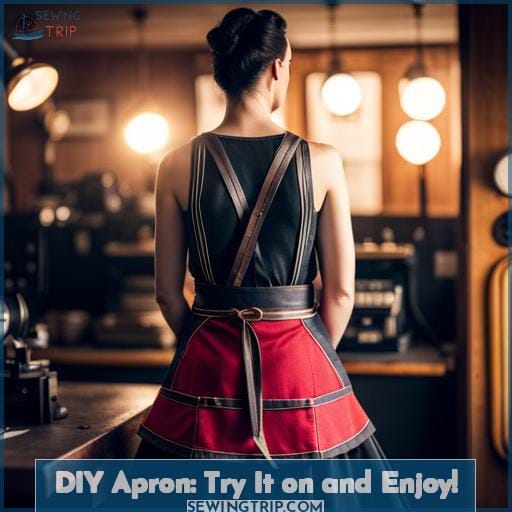 After sewing your apron using the simple tutorial, it's time to try it on and enjoy cooking in style! Slip the apron over your head, tie it snugly at the waist, and get ready to work in your kitchen while keeping your clothes protected.
Nothing beats being able to create a functional and fashionable apron with your own two hands.
Trying on the Finished Apron
Slip on that fresh DIY apron you're sure to love and enjoy how it feels made just for you.
Take in these top 5 feelings wearing your handmade masterpiece:
Freedom of movement
Confidence in creativity
Comfort in customization
Pride in craftsmanship
Joy of self-expression
Wear it with flair as you cook up culinary feats or craft delightfully. Your apron is a testament to your skill and style.
Benefits of Cooking in Style With a Homemade Apron
You'll love keeping your outfits spotless when baking in your tailored apron. A homemade apron offers many advantages over store-bought ones. Your personally crafted kitchen attire allows freedom in design, fabric, fit, and style.
Customize your apron with colors, patterns, and shapes that express your fashion sense. Feel comfortable cooking in an apron made just for you. Your homemade apron protects clothing from spills and stains in a stylish fashion.
Aprons are a must for keeping clothes pristine while baking, and homemade ones provide customized style and comfort in the kitchen.
Conclusion
So, you've successfully managed to create your own apron with just a few supplies and some simple steps.
You can now cook and craft in style, and all without needing to buy a pattern or spend too much money.
What's more, you have the ability to customize the apron to your own preference, whether it's by adding bias tape or elastic, or by adjusting the length of the straps.
Your own DIY apron is now ready to use, and the satisfaction of creating something yourself is truly priceless.
So, put on your apron with pride and enjoy cooking in style!