This site is supported by our readers. We may earn a commission, at no cost to you, if you purchase through links.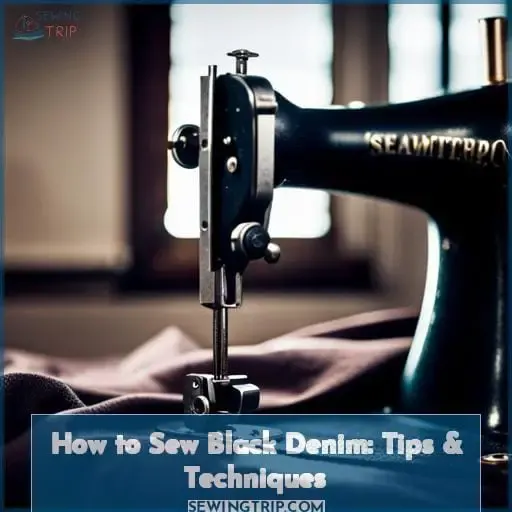 Looking to make something special with black denim fabric? From stylish jeans and skirts to bags and accessories, there are a variety of creative projects that can be crafted from this strong yet versatile material.
If you're new to sewing with black denim or want some tips for improving your skills, then look no further! This article will provide all the necessary information on how to sew black denim – including choosing the right fabric content, stitching techniques and troubleshooting common issues.
Key Takeaways
Select the right black denim fabric based on fiber content, stretch, care instructions, and brand recommendations.
Utilize a new, sharp needle and polyester thread for stitching black denim.
Reinforce seams and stress points with supplementary stitches and consider topstitching for supplemented durability and a polished appearance.
Pay attention to pressing and ironing techniques, employing steam to flatten seams and adjust the iron's temperature setting on a fabric scrap first.
Choosing the Right Black Denim for Your Sewing Project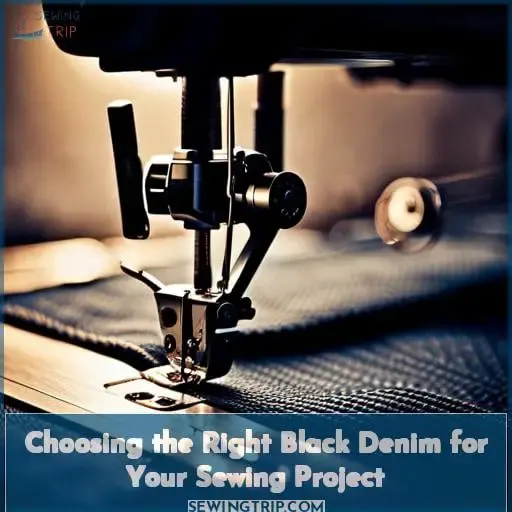 Selecting the right black denim for your next sewing project can make all the difference. Consider fabric content, stretch, care instructions, and brand recommendations to find high-quality, versatile black denim that will help you achieve your desired look and fit.
Let the project determine the denim characteristics you need. Sturdy denims with little stretch work well for structured garments, while stretchier fabrics allow more flexibility. Always check fabric content and laundering guidelines. Quality brands like Cone Mills and Kaihara use tightly woven cotton for durability.
Seek denims that complement your pattern and vision. With the right black denim, you can craft stylish, long-lasting garments.
Fabric Content and Stretch
You're relieved the black denim has some spandex so it will move with you while wearing the versatile Axis dress. When selecting black denim, consider stretch options like spandex for comfort and fit. Check fabric care recommendations before washing to avoid shrinkage. Quality brands like Sew Classics offer stretch denim suited to dresses, with styling versatility from casual to dressy.
Thoughtful fabric choices ensure your handmade garments move and fit beautifully.
Care Instructions and Brand Recommendations
Washing in cold water and line drying help maintain your stitched-up Joe's Jeans creation's vibrancy. Opt for reputable brands like Levi's, G-Star RAW, or Paige for quality black denim with just the right amount of stretch.
Testing different stitch lengths and thread choices during construction allows you to achieve a polished finish that moves with you. Carefully pressing seams open, grading enclosed edges, and evenly topstitching results in clean silhouettes that flatter.
Tips and Techniques for Sewing With Black Denim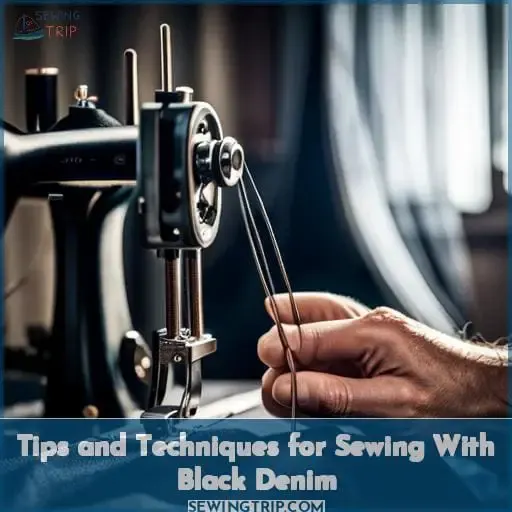 As a master seamstress, I am often asked about working with black denim fabric. When sewing with this heavyweight material, first choose the right needles and threads. Utilize appropriate stitching methods and seam finishes. Properly press and iron as you sew.
Needle and Thread Selection
Use a new, sharp needle – size 14 for lightweight or 16 for midweight denim.
Opt for polyester thread – it's smooth and strong.
Match the thread color closely to the denim.
Set the tension slightly tighter to avoid stitch skipping.
Reinforce the seams and stress points with extra stitches.
The right needle and thread combination helps avoid frustration from snaps, tangles, and puckering when sewing that versatile black denim dress or skirt. Careful selection allows your machine to glide through layers with ease for a flawless finish.
Stitching and Seam Finishing Methods
Making it last starts with clever stitching and seam choices. Opt for topstitching to reinforce seams and add a polished look. Clean finish raw edges with French or Hong Kong seams to prevent fraying. Control stretch with staystitching, interfacing, or lining.
Trim and grade allowances to reduce bulk. Stitch directionally for a smooth, figure-hugging silhouette. Play with decorative techniques too – contrast stitching and bartacks make denim pop. Experiment and find what works for your pattern and figure. Precision sewing amplifies the structure and style of any garment.
The attention to detail in stitching and seams can extend the life of a garment while providing visual interest. Consider directional stitching, reinforced seams, and clean finished edges. Decorative techniques like contrast stitching and bartacks add personality.
With experimentation, you can find the right structural touches for both form and function.
Pressing and Ironing Techniques
Don't let black denim intimidate you. With the right pressing techniques, it'll give you professional results. When working with black denim, always test your iron's heat setting on a fabric scrap first—start low and increase gradually.
Use steam to flatten seams and remove creases. For sharp corners, avoid over-ironing. Let sections cool completely before moving to prevent impressions. With care, black denim will retain its rich color through countless washings.
Adjusting and Fitting Your Black Denim Garment

Before making any adjustments to the fit of your black denim garment, you'll want to take proper measurements. Taking the time to carefully measure yourself and pin-fit the garment will ensure you achieve the perfect custom fit you are striving for.
Prior to altering your denim, meticulously measure your body, recording each measurement. Comparing these measurements against the garment's will elucidate which areas require tailoring for an optimal personalized fit.
Pinning the garment and assessing the fit before sewing enables you to preview the adjustments. This thoughtful approach helps guarantee adjustments are made precisely where needed, delivering the ideal custom fit.
Taking Proper Measurements
You'd best measure twice to ensure your cherished black denim flatters your figure just right. Precise bust, waist, hip, and length measurements are essential for accurate sewing and a flawless fit. Mark seam allowances. Double check your measurements as you cut each pattern piece.
Take your time. Accuracy leads to satisfaction when you don the finished garment.
Making Fit Adjustments
After gathering your measurements, confirm your sizing then pin and baste before pulling in any excess or letting out where needed. Trust the measurements, not the size chart, for a precise custom fit. Take in the waist or hips if too loose; let out the bust if too snug.
Adjust darts and seam allowances for contouring. Correct pant lengths at the hem. With a few strategic tweaks, your black denim garment will skim your frame flawlessly—neutral yet edgy, perfect for a new mother.
Styling and Versatility of Black Denim Garments

As an avid sewer, you know the importance of versatility when selecting fabrics for your wardrobe. Black denim offers so many styling possibilities that work for both dressy and casual occasions. From pairing your dressy denim shift with heels and a blazer for an evening out to wearing your denim pants with a slouchy sweater and sneakers on weekends, just a few simple styling tweaks transform your black denim pieces from day to night.
Dressing Up With Accessories and Shoes
Pairing classic and structured silhouettes creates an elegantly refined outfit with your black denim dress or jacket. Complete the look by choosing the right accessories, like a vibrant handbag, mixing metals with your jewelry, layering with patterned scarves, and pairing with statement shoes.
A pop of color in your accessories adds flair, while metallic or bright pumps transition the look from day to night.
Dressing Down for Casual Looks
You'll have so much fun styling that versatile black denim dress down for a casual coffee date or weekend errands by throwing on some cute sneakers or sandals with it. Pair it with distressed jeans, denim jackets, skirts, shorts, or overalls. Mix textures like a breezy chiffon top or rugged boots.
Play with different shoe styles – slide on some sporty sneakers or relaxed sandals. Let your accessories do the talking with a fun printed tote or floppy hat. The styling options are endless for a laidback, casual denim look.
Layering and Mixing With Other Fabrics
Mix it up with soft knits and chambray to keep you comfy and cozy all day.
Choose complementary shades and textures.
Play with proportions and silhouette.
Accessorize for polish.
Layer your trusted black denim jacket over a chambray shirt and chunky sweater. Cuff distressed jeans to reveal peeks of knit socks. Think outside the box and let your creativity shine through unexpected fabric combinations and styling details.
Troubleshooting and Common Issues When Sewing Black Denim

I know just what to do to help you sew with black denim without frustration. When working with this fabric, take steps to prevent fraying and unraveling edges, deal with its stretch and recovery, and handle the bulk and thickness when finishing seams.
To prevent fraying, finish raw edges with pinking shears, zigzag or overlock stitching, binding, or fray check. Prewash denim to preshrink it and reduce later shrinkage. Interface areas like collars and cuffs to provide stability.
For stretch denim, use a stretch or zigzag stitch and woolly nylon or polyester thread in the bobbin. Grade enclosed seams and clip curves to reduce bulk. Finish seams with a serger or zigzag stitch, or topstitch.
For waistbands and hems, apply fusible web tape to stabilize. Adjust presser foot pressure as needed for thicker areas. With some care taken during sewing and finishing, you can create a great project with black denim.
Preventing Fraying and Unraveling
Snip those raw ends; they fray faster than biased tape tears! Prevent fading by prewashing black denim. Interface seams and add edge stitching to reinforce them. When raw edges emerge, apply fray check.
For clean finishes, enclose seams and hem allowances. With care, your creation will last.
Dealing With Stretch and Recovery
Trailing some fabric during quilting helps reduce stretch and enhance recovery of the black denim. When sewing stretch denims, you'll want to manage elasticity. Puckered seams and fabric distortion result from over-stretching the fabric.
Carefully handle the denim fabric, avoid pulling as you sew. Use starch or freezer paper when cutting to stabilize the fabric. Match notches and clips precisely. Ease, rather than stretch, when setting in sleeves.
Interface waistbands and collars to minimize sagging over time. Proper preparation and handling preserves the denim's structure, keeping your garments looking crisp.
Handling Bulk and Thick Seams
You'll find seams easier to press with a hammer or clapper.
Consider flat-felled seams.
Reinforce with stay tape.
Grade seam allowances.
Clip curved seams.
Interface layers.
When layering black denim, mind the bulk. Creative pressing and strategic seam finishes help tame thick seams for a smooth silhouette. Experiment with techniques until you find what works best for managing bulk in your project.
With practice, you'll master precise seams to showcase, not overwhelm, the beauty of black denim.
Conclusion
It's understandable to feel intimidated when workin' with black denim – after all, it's a sturdy, heavy fabric that takes some practice to master. But with the right tips and techniques, sewin' with black denim can be a rewardin' experience! With a little care and patience, you can create beautiful, long-lastin' garments that'll stand up to even the toughest wear and tear.
From takin' proper measurements to makin' fit adjustments, to stylin' versatile looks, you can learn how to sew black denim to create timeless fashion pieces that'll last you for years to come.