This site is supported by our readers. We may earn a commission, at no cost to you, if you purchase through links.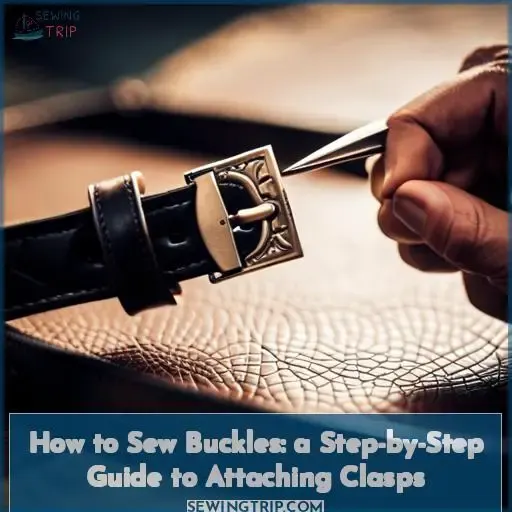 Here we go, pal! Saddle up and let's buckle down on this sewing tutorial. We're gonna master attaching all sorts of clasps and buckles to take your leatherwork to the next level.
From keepers to heel bars, center bars to double bars, we'll cover it all. Strap in and get ready to feel the power of creation flow through your fingertips as we craft and build.
This lesson's got all the tricks and tips to give you that sense of liberation that comes from making something by hand. By the end, you'll be a buckle attaching maverick – moving with mastery from one technique to the next.
Now let's get hands-on with these fundamental skills – it's time to sew those buckles!
Key Takeaways
Understand attachment techniques for leatherwork enhancement.
Master techniques like keepers, heel bars, center bars, and double bars.
Different buckle types: center bar, heel bar, rolling bar for strap control.
Properly attach strap and buckle to the bag: mark, punch, secure with rivets or stitching.
Types of Buckles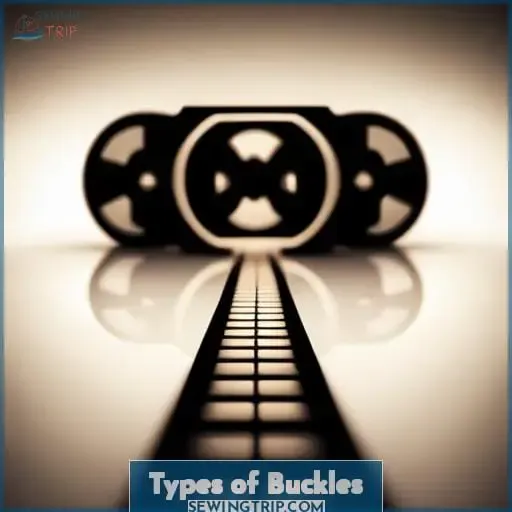 You'll find center bar buckles contain the loose strap end automatically while heel bar buckles need a keeper loop to prevent slipping.
Or look into rolling bar buckles for easy strap insertion when exploring your buckle options.
When embarking on your next leather project, take time to consider the buckle style that best suits your needs.
Heel bar buckles have a classic look but require a custom keeper loop sized precisely to prevent strap slippage.
Opt for sturdy center bar buckles to neatly contain the end of your leather strap.
Or choose rolling bar buckles for effortless threading and a modern style.
Prioritize buckles with hole spacing that enables precise custom belt loops.
Finding the right buckle enhances your leatherwork and liberates your creative spirit.
Making Leather Keeper Loops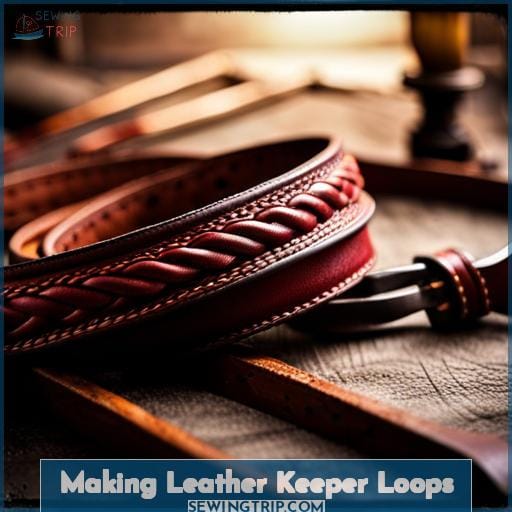 You carefully mark and punch holes in the leather, then use waxed thread and a butt stitch to attach a keeper loop for your vintage heel bar buckle. The keeper prevents excess strap from flapping while allowing smooth length adjustment.
When calculating loop length, add buckle width plus desired adjustment range. Condition leather beforehand and use an awl for clean punctures. For heavy buckles, rivet the strap; screws loosen over time. Back the rivet or use quality thick leather to prevent tearing.
Pass straps through buckles correctly to stop slippage. Test keeper clearance before sewing; thick loops impair movement. Riveting the loop brings durability but hides stitching artistry. With care, a hand-sewn keeper accentuates fine leatherwork while keeping straps tidy.
Attaching Heel Bar Buckles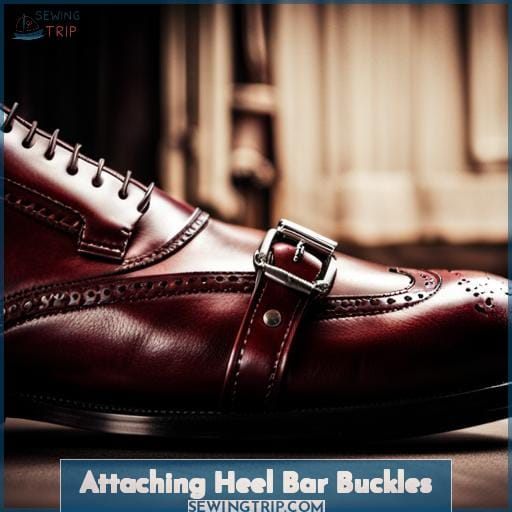 After attaching the keeper loop, carefully slide the strap end through the heel bar buckle slot.
Mark buckle position on the strap. Punch holes to accommodate prongs and rivets.
Loop the strap around the buckle bar. Ensure the tongue moves freely.
For security, use rivets or sew through punched holes. Riveting provides discreet fastening.
With the buckle attached, admire your handiwork. The stylish hardware accentuates the leather's finish. Your next leather project awaits creation. Let your imagination run free in the pursuit of self-expression.
Attaching Center Bar Buckles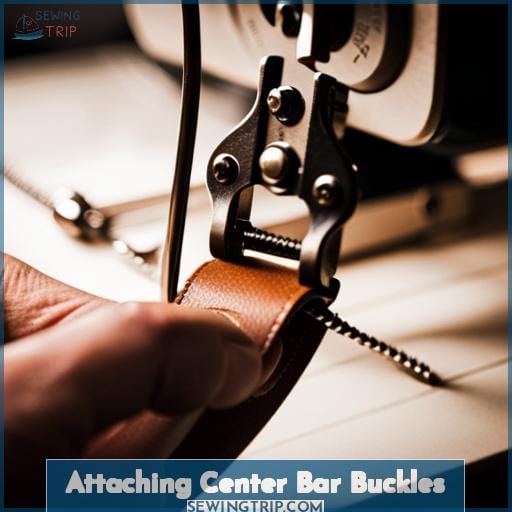 You've mastered attaching heel bar buckles. Now let's explore center bar buckles, which securely contain loose strap ends without needing a keeper loop.
When positioning your center bar buckle, evaluate strap placement compatibility with your fabric. Plastic buckles work for lighter fabrics, while metal buckles suit thick leathers.
Carefully cut a slot for inserting the center prong. Loop your strap through, allowing enough length for adjustment.
The center bar eliminates dangling strap ends, keeping your accessory or gear tightly secured. With practice, you'll intuitively select the best buckle hardware and attachment method for each unique project.
Attaching Double Bar Buckles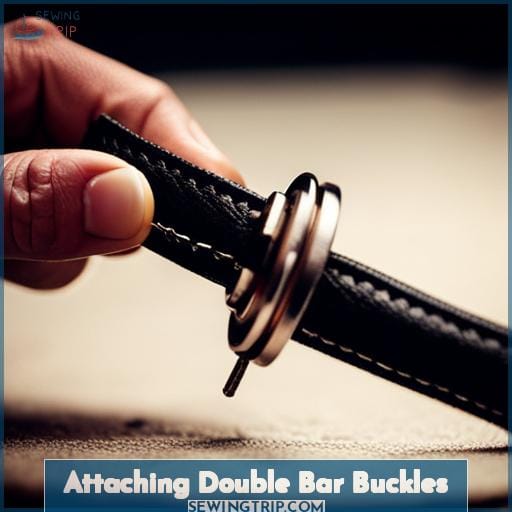 Now feed the strap extension through the buckle's double bars and loop it back on itself through the slider. With double bar buckles, you'll need to create additional strap length to thread through both bars and back around on the slider.
To attach a double bar buckle:
Cut a strap extension about 6 inches longer than your fixed end. Hole punch both pieces.
Loop the extension around both bars and the curved slider path.
Align holes and rivet the fixed end and extension together.
Check buckle tongue and slider movement. Adjust until fitting properly.
Sewing double bar buckles takes planning. But with quality hardware and sharp tools, you'll master adjustable straps for any project.
Other Types of Clasps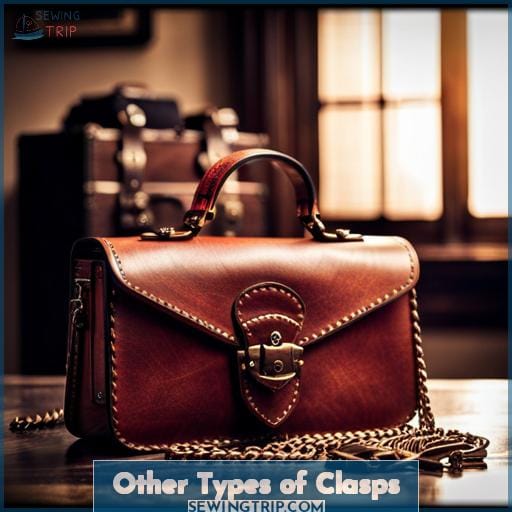 While riveting double bar buckles, contrast the inconspicuous nature of magnet clasps. Their magic lies in hiding beneath fabric, secretly binding bag flaps or garments with an irresistible but unseen force.
Let lobster clasps shine for all to see, their bold metal bodies holding firm for gear straps. Dainty hook and eye sets grace elegant purses, looping delicately to seal contents from the outside world.
And sturdy toggle or clamp styles bear the weight of jacket fronts or tool bags, their stout cylindrical bodies matching in strength.
But magnets enchant through subtle power, holding fast yet barely discernible. Discreet strength emanates from their hidden forms, allowing clean lines and a crisp aesthetic. They secure with the energy between positive and negative, sealing two sides like drawn lovers.
Buckles and Clasps Quiz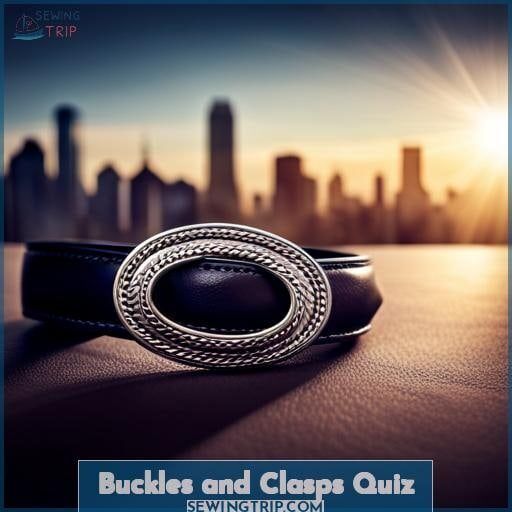 Let's test your knowledge on buckles and clasps by answering some quiz examples.
What factors affect buckle longevity? Material durability and external corrosion both impact how long a buckle will last. Metals like stainless steel resist rust better than iron. Nickel plating prevents tarnish but can rub off with use.
How do you check clasp effectiveness? Test swing clasps by attaching leather pieces and ensure the mechanisms catch and release smoothly. For turn locks, attach them to a belt and verify that they lock in place but also release with light pressure on the spring bar.
Magnet clasps should be strong enough to keep leather ends together when closed, but pull apart when given light force.
What causes rivet corrosion? Exposure to water can corrode and loosen rivets over time. Using stainless steel rivets improves corrosion resistance. Proper sealing after riveting helps protect them too.
Attach the Strap and Buckle to the Small Bag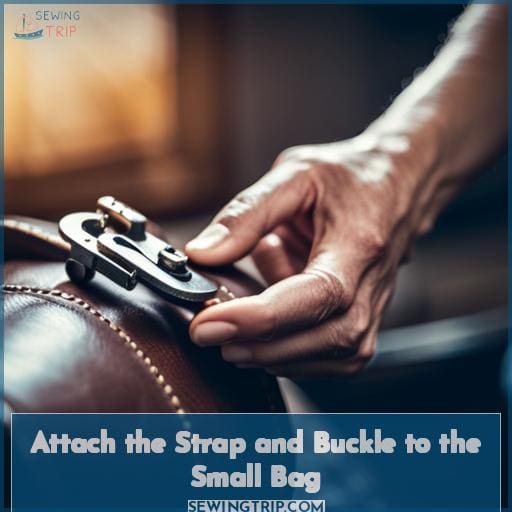 With a hole punched and a rivet inserted, attach the prepared strap to the bag. Make sure the strap end is folded back on itself and riveted securely.
Position the strap and buckle on the bag where desired.
Mark holes for rivets or stitching lines.
Test the placement by threading the strap through the buckle.
Attach using rivets or stitching. Tug the strap to ensure it is fixed tightly.
Carefully inspect your handiwork. The strap should glide smoothly yet feel snug when pulled. A properly installed strap makes your bag secure and adjustable for carrying comfort.
You Made a Custom Bag!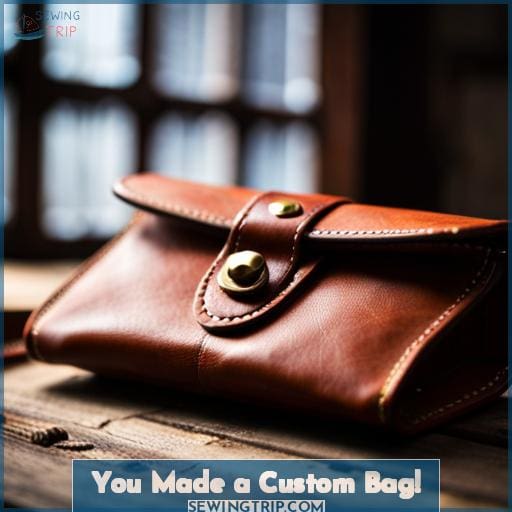 You've accomplished creating a personalized bag and integrated a custom strap + buckle for a finished, stylish look.
With your creative customization options like choosing leather hardware and adjusting the strap length, you've made this small bag truly your own.
Take pride in the details that make it special – maybe it's your initials embossed on the flap or a meaningful bag charm on the strap.
Now it's time to care for your creation with gentle cleaning techniques to keep the leather looking beautiful.
This handmade bag is a reflection of your style and craftsmanship.
Wear it often to remind yourself what you can achieve when you follow your passions.
Your custom bag is both stylish and symbolic of the inner power you hold.
Supplies and Material Assembly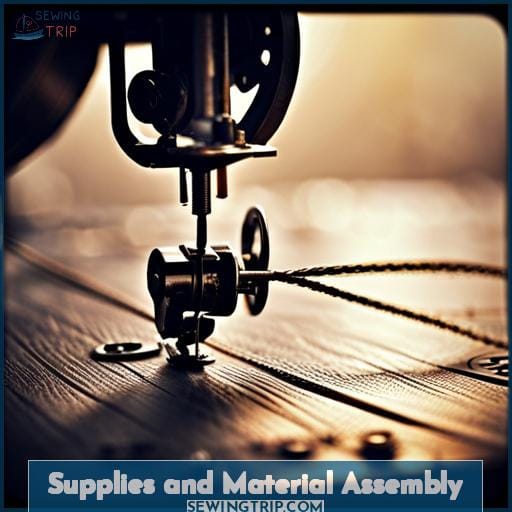 Attaching adjustable straps and hardware finalizes your dream bag. Gather your X-Acto knife, scrap leather, and buckle materials for a custom strap style. Compare hardware options like plastic clips or metal roller buckles for the aesthetic you envision.
For beginners, start simply with nylon straps and plastic side-release buckles easily found in crafting supplies. Cut the straps to size with the X-Acto knife. Loop each end through the buckle, folding it back and securing with sturdy stitching in an X-pattern.
Feel empowered attaching your custom strap and rugged hardware to camping equipment or everyday bags. Let leatherworking techniques give you the freedom to create unique personalized items.
Frequently Asked Questions (FAQs)
What are the best tools for cutting leather and fabric for straps?
For quick and precise cuts, pinking shears like Gingher's 8-inch pair create a zigzag edge that prevents fraying. Or try rotary cutters – Olfa's 45mm rotary cutter slices fabric smoothly like butter. Their round blades fit perfectly into curves for flawless strap shaping. Whichever you choose, change blades regularly for optimal cutting.
How do I choose the right size buckle and strap width for my project?
When selecting buckles and straps, match the buckle bar width to the strap width for a secure hold. Consider the intended use and desired adjustability. Wider straps and buckles suit heavier loads, while narrow widths allow for greater customization.
What stitches should I use to attach the buckles most securely?
Depending on your project, box stitching or bar tacks provide the most secure attachment for buckles. These concentrated stitches prevent tearing under strain. Fold the ends over twice before sewing to encapsulate the raw edges.
Test the stitch integrity by firmly tugging the straps after sewing. With practice, you'll gain mastery in stitching strong, long-lasting buckles.
How can I customize or personalize my buckles and straps?
You can stamp buckles with initials in the same way you would brand leather. Alternatively, you can create painted designs on fabric straps, similar to an artist working on a canvas.
Where can I find buckles and clasps for sale online or locally?
Craft stores like Michaels, Joann Fabrics, and Hobby Lobby have options in their leatherworking sections. Also, check Tandy Leather stores, online at buckleguy.com, or on Etsy. Hardware and tack shops for horse gear carry quality selections too.
Conclusion
After all these steps, it's easy to see that learning how to sew buckles takes time, but the effort pays off when you've got a custom bag with a sturdy, adjustable strap. Nothing beats the pride and satisfaction of completing your leather masterpiece and rocking your handmade gear.