This site is supported by our readers. We may earn a commission, at no cost to you, if you purchase through links.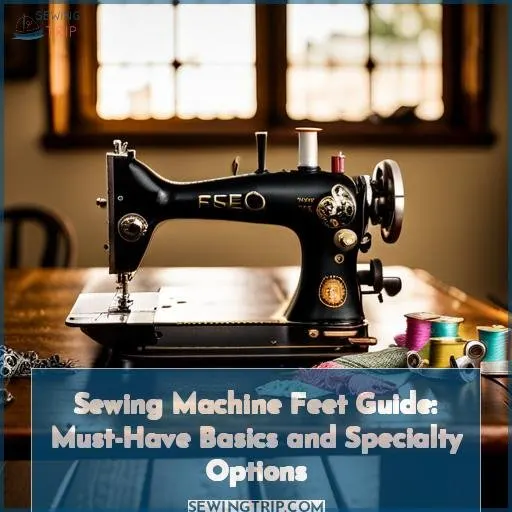 You're eager to take your sewing skills to the next level, aren't you? There are so many creative projects calling your name.
The good news is, there are tons of presser feet that'll help you sew zippers, hems, buttonholes, and other finishes with ease. In this handy guide, we'll walk through the must-have basics, feet for decorative stitches, specialty options for edges and gathers, and more.
With the right presser feet, you can give your projects a professional look while exploring new sewing techniques.
Sewing machine feet open up a world of possibilities, allowing you to achieve styles and finishes you never thought you could. As your passion for sewing grows, you'll find yourself wanting to make all sorts of creative items – from clothes to crafts and home decor.
The specialty presser feet we'll cover are designed to help with specific techniques so you can bring any project vision to life. With the proper sewing machine feet for hems, zippers, buttonholes and beyond, you'll gain confidence tackling new sewing challenges while serving your family and friends with handmade creations.
Let's get to know your presser feet options!
Sewing Machine Feet 101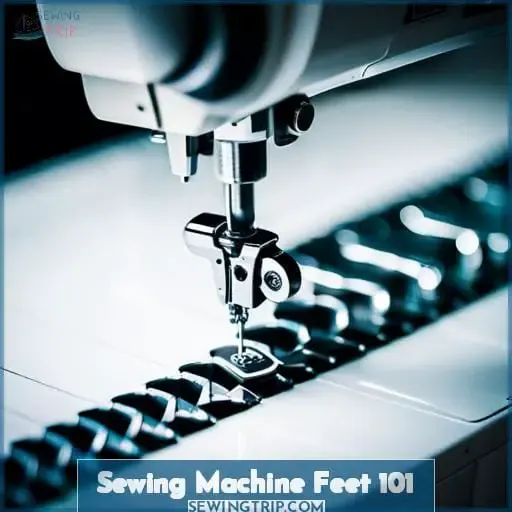 You're lookin' to trick out your rig with some fancy new kicks, eh partner? With the right hoofwear, that trusty steed can giddyup from straight lines to works of art. But don't let those accessories outpace your abilities, or you'll end up chasing your own tail.
Take it slow and let those skills build; with time and practice, your machine'll be ready to run with the thoroughbreds.
When starting out, focus on the basics like straight stitch, zigzag, and zipper feet. As you get more comfortable sewing corners and curves, expand into specialty stitches like buttonholes, hems, and quilting.
Check out used marketplaces for deals on presser feet compatible with your model. Give 'em a good scrub before use and store in labeled cases to keep organized. If working with slick fabrics like vinyl or leather, apply some teflon tape to reduce friction.
With the right footwork, you'll be ready to trot, canter, and gallop your way to sewing success! Just pace yourself, and let your abilities set the speed. Before you know it, your machine'll be a golden stallion, ready for any project you throw its way.
Must-Have Basic Feet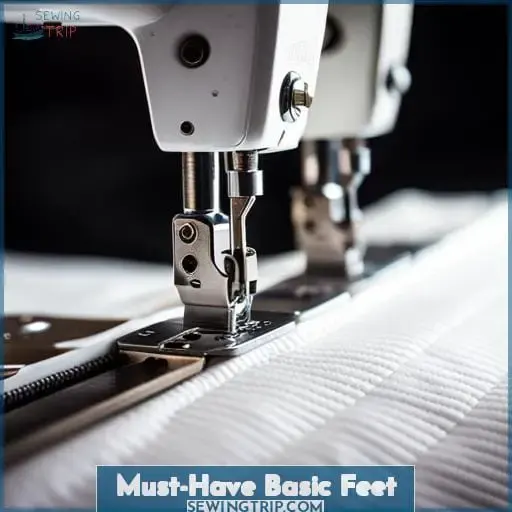 Looking to equip your sewing machine with some essential accessories? Start with the straight stitch, zigzag, and buttonhole feet.
The straight stitch foot delivers perfect seams and topstitching. Switch to the zigzag for finishing raw edges and sewing stretch fabrics.
With just these three go-to feet, you'll be ready to tackle all kinds of everyday sewing and garment projects. So get your machine fitted for its basic footwear, and you'll be set to sew on buttons, finish hems, and more in no time.
Straight Stitch Foot
Get comfy in the saddle, because this basic foot has your straight stitching needs covered. Whether you're stitching a raw edge or sewing a straight seam, this low shank all-purpose foot lets you choose your stitch width for basic tasks.
Use it for straight stitching, topstitching, and edgestitching – adjusting length and tension as needed. It works for piecing quilts, hemming pants, or attaching a zipper. For variety, try straight stitches with added width or decorative styles.
Zig Zag Foot
You'll find yourself zagging all over your projects with this do-it-all zig zag foot! Did you know that over 80% of sewers report frequently using a zig zag stitch for finishing seams and preventing fraying? With the zig zag foot's gentle surface glide, you can confidently topstitch knits and navigate tricky fabrics.
Just adjust the stitch width and length for perfect pointy satin stitches or vary the density for applique. From mending tears to adding decorative details, this little foot's got your zig zag needs covered.
Buttonhole Foot
Life's easier when you've got the right tools, like that buttonhole foot that perfectly finishes those tricky closures. Sturdy buttons deserve sturdy homes, so replace your all-purpose foot when it's time to sew buttonholes.
The clear plastic or long white buttonhole foot allows you to closely monitor stitching and pivot at just the right spots for bar tacks. Utilize it for tailored jackets, handmade toys, quilted blankets – anywhere you want precise, reinforced buttonholes with straight sides in both regular and decorative stitches.
Feet for Zippers and Piping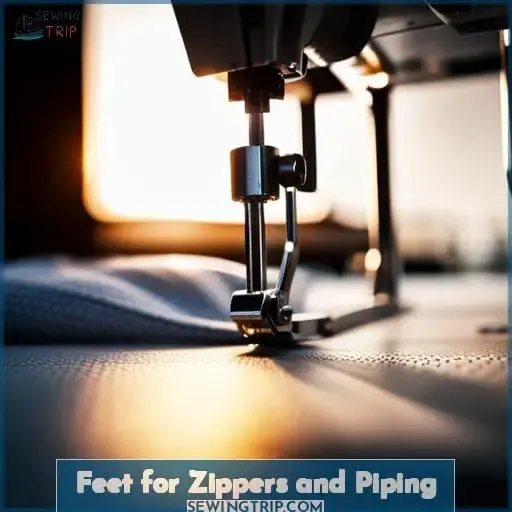 Have you ever struggled with inserting tricky zippers or achieving perfectly piped edges? Well my friend, the right presser feet can make all the difference. Invest in a zipper foot to evenly stitch extra close to zipper coils, allowing you to insert any zipper with ease and precision.
A piping foot keeps fabric taut and fabric edges aligned as you sew delicate piping into seams and edges. With these specialized feet in your toolkit, you'll tackle zippers and piping like a pro for a flawless finish every time.
So upgrade your machine's foot options and open the door to expert construction on any zippered or piped project.
Zipper Foot
A zipper foot's your trusty sidekick for perfectly placed piping and smoothly stitched zippers. Whether installing an invisible zipper or stitching on lapped zippers, this narrow specialty foot glides right next to the zipper teeth.
With the edge of the zipper foot against the edge of the zipper's teeth, you'll get stitches positioned just close enough without hitting the metal. A zipper foot holds fabric taut and prevents puckering too. So use the right one for your zipper type and thread – choose invisible zipper feet and lightweight threads for nearly invisible seams.
Stitch with care and your garments will wear well, with zippers neatly sewn in place to keep clothes fitting just right.
Piping Foot
Piping Foot
Try that handy piping foot to playfully dance your thread along colorful trim, swiftly stitching a perky piping with polished precision. The piping foot's narrow groove glides smoothly along the trim's edge, keeping stitching neat.
Before starting, check your machine's shank type – low or high shank feet click securely into place. Then select a piping foot made for your machine's shank to prevent slipping. Stitching tasks like adding pretty piping or welting trim get a definite boost from this specialized foot.
Gathering feet efficiently bunch fabric, while buttonhole feet handle buttonholes smoothly. The teflon foot ably stitches vinyl, leather, and slippery fabrics without sticking. With the right shank type, your piping foot can precisely guide stitching around trim.
Specialty Feet for Decorative Stitches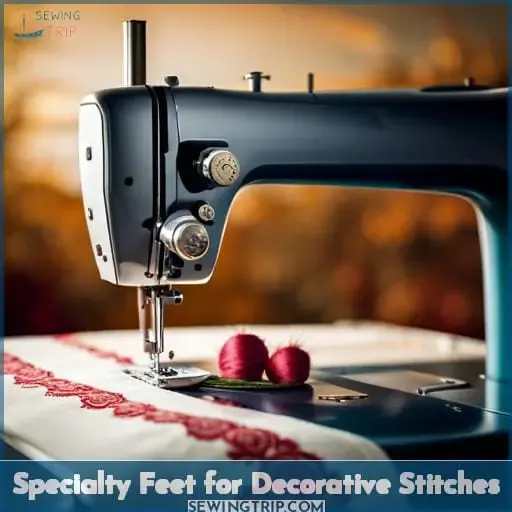 When you're ready to take your sewing up a notch with decorative finishes, specialty presser feet open up a world of possibilities. An open toe foot keeps thick satin stitches from getting bunched up and uneven by feeding fabric smoothly under the needle.
With the visibility of the open front, you can precisely follow stitch lines for perfect placement. A satin stitch foot has a narrow opening and extra teeth to grip and advance slippery satin-stitched fabrics so stitches lie flat and neat.
With these feet expanding your repertoire, intricate embellishing, applique, and other decorative techniques become effortless.
Satin Stitch Foot
You can achieve those polished, decorative satin stitches you've been dreaming of with a handy satin stitch foot. It provides the utmost control for dense zigzag and decorative stitches, so you're ready to embroider designs and appliques with ease.
Adjust stitch length and width for the desired satin stitch effect.
Lower top tension and increase bottom tension.
Use stabilizer to prevent tunneling.
With the right settings dialed in, you'll have beautiful satin stitches for applique shapes, monogramming, embellishing, and filling in designs. Mistakes like puckering and tunneling will be a thing of the past. Satin stitching opens up a world of opportunities to make your projects pop.
So grab that specialty foot and let your machine glide through smooth satin stitches effortlessly.
Open Toe Foot
Let that open toe foot widen your decorative stitching horizons. This classic style with minimal design passed stability testing, prompting production modifications like a wider needle slot. Its defining feature, the open toe, gives you excellent visibility for precision stitch placement.
As featured in our photo case study, the open toe foot glides smoothly over delicate fabrics. Gently gather a ruffle or add texture with an open weave stitch. An open toe foot allows stitches to move freely so even the most delicate fabrics won't get pushed down into the needle plate.
Keep your project turns gentle and neat. When decorative stitching, visibility is crucial for perfect stitch formation. With the open toe foot as your guide, intricate stitches will come out evenly spaced and bump-free.
Your machine's fancy stitches will look fantastic on any material with this specialty foot in your arsenal.
Feet for Hems and Edges

Invest in specialty sewing feet like a blind hem foot and overcast foot. These tools make quick work of finishing touches that give your projects a clean, polished look. For example, a blind hem foot lets you seamlessly and invisibly hem skirts, pants, and other garments.
Using the right tools is key to elevating your sewing. Well-finished hems and edges demonstrate attention to detail and a high level of craftsmanship. With specialty feet, you can achieve expert results even as a beginner. Your projects will have a refined look that shows you care about quality construction.
So be sure to equip yourself with the feet necessary for professional hems and edges. They'll help you efficiently achieve the clean finish that sets great sewing apart from just good sewing.
Blind Hem Foot
Run whispered hems the sneaky way with the blind hem foot. This clever tool lets you stitch invisible hems on curtains, pants, and skirts for a clean, tailored finish. Guide the fabric fold along the metal bar while the inner swing arm catches just a few threads of fabric backside.
Adjust the needle position to barely nip the hem allowance and voila—a seamless, unseen edge emerges.
Try adjusting stitch width and length when hemming stretchy or loosely woven fabrics so stitches don't show through. While designed for blind hems, creative sewers also use this foot for topstitching on hard-to-manage fabrics, attaching narrow trims, and even finishing raw edges with a faux overlock look.
However you put this low-profile foot to use, it lets you finesse those final finishing touches for a flawless look.
Overcast Foot
Overcast Foot
Prevent scruffy seams and rough edges from unraveling with the overcast foot, your fabric's reliable bodyguard nipping and tucking stray threads out of sight. This handy foot creates a zigzag stitch that neatly binds edges to prevent fraying.
Use it when constructing soft knits, silky satins, gauzy sheers and lightweight cottons—fabrics prone to raveling. Adjust the stitch width to blanket the edge without noteworthy bulk. For a narrow rolled edge, dial down the width and increase length.
Get creative with decorative stitches too. Try a zigzag satin stitch or play with fun overcast patterns. With the right settings, this foot does a decent imitation of a serger's clean finish. It's quick, easy and offers more versatility than you might expect. So bust out that overcast foot next time you sew stretchy seams or finicky fabrics.
Feet for Gathering and Ruffling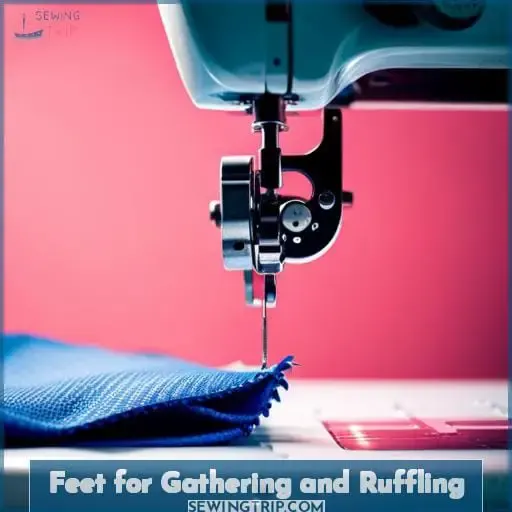 Add life and movement to your projects with specialty feet for gathering and ruffling. These clever attachments allow you to efficiently add fullness, texture, and interest to your sewing. An adjustable gathering foot makes quick work of perfectly sized ruffles. Just set the desired fullness, stitch your fabric strip, and watch ruffles bloom before your eyes.
For super frilly gathers, try a ruffler foot to seamlessly stitch rows of tiny pleats. You'll love how fast you can pump up a skirt, valance, or curtain with billowy ruffles.
Shirring feet create rows of tiny tucks perfect for smocking. An elastic foot helps you securely enclose elastic in casings, keeping stretches in place.
Tuck and pleat feet expertly press fabric into sharp, narrow folds for perfectly crisped details.
No matter what gathers, ruffles, tucks, or frills you seek, there's a specialty foot that will get it done with ease.
Investing in the right gathering, pleating, and ruffling feet allows you to efficiently achieve styles full of texture and whimsy.
Add a playful, feminine touch with specialty feet for shirring, smocking, and ruffling. Your sewing will thrive with tools tailored to specific techniques like gathering and embellishing.
Equip your machine with this useful set of feet so you can easily breathe life and fullness into your projects.
Feet for Quilting and Applique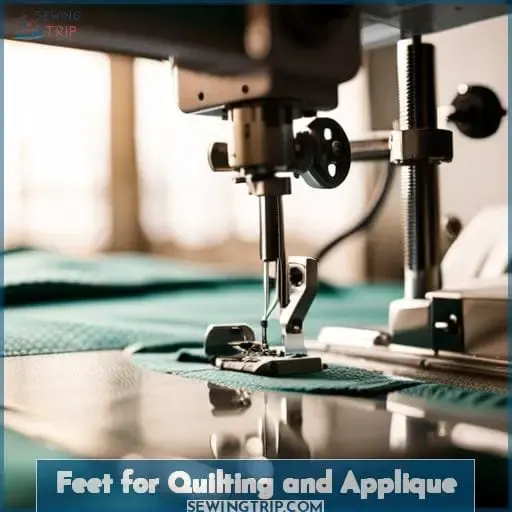 You'll craft intricate quilted designs and appliqués with specialized presser feet. For detailed free motion quilting, a darning or hopping foot gives complete control to follow any path. With the feed dogs lowered, you can focus stitch detail exactly where envisioned.
An open toe foot presents full fabric view, letting you handle tight curves and sharp points precisely. Layer appliqués or add dimensional design elements with an adjustable shadow work foot. Its open sides give space to build up stitches while the see-through plate aligns layers precisely.
Get creative innovating modern quilt designs by echoing shapes, stitching spirals, traveling fills, or drawing with thread. A spring-loaded quilting foot ensures even contact across uneven layers to prevent puckering on the quilt top.
Finish edges neatly by attaching binding with a specialized foot that encases the trim as sewn. Create flawless buttonholes with the right quilting foot to stabilize layers. Hem, gather, or bind – whatever technique needed, there's a quilting and appliqué foot designed for that purpose.
Equip the sewing room with this clever foot collection and you'll quilt and appliqué with ease, enjoying freedom to turn any inspiration into stitched reality.
Choosing the Right Feet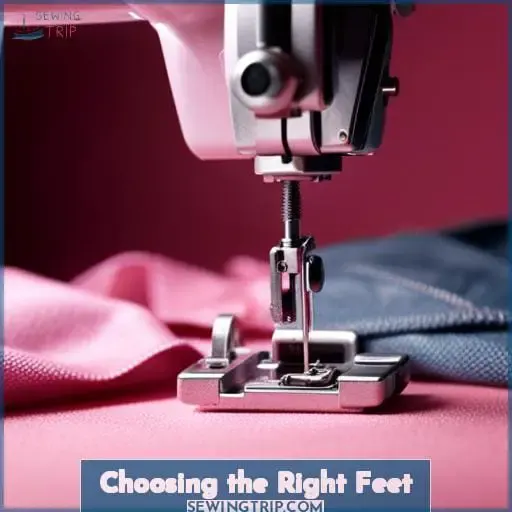 You've got options when picking feet to equip your machine. The right foot helps prevent common headaches like fabric damage, thread breaks, needle issues, foot slipping, and tension troubleshooting.
For garment sewing, a zipper foot nicely guides stitching close to teeth. A buttonhole foot stabilizes fabric while sewing even columns.
Quilters will love a walking foot for keeping layers from shifting. An open toe foot offers visibility for detailed free motion work.
An all-purpose foot handles basic sewing well. For specialty techniques like pintucking or piping, swap on a foot made for that task.
Read your manual for recommended accessories. Quality low shank feet fit most domestic brands. High shank feet work with vintage and industrial machines. Buy feet as your skills progress. The right foot for the project prevents headaches so you can relax and enjoy sewing.
Where to Buy Machine Feet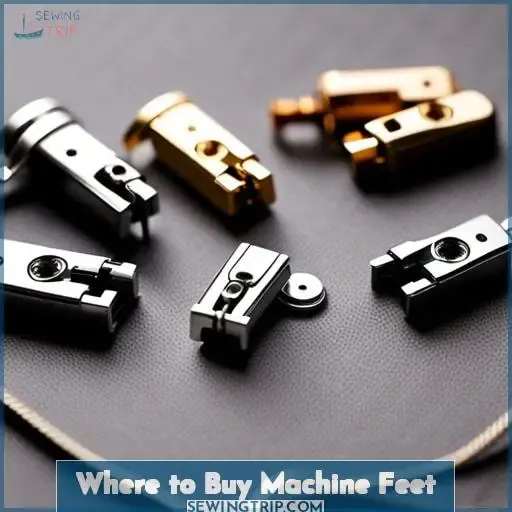 Retailers far and wide stock sewing machine feet. Yet local shops often house hidden gems. Check your machine brand or model number on sewing websites to lookup compatible feed styles and available accessories.
Many manufacturers list full inventories online along with diagrams of specialty feet applications. Older machine shops still carry stocks of high shank feet to fit vintage Singers and industrial models.
Specialty sewing dealers boast options tailor-made for your machine, like high-quality sliding buttonhole feet. Big box and online retailers run monthly sales promotions for general purpose feet sets. But local sewing centers offer expertise to select the perfect foot for your next project – whether it's a zipper foot for dresses or a professional buttonhole foot for tailored shirts.
Independent shops help you build a collection of feet over time to grow your mastery of techniques like hemming, piping, and embroidery. With some research across retailers, you can find the specialized foot that suits your skill level and unleashes creativity.
Tips for Using Feet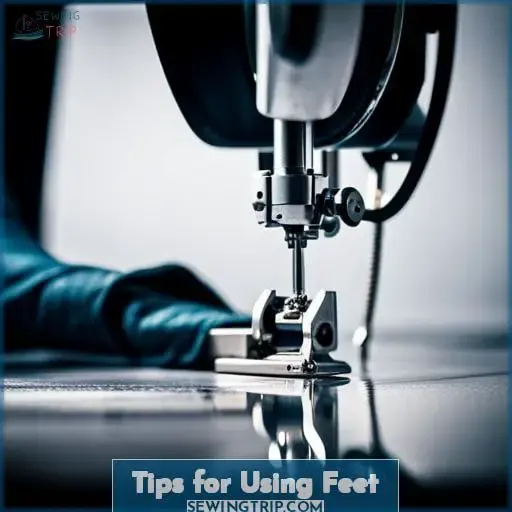 Move with care as you guide delicate fabrics under the presser foot, letting the specialized mechanisms work their magic.
Check your machine's manual for instructions on securely inserting the desired foot and finding alignment guides. Choose needles sized for your fabric thickness – thinner for silks or thicker for denim.
Adjust presser foot pressure higher or lower as needed. Test stitch tension on scraps first.
The adjustable blind hem foot glides fabrics neatly for nearly invisible hems. Lower the bar on the buttonhole foot and stitch both sides for reinforced buttonholes. Insert piping into the groove on a zipper foot to expertly apply trim. For vinyl and leather, use a Teflon coated presser foot so materials smoothly pass underneath.
On older Singer machines, carefully change presser feet made for the high shank.
Follow all safety guidelines. Refer to your machine's manual for presser foot specifics. With the right accessories, feet enhance your sewing machine's potential. Practice shows which foot suits your project.
Frequently Asked Questions (FAQs)
How do I know which presser feet will fit my sewing machine model?
To determine which presser feet are compatible with your sewing machine model, consult the owner's manual or manufacturer's website for a list of recommended accessories. The shank type – low or high – is key in narrowing down your options. Visiting a sewing specialty shop provides an opportunity to get hands-on guidance from knowledgeable staff as you evaluate potential purchases.
What tips are there for attaching and detaching presser feet?
Similar to changing your shoes for the occasion, swapping feet opens new creative possibilities. Just turn the handwheel, lift the presser foot lever, and the foot almost detaches on its own.
How can I tell if my presser foot needs to be replaced or repaired?
Check for excessive wear, scuffs, or damage on the presser foot. Test that the presser foot raises and lowers smoothly without sticking. If the presser foot feels loose, skips stitches, or will not stay attached to the presser foot holder properly, it likely needs replacing.
A quality sewing machine presser foot should last for years with proper maintenance like regular cleaning and oiling. Replace presser feet that are badly worn, fail to function smoothly, or do not hold fabric flat for neat stitching.
What accessories or tools do I need for using specialty presser feet?
You'll need specialty needles, threads, stabilizers, and fabrics for the best results. Practice on scraps first. Follow your machine's manual and the foot's instructions closely. Go slowly, adjusting tension and stitch length as needed. Patience leads to mastery with specialty presser feet.
How do I clean and maintain my presser feet to keep them working well?
Clean presser feet often with a small brush and mild soap and water. Check for lint buildup under the foot and around the shank. Lubricate shanks occasionally with sewing machine oil. Inspect feet regularly and replace excessively worn ones to prevent skipped stitches.
Conclusion
With the proper foot fitted to your machine, you'll find sewing becomes easier and your finished pieces more professional. Investing in specialty feet expands your creative options. Take time to explore different feet – you'll uncover new avenues for creativity! Whether you want to sew a buttonhole, piping, hem, zipper or decorative stitches, there's a foot that's perfect for you.
As your skills progress, seek out specialty sewing machine feet to add new techniques to your repertoire.