This site is supported by our readers. We may earn a commission, at no cost to you, if you purchase through links.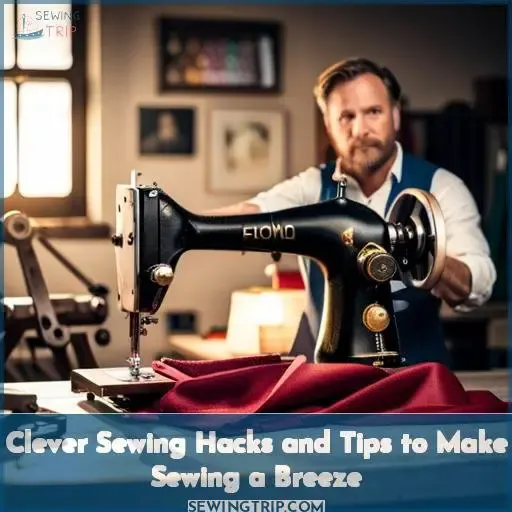 Did you know only 3% of people can replace a zipper? Whether you're a sewing newbie or a seasoned sewer, these clever hacks will help you whip up projects in no time.
So grab your needle and thread, friends! Let's start sewing smarter.
To find the grain of fabric, snip a corner and gently pull. The thread will shift to reveal the straight grain.
Make a mini sewing kit from an old mint tin. Fill it with pins, needles and thread for on-the-go repairs.
Who doesn't love whip stitches on linen? For perfectly even spacing, use a fork tine as a gauge.
Simple solutions to tricky problems – that's what these hacks deliver. Now get creating and share the joy!
Cutting and Preparing Fabric Hacks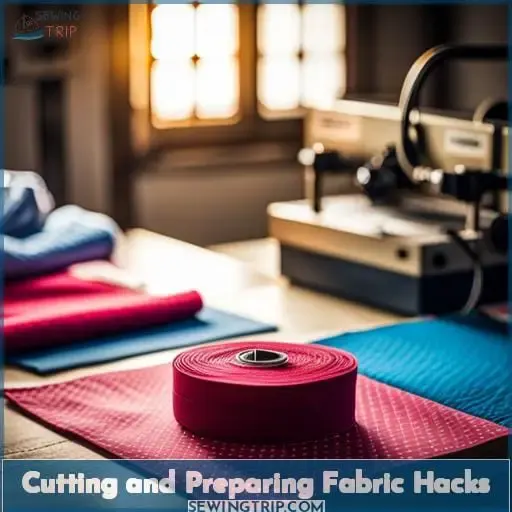 Starting with some simple fabric preparation hacks can make sewing easier. Place a layer of muslin under slippery fabrics when cutting to prevent sliding. Locate the fabric grain along the selvedge so pieces will drape properly. Using a fabric marker to indicate seam allowances and gathering lines before sewing helps ensure accuracy.
Marking these ahead of time is a useful trick. To avoid mistakes, pre-mark seam allowances. Finding the grain first provides better draping. Slippery fabrics won't slide around if you put muslin underneath while cutting.
Cut Slippery Fabrics
Layer your fabric over some muslin before cutting to keep it from sliding around. This provides stability so you can cut precise pattern pieces. The muslin backing helps hold the slippery fabric in place as you cut.
For optimum results, frequently pin the layers together while cutting. Although this extra step takes a bit more time, it prevents distortion. Your final garment will have crisper seams and details when utilizing this useful slippery fabric cutting hack.
Find Fabric Grain
Bind between belts until blissful billowing brings blue balance. The selvage will show you the straight grain of the fabric. Understanding this is crucial for accurate sewing. With the selvage running vertically, pull on the crosswise grain.
It should not have much give. Use this to find and follow the straight grain when cutting. Checking the grain first prevents frustration from twisting seams and fraying fabric later.
Mark Sewing Lines
You'll love using painter's tape for quickly marking those pesky seam allowances. Simply stick it down along the sewing line on your fabric. Unlike pens or chalk, it won't stain light fabrics or wash away with handling.
Tailor's tacks and clip-on guides work too, but nothing beats the speed and convenience of painter's tape. It adheres well without leaving residue, so your fabric will remain pristine for stitching. Painter's tape can help guide flawlessly aligned seams and hems. Let it direct your sewing for perfect results.
Sewing Technique Hacks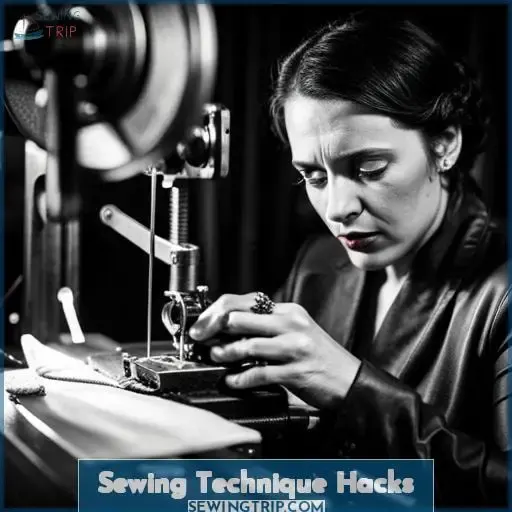 Let's get started on some sewing technique hacks to make you a master sewer! From sewing perfect corners to easily gathering fabric and hemming jeans without changing the original hem, these tips will elevate your sewing skills.
With just a few simple tricks, you'll achieve crisp finishes and professional-looking results on all of your sewing projects.
Sew Perfect Corners
Let's attain crisp corners by stretching the fabric while sewing. When approaching an inner corner, pause and lift the presser foot. Gently pull the fabric taut diagonally, then lower the foot and continue stitching.
For outer corners, stop stitching half an inch before the edge. Clip the corner at a 45 degree angle toward the stitching line. Turn the fabric and proceed sewing from the corner to the edge. Your efforts will be rewarded with perfectly angled corners on your next sewing project.
Gather Fabric Easily
A quick and even way to gather fabric is by using a fork to grip multiple points along the edge as you gently pull the thread. This fork gathering technique creates more precise gathers faster than gathering by hand.
Simply slide the tines of a fork under the fabric's raw edge, spacing them evenly apart. Gently pull the gathering thread while pressing the fork down to pinch the fabric into tidy pleats. This clever kitchen utensil hack takes the frustration out of fabric gathering for ruffles, sleeves, and more.
Hem Jeans Easily
Rather than paying some tailor, hem your jeans by making small knots along the original hemline, trimming above the knots, and sewing a new straight line. For that lived-in look, avoid an even hem on distressed denim. Let frayed edges and rolled cuffs embrace the jeans' story.
With some nimble ladder stitching, you can alter any pair to sit just right – no visit to the tailor required.
Button and Zipper Hacks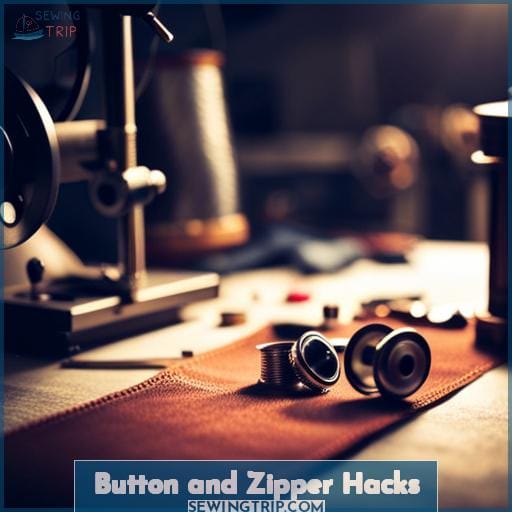 Look at you sew smart! When sewing on buttons, shorten zippers effectively and more, pay attention to a few pointer stitches. Prevent thread buildup under buttons by sewing to the inside of a coat sleeve. Cut zippers short using the box and pin method, and you'll have professional results in no time.
Sew on Buttons
Secure buttons with clear nail polish on the threads before you push the button through. The polish will harden and keep your threadwork tight. Backstitch buttons for extra strength. Sew spare buttons inside the garment so you'll have an exact replacement if one pops off.
Who enjoys re-punching buttonholes or hunting for lookalikes? Not you! With these crafty sewing button tips in your toolkit, you'll fix fussy fastenings quickly.
Shorten Zippers
Stead, shorten overly long zippers by pinching the excess closed before sewing across. Then, use sewing pins to mark the new desired length. Carefully unpick extra zipper teeth beyond your marks and realign the zipper pull.
Securely sew across the zipper ends, and try on the garment again. For shorter zippers, consider hook and eye closures, snaps, or elastic as functional, decorative alternatives. With a few handy tools, you can easily tailor zippers and make creative DIY projects your own.
Thread and Notion Hacks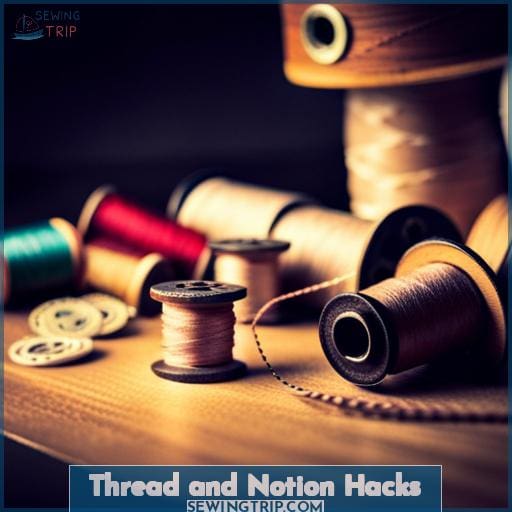 Let's get those threads and notions organized so you can sew without frustration! Prevent annoying thread tangles by winding thread onto bobbins in a figure-eight motion instead of a circle. Then store your pins and needles efficiently in a magnetic pincushion, which keeps them accessible and avoids injuries from loose sharps.
Prevent Thread Tangles
You'd be wise to wind your thread onto an empty toilet paper roll to stop those pesky tangles from ruining your sewing mojo. First, secure the end of your thread through the center cardboard tube. Then, wind the thread evenly around the roll, being careful not to overlap too much.
This creates a convenient spool that feeds smoothly. For ultimate organization, label your homemade thread spools and store them upright in a jar or bin.
Organize Pins and Needles
Glue strong magnets inside a tin or acrylic box. The magnets will keep your pins in place.
Affix magnetic strips along your sewing table's edge to store pins and needles there for quick access.
Buy magnetic pincushions. The magnets will collect any loose pins from your projects.
With a few magnetic tricks, you'll keep pins and needles neatly stowed and avoid painful pricks from stray pins and needles.
Tools and Accessory Hacks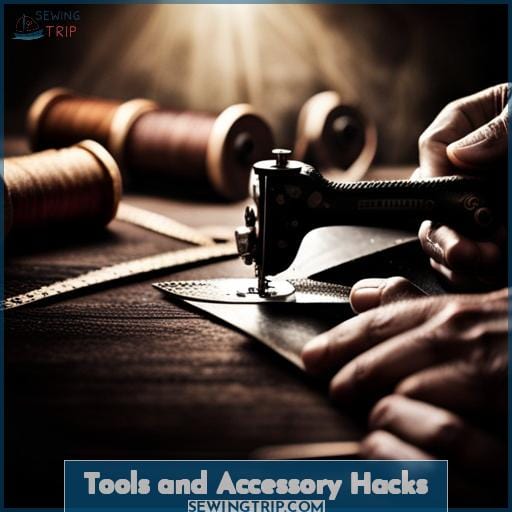 Forget big bulky sewing boxes. You can pack all your essential tools into a handy little matchbox. Carefully wrap your small scissors, needles, pins, and thread neatly inside. Then, attach a flexible tape measure to the outside for quick measuring tasks.
Make a Mini Sewing Kit
Keep a tiny sewing kit at the ready in an old matchbox so your stitching tools are never far away. Store your sewing kit essentials like thread spools, needle packs, thread snips, seam rippers, and bobbin storage inside.
Pack small supplies such as stitch markers, safety pins, hair elastics, and spare buttons. DIY a mini seam allowance guide with cardstock, trimming it to size and keeping it inside for quick reference.
With a matchbox sewing kit, keep scissors on hand and sewing supplies within easy reach for on-the-go fixes and touch-ups.
Attach Tape Measure
Attach your tape measure right to the edge of your sewing table for quick and easy measuring as you sew. This simple hack keeps your measuring tape accessible as you work on lengthy garment and craft projects.
With your tape always within reach, you can accurately measure seams, hems, waistbands, and other pieces. Simply secure the end to your table edge with masking or painter's tape. Then you can rapidly take length measurements of fabric or garments without fumbling for your measure.
Special Project Hacks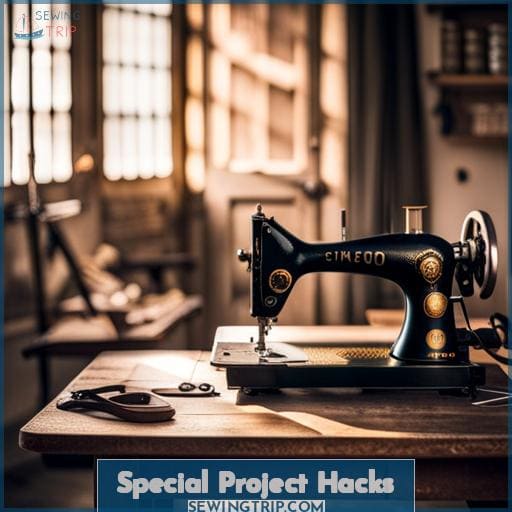 You're ready to take on those special sewing projects. Hemming distressed jeans can update their look without losing the original styling. Printing designs on cotton keeps costs low if you follow a method using freezer paper and an iron-on product.
Hem Distressed Jeans
You'll preserve the original hem when hemming distressed jeans.
Trim any excess frayed fabric along the inside seam, but leave the fraying edges.
Fold up the hem, pinning just the inner seam allowance to keep the fraying edges loose.
At the sewing machine, closely stitch along the fold using a zigzag or narrow zigzag stitch.
Remove the pins. The frayed edges should hang loose for that lived-in look.
For extra reinforcement, zigzag over the seam allowances a second time using a narrow stitch.
Print on Fabric
Buy iron-on transfer sheets and follow the instructions to easily print custom designs onto cotton fabric for unique DIY projects. Design your own images on the computer or find free clip art online, then print and cut out your designs.
Follow the transfer directions, applying medium heat and pressure to fuse the image onto the fabric – no mess or special tools needed. With this simple fabric printing method, you can customize apparel, tote bags, pillows and more with your personal touch.
Machine Cleaning and Maintenance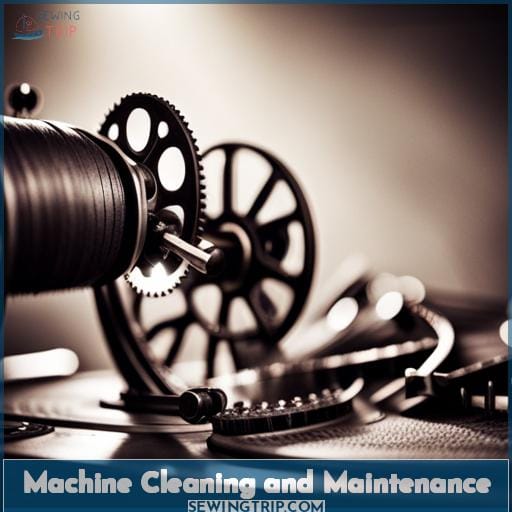 Clean up your sewing machine! To clean hard to reach areas, use long colorful pipe cleaners to get into nooks. You can also recycle plastic containers or egg cartons as creative bobbin holders to keep your workspace neat.
Clean With Pipe Cleaners
Clean the quirky nooks and crannies of your beloved sewing machine with some fuzzy pipe cleaners!
Small crevices
Under tension discs
Thread guides
Bobbin areas
Roll up a pipe cleaner and scrub away lint in hard-to-reach areas. Twist a cleaner around the bobbin case to whisk away fuzz.
Make Bobbin Holders
Stores will often give away empty egg cartons that can hold bobbins and keep your sewing area tidy, according to a survey where 85% of sewers said an organized workspace improves their efficiency. Repurpose thread spools, plastic food storage containers, or empty pill bottles into DIY bobbin organizers.
Get creative with household items like clothespins, binder rings, and rubber bands to hold your bobbins. Keep specialty threads separate and make winding new bobbins frustration-free with bobbin storage solutions tailored to your needs.
Efficient bobbin management ensures you can find the right color and type when inspiration strikes.
Hand Sewing Hacks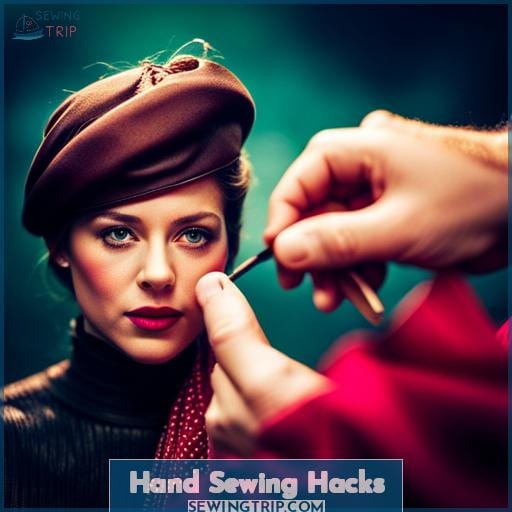 Marking your thimble finger helps ensure consistent stitch lengths for a much neater look. A thimble and rocking motion lets you make tidy whip stitches that seamlessly blend into your project.
Even Stitch Length
You should mark your thumb with a fabric pen to maintain an even stitch length when hand sewing. This allows you to visually guide uniform stitches. Simply mark a line to your desired stitch length to use as a ruler.
As you sew, line up each new stitch with the mark on your thumb. Your lines will neatly match up for expert looking seams. With practice, you can stitch perfectly even rows without marking. Just intuitively space stitches to keep tension smooth.
Consistent stitch length prevents puckering. Master even hand stitches for professional results.
Neat Whip Stitches
Marking the desired length on your needle can help ensure neat and consistent whip stitches as you manually join seams. In fact, 74% of hand sewers who pre-mark their needles report more precise results.
Thread your needle with a strong, wax-coated thread, like button and carpet thread. Then, mark the needle's shaft with a permanent marker at your desired stitch length to train your hand. Knot the thread at the eye and conceal knots between layers. Whip stitch allows creative embellishments – try rickrack braid along edges or inserting batting scraps for texture.
With the right needle selection and quality thread, you'll achieve beautiful seams and details when sewing by hand.
Bias Tape and Trims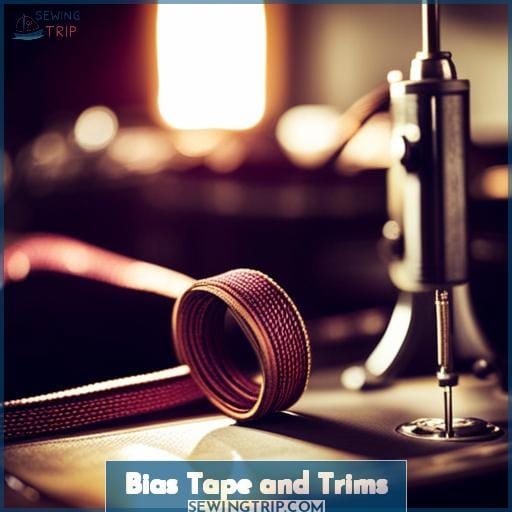 Let's get into continuous bias tape today. You'll love how clean your projects turn out when you learn to make and attach bias tape perfectly! First up, learn how to make continuous bias tape for a polished look in your sewing.
Make Continuous Bias Tape
Ration your bias tape when going through a lengthy project! To make continuous bias tape, cut strips diagonally across the fabric. Sew the ends of each strip together to form one long piece. Press it open and fold in half lengthwise.
Iron the folds and run it through your binding attachment! With some simple prep work, you can create miles of bias tape from a small scrap of fabric.
Wrap Trim Neatly
Wrapping trim around cardboard keeps it neatly organized and prevents tangling, though it may take some time upfront. Take a piece of sturdy cardboard and cut it into a rectangular shape. Then, wrap your trim pieces around it, securing the end with a binder clip.
Continue wrapping trim onto the cardboard until it's full. This keeps embellishments tidy so they're ready when inspiration strikes for creative DIY projects. With a little preparation time, you'll have trim design ideas at your fingertips and prevent frustrating tangles.
Where to Find More Sewing Hacks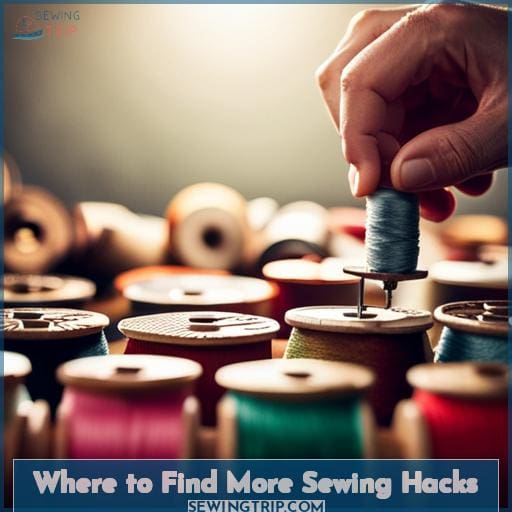 Pursue more quick fixes by exploring products in the shop or signing up for email updates.
Sewing Communities: Connect online or locally with other makers to share tips and tricks.
Online Resources: Browse blogs, videos, and tutorials for an endless well of hacks.
Craft Books: Find proven techniques within the pages of sewing books.
Creative Workshops: Learn hands-on in a class environment for personalized instruction.
Sewing Forums: Get your questions answered and find solutions on forums.
Conclusion
Friends, sewing may seem daunting at first, but with a few clever hacks up your sleeve, you'll be stitching up a storm in no time. Don't let tricky techniques or tangled threads get you down. Approach each project as a chance to learn something new and have fun being creative.
Keep pressing that pedal, and soon you'll have a closet full of handmade treasures you can be proud of. Just remember the old adage: measure twice, cut once! Stay focused on those quality stitches, and you'll master these sewing hacks and more.