This site is supported by our readers. We may earn a commission, at no cost to you, if you purchase through links.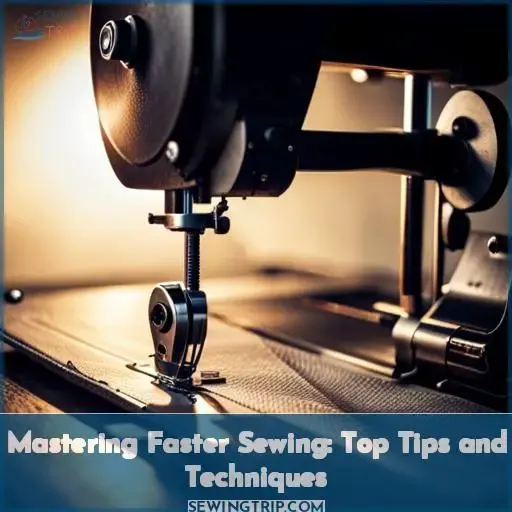 Y'all feeling the pressure to sew faster yet? We all know that time is of the essence when it comes to sewing. But with a few simple tips, you can learn how to get faster at sewing and be well on your way to mastering assembly-line speed! From accessories that help you work smarter, not harder, to techniques for streamlining tasks – I'm sharing my top strategies for fast stitching success below.
Key Takeaways
Utilize sewing accessories such as a blind hem foot, a binder presser foot, a ruffler foot, and pinking shears.
Implement time management techniques like focusing on one project and batching tasks.
Efficient fabric preparation includes prewashing, inspecting for flaws, using pattern weights, and stack cutting.
Streamline the sewing process by using specialty presser feet, fabric glues, and marking fabric with chalk or pins.
Top 5 Sewing Accessories to Speed Up Your Sewing
Looking to sew faster? Consider adding these handy accessories: Blind hem, binding, ruffling and gathering feet, fabric glue, and pinking shears. With specialty presser feet, adhesives, and shears, you'll gain efficiency and neat finishes in no time.
1. Blind Hem Foot Janome Sewing Machine Accessory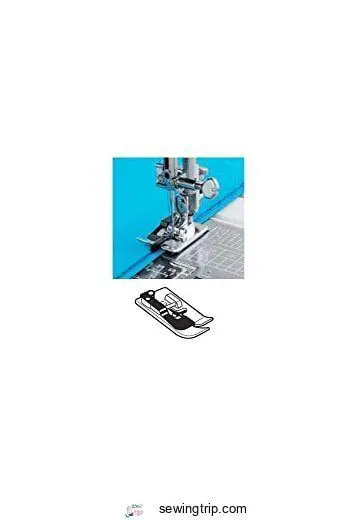 View On Amazon
Try the Janome Blind Hem Foot for invisible hems on your next skirt – it'll have you sewing faster than you can thread a needle! This handy specialty presser foot takes the frustration out of achieving clean, professional blind hems.
Its sturdy metal guide keeps the fabric properly aligned as you sew, while the grooves on the underside grip the fabric to prevent slipping. No more ripping out crooked stitches or redoing uneven hems multiple times. The blind hem foot does all the work for you, letting you fly through projects with expert results.
Creates an invisible blind hem stitch.
The metal guide ensures the fabric stays aligned.
The grooved bottom grips the fabric to prevent slipping.
Allows you to sew blind hems quickly and easily.
May not fit all Janome models.
There can be some variability in quality.
Compatibility issues have been reported with some machines.
2. Binder Sewing Machine Presser Foot Fits Low Shank Snap on Brands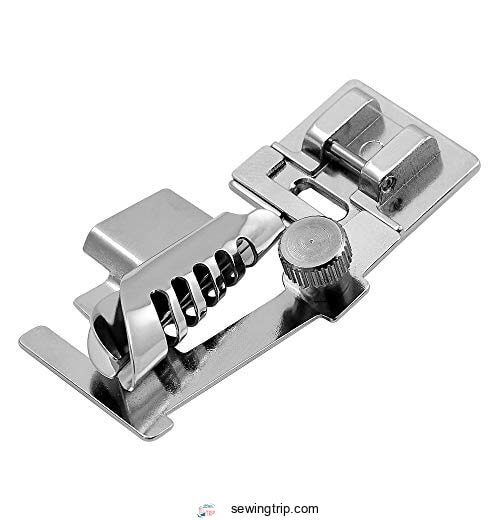 View On Amazon
Yank the binder foot onto your machine for tackling binding projects effortlessly. This handy attachment snaps onto low shank sewing machines, guiding and folding your binding fabric as you sew for neat, professional results.
Simply insert 1/4 bias binding strips and watch them transform into perfect finished edges.
Compared to painstaking handwork, you'll fly through binding hems and edges with precision and ease. The binder foot fits most snap-on domestic brands, making it compatible with Singer, Brother, Babylock, and more.
Provides ease and speed for binding tasks
Fits many low shank sewing machines
Creates neat, professional finished edges
Not suitable for heavy fabrics or thick quilts
Lacks instructions for setup and use
Some compatibility issues have been reported.
3. Singer Brother Juki Sewing Machine Ruffler Foot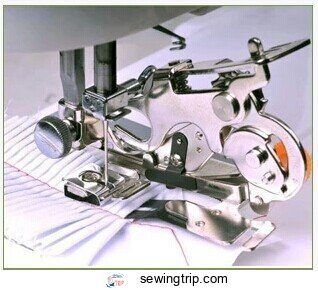 View On Amazon
While the Singer Brother Juki ruffler foot can create lovely gathered ruffles, you'll wanna watch some tutorials to get it set up right for your machine. This ruffler attachment can be tricky to install and adjust, so don't get discouraged if your first attempts don't go smoothly.
Take time to read the instructions, watch online demos, and experiment with settings.
Compatibility varies, so confirm it'll work with your machine model before buying. When properly attached and calibrated, the ruffler makes quick work of perfectly spaced gathers, pleats, and ruffles on lightweight and medium fabrics.
Play around with depth and pleat spacing until you nail the right settings for your project.
With some initial effort, this handy foot eliminates hours of tedious gathering by hand.
Creates precise gathered ruffles quickly
Adjustable pleat depth and spacing
Compatible with many low shank sewing machines
Good for lightweight and medium fabrics
Can be tricky to install and adjust
Unclear instructions
Potential compatibility issues
May damage needle if not set up properly
Not ideal for heavy fabrics
4. Fabric Fusion Permanent Adhesive by Aleenes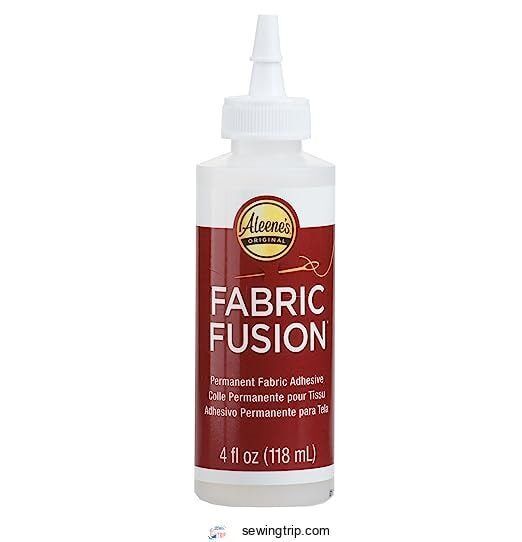 View On Amazon
Snag Aleene's Fabric Fusion to simply attach embellishments without stringiness or hassle. This water-based urethane adhesive bonds fabric and embellishments permanently, whether rhinestones, pom poms, or beads.
User reviews mention its strength for pockets, labels, repairs, and basic fabric bonding jobs. While it is not ideal for heavy fabrics or iron-ons, it excels at no-fuss embellishing.
Strong urethane adhesive
Non-toxic and washable
Dries clear for invisible bonds
Works on embellishments and light fabrics
Not suitable for heavy fabrics
Can leave whitish residue on dark fabrics
Limited to light duty fabric repairs and embellishing
5. Serrated Pinking Shears Set With Comfortable Handles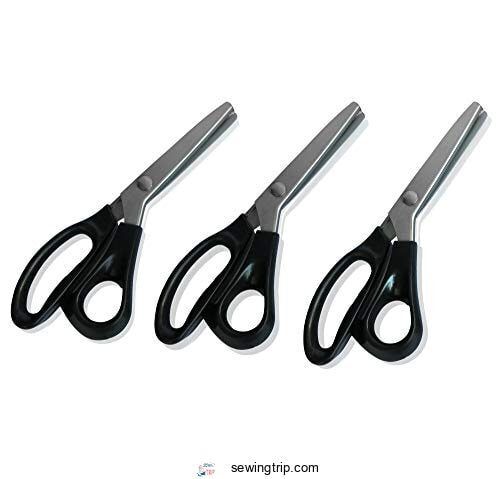 View On Amazon
Snip decorative edges with the JulArt pinking shears' sharp, serrated blades that you'll love using for fabrics and paper. The comfortable grips accommodate your hands, allowing you to create zig-zag edges easily.
Slice precisely through multiple layers of various fabrics and materials with their durable stainless steel blades.
JulArt's 3-piece set provides you with shear sizes of 3mm, 5mm, and 7mm, giving you decorative cutting options. The ambidextrous design allows you to cut and craft comfortably, regardless of whether you are left or right-handed.
At just 9.2 inches long, you can easily control the movements of the largest shear.
Sharp serrated blades for precise cutting
Comfortable grip that fits all hand sizes
Cuts various fabrics and materials
3 sizes allow for decorative edge options
Ambidextrous design for use with either hand
Manageable 9.2-inch length
Can cause hand fatigue with extended use
Not ideal for very thick materials
Requires frequent sharpening for optimum performance
How to Get Organized for Faster Sewing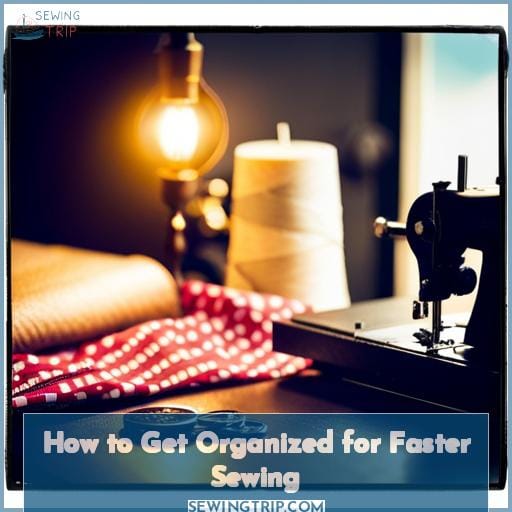 Being organized for your sewing projects is key to working efficiently. Start by decluttering your sewing space and optimizing workflow. Invest in quality storage solutions like clear bins and baskets to neatly organize fabric, patterns, thread, notions, and tools.
Arrange your sewing machine, ironing board, cutting table, and other equipment in a convenient layout to minimize movement between tasks.
When beginning a project, select all your materials ahead of time. Prewash and press fabrics. Group like fabrics and tasks together. Batch cut pieces at once. Mark and transfer pattern markings to save time.
Wind bobbins and fill sewing machine accessories. Take time to practice key techniques to build speed.
Establish a routine that works for you by analyzing your process and eliminating inefficiencies. An organized approach to sewing ensures you can work quickly, accurately, and without frustration.
Choosing the Right Fabrics, Patterns, and Styles for Fast Sewing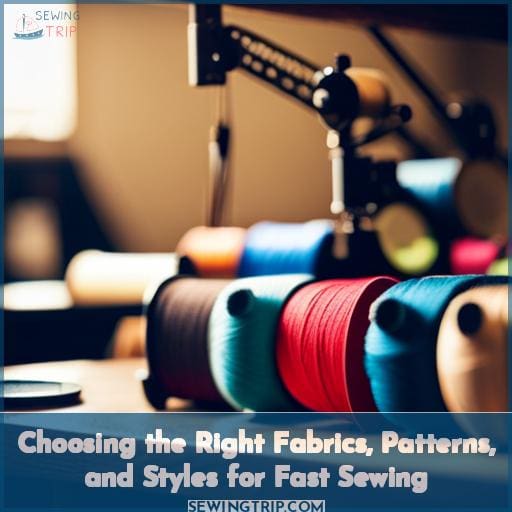 When selecting fabrics, patterns, and styles for fast sewing projects, opt for knits, stable wovens, simple garment shapes, and repeat patterns you've successfully used before. You'll speed through sewing and achieve the desired finished look by starting with fabrics and designs made for efficient construction.
Fabric choices for speed
You're wise to choose knits, jersey, and stretch wovens when racing against the clock. These fabrics move with the body and require less pinning and fitting. Seek simple, loose styles with few pattern pieces or details to construct.
Pick soft, drapey fabrics that won't fray. Stay away from stiff brocades or heavily textured materials. Opt for versatile solids or small overall prints. Prewash fabric so it's ready for cutting. With thoughtful fabric and pattern choices, you gain control over a faster sewing process.
Selecting quick sewing patterns
Choose simple patterns with minimal seams and pieces for fast project completion.
When selecting patterns for speedier sewing, look for:
Few pattern pieces
Minimal seam allowances
Simple construction
Loose-fitting styles
Knit fabrics over wovens
Versatile all-in-one patterns
Knowing which design elements and project types will move your sewing along swiftly helps you plan and complete garments faster.
Efficient sewing styles
Quickly opt for loose-fitting designs with minimal shaping when speed is a priority. Focus on simple garment shapes that use less fabric and eliminate fitting. Choose loose A-line skirts over fitted pencil skirts.
Select flowy peasant blouses instead of tailored button-downs. Prioritize pullover tops without closures. Simplicity equals speed. Remember – perfectionism slows sewing. Satisfaction comes from completing projects, not obsessive precision.
Sewing Techniques to Speed Up the Process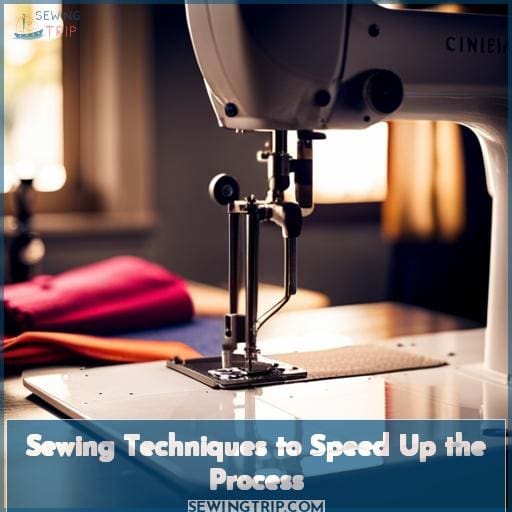 Chain-stitching seams without clipping threads between stitches speeds up the sewing process. For rapid assembly, continuously feed fabric layers under the presser foot to stitch consecutive seams. This allows the feed dogs to pull the next piece into position without stopping.
When constructing garments, it is important to implement an efficient construction order. Sew darts before side seams and finish raw edges as you go. Additionally, try to apply trims or bindings using specialty machine feet instead of hand-sewing whenever possible.
To further speed up the process, it is essential to utilize quality tools such as rotary cutters, sergers, and high-speed machines.
With practice, these streamlined techniques will become second nature, allowing you to complete projects faster while maintaining quality construction. By mastering efficient processes, you will gain confidence in tackling more advanced sewing challenges.
Tips for Time Management in Sewing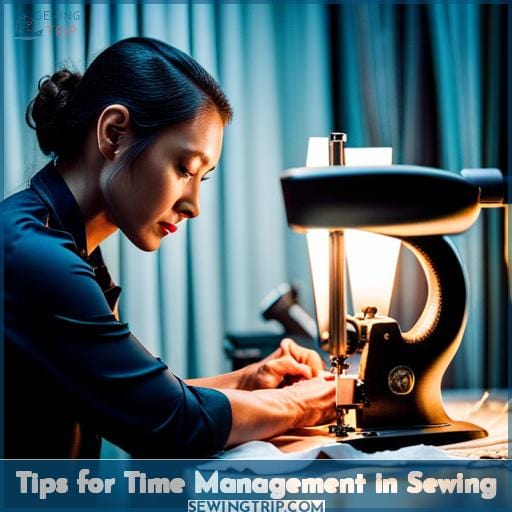 You'll save time finishing projects by preparing materials beforehand, like pre-washing fabrics or winding bobbins. For example, pre-washing cotton fabric eliminates later shrinkage and the need to re-cut pieces.
Focus on one project at a time
Batch similar tasks together
Maintain a clutter-free workspace
Organizing your sewing area and materials efficiently allows you to easily grab what you need. Set up your sewing machine, iron, and other tools in an ergonomic arrangement to minimize wasted motion.
Mark and cut all pattern pieces before beginning to sew. By grouping like tasks and getting everything ready upfront, you can dive right into sewing and avoid interruptions hunting down tools or notions.
Proper planning prevents delays down the road.
Efficient Fabric Preparation for Faster Sewing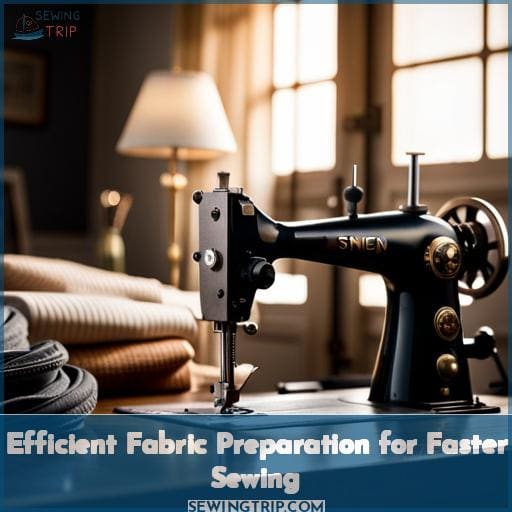 Markin' the wrong sides helps ya cut multiple pieces at once and avoid mistakes later.
Prewashin' your fabrics removes sizin' and shrinkage, so garments turn out as planned.
Inspect for flaws and color issues before cuttin'.
Use fabric markers, tailor's chalk, or snip notches for easy matchin' of pattern pieces.
Choose sew-easy patterns with included seam allowances to speed construction.
Use pattern weights instead of pinning each piece down.
Cut an interfacing larger than your fabric for easy application.
Lay out pieces efficiently to cut multiples together.
Stack up fabrics identically for batch cuttin' multiple garments.
Match grainlines and follow layout diagrams.
Prepared materials mean ya waste less time huntin' and fixin' mistakes mid-project.
With fabrics prepped and marked correctly from the start, your sewin' flows faster from cut to stitch.
Streamlining the Sewing Process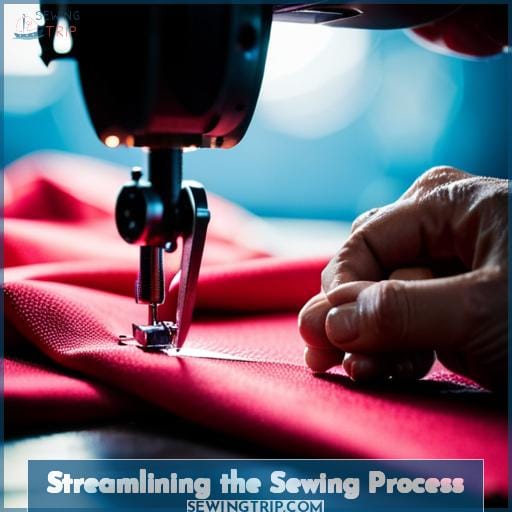 Once you've prepped your fabrics and patterns, doesn't it feel great to dive right into sewing and see your project take shape? Streamlining your sewing process will get you from pattern to finished garment faster.
Utilize specialty presser feet like rufflers, binders, and edgestitch feet to add details quickly.
Apply fabric glues and fusibles for embellishments and light repairs instead of hand-sewing.
Mark fabric with tailor's chalk, disappearing ink pens, or pins instead of tracing paper.
With some organization, time management, and the right tools, you'll gain efficiency.
Sew tubes or continuous lap seams.
Prep materials in batches.
Aim for mastery of each step so you can control the process from cut to wear.
Streamline your path to a finished garment.
Tips for Faster Sewing Techniques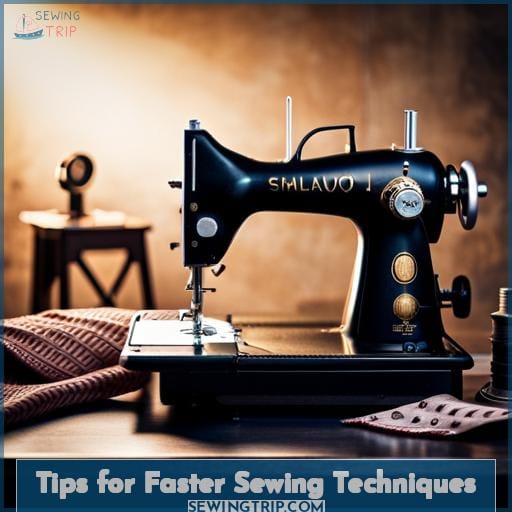 To speed up your sewing process, consider incorporating specialized presser feet like the Janome Blind Hem Foot and the Binder Sewing Machine Presser Foot.
Invest in tools that automate tedious tasks like blind hemming and binding edges.
Explore ruffler attachments for easy gathers and pleats. Ruffles add visual interest quickly.
Keep fabric glue on hand for embellishing and repairing fabric fast. Adhesive bonding skips basting and pinning steps.
Add pinking shears to your toolkit. Their zigzag blades neatly finish raw edges in a single snip.
Specialized sewing machine attachments allow you to expand your repertoire of techniques efficiently. Optimize your sewing time and minimize unnecessary motions with the right tools.
Master faster methods so you can realize your creative visions with less frustration.
Creating an Efficient Sewing Workspace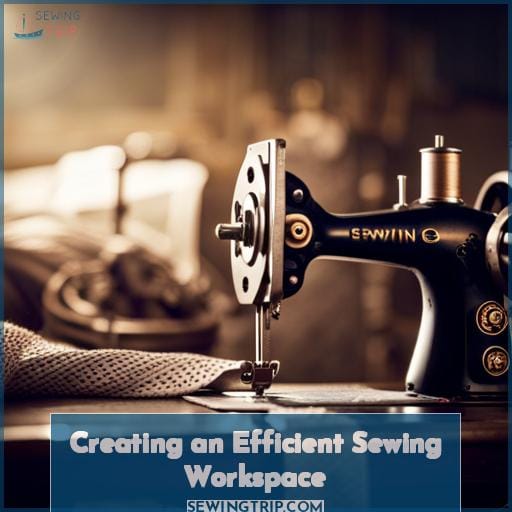 Having your sewing tools neatly organized at your fingertips keeps your workflow flowing efficiently. To create an efficient sewing workspace, start by arranging your tools logically. Keep your sewing machine close to your cutting area, allowing for easy transitions between cutting and sewing.
Invest in proper lighting to reduce eye strain and ensure accurate stitching. Organize your threads, needles, and notions in labeled containers or drawers, making them readily accessible. Regularly maintain your sewing machine by cleaning and oiling it as needed to prevent unexpected downtime.
Ensure your swivel chair is comfortable, allowing you to move freely between tasks. Keep a small garbage bin nearby for quick disposal of thread and fabric scraps, maintaining a clutter-free workspace.
A well-organized and well-lit sewing area will significantly contribute to your efficiency and help you master the art of faster sewing.
Embracing Imperfection for Faster Sewing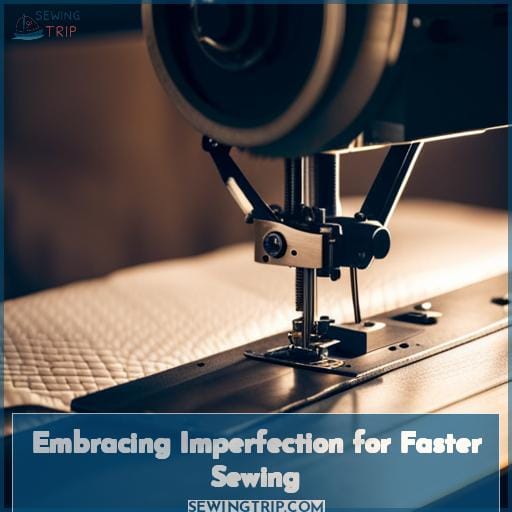 When fastening stitches, you don't dare expect perfection, so you move effortlessly from seam to seam.
Embrace mildly crooked lines and uneven spacing – minor imperfections add handmade charm.
Forgo time-consuming pressing after each seam to maintain momentum.
Use fabric glue for instant embellishment attachment instead of precise stitching.
Go for a good enough fit to avoid excessive adjusting and refitting.
Perfectionism drags you down. Flow freely through each step, making small concessions of precision for a faster workflow.
The joy of creating overrides minute flaws. With practice, your eye appreciates loving imperfections.
You gain speed, skill, and satisfaction from embracing work that's perfectly imperfect.
Conclusion
Mastering faster sewing is a matter of patience, practice, and having the right tools. With the right accessories, techniques, and time-saving tips, you can quickly become a sewing whiz.
Utilize the Janome blind hemming foot, binder presser foot, ruffler foot, Fabric Fusion adhesive, and comfortable pinking shears to make your projects easier and faster.
Get organized and choose fabrics, patterns, and styles that are suitable for speedy sewing. Streamline the process with tips for time management, fabric preparation, and efficient sewing techniques.
Create an efficient workspace and don't obsess over perfection when aiming for faster sewing.