This site is supported by our readers. We may earn a commission, at no cost to you, if you purchase through links.
Are you ready to take your dressmaking skills up a notch? Quilting cotton is a great fabric choice for creating beautiful garments.
Plus, quilting cotton is surprisingly easy to work with – if you know the right tricks.
So, grab some of your favorite prints and let's dive into how to best use them for dressmaking projects.
Key Takeaways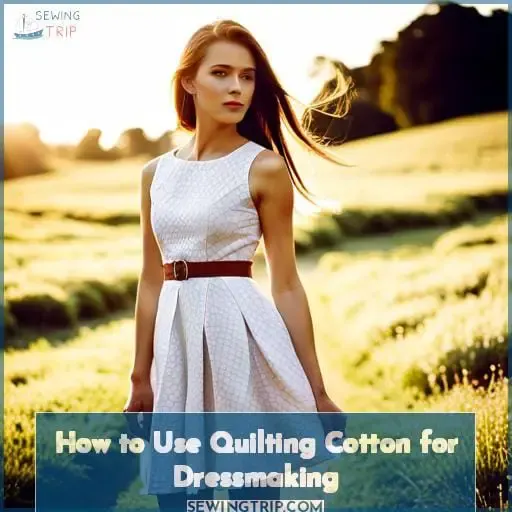 Pre-wash quilting cotton to prevent shrinkage.
Use lighter weight interfacing for this type of fabric.
Use a 1 or 2 double turn hem when hemming garments made from quilting cotton.
Quilting cotton is suitable for crisp blouses, A-line skirts, full skirts, loungewear, and structured loose-fitting garments.
Fabric Care for Quilting Cotton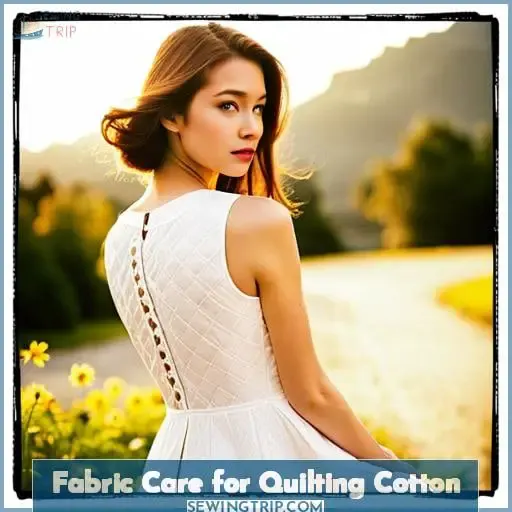 You need to take extra care when working with quilting cottons! Pre-washing is essential, as it can shrink considerably compared to other fabrics. Before you begin sewing your own cut pieces together, ensure that the pattern alignment of the print matches up correctly with the fabric's grain line.
Lighter weight interfacings work best for this type of material – and make sure you use a permanent press setting on your machine! When hemming garments made from quilting cotton, opt for a 1 or 2 double turn hems which will give them more structure and keep their crisp shape over time.
Additionally, choose 50wt thread in either polyester or cotton varieties alongside an 80/12 universal needle size to ensure successful stitching every time.
Tips for Pressing Quilting Cotton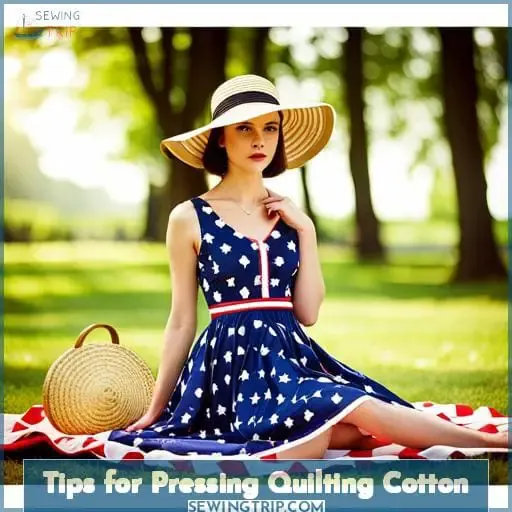 When pressing your quilting cotton garments, you'll find that a hot iron and moderate pressure will help give the garment an extra crisp look. Use a press cloth to ensure even heat is applied and avoid scorching or leaving marks on delicate fabrics.
Here are some tips for successful pressing:
Select interfacing carefully – Fusible lightweight interfacing works perfectly with quilting cotton but be careful not to add too much bulk when applying it.
Align the grain of fabric – Quilting cotton prints may not line up with the grain line of the fabric, so take care when cutting out your pattern pieces and aligning them before sewing together.
Check hemming options – A 1-2 double turned hem is great for quilting cottons as it won't fray easily like apparel cottons do; however, if you're using Sprout Patterns' cut-and-sew patterns, they come pre-hemmed in many cases!
Consider adding linings – Opt for silky lining whenever possible as this will make movement easier while still keeping your garment looking neat and structured on top without being stiff or uncomfortable against the skin!
With these tips in mind, dressmaking with quilting cottons can be an enjoyable experience that results in beautiful garments perfect for any occasion!
Cutting Quilting Cotton: Best Practices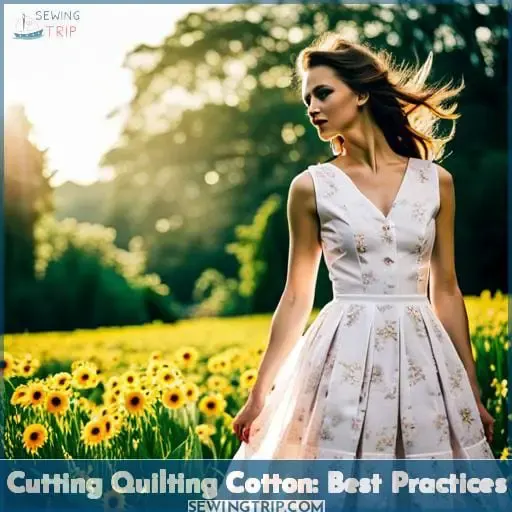 To get the most out of your fabric, follow these simple tips for cutting quilting cottons. Use a rotary cutter and mat to ensure straight grain lines when cutting. This will help you achieve the best fit with your garment.
For sleeve seams, basting stitches can be used instead of pins since they won't stretch out the fabric while sewing. Finish raw edges before stitching by serging or using pinking shears to prevent fraying and unraveling after washing.
When pre-washing fabrics, make sure to use a gentle detergent as some sizes in the UK shrink significantly during laundering, especially quilting cotton! With statement sleeves or full skirts, opt for an extra few centimeters when cutting pieces.
It's always better to be safe than sorry! Finally, double-check that pattern pieces may not line up perfectly with grainlines due to printing methods before you begin sewing everything together.
Marking Quilting Cotton: What You Need to Know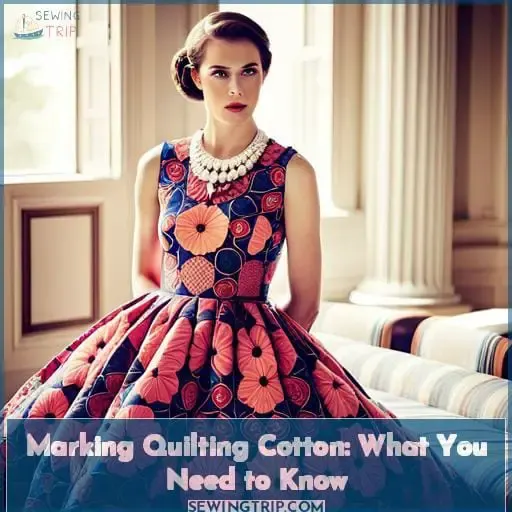 It's time to take your quilting cotton creation to the next level – marking with great precision is like painting a masterpiece. Before you start, pre-washing your fabric is essential for when it comes to shrinkage and warping.
The right interfacing will provide support for more structured garments and help keep those pieces in place during sewing. Marking tools such as tailor's chalk or disappearing ink pens are helpful in keeping track of dart placements, seam lines, hemlines, and pockets.
Use pattern weights instead of pins so they don't distort the fabric grain line.
For ultra-crisp seams on quilting cottons, try French Seams or a 1-2 double turned hem which won't fray easily due to its heavier weight than apparel cotton fabrics. Finish all raw edges by using pinking shears or overlocking/serging them together after stitching seams down with 50wt thread on 80/12 universal needles.
Try TillyButtons' Francoise dress if you want something bolder – Squirrel Print Fabric would look incredible! Have fun making clothes out of that beautiful quilting cotton and share your creations online too!
Interfacing for Quilting Cotton Projects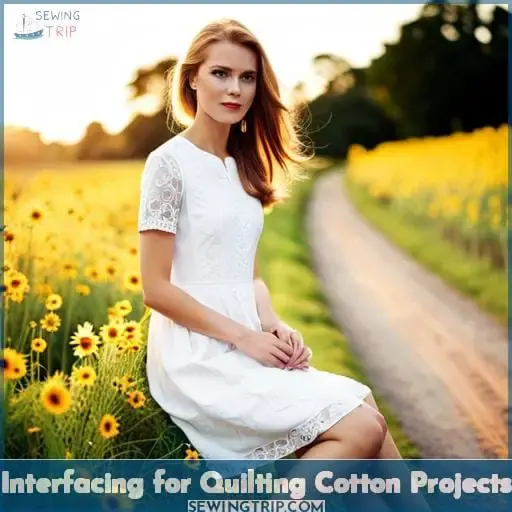 Fusing lightweight interfacing to your quilting cotton garments is key for a crisp and professional finish that will last. Using interfacing with quilting cottons makes perfect sense when hemming techniques, fabric care, and cutting tips are taken into consideration.
Interfacing adds higher quality structure to Kona or other printed fabrics.
It prevents raw edges from fraying when sewing on the wrong side of the fabric.
A blind hem stitch creates an invisible effect on both sides of the material, making it the perfect choice for lighter-weight prints.
When tackling any project with quilting cotton fabrics as part of Colette Blog's ongoing fabric series, it is important to select a needle size suitable for this type of cloth, such as 80/12, along with 50wt thread in either polyester or cotton.
Thread Selection for Quilting Cotton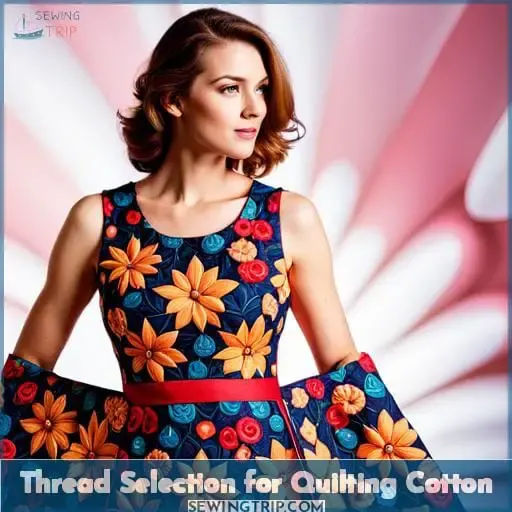 Experience the joy of creating beautiful garments with quilting cottons by choosing the right thread – 50wt cotton or polyester – and a Universal needle, 80/12. This combination will help ensure that your seams stay strong even after fabric shrinkage and when adding seam finish or hems.
To avoid puckering in your pieces after pressing, set your machine to lower tension.
Quilting cottons come in a multitude of fun prints and can be used for creating everything from an aster blouse to children's clothes, loungewear, skirts, and more! If you want to learn more about working with this type of material, take an in-depth look at Colette Blog's fabric series.
The series includes tips on cutting out patterns using transfer paper, as well as ideas for new skills like bias binding edges without hand sewing them closed.
Choosing the Right Needle for Quilting Cotton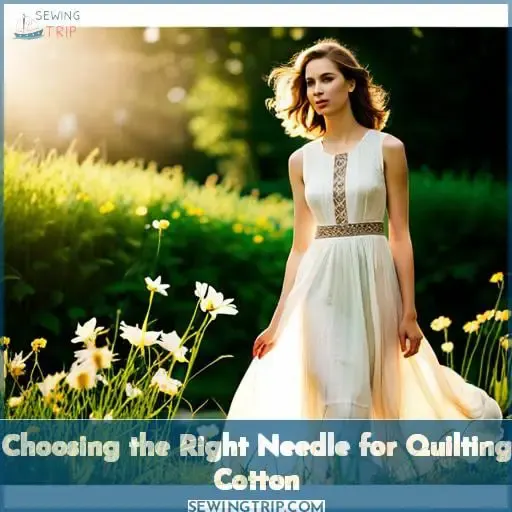 Now that you've chosen the right thread type for your quilting cotton project, it's time to select a needle. The main thing is to choose one with the size and point style suited to your fabric and thread combination.
Universal needles in an 80/12 size are best when sewing with 50wt cotton or polyester threads on quilting cottons. They have a sharp point which penetrates the fibers without damaging them while still producing better results than ballpoint needles.
If extra dye from dark colored fabrics might be an issue, consider using titanium-coated needles as these don't stain easily like other types do.
When finishing seams on quilting cottons, use either pinking shears or a serger for crisp finishes that won't unravel later down the line.
Finally, pre-washing will help prevent shrinkage issues after garment construction.
Seam Finishing Techniques for Quilting Cotton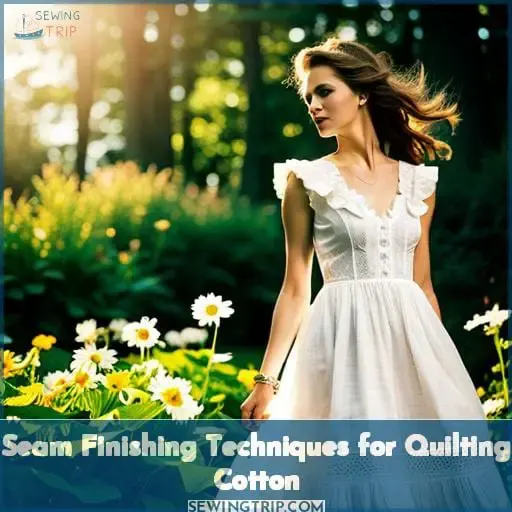 To achieve a professional finish on your garments, you'll need to consider the best seam finishing techniques for quilting cottons. Setting sleeves in quilting cotton can be tricky, so opt for three basting stitch lines and use basic cotton ultra thread with a Universal needle size 80/12.
Pay special attention when pattern matching, as prints may not line up along the grain line of the fabric. If using multiple fabrics, try splicing them together before cutting out pieces to ensure perfect alignment between each piece of fabric or print used in construction.
For sewing, 50wt thread is ideal. Pinking shears or a serger are good choices when it comes time to finish raw edges. For loose fitting blouses, dresses, or loungewear shapes such as Seamwork Mojave pants, Ginger skirt, and Zinnia dress from Sprout Patterns, 1-2 double turned hems give the best results on quilting cottons.
Hemming Quilting Cotton: a Step-by-Step Guide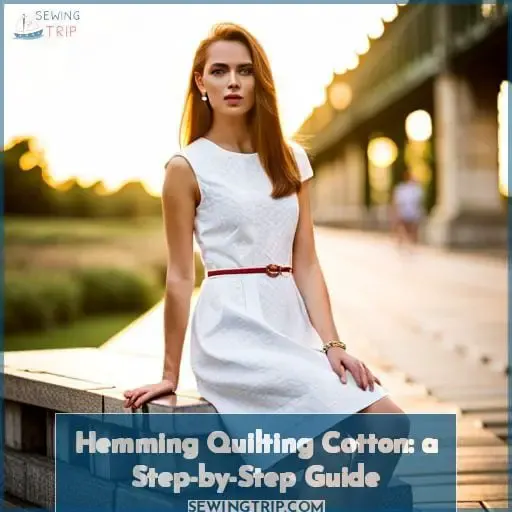 You can easily craft beautiful garments with quilting cottons, as the fabric holds its shape and is easy to cut – perfect for a 1-2 double turned hem.
When it comes to hemming techniques for quilting cotton, there are several options available. Beginner sewers should opt for simple fabric such as 50wt cotton or polyester thread in combination with a Universal needle size 80/12.
To prevent shrinkage, pre-wash using phosphate-free detergent before starting any pattern selection process recommended by Colette Blog or TillyButtons like Dahlia, Seamwork Mojave, Zinnia, Ginger, Seamwork Moji pants, Jaimie pyjama bottoms, shorts, Clemence skirt, Dominique skirt, Francoise dress, etc.
Additionally, consider adding fusible lightweight interfacing so that you get even better results from your masterpiece!
Construction Tips for Quilting Cotton Garments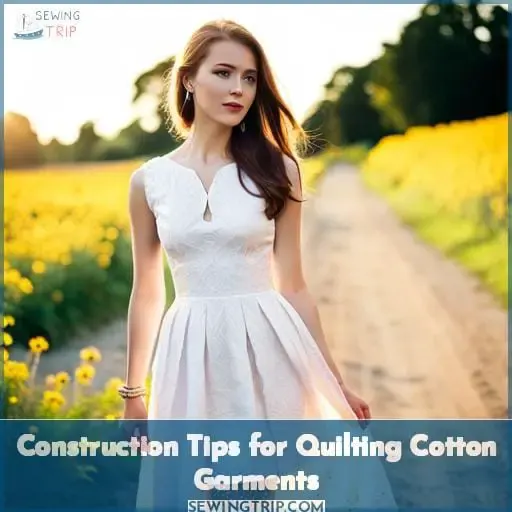 For a crisp and structured look, you'll want to learn the construction tips for quilting cotton garments.
Start by pre-washing with gentle detergent as this fabric may shrink considerably.
When setting in sleeves, opt for three basting stitch lines to help ease the fabric into place.
Fusible lightweight interfacing works perfectly and provides support without adding too much drape or bulkiness – ideal when working with medium weight cottons like quilting cotton!
Use 50wt thread amount of Universal needle (80/12) so that your first stitch is secure but still allows some movement in the seam allowance.
For hemming techniques, try using a 1-2 double turned hem which creates an even finish on both sides; alternatively, pinking shears or serging can be used if desired.
Finally, don't forget TillyButtons' free detachable collar pattern – perfect for creating interesting shapes from bright prints found on quilting cottons!
What Types of Garments Are Suitable for Quilting Cotton?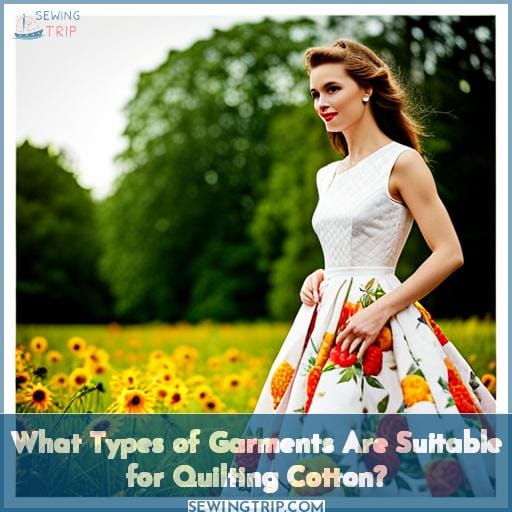 With quilting cottons, you can create crisp blouses and A-line skirts, full skirts, loungewear, and structured loose-fitting garments – all perfect for showing off a bright and bold print. There are so many options when it comes to patterns for quilting cotton. The Dahlia dress from Colette Patterns is an easy take.
Seamwork Mojave shirt or Zinnia skirt are great choices too! Ginger trousers make the perfect pair with any of these designs.
When sewing with this type of material, there are some techniques to keep in mind. Pre-washing tips, use lightweight interfacing pieces, 50wt thread, and universal needle 80/12. Also, double turn hem should be used instead of raw edges finishing like sergering or pinking shears work better here, as well as 3 basting stitch lines which help ease setting sleeves into garment parts perfectly.
Enter to Win a Sprout Pattern With Katie Whittle!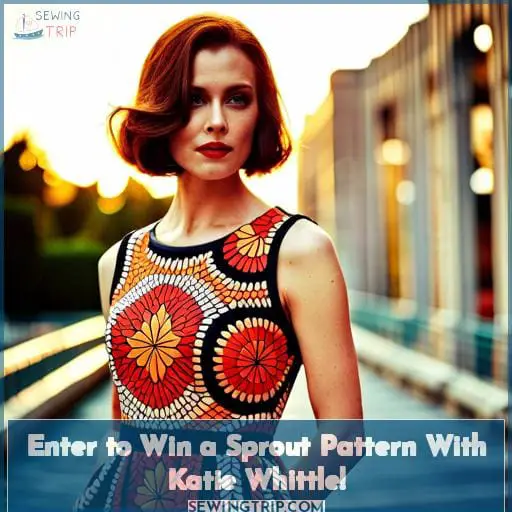 Enter Katie Whittle's giveaway for a chance to win one of her Sprout Patterns designs and take your dressmaking projects up a notch! With fabric choices ranging from quilting cottons to individual fabrics, you can make the perfect garment that fits your style.
Raw edges should be finished with either serging or pinking shears for best results. When using quilting cotton, it is important to check pattern alignment before cutting out pieces as pretty prints may not always line up correctly with the grain line of the fabric.
Fusible lightweight interfacing works great when working with these types of fabrics and will help keep structure in place while sewing basic seams together.
For size UK 8-20, there are lovely skirt options such as Miette Skirt which looks beautiful in quilting cotton prints! All patterns come pre-printed on quality fabric so all you have left to do is cut them out and sew them together – giving you more time than ever before creating garments without buying extra materials like thread or needles (which are both recommended: 50wt Cotton/Polyester Thread & Universal Needle 80/12).
So don't hesitate; enter now for an opportunity at this amazing prize!
Frequently Asked Questions (FAQs)
How much should I pre-wash my quilting cotton fabric?
Pre-wash your quilting cotton fabric using a gentle detergent to prevent shrinkage and ensure the best fit.
Is it necessary to use a special needle when sewing with quilting cotton?
Yes, it is recommended to use a Universal needle, size 80/12, when sewing with quilting cotton. This type of needle helps keep your fabric in place and allows for a crisp finish after ironing. Fusible interfacing is also effective with this fabric and can provide structure to garments.
What are the best seam finishing techniques for quilting cotton?
Raw edges should be finished with a serger or pinking shears for the best results on quilting cotton garments. It is recommended to use a 1-2 double turned hem, and when setting in sleeves, opt for three basting stitch lines to ease the fabric.
Is there a specific type of interfacing that works best with quilting cotton?
Fusible lightweight interfacing is ideal for quilting cotton garments. It is easy to cut, does not slip, and irons nicely. Additionally, it helps the fabric maintain its shape and structure while still allowing for some movement when worn.
Are there any special tips for hemming quilting cotton?
Hemming quilting cotton is like creating a masterpiece – the details make all the difference! For optimal results, finish raw edges with either a serger or pinking shears and utilize double-turned hems.
To ensure accuracy and minimize fabric slipping, choose 50wt polyester thread and an 80/12 Universal needle.
Conclusion
You now have the knowledge and skills to sew beautiful garments with quilting cottons! They are easy to work with, don't slip, and the prints are so vibrant and fun. Plus, with the 50% reduction in shrinkage that pre-washing provides, you don't need to worry about your garments coming out too small.
So don't be afraid to experiment and try out some of the patterns mentioned here.
Did you know that quilting cotton is actually the most popular fabric choice for dressmaking? Its crisp structure and beautiful prints make it a popular choice. Take the plunge and start sewing with quilting cottons today! You won't regret it.