This site is supported by our readers. We may earn a commission, at no cost to you, if you purchase through links.
Let's uncover the truth – is the Janome 200E really the easy-to-use sewing and embroidery machine it claims to be?
As a sewing enthusiast, you want a machine that makes stitching and embellishing a breeze, not a chore. With its user-friendly interface and handy built-in design features, this Janome aims to deliver the functionality you crave.
We'll walk through its key offerings to see if it truly earns its reputation for convenience. From effortless controls to ample workspace, you'll get the insider's glimpse into what makes the 200E a possible perfect fit for your creative needs.
By the end, you'll know whether it has what it takes to be your new sewing sidekick.
Key Takeaways
The LCD touchscreen allows for effortless editing of designs.
It includes a built-in needle threader and start/stop button for convenience.
Designs can be easily transferred via the USB port.
It provides professional quality stitching at up to 650 stitches per minute.
Key Features of the Janome 200E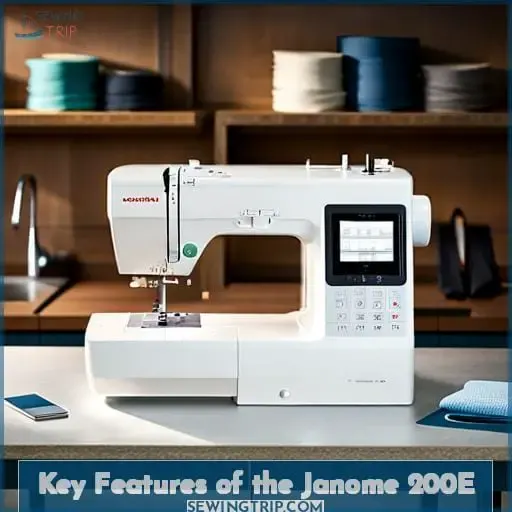 You'll love how the Janome 200E's built-in needle threader and start/stop button make embroidering so easy for you. With just the touch of a button, you can effortlessly thread the needle and start embroidering your creative designs.
The backlit LCD touchscreen allows you to preview and edit embroidery designs right on the machine. Enlarge, rotate, or reposition designs using the intuitive on-screen editing features. Transferring designs is a breeze with the USB port – simply load new patterns via USB stick.
With 73 built-in designs, 200x300mm embroidery area, and included embroidery hoop, you can create beautiful embroidery projects. From home decor pieces to personalized gifts, this user-friendly embroidery machine empowers you to turn your inspiration into reality.
Convenience and Ease of Use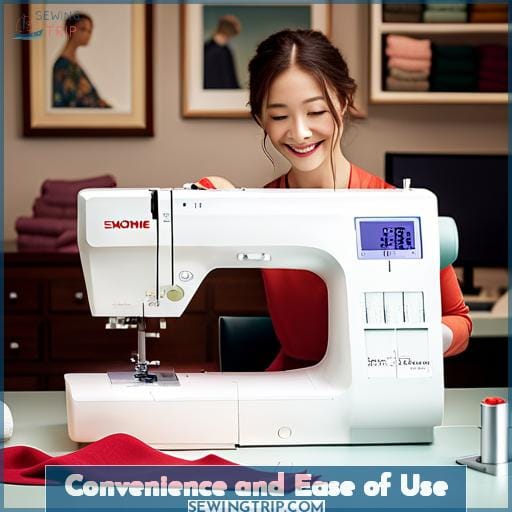 After easily transferring your embroidery designs via the USB port, you'll be ready to start stitching your creative projects in no time. With the built-in needle threader, you can effortlessly thread the machine and avoid frustration.
The intuitive LCD touchscreen allows effortless design selection, editing, and positioning.
With the generous 200x300mm embroidery area and included hoops, you've ample space for your embroidery endeavors. Whether monogramming kitchen towels or embellishing baby onesies, you'll find using and operating this machine's a breeze.
The convenience features allow you to focus on your embroidery creativity.
Embroidery Capabilities

With professional-quality stitching and ample embroidery space, you're ready to bring visions to life. Embrace your creativity with the 200x300mm hoop size and sharp, vivid stitching up to 400-650 stitches per minute.
Transfer designs easily via the USB port and select from multiple formats like.jef and.dst. With features like the drop feed embroidery hook system, you'll achieve consistent, professional-looking results in all your projects.
Whether embroidering kitchen linens, baby onesies, or elegant evening wear, this machine empowers your embroidery creativity. From built-in designs to customized motifs, let your imagination soar with exceptional stitch quality and ample workspace.
Specs and Accessories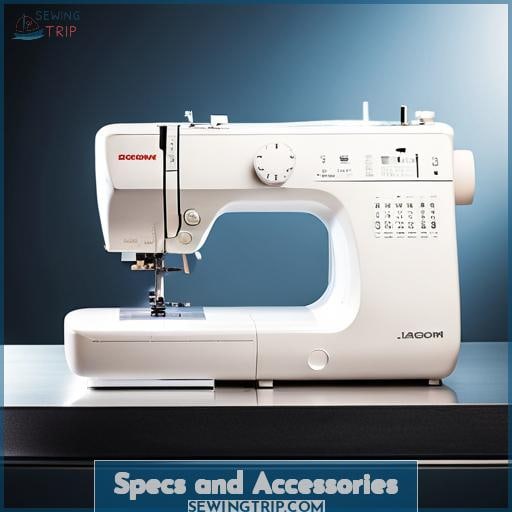 After unleashing your inner embroiderer with the generous workspace and built-in designs, it's time to dive into the accessories and specs that make this machine hum. This is your journey into creative possibilities, where precision stitching and versatility join forces.
Experience the magic of bringing visions to life. Your trusted companion arrives with:
A soft case to transport creative wonders
5 colorful thread spools to get started
USB connectivity to add custom embroidery
Multiple hoops for any project
A 25-year limited warranty for peace of mind
Let precision stitching up to 650 SPM and ample embroidery space spark your next masterpiece.
How It Compares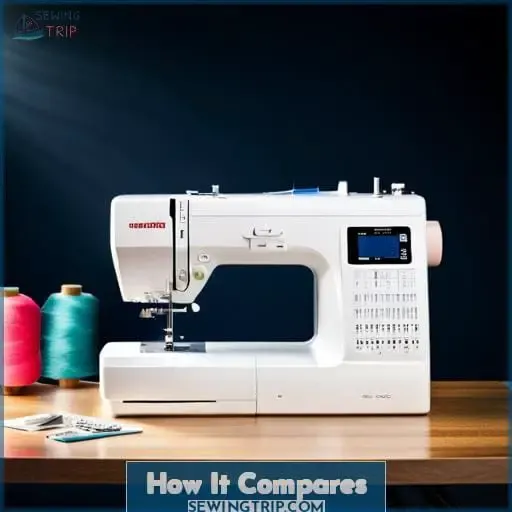 You're painting with thread while rivals fumble with crayons. The Janome 200E embroidery machine stands out from the crowd with its high-tech features:
Large 5 LCD touchscreen for editing designs with intuitive on-screen controls
Built-in USB port to easily import new embroidery patterns
Automatic thread trimmer for quick jump stitch cuts
Fast 400 to 650 stitches per minute for productivity
200 x 300 mm wide embroidery field for large projects
Uses 130/705H Janome embroidery needles for best results
Saves designs in.JEF format natively; also reads.DST files
Weighs 15 kg with generous 443 x 598 x 368 mm dimensions
With expansive embroidery capabilities packed into a user-friendly interface, it's easy to see why the Janome 200E is a cut above other home machines.
Frequently Asked Questions (FAQs)
What kind of stabilizer works best with the Janome 200E? Different fabrics and embroidery designs require different types of stabilizers, so knowing which ones work optimally can help achieve the best results.
When choosing stabilizers, consider the fabric type and design density. For light fabrics, use cutaway stabilizers. With dense designs on knits or stretchy fabrics, opt for adhesive tearaway stabilizers.
You'll achieve the best embroidery results by selecting the appropriate stabilizer for each project.
How loud is the Janome 200E when embroidering? Noise level is an important consideration, especially if the machine will be used in a home. Understanding the decibel levels at different speeds can help buyers evaluate whether it's quiet enough.
The Janome 200E operates quietly at low speeds, although the noise increases noticeably when embroidering rapidly. We suggest keeping your machine in a separate room if you plan on embroidering at high speeds for extended periods.
What file formats does the Janome 200E accept for importing designs? Knowing the compatible design file types (.pes, .dst, etc.) ensures users can utilize designs from various sources.
As a sewing machine reviewer, I'd say this: The 200E accepts imported designs in the popular.pes, .dst, .jef, and.exp formats. So you're free to use embroidery patterns from various sources and easily transfer them via the USB port.
Does the Janome 200E come with any warranty? Warranty coverage provides buyers protection on their investment. Details like length of coverage and what's included would be helpful to know.
The Janome 200E comes with a comprehensive warranty package that provides exceptional protection for your sewing machine investment. Janome offers a 25-year limited warranty on the casting, a 5-year warranty on electrical and electronic components, and a 1-year warranty on adjustments.
With this extensive coverage, you can sew with confidence knowing that Janome stands behind their products and will have your back should any issues arise. The lengthy 25-year warranty on the casting shows Janome's faith in the durability and longevity of the 200E's core structure.
The generous 5-year coverage on electrical and electronic parts will protect your machine's key operational components. And the 1-year adjustment warranty ensures that Janome will fine-tune your machine as needed during the first year.
With this worry-free warranty package, Janome demonstrates their commitment to quality and provides vital peace of mind to 200E owners.
Are there any common issues or problems with the Janome 200E? Learning about potential technical problems and reliability complaints can help buyers know what to expect from the machine.
It's a basic mechanical machine, so not as feature-rich as a computerized model. The manual threading system can be tricky until you get the hang of it. Lightweight construction means vibration at high speeds. Overall, it's a decent starter machine if you don't need lots of decorative stitches.
Conclusion
The Janome 200E brings professional-level embroidery to passionate home crafters and small business owners alike! With those 73 built-in designs, 200x300mm hoop size, and easy-to-use LCD editing screen, it packs a punch for much less than commercial machines.
Its computerized capabilities, 570 SPM speed, and 5-year warranty also make it a smart long-term investment for any sewist looking to add automated, customizable embroidery to their crafting.
The Janome 200E proves you don't need a huge budget to enjoy features once limited to high-end brands.
This user-friendly machine makes embellishing your projects via embroidery both achievable and affordable!