This site is supported by our readers. We may earn a commission, at no cost to you, if you purchase through links.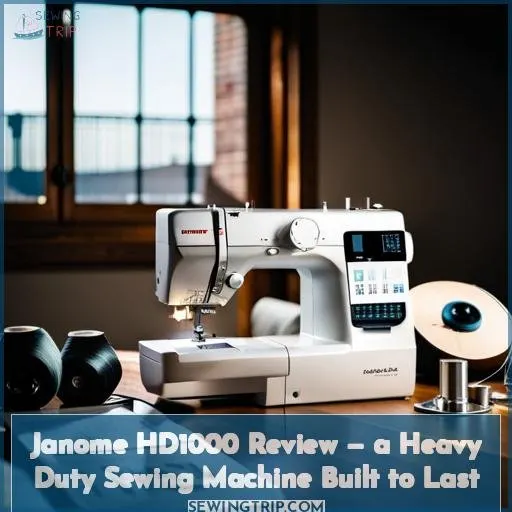 You're looking to take your sewing skills up a notch. After years with your trusty beginner's machine, you feel ready for an upgrade – something with a bit more power and durability. Enter the Janome HD1000. Touted as heavy duty, this mechanical workhorse has quite the reputation in the sewing community.
But does it live up to the hype? You've come to the right place to find out. In this candid review, we'll give you the lowdown on the HD1000's standout features, weigh the pros and cons, and compare it to other machines in its class.
No sponsored content or fluff here – just honest, expert insight into whether the HD1000 is worth your hard-earned cash. With decades of sewing experience under our belt, we'll break it all down so you can decide if this is the machine to spark your creativity and take your sewing game to thrilling new heights.
So let's get to it!
Key Takeaways
Rugged and durable construction for sewing heavy fabrics like denim, canvas, leather
14 basic stitches keep it simple but get the job done
It lacks the refinement and features of more advanced models like speed control and automatic buttonholes
Its powerful motor can breeze through thick layers while maintaining speed
Janome HD1000 Overview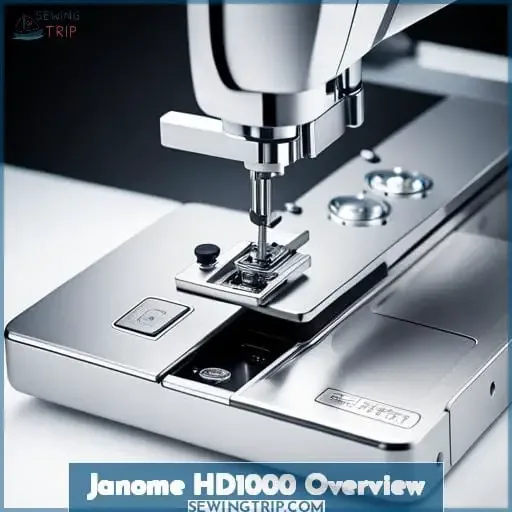 You're gonna love this workhorse! With its sturdy metal frame, this trusty machine can sew through anything you throw at it. Inspired by industrial models, the HD1000 delivers heavy duty performance for home sewing.
This Janome machine is built like a tank to provide seamless sewing on multiple layers of thick and heavyweight fabrics.
The HD1000 really shines when working on bulky materials that make lesser machines struggle. The extra high presser foot clearance and box feed design ensure optimal feeding through of quilts, upholstery projects, and more.
Many users are blown away by how effortlessly it powers through challenging sewing tasks. With a total of 14 utilitarian stitches, this Janome model keeps it straightforward without sacrificing versatility.
You'll breeze through basic garment construction, home decor sewing, crafts, mending, and alterations. This amazing machine makes quick work of buttonholes, zigzag stitches, blind hemming, and more. Rave reviews confirm the HD1000 outperforms expectations for a budget-friendly model.
For intermediate to advanced sewing needs, it's a complete workhorse that excels on heavy duty projects.
Janome HD1000 Key Features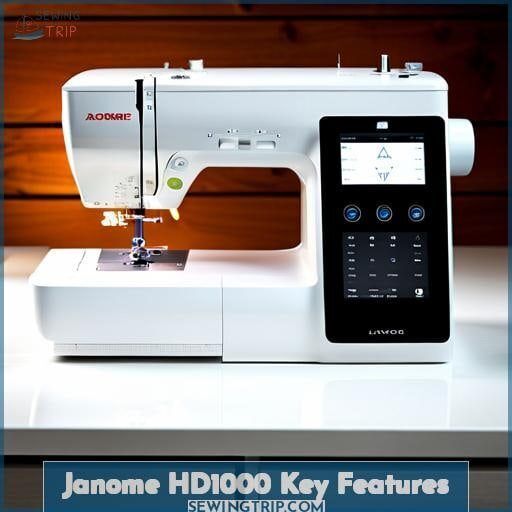 As an experienced sewer, you'll appreciate the useful features that make the Janome HD1000 a user-friendly workhorse. The free arm gives you easy access for sewing cylindrical items, the built-in needle threader saves frustration, the manual stitch length lets you customize settings, and the convenient reverse lever makes securing stitches a breeze.
With these key functions and its proven durability on heavy fabrics, this Janome machine truly excels at mending, hemming, crafts, and home decor projects alike.
Free Arm
Dig it – the handy free arm lets you sew cylinders with ease! Maneuver sleeves, pant legs, and other tubes over the removable extension table, then slide them right onto the exposed arm. Voila! You have direct access for stitching hard-to-reach circular areas. The HD1000's free arm offers the freedom to master sewing sleeves, cuffs, plackets, and other cylindrical pieces on this heavy duty workhorse.
Needle Threader
Gotta love the built-in needle threader that effortlessly glides your thread through the eye of the needle in seconds.
Insert thread into guide
Lower lever and thread into hook
Raise lever to pull thread through needle
Release lever and pull thread through eye
Saves time and headaches!
The HD1000's built-in needle threader makes a tedious task fast and frustration-free. Simply lower the lever, hook the thread into the wire guide, and raise the lever again to effortlessly draw it through the needle.
No more squinting, fumbling or cursing required! This handy time-saver helps you change threads and start sewing faster.
Manual Stitch Length
Customize your stitch length on the HD1000 to fit each project. Set the dial to adjust stitch length from 0-4mm for precision on every fabric.
| Stitch Length | Uses | Tips |
| --- | --- | --- |
| 1-2mm | Light fabrics, seams | Don't pull fabric |
| 2-3mm | General garment sewing | Check tension |
| 3-4mm | Topstitch, baste | Lengthen gradually |
| 4mm+ | Gather, ruffle | Keep fabric taut |
The HD1000 gives you complete control to customize stitch length for any project or technique. Adjusting length prevents puckering on light material and achieves even topstitching to add that professional touch to your sewing.
Reverse Lever
Pop that reverse lever and really revel in whipping your stitches back faster than a NASCAR driver! With the HD1000's handy reverse stitch lever, effortlessly lock your seams and reinforce stitches for maximum durability.
Simply push the lever down and the machine sews backward, then release to resume forward stitching. This convenient feature helps you achieve professional results on home décor, intricate quilting, and sturdy apparel sewing projects, from dressing curtains to stitching overalls.
What's Missing From the HD1000?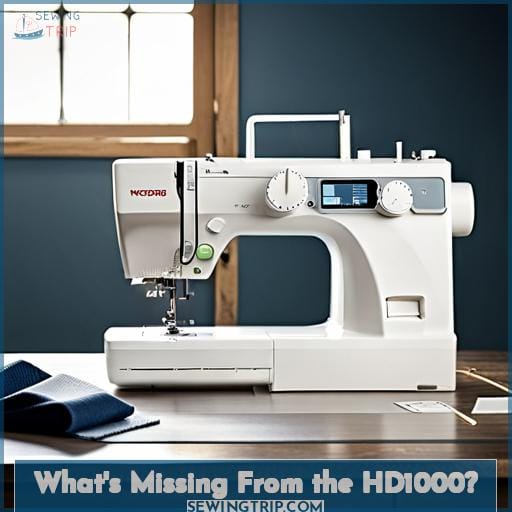 While the Janome HD1000 sounds like a workhorse machine, it does lack a few helpful features found on similar models. You'll miss the variable speed control for handling delicate fabrics, easy start/stop buttons for improved precision, and automatic one-step buttonholes for convenience.
Speed Control
The variable speed control allows precision at different paces, letting you adjust as your project demands. When working with heavy carpet, heavy interfacing, heavy polyester upholstery, heavy webbing, and upholstery sewing, you'll want to sew slowly and carefully.
Being able to reduce the speed gives you better control so your machine can handle these thick and dense fabrics without skipped stitches or needle breakage. With the right accessories and settings, this Janome can tackle your heavy duty projects.
Start/Stop Button
The HD1000 excludes a separate start/stop button to control stitching, so you'll rely on the foot pedal for operation. While a start/stop button can be handy when pivoting fabric or adjusting position, the foot control gives you variable speed from zero to full throttle.
Mastering the foot pedal lets you achieve precise moves at any pace. With practice, you'll gain finesse to expertly handle the pedal while keeping your eyes on your work. This responsive control supports the HD1000's versatility for both fine detail and heavyweight fabrics.
The powerful motor ensures quality results despite lacking a dedicated start button.
One-Step Buttonhole
You'll need to carefully align and size buttonholes without a one-step buttonhole feature. Mastering buttonholes on the HD1000 develops your skills more than automated options. With patience, you can produce professional results on heavy denim or tricky fabrics like layers of glitter vinyl for a bag's straps.
Just take it slow, follow the markings, and leverage features like the adjustable stitch width. With practice, you'll gain precision to expertly handle buttonholes on any material. The HD1000 builds expertise so you can sew quality buttonholes into weird stuff like heavy denim or glitter vinyl.
Janome HD1000 Performance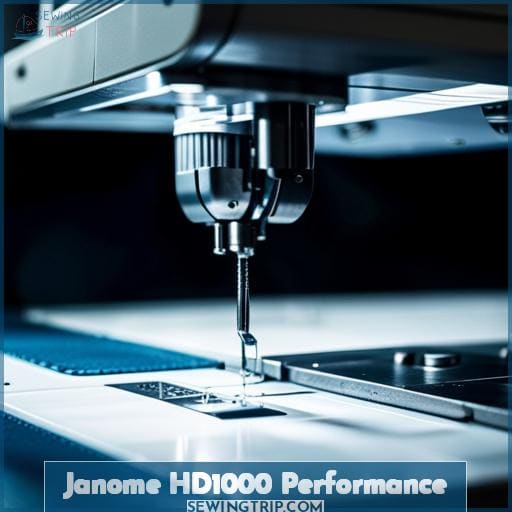 Despite lacking some handy features, you'll appreciate the HD1000's reliable performance for tackling thick fabrics and heavy-duty projects. With its powerful motor, the HD1000 breezes through sewing denim, canvas, and other heavy materials without hesitation or strain on the machine.
The tough built-in roller feet smoothly feed layers of denim, weird stuff like foam, and even a single piece of carpet or marine vinyl for home decor projects.
You can trust the HD1000 to sew straight, neat seams even on thick, slippery fabrics thanks to its smoothly operating feed dogs. The HD1000 maintains speed and stitch quality even when sewing awkward, heavy materials that cause other machines to jam or distort stitches.
Whether you need to quickly finish edges on heavy upholstery or attach trims to canvas tote bags, the HD1000's strong motor and precise stitch formation get the job done.
With easy adjustments to stitch length and width, you can set up the HD1000 to handle a variety of fabrics with ease. The HD1000 delivers the power and reliability required for heavy-duty projects without advanced computerization getting in the way.
Its streamlined design focuses on seamless performance for demanding sewing tasks.
Ease of Use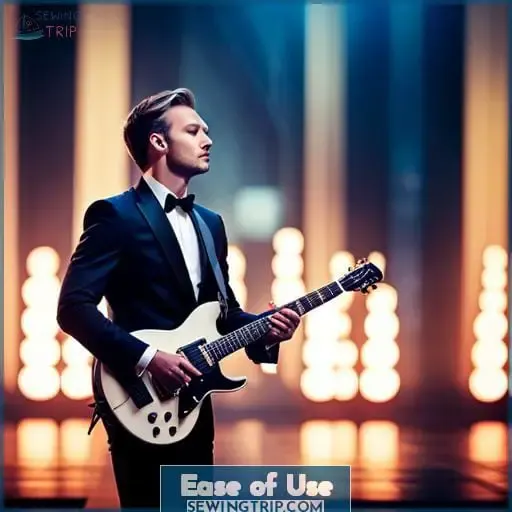 You've gotta love how the HD1000's intuitive design gets you sewing sharp, fast.
Easy-to-thread bobbin loads from the top, so you can start stitching in seconds.
Clearly labeled stitch panel lets you dial the perfect stitch for any project without guessing.
Built-in thread cutter snips threads with a touch of a lever – no more scrounging for scissors.
The auto-locking stitch feature secures all seams with reverse stitching.
Feed dogs smoothly grip any fabric, from silky satin to actual carpet, thanks to the included standard foot.
With a quick glance at the stitch chart, you can select ideal stitch length and width for your fabric thickness – whether it's airy chiffon or heavy denim. Adjusting settings is easy with clearly marked dials, so you don't waste time fiddling and testing.
The top-loading bobbin pops right in, so you can swiftly thread up and start sewing.
Hitting the reverse stitch lever secures seams in an instant. And the built-in thread snips let you trim threads quickly without interrupting your flow. The HD1000's intuitive layout and controls eliminate the learning curve, allowing you to confidently tackle projects from sheer blouses to quilted pillows right away.
With heavy-duty construction that feeds denim as smoothly as satin, this standard machine truly does it all with ease.
Maintenance Tips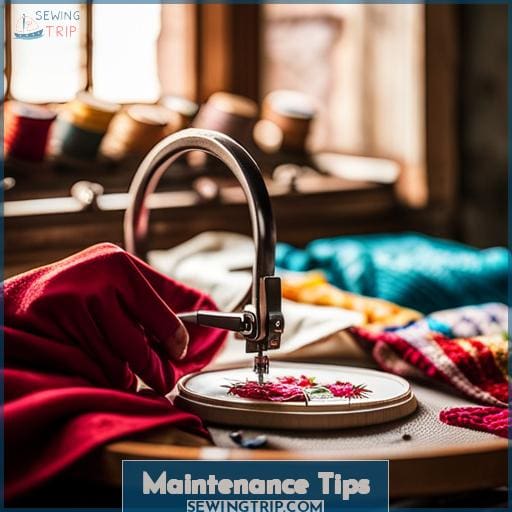 Keep your HD1000 sewing like new with regular cleanings and tune-ups. Give it a wipe down after each project to prevent lint and dust buildup. Use a small brush to remove fuzz and threads from the bobbin case. Check tension if stitching starts to pucker – rethread completely and try a new needle.
Adjusting the top thread tension and bobbin case tension to the right combination gets your stitch back to normal.
Monthly, sew a scrap piece of denim and examine the stitching. If loops appear on the bottom or top of the test fabric, your tension needs a tweak. Grab your tool kit and user manual to give tension dials a turn. An annual trip to the repair shop keeps inner mechanisms oiled and calibrated.
Prevent problems and maximize the lifespan of your trusty HD1000 with:
Lint brush sweeps after each use
Monthly tension checks with denim
Yearly service appointment
With proper care, your Janome sewing machine will deliver precise, smooth stitching on all fabrics for years of creative projects to come. Stay on top of cleanings, and you'll keep this high-quality machine running in tip top shape.
3 Best Janome HD1000 Alternatives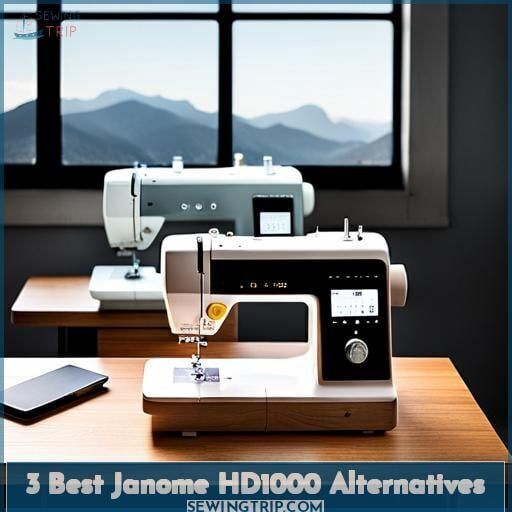 There are several premium sewing machines that stack up well against the Janome HD1000. The Singer Heavy Duty 4432 provides rugged reliability with a powerful motor. For those desiring decorative stitches, the Brother ST150HDH offers 130 built-in stitches and a sturdy metal frame.
Topping the competition, the Sailrite Ultrafeed Basic is engineered for sewing thick fabrics like canvas with variable speed control up to 1,800 stitches per minute.
Singer Heavy Duty 4432
The Singer Heavy Duty 4342 sewing machine is a hard-working hunk o' metal that'll stitch up a storm with its 1,100 stitches per minute motor that plows through fabric quicker than your grandma at a county fair pie eating contest.
With its stainless steel bedplate and heavy duty metal interior frame, this mechanical workhorse can hammer denim and other heavy fabrics easily – no wimpy plastic parts here.
Choose the right needles, like jeans needles or leather needles, to match your project. Most reviewers on Amazon confirm it's a durable, good machine for the price. Unlike flimsier models, the 4342 provides years of reliable service for all your ordinary sewing tasks.
Sturdy, smooth, and ready to sew, the Singer Heavy Duty 4342 is a metal machine built to last.
Brother ST150HDH
View On Amazon
The Brother ST150HDH rocks a robust metal frame for steady, skip-free stitches while cranking through heavy fabrics at 800 stitches per minute. You'll fly through projects with 130 built-in stitches to embellish your sewing.
Adjust the width and length with a turn of a dial for custom settings. The automatic needle threader saves frustration, and the LED light illuminates your work area brightly. Built to last, this workhorse comes with a 25-year warranty. Upgradable through the USB port, it grows with you.
Sturdy metal interior frame
130 built-in stitches
Automatic needle threader
LED illuminated workspace
25-year limited warranty
Not computerized
Presser foot pressure not adjustable
Limited free motion quilting capability
Sailrite Ultrafeed Basic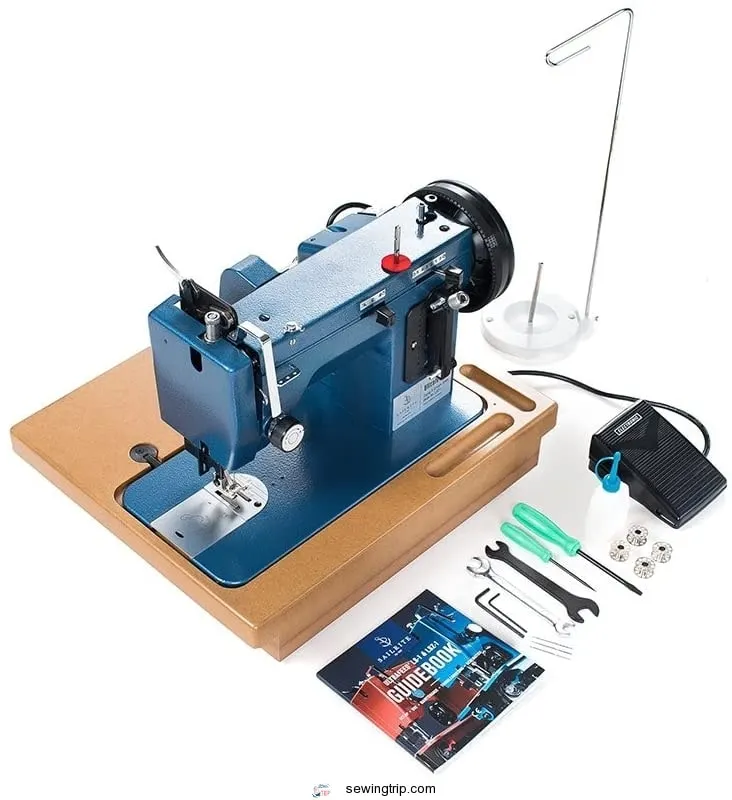 View On Amazon
You'll whip through heavyweight materials at 1800 stitches per minute with the Sailrite Ultrafeed Basic's variable speed control. This heavy duty home machine also comes with a 25-year limited warranty for peace of mind.
The Sailrite Ultrafeed Basic is ideal for sewing denim, real leather, and other thick fabrics with its heavy duty construction:
Strong metal interior frame
Up to 5/8 fabric thickness
Zipper foot and binding foot included
Handles multiple layers with ease
Embrace innovation and expand your capabilities with the Ultrafeed Basic. Make that jacket from real denim or craft beautiful leather bags complete with sturdy straps. A Janome sewist gains the confidence to bring creative projects to life with this machine.
Janome HD1000 Reviews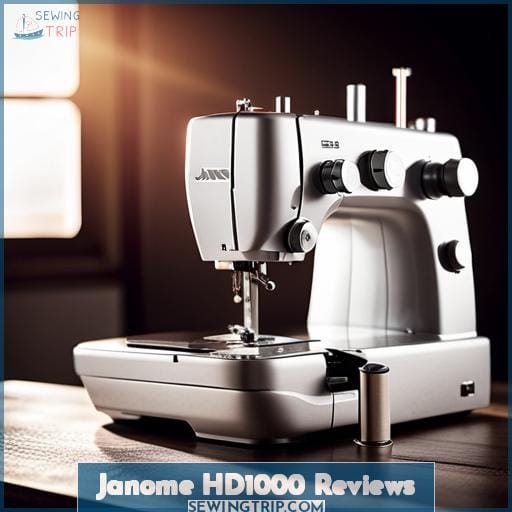 You've read rave reviews for the Janome HD1000's rugged reliability. Now examine its sleek design and handy features to see if it's the machine for you. With its black and gold color scheme, this sewing machine brings sleek style to any craft room.
The modern LED light brightly illuminates your work area for precise stitching. Its ergonomic shape fits neatly into tight spaces while providing a roomy workspace. Effortlessly snip threads with the built-in thread cutter. And relax, knowing the hardcover protects your machine when not in use.
User-friendly features, like the reverse stitch lever, provide exceptional convenience when reinforcing stitches. Lower the feed dogs for free motion quilting or darning. An exceptionally high presser foot lift lets you easily maneuver bulky projects.
With 14 built-in stitches, including buttonhole, and a max stitch width of 5mm, you'll sew garments, crafts, home decor, and upholstery with ease. Tackle heavy-duty fabrics like denim and canvas without hesitation, thanks to the powerful motor capable of 860 stitches per minute.
Is the Janome HD1000 for You?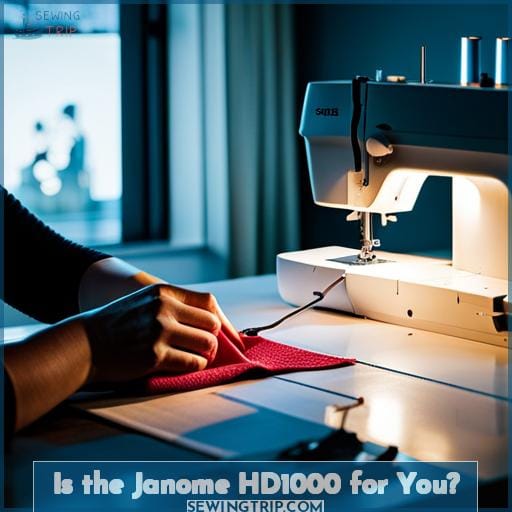 Have you considered this hardworking Janome to tackle your next sewing project? With its 14 built-in stitches, including buttonhole, this no-frills mechanical machine has all you need for basic garment construction and mending.
Effortlessly glide through delicate lightweight fabrics or multiple layers of denim with the HD1000's powerful motor. Its maximum stitch width of 5mm gives you flexibility to personalize stitch length and width using the straightforward dials.
You'll appreciate the reverse stitch lever when reinforcing a waistband or backing stitches. Lowering the feed dogs lets you free motion quilt intricate designs or darn worn spots. An exceptionally high presser foot lift helps you maneuver projects bulkier than a comforter with ease.
This Janome really shines when handling canvas, upholstery, and other heavy-duty fabrics most machines can't manage.
It's thoughtfully designed for ultimate convenience too. An LED light brightly illuminates your work area while the built-in thread cutter saves you time and motion. Its sleek shape fits neatly into your sewing nook. The included hard cover provides dust protection when your machine isn't in use.
With incredible stitching power packed into a user-friendly body, this Janome helps you complete any sewing project with ease.
Tackle your next creation with confidence by your side using the hardworking Janome HD1000. This mechanical workhorse has the reliability and functionality passionate sewists like you want without needless extras that drive up cost.
Bring your sewing vision to life on any fabric thickness with this Janome's versatility.
Frequently Asked Questions (FAQs)
What fabrics can the HD1000 sew? How many fabric layers can it handle?
Wow! Work with woven or knit fabrics. Master multiple layers of dense materials easily, like luscious leather and lovely linens up to five layers thick for all your sewing dreams and designs.
What is the maximum stitch width and length on the HD1000?
Have you seen the HD1000's versatile stitch options? With a maximum stitch width of 5mm and 4mm stitch length, you can finesse details or stitch sturdy seams on most fabrics. This mechanical workhorse gives you the precision to sew everything from delicate heirloom to rugged canvas.
Does the HD1000 come with a carrying case or cover?
The HD1000 does not come with a carrying case. It does, however, include a hard plastic cover to protect the machine when not in use. You'll need to purchase a case separately if you plan to transport it frequently.
What is the warranty period for the Janome HD1000?
The Janome HD1000 sewing machine comes with a 25-year limited warranty. This warranty ensures you have excellent long-term product support from Janome.
Does the HD1000 have a speed control feature? What is the maximum sewing speed?
Yes, the Janome HD1000 has an adjustable speed control that allows you to sew from slow to fast. Its maximum sewing speed is 860 stitches per minute, providing good speed and power for handling thicker fabrics.
Conclusion
You've reached the end of the road with the Janome HD1000. As the wheels slow to a stop, you look back and reminisce on the adventures you've had together. The long nights piecing quilts tested your patience, but the HD1000's power and smooth fabric feeding kept you stitching.
Mending your favorite jeans revealed the metal interior's strength as it handled all that heavy denim with ease. While at times you wished for speed control or an automatic buttonhole, this trusty machine got most jobs done, and the Janome HD1000 review confirms its reliability.
As you unload it from your car with care, you thank your HD1000 for the memories. You'll keep it as your loyal backup, but now your sewing journey continues with new features and challenges ahead.
References
bestsewingmachinereviewspot.com