This site is supported by our readers. We may earn a commission, at no cost to you, if you purchase through links.
The Bernina B580E Embroidery Sewing Machine is one of Bernina's best embroidery machines, intended for intermediate to advanced users.
With a wide range of designs and the ability to switch between sewing and embroidery with just one button, you soon discover that nothing is beyond your reach. All features work to improve the status of this machine as something that can only help you reach new heights.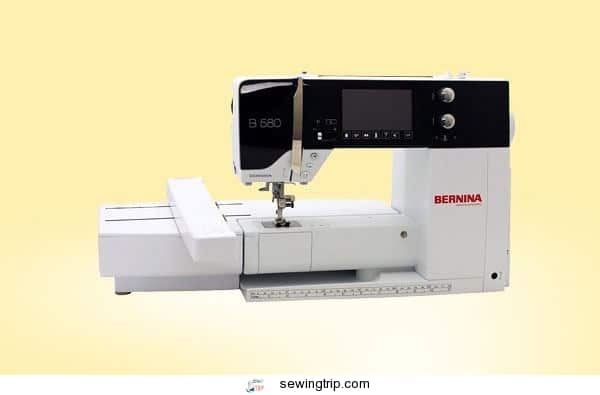 Although the overall weight and size doesn't really make it a pick make -up -and-go machine, it more than makes up for that with stability and ease of use.
Of course, these details alone aren't enough to determine if it's the best. embroidery machine for you.
Here we have gathered all the details, so keep reading and find out if it's an ideal buy – or if you should keep shopping.
Bernina B580E Embroidery Sewing Machine: The Details
The Look
The Bernina B580E is a stylish-looking machine divided into black and white, forming the exterior you'd expect ,om someone who knows what they're doing in the hobby room.
Add to this the size and weight; this is an embroidery machine that won't jump around the table while you're working.
For the same reason, you won't move this machine with little effort, so make sure you have a ,ee space in advance.
Overall, this sewing machine gives a reliable feeling with the easy-to-read LCD screen, the measuring tool at the bottom and the overall construction.
Specs
Weight
]: 63, 5 lbs.
Dimensions: 28.1 x 24.6 x 20.4 inches.
Stitches: 838 stitches, including 186 decorative stitches, 7 alphabets for sewing, and 7 alphabets for embroidery.
Speed: to 1,000 stitches per minute in sewing mode; up to 680 stitches per minute in embroidery mode.
Automated/Mechanical: Automated.
Spool: Top drop-in bobbin.
Warranty: 20 year limited warranty.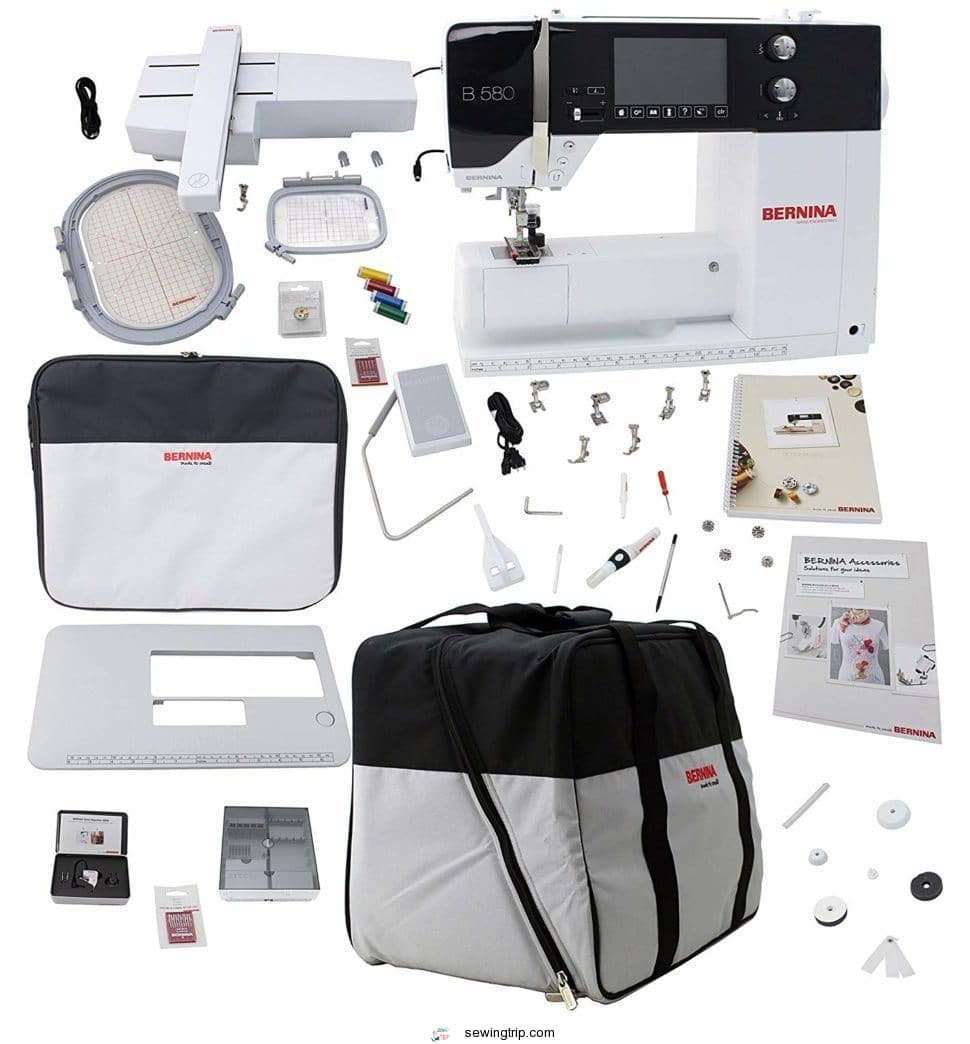 Accessories
The Bernina B580E is an embroidery machine with many possibilities, but we assumed that you already have more experience. The creators have added several interesting accessories while also skipping the basics.
This is a boon for those who already own the basics, but new embroiderers will want. find out which other feet .
The included accessories are as follows:
Specialized reverse pattern, embroidery and overlook presser feet.
Specialized bobbins and bobbin case.
Two embroidery hoops with matching templates.
Hands-,ee presser foot lift.
Various presser feet.
Carrying bag.
Accessory bag.
Extension table with ,ee arm.
Foot control.
Bernina: The Company
Bernina is a real family business, dating back to the end of the 19th century when their company founder Karl Friedrich Gegauf made everything possible with the invention of the lace sewing machine.
Now the company is still in the hands of his descendants, with the fourth generation slowly making way for the fifth.
Since business leaders have by sewing machines ,om birth, it is no surprise Bernina continues to strive to improve herself every day and with every new machine.
Their Bernina B580E is just another crown on a long line of successes, delivering a quality finish every time, while also ensuring that you can unleash your creativity any way you want.
Bernina is also responsible for the Bernette sewing machine (focused on household machines), including the popular 5, 7, 8 and Chicago 7 models.
The Warranty
The Bernina The B580E embroidery sewing machine by a 20-year limited manufacturer's warranty.
This manufacturer's warranty covers defective parts for 20 years ,om purchase. This includes a one year labor/service warranty ,om the selling dealer.
As a computer-controlled machine this also means a five-year warranty on all printed circuit boards., as well as a two-year warranty on electronic parts, meaning we should well cover you on all ,onts.
Make sure to keep your receipt as this makes it process well. easier when a warranty .
Features
LCD color screen
Computerized sewing machines are only as good as their LCD screens. The Bernina B580E has a very easy-to-read LCD color display that allows you to find your desired patterns simple.
The screen is wide and the buttons are easy to navigate. The only downside would be the overall choice of black for this sewing machine, which makes the buttons harder to find in the dark.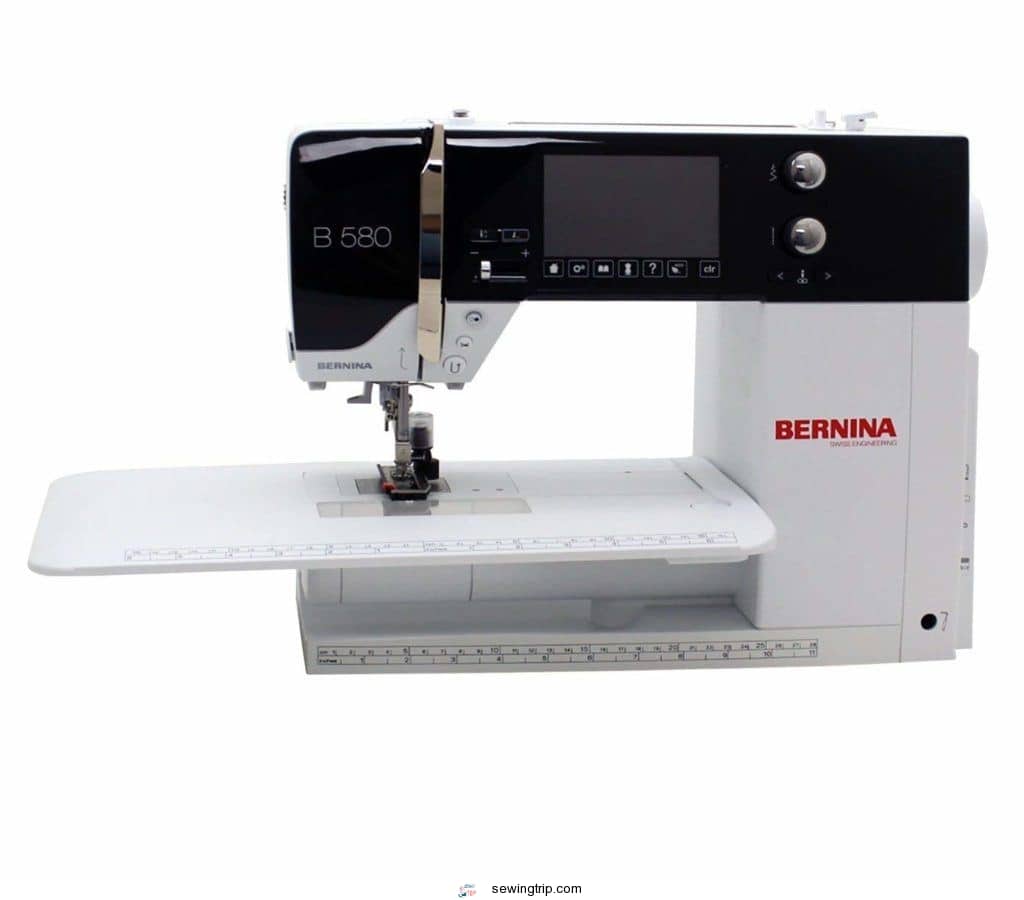 Wide selection of designs
With almost 200 decorative stitches and even more embroideries, it's easy to imagine how much fun you will get ,om this sewing machine.
The designs can in other ways, for even more variety should you want to customize your experience.
Switching between sewing and embroidery is just as easy and allows for complete ,eedom in all your projects.
Memory function
Do you have a favorite pattern you keep coming back to?
The memory function allows you to always return to the designs you love most without having to spend money to track them down.
Stitch Regulator
Free motion is a liberating feature, but it's difficult to get your stitches right and even.
Thanks to the included stitch regulator, your stitches will always be the same size, even if your speed varies when feeding the fabric.
Bright LED lighting
A well-lit workspace is a feast for the eyes. The built-in LED lighting out and ensures maximum light coverage. This is especially useful if you are working late at night or if you already have trouble seeing.
As always, work in a well-lit area to reduce effort of your eyes, but should you need a helping hand, this machine provides it.
Bernina B580E Embroidery Sewing Machine Review
The Positives
Thread Alert
The thread alert feature is useful because it lets you know if you run out of thread before the design .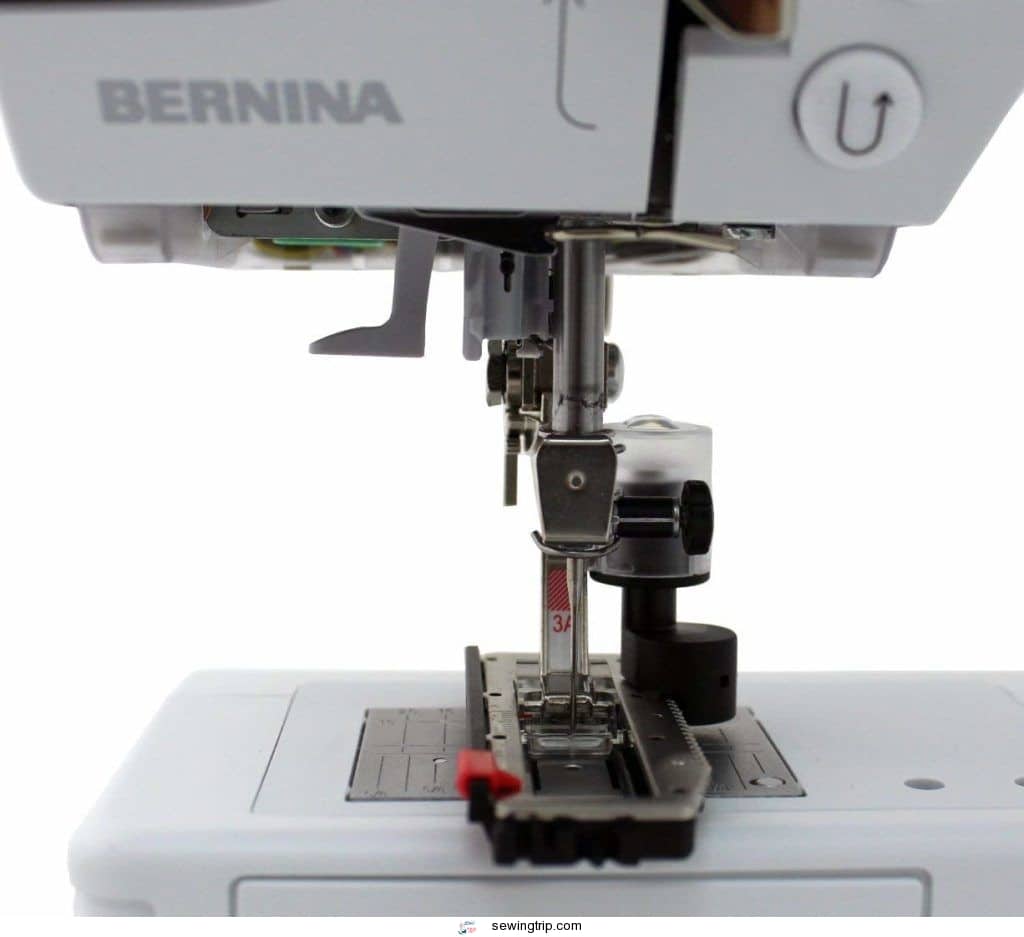 This is an ideal heads up before disaster strikes and you continue to stitch the fabric without thread.
In addition, if you want to switch between multiple colors or shades in a single pattern, it's a great way to warn you it's time to switch between the right yarns.
]
An easy switch between sewing and embroidery
Alternating between sewing and embroidering is as easy as pressing a button. button.
This makes the Bernina B580E Embroidery Machine a versatile option for the sewer who wants to practice all their sewing skills.
While the manual doesn't cover sewing like embroidery, it's still a valuable resource. This is especially true for the sewer that wants to embroider, or the sewer that likes both.
Make sure you have some experience in sewing. already, or ask a more experienced ,iend for tips.
Easy to navigate
Although this machine takes some time has extra time to learn for beginning seamstresses, users already used to sewing found the Bernina intimidating to look at but easy to use.
Instructions in the included manual and super helpful for those who don't know where to start. Once users got used to the automatic functions, sewing was a breeze.
The LCD touchscreen is intuitive with easy-to-follow directions and allows you to manage your projects, or save them directly to the machine.
Customer Service
It is clear that Bernina has the customers behind her backed by a long 20-year warranty. If your machine doesn't work as advertised, they will have to replace or repair your machine.
This is great if you are making an investment and it will take your worries away. your mind – especially when ordering online.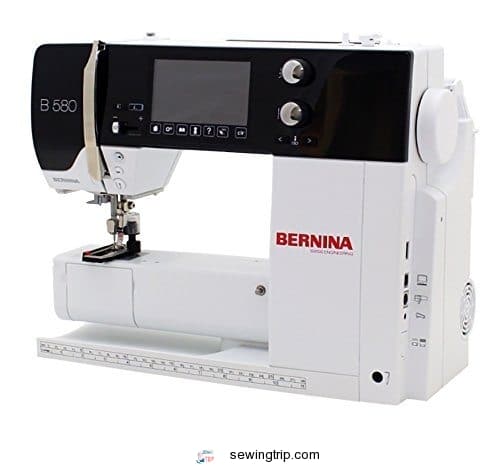 Bernina's website has a ton of accessible information about sewing and their machines, as well as projects, webinars, and events that their users can attend.
Not only do you have a smooth-running machine, but you also get a lot of support!
The Negatives
Tardy Thread Alert
Although the thread alert is very useful, some testers have said that it is not always on time, and instead warns them just before it's too late.
]
Although this can result from working with unbranded bobbins, it is still a hassle. It is to monitor your thread rather than relying entirely on this feature.
Heavy
This will not be the machine that will accompany you to class every day. It weighs over fifty pounds, putting it beyond the reach of portable machines.
For most, it's probably best to keep this in a place where you can don't have to do. move it often, which can be a problem for those who are short on space.
Although the weight makes it a hassle for those who have to carry their machine often, at least you know you have a machine that is sturdy and durable.
Price
While this is not one of the most expensive machines on the market, those on a budget may not appreciate the price tag.
For the quality and build, we think it's worth it, but it's possible out of reach for those on a budget.
Here's a video showing what the Bernina B580E looks like out of the box.
https://www.youtube.com/watch?v=F765pQugRIU
General opinion
Overall, the ran B580E is an embroidery machine well suited to its task. With a wide variety of embroidery designs and the memory function you certainly have many options to choose ,om.
Although the thread warning is a bit late, it is not. t make up a really hardcore scammer. Because of the general size of this embroidery machine, we recommend it as the best embroidery machine for those who already have experience.
If you are completely new to embroider, it may not be the easiest learning tool, but it's a brilliant match for advanced users who want to do more with just one machine.
Where to buy Bernina B580E Embroidery Sewing Machine
Bernina is a well-known brand, with an enormous fan base and many years of experience behind them. They specialize in manufacturing high-quality, professional products and have been at the fore,ont of the market for quite some time.
Bernina sewing machines are a top choice for serious hobbyists and professionals, and they continue to keep up with their customers by keeping up to date with their machines and features.
The success of this company makes it easy to find products like the Bernina B580E embroidery sewing machine, both in-store and online.
While it's always best to check out craft, department and specialty stores, start your search with the following online retailers.
And of course you can also find this embroidery sewing machine on Amazon.

---
That's all for our review of the Bernina B580E Embroidery Machine. Curious if this is the model for you?
Not sure if this is the model for you? Browse our latest machine reviews.