This site is supported by our readers. We may earn a commission, at no cost to you, if you purchase through links.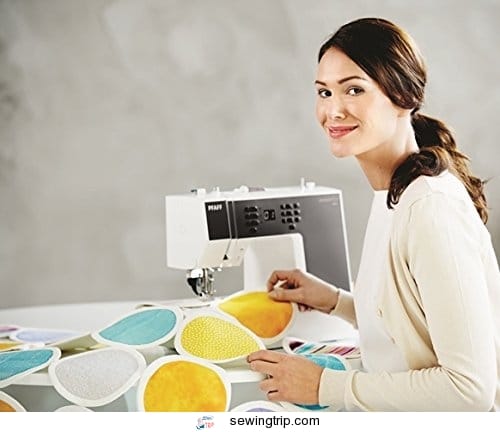 If you are interested in buying a new sewing machine, it is not a straightforward task. There are . many brands and . many models to choose from. While your skill level, budget and ambitions play an important role, always go for reputable brands. They have the best customer support and it is easier to find other people's experiences. Pfaff sewing machines are among the best on the market. The Pfaff brand has a long tradition of excellence and many loyal customers. A few brands like Singer and Brother are more prominent, but in quality, I would never bet against the Pfaff. Brands like Bernina, Pfaff and Viking are in the same league with Singer and Brother.
Pfaff in Germany in 1862. Their sewing machines have all the characteristics that we often as.ciate with German products: maximum precision and minimalist yet beautiful design. Pfaff machines are not cheap, but that's partly because they don't produce many low-end models of sewing machines. The other part is because Top quality Pfaff machinesare durable. We also known Pfaff for its innovations. So these forms a winning formula for great products.
Pfaff Passport 2.0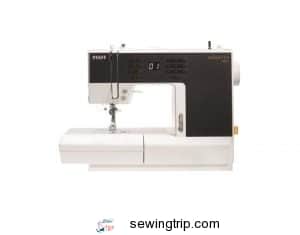 Click Here to Get Price on Amazon
This computerized sewing machine is an excellent choice for beginning and intermediate sewers. It's compact and really portable. You can easily take it to classes or vacation. It is not an entry-level model, but a step higher. It is very easy to use and along with its portability, that makes it a great machine for beginners. However, with performance and features, this machine offers a lot more.
It has 70 built-in stitches, start / stop button, speed control, external feeder drop, and many more functions. This machine comes with an IDT or integrated dual feed system that provides perfect fabric feed from both the top and the bottom. It is a hallmark of the Pfaff sewing machines. IDT system can on and off at willand is compatible with most presser feet. I have to mention a hard cover with a slot for the foot control and power cord. Not the most important, but it is useful and probably unique.
Advantages
It's lightweight.
The original IDT system is great.
Neat tie-offs with immediate tie-off function.
Full of features.
Disadvantages
It is not the best for very heavy fabrics.
Pfaff Creative 3.0 Sewing and Embroidery Machine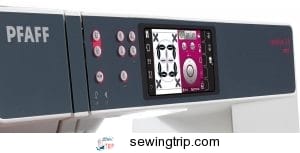 This machine is a jack of all trades. You take to a different level of sewing. It comes with 254 built-in stitches and 157 embroidery designs. The Exclusive Stitch Creator feature offers almost limitless creativity. You can design new stitches, redesign existing ones or import new designs at will. Plus, it has an oversized sewing area to tackle enormous projects with a smile. The embroidery area is al. large and you get two hoops with the machine.
I don't think I need to mention that it comes with the very best Pfaff features like the original IDT system, hurt patchwork program and other creative sewing programs. While you can do anything with this machine, I am particularly impressed with the embroidery features and capabilities. In addition, the top and bobbin thread sen.rs make it nearly impossible to run out of thread. It's another delicate touch. Stitch quality is superior.
Pros
Exclusive Stitch Creator offers limitless possibilities.
Extra Extensive Work Area.
High re.lution LCD screen.
Patchwork Program.
The Original IDT System.
Lots of memory to store combinations and designs.
Disadvantages
Too complicated for beginners.
It is expensive.
Pfaff Quilt Expression 4.2
Click here to see price on Amazon
If quilting is your thing, you'll love this beauty. This sewing and quilting machine has a simple yet elegant design. But it's the performance that impresses the most. This machine makes quilting a breeze.
It comes with 254 stitches. It includes 12 buttonhole stitches, 9mm wide decorative stitches, 47 quilting stitches and much more. The quality of the stitching is excellent. When we talk about quilting, that's where the original IDT system is best used. Electronic thread tension, automatic foot lift, 37 needle positions and many more functions make sewing a pleasant experience. Electronic knee lift is yet another useful feature. This machine comes with 3 LED lights. Your eyes will thank you very much for this. And I almost forgot, the automatic tie-off function works fine. It creates beautiful seams and spins while working.
Advantages
The Original IDT System.
It performs beautifully.
The start / stop button allows you to sew without the foot controller.
Tapering on all decorative stitches.
3 LED lights for perfect illumination.
Disadvantages
A steep learning curve for free-motion quilting.
Pfaff Creative Icon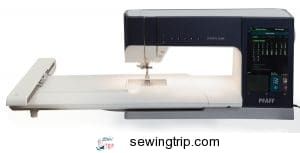 Finally, this is the most advanced Pfaff sewing and embroidery machine. If you like high tech, this machine will blow your mind. But if you're not a big fan of high tech, you just might become one after using this machine. After the creative icon, the next step can just be to say what you want and the machine will run it itself! This is truly a top-notch sewing machine and all features are the latest and greatest .lutions. From super-fast bobbin winding to new exclusive techniques, everything about this machine looks futuristic.
This machine comes with over 800 stitches, including new and exclusive triple ribbon stitches, radiant stitches and much more. As for embroidery, 812 built-in designs . It comes with a huge tablet-like screen and a very large and bright work area. Of course there is Wi-Fi connectivity . you can talk to your machine when you are away. Besides all these high-tech features, the basic performance is al. impeccable. The manufacturer can pride itself on its extreme strength, stability and precision. In one sense, this is a state-of-the-art sewing machine.
Pros
Smart.
Strong.
Precision.
Speed.
All.
Disadvantages
It will cost you an arm and a leg.
Conclusion
Pfaff has a wide variety of sewing machines and all high performance machines are. The perfect choice depends on your preferences, skill level and wishes. I have tried to pick .me best models from distinct classes. However, there are a few improved models I have skipped. Pfaff Passport 3.0, for example, is a newer version of the Passport 2.0 model. They are essentially the sames. It's the same bike, the same functions, even the same design, but a different color. Passport 3.0 has 30 additional decorative stitches and thread cutter. However, it is more expensive. So I chose passport 2.0. But if you really value extra stitches and a thread cutter, you can go for Passport 3.0.
Regardless, the only downside to these machines may well be the price tag. But if you can do it, you'll be happy with Pfaff's sewing machines. As your skills improve, you will probably stay with Pfaff and buy more advanced models. Just like most Pfaff users.