This site is supported by our readers. We may earn a commission, at no cost to you, if you purchase through links.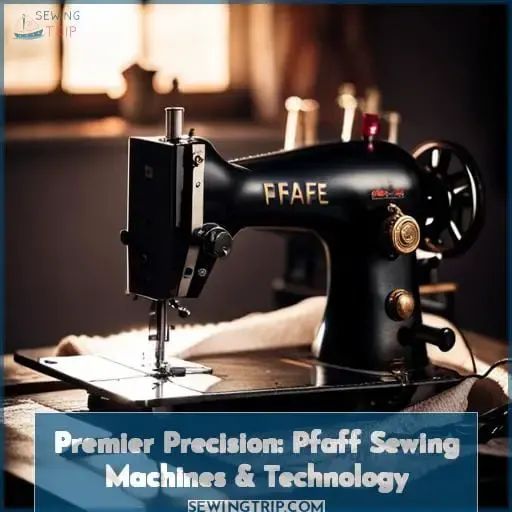 Are you looking for a sewing machine that combines precision and best-in-class features? Look no further than the Pfaff line of sewing machines.
As one of the leading innovators in modern technology, Pfaff offers an impressive selection ranging from entry level to professional grade. Whether you need a quilting or embroidery machine, there's something for every creative type in this range.
From Creative Icons with their tablet displays to Expression lines full of high tech features like ActivStitch Technology and IDT systems, these machines are sure to unlock your inner artist!
Plus, with Passport models offering on-the-go convenience as well as industrial options such as sleeve setting machines and tire cord specialists, it's easy to find the perfect Pfaff sewing machine for all your needs!
Key Takeaways
Range of machines for all skill levels and professional applications
IDT System for even fabric feeding and specialized stitching techniques
Advanced features and large displays for an enhanced user experience
Technology combining innovation and craftsmanship, empowering creativity and precision
The Pfaff Integrated Dual Technology

Your mind will sync with the Pfaff's metal when sewing, as its Integrated Dual Technology effortlessly handles the fabric like a ballerina dancing on point. The innovative dual feed eliminates puckering with precision feeding from above and below, leaving only smooth perfection in its wake.
Revel in the creative possibilities as the advanced IDT system glides multiple layers of varying fabrics through without a hitch. Experience superior stitching control to unleash your vision. Feel the sublime power of Pfaff innovation enhancing your sewing with integrated technology that goes beyond, releasing your inner artisan.
With ergonomic design that becomes one with you, each Pfaff machine equips you to master any material with ease.
Pfaff Icons

The Performance Icon is known for its ActivStitchTM Technology, while the Creative Icon enables sewers and quilters to customize with precision and control. These models offer connectivity, large displays, and maximum workspace so you can take your sewing to the next level.
Creative Icon
Enjoy the precision and craftsmanship of the Pfaff Creative Icon. Experience high-speed precision and endless creative possibilities with this advanced sewing and embroidery machine. Its innovative features allow you to bring all your creative ideas to life. Embrace unparalleled versatility for home decor, fashion sewing, and quilting projects.
Unleash your creativity with exclusive high-tech features like the extra-large Interactive Color Touch Screen, Automatic Thread Cutter, Sensor One-Step Buttonhole Foot, Pinpoint Placement, and more. The Creative Icon truly empowers sewers and quilters to accomplish more than they ever imagined.
Performance Icon
Why stitch with anything less than the precision and customization that the Performance Icon provides? Featuring innovations like the Original IDT system, this advanced sewing and embroidery machine delivers the ultimate in German design and engineering.
Whether quilting complex patterns or embroidering creative works of art, the Performance Icon brings iconic style and maximum performance to all your sewing endeavors.
Pfaff Expression Line

The Pfaff Expression line includes the Expression 720 for quilting and the Expression 710 for versatile sewing. With features like the Original IDT feeding system for flawless stitching, generous workspaces, and intuitive color touch screens, these machines give you the precision and control needed to bring your creative projects to life.
Quilt Expression 720
Stitch big dreams and whimsical patterns into reality with the 720's spacious workspace. With 294 stitches, 1,000+ designs, and built-in embroidery capabilities, this quilter's delight gives you the stitch variety and creative possibilities to showcase your talents.
The exclusive Needle Feed and extensive precision feed enable quilting perfection. Advanced features like a touch screen and a generous extension table empower your imagination.
Expression 710
Believe it, with the Expression 710's versatile functionality, you'll master complex sewing and embroidery projects in a flash! Experience advanced features like the extra-large color touchscreen and Original IDT feeding system for smooth, precise stitching.
Creative possibilities unfold with 710 built-in stitches, 5 alphabets, and up to 1,000 stitches per minute. This innovative German design empowers your personalized creations. For support actualizing your vision, rely on authorized Pfaff dealers' expertise.
Express yourself with the 710's precision, customization, and mastery – your sewing liberation awaits.
Pfaff Ambition Line

Looking for a Pfaff sewing machine with innovative features, elegant design, and enduring precision? The Pfaff Ambition line includes the Quilt Ambition 630, Ambition 620, and Ambition 610 models. These machines combine modern functionality and customization options with Pfaff's renowned German engineering.
The 630 offers a large workspace and 67 utility stitches, while the 620 and 610 compact machines provide 50 stitches for boundless creativity.
Quilt Ambition 630
You'll achieve your quilting dreams with the Ambition 630. The versatile Quilt Ambition 630 offers:
With its advanced fabric handling, personalized stitching capabilities, and creative quilting options, the Quilt Ambition 630 unlocks your potential for masterful quilting. Backed by Rocky Mountain's expert support, this machine handles all your quilting ambitions.
Ambition 620
You'd marvel at the Ambition 620's enduring precision and creativity. With features like the Original IDT system, 270 stitch patterns, and 7mm stitch width, the possibilities are immense. This machine empowers your quilting endeavors with its extended free arm and nearly 10 of workspace.
Users delight in the Ambition 620 for its versatility, intuitive operation, and professional results.
Feature: Original IDT System
Benefit: Precision feeding from both top and bottom.
Feature: Large Selection of Stitches
Benefit: 270 Built-in stitch patterns for creativity.
Feature: Up to 7mm Stitch Width
Benefit: Customize stitch width for specialty techniques.
The Ambition 620 facilitates your creative expression while maintaining Pfaff's legacy of quality and innovation.
Ambition 610
As a marker of your mastery, the uniquely customizable Ambition 610 Pfaff sewing machine offers enduring precision and creativity to fulfill your aspirations. Tap into creative possibilities with 230 stitches, 9mm stitch width for decorative seams, and an easy-to-navigate color touchscreen.
Fitted with innovative German engineering, experience smooth stitching versatility through layers of fabric. Unlock your potential for personalized sewing with optimized settings, an automatic needle threader, and exceptional user experience.
Pfaff Passports

As a seasoned sewer, you understand the value of a compact, portable machine for on-the-go projects or travel sewing. The Pfaff Passport line offers lightweight functionality combined with Pfaff's signature German engineering – the Passport 2 and Passport 3 retain the brand's revered Integrated Dual Feed system while weighing under 15 pounds.
Passport 3.0
Beltin' through those travels with the pipsqueak Pfaff! Power up your portable Passport for seamless journeying and jaunts. Its compact genius delivers oodles of goodness, including the handy IDT feeding, stitch selection, and nifty accessories! Sew creativity on the go with superb Pfaff engineering all contained in this petite travel-tailored talent.
Passport 2.0
You'll be excited to learn that the Passport 2.0 offers 8 built-in stitches and weighs only 5.5 pounds, providing lightweight portability. Enhance sewing capabilities with an automatic needle threader, top-loading bobbin, and presser foot pressure adjustment dial.
Take your sewing on the go with a hard-shell carrying case boasting built-in accessory compartments. Unleash creativity with stretch stitches, blind hem stitches, and satin stitches. Benefit from Pfaff's German engineering with the innovative Original IDT system for precise fabric feeding.
The Passport 2.0 delivers compact versatility and creative possibilities for sewers on the go.
Pfaff Overlock and Coverlock Machines

Ready to finish garments professionally and save time? Pfaff overlock and coverlock machines provide versatile, high-quality stitching for seams, hems, and edges. Rocky Mountain Sewing and Vacuum is an authorized dealer and a skilled resource for product selection, training, classes, accessories, and service.
Features and Benefits
You get ultimate seam finishes with Pfaff's overlock and coverlock machines. They deliver advanced stitching precision and customization with user-friendly controls. The innovative technology provides creative possibilities for any project. Features like Pfaff's exclusive IDT system, automatic button feeder, and ActivStitchTM technology ensure precise stitching, even fabric feed, and beautiful embellishments on any fabric.
With Pfaff overlocks and coverlocks, you'll achieve professional seam finishes and unlock your creative potential.
Why Choose Rocky Mountain Sewing and Vacuum
With Rocky Mountain Sewing, you get endless advice and personalized assistance for your Pfaff overlock and coverlock machines.
The experienced Pfaff specialists at Rocky Mountain Sewing provide unparalleled support, offer exclusive accessories, and offer personalized guidance to help you master your Pfaff overlock or coverlock machine.
Industrial Sewing Machines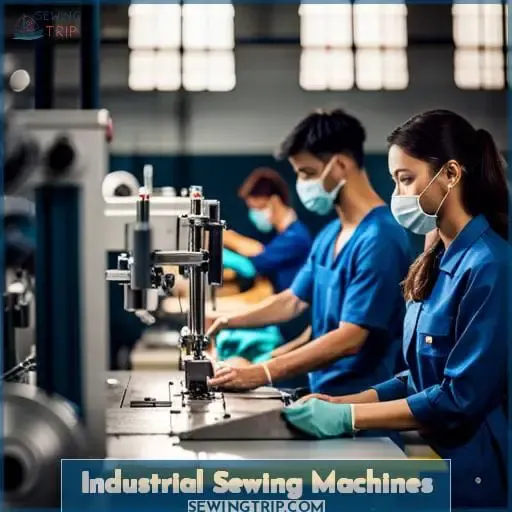 Pfaff offers a wide range of high-quality industrial sewing machines for various professional applications. You'll find post-bed, zigzag, lockstitch, and other specialized Pfaff models tailored for tasks like shoe and leather production, as well as medium to heavy-duty sewing.
Post-Bed Machines
Savor the reliable precision of Pfaff's post-bed industrial machines like the 571, 574, and 591 for assembling and topstitching shoes, leather goods, and automotive interiors. The post-bed design allows for ideal handling of leather and heavy fabrics for top-stitching operations, such as attaching collars or tape edges.
Harness their durability and specialized engineering to effortlessly perform critical stitching tasks on shoe uppers, handbags, and car seats – liberating your production workflow.
Zigzag Machines
Take pleasure in Pfaff's iconic 918 zigzag machine for sewing everything from silk to leather with precision.
The 918 allows your imagination to soar, unlocking the potential of the zigzag stitch on any material.
Lockstitch Machines
Craft your future with the precision of PFAFF lockstitch machines, stitching your ambitions into reality. Seamlessly navigate lockstitch applications in industrial leatherwork with Pfaff's ingenious thread tension control.
These machines excel in handling heavy fabrics, ensuring flawlessly secure stitches. Leveraging innovative lockstitch technology, Pfaff machines effortlessly handle lap seams, tacking, and more. Even when considering used machines, Pfaff's legacy of connectivity and lockstitch innovations sets a standard that others aspire to match.
Other Industrial Machines
Explore a world where technology and craftsmanship intertwine seamlessly as you witness a symphony of mechanical precision and artistic finesse brought to life through these industrious marvels. Industrial innovations continue to shine through Pfaff's array of sewing machines, offering application versatility for industries like shoes, curtains, tire cord, waistbands, and even airbag production.
Precision engineering ensures each stitch is a testament to professional craftsmanship, backed by innovative technology.
Specialized Sewing Machines

Delve into the world of specialized Pfaff sewing machines, where precision meets purpose. Discover machines crafted for specific tasks: Sleeve Setting machines that ensure impeccable jacket, blazer, and suit construction; robust machines designed for the demanding Tire Cord industry; and a collection of versatile Stitching machines catering to an array of unique sewing needs.
Sleeve Setting Machines
Delve into the realm of specialized stitching with a focus on sleeve setting techniques, a pivotal aspect within innovative sewing solutions. Achieving precision stitching demands more than just skill; it requires the right tools.
Pfaff's expertise shines in their machines, marrying innovative design with practicality. The collaboration with Rocky Mountain Sewing and Vacuum ensures top-notch support, while features like WiFi connectivity, advanced lighting design, and puller feed bolster industrial applications.
Machines for Tire Cord Industry
In the realm of specialized equipment, envision the seamless fusion of technology and precision as machines meticulously weave together the robust threads of the tire cord industry, where strength and resilience are paramount.
Industrial textile solutions find their zenith with Pfaff Cord Sewing machines. These powerhouses excel in tire cord applications, employing high-strength sewing techniques that ensure cord reinforcement techniques of unparalleled durability.
In this intricate domain, mastery over materials translates into liberation and power.
Various Stitching Machines
Discover a world of specialized equipment, finely tuned to craft intricate stitches that meet diverse sewing demands. From the elegance of delicate silk to the ruggedness of leather, these machines boast the prowess to elevate your projects.
Stitching techniques transcend boundaries, and with an assortment of thread varieties, you'll command the art of decorative stitches. Tailor stitch lengths and embrace stitching precision with these tools of mastery.
Pfaff Machine Features and Technology

Delving into the heart of Pfaff's sewing machine prowess, you'll discover a trio of remarkable features that set their machines apart.
First and foremost, the renowned Integrated Dual Feed (IDT) System ensures flawlessly even fabric feeding from both the top and bottom, granting you impeccable seams every time.
Couple this with the sheer brilliance of large, vibrant displays and seamless connectivity, empowering you with a spacious workspace and effortless access to a plethora of stitching possibilities.
Lastly, Pfaff's ingenious ActivStitch™ Technology takes center stage, offering the precision needed for impeccable metallic thread applications, giving your projects an exquisite touch that showcases your mastery.
IDT System
Unveiling an innovation that seems almost magical, this technology ensures your fabric glides with flawless ease, feeding top and bottom in perfect sync, as if dancing to a symphony only it can hear. The Integrated Dual Feed (IDT) System in Pfaff sewing machines liberates your creativity, granting you power over challenging fabrics.
Experience advantages like precise seams, reduced puckering, and effortless quilting. Master various sewing techniques effortlessly and troubleshoot fabric misalignment with ease. In comparisons, IDT stands as a hallmark of Pfaff's commitment to your sewing mastery.
Connectivity and Large Displays
Explore how you'll interact with the machine's connectivity through its generously-sized displays, maximizing your workspace and giving you intuitive control over your creative endeavors.
ActivStitch Technology
Delve into a world where metallic threads gracefully intertwine, yielding an artistic dance of precision and beauty through the ingenious touch of ActivStitch Technology. This innovation offers sewers a realm of possibilities, infusing their creations with advanced embroidery and creative stitching.
With ActivStitch, Pfaff sewing machines master the art of sewing with metallic threads, ensuring unparalleled accuracy.
Experience the benefits of this technology, embracing the liberation and mastery it brings to your craft.
| ActivStitch Technology Benefits | Metallic Thread Precision | Sewing Innovation |
| --- | --- | --- |
| Achieve flawless results with metallic threads. | Experience unmatched precision in every stitch. | Explore the forefront of sewing technology. |
| Seamlessly integrate metallic embroidery into your projects. | Create intricate designs with confidence. | Push boundaries and expand your creative horizons. |
| Eliminate thread tension issues with ease. | Witness threads transform into works of art. | Elevate your sewing experience with cutting-edge features. |
Embrace the fusion of artistry and technology as Pfaff's ActivStitch propels you towards a realm where creativity flourishes and precision reigns. Your journey with metallic thread precision is one of empowerment and expertise, forever reshaping the landscape of modern sewing.
Choosing the Right Pfaff Sewing Machine

To make the perfect choice, align your creative needs with Pfaff's innovative sewing machine models. Comparing the key features, user experience, and project compatibility will lead you to the ideal fit.
Assess Your Needs: Consider whether you're a quilter, a garment maker, or someone who loves DIY projects.
Explore Features: Dive into the specifics of each model. Are you drawn to the IDT System for even fabric feeding or ActivStitch™ Technology for precise metallic thread work? The Ambition Line's modern functionality might resonate with you.
Budget and Price Range: Pfaff's range varies in price. Passport models offer portability, while the Creative Icon boasts connectivity.
Crafting with a Pfaff sewing machine empowers you to master your creations, backed by German engineering and innovative design.
Conclusion
From quilters to industrial applications, Pfaff sewing machines offer the pinnacle of precision and technology. With the Integrated Dual Technology, Creative and Performance Icon models, and various Ambition and Passport models, sewers can take advantage of advanced features and settings for a wide range of fabrics and techniques.
Industrial machines like post-bed, zigzag, lockstitch, and specialized machines, such as sleeve setting and tire cord machines, are also available. Rocky Mountain Sewing and Vacuum is an authorized Pfaff dealer, offering personalized assistance and exclusive accessories.
With the right machine, you can create a finished product that's as unique and perfect as you are.