This site is supported by our readers. We may earn a commission, at no cost to you, if you purchase through links.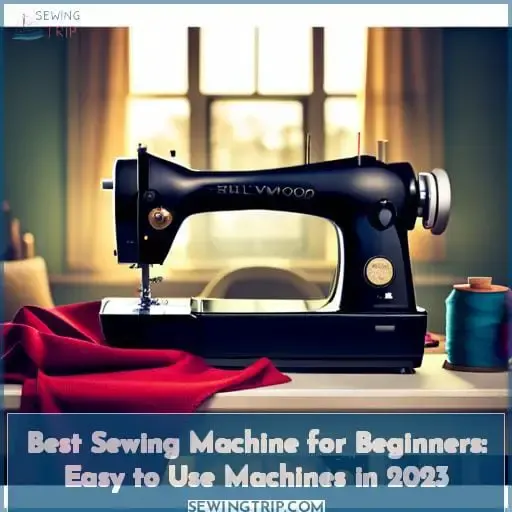 Listen up, friend. You're hankering for a new hobby and thinking sewing might be your bag. But between Grandma's clunker and those confusing mechanical monsters at the craft store, you're not sure which sewing machine is right for your level.
Well, buckle up, buttercup. This hot tip will have you stitching like a pro in no time.
We've wrangled the four easiest sewing machines for learners looking to master this liberating craft. From dependable workhorses to nimble day trippers, these user-friendly staples have your textile dreams covered.
Once you pick a machine that jives with your style, you'll be able to customize your wardrobe, style your space, and even craft arty quilts before you know it.
So dive on in – your sewing journey starts now.
Key Takeaways
Consider a mechanical model for easy learning of basic stitches.
Look for a machine with adjustable speed settings to learn at a comfortable pace.
Choose a machine with an automatic needle threader and dial stitch selection for simplified learning.
Invest in a quality beginner machine suited to your needs for an easier sewing experience.
Top 4 Easiest Sewing Machines to Use
As someone who has sewn for years, I can offer expert advice on the best sewing machines for novices. The Bernette 35's simplicity, the Singer Heavy Duty 4452's versatility, the Brother XR3774's user-friendly design, and the industrial-grade Consew 206RB-5 are all top options.
With the right machine, you'll be sewing creations in no time, even if you're just starting out.
Bernette 35 Swiss Design Sewing Machine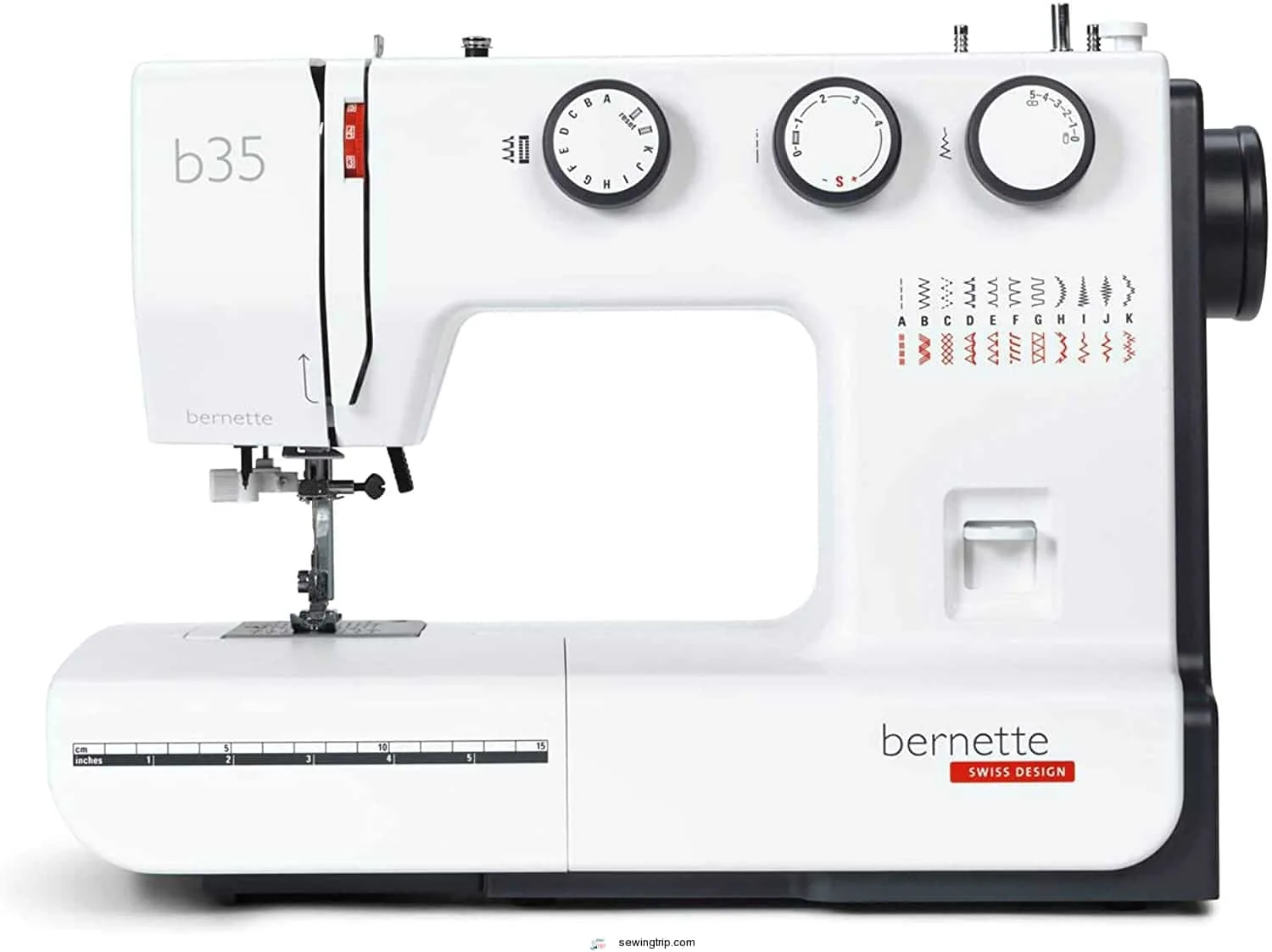 View On Amazon
With its user-friendly design and manual controls, the Bernette 35 allows you to take on basic sewing projects and expand your skills at your own pace. As a mechanical machine, it has all the straightforward settings you need – adjustable stitch width, length, and pattern with manual knobs and a wheel for tension.
The simplicity of one-step buttonholes, manual needle threader, and built-in thread cutter makes tasks easier. The stable presser foot shank and ability to pierce thick layers let you move onto quilting projects.
Choosing the right presser foot for your stitch helps ensure quality results. Quick yet precise stitching will get your projects done faster.
Affordable price
Swiss design for quality
Suitable for beginners learning basics
Manual controls are easy to use
Good for simple sewing and mending
Limited to only 23 stitch options
Not computerized
Smaller variety of presser feet
Less features than advanced models
Singer Heavy Duty 4452 Sewing Machine Gray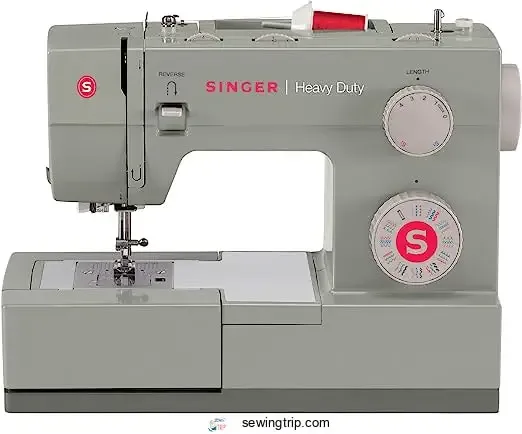 View On Amazon
Offer your creative talents endless options to engage by acquiring a durable companion built to smoothly glide over fabrics while you customize garment pieces or decorative furnishings from the comfort of your living space.
This sewing machine offers 32 built-in stitches, including 6 for basic sewing, 7 for stretch fabrics, and 18 decorative stitches for embellishing your projects with style.
The heavy-duty metal frame and stainless steel bedplate allow you to easily sew through multiple layers of denim, canvas, and other heavy fabrics.
Additional features like the automatic needle threader, top drop-in bobbin, and 60% stronger motor make sewing quicker and easier.
With a speed of 1100 stitches per minute, you can make quick work of hems, seams, and other repetitive tasks.
Versatile with 32 built-in stitches
Sew through heavy fabrics with ease
Automatic needle threader
Quick sewing speed
Limited to basic garment construction
Noisier than portable machines
Brother Sewing and Quilting Machine XR3774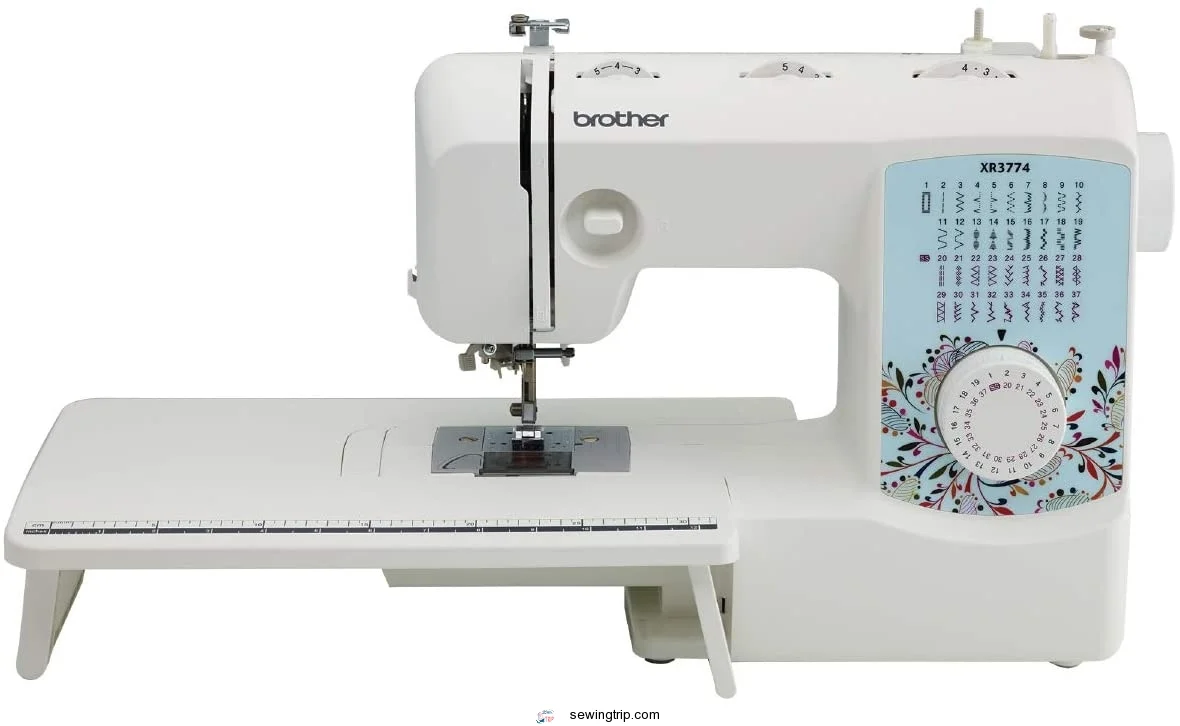 View On Amazon
Look here, friend – the Brother CS6000i's your handy helper for sew-and-quilt projects, easy as pie, from beginner to veteran. This machine has 60 built-in stitches and 8 presser feet. It's got all you need to stitch, hem, and embellish.
Just pop in the top drop-in bobbin, let the auto needle threader work its magic, and you're ready to roll. The free arm makes sewing sleeves and pant legs a cinch. Follow the DVD tutorials to pick up techniques fast.
It does it all, from buttonholes to blind hems, decorative stitches, and quilting. This versatile workhorse is built to last through piles of projects. Treat yourself to creative satisfaction with the user-friendly CS6000i by your side.
60 built-in stitches
8 presser feet included
Automatic needle threader
Instructional DVD tutorials
Free arm for sleeves/pants
Easy for all skill levels
Limited to US 120V
Warranty void if used outside US
Doesn't include a cover
Consew 206RB-5 Walking Foot Industrial Sewing Machine With Table and Servo Motor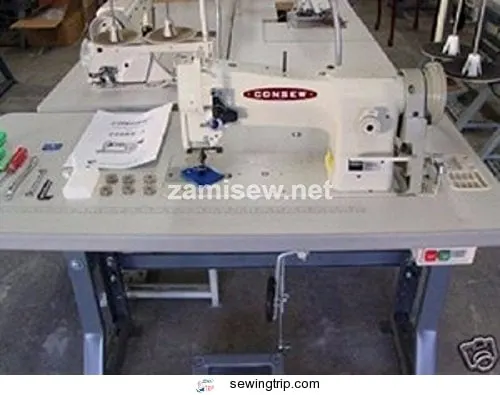 View On Amazon
Yahoo! Dig this: You'd be stoked to get this durable sewing workhorse that's the top choice for pros 'cause it whips through heavy-duty projects with no sweat. This baby's built to power through thick layers of leather, canvas, even auto upholstery thanks to its rugged metal interior and adjustable walking foot.
It's like having a sewing machine on steroids with that 10mm max stitch length to pierce the toughest fabrics. And you'll be cruisin' with that servo motor and 14mm foot lift to sail over seams and zip through yards of material without skipping a beat.
Plus, the extra-large bobbin means less stopping to rethread. Yeah, with this pro machine, you'll be sewing non-stop with the big boys.
Heavy-duty for leather, canvas, auto projects
Walking foot for superior fabric control
Large bobbin and foot lift for continuous sewing
Servo motor for power and speed
Great for upholstery and marine use
Expensive, professional-grade machine
Complicated for beginners
Requires table space
What to Know About Beginner Sewing Machines Before Shopping

Looking to buy your first sewing machine? When shopping for an entry-level model, focus on three main factors – the type, number of stitches, and speed. Start by deciding if you want a mechanical, computerized, or serger machine. Then, look for basic models with at least a dozen built-in stitches to handle common tasks.
Finally, choose a machine with adjustable speed settings so you can learn at a comfortable pace. With the right combination of these features, you'll find a user-friendly sewing machine that enables you to gain skills and tackle projects with confidence.
Type
For learning, consider a basic mechanical model with limited stitches. Focus on mastering the basics first.
Straight stitch
Zigzag stitch
Buttonhole stitch
Zipper foot
General purpose foot
Start with fabrics like cotton and linen to build skills without the frustration of stretchy fabrics. As mastery grows, upgrade to computerized options with more stitch options and accessories.
Number of Stitches
Gotcha. When starting out, seek a machine with basic stitches – you'll master them before exploring fancy options.
| Stitch Type | Examples |
| --- | --- |
| Straight | Straight, zigzag, triple zigzag |
| Decorative | Scallop, leaf, flower |
| Buttonholes | 1-step, 4-step, keyhole |
| Stretch | Blind hem, overlock |
| Utility | Basting, darning, zipper foot |
Focus on a computerized sewing machine with around 10-15 stitches to begin with. As a beginner sewist, automatic features like needle threaders and stitch selection dials simplify the learning curve.
Speed
You'll want to look for a machine with adjustable speed settings, letting you start slow as you get the hang of things. I remember Grandma's old Singer could really fly, whirring away like a bumblebee, which was no help when I was first learning the ropes.
Having a machine that sews slowly helps you learn proper techniques and control the fabric. Follow each step carefully instead of racing ahead. Master the basics first, then work your way up to zipping along.
Frequently Asked Questions (FAQs)
What features make a sewing machine easy to use for beginners?
The right sewing machine empowers your creative spirit. Automatic features like needle threaders free you to focus on your vision. Programmed stitches liberate your skills. Yet complexity stifles beginners. Seek simplicity.
Let intuitive controls guide you. Master the basics, then add options to suit your growth.
How much should I expect to spend on my first sewing machine?
You can expect to spend between $100 and $300 for a good beginner sewing machine. Look for key features like automatic needle threaders, multiple stitches and presser feet, free arms, and slow speed options.
Avoid cheap machines under $100 as they may frustrate and hinder learning. Investing in a quality entry-level model will make learning to sew properly much easier.
Where can I find sewing classes for beginners in my area?
You can find sewing classes for beginners at local fabric stores, community colleges, or community education programs. Check if your local sewing machine dealer offers classes too. Word of mouth, social media groups, and online searches help uncover possibilities.
Take time to find the right instructional style and project focus for your learning needs.
What type of fabric is best to start with as a beginner?
You, dear novice, should start with cotton shirting to build the skill. Avoid synthetics for now or risk frustration and tangled threads. Trust tradition and stick with natural fibers to master the basics before attempting slippery, stretchy beasts.
The humble cotton tee forgives mistakes and stands ready to teach without judgment.
Are there any safety tips I should know when learning to sew?
Keep your eyes on the needle. Don't get distracted, or you could prick your finger. Position your fingers safely before stitching and go slowly. Unplug the machine when changing needles or threading. Double-check instructions to ensure you install parts correctly. And don't forget – have fun and be creative! You've got this.
Conclusion
You're off to a great start in your sewing journey! With a quality beginner machine that suits your needs, a willingness to learn, and a bit of patience, you'll be creating beautiful handmade projects in no time.
Focus on mastering the basics first, don't get discouraged with mistakes, and remember the joy of crafting – the rest will unfold with each stitch.
Like learning any new skill, sewing has a learning curve, but small victories will build your confidence. With the foot on the pedal and fabric in hand, you're on your way to discovering the art of sewing, one thread at a time.