This site is supported by our readers. We may earn a commission, at no cost to you, if you purchase through links.
Want to add sewing and embroidery to your craft repertoire? Or are you an e.erienced technician looking for a new sewing and embroidery machine that does not have a difficult learning curve?
The Singer XL-580 Futura embroidery and sewing machine is a user-friendly device with simple instructions in both the manual and on the chassis of the machine itself.
]
In this machine, Singer clearly strives not to limit your creative dreams, with the included Endless Embroidery feature for oversized project borders.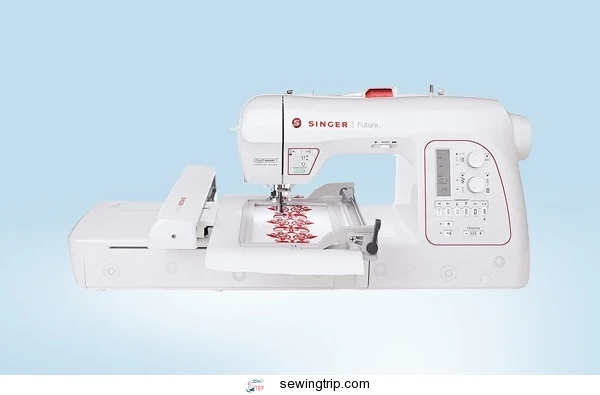 That said, some users have found that with this machine that does double duty, the sewing and embroidery functions on this machine are no match for the machines that specialize in one.
Do you still doubt whether this Singer embroidery machine is the best embroidery and sewing machine for you?
Here we e.lain the details, positive and negative, so you can make the best decision for yourself!
Singer XL-580 Sewing Machine: The Details
The Look
The Singer XL-580 is a sleek, modern looking machine, with a smooth yet sturdy white chassis and an extra long arm and extra large workspace – perfect for larger projects such as quilts, tablecloths and curtains.
Each We clearly labeled button and dial around the display screen on the control panel with both words and pictures, resulting in easy understanding, facilitating learning how to use this Singer embroidery machine.
The chassis also features clear labels for the speed control and visual instructions for threading the machine, making it accessible to both beginners and e.erienced craftworkers.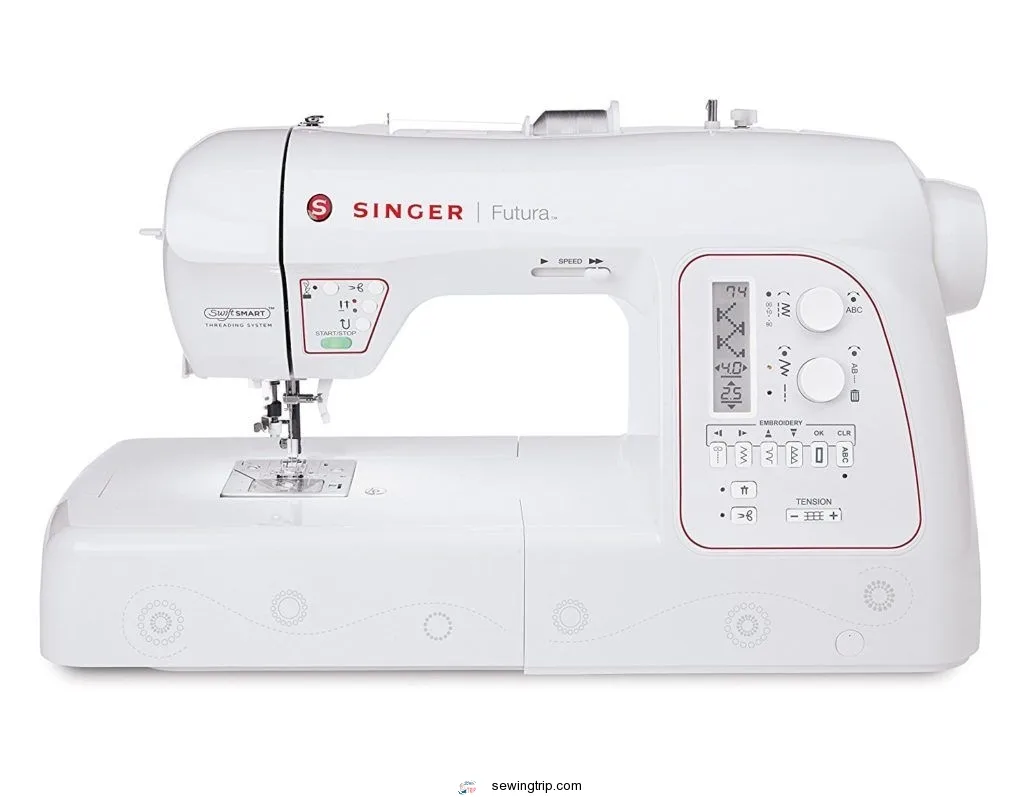 Specs ]
Weight: 5 pounds (54.6 pounds shipping weight)
Dimensions: 5 x 9.5 x 13 inch
Stitches: 215 built-in utility stitches and 250 built-in utility stitches, including 50 endless embroideries, 6 automatic 1-step buttonholes and 1 endless buttonhole
Automated/Mechanical: Automated
Spool: Independent bobbin winding system; Drop and Sew Bobbin System
Portable Embroidery and Sewing Machine
Endless Hoop:75 x 4 inch, allows border designs on large fabrics
Long Arm Design provides extra large sewing space for bulky projects
Electronic Thread Cutter
Swift Smart Threading System
Knee lifter for hands-free presser foot lifts
110 volt machine designed for the United States and Canada
Warranty: 25 years limited
Accessories
The Singer XL-580 Futura Embroidery and Sewing Machine comes with a variety of useful accessories, including the following:
Three embroidery hoops, including a large hoop, a small hoop and an endless hoop
Optional knee lifted for hands-free presser foot raising and lowering
USB stick for editing embroidery designs on your own computer
Autopunch software to convert homemade embroideries into embroideries
Hyperfont software to treat fonts on your computer to set into designs
Advanced editing software to edit existing embroidery designs and for easy stitch selection and letter editing
Singer: The Company
Named after Isaac Singer, the man who patented the first practical sewing machine, the Singer company has been making sewing machines since 1851.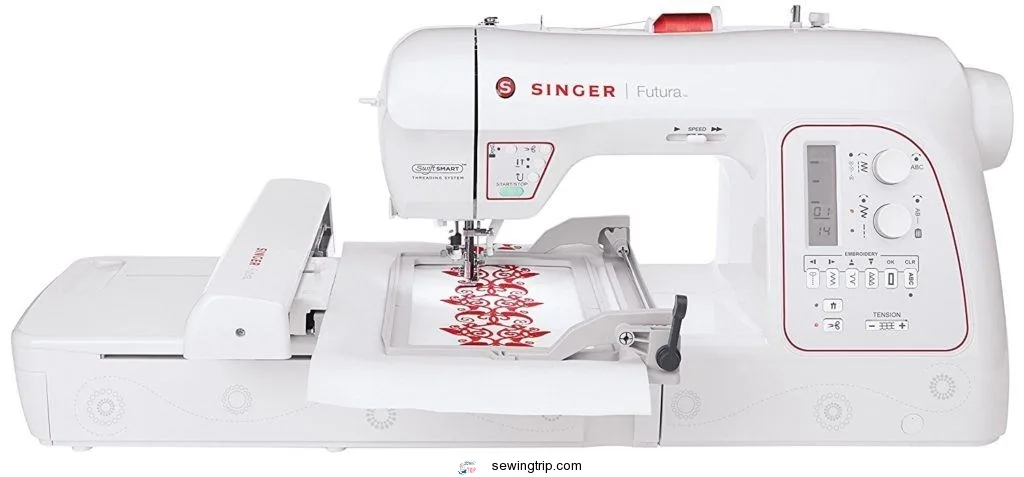 They create quality products for every level of e.erience and type of sewing, including quilting and embroidery.
These products contain essential sewing accessories such as sewing boxes, needles, and bobbins. A true leader in the sewing industry, Singer created the world's first electronic sewing machine in 1910 and the first zigzag sewing machine in 1937.
The Warranty
This Singer embroidery machine by a 25 year limited warranty. This means that the company promises that the machine will be free from manufacturing defects for 25 years from the original date of purchase.
If a manufacturing defect occurs in the sewing machine (Except defects normal wear and tear) Singer will provide replacement parts free within 25 years from purchase, at the consumer's e.ense.
Within one year from the original date of purchase Singer will repair all manufacturing defects in the sewing machine at no cost to the consumer for parts or labor.
Within five years of the original purchase, Singer will provide free replacement parts for the motors, lighting, wiring, switches, speed control, or other electronic components of this device, although a labor charge will apply.
This warranty is not transferable to other owners of this device and may only by the original purchaser and owner of the particular sewing machine. and embroidery machine.
Features
Easy to use Swift Smart Threading System
Whether you've never threaded a sewing machine before or are just tired of hard-threading sewing machines, this Singer sewing and embroidery machine has a solution for you with the Swift Smart Threading System.
Simply follow the simple instructions on the chassis of the machine to guide the needle through the groove, from the bobbin to the needle area, and press the threading lever to release the needle easy to thread. Done!
Believe us, you'll save time and frustration with this handy feature.
Convenient knee lifter
A common problem that Y.lfrCAD encounter when sewing or embroidering is how to hold the fabric in place while lifting the presser foot.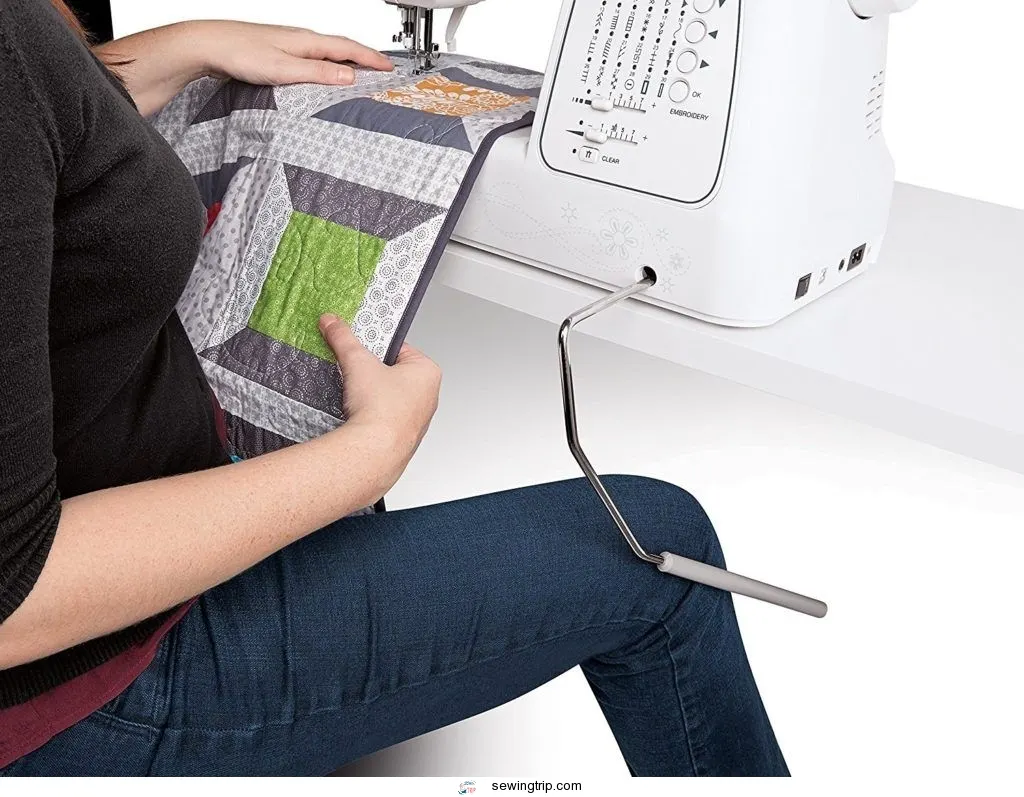 The Singer XL-580 includes a knee lift, so users can keep both hands on the fabric when applique, embroidery or quilting.
Unleash the possibilities with endless embroideries and endless embroideries
The Singer XL-580 comes with 50 endless embroideries and a 6.75 x 4 inch Endless Hoop, perfect for creating detailed borders on large projects such as tablecloths, curtains and quilts.
With Endless designs, there is no limit to your creativity!
Singer XL-580 Sewing Machine Review
The Positives
Full of valuable tools
From the bobbin threader to the thread cutter to the Endless Embroidery Hoop, this sewing and embroidery machine with useful tools for craftworkers of all skill levels and with all kinds of creative ambitions.
Singer has designed a machine with artisans in mind, giving users access to timesaving tools that push them on their way.
Clear instructions lead to success
Even if you've never used a sewing and embroidery machine before, don't worry!
The Singer XL-580 comes with clear, easy-to-follow instructions, from the accompanying manual to the markings directly on the chassis and the control panel itself.
And if you need a little more help, there are a ton of videos online to help you.
]
Sturdy and durable
This Singer Xl- 580 Futura Embroidery and Sewing Machine is as sturdy as it looks.
It works well with thick fabrics while sitting firmly so you don't have to worry about your machine moving too much or falling off your work table.
Inside its pretty little exterior is a heavy metal frame, designed to be strong enough to hold everything in place and to reward users with a durable, long-lasting machine.
Lightweight
Just because this machine to be super tough doesn't mean it will be a pain to tow around.
The Singer XL -580 is lightweight and portable enough to take to classes, or help a friend with a costume around town.
If you're short on space, have you won you need you no need to worry about it taking up too much space, and the size makes it easy to store until you need it.
The Negatives
Design editing program is old technology
Although the software included with this sewing and embroidery machine allows users to edit the embroidery designs by themselves computer, some users have found that the design editing program is outdated and does not fully support the machine's designs or the users'more unique creative aspirations.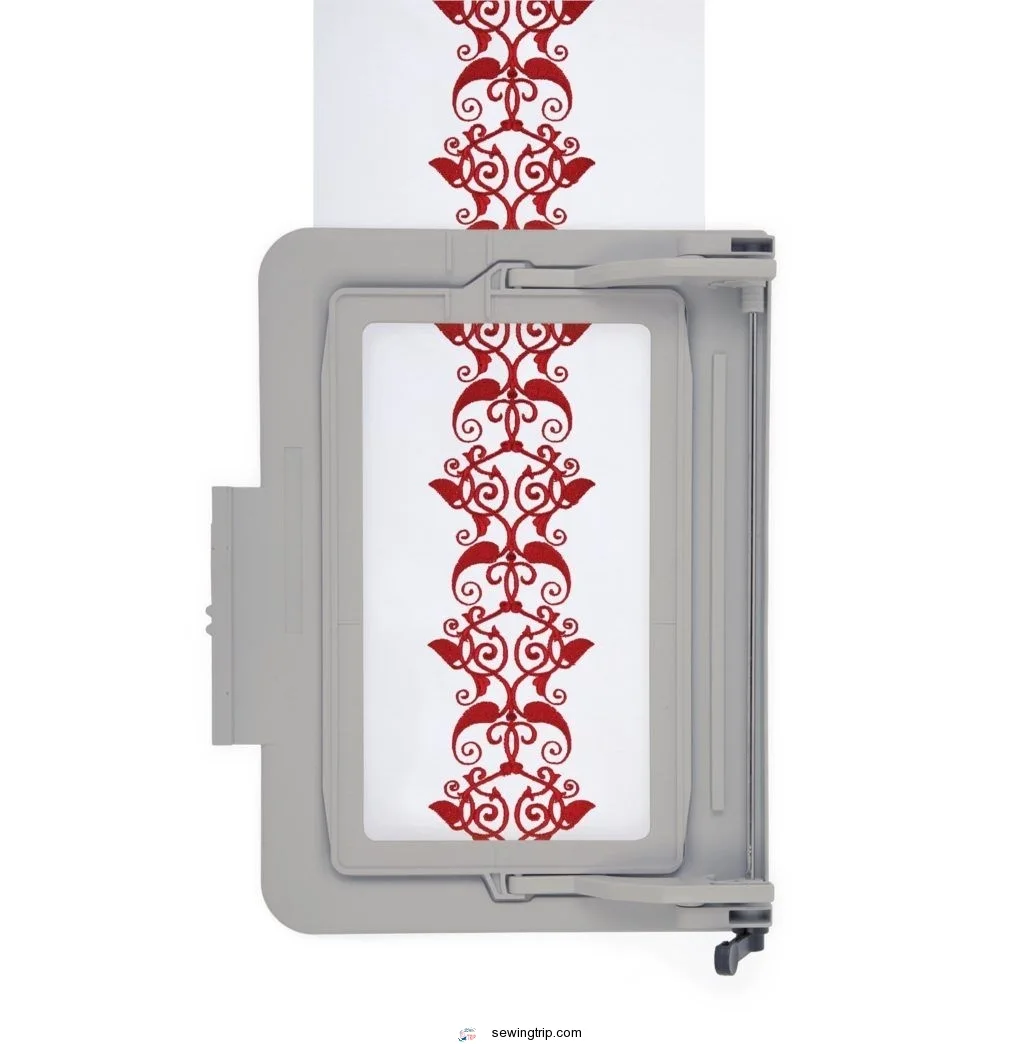 If you do. If you are looking for more modern embroidery techniques, a machine with a newer program may serve your projects better.
Sewing function is less effective than embroidery function
Other users have found that the embroidery function on this sewing and embroidery machine works much better than the sewing function, which is prone to errors.
Although the sewing capabilities on this machine still work with quality, if you are interested in sewing rather than in embroidering, you may want something a little more focused on one function.
However, for those who want to kill two birds with one stone, this machine is more for you.
Not compatible with Mac
We're not saying you won't be able to use the machine if you have a Macintosh computer but you will have problems using the bundled software on your Mac.
The software that comes with the Singer XL -580 Futura on Windows, so you can't install it otherwise.
J You can work around this problem by purchasing Mac-compatible software, but it will take additional time and money to achieve this.
US and Canada only
Along with Mac users, those who live outside the US and Canada, or those who want to travel with this machine, will not be so lucky.
The Singer XL-580 to be used only with the voltage in the US and Canada, and since other regions, such as Europe, Africa and Asia, use a higher voltage, this machine becomes incompatible abroad.]Although it is easy to find an adapter for use abroad, it may damage your machine and void your warranty. So it's always better to be safe than sorry.
Overall verdict
We recommend the Singer XL-580 Futura for anyone looking for a simple sewing and embroidery machine with easy to follow instructions.
It solves purchase a sewing machine and an embroidery machine separately.
However, as some users have found that either the sewing function or the embroidery function does not meet their e.ectations if you intend to focus more on sewing or embroidery, we recommend you find a machine that is more focused on that craft, to better serve your creatives can be projects.
Where to buy the Singer XL-580 sewing machine
The Singer brand has without a doubt, solidified its place in the sewing world. It's no surprise that most of the people you speak to have either heard of Singer or have one in their home.
Singer machines and accessories are usually to find it at your local branch. retail and specialty stores, and the Singer XL-580 is no different, available both in-store and online.
And of course you can also find it on Amazon.

---
That's all for our review of the Singer XL-580 Futura embroidery and sewing machine. Fancy giving it a try?
Not sure if this is the model for you? Browse our latest machine reviews.