This site is supported by our readers. We may earn a commission, at no cost to you, if you purchase through links.
Are you a sewing enthusiast looking for a new machine, or a budding craftworker who wants to try quilting?
The Singer 8500Q modern quilter computerized portable sewing and quilting machine is a machine built for both activities, with over two hundred stitches to choose from and an extra-large workspace for quilting projects.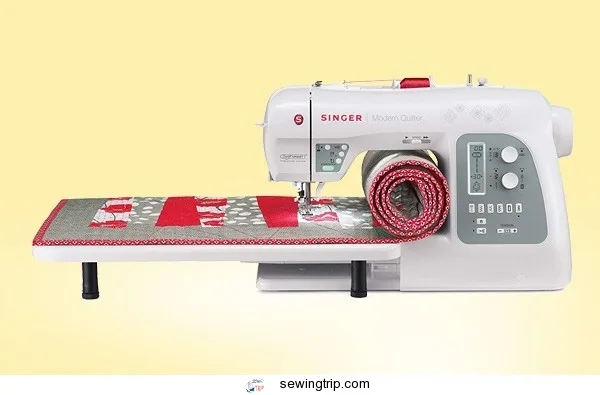 Still, you're not sure whether the Singer 8500Q Modern Quilter is there is the best machine for you?
Check out the details below.
Singer 8500Q Machine: The Details
The Look
The Singer 8500Q Modern Quilter is a modern-looking machine with a clearly sturdy, heavy-duty frame.
Weighing 37, 6lbs. It's easy enough to move from one craft location to another while holding its ground and not shifting during delicate projects.
The Something clearly labeled control panel of this sewing and quilting machine with descriptive images of the machine's built-in stitches.
The LCD screen next to the stitch selection dial provides an easy and legible display of all stitch settings. This includes an image of the selected stitch, the stitch width and length settings, and even the number of the selected stitch.
The buttons and switches for the other machine settings, including the speed change and thread cut functions, for ease of use.
Specs
Weight: 37.6 pounds
Dimensions: 22 x 9.5 x 13 inch
Stitches: 215 built-in stitches, including 6 automatic 1-step buttonholes
Speed: 60 Hz
Automated/Mechanical: Automated
Spool: "Drop Sew" flushing system
Warranty: 25 year limited warranty
Accessories
This Singer sew A quilting machine comes with a variety of accessories for both the novice and the experienced sewing or quilting enthusiast. These accessories include:
All-Purpose Foot
Zipper Foot
Buttonhole foot with backplate
Blind hem foot
Satin stitch foot
Button presser foot
Pack of needles
Spools (class 15J))
Spool caps with thread
Spool nets with thread
Additional spool pin
Spool pin felt
Screwdrivers
Seam Ripper
Ribbon Brush
Extension Table (22.4″ Length x 14.4″ Width With Round Pin)
Knee lift
Instruction manual with included stitch guide
Quick Start Guide
Power Cord
Foot Controller
If bonus, Singer also supplies several quilting accessories with this ma backbone, such as:
darning and freehand embroidery foot
Even feed/walking foot
Quarter Inch Foot
Open Toe Foot
Edge/Quilting Guide.
Other features of this sewing and quilting machine are:
Programmable needle up / down
Drop Feed
Extension Table
6 City-bred LED Lightg
Electronic autopilot
Speed control lever
13 needle positions
7 mm stitch width
Automatic twin needle mode
Automatic electronic thread cutter
Independent bobbin winding system
Automatic stitch length Width
Extra High Presser Foot Lift
Stitch Memory with Edit
Light Stitch Button
Adjustable Thread Tension
7 Segment Feed System with Box Feed
Block Multilingual Alphabet
Heavy Duty Metal Frame
All the more you need – with a few extras to boot!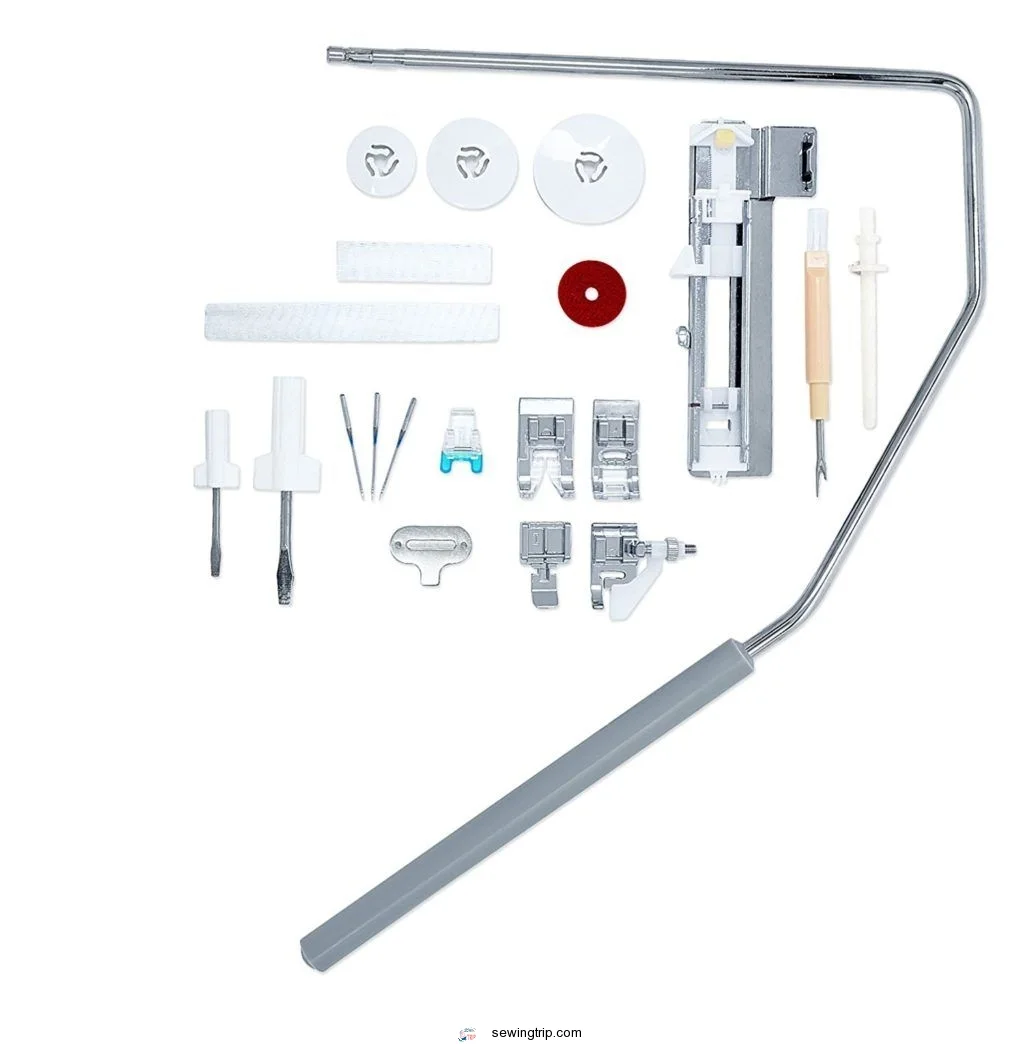 Singer: The Company
Named after Isaac Singer, the man who patented the first practical sewing machine, the Singer company has been around since 1851 busy making sewing machines.
They create quality products for every level of experience and type of sewing, including quilting and embroidery.
These products contain essential sewing accessories such as sewing boxes, needles and bobbins.
Singer, a genuine leader in the sewing industry, created the world's first electronic sewing machine in 1910 and the first zigzag sewing machine in 1937.
The Warranty
The Singer 8500Q Modern Quilter Computerized Portable Sewing and Quilting Machine comes with a 25-year limited warranty.
This warranty entitles Singer to repair, free, any manufacturing or workmanship defects that you notice on the machine for one year from purchase.
Within 25 years from purchase, Singer will provide replacement parts for the sewing machine head free, but will charge labor.
Within five years from purchase, Singer will provide free replacement parts for the motors, light assembly, wiring, switches, speed control and other electronic components of the machine, but will charge labor costs.
Within one year of purchase, Singer will make the adjustments and replacement of defective belts, light bulbs and attachments at no cost for parts or labor.
Service under this warranty is available. only within the 50 United States of America. Using a transformer will invalidate this warranty.
Features
This Singer 8500Q Modern Quilter comes with many features that not only make life easier for the beginning seamstress or quilter but also make an impression on experienced professionals.
Save time with the SwiftSmart threading system
This sewing and quilting machine with the SwiftSmart threading system from Singer, an automatic needle threader.
This feature allows users to thread their needles more easily than on most other sewing machines.
With this machine, users have a single groove to follow as they guide the thread from the bobbin to the needle, and they can thread the needle with a simple push of the threading lever, saving both time and frustration.
]
Here is a video showing how to thread and wind a bobbin on the Singer Modern Quilter.
]
Easily remove fabric with programmable needle
On most sewing machines, users must be careful to stop the machine at the precise the right moment when they want the needle to stop in the up position (so that the fabric can ) or in the down position (so the project can ).
In the Singer 8500Q Modern Quilter, the needle can to stop in the highest position up or down depending on what the user needs saving users the hassle and frustration of timing things.
Extra-large and expandable sewing space for larger projects
Quilters probably found it difficult to use machines for their craft, because are few sewing machines that offer enough sewing space for such a project. give us 25 inches of crafting space.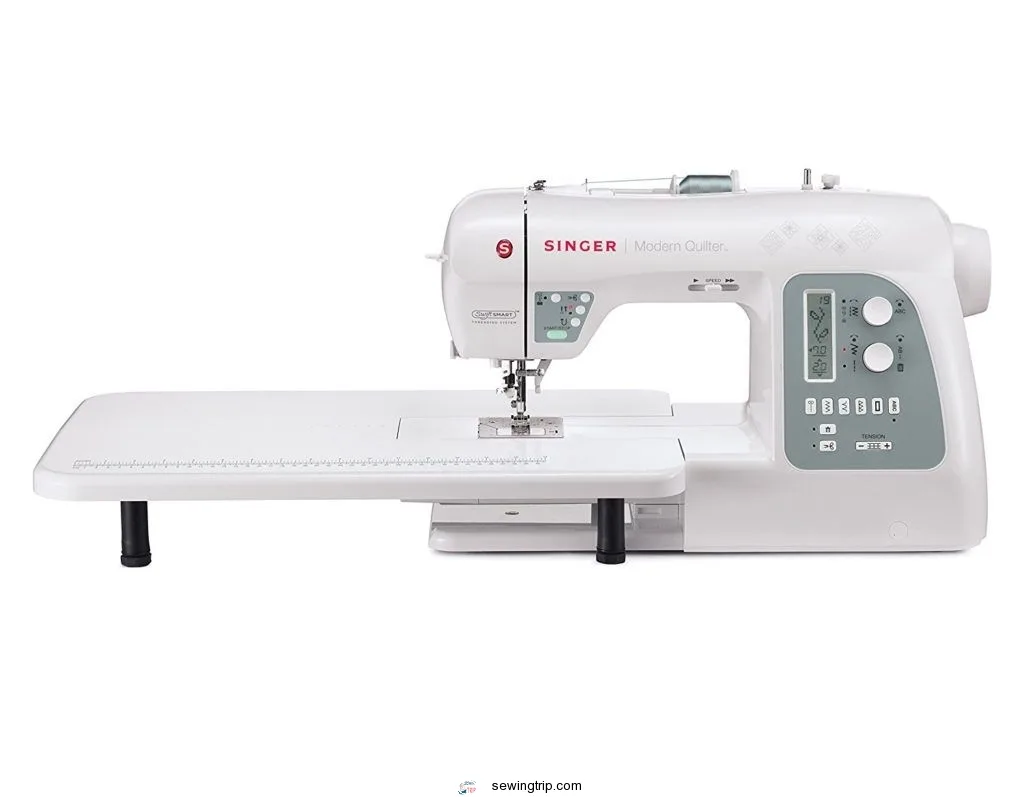 Forget you need an extra hand with the knee lifter
A common problem with quilting machines is a problem that arises when turning: how to hold the fabric in place while raising and lowering the sewing machine with one hand.
In this machine, Si. hanger developed an answer to this problem with the Knee Lifter, which allows hands-free raising and lowering of the presser foot.
]
LCD screen with stitch selection
The LCD screen of the Modern Quilter may seem small, but it's useful to your stitches.
The screen also shows an image, width and stitch length of the selected stitch, eliminating a lot of guesswork.
Singer 8500Q Machine Review
The positives
Wide variety of stitches
With over 200 stitches to choose from, including nine essential stitches, six stretch stitches, 17 quilt stitches, 176 decorative stitches and six buttonhole stitches, crafters of all skill levels will find the stitch that is perfect for their unique project.
This also creates space for hobbyists y experiment with new styles and combinations for years to come!
Extra-Large Workspace
Quilters and anyone else creating a large project need don't worry about running out of room to work with on this sewing and quilting machine's 25-inch sewing space.
This extra space is a relief for those who large patterns in mind and for those who want to dabble in the world of quilting.
Easy to follow instructions
Between the hand included manual and the clear markings on the machine itself, budding crafters report having an excellent, peaceful time getting started with their new Singer sewing and quilting machine.
Having trouble setting up your machine can be a deterrent when starting a new craft, and may even lead some to give up their new hobby altogether.
Thankfully no worries here.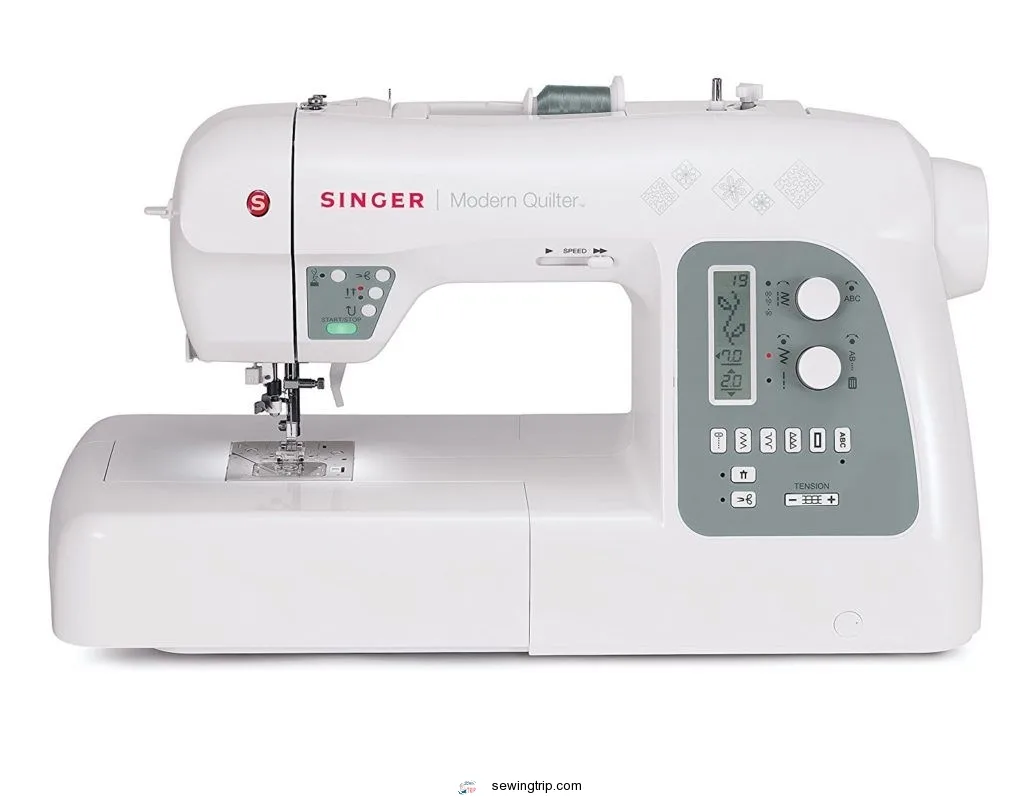 Warranty
Investing in a hobby, new or old, isn't always cheap, but it makes it a little more rewarding to know that the products you buy by a promise that you're covered in case something goes wrong.
We with the long 25 year warranty offered on this sewing machine. This takes a lot of the worry out of starting a new hobby for beginners, and takes the frustration out of being stuck with a lemon.
Smooth and Sturdy
While the design of the Singer 8500Q Modern Quilter is sleek and supported by a sturdy frame that is built to handle large and large projects.
This is great for sewers that are ready to handle heavier fabrics and materials and it's also a bonus to know that you don't have to upgrade your machine to do this.
sewers needn't worry about skipping or jumping while using the Singer 8500, this machine runs smoothly, eliminating the need to troubleshoot any jumpy machine problems.
The negatives
There are problems with the coil
Some users have found that the otherwise convenient "Drop and Sew" bobbing system results in tangled thread and they have difficulty re-threading the bobbin in this situation, causing some frustration.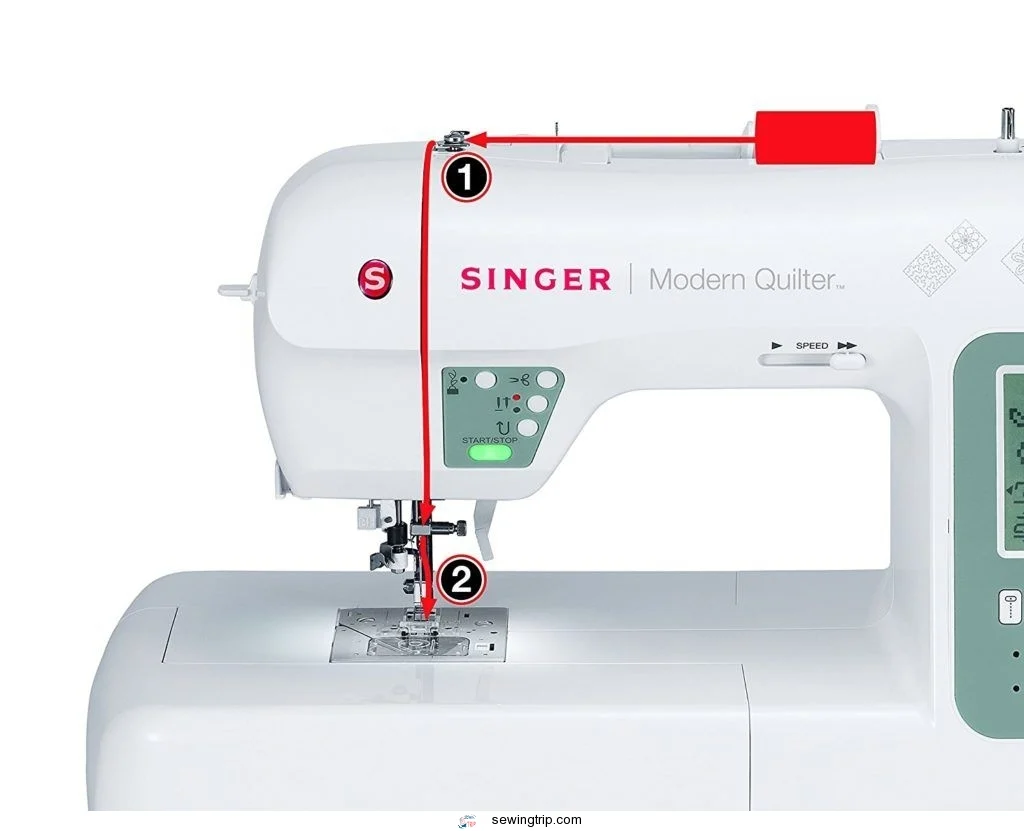 Machine Oil Leakage
In some cases, users of this sewing and quilting machine may have found that oil is leaking from the machine and onto their projects.
Craftsmen should be vigilant for such leaks and use the warranty for replacement parts if necessary.
Not intended for use outside of North America
Unfortunately for quilters in Europe, Australia, or South America, this sewing and quilting we do not intend machine for use outside the United States and Canada.
Singer does not recommend using transformers to work around this problem, as using a transformer diameter void the warranty.
Overall verdict
We would recommend the Singer 8500Q modern quilting sewing and quilting machine for anyone in the United States and Canada who needs a new sewing and quilting machine regardless of your level of experience.
The abundance of useful features makes it an attractive tool for all craftworkers, and the warranty covers any concerns we have about defects.
Where to buy the Singer 8500Q machine
Since Singer solidified his name in the sewing industry, it has been rare not to see a Singer machine on the shelves of local craft stores.
The Singer 8500Q Modern Quilter sewing and quilting machine is another favorite among seamstresses, so it's no surprise this model can both in store and online.
Watch the track the online retailers to start with.
And of course, it's also available on Amazon.

---
That's it for each review on the Singer 8500Q Modern Quilter. Did we tempt you to give it a try?
Want to see other before you decide? Check out our latest user reviews.