This site is supported by our readers. We may earn a commission, at no cost to you, if you purchase through links.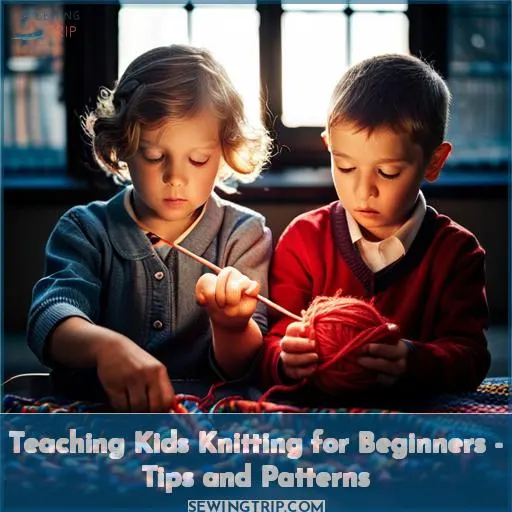 Listen up, friends! Have you been itching to share your love of knitting with the little ones in your life? Teaching kids knitting for beginners can open up a world of creativity, mindfulness, and practical skills for them.
With the right materials, a dose of patience, and a few handy rhymes to remember the stitches, your mini-me can be churning out scarves, hats, and more in no time. The sense of accomplishment from creating their own handmade items is a real self-esteem booster too.
Beyond just making fun stuff, knitting helps develop fine motor control and concentration. And who knows, you may just be nurturing the next generation of fiber artists! So gather your young'uns and let's get clicking, clacking and creating.
With the right approach, teaching kids knitting for beginners can be rewarding for you both.
Key Takeaways
Develops creativity, mindfulness, and practical skills
Builds fine motor skills and concentration
Boosts self-esteem
Nurtures the next generation of fiber artists
What Can Kids Knit?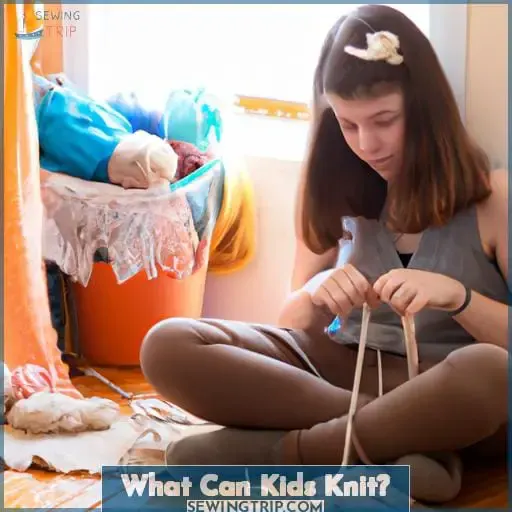 You're about to embark on an exciting journey to teach a child the joy and sense of accomplishment that comes from knitting. With the right materials like chunky yarn and size 10 needles, kids can start by learning the basic knit stitch and how to cast on and bind off to make simple beginner projects like washcloths, scarves, and hats.
As their skills progress, encourage kids to pick their own fun patterns and colors to keep them motivated and proudly wearing their handmade creations.
Materials
Some bulky yarn and size 14 needles are provided, so you're ready to start knitting! Choose easy patterns like squares or rectangles to begin with. Try making washcloths or scarves using bright, chunky yarn. First, master the basic stitches, and then incorporate color changes and textures.
Finish a small project, and you'll be hooked. With practice, you'll be able to create fun gifts and projects to enjoy for years.
Cast On
You'll cast on the stitches to start your knitting project. Make a slip knot, place it on the needle, then wrap the yarn around your thumb and over the needle. Repeat this motion until you have the number of stitches needed. Go slowly, check your work, and keep the stitches snug but not too tight.
Knit Stitch for Beginners
The proper knitting technique will separate you from a mangled mess as you take the first stitches, so don't let those needles make you their puppet. With the yarn in your right hand, insert the right needle from front to back through the front loop.
Wrap the yarn counterclockwise around the needle and draw it through the loop to create your first stitch.
Casting Off
After binding off the last row, you would cut the working yarn, pull it through the last loop, and secure it. Casting off can seem counterintuitive for kids. Keeping proper tension while loosening stitches takes practice.
Remind them to knit the first stitch before passing the old stitch over, so the edge stays neat.
Knitting Projects for Kids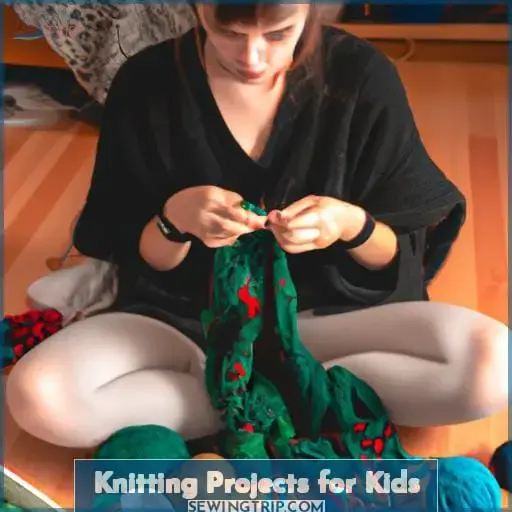 You'd be amazed that kids as young as 6 can start knitting scarves, hats, and more to boost creativity over 60 minutes a day. Beginners can try soft, chunky yarn and big needles to master basic stitches. Once they learn knit and purl, kids can make simple rectangles like washcloths, bookmarks, and coasters.
Turn square cotton washcloths into cute ducklings with eyes, beaks, and feet. Thicker yarns let kids shape chunky blankets, fluffy alpacas, and squishy paw pets. Challenge intermediate kids with hats, boot cuffs, phone cases—they'll love picking projects! Keep them engaged by letting them choose fun colors and textures like sparkly novelty yarns.
Cowls, headbands, mug cozies, and fingerless gloves make quick gifts to give friends. More advanced kids will enjoy shaping st■ animals, sweaters, and bags. Themed kits with pre-cut yarn give beginners a boost.
Read Picture Books About Knitting!

You can engage kids' imaginations while teaching knitting skills through knitting-themed picture books. Imaginative stories with knitting themes like Martha Moth Socks bring the craft to life. Kids will love hearing tales of adventuresome characters who knit their way out of pickles.
After reading, try making simple knit puppets or costumes of book characters. This lets kids apply new knitting skills immediately to bring stories off the page. Explore nonfiction books to discover knitting's history and traditions across cultures.
Picture books make knitting relatable and fun. With engaging stories as inspiration, kids gain confidence to pick up needles and create their own tales stitch by stitch.
Enter Frances Earnshaw, Fiber Artist and Kids' Knitting Club Teacher

Now Frances joins the group, her arms filled with kids' projects from this month's club meeting. She smiles as the young knitters eagerly gather around to show off their creations – lopsided washcloths, scarves trailing yards of extra yarn, pillows with dropped stitches poking out.
Frances loves fostering their creativity and building their skills with each new project. She'll coach them to carefully knit each row, praising their persistence to complete even imperfect pieces.
As they knit, she'll share stories to spark their imagination – tales of brave knights in hand-knit armor or magical socks that enable you to jump higher. Frances knows learning to knit brings so much more than a fun hobby. It develops focus, math skills, fine motor control, and patience.
She wants to equip these kids not just with knitting techniques but life skills like creative problem-solving, grit, and confidence to try new ideas.
Her club meetings aim to inspire a passion that can last a lifetime, full of friendship, creativity, and the joy that comes from making something with your own two hands.
3 Misconceptions About Teaching Children to Knit

Despite preconceived notions, instructing children to knit has immense benefits. Knitting builds confidence and fine motor skills while providing a creative outlet. However, certain misconceptions may lead parents to hesitate before teaching knitting skills.
Here are 3 common myths about kids and knitting:
Patience Required – Children don't have the focus to knit.

Reality: Start with short, fun sessions and celebrate all progress. Increase time as their interest grows.

Gauge Size Matters – Kids can't handle real needles and yarn.

Reality: Use chunky yarns and larger needles scaled to little hands. Upgrade as skills progress.

Nimble Fingers Helpful – Only kids with dexterity can knit.

Reality: Any child can learn with practice and encouragement. Modify techniques as needed.

Follow Instructions Closely – Kids lack discipline to knit independently.

Reality: Guide them through first projects then foster independence. Let them choose their own patterns.

Get Quality Supplies – Cheap yarn and needles won't teach proper skills.

Reality: Invest in good tools but don't go overboard. Upgrade materials as interest sticks.
With realistic expectations, the right materials, and encouraging guidance, knitting can teach children lifelong skills.
3 Tips for Successfully Teaching Kids Knitting

When helping young ones take up knitting, engage their creativity by letting them choose fun colors and textures for their first projects. Kids will feel empowered being able to select their own yarn and needles based on personal preferences.
As you teach knitting techniques, use memory aids like rhymes, stories, and tactile cues to help steps stick. For example, recite In the front, catch the yarn, around the back, pull it through when demonstrating a knit stitch.
Or relate a purl stitch to a turtle poking its head out of its shell. Having kids trace the path of yarn over their fingers imprints muscle memory.
Here are 5 tips for teaching knitting successfully:
Break skills into small, achievable steps
Fix some mistakes without undoing all progress
Relate stitches and techniques to stories, rhymes, sensations
Introduce new skills gradually to sustain interest
Celebrate all finished projects, no matter how simple
The sense of satisfaction from creating their very own knitted item will motivate kids to continue practicing this lifelong hobby. With patience and encouragement, young knitters can gain concentration, math skills, and problem-solving abilities while expressing creativity.
Recommended Beginner Patterns for Boys and Girls

Beginner
Project: Colorful Headband
Yarn Weight: Bulky
Skill Level: Beginner
Project: Basic Scarf
Yarn Weight: Worsted
Skill Level: Beginner
Project: Beanie Hat
Yarn Weight: Chunky
Skill Level: Beginner-Intermediate
Project: Fingerless Gloves
Yarn Weight: DK
Skill Level: Intermediate
Project: Cable Knit Cowl
Yarn Weight: Worsted
Start with straightforward patterns like headbands, scarves, and hats that allow kids to gain confidence in basic knit and purl stitches using bulky or chunky yarn. These projects build the dexterity and focus needed for knitting while delivering quick wins to motivate beginners.
As skills progress, move up to lightweight yarns and more complex accessories like fingerless gloves or cable knit cowls. Choosing fun and fashionable projects in colors they love keeps kids engaged in learning this timeless craft.
With each creation, young knitters gain patience, esteem, and a rewarding new hobby with fewer screens.
My Experience Teaching Kids to Knit

You'll enjoy watching their confidence grow as those tiny hands create their own knitted treasures. Teaching kids to knit requires patience, but it's worth it. Start with basic scarves or washcloths using bulky yarns and large needles so their little fingers can manage the motions.
Go slowly, and focus on good technique. Celebrate each completed row! Let them choose fun colors and textures to spark creativity. Tell stories as you knit together, and take brain breaks to wiggle away wiggles.
Engage their senses through touch and sight. Allow mistakes, then gently show how to fix them. Let go of perfection. Make it about the process, not the product. Stay positive and supportive. Knitting develops concentration, math skills, and fine motor control, and provides a mindful, engaging activity kids can enjoy with friends or independently.
The sense of accomplishment from finishing a project boosts confidence. You'll nurture skills and self-esteem while sharing quality time. Savor these moments as your child masters an age-old craft and discovers the liberation of making.
Suggested Supplies

Thread those needles and grab some yarn, 'cause you're about to start knittin'! When it comes to teaching young knitters, having the right supplies makes all the difference. Opt for chunky yarns like wool or acrylic blends that are easier for little hands to manage.
Steer clear of delicate threads that fray and tangle. Match your yarn to size 8-10 needles with smooth, rounded tips. Longer needles allow for better control. Have kids pick fun colors to spark their creativity.
Gather notions like scissors, tapestry needles, and row counters to aid their process. Beyond materials, focus on the experience itself. Turn practice sessions into opportunities for project planning, team bonding, and creative expression.
With patience and encouragement, lifelong memories will be stitched one purl at a time. Let imagination flow as young minds learn to follow patterns, solve problems, and make unique creations.
Frequently Asked Questions (FAQs)
How old should my child be before starting to learn knitting?
Start knitting lessons around age seven when fine motor skills develop enough to handle yarn and needles proficiently, yet young minds stay open to acquiring new talents eagerly.
What are some good starter knitting kits for beginners?
Start with simple kits around age 7 to get kids hooked on knitting. Look for chunky yarn and larger needles to make potholders or scarves. Let them choose fun colors to stay motivated. Break learning into small steps and celebrate successes! Knitting develops concentration and fine motor skills in a screen-free, creative way.
How can I keep my child motivated to continue knitting after starting a project?
Inspire your child by letting them pick fun colors or textures for their next project.
What are some good tips for fixing mistakes while teaching kids to knit?
When tiny fingers fumble, be their training wheels. Guide gently, let go slowly. Fix just enough mistakes to keep frustration at bay. Celebrate successes, big and small. With patience and practice, their skills will grow.
Where can I find knitting lessons for kids in my local area?
Check with your local yarn or craft stores. Many offer beginner classes for kids and families. Look for knitting guilds in your area. They often have members who give lessons. Search online for knitting groups/teachers in your town. See if any knitting cafes nearby offer children's classes.
Ask on neighborhood Facebook groups or Nextdoor for recommendations from other parents.
Conclusion
Embarking on knitting with children kindles your creativity while fostering their confidence. As you guide tiny hands, an entire world of textures, colors, and stories unravels before you. Teaching kids how to knit to make things on their own sparks pride through mastering each new stitch.
Let their imaginations run wild with needles, opening the door to focus, patience, and problem-solving. Keep lessons playful, fix mistakes with care, and celebrate every finished row. With compassion and encouragement, their creations will warm your heart as much as their bodies.