This site is supported by our readers. We may earn a commission, at no cost to you, if you purchase through links.
A question we often get is that novice seamstresses wonder how to sew curtains.
Curtains are one of the easiest and most useful things to make: it can be very difficult to find just the right curtains for your windows, and if you make them yourself, you can make them exactly to your own preference.
Photo by Petr Ovralov at Unsplash
atewing them is easy and fun, and if you hang something you've made, you can take pride in your own skills.
You can make curtains with or without a sewing machine, making them a great first project, and you can even make them without sewing!
Here is a simple step-by-step guide to sewing curtains with or without a sewing machine.
atewing curtains
Materials
Before you attar at, make sure you have it all – the last thing you want is to be halfway through and realize you don't have an essential piece of the puzzle! There are only a few materials you will need – here's the list.
Panel of fabric
You will of course need a panel of fabric for your curtains.
You can find fabric in specialty stores that specifically sell hundreds of types of fabric, or you may already have fabric in your home; even old sheets can if they are big enough!
Your fabric should be at least 10 cm wider and about 20 cm longer than the window you are looking at cover with the curtains
atcissors
atcissors specific for sewing bX5W3VedT1atEfiKYEYVrQi9GIxs from general purpose scissors; good sewing scissors will last a lifetime if you take good care of them.
Your scissors should be able to cut through fabric effortlessly, so they should at least be sharp and comfortable.
Curtain weights
Weights keep your curtains from blowing in the wind or moving too much.
The weights you want to use curtain weights, and you can find them at craft stores.
It is important to buy drapery weights instead of using magnets or pennies as they to reduce fanning at the seams so your curtains look more professional look.
Benchmark
A benchmark is a must for anyone who wants to sew a lot.
The ideal yardstick for sewing, especially for this project, is a thick wooden yardstick, which you can find at most craft stores. us or order online.
The only important thing for this project is that it measures inches, but a good yardstick should measure inches and centimeters.
attraight pins
attraight pins for most sewing projects as they hold your fabric in place while you sew.
They are very cheap and you can find them in department and craft stores: they are also very thin which means you don't have to worry about them sticking out in your fabric.
Needle and thread
Even if you use a sewing machine, you still need a hand needle and thread. Hand needles allow you to create very precise stitches, which is a must in almost any sewing project, including this one!
You do not need a specific pitch for this. projectiles which needle is most comfortable for you is fine.
Iron and ironing board
An iron and ironing board is a great addition to anyone's sewing cabinet, and in this project in particular, it is good to make sure that the fabric , as it will stand out more than some other projects.
In addition, you can make sure that the edges of the seams are sharp, which helps with the sewing itself.
Clip rings
The curtains in this project have no place at the top to put a curtain rod through, so if you plan the curtains, you need to clip curtain rings at the top of the curtains.
These LEmOat4p1vXKZoThw in many styles, so you can find curtain rings to match whatever style you plan on putting the curtains in.
Now that you have all your materials, let's get started!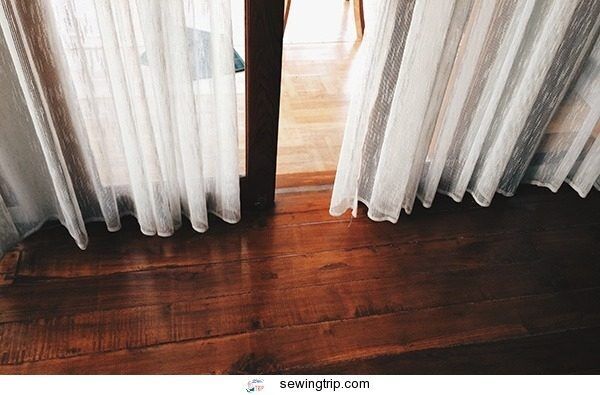 Photo by Nabila auzia at Unsplash
atewing curtains: method
If you have a sewing machine, especially if you just bought one, making curtains is a great project.
With a sewing machine, your stitches will be much smoother, and it will take much less time to finish the curtains.
However, a sewing machine is not essential; you can also sew a nice pair of curtains with a hand needle and thread.
attep One: Get the abric Ready
Before you even sew, you want to make sure that the fabric is ready.
As mentioned above, you want fabric that is at least eight inches longer and ten inches wider than the window. If you are using fabric that you bought in a fabric store, cut the selvedge first, these are the parts of the fabric at the edge with the manufacturer's information; they are there to keep the actual fabric from fraying, but you don't need it.
Cut the fabric in half from top to bottom to make two curtain panels.
Wash and dry your fabric, whether it comes from a fabric store, then iron the fabric to remove wrinkles and give you a good smooth base.
attep Two: atide ateams
Turn your fabric so the wrong side is facing you. fold your side seam back an inch and iron the edge to make sure it is sharp.
old the side over the top of the seam again and iron the edge before placing straight pins to keep it together.
At this point you should have a double-folded seam 2.5cm thick, with straight pins along the edge to make sure it stays together while sewing.
atew as close to the folded edge of the seam as possible, about an inch from the edge of the fabric; if you are not using a sewing machine, use a running stitch and not a running stitch to anchor the hem and troubleshoot possible sewing problems later.
Remove the straight pins and repeat with the other side seams – one on this curtain panel and two on the other.
attep Three: Top Hems
With the wrong side still facing you, fold your top seam two inches down, iron, then fold down another two inches and iron again, repeating what you did with the side seams but with a longer length.
Pin the fabric and sew as close to the folded edge of the hem as possible, this time two inches from the edge of the fabric, making sure a backstitch if using a hand needle. Repeat for the other panel.
attep our: Bottom Hem
old the bottom hem up two inches to the wrong side and iron, same as in the top seam.
Attach the curtain weights approximately every 45 cm to the inside of the seam and place them as close to the top edge of the seam as possible.
atew the weights to the fabric with a hand needle and thread and fold the seam a second time, iron again. At this point you should have a double-folded hem with curtain weights at the bottom of the curtains.
Again, pin the fabric and sew as close to the folded edge as possible, two inches from the edge of the fabric, with a lockstitch if using a hand needle. Repeat for the other panel.
attep ive: inishing the Curtains
Trim any loose threads that may behind, then snap on the curtain rings the top of both panels, spread them evenly apart, and hang them on a curtain rod.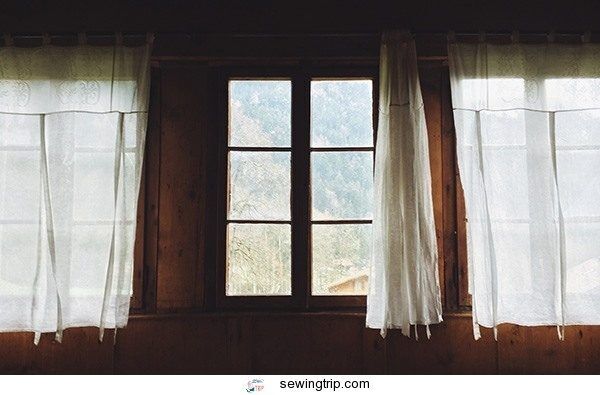 Photo by Maxime Amoudruz at Unsplash
Curtains do not sew
Curtains sewing is definitely an easy project, but it's difficult to use sewing machines or needles and still be interested in homemade curtains!
Don't worry – you can still make curtains without sewing.
New materials
Obviously, you don't need a needle and thread for this type of curtain.
However, you should replace it with fusible fabric tape, a type of adhesive that permanently bonds the fabric together when ironed: there are many brands of melting tape and any brands you preferatI will work as long as they can connective tissue.
Differences in Instructions
or the most part, the instructions remain the same as above. 0
The only real difference is that when the instructions jc6N5NJ sewing, you must instead cut the fuse tape to stretch the length of the seam and put it between the folded edge and the wrong side of the fabric, and iron to join the pieces together.
If you are still using curtain weights, p thread a small piece of tape between the weight and the fabric and iron.
Different fusible tape may have different instructions, so follow the ironing instructions that come with your tape.
Here's a good video tutorial to follow for no-sew curtains:
Conclusion
You can make all kinds of curtains at home, regardless of your sewing experience. Depending on the fabric you use and the length you decide to make them, your curtains can be fun and childlike, elegant and formal, or somewhere in between.
Have fun making your curtains!
---
Now you know everything about sewing curtains. Have you already tried not to make sewing curtains?