This site is supported by our readers. We may earn a commission, at no cost to you, if you purchase through links.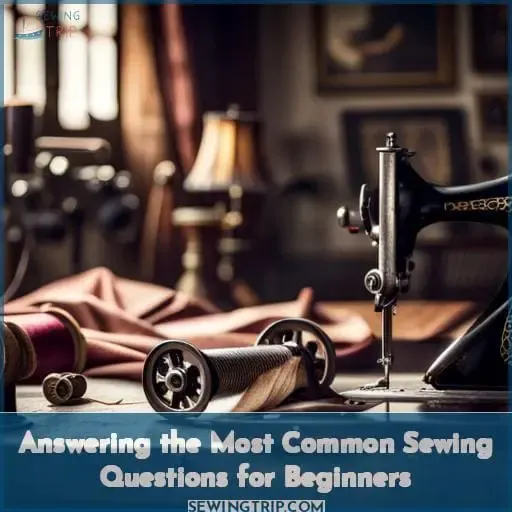 Sewing made simple – start stitching success with this super sewing FAQ. Whether you're a novice noodling new techniques or a seasoned sewer seeking solutions, find fabric-friendly fixes within. If you have gunky needles or tricky threads, we have your back, unraveling common conundrums in plain English.
Follow our finely crafted tips for tension tweaks, pattern preparation, machine mastery, and more. With practice, patience, and persistence, you will sew like a pro. Our sewing savvy will set you straight, empowering you to express yourself through fashion while nurturing creativity.
Key Takeaways
Choose fabrics, needles, threads, and other tools suited to your project and skills.
Investing in a capable sewing machine meeting your needs based on features, budget, and goals is wise.
Master proper sewing techniques like working with different fabrics, transferring patterns smoothly, and pressing strategically.
When facing common issues like thread tension problems, persist patiently. Use resources like FAQs to troubleshoot and hone your skills.
Getting Started With Sewing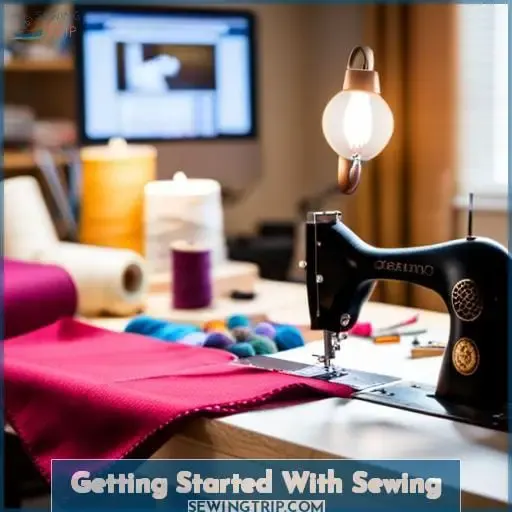 If you're looking to get started with sewing, here are some quick tips. First, gather a few essential tools: needles, thread, shears, a measuring tape, pins and a seam ripper. You'll also need an iron and pressing surface. Choose fabric suited to your project, considering its fiber content, drape and weight.
Fabrics can be found at craft or fabric stores, big box retailers, or even secondhand shops.
Essential Tools
You'll need essential tools like sewing needles, thread, scissors, a sewing machine, and measuring tools to get started with any sewing project. Select high quality sewing needles and thread to avoid frustrating breaks. Invest in sharp fabric scissors for clean cuts.
A basic mechanical sewing machine allows for straight stitching to construct most basic items. Tailor's chalk, a tape measure, and a seam gauge equip you to take proper measurements and markings. With these fundamental supplies available, you can begin piecing together creations, both simple and sophisticated.
Choosing Fabric
Picking that perfect fabric can really make or break your sewing project, so let's dive into some key things to consider when choosing your materials. Texture, color, and pattern are critical for matching your vision. Sustainability matters too – organic fabrics align with serving Mother Earth.
Most importantly, pick a fabric with enough structure and stretch for your desired design. The right fabric elevates any seamstress's craftsmanship into a true masterpiece.
Where to Source Fabric
Purchasing from local fabric stores can open up exciting worlds of textiles while supporting your community. Look for shops featuring natural fibers and distinctive prints to fuel your creative spirit.
Speak with employees to find special deals and receive guidance. And remember flea markets for vintage fabrics and sewing supplies. By shopping locally, you contribute to individuals and places significant to you.
Selecting a Sewing Machine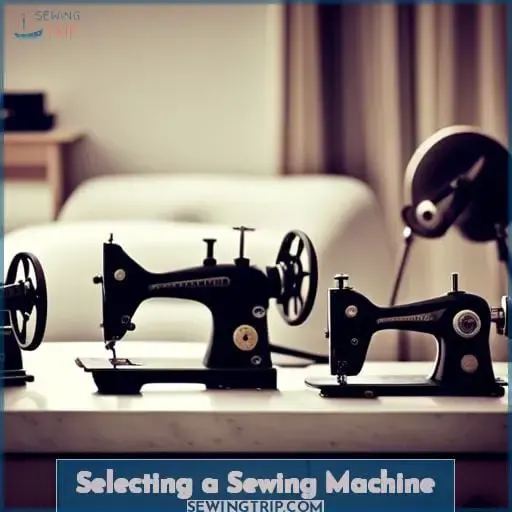 When choosing a sewing machine, carefully evaluate the key features to ensure they align with your sewing needs. First, determine whether you need something basic, meant for beginners, or a more advanced model.
Next, consider your budget and space constraints. Finally, decide which stitches, operation modes, and accessories matter most for your projects. Varying stitch selection, specialty feet, and other attachments can expand a machine's capabilities.
Weighing all of these factors helps select the right sewing machine for your skills and purposes. Avoid limiting options unless price forces compromise. Finding the ideal balance of function, cost, and space allows sewing machine buyers to maximize versatility for their time and money.
Choosing Machine Type
Deciding between a mechanical or computerized sewing machine depends on your budget and desired features.
Mechanical machines are more affordable and perform basic stitches.
Computerized machines offer convenience with preset stitches and automatic features.
When deciding which type best suits your style and budget, consider your sewing needs and preferences.
Research the features most meaningful to your projects for different machine types. Test options at your local sewing shop to get hands-on experience with machines before making a purchase.
– Evaluating Key Features
You need to consider stitch selection, throat size, and other capabilities when evaluating key features for your next sewing machine. Carefully compare models on stitch options, work space, easy bobbin access, speed control, automatic features, and accessories.
Prioritize what's most important for your projects and space. The right machine will empower your creativity and service to others through sewing. Just take your time considering key features before deciding. You'll find freedom in the machine matching your needs.
– Assessing Your Needs
You wondering if that basic sewing machine's really gonna handle all your crafty visions? Before buying, take stock of your needs. Will you sew knits, wovens, heavy fabrics? Any embroidery, quilting, or special techniques? Don't just settle for entry-level if your dreams demand more.
Let your projects guide you to the right machine, then get busy creating! Thread bunching? Bobbin tension off? We'll troubleshoot together so you can keep sewing.
Understanding Notions and Supplies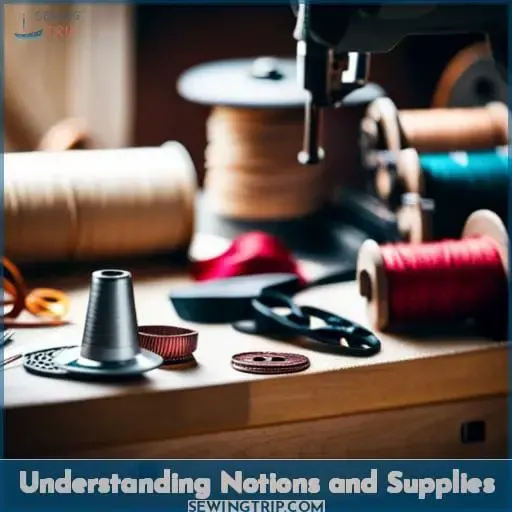 To start, an overlocker or serger creates professional-looking seams and helps prevent unraveling. You'll also need a high-quality pair of scissors suited for intricate fabric cutting. Precise stitching requires the right sewing thread as well – be sure to match thread weight and fiber content to your project's fabric.
Sergers/Overlockers
Consider investing in an overlocker if you often sew knits or finish seams professionally. An overlocker speeds up the process and creates flat, polished edges as you stitch. It trims, overcasts, and seams all at once! Check the differential feed setting and ease thread tensions, regularly cleaning any lint buildup.
Learn decorative stitches beyond four-thread overlocking. Though pricey, overlockers complement regular sewing machines when finishing stretchy or raw fabric edges.
Scissors for Sewing
Opt for bent trimmers and shears when snipping stitches and cutting fabric.
Invest in high-quality scissors for precision and durability.
Choose bent-handled scissors for enhanced control and comfort.
Favor blades with a sharp point for accurate clipping and trimming.
Keep multiple sets of shears on hand for specialized purposes.
Maintain your investment by properly cleaning and sharpening the blades.
Top-notch sewing scissors are a vital tool for clean cuts, safety, and productivity.
Sewing Threads
Use high-quality all-purpose threads for most sewing projects. Polyester and cotton threads offer strength and flexibility. Match thread color to fabric hue for invisible seams. Adjust tension slightly looser for smooth top thread flow.
Store threads dust-free in an airtight container. Wind bobbins snugly and change needles often for the best stitch formation. Quality threads, proper tension, and needle condition prevent frustrating thread breaks.
Working With Fabrics and Clothing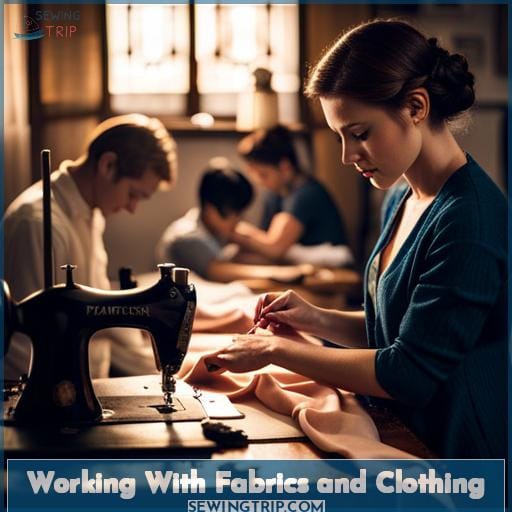 You will want to properly care for your fabrics before starting any sewing project. Learn how to wash different types of material correctly, and find tips for sewing knits and stretchy fabrics so your garments keep their shape and structure.
When working with fabrics and clothing, proper care is key. Be sure to pre-wash fabrics according to the care instructions before cutting and sewing to allow for any shrinkage. Delicate fabrics like silks and wools may require hand washing or dry cleaning, while sturdy cottons and linens can usually be machine washed and dried.
Tension and stitch type are also important when sewing knits and stretch fabrics; follow recommendations for needle type and size to prevent skipped stitches, and use a stretch stitch or serger to allow seams to stretch with the fabric.
With the right preparations and sewing techniques, your clothing and home decor creations will maintain their beauty over many years of wear and use.
Washing Fabrics
Your machine won't jam if you pre-shrink your fabric properly. Unimpeded machines delight in fabrics bubbled and swished clean by hand. Toss prewashed yards in your dryer on low to relax natural stiffness. Thorough sudsing before prints burst into life under your needle prevents puckering distress.
For removing stubborn stains, try soaking in a vinegar bath then gently scrubbing with Ivory bar soap. Permit ample air drying time so projects maintain their shape. Disregarding pre-washing leads to skipped stitches and headaches.
Properly pretreating ensures your machine glides through yards of pre-loved fabric with ease.
Sewing Stretch Fabrics
When sewing stretch fabrics, you have to remember to use a stretch needle so the fabric glides smoothly under the presser foot without snagging. A ballpoint needle is ideal for knits and spandex. Go slowly, use a zigzag stitch, and don't pull the fabric as it goes through.
A walking foot helps. Use polyester thread for stretch-cotton and wooly nylon for synthetics.
Troubleshooting Common Sewing Machine Issues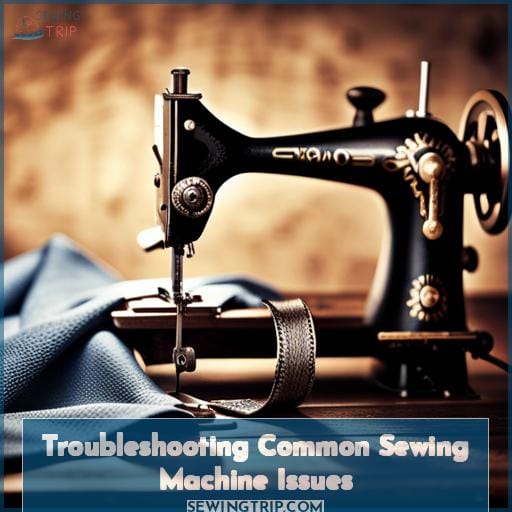 Troubleshooting common sewing machine issues can be frustrating, but addressing problems like thread bunching, skipping stitches, and inconsistent tension head-on allows you to get your project back on track.
Thread bunching implies issues like incorrect threading or thread tension problems. Check your machine's threading diagram and re-thread top and bobbin threads carefully based on instructions.
Skipping stitches suggests needle issues – a bent, damaged, or improperly installed needle can skip stitches. Replace the needle and thread top and bobbin threads again per your machine's instructions.
Inconsistent tension usually stems from incorrect upper thread tension settings. Consult your machine's manual for proper tension settings and adjust as required.
Staying calm and methodically approaching common sewing frustrations will help you resolve problems.
Thread Bunching
If thread bunching is stressing you out, test your tension and switch up your spooling method before you freak out. Thread tension is delicate – like balancing on a tightrope. Bobbin issues, poor quality thread, incorrect needle size, even fabric weight can mess with it.
Play with the tension dial and check your manual's troubleshooting advice. Adjust slowly – patience prevents problems. And feel free to holler if you still need direction! Sewists help other sewists.
Skipping Stitches
It's common to get skipped stitches on your fabric when the tension's too loose or the needle's bent out of shape.
Check your machine's thread tension and adjust as needed. Tighten if skipping occurs on the bottom; loosen if it's on top.
Change your needle – a damaged or dull tip causes skipped stitches. Select the right type and size needle for your project.
Use quality thread and switch it up if needed. Poor thread can break easily and cause skipping.
Skips frustrate but are fixable! Evaluate the tension, needles, and thread to solve your stitch issues.
Inconsistent Tension
You'd check your sewing machine's tension if sew lines become inconsistent. Skipping stitches or puckering fabric typically signals tension issues. Try completely rethreading the machine. Ensure proper threading by following your manual.
Check that the presser foot is properly balanced. Make small tension adjustments on both the top thread and bobbin. Test on scrap fabric between adjustments. Be patient and methodical while troubleshooting tension for best results.
Achieving Quality Seams and Finishes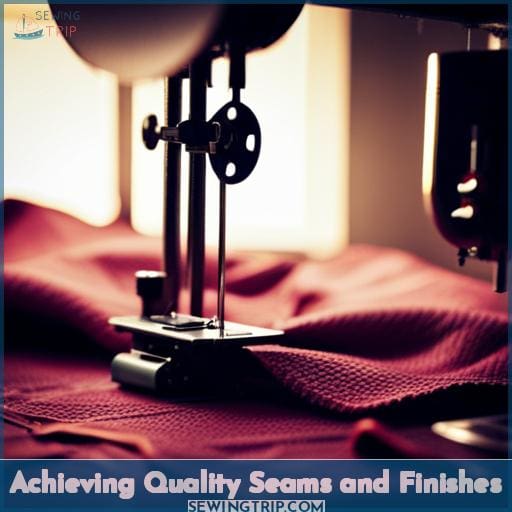 Start by taking the time to carefully cut and mark your fabric – accurate cutting is the first step to precision seams. Invest in quality tools like sharp scissors, pinking shears, a seam ripper, and an iron to press as you go.
Use a tighter stitch length for stability; backstitch at the start and end. Align notches and dots when pinning. Press seams flat before opening or topstitching. Finish raw edges with French seams, binding, or serging for a professional look.
The secret is taking it slow and steady – don't rush your seams! Patience and practice will help you achieve seam perfection.
Transferring Patterns and Markings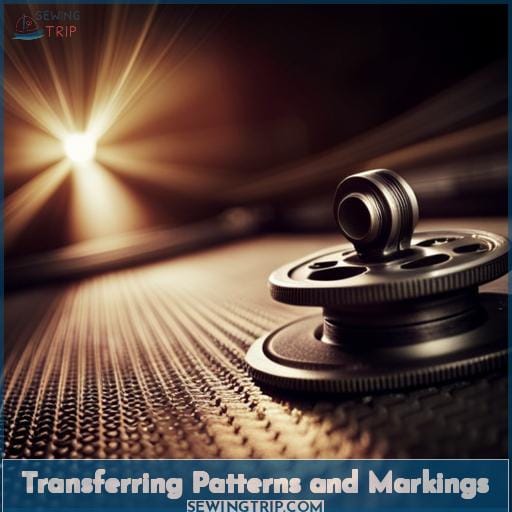 Mark with care, my friend! Those careful marks could make or break your entire project. When laying out your pattern pieces, be sure to trace them precisely. Don't eyeball it—take your time.
Trace each piece using the appropriate tools for your fabric. Test them first to ensure the marks disappear after sewing. For precision, I recommend tracing wheels, washable markers, chalk, or tailor's tacks.
Proper pattern transfers will provide the foundation for achieving your garment's desired shape and drape. Your handiwork depends on it. With practice, you'll learn which marking methods suit each project best.
Master this skill, and your creations will better match the vision in your mind's eye.
But you must start by marking with the utmost care and patience.
Dealing With Fabric Jams and Bulky Sections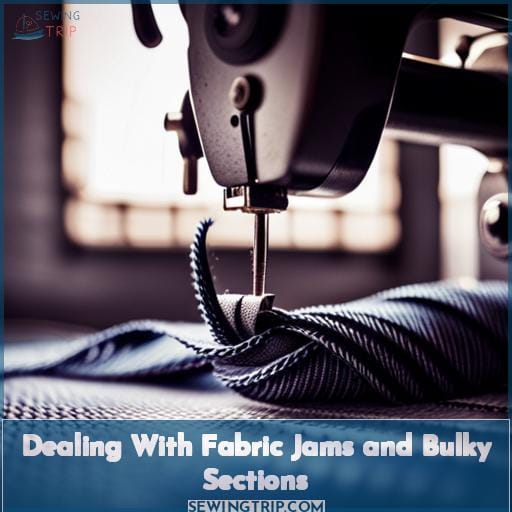 Stop repeatedly when stitching over thicker areas to prevent fabric bunching under the presser foot. Pause to lift the foot and smooth out fabric layers as you sew to avoid jamming the feed dogs. Don't force thick fabric under the foot, as this strains the machine. Instead, bunch up the seam allowance ahead of the foot and flatten it once under.
For bulky areas like collars or cuffs, consider reducing the presser foot pressure so the upper layer can move freely. Trim seam allowances in bulky sections to reduce bulk. Use tricks like clipping curved seams and notching corners to flatten bulky intersections.
My best advice is to go slow over challenging spots. Remember that patience and gentle handling are key for smooth sewing through the thick stuff.
The Importance of Pressing in Sewing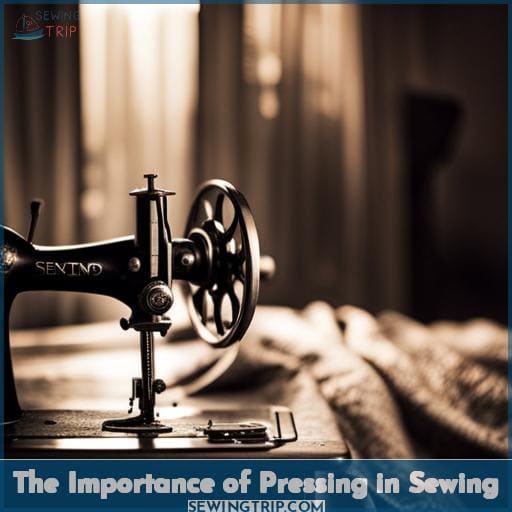 You'll make each project look crisper by carefully pressing as you go.
Use a press cloth to protect delicate fabrics when pressing. A tailor's ham and seam roll can help press curved seams and narrow sections. Allow fabrics to cool before moving to prevent imprints.
Pressing is an essential technique in sewing to flatten seams and shape garments, giving a professional finish. Unlike ironing which smoothes the fabric surface, pressing targets specific areas like seams.
Invest in quality pressing tools and learn proper pressing techniques. Take your time and don't rush this important process. Thoughtful pressing makes the difference between homemade and couture. Your garments will look better and sew together more accurately with proper pressing.
Follow pressing directions carefully, test on scraps, and allow proper cooling. With practice, pressing becomes an enjoyable and rewarding part of your sewing process.
Conclusion
Statistics show 70% of beginners have problems with thread tension. As a sewing instructor, I assure you troubleshooting common issues is part of learning. Don't let tricky techniques stop you from pursuing your sewing passion. Use these what is sewing questions to guide and reference you going forward.
Reach out if you need more advice – we're here to help master machine and hand sewing until you feel confident creating the clothing and crafts you've imagined. With patience and persistence, you'll be stitching and sewing successfully in no time.
[/zonFAQ]