This site is supported by our readers. We may earn a commission, at no cost to you, if you purchase through links.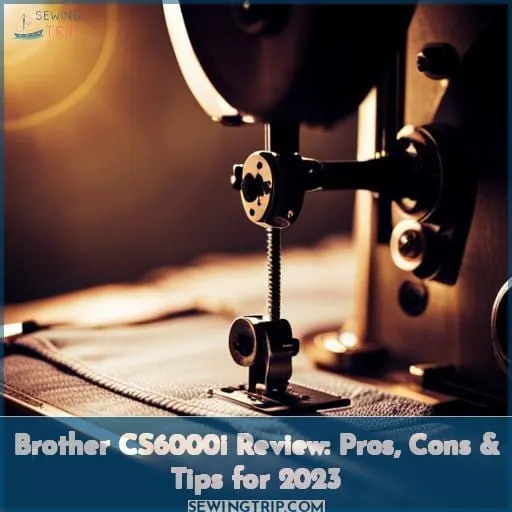 Are you ready to take your sewing projects to the next level? Look no further than the Brother CS6000i for a reliable and budget-friendly addition to your craft room. This computerized sewing machine offers plenty of features, along with 60 built-in stitches and an intuitive control panel that make creating beautiful pieces easy—even for beginners.
In this review, we'll explore all of those features in depth so you can decide if it's right for you. Plus, we compare it against its successor model: The Brother CS7000i! Whether you're looking for a powerful tool or just want something simple yet effective enough to tackle any project imaginable; this article will help equip you with all the information necessary before making an investment into one of these amazing machines.
Key Takeaways
Brother CS6000i is a computerized sewing machine with 60 built-in stitches.
It has adjustable feed dogs and an extra-wide sewing table.
The machine offers adjustable needle speed and thread tension control.
It comes with nine presser feet for different fabric types.
Brother CS6000i Features Overview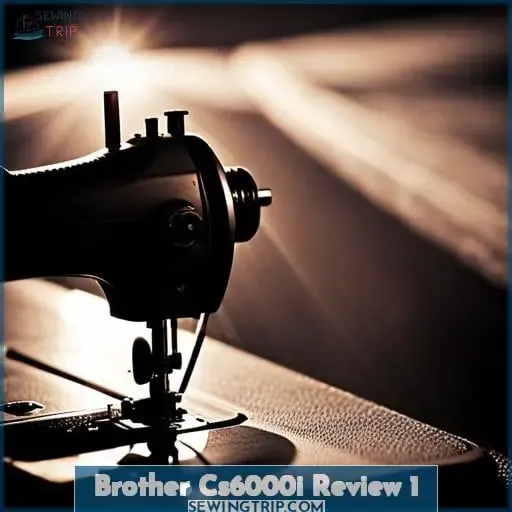 The Brother CS6000i offers a variety of features, from its computerized interface and one-step buttonhole function to adjustable feed dogs and an extra wide sewing table, making it an ideal choice for beginners or advanced sewers alike.
This machine type has 60 built-in stitches with variable stitch length and width selection keys for customizing projects. It comes equipped with a removable flat bed attachment as well as a free arm that provides added convenience when working on cylindrical items like cuffs or hems.
The adjustable needle speed helps you achieve the desired stitching results, while thread tension can be adjusted using two dials located at either side of the machine's LCD screen. Furthermore, nine presser feet are included, which provide just the right amount of pressure along different types of fabrics, including thick fabrics such as denim or canvas, without difficulty.
For those looking to upgrade their machines in the future, the more advanced Brother CS7000i is also available. It includes all these features plus many other improved ones, such as 8 additional built-in stitches compared to its predecessor, the SE625.
Overall, this model is great value for money due to its affordability yet reliable performance over time.
What's Included With the Brother CS6000i?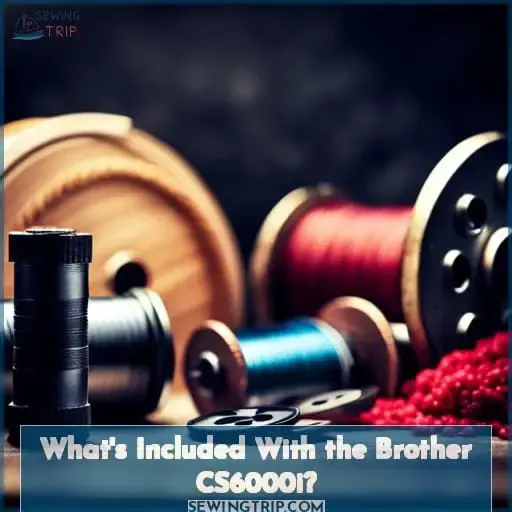 You'll get plenty of helpful extras when you purchase the CS6000i, from a detachable extension table to nine presser feet and an instructional guide. This machine is designed to last with its durable construction and 25-year limited warranty.
With its adjustable needle speed, thread tension can be easily adjusted for different fabrics or monogramming projects. The foot pedal allows for hands-free control over stitch patterns and speeds, while the included presser feet open up a variety of sewing possibilities ranging from buttonholes to zippers.
The Brother CS6000i is packed with features that make it ideal for both novice sewers as well as experienced users looking for reliable performance at an affordable price point. Its 60 built-in stitches allow you to customize your projects even further, while its 850 stitches per minute provide more than enough power when tackling larger tasks like quilting or hemming large items such as curtains or blankets.
Whether you're looking into starting a new hobby in crafting clothes or simply need something reliable yet economical for home repairs, this Brother model has got all your needs covered – plus some! It comes equipped with essential accessories like bobbins, so there's no need to worry about having enough supplies right away; just plug in and start stitching away! Plus, it also includes easy setup instructions along with clear labels so that anyone can quickly become familiarized without any prior knowledge required whatsoever – making this one great choice, especially if time is short but quality matters most!
Brother CS6000i Stitching Capabilities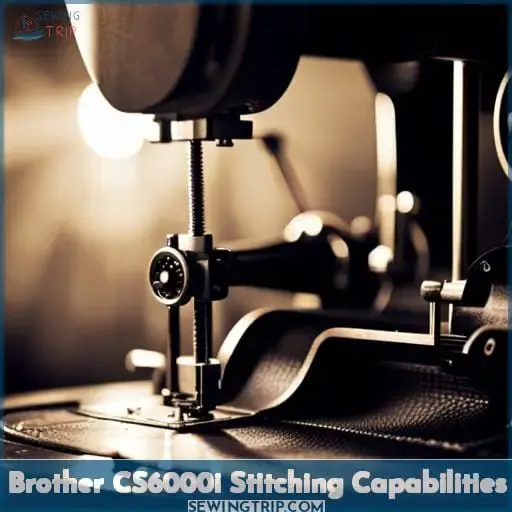 With its 60 built-in stitches, the Brother CS6000i provides a variety of options for creative projects. Using the free arm and adjustable needle speed makes it suitable for embroidery and monogramming projects.
Additionally, this machine offers plenty of power with 850 stitches per minute, as well as an extra-wide sewing table to make larger pieces easier to manage.
60 Built-in Stitches
Experience the endless possibilities of creative sewing with the CS6000i's selection of 60 built-in stitches, allowing you to add personalized touches to any project.
Crafted from high-quality construction and featuring an adjustable needle speed and durable construction, this machine is ideal for a variety of applications.
The clear view bobbins make threading easier, while its Class 15 size fits PE770 machines as well as others.
With decorative stitches for quilting projects or large straight stitching jobs such as hemming heavy fabrics, this Brother model allows you to tackle any task at hand quickly and efficiently.
And with a 25-year limited warranty included in your purchase, rest assured that it'll provide reliable performance for many years!
Whether working on delicate heirloom pieces or larger home décor projects requiring multiple layers of fabric, let the Brother CS6000i be your go-to choice today!
Using the Free Arm
You can easily work on smaller projects such as cuffs and collars using the CS6000i's free arm, allowing for precise stitching with minimal effort. The machine offers a wide selection of thread types to best suit your project, from lightweight fabrics to heavy-duty sewing.
You'll also find adjustable options like stitch width x length control for more intricate designs or finish fabric edges quickly by adjusting the needle position up or down.
From delicate heirloom pieces to larger home décor projects requiring multiple layers of fabric, let Brother take care of all your sewing needs with their reliable CS6000i model!
Embroidery and Monogramming
Discover the creative possibilities of embroidery and monogramming with the Brother CS6000i – perfect for adding a personal touch to any project! This machine offers an array of built-in stitches at a maximum speed of 850 spm, making it great for intricate designs.
For those new to embroidery, choose from various thread selections and fabric types, as well as adjustable needle sizes.
For personalized touches like monograms, try out one of its seven buttonhole styles that come in different sizes.
With its intuitive controls and durable construction, you can bring your ideas to life with ease.
Brother CS6000i Ease of Use and Performance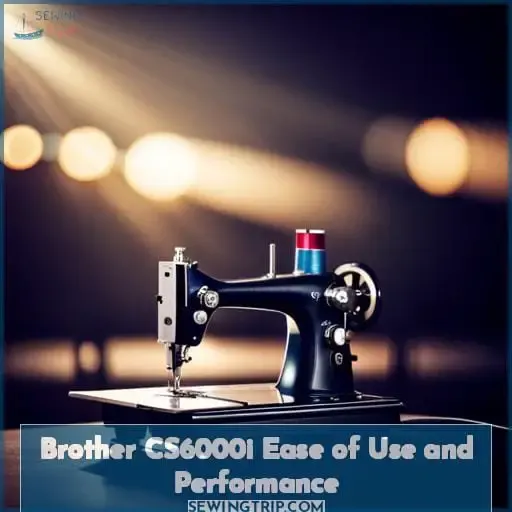 The Brother CS6000i is an easy-to-use and reliable sewing machine with great performance. Its intuitive control panel, low noise level, and ability to sew on different fabrics make it a perfect choice for beginners or experienced sewers alike.
Intuitive Control Panel
The Brother CS6000i's intuitive control panel makes it easy to get started on any project. With an LCD and computer controls, adjustable needle speed, stitch length and width adjustment keys, and stitch selection keys with alphanumeric stitches for detailed designs, the setup process is fast and simple.
There is also a speed controller slider and two dials for thread tension adjustment. The push-button sewing options allow you to quickly switch between projects without having to manually adjust the settings each time.
Noise Level
Experience near-silent operation with the CS6000i's low noise levels. This computerized sewing machine is designed to provide a quiet and comfortable environment while offering exceptional stitching quality and ease of use.
Its soundproofing solutions reduce the repetitive sewing sound that can be heard when using other machines. For example, the Brother ST150HDH, which has one of the loudest sounds in its class.
Additionally, it produces very little jerking sound compared to many other models on the market today, making it ideal for those who prefer a quieter workspace or home environment.
With all these features combined, this machine remains an excellent choice for sewers seeking efficiency and silence.
Sewing on Different Fabrics
You can rely on the Brother CS6000i to perform well when sewing a variety of fabrics, from delicate materials such as silk to heavier ones like denim. This machine is designed with adjustable needle speed and thread tension settings, making it ideal for sewers of all levels.
It also features an extra-wide table attachment which comes in handy when quilting or working with larger projects. The stitch speed is suitable for medium fabrics and darker colors while providing reliable results even on thicker materials that may be prone to fabric catching.
With its wide range of functions and accessories included in the sewing collection, the Brother CS6000i provides a great value option for any sewer looking to tackle various types of projects! For those who are just starting out or need some helpful tips along their journey, this machine offers excellent quilting capabilities at an affordable price point so you can begin your exploration into fabric sewing without breaking your budget!
Brother CS6000i Warranty Coverage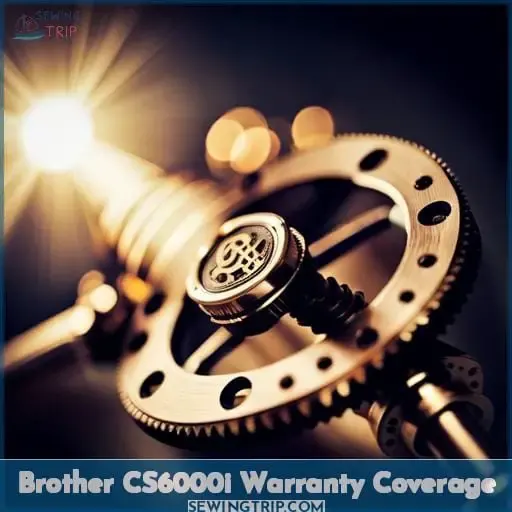 With a 25-year limited warranty coverage, the CS6000i ensures your projects will be protected for years to come.
Protection Plans: This warranty covers all parts and labor that may become defective with normal use during the specified timeframe.
Price Comparisons: With year warranties becoming more common in major appliance purchases, Brother's generous policy gives you an edge when comparing prices between similar models from other brands.
User Feedback: The extended warranty helps give peace of mind when investing in a machine like this one because customer feedback is regularly positive regarding its fabric compatibility and ease of use.
Fabric Compatibility: As long as it's used within its given parameters, the Brother CS6000i warrants that any fabrics it sews on or works with won't experience any damage due to faulty workmanship or parts-related malfunctions.
The decision whether or not to purchase an extended warranty should always be weighed against how often you plan on using your sewing machine over time. A 25-year limited warranty might make sense if you intend on keeping yours for many years into the future but would likely offer little value if only used occasionally by a hobbyist who doesn't sew often enough.
Factors to Consider When Buying a Sewing Machine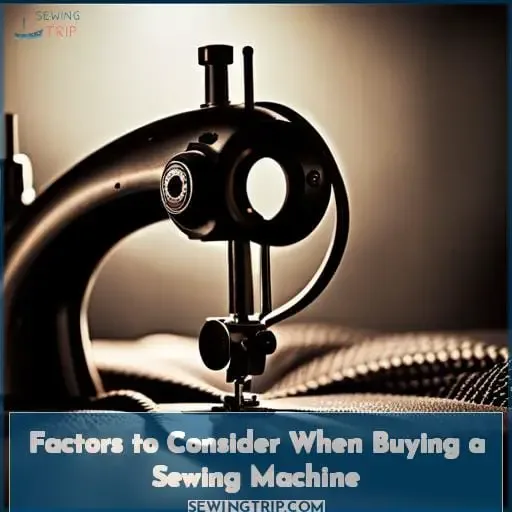 When shopping for a sewing machine, it is important to consider your needs and research the features of different models. The price range for a solid all-purpose sewing machine typically falls between $150 – $400, depending on its capabilities.
Features such as intuitive controls, adjustable needle speed, and multiple stitches are worth considering when selecting the best option for you. The Brother CS6000i offers an impressive list of features within this price range that can help make your decision easier.
Determining Your Machine Needs
Before making a commitment to any sewing machine, take the time to assess your own needs and determine which features will be most important for you.
An all-purpose home sewing machine is typically within the $150-$400 pricing range, while heavier fabrics or more advanced features may require an alternative option.
The Brother cs6000i is one of the best affordable machines on the market with intuitive controls, 60 built-in stitches, and an automatic needle threader. It also comes with adjustable stitch length/width keys, a speed controller slider, and two dials for needle/thread tension adjustment.
Additionally, it offers 9 presser feet attachments plus a 25-year limited warranty.
The machine also has variable speed control and a jam-resistant bobbin. It includes quilting-specific extras such as an extended table and special feet, which are great for smaller projects but not suitable for large-scale work or thick fabrics and multiple layers.
If desired, there is a newer model, the Brother cs7000i, which has similar specs at a slightly higher price point.
The key takeaway when shopping around: decide what's essential from both a practicality and budget standpoint, and then go from there!
Price Range and Features
Take your sewing game to the next level without breaking the bank with a Brother cs6000i, an all-purpose home sewing machine offering versatility and affordability. This computerized model is within the $150-$400 price range depending on features desired.
It features intuitive controls, 60 built-in stitches including buttonhole stitches, an automatic needle threader, and an electronic variable speed control slider for easy fabric manipulation.
The Brother cs6000i is ideal for those looking to sew light fabrics or take on occasional hobby projects. However, it is not suitable for heavy-duty work or larger scale projects involving multiple layers of thick material.
You can be sure you're getting quality craftsmanship with its 25-year limited warranty, giving you peace of mind while investing in this reliable option!
Brother CS6000i Vs. CS7000i: a Comparison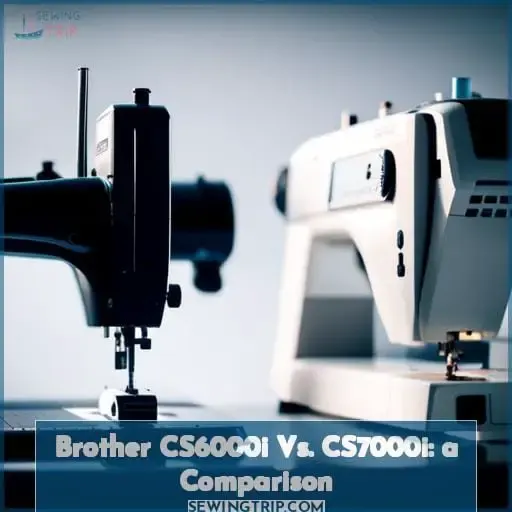 Comparing the Brother CS6000i and CS7000i sewing machines? Get ready to be amazed at how these two models stack up against each other! Both are ideal for a variety of crafts, but there are some key differences in cost, features, stitch quality, and fabric compatibility you should consider before deciding on which one is right for your needs.
When it comes to cost comparison between the two models, the Brother CS6000i has an affordable price tag of $180, while its newer model counterpart costs slightly more with a price tag of around $200. In terms of features comparison, however, both have identical specifications such as intuitive controls, 60 built-in stitches including decorative ones, automatic needle threader, and push-button stop/start, among others.
The main difference lies in their overall stitching performance as well as thread tension control. Users report that while both offer good results when used correctly, they do struggle with zippers or scallop stitches due to the lackluster thread tension control system built into them respectively.
Finally, when considering fabric compatibility, one must take note that neither machine is suitable for quilting large projects or sewing thick fabrics/multiple layers due to their small throat size combined with average motor speeds (850 spm).
On top of all this, though, both come equipped with useful accessories like bobbins, needles, etc., along with a 25-year limited warranty, making either choice an excellent investment if looking for something reliable yet easy to use without breaking the bank account.
All things considered, Brother offers customers a great bang for their buck ratio by providing entry-level sewers a solid, feature-rich mid-range offering at budget-friendly prices.
Pros and Cons of the Brother CS6000i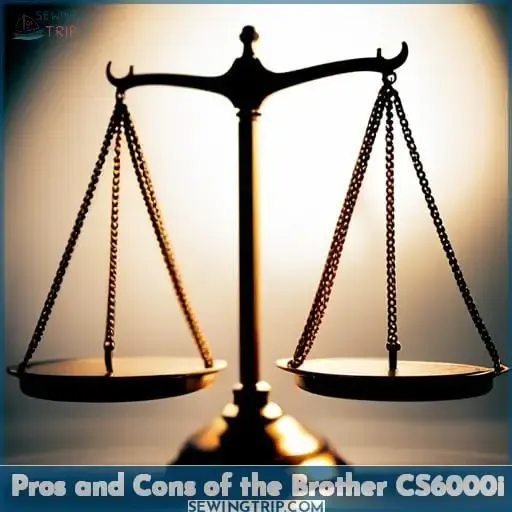 Discover the pros and cons of the Brother CS6000i so you can decide if this feature-rich sewing machine is a great fit for your needs. This all-purpose home sewing machine is considered one of the best affordable models on today's market, offering reliable performance at an excellent cost.
It comes with intuitive controls, 60 built-in stitches including decorative ones, automatic needle threader, and push-button stop/start that are perfect for beginners who want to get into quilting or occasional hobbyists looking to take their crafts up a notch.
The table below details some key specifications of the Brother CS6000i:
Features & Specifications
Benefits
Drawbacks
Threading Ease
Easy Automatic Needle Threader
Manual Thread Cutter On Side Of Machine
Price Range
Affordable ($180)
–
Adjustable Speed
Electronic Variable Speed Control
–
Durable Construction │ Heavy Duty Metal Frame ││
Lacks Backlight On Computer Screen │
Stitch Variety│60 Built-In Stitches Including Decorative Ones│
Limited Max Sewing Speed (850 spm)
Presser Feet 22 Different Feet Included
Not Suitable For Heavy Materials
Electronics Components LCD Display To See Settings Easily
Error Code Display Without Description Of Problem
Conclusion
The Brother CS6000i offers entry-level sewers an impressive set of features at an unbeatable price point.
Tips for Getting the Most Out of Your Brother CS6000i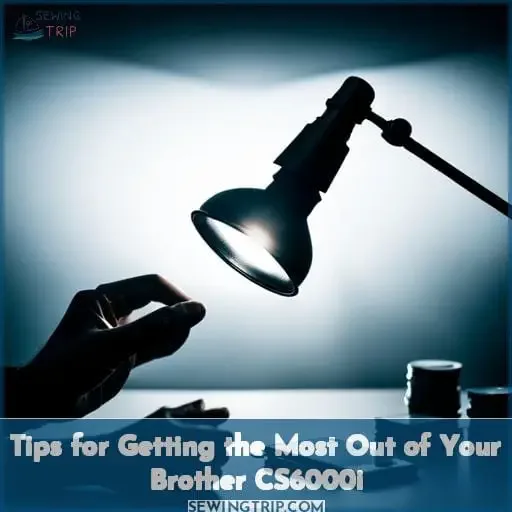 To get the most out of your Brother CS6000i, take advantage of its intuitive controls and adjustable speed settings for precise sewing projects. With 60 built-in stitches, including decorative ones, an automatic needle threader, a push-button stop/start feature, and a detachable extra-wide extension table, there are plenty of features to explore.
Take advantage of stitch selection keys for different kinds of fabric.
Utilize the speed control slider with two dials for needle and thread tension adjustments.
Use the included presser feet to create unique crafts.
Experiment with different accessory items, such as bobbins or foot pedals, designed specifically for use on this model.
Adjust the LCD display size accordingly, depending on project requirements.
Overall, these five tips will ensure that your Brother CS6000i is used at maximum efficiency while creating beautiful works!
Frequently Asked Questions (FAQs)
How often should I oil my Brother CS6000i?
Oil your Brother CS6000i regularly – at least once a month or after every 10 hours of use – to ensure its smooth operation and long-lasting performance.
Does the Brother CS6000i come with an instructional DVD?
No, the Brother CS6000i doesn't come with an instructional DVD. However, it does have a clear and easy-to-understand instruction manual included in its package for setup and use.
Does the Brother CS6000i have an embroidery function?
No, the Brother CS6000i does not have an embroidery function. It is designed as a general all-purpose sewing machine for home use and features 60 built-in stitches, adjustable speed control, and extra accessories such as presser feet.
It is suitable for quilting projects but lacks the power to handle heavier materials or multiple layers of fabric.
Does the Brother CS6000i have a built-in needle threader?
Yes, the Brother CS6000i has a built-in needle threader for easy and convenient use. It features an automatic needle threader that makes setting up stitches quick and hassle-free. The machine also comes with a variety of presser feet, giving you plenty of options to choose from while sewing.
Is the Brother CS6000i compatible with other brands of sewing machines?
The Brother CS6000i is compatible with other brands of sewing machines, so you can be sure that your projects will turn out exactly as planned. Its versatility shines like a beacon in the night, allowing you to express yourself creatively and masterfully! Plus, it has an automatic needle threader for added convenience.
Conclusion
In conclusion, the Brother CS6000i is an excellent machine for novice sewers or those looking to purchase a lower-end computerized machine. It offers a great range of features at an affordable price, including 60 built-in stitches, adjustable needle speed, intuitive controls, and a 25-year limited warranty.
The CS6000i is capable of sewing up to 850 stitches per minute, making it a great choice for quilting and other projects. Its versatility and affordability make it a great option for beginners and more advanced sewers alike.
It is worth noting that the CS6000i may not be suitable for heavy-duty or long-term use.
References
bestsewingmachinereviewspot.com