This site is supported by our readers. We may earn a commission, at no cost to you, if you purchase through links.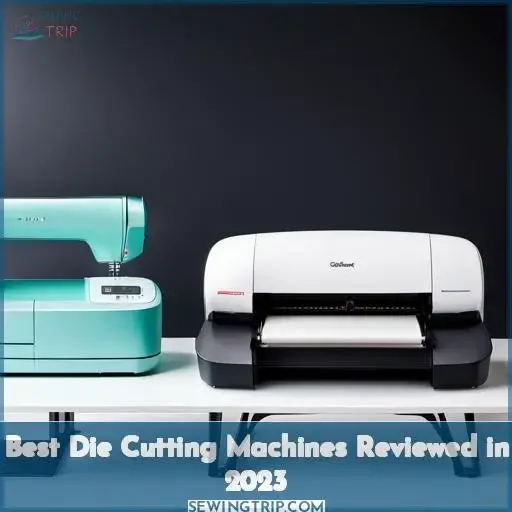 You're searching for the perfect die cutting machine to unlock your creativity. We've got you covered with this comprehensive 2023 guide featuring the top machines on the market. As printing experts testing the latest models, we cut through the noise to spotlight options delivering precision, versatility, and value.
From Cricuts to Sizzix, these cutting-edge tools empower you to effortlessly craft cards, decals, leatherwork, and more with professional results. Our in-depth analysis of features, capabilities, and price points equips you to find your creative match.
With a quality die cutter at your fingertips, you'll gain the power to turn imagination into reality.
The Cricut Explore Air 2 leads the pack for all-around performance—ready to be your craft room's new MVP.
Key Takeaways
Types of die cutting machines: manual, electronic, computerized
Features to consider: cutting width, punching ability, platform stability, blade durability, auto material sensing
Benefits of die cutting machines: precision, customization, time savings, open creative possibilities
Purchase considerations: read reviews, test workflow, measure space, bundle with specialty dies
Top 10 Best Die Cutting Machines Reviewed
Die-cutting machines are versatile craft tools for making personalized projects. The top options include electronic cutters like the feature-packed Cricut Explore Air 2, the precise Silhouette Portrait 3, Brother's ScanNCut with a built-in scanner, as well as manual models such as Sizzix's Big Shot, AccuQuilt's fabric cutter, and the robust Spellbinders Platinum.
Cricut Explore Air 2 Cutting Machine Crafts Cards Decor Bluetooth Connectivity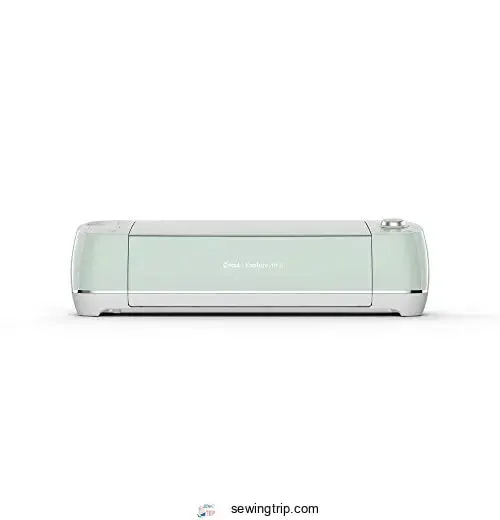 View On Amazon
With your Cricut Explore Air 2, you'll easily cut precise shapes for crafts, cards, and decor with its versatile wireless design. This user-friendly electronic cutting machine empowers your creativity through its intuitive software, range of compatible materials, and precision cutting capabilities.
The wireless Bluetooth connectivity and free Cricut Access trial make getting started smooth and simple. Experience the creative freedom of efficiently cutting over 100 different materials right from your desktop or mobile device.
Let your imagination run wild and watch your DIY projects come to life with professional-looking results.
The Cricut Explore Air 2 unlocks a world of creative possibilities for crafters of all skill levels.
Wireless connectivity for use anywhere
Compatible with 100 materials
Intuitive design software
Built-in storage for tools
High precision cutting
Blades can dull quickly with frequent use
Materials like mats need frequent replacing
Software has a learning curve for beginners
Silhouette Portrait 3 Electronic Cutting Tool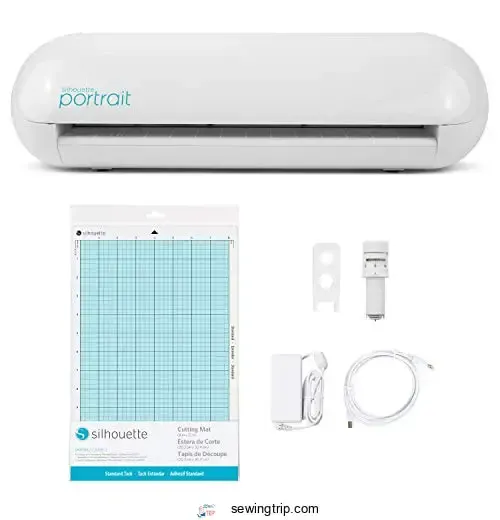 View On Amazon
Check out the Silhouette Portrait 3 if you're lookin' to start craftin' at home. This lightweight, electric cuttin' machine lets you make custom vinyl decals, greeting cards, and more using the intuitive software.
It cuts various materials up to 8 inches wide with 210 grams of force for clean cuts.
The print and cut feature is real handy for turnin' your custom designs into projects with precision. While not made for heavy production, it delivers accurate results for hobby crafters on a budget.
Precise cutting ability
Portable and lightweight
Intuitive software with built-in designs
Affordable price point
Standard mat has issues with lightweight paper
Bluetooth connectivity problems
Not ideal for heavy production work
Sizzix Big Shot Die Cutting Machine 15 Inch Opening White Gray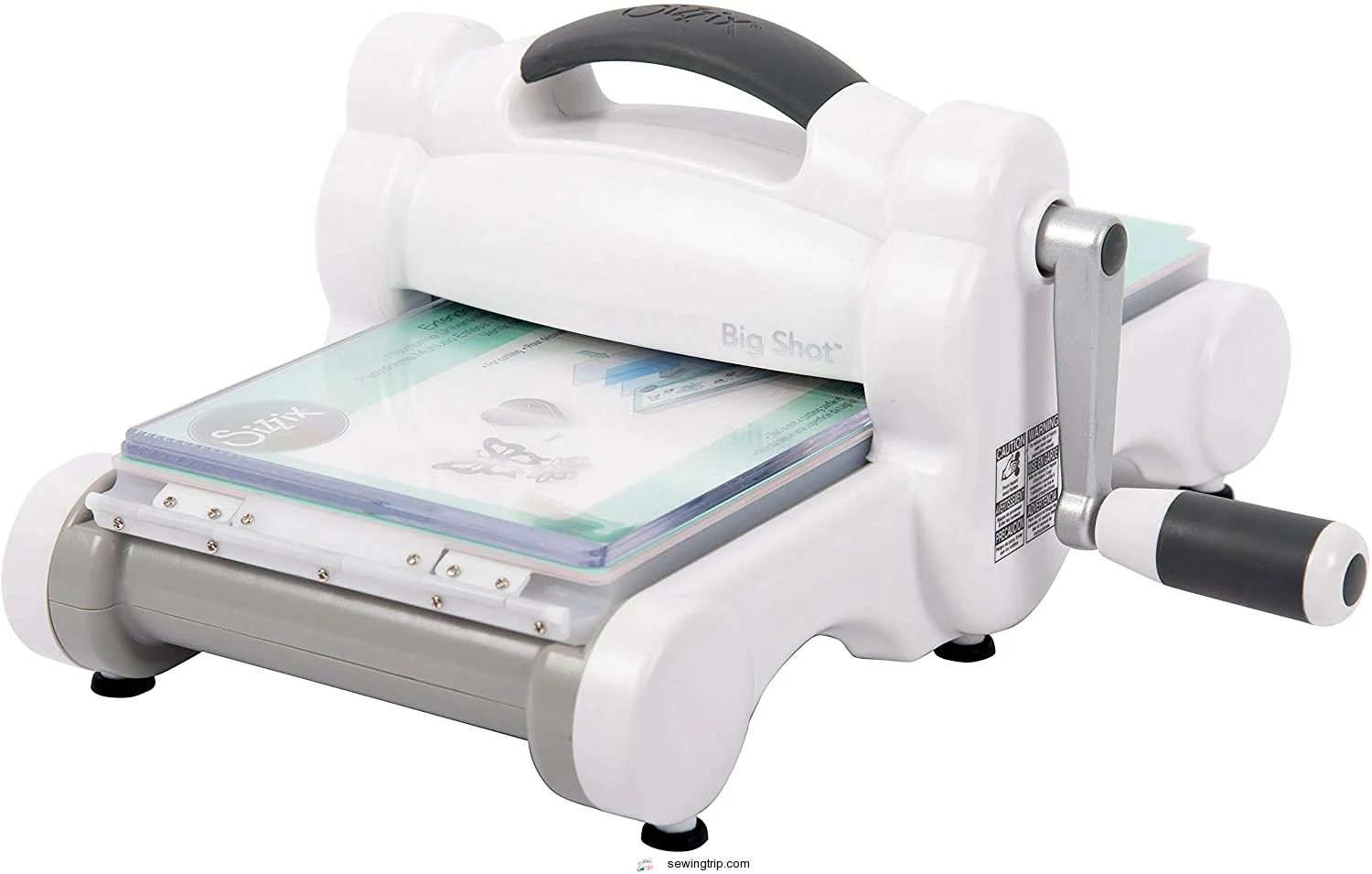 View On Amazon
You'll love crankin' the Sizzix Big Shot for cuttin' fabric shapes and makin' cards with ease. This manual die-cutting machine offers an affordable way to achieve precise cuts and embosses on materials like paper, fabric, foam, and more.
While you'll have to provide the elbow grease, the hand-cranked steel rollers can slice through up to 6 layers in a single pass. With the addition of specialty platforms, you can expand its cutting width for taking on bigger projects.
Affordable price point
Compact size
Cuts a variety of materials
Manual cranking can be difficult
Limited width without added platforms
Dies not included
Accuquilt Go Big Electric Fabric Cutting System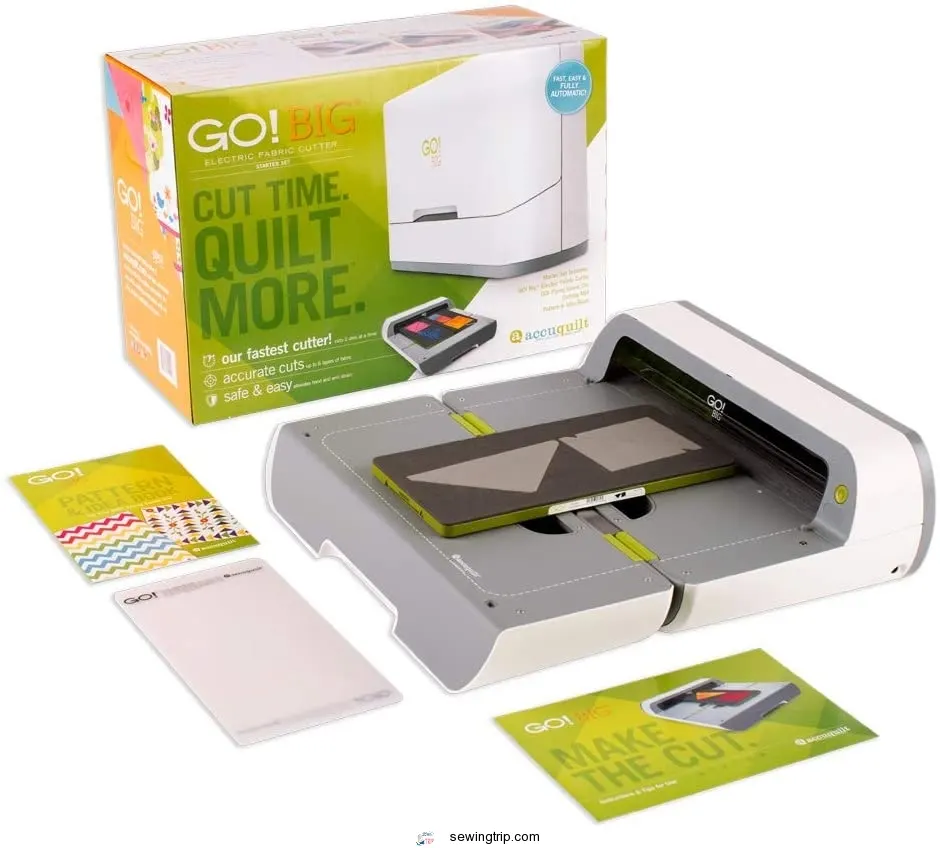 View On Amazon
This electric fabric cutter will save your hands and wrists by slicing through multiple layers with the simple push of a button. The large 14" wide cutting platform and ability to cut up to 6 layers of fabric at once provide significant time savings compared to traditional rotary cutting.
Operating the cutter is fast and easy – just push a button for clean, accurate cuts every time.
Quilters and avid sewists will appreciate how this tool protects hands and wrists from the strain of manual cutting.
Fast, easy, one-button operation
Cuts multiple layers quickly
Saves time over rotary cutting
Alleviates hand/wrist strain
Always makes precise cuts
Expensive, especially with add-on dies
Can be noisy when cutting
Some fabric waste from cutting around shapes
Large footprint, not as portable
Spellbinders Platinum Die Cutting Embossing Machine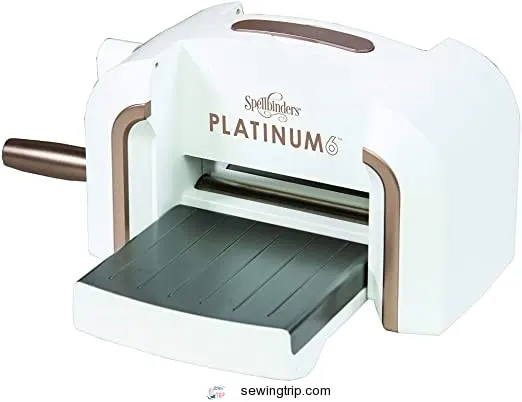 View On Amazon
The Spellbinders Platinum's robust cutting power and wide platform make it a terrific choice for avid cardmakers wanting precise, intricate cuts. With its versa cut technology, this manual machine can slice through multiple layers of materials from paper to vinyl with ease.
The sturdy steel construction provides stability, and its compact folded size takes up minimal space.
While the spinning handle risks hitting wrists, the Platinum's professional-grade performance excels at delivering flawless die cuts and embossed designs. This is an ideal machine for dedicated crafters seeking a high-quality, desktop die cutting and embossing tool.
Powerful cutting up to 8 layers
Wide 6 platform
Quality steel construction
Space-saving folded size
Works with dies up to 8.5 wide
Handle can hit wrist
Difficulty lifting
Some rattling noise issues
Takes effort for 3D embossing
Mini Die Cut Crafting Machine Combo
Despite its limitations, your budget-friendly mini die cutter offers portable convenience to promptly craft small personalized creations. The Bira Craft mini die cutting and embossing machine is a compact, portable tool for papercrafters.
Despite its small size, it can handle various thin metal dies and embossing folders up to 3 inches wide. The lightweight manual machine securely sticks to smooth surfaces using suction cups.
While reviews indicate issues with reliability and durability, the affordable price and customer service response help offset frustrations. The included starter kit provides essentials to begin die cutting and embossing cardstock.
Overall, this is a budget-friendly option for basic die cutting, best suited for small projects.
Compact, portable size
Affordable price point
Includes starter kit
Narrow 3 max width
Mixed reliability
Replacement plates expensive
Gemini Electric Die Cutting Embossing Machine Scrapbooking Card Making Crafting
View On Amazon
You're gonna love how fast 'n quiet this Gemini machine crafts intricate die cuts and embossed details in cardstock, vinyl, even fabric. The sleek, low-profile design houses serious cutting power to flawlessly cut and emboss using most thin metal dies and folders in a single pass.
With a spacious platform, handy reverse function, and quiet operation, it enables effortless precision and detail for cards, invitations, scrapbooks, and more. Whether you're a beginner or expert crafter, this versatile machine can handle the delicate to heavy-duty with ease.
Fast, quiet performance
Large platform size
Extra pressure for clean cuts
Useful reverse function
Sleek, compact design
Plates can warp over time
Not all dies work flawlessly
Learning curve with settings
Brother ScanNCut Electronic Cutting Machine With Scanner
View On Amazon
You'll express yourself through custom designs with this versatile cutting machine. The Brother ScanNCut SDX125E, released in 2020, allows hobbyists to scan and cut their own creations up to 3mm thick.
With its built-in scanner and design capabilities, you can make custom vinyl decals, papercrafts, fabric projects, and more. Reviews suggest it has excellent scanning and cutting ability compared to Cricut.
Overall, it's an ideal cutting machine for DIYers looking to personalize gifts and home decor with custom images and text.
Built-in scanner
Large selection of designs and fonts
Cuts various materials
Better scanning than Cricut
Easy to use
Mainly for thin materials
Possible issues with the blade
Limited fabric uses
Cricut Explore Air Machine Vinyl Transfer Tape
View On Amazon
Make custom vinyl stickers and home decor fast with the Cricut Explore Air bundle. You can upload your own images or choose from thousands of designs to easily cut vinyl decals, iron-on apparel, and more with this versatile cutting machine.
Personalize your space and gifts in minutes as you tap into your creative power and mastery.
The included 12 x 48 inch transfer tape lets you flawlessly apply vinyl designs of any size. Unlock unlimited DIY potential as you craft completely customized and professional-looking projects.
Cuts vinyl, paper, fabric, and more.
Includes transfer tape.
Access to design library.
Some users have reported software issues.
The machine can be loud when cutting.
Materials are sold separately.
Gemini Midi Manual Die Cutting Embossing Machine
View On Amazon
The Gemini Midi manual die cutter embosses like a champ for your cardstock crafts, so you can ditch those scissors and embrace next-level designs. This compact, lightweight machine delivers flawless cutting and embossing thanks to its powerful, even pressure system that ensures uniform die-cuts every time.
The included starter kit lets you get crafting right away with the plastic shim and cutting folder. Part of the beginner-friendly Gemini brand focused on fast, portable die-cutting, the Gemini Midi enables you to quickly create custom cards, scrapbook layouts, and other paper crafts.
Lightweight and compact for portability
Affordable price point for beginners
Even pressure for consistent die cuts
Smooth cutting plate operation
Starter kit included to get started
Smaller cutting width than premium models
Limited to thin materials like paper and cardstock
Manual cranking can be tiring for large projects
Dies and accessories sold separately
What Does a Die Cutting Machine Do?

Die cutting machines allow crafters to cut shapes and patterns out of materials like paper, vinyl, and fabric. There are manual models that use steel dies and plates as well as electronic cutters that are operated via software and can handle custom designs.
Common Features and Capabilities
Die cutting machines can quickly slice paper, vinyl, fabric, and other materials into intricate shapes and designs using digitally created files or compatible dies. Common features of these machines include platform size, maximum material thickness, built-in storage, cutting tools, wireless connectivity, and software.
Comparing brands for cutting width, punching ability, platform rigidity, blade durability, and depth are key. The quality and cost of compatible dies should also be weighed. More advanced models have sensors to detect blade depth and material automatically.
While basic machines handle paper and vinyl, some pricier models excel at cutting thicker materials like fabric and leather. Pick the die cutting machine aligned with your budget, space, and intended creative projects.
Types of Die Cutting Machines
You've got manual, electronic, and computerized options when choosing which die cutting machine suits your style. Manual die cutters are hand-cranked machines that slice materials using steel-rule dies.
They excel at making individual cards and scrapbook layouts with their intimate crafting process. Electronic die cutters require connecting to a computer loaded with design software. These powered machines open up customization and business potential with their versatility in cutting many materials.
Starter kits help optimize either machine type for your needs, offering specialty dies, mats, and blades to start crafting fast.
More Than a Die Cutting Machine

Beyond just cutting shapes, these versatile machines open up limitless creative possibilities for your crafting projects. Die cutting machines empower you to move beyond basic paper shapes and create intricate designs and patterns ideal for scrapbooks, cards, decor, fabric projects, and so much more.
Cut custom characters for party decor or decals, fashion your own greeting cards, upgrade fabric patterns with precision, personalize apparel by the yard. Digital electronic models unlock enhanced possibilities to scan and trace existing designs or upload photos and images to customize.
For crafters with a vision but not the steadiest of hands, these machines deliver flawless results every time.
Die cutting machines cut anything from delicate paper to balsa wood, vinyl, felt, foam sheets, leather, and more with accuracy.
TODO

Let's keep it crafty and create unique designs with this handy assistant. When selecting a die-cutting machine, portability and customization are key. Look for models that accommodate your preferred materials and project types. Read multiple customer reviews to gauge real-world performance.
Key factors to consider are the machine's size, weight, maximum material thickness, and types of dies compatible.
Leading brands like Sizzix Big Shot, Cricut Maker, and Silhouette Cameo cater to papercrafters with their versatility, precision cutting, and design software. More portable machines like Cricut Explore Air 2 are suitable for beginners crafting cards and scrapbooks.
Specialized cutters like the AccuQuilt fabric cutter boost efficiency on thicker materials.
With the right die-cutting machine, you can unlock your creativity and craft custom designs with ease.
Size

When considering size, note product dimensions to ensure the machine fits your workspace. Cricut Joy's compact size makes it ideal for cards, labels, and other small-scale projects.
Larger Cricut machines like the Maker have longer cutting lengths, up to 12 feet, expanding creative applications with vinyl and fabric yardage.
Mid-size electronic cutters like Silhouette Portrait or Cricut Explore strike a balance. Their approximately 12-inch cutting widths easily handle papercrafts and home decor projects with precision.
Carefully measure your workspace and envision the scale of envisioned projects when deciding size. Optimal usability comes from a machine that allows safe operation and material maneuverability.
What is an Embossing Machine?

Embossing adds dimension and texture to papercrafts, fabrics, and other materials. When choosing the best embossing machine, consider the platform size, pressure system, included accessories, ease of use, and types of materials you plan to emboss.
How Do I Choose the Best Embossing Machine?
You'll want to focus on the machine's embossing abilities and features when deciding the best fit for your crafting needs.
Consider the machine's maximum embossing area and depth. Larger platforms and deeper impressions allow for more detailed embossing.
Look for adjustable pressure controls. You'll want to fine-tune the pressure for crisp, clean embossing on various materials.
Seek models with multiple embossing plates. Interchangeable plates create different embossing effects like 3D, debossing, and metallic finishes.
Opt for machines with easy-to-turn crank handles or a comfortable grip. Embossing takes effort, so ergonomics help.
Choose machines that securely hold dies in place. This prevents shifting while cranking and ensures properly aligned impressions.
Quality embossing relies on the right amount of pressure and precision. Focus on machines that deliver bold, beautiful embossed designs project after project.
What's the Best Embossing Machine?
The versatile Gemini creates flawless cuts and embosses using its even pressure system. This manual machine allows crafters to achieve intricate designs when embossing specialty papers or cutting vinyl.
Its manual power suits detailed projects using cutting dies and embossing plates. Like the Crafter's Companion and Silhouette Portrait 3, the Gemini enables flawless results without electronic cutting.
What to Look for When Buying a Die Cut Machine

Buying a die-cut machine can greatly enhance your crafting capabilities and productivity, but the cost of the machine itself plus dies and accessories requires a significant upfront investment. Though manual die cutters are more budget-friendly, electronic cutters expand possibilities for custom designs, speed, precision cutting, and business potential that can offset the initial spend over time.
Pros of Buying a Die Cut Machine
Buying your own die-cut machine lets you customize projects on demand. Achieve professional-looking results from the convenience of home. Low-cost machines offer easy setup and a compact size to start crafting fast. Advanced options provide more versatility with digital convenience.
Access large databases of designs or upload your own to cut customized shapes in vinyl, paper, fabric, and more. Die-cutting machines put precise customization at your fingertips without breaking the bank.
Cons of Buying a Die Cut Machine
Spending money on a die-cut machine only to have its software hamper your creativity can feel like ordering an elegant meal and being served bland hospital food.
Large investment upfront for machine and dies
Quality concerns with cheaper models
Dies often sold separately, added costs
Manual cranking takes physical effort
Can generate excessive material waste
Think About What You Need

It's easy to get excited about all the options for die-cutting machines. However, before making your purchase, pause to really think about your specific needs. Consider the size of your projects and the materials you want to cut. A small, lightweight machine might struggle with thick materials.
Also, compare the available workspace to your most common project dimensions. Lastly, make sure you have adequate space to use and store your new machine comfortably. Prioritizing your practical needs first will ensure you select the right die cutter for your crafting.
Consider the Size of Your Projects
You'll want a machine that can handle the size of your craft projects.
Consider the size of each die-cutting project. How thin can the material be cut? Is an easy pressing force needed? Are there platform size options available? What is the cost per use ratio? These key factors impact your project sizes.
Fine point blades and kiss cuts allow for detailed designs. Roll feeders and large platforms are suitable for bigger quilting classes.
Know What You Need to Cut
Knowing the types of materials you want to cut helps match your needs to the right machine's capabilities. The thickness of materials and how often you'll use it affect decisions. If leather and wood are frequent, seek robust options with smart material sensors.
Faux leather and thinner materials have more flexibility. Rubber cutting pads help. Avoid overbuying if you'll rarely use thicker materials. Your project types and desired materials guide the ideal machine match.
Consider Your Space
Take into account your available space before choosing a die-cutting machine. Measure your craft room or workspace accurately to ensure the machine, materials, and storage will fit. Larger machines like the Sizzix Big Shot Pro or Crafter's Companion Gemini require more space than compact options.
Consider important factors like power access, venting, and work surface area. Choosing a machine suited for your existing space will maximize convenience and productivity.
Tips for Buying

When buying a die-cutting machine, first be sure to accurately measure your available space and carefully match the machine's capabilities and accessories to your intended crafting materials and projects.
Before making a purchase, read reviews from real users, test machine workflow, and consider bundling options to upgrade tools in order to find the best die-cutting system for you.
Measure Space Accurately
Measure your crafting space down to the inch before shopping to ensure the machine you pick can comfortably fit where you'll use it. Knowing the exact dimensions is crucial when selecting a new die cutter. First, carefully measure the available surfaces in the room.
Photograph your work area from all angles. Compare models using their height, width, and depth specs. Submit room photos to online communities and collect user feedback on machine recommendations for your space.
Share any storage and organization tips that maximize the area. Compact, portable machines with features like Bluetooth and fast mode are great options for limited space. If your main concern is outfitting an efficient craft room for die cutting and embossing projects as a quilter or papercrafter, prioritize must-have functions over machine size.
Note Size, Weight, Dimensions
You'll need to know the machine's size, weight, and dimensions for proper storage and handling.
Check product specs for exact measurements of length, width, and height in inches.
Note the weight in pounds for moving and transport.
Measure the area to see if it will fit on your workspace.
Consider if the shelves can support the weight without sagging.
Keep in mind that large machines may exceed typical tabletop use.
Getting the physical specs will inform how and where you can use your new die cutting machine practically. An oversized or heavy model may become frustrating over time, while an underpowered small machine can limit your creative options.
Selecting one that fits your space and strength will ensure it enhances rather than hinders your crafting goals.
Match Machine Capabilities to Intended Materials and Uses
When choosing a die-cutting machine, match its cutting abilities to the materials you plan to use. Some, like the Cricut Maker or Silhouette Cameo 4, handle more types of materials, while the Cricut Joy works better for paper crafts and labels.
Selecting a machine aligned with your crafting needs and interests ensures you can achieve the projects you envision.
Upgrade Existing Tools by Bundling Machines and Dies
By upgrading your current gear with bundled machines and dies, you'd give new life to your old faithful tools, like reuniting dear friends to embark on fresh adventures together. Supplementing your existing cutter with add-on dies provides more design options without sacrificing familiarity.
Starter bundles allow easy expansion into specialized materials or techniques without the setup fees and customization costs of standalone purchases.
Read Reviews, Especially 1- and 5-star
Reading real user experiences in 1- and 5-star reviews will give you invaluable insights about each machine's pros and cons before purchasing. Look out for common complaints like the need for frequent maintenance kits, internet connectivity issues, difficulty in replacing blades, challenges in upgrading software, and poor customer service responses.
Reading brutally honest reviews can reveal deal-breaking flaws or amazing features that may sway your purchasing decision when buying the best die cutting machine for your needs.
Test Machine Workflow With Preferred Materials and Projects Before Purchasing
Before spending your hard-earned money, try testing your intended materials on the dream machine. See how well it cuts and works with your favorite materials to determine if it's the perfect fit for you.
To assess the machine's cutting abilities, use sample materials such as your preferred cardstock and test them with different die designs. Additionally, evaluate the software's functions, project sharing capabilities, and overall workflow.
By conducting hands-on testing with your go-to supplies and projects before making a purchase, you can ensure that the machine meets your crafting needs.
Frequently Asked Questions (FAQs)
How long do die cutting machines last?
Are die cutting machines worth the investment?
Die cutting machines are certainly worth the investment for crafters. An old saying goes, the right tool for the job makes all the difference. With precision cutting and versatility across materials, these machines unlock new creative possibilities that manual tools cannot.
Their capabilities streamline workflow, saving time and expanding project potential. For devoted DIYers, the unlimited customization and business opportunities outweigh initial costs.
What are the safety precautions when using a die cutting machine?
Keep fingers away from the cutting area when operating. Use safety holders and guides. Maintain blades properly. Watch loose hair and clothing. Follow all machine directions. Unplug when not in use or changing parts. Supervise children. Don't force materials.
Ensure proper blade adjustment. Employ common sense and caution for safe operation.
Can I cut non-paper materials like wood or metal on a die cutting machine?
Most die cutting machines are designed for paper and cardstock. Using them for wood or metal risks damaging blades and machines. Consider a vinyl cutter for thin materials or sturdier tools like laser cutters for wood and metal work.
Do I need any special skills or training to operate a die cutting machine?
No, operating a die-cutting machine does not require special skills. These user-friendly tools are designed for crafters of all levels. Simply review the instruction manual and safety guidelines. With a basic understanding of the machine's features and functions, you'll be ready to start cutting and personalizing projects in no time.
Conclusion
When choosing the best die-cutting machine, it's crucial to step back and think carefully about your crafting needs and workflow. Take time upfront to precisely measure your workspace, consider intended materials and uses, read reviews, and even test potential machines with your projects before diving in.
While an investment, the right die-cutting machine can transform your crafting capabilities and open new creative possibilities. Focus on matching robust capabilities to your needs. With research and realistic self-assessment, you'll find the perfect die-cutting companion for taking your handmade creations to the next level.