This site is supported by our readers. We may earn a commission, at no cost to you, if you purchase through links.
Goodness gracious—another day, another quilt to craft! But before the fun can begin, you face that necessary evil: cutting the fabric.
We know your plight all too well. Tired hands, uneven edges, and wasted material plague your progress.
Set down those rickety scissors and hear our gospel: the best fabric cutting machine shall deliver you from the doldrums of manual slicing! Let us guide you to the ideal model for your needs.
From digital wizards to manual masters, we've compared the top brands and models by price, size, versatility and more. Discover which heavy-hitters like the Sizzix Big Shot or nimble newbies like the Cricut Maker 3 reign supreme.
Cut the chaos, boost efficiency, and level up your quilting game with the perfect fabric cutting machine!
Key Takeaways
Digital cutters allow more creative options with custom designs, but manual cutters are more affordable and portable.
The Cricut Maker is popular but has precision issues; the Silhouette Cameo offers better quality.
Look for pressure adjustment when cutting multiple layers of thick fabric.
Maintenance like cleaning and replacing blades keeps the machines operating properly.
Types of Fabric Cutting Machines

Fabric cutting machines come in two main types – manual and digital. Manual cutters use physical dies and pressure to cut shapes, while digital cutters utilize software and automated blades to create custom designs.
When choosing between manual vs. digital, consider your budget, cutting needs, and desire for versatility. Weigh options like the affordable manual Sizzix Big Shot or Cricut's advanced Maker 3 that cuts hundreds of materials.
Compare features like maximum cut width, accessories, ease of use, and types of materials handled. The right fabric cutter saves time and energy so your sewing creations can come to life.
Manual Cutters
You'll find manual fabric cutters like the Sizzix and AccuQuilt handy for starter quilting projects, allowing precise cuts without complex software. The simplicity of operating a lever to cut shapes offers portability and affordability over bulky electronic cutters.
However, manual models rely on physical force and limit creativity to available dies. Brands such as Sizzix Big Shot, AccuQuilt GO, and Cricut Cuttlebug provide an easy introduction to cutting fabric before upgrading to more advanced digital cutters with design software.
Digital Cutters
Digitally cutting customized fabric shapes lets your creativity soar like a bird flying freely through the open sky. Electronic cutting machines empower crafters with the versatility to upload any imaginable design.
Leading digital models include the Cricut Maker, Silhouette Cameo, Brother ScanNCut, and more. These advanced tools utilize software and automated blades to precisely cut fabric, paper, vinyl, and hundreds of other materials.
Key features of digital fabric cutters include:
Ability to create and upload custom SVG designs
Access to digital design libraries and fonts
Advanced scanning capabilities
Built-in storage for thousands of designs
Laser precision and cut settings for different materials
Digital fabric cutters expand possibilities beyond physical dies. Upload your own patterns or access creative assets to cut unique crafts and quilting projects.
Key Features to Consider

Price is one important factor. Compare different brands and models, evaluating the overall cost along with what's included to best fit your budget.
Consider size and portability. Look at dimensions and weight if being able to move the machine around easily is a priority for you.
Evaluate versatility and functionality. Determine what materials the cutter can handle and how many accessories are available for multi-purpose use.
With numerous options on the market, keep price, size, and versatility at the forefront as you select the ideal fabric cutter for your unique needs and craft room.
Price
Setting your budget beforehand narrows options to find items that fit your price range. Manual cutters like the Sizzix Big Shot run $50-150 for simplicity and portability. Midrange electronic cutters such as the Silhouette Cameo 4 offer more versatility for $150-300.
Top-of-the-line machines like the $400 Cricut Maker 3 provide the most features and customization.
| Model | Price | Key Features |
| --- | --- | --- |
| Sizzix Big Shot | $50-150 | Basic manual cutting |
| Silhouette Cameo 4 | $150-300 | Advanced digital cutting |
| Cricut Maker 3 | $400+ | Ultimate customization |
Size
Whether you craft on a kitchen table or need a studio setup, choose a fabric cutter based on the space you have. Manual machines like the Sizzix Big Shot are very portable at just 15.5 wide. Larger electronic cutters such as the Cricut Maker at 24 wide take up more room.
Compare the machine types and max widths in inches to your workspace. The Big Shot cuts 6 wide, the Cricut Maker up to 12 cuts.
Assess if a compact manual or full-size electronic model best fits where you'll be crafting. Select the ideal size to allow effortless fabric cutting in your available area.
Versatility
You'll treasure a fabric cutter with the versatility of a multi-tool, offering endless options to bring your visions to life. From leather to felt, vinyl to wood, select a machine able to handle your material needs.
Digital cutters like the Cricut Maker 3 master hundreds of fabrics and materials in a single compact machine. Its rotary blade powers through thick materials while the fine blade tackles delicate designs.
Versatile manual cutters such as the Big Shot Pro use interchangeable dies, customizable pressure and platforms to cut various supplies precisely. Carefully review material capabilities to find the perfect match for your crafting dreams.
Top Choices for Quilters
The AccuQuilt Ready Set GO bundle is a great option for beginners. This portable manual model comes equipped with included dies to get crafters started on their quilting projects.
For those seeking a versatile pick, consider the Sizzix Big Shot. This mid-range electronic cutting machine features sturdy steel construction to support quilting, crafting and home decor projects.
Quilters who want high-tech capabilities may opt for the Brother ScanNCut. This electronic fabric cutter has built-in scanning functionalities to maximize efficiency and enhance quilting work.
By weighing portable manual models against electronic cutting machines with larger capacities, quilters can evaluate options to determine the ideal fabric cutter for their experience level and project needs.
AccuQuilt Ready Set GO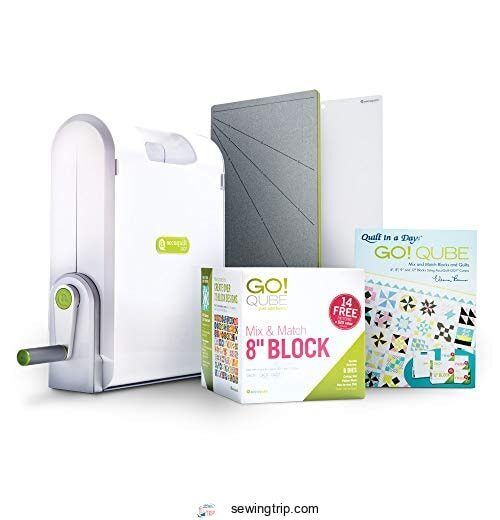 View On Amazon
You're all set to start quilting with the AccuQuilt Ready Set GO. This beginner fabric cutting system is the perfect starter kit for new quilters looking for an all-in-one solution to cut fabric shapes quickly and easily.
The set includes an ergonomic fabric cutter with interchangeable dies to cut a variety of shapes and blocks, self-healing cutting mats to protect your work surface, and the original handle for smooth operation.
By using the included mix and match die blocks, you can cut common quilt piece shapes accurately in a fraction of the time it takes with traditional rotary cutting.
The Ready Set GO is easy to assemble and designed for portability, so you can bring it along to classes or retreats. With this fabric cutting system, you'll save time on prep work and gain more time for the fun, creative parts of quilting.
The affordable price point makes this a great entry-level investment into dedicated quilting tools.
Saves significant time versus rotary cutting
Reduces hand and wrist strain
Simple to set up and use
Portable and lightweight
Limited to own brand of dies
Not for very thick fabrics
Additional dies sold separately
Sizzix Big Shot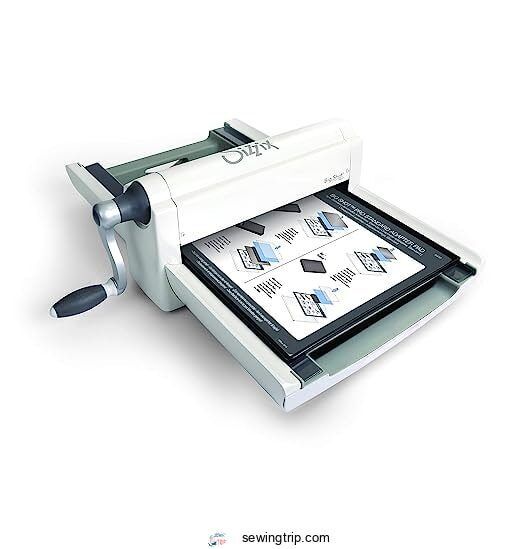 View On Amazon
You can save tons of time and effort with the Sizzix Big Shot. This manual fabric cutting machine is designed specifically with quilters in mind. It uses interchangeable dies to cut fabric, felt, foam, and other materials up to 6 layers thick.
The Big Shot's signature two-roller system applies even pressure and precision alignment for accurate cuts. An adjustable multiposition lever lets you customize pressure based on the material and thickness.
With an 8.5 opening, it accommodates larger quilt piece shapes. Included extended platforms provide extra support. This portable machine weighs under 10 lbs, making it easy to transport to classes or quilting bees.
The Sizzix Big Shot offers many advantages for quilters:
Cuts quilting shapes quickly and accurately
Portable and lightweight
Simplifies squaring up blocks
Reduces hand strain from rotary cutting
Affordable price point
Manual operation requires physical effort
Limited to Sizzix brand quilting dies
Not designed for very thick fabrics
Additional dies sold separately
Brother ScanNCut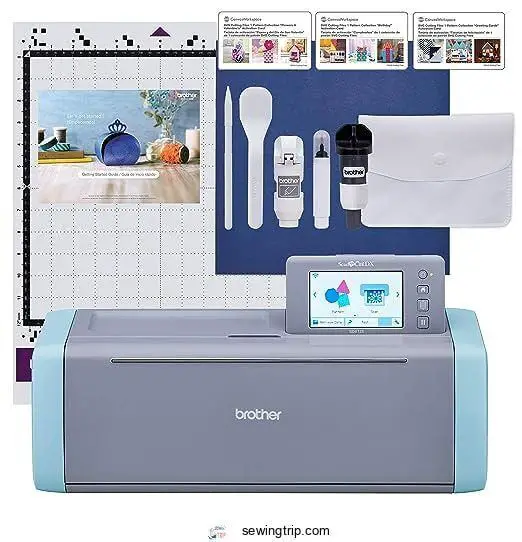 View On Amazon
The powerful Brother ScanNCut provides unlimited design possibilities for avid quilters! With its built-in scanner and LCD touchscreen, you can create and cut custom shapes and patterns up to 12 x 24 inches.
This innovative electronic cutting machine comes equipped with handy accessories like specialty blades, pens, and mats to handle over 100 materials. Scan in quilting templates or import designs wirelessly. Adjust blade depth and speed settings based on fabric.
Built-in scanner for custom designs
Cuts fabric, paper, vinyl, and more
Import wireless designs
LCD touchscreen and rotary auto blade
Included accessories like mats and pens
Handles 100 materials up to 12 x 24 inches
Can have a steep learning curve.
Machine and materials are expensive.
Manual placement of fabrics needed.
May require upgrading software.
Best Electronic Cutters

When choosing the leading electronic fabric cutter for your crafting needs, you'll want to compare the versatile Cricut Maker 3 and Silhouette Cameo 4 models. Both machines provide custom design capabilities and smart features, as well as compatibility with hundreds of materials, but the Cricut offers a rotary blade while the Silhouette enables printing directly from the cutter.
Evaluating key specifications like maximum cut width, onboard design resources, and cost will help determine if the innovative Cricut Maker 3 or the more affordable Silhouette Cameo 4 is the best electronic cutting machine for your projects.
Cricut Maker 3
The overhyped Cricut Maker 3 would do you a disservice. Though touted as the ultimate smart electronic fabric cutter, this pricey machine has attracted criticism. The auto-blade often makes imprecise cuts, resulting in wasted fabric. Glitchy software and plastic parts prone to damage also disappoint buyers expecting durability.
For flawless fabric pieces without excess waste, a basic manual cutter with sturdy metal construction proves the wiser, long-term investment. Precision counts more than bells and whistles when your craft depends on accurate cuts.
Silhouette Cameo 4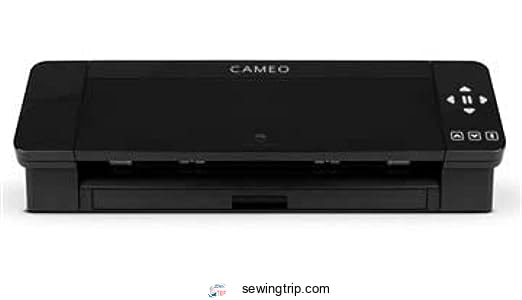 View On Amazon
Silhouette Cameo 4
The feature-packed Silhouette Cameo 4 is an electronic cutting machine that allows you to cut over 100 materials like vinyl, paper, and fabric up to 12×12 inches in size. It comes bundled with handy extras like an auto blade, 12×12 cutting mat, transfer tape, and 50 exclusive designs to get your projects going.
Bluetooth connectivity and Silhouette Studio design software offer wireless convenience and hundreds of free patterns. Precise optical registration ensures accuracy, while PixScan technology scans in images for custom cuts.
Overall, the Cameo 4 empowers crafters with professional-grade tools to make their creative visions a reality.
Cuts 100 materials with precision
Large 12×12 inch cutting area
Bundled with blade, mat, and designs
Bluetooth enabled and wireless capable
Advanced optical registration for accuracy
Scans custom images for unique cuts
Requires some digital design knowledge
Materials not included beyond starter vinyl
Optional software subscriptions add ongoing costs
Top Manual Fabric Cutters

Top manual fabric cutters include the heavy-duty Sizzix Big Shot Pro. Its large die opening and cutting capacity are useful. The versatile Cricut Cuttlebug offers die cutting and embossing functions. It's portable, and the Bira Craft enables cutting custom designs up to 6 inches wide.
Key factors like maximum material thickness, die compatibility, accessories, and versatility determine the best manual fabric cutter. Comparing these helps find the right precision, functionality and value for your needs and budget.
Brands like Sizzix, Cricut, and Bira Craft lead in manual die cutting machines. They make accurate fabric cuts and unique designs without a large electronic cutter.
Sizzix Big Shot Pro
You'll appreciate the precision of the Sizzix Big Shot Pro for cutting multiple fabric layers. This heavy-duty machine simplifies multi-layer cutting up to 6 layers with an adjustable platform for proper pressure.
The 13 wide opening accommodates larger dies to cut bigger pieces in a single pass. Sturdy steel construction ensures durability and its manual hand-crank provides power. While expensive, the Pro's versatile functionality and industrial design make it the leading mechanical fabric cutter for frequent, high-volume use.
Cricut Cuttlebug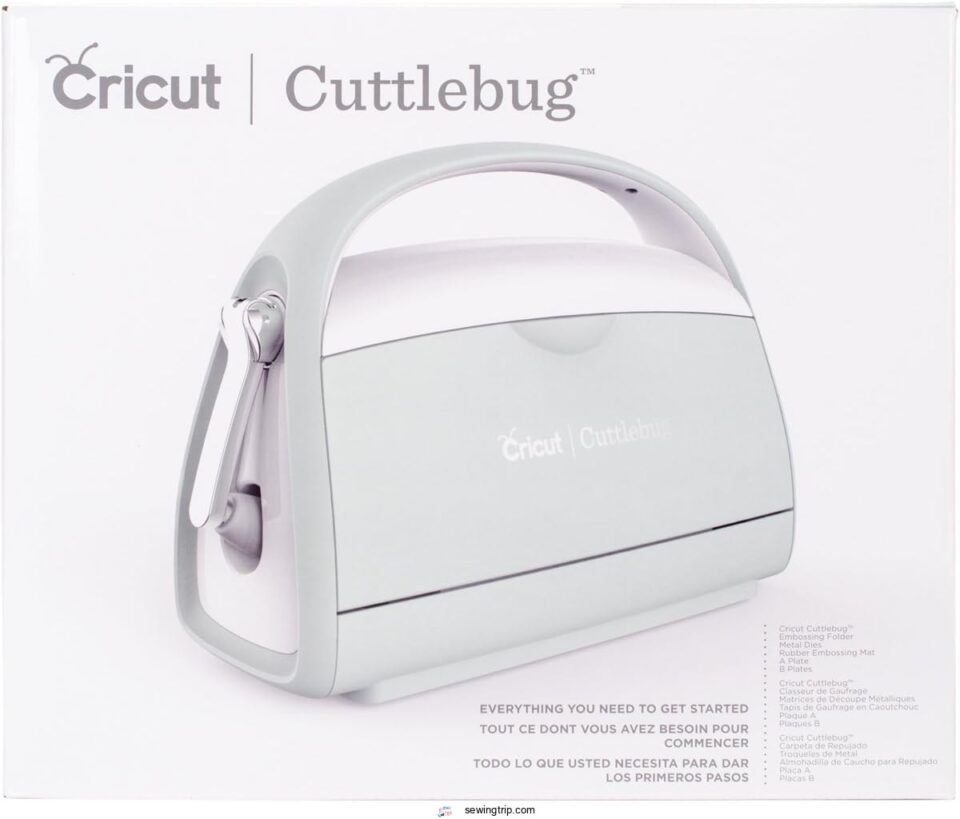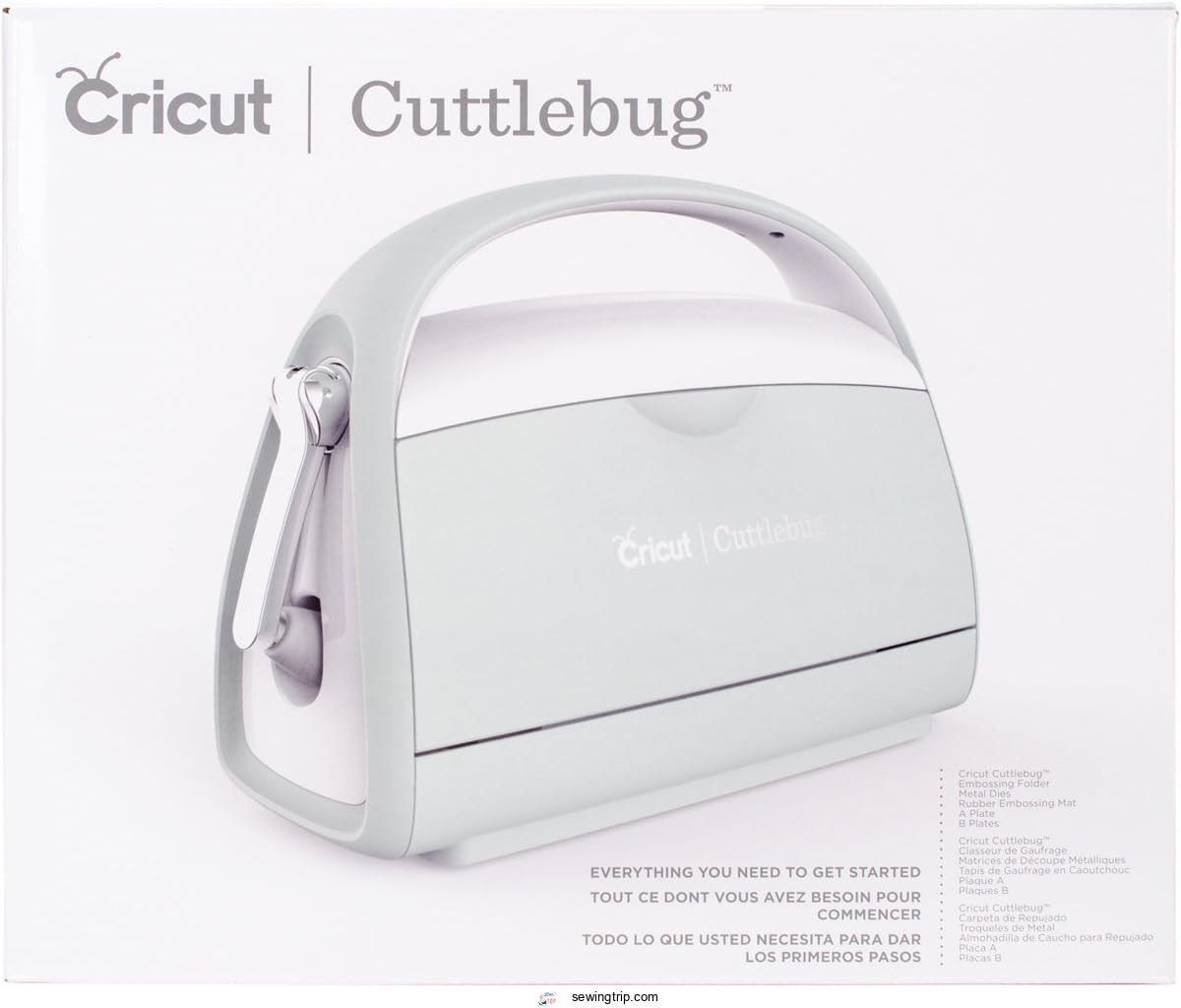 View On Amazon
The Cuttlebug'll emboss as well as cut up to 12 inches wide with its unique multi-leveled platform, offering outstanding versatility among budget manual options. This lightweight machine empowers hobbyists to customize designs affordably. Despite lacking digital tools, its signature folders and dies deliver professional results across diverse materials.
Sturdy steel construction ensures precision alignment. Simply place your chosen die, insert paper or fabric, crank the handle, and reveal intricate cuts and embossed textures. Interchangeable pads cater to light cardstock or dense cork with ease. Portability suits crafting on the go or storage in tight spaces.
While electronic cutters boast more features, the Cuttlebug's simplicity and effectiveness justify its moderate price tag. For beginners seeking an accessible manual machine, it builds confidence in die cutting techniques before upgrading down the road.
Affordable at around $50
Portable and lightweight
Versatile functionality
Easy to operate
Manual cranking can be tiring
Limited compatibility compared to electronic cutters
Less customization than digital machines
Bira Craft
View On Amazon
For portable simplicity when starting out, the Bira Craft's manual crank enables you to easily cut designs up to 6 inches wide without digital complexity. For example, a beginner could make custom cards by layering patterned scrapbook paper and using floral dies to cut shapes for embellishments.
The Bira Craft die cutting machine provides an affordable introduction to die cutting without the learning curve of digital cutters. Its straightforward operation allows you to manually cut cardstock, felt, fabric, vinyl, and other materials up to 6 inches wide using steel-rule dies.
Simple, manual operation
Portable and lightweight
Affordable price point
Accommodates small dies up to 6 inches
Easy to learn for beginners
Limited compatibility with larger dies
Manual cranking can be tiring
No digital features or customization
Max 6 inch width capacity
Safety guard can obstruct view
Frequently Asked Questions (FAQs)
Conclusion
When looking for your ideal fabric cutting machine, consider your needs. Manual models provide portability while electronic cutters enable custom designs. Top picks like the user-friendly AccuQuilt Ready Set GO bundle, versatile Sizzix Big Shot, or high-tech Brother ScanNCut offer quilters precision and efficiency.
For advanced crafters, Cricut's Maker 3 or the feature-rich Silhouette Cameo 4 provide cutting-edge performance and capabilities. Or opt for sturdy manual choices like the Big Shot Pro or Cricut Cuttlebug for affordability and longevity.
Test drive models to find the perfect fit for your quilting projects and budget. Whichever fabric cutter you choose, slicing and dicing has never been easier!
References
bestsewingmachinereviewspot.com