This site is supported by our readers. We may earn a commission, at no cost to you, if you purchase through links.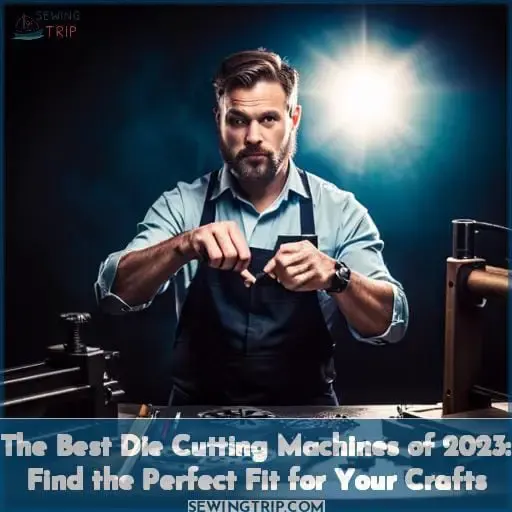 Not sure which die cutting machine is the best choice for you? Look no further – we've rounded up some of our top picks in this review.
Take Su-Queen Teo, a printing manager and owner of The Paper Crown, as an example. She uses die cutting machines to cut materials like vinyl, cardstock, chipboard, leather, and wood into specific shapes for custom cards, T-shirts, signs, and more.
This streamlines her crafting process while creating consistent uniform shapes faster than ever before.
From the Gemini II Electric Cutting & Embossing to the Rayher Embossing Machine Assorted, there's something on this list that can help take your craft projects to the next level! But with so many options available, how do you know which one will be perfect for your needs?
We'll provide everything needed to know when it comes time to select the best die cutter machine. From what type does an embosser perform all the way to what you should look for before making a purchase.
Key Takeaways
Die cutting machines streamline the crafting process and create consistent, uniform shapes.
Top 5 die cutting machines: Gemini II Electric Cutting & Embossing, Sizzix Die-Cutting Starter Kit, Rayher Embossing Machine Assorted, Gemini Die-Cutting Machine, Cricut Joy Portable Machine.
Factors to consider when choosing a die cutting machine: size, storage space, cutting width, quality of cut, and weight.
Die cutting machines are suitable for beginners and offer the freedom to explore and create intricate designs.
Top 5 Die Cutting Machines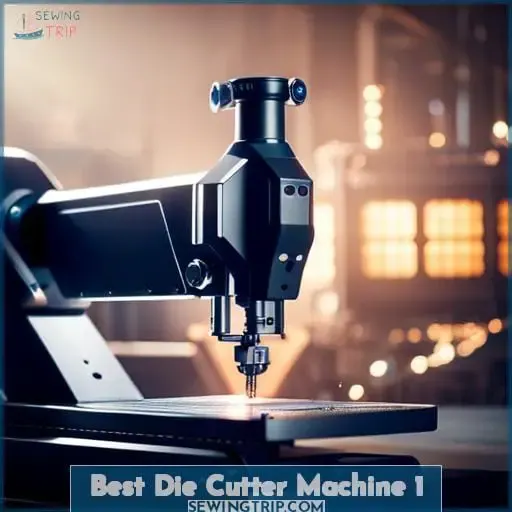 If you are looking for a die-cutting machine, there is an array of options to choose from. The Gemini II Electric Cutting & Embossing, Sizzix Die-Cutting Starter Kit, Rayher Embossing Machine Assorted, Gemini Die-Cutting Machine, and Cricut Joy Portable Machine are some of the top machines available on the market today.
These powerful tools offer different features and capabilities that make them perfect for crafting projects such as card making or scrapbooking.
Gemini II Electric Cutting & Embossing
Discover the versatility and precision of the Gemini II Electric Cutting & Embossing machine, perfect for crafting projects that require intricate details! This electric cutting and embossing machine can cut and emboss materials like paper, cardstock, vellum, or thin metal.
The high-pressure system ensures clean cuts every time, even with multiple layers of material at once.
It also comes with a large platform to accommodate larger projects, as well as adjustable pressure settings for precise results. Plus, it's easy to use and store in its compact design, making it ideal for beginners or experienced crafters alike who are looking for an efficient way to create cards, scrapbook pages, or home decor pieces.
The high-pressure system offers consistent results.
The easy-to-use design with adjustable pressure settings.
Compatible with most dies/embossing folders.
May experience difficulty with thicker materials.
Requires regular maintenance/cleaning.
Safety precautions need to be followed.
Sizzix Die-Cutting Starter Kit
You'll love the Sizzix Die-Cutting Starter Kit, perfect for crafting projects and containing all you need to get started with die-cutting.
This kit includes a die-cutting machine, cutting pads that are made of durable material for long-lasting use, and a selection of dies in various shapes and sizes.
The die-cutting machine is compact and portable, making it easy to store away when not in use. However, additional materials such as paper or cardstock are not included, so these must be purchased separately.
Easy to operate with simple controls, this powerful tool allows users versatility when creating intricate designs on multiple layers at once.
Lightweight yet sturdy enough for larger projects without sacrificing quality, the Sizzix Die Cutting Starter Kit is ideal for both newbies and experienced crafters alike who want more control over their design options!
Includes a variety of dies in different shapes & sizes
Compatible with most standard dies
Compact & Portable Design
Does not include extra materials like paper/cardstock
Requires assembly before first-time usage
Beginners may find it challenging
Rayher Embossing Machine Assorted
Experience the versatility of the Rayher Embossing Machine Assorted, with a selection of embossing folders and plates that help you add texture and dimension to paper, cardstock, vellum, and more. This machine is perfect for crafting projects like card making, scrapbooking, or home décor.
Plus, its compact design makes storage easy, while its simple operation process gives users complete control over their designs.
With this embosser, you can tackle materials up to a certain thickness effortlessly, though additional accessories may be required for certain techniques. Get creative with your own custom designs or use pre-made templates from Silhouette Studio software when using this machine's Bluetooth option as well! It has everything needed to take on any ambitious project without sacrificing quality results in the end product.
Comes with a variety of embossing folders & plates
Compact & portable design for easy storage/transportation
Easy to use & operate
Can handle materials up to a certain thickness
Additional accessories & tools may be required
No information about warranty/customer support provided
Gemini Die Cutting Machine
Unlock your creative potential with the Gemini Die Cutting Machine, a powerful and easy-to-use tool that helps you bring projects to life like never before. It's designed with a high-pressure system that ensures clean and precise cuts every time.
This makes it great for cutting paper, cardstock, fabric, and even thin metal sheets.
The machine features a large cutting platform, allowing you to use different sizes of dies and embossing folders in combination for greater creativity. All of this is powered by its strong motor, which provides consistent pressure and professional-looking results.
The lightweight design of the machine makes it portable enough to take on the go, while still being durable enough to last for years of use.
Plus, this machine comes with plenty of accessories included, such as dies and embossing folders, so you can get started right away.
With simple controls, an intuitive interface, and added safety features, creating intricate designs has never been easier.
High-pressure system ensures clean cuts
Compatible with a variety of materials, including thin metal sheets
Large cutting platform accommodates many sizes
Powerful motor provides consistent pressure
Comes with several accessories included
Portable yet durable design
Simple controls and user-friendly interface
Compact & Lightweight design
Bluetooth Connectivity
Easy Set Up
Compatible with Cricut Smart Materials
Comes with Fine Point Blade
Safety Features such as Auto Shut Off after 10 minutes
Requires an internet connection compatible device during initial set up
Additional accessories may be required depending on the project
Limited cutting width compared to larger models
What Does an Embossing Machine Do?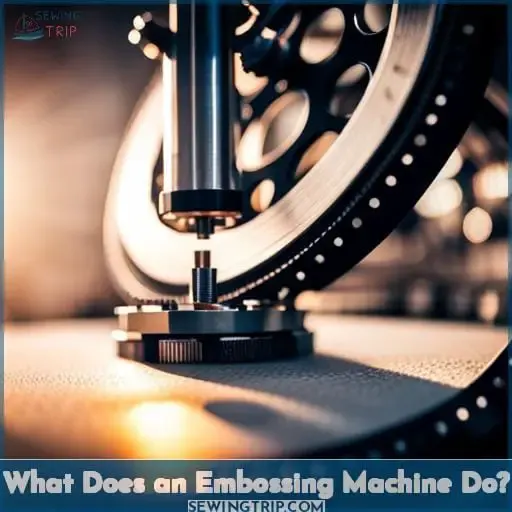 An embossing machine lets you bring your creative designs to life with raised textures and patterns. It is a versatile tool for paper crafting, card making, scrapbooking, and more. With metal dies or embossing folders that are compatible with the machine's cutting mats or plates, intricate shapes can be cut into materials such as paper and cardstock.
The Cricut Maker boasts a powerful system that cuts multiple layers in one go, while its Design Space software makes it easy to create custom designs quickly and easily. Manual die-cutting machines also offer great flexibility when it comes to creating unique projects.
They require no power source but come with additional metal dies, which may need replacing over time depending on usage levels.
Embossed sheets of metal can also be used safely in manual machines, unlike electric ones, due to their higher pressure systems. This allows for precise details like small fonts without any risk of tearing delicate material types like vellum paper.
You can use several layers at once if required, thanks to die-cut comparison charts being readily available online these days. Additionally, reviews from experienced crafters who have already taken the plunge themselves can be an invaluable resource prior to taking such a leap yourself.
How to Choose the Best Embossing Machine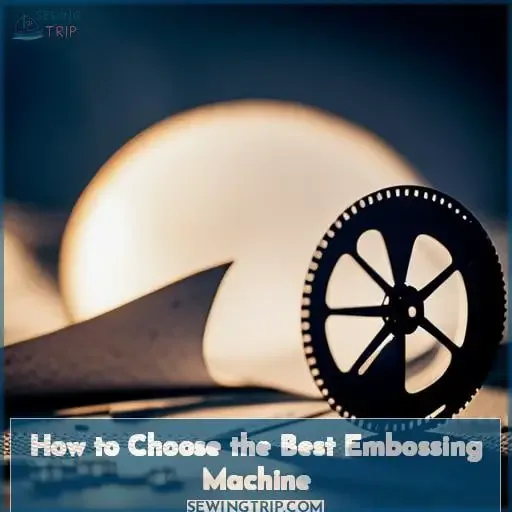 Choosing the right embossing machine for your crafting needs can be overwhelming, but understanding the features of each type and assessing your project requirements can help you make an informed decision:
Automated embossing machines offer quick operation with minimal effort. Look for compatible dies, cutting pads, storage options, and a variety of material settings to get started quickly.
Die-cutting machines provide precision cuts on various materials using compatible dies or plates. Popular models include Cricut Explore Air 2, Silhouette Cameo 4, Big Shot Machine, and Gemini's core machines such as Mini or Pro Plus XL that are perfect for larger projects. Also, consider Big Shot Plus that offers two-in-one functionality – die-cutting plus motorized functions when needed!
Storage plays an important role too – if space is limited, go small with compact designs like those from Brother ScanNCut DX Disney Designs, which are designed specifically to fit in tight areas without sacrificing power or quality results. Meanwhile, heavier metal constructed ones offer stability if planning long-term use. Weigh them up against each other before deciding on what suits best!
[/Keypoints]
With these tips, you will have everything covered to find the best matching tool according to your project needs.
What to Look for in a Die Cutting Machine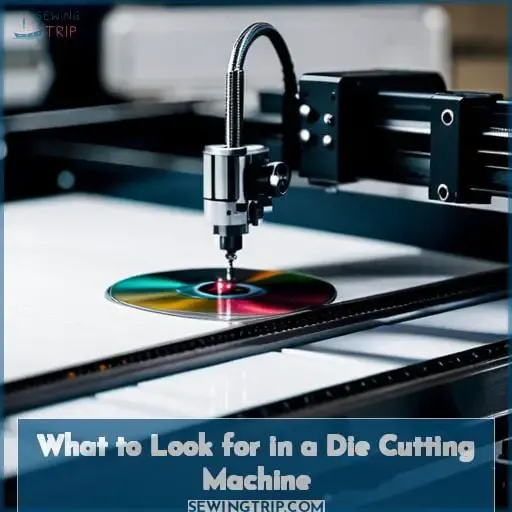 Making your crafting projects easier and more efficient is as easy as finding the right die-cutting machine for you. When selecting a machine, consider size, storage space, cutting width, and quality of cut.
A comparison chart can help you find the best die-cutting machines from leading brands such as Cricut Explore Air 2 or Silhouette Cameo 4. Card makers should look out for Brother Scan n Cut with its built-in scanner that allows you to scan in designs without a computer connection.
Fabric cutters may prefer AccuQuilt Go! with its quick and accurate cuts every time.
Cutting blades also play an important role. Opt for finer ones if you're looking to make intricate patterns on smaller materials like vellum or paper.
Finally, take into account weight. Heavier machines offer stability when used long term but might be less portable. On the other hand, lighter options are a great choice when mobility matters most. So pick what suits you best according to your needs, considering all factors before buying one.
Frequently Asked Questions (FAQs)
What is the difference between manual and electronic die cutting machines?
Manual die-cutting machines are hand-cranked for a more tactile crafting experience, while electronic machines offer the freedom to create intricate designs quickly and wirelessly. With manual die cutters, you can emboss and experiment with multiple layers of materials, while electric models provide access to thousands of downloadable designs online.
What accessories are available for manual die cutting machines?
Manual die cutting machines offer accessories such as embossing folders, metal dies, and plates for creating intricate designs. For example, the Sizzix Die-Cutting Starter Kit comes with a variety of dies in different shapes and sizes to help you get started on your projects.
Are die cutting machines suitable for beginners?
Die cutting machines are suitable for beginners, offering a semblance of 'unlocking creative potential' with their powerful capabilities. With the right machine and accessories, these tools can help liberate craft projects from mundane tasks and give you the power to master intricate designs.
What is the maximum cutting length of the Silhouette Portrait Cutter?
The Silhouette Portrait Cutter can cut materials up to 12 inches in length. Symbolism creates intricate designs, shapes, and patterns with this powerful cutting machine. Detailed and analytical crafting projects are possible due to its precise cuts, allowing for liberation from mundane tasks as well as mastery over your creativity.
How often do die cutting machines need to be serviced?
Regular maintenance of die cutting machines is essential for optimal performance and a longer lifespan. You should service your machine at least once a year, checking parts, lubricating moving components, and cleaning the blades.
Additionally, replacing worn-out parts can prevent possible damage to other components over time.
Conclusion
When it comes to die-cutting machines, there is no one-size-fits-all solution. It's important to consider your needs, the size of your projects, and the materials you plan to cut before making a purchase.
For example, if you need a machine that can cut thick and heavy materials, a large, heavy-duty machine like the Gemini II Electric Cutting & Embossing is ideal. On the other hand, if you need a machine that can cut paper, cardstock, and other thin materials, the Bira Craft Die-Cutting Machine is a great choice.
With so many options on the market, there is sure to be a die-cutting machine that is perfect for your crafting needs.