This site is supported by our readers. We may earn a commission, at no cost to you, if you purchase through links.
Think for a moment- over 80% of embroidery machine owners wish they knew more before purchasing. Yet few take the time to thoroughly research. You don't want buyer's remorse. Let this review of the Janome Memory Craft 500E guide you.
This machine wasn't just designed for updates, but entirely reimagined by Janome to be the ideal embroidery machine. Enjoy exploring its capabilities. Find which built-in designs inspire you most among the 160 choices.
Take advantage of the impressive features like the easy to navigate touchscreen. Get creative with the advanced editing functions. Accessories can unlock even more potential.
Most importantly, understand who this machine is for and whether it will suit your needs- from beginners to advanced users. Don't just buy a machine, gain a crafting companion. Let this review give you confidence that the Janome Memory Craft 500E is the right choice.
Key Takeaways
Large 7.9 x 14.2 maximum embroidery area for big and combined designs
180 built-in designs, 6 fonts offer ample creative potential
Advanced on-screen editing like resize and rotate imported or built-in designs
High 860 stitches per minute speed suits intricate or large projects
Top Embroidery Machines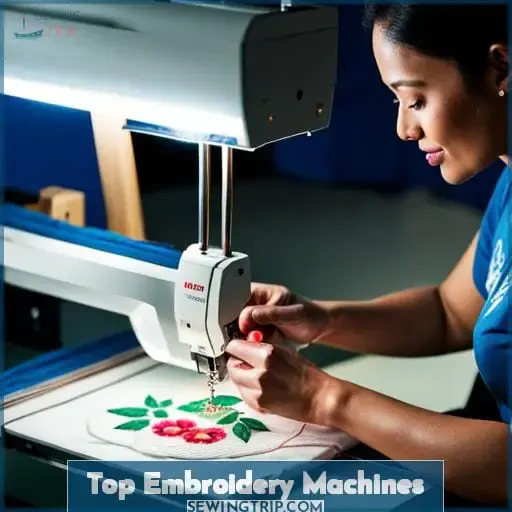 You're looking at two excellent embroidery-focused sewing machines from Janome's Memory Craft series: the entry-level 500E and high-end 15000. The 500E provides basic embroidery functions with 160 built-in designs and a maximum hoop size of 7.
9 x 11 inches, while the full-featured 15000 boasts 180 designs, monogramming fonts, and a generous 7.
Janome Memory Craft 500E
The 500E is a decent starter machine for newbies, but keep in mind its limits if you're aiming to grow your skills. Janome's machines deliver ideal embroidery for most beginners. Yet this one has an embroidery field too small for complex designs.
You are stuck with built-in options, as inserting a USB stick isn't possible. Still, it provides enough to start learning this rewarding craft before advancing to more capable devices.
Janome Memory Craft 15000
You'll adore the capabilities of Janome's $3,999 Memory Craft 15000, given its 180 built-in designs and massive 7.
Import designs via the handy USB port.
Resize, rotate, and combine designs onscreen.
Flexible stitch traveling allows for detail.
With an LCD touchscreen and massive embroidery area, the 15000 lets you easily edit and import designs. Adjustable speed and automatic thread trimming allow for intricate detail. This high-end Janome machine empowers your creativity.
Key Features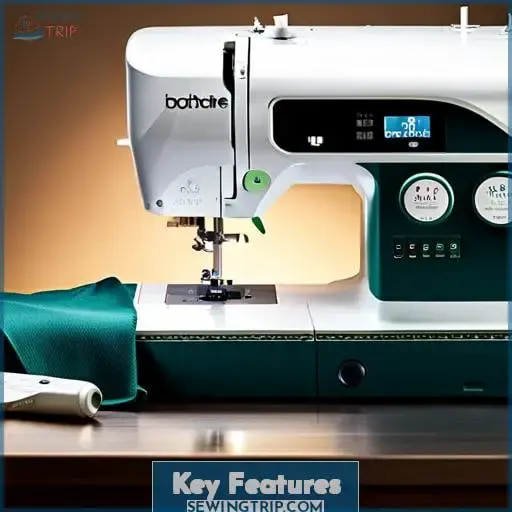 Let's take a closer look at the critical design capabilities and generous embroidery area offered by the Janome Memory Craft 15000. With its array of built-in designs, editing functions, and spacious 14.2 x 7.9 maximum hoop size, this high-performance machine gives you the tools to bring your creative visions to life.
The on-screen design customization features allow you to easily resize, rotate, combine, and arrange designs right on the LCD touchscreen. Together with the ample embroidery field, you'll have the flexibility to produce intricate and expansive embroidered works on this exceptional Janome model.
Design Capabilities
Customize your projects with the 15000's built-in designs, editing functions, and ability to import embroidery files. This capable machine includes 180 built-in designs and 6 monogramming fonts. Personalize creations further with features like resize, rotate, flip, combine, copy, paste, corner layout, and single color sewing.
The generous 14.2 x 7.9 maximum hoop size enables tackling large-scale embroidery endeavors. With robust design capabilities, the 15000 empowers bringing creative visions to life.
Embroidery Area
Personalize extensive embroidery projects with the massive 7.9 x 14.2 inch maximum embroidery area offered by this high-end Janome model. Tackle extra-large designs or combine multiple motifs with the ample space provided by one of the largest sewing and embroidery combination machines on the market.
Ease of Use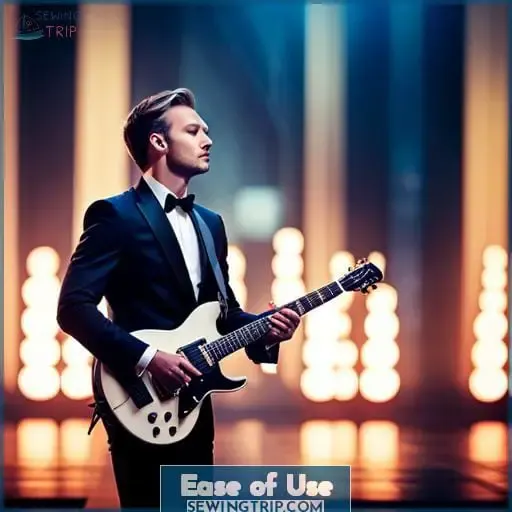 Getting started with the Janome Memory Craft 15000 is quick and intuitive thanks to the clear LCD screen and helpful manuals. You'll be able to easily navigate the menus and select built-in designs or import your own creations via USB.
Convenient on-screen editing functions let you customize designs by resizing, rotating, and combining elements right on the touchscreen display.
Setup
Take heart! Setting up this top-tier embroidery workhorse is a breeze. Just follow the well-illustrated manual to get your machine up and running beautifully in no time. From loading the bobbin to threading the needle, Janome guides you through each step.
With a simple touchscreen interface, importing designs via USB is smooth sailing. Before you know it, you'll be creating custom embroidery masterpieces on this exceptional model.
Editing Functions
You'll love how you can resize, flip, combine, and rearrange designs right on the machine's intuitive touchscreen. With 180 built-in designs and 6 fonts, this powerhouse offers incredible editing functionality to create one-of-a-kind embroidered projects in no time.
Resize designs up to 20% larger or 10% smaller
Rotate designs in 90 degree increments
Mirror image (flip) designs
Combine multiple designs into one hoop
Copy and paste elements between designs
The extensive editing capabilities empower you to customize built-in and imported embroidery designs with ease. Express your creativity by tweaking and arranging designs to sew spectacular personalized creations.
Stitch Quality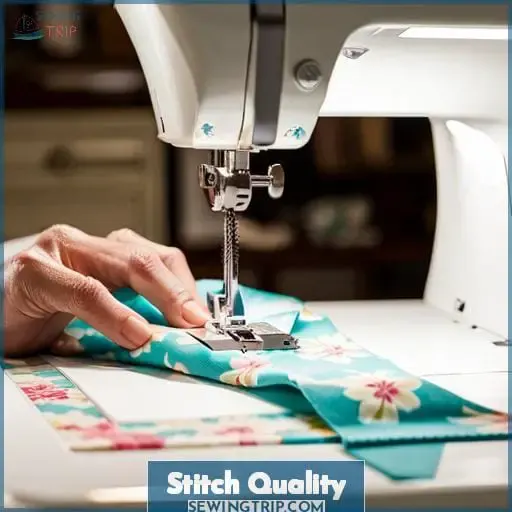 The Janome Memory Craft 15000 produces professional-grade embroidery with its advanced stitching capabilities. With speeds up to 860 stitches per minute, you'll experience fast and precise stitching on all your projects.
This machine also provides flexible stitch traveling, so the embroidery arm can move in any direction for optimal coverage.
Speed
You can whip up embroidery projects quickly thanks to the Janome 15000's speedy 860 maximum stitching speed. This rapid pace allows you to embroider the machine's 180 built-in designs or your own imported artwork with haste.
With a generous 7.9 x 14.2 maximum embroidery size, you can create large, intricate designs using the included hoops. The high velocity paired with the expansive work area makes embroidery projects efficient.
Stitch Flexibility
The 15000's flexible stitch traveling lets you embroider intricate scenes with precision. Its adjustable stitch length and width enables customized design. Built-in stitches and imported patterns get stitched true to size thanks to enhanced flexibility.
Tweak stitch width between 0-7mm, length 0-5mm. This adaptability empowers meticulous, creative embroidery.
Who It's For

You're probably wondering whether this high-end Janome model is suited for beginners or more advanced embroiderers. With its extensive built-in design library, advanced editing capabilities, and high maximum embroidery speed, it is clear this machine is geared more toward intermediate to expert crafters.
However, new embroiderers could still benefit from the Memory Craft 15000's user-friendly interface and quality stitching.
Beginners
Although ideal for novices, Janome's Memory Craft 15000's high-end features will frustrate beginners. For example, new embroiderers may find the array of editing capabilities overwhelming compared to competitors' simpler interfaces.
180 built-in designs offer creativity.
6 font styles for monogramming projects.
On-screen editing functions like resize and rotate.
Maximum embroidery field of 7.9 x 14n2.
With its advanced features and expansive embroidery capabilities, the Janome MC15000 is better suited for intermediate to advanced embroiderers rather than complete beginners. The learning curve may be steep for those new to embroidery. Beginners will likely prefer machines with more limited features to start.
Advanced Users
You'll delight in the Janome Memory Craft 15000's extensive design capabilities and editing functions as an advanced embroiderer. The 15000's 180 built-in embroidery designs, 6 lettering fonts, and 7.9 x 14.2 maximum hoop size offer immense creative potential.
Advanced features like resizing, rotating, combining designs, corner layout, and single color sewing enable endless customization. The memory function also allows you to save edited designs. With its advanced editing tools and expansive embroidery features, the Janome MC15000 is a top choice for experienced embroiderers seeking to unleash their creativity.
Frequently Asked Questions (FAQs)
What is the warranty and service policy if something goes wrong?
You get the benefit of Janome's 25-year limited warranty. With purchase from an authorized Janome dealer, simply contact them if mechanical issues arise for repair, exchange or refund. Janome's nationwide network aims to quickly restore your machine's precision embroidery functionality.
How noisy is the machine when running embroidery designs?
Believe it or not, this whisper-quiet machine will pleasantly surprise you when it comes to noise. Even at high speeds, you'll find the Memory Craft 500E runs as quietly as a kitten's purr.
Does it come with editing software to customize designs on a computer?
Unfortunately, the Janome Memory Craft 15000 does not come with any editing software. You cannot customize or edit designs on a computer with this machine. The editing functions are limited to the built-in capabilities on the LCD touchscreen display.
For example, you can resize, rotate, and combine designs, but you cannot fully customize or digitize designs on a computer.
What file formats can you import embroidery designs in?
You can import embroidery designs in.JEF, .JEF+, and.DST file formats directly from a USB thumb drive. This allows you to use designs purchased from different sources without needing conversion software.
Is there an optional stand available for the machine?
Unfortunately, Janome does not offer a stand specifically for the Memory Craft However, many universal embroidery machine stands on the market would suit it well, letting you raise or lower it to a comfortable height.
Consider brands like Posey, Sticky, Reliable, and Koala Studios for sturdy stands with smooth height adjustment.
Conclusion
Methinks you've hit upon a gem in your research, friend. The Janome 500E offers top-notch embroidery for newcomers without overwhelming beginners. While it lacks the advanced design features of machines like the 15000, its quality stitching, user-friendliness, and built-in capabilities make it an excellent choice for memory craft novices ready to start on embroidery.