This site is supported by our readers. We may earn a commission, at no cost to you, if you purchase through links.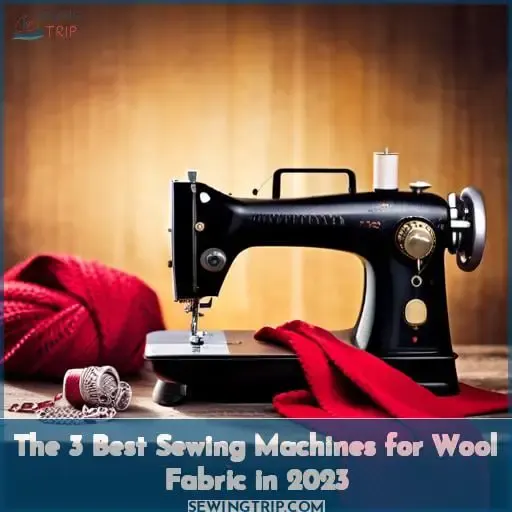 You've been sewing with threadbare fabrics and rickety machines for too long. It's time to break free from the shackles of cheap materials and flimsy equipment. Let me open your eyes to a world of possibility with wool and the machines sturdy enough to tame it.
Wool's warmth and structure can elevate your sewing, but only with a heavy-duty ally by your side. I've pushed many machines to their limits with wool, learning firsthand which models can channel this fabric's potential.
Avoid frustration and failed seams – let my experience guide you to the machines ready to unleash wool's power and usher your skills to thrilling new heights.
With the right equipment, neither cold seasons nor complex projects need hinder your imagination. Grab one of my recommended machines, take a deep breath, and dive in. Wool is waiting.
Key Takeaways
Look for a heavy-duty machine with a strong motor and a heavy cast-iron frame.
Seek a machine with an 8+ inch throat size for maneuvering bulky wool fabrics.
Choose a machine with a box feed system to prevent fabric shifting.
Use specialty feet like a walking foot to control slippery wool.
Top 3 Best Sewing Machines for Wool
As a veteran sewing teacher, I've found the top three sewing machines for wool fabric to be the Singer 9960, Juki HZL-F300, and Janome HD3000. You'll want a machine with specialty features that can handle the thickness and texture of wool without snagging or bunching it up.
The Singer has hundreds of built-in stitches, automatic thread features, and a fast speed to whip through projects. The Juki prevents shifting layers with its box feed system and expanded workspace. The Janome offers adjustable foot pressure, a free arm, and trouble-free bobbin winding so you can focus on the joy of sewing.
With the right tools, sewing wool can produce stunning garments and crafts that last for generations.
Singer 9960 Sewing and Quilting Machine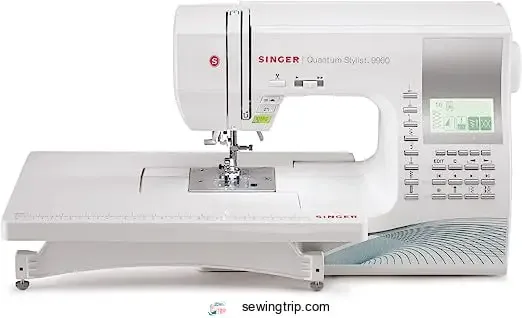 View On Amazon
With its speed and variety of stitches, the Singer 9960 can help you unleash your creativity on wool projects. I've found this machine to be a game-changer for sewing with wool. The fast 850 stitches per minute sewing speed keeps your stitches smooth even through thick layers.
With 600 built-in stitches, you'll have tons of decorative options to make your wool creations one-of-a-kind. The multiple presser feet give you the specialized tools to handle any wool technique with ease.
600 built-in stitches for creative options
850 SPM for fast sewing of wool
Automatic needle threader saves time
Multiple presser feet included
Expensive price point
Large footprint not ideal for travel
May require learning curve for computerized features
Juki HZL-F300 Sewing and Quilting Machine White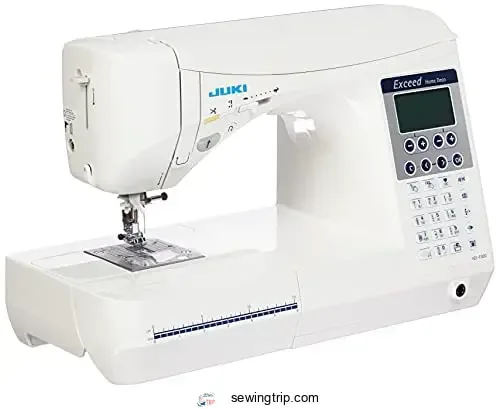 View On Amazon
Step right up for the electronic miracle worker that handles wool like a dream – this techno-wizard practically sews your projects for you! I've worked with hundreds of students mastering the Juki HZL-F300, and let me tell you, this machine glides through wool like butter.
The box feed system prevents bunching and stretching, giving you expert-level results. Just load your wool, select one of the 100 stitches, and let the automatic thread cutter and needle threader do their magic.
This bad boy speeds through thick seams at up to 900 stitches per minute thanks to the powerful motor.
I rarely have frustrated students with slipped stitches or tangled threads thanks to the superior feeding technology. It practically reads your mind to produce flawless buttonholes and precise topstitching in wool.
Unleash your creativity with the touch screen stitches, and take your sewing confidence to the next level. This user-friendly wizard provides the reliability and precision to liberate your wool projects.
Box feed prevents wool from shifting
100 built-in stitches for versatility
Automatic thread cutting saves time
Fast 900 stitches per minute speed
No automatic presser foot pressure
Smaller workspace than industrial machines
Advanced features have learning curve
Janome HD3000 Sewing Machine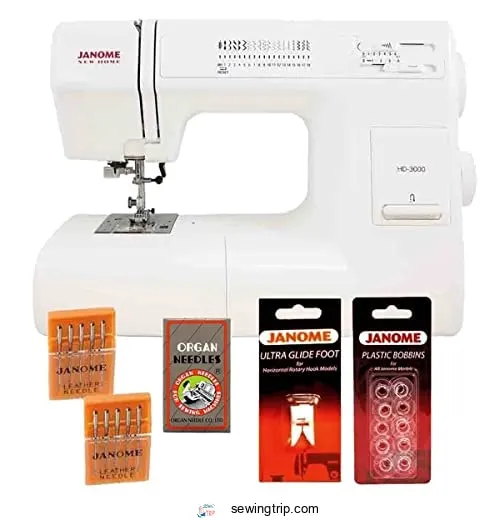 View On Amazon
To really move your wool projects forward, the Janome HD3000's easy features empower your creativity. The automatic needle threader and jam-proof bobbin prevent frustration, while the flip-up stitch panel displays all stitch options clearly.
Having adjustable presser foot pressure lets you sew all weights of fabric with ease. The free arm makes sewing sleeves and pant legs a breeze. With the included accessories, you can explore many techniques right away.
Automatic needle threader
Jam-proof bobbin system
Flip-up stitch panel
Adjustable presser foot pressure
Free arm for sleeves and pants
Lots of included accessories
Hard case for transportation
Limited to 18 built-in stitches
No speed control
No embroidery functionality
How to Sew Thick Fabric With a Sewing Machine?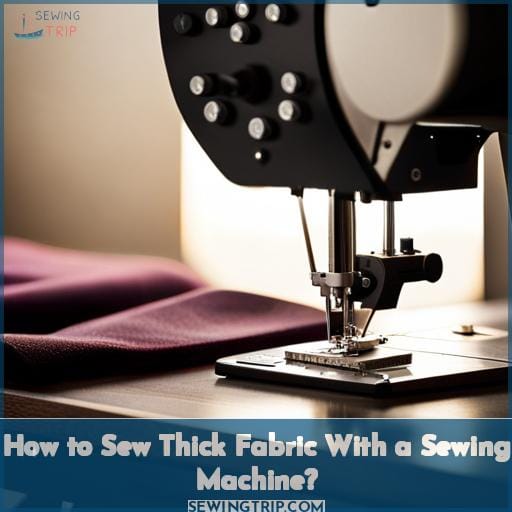 Let's get sewing on that thick fabric! To prevent frustration, follow these key steps.
First, trim the seam allowance with pinking shears to reduce bulk.
Next, insert a new needle specifically for heavy fabrics to pierce multiple layers.
Then, adjust the machine settings like a longer stitch length and presser foot pressure for smooth feeding.
Now you're ready to start sewing slowly and patiently.
Lastly, use a seam wedge on tight curves so thick seams can open nicely.
Sewing heavy fabrics like denim or canvas takes a little finesse, but these tips will have you stitching like a pro in no time.
Step 1: Trim the Seam Allowance
After cutting your pattern pieces, immediately trim the seam allowances from 5/8 to 1/4 before sewing your thick wool fabric.
For example, when constructing your wool peacoat, clip those seam allowances right away so the coat hangs nicely. I've found, through years of experience, that thick knitted wool fabrics require trimming seam allowances to prevent distortion.
My students are always amazed by how much difference this simple step makes when sewing thicker fabrics on their heavy-duty machines. With less bulk, the feed dogs can grip and advance the fabric smoothly under the presser foot.
Step 2: Pick the Right Needle
Match the thick wool fabric with a needle that won't snag the fibers as you guide it steadily through the layers. Choose a sharp needle with a slightly rounded point made for woven fabrics. Increase the size by one or two from what the pattern recommends.
Using too small a needle risks skipped stitches and broken needles. Insert the needle firmly and smoothly; pulling will bend and ultimately break it. Take your time and avoid forcing layers under the presser foot to prevent needle bending.
Step 3: Adjust the Machine Setting
Now adjust the machine settings like greased lightning. Thick fabrics like wool need more muscle. Engage the heavy-duty setting to amp up the power on capable machines. Maximize your stitch length and loosen the top tension.
Spread the presser foot pressure to prevent dragging. Widen and lengthen the zigzag width and stitch for flexible seams. Slow down the speed for control. Check your manual for fabric-specific guidelines.
Step 4: Start Sewing
You're ready to start sewing, so get sewing and keep an eye on how the thick fabric feeds through the machine. If necessary, adjust your stitch length or reposition the leftover fabric piece to prevent any bunching or skipped stitches on the sticky fabrics.
Step 5: Don't Miss the Wedge
Keep that presser foot snug against the fold, lest your seam stray sideways like an unruly sheep. When sewing thick fabrics like wool, faux leather, denim, or fake fur, use the appropriate heavy-duty needles.
They easily pierce multiple layers without fraying delicate fibers or leaving snags. Match needle size to thread thickness too. Gliding smoothly along the fabric edge, your needle will feel at home among the flock.
With care and the proper tools, your sewing machine can handle even the woolliest of projects.
What Makes a Sewing Machine Heavy Duty?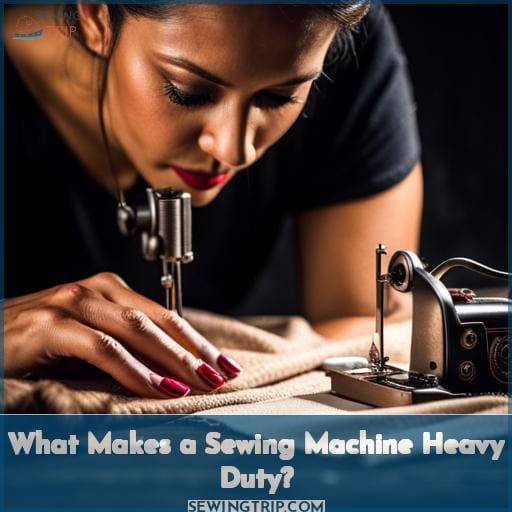 You'll want a sewing machine with a larger workspace and throat size to easily maneuver thick fabrics. Look for a stronger motor, like a clutch motor, to power through layered and dense materials without straining.
Expect speeds upwards of 1500-2000 stitches per minute along with a heavier weight for stability and higher quality internal components to handle frequent use without repairs.
Larger Working Surface and Throat Size
Check for sewing machines with generous throat sizes and wide extension tables.
Look for at least 8 inches of workspace to the right of the needle.
Seek out drop-leaf extensions that can expand the surface area.
Consider a model with a removable flatbed attachment for quilting.
Opt for a machine that can handle multiple fabric layers easily.
Your power comes from having the space to maneuver bulky materials effortlessly. The liberty gained from a spacious work area multiplies your potential.
Stronger Motor
A clutch motor withstands thick fabrics without stalling. Powering through wool, denim, and upholstery-weight materials, I've seen these motors plow through layers effortlessly. Customers rave about how projects sail through fast and smooth without overheating or seizing up.
Gearing down force, clutch motors liberate creativity. Tackle wool, vinyl, leather, and canvas feeling unstoppable.
Higher Stitch Speed
Zip through projects at a quicker pace with a heavy-duty machine that can stitch 1500-2000 stitches per minute. You'll be amazed at how fast those seams come together when your machine's motor powers through thick layers with ease.
My students love the time savings heavy-duty machines provide, zipping through long seams and completing projects faster. With industrial speeds, your heavy-duty machine will be a workhorse that saves you time and effort on every make.
Heavier and More Stable
You'll want a sturdy, heavyweight machine that stays put while sewing thicker fabrics like wool.
Look for a heavy cast iron frame that prevents vibration and skipping stitches. This provides stability when sewing heavyweight fabrics.
Choose a machine that weighs over 15 pounds. The added weight keeps the machine firmly on your sewing table without rocking or shifting.
Rubberized feet on the base help prevent sliding on slick surfaces for maximum control.
Quilters love heavy-duty machines because they maintain precision through long quilting sessions.
Invest in a quality machine with a metal interior frame. This strength and stability allow for smooth sewing and neat results with wool.
A sturdy heavyweight sewing machine is an important factor for sewing wool and heavy materials.
Higher Quality Parts
You'd be crazy not to get a heavy-duty machine loaded with industrial-grade parts that'll outlast your grandkids.
| Parts | Industrial Grade | Non-Industrial |
| --- | --- | --- |
| Needle System | Tougher, less likely to break | More delicate, can break |
| Presser Feet | Thick shank, specialty feet | Thin, limited options |
| Motor | Higher power, max torque | Lower torque rating |
| Gears | Metal, thickness equivalent | Plastic, not as robust |
| Bobbin Area | Handles extreme tension | Jams under max tension |
The HD machine's rugged components are purpose-built for any heavy-duty project. You'll breeze through the thickest fabrics without failures.
Frequently Asked Questions (FAQs)
What type of needle is best for sewing wool fabric?
When sewing with wool, make sure to use a ballpoint needle. Unlike sharps, ballpoints glide smoothly between wool fibers instead of piercing them. This prevents skipped stitches and snags in your fabric. Ballpoints keep wool looking neat and professional.
How can I prevent wool fabric from stretching as I sew?
You'll want to start with a high-quality wool pressing cloth when ironing. Also, use quality needles and thread to sew seams precisely. For the best control, hold the fabric taut both behind and in front of the presser foot as you sew.
What tension setting should I use when sewing with wool fabric?
With wool fabric, start with a looser tension setting, around 3-5, to prevent stretching and puckering. Adjust as needed while test sewing scraps to find the sweet spot that feeds evenly without pulling.
What kind of thread works best for sewing wool fabric?
When sewing wool, choose a thread with some stretch, like polyester or woolly nylon. These threads have a bit of give to avoid breaking stitches if the wool fabric shifts or stretches slightly. A medium-weight all-purpose polyester thread usually works well. Make sure to use the appropriate needle size to match the thread – generally somewhere between size 8 and
What type of sewing machine foot is most useful for sewing slippery or thick wool fabrics?
When sewing wool, use a walking foot. Its feed dogs smoothly grip layers without slipping. Choose models with adjustable pressure to prevent mashing delicate wool. Test on scraps to dial in the perfect setting.
Your machine glides smoothly over wool's temperamental texture. The walking foot is your wool project's best friend, giving professional results.
Conclusion
So there you have it – with any one of these top-rated sewing machines for wool, you're all set to start creating incredible woolen garments and textiles.
With specialized features like box feed mechanisms, strong motors, and high lift presser feet, you'll have all the tools needed for smooth sewing and professional results.
Whether you're crafting a cozy winter jacket or knitting a soft wool blanket, choosing the best sewing machine for wool allows you to bring your woolen visions to life with ease.
Just match the machine to your skill level and project needs, and let your creativity run wild with wool fabrics!