This site is supported by our readers. We may earn a commission, at no cost to you, if you purchase through links.
Are you in the market for a monogramming machine? Finding the perfect one can be like looking for a needle in a haystack. To make sure you don't fall into any traps, here are some expert tips to help narrow down your search and choose the best sewing or embroidery machine that suits your needs.
Whether it's stitching up something special or personalizing gifts, there are plenty of options out there to get your creative juices flowing.
Keep reading as we dive deep into what makes these models stand out from each other and how they could benefit different types of projects.
Key Takeaways
When choosing a monogramming machine, consider factors such as features, brand reputation, and price.
Top monogramming machines to consider include the Singer 9960 Quilting Sewing Machine, Brother Sewing Quilting Machine 1850, Janome Computerized Quilting Sewing Machine, EverSewn Sparrow 30 Sewing Machine, and Husqvarna Viking Jade 35 Sewing Embroidery Machine.
Useful monogramming accessories include tear away machine embroidery stabilizer sheets, temporary spray adhesive for fabric bonding, polyester embroidery thread kits, and thread nippers.
It's important to understand the definition and uses of monogramming, the difference between monogramming and embroidery, and sewing techniques for clean monogram results.
Top 10 Best Monogramming Machines
When choosing the best monogramming machine for your projects, consider various options to meet your needs. The Singer 9960 Quilting Sewing Machine has 600 stitches. The Brother Sewing Quilting Machine 1850 includes built-in stitches and an LCD display.
The Janome Computerized Quilting Sewing Machine is feature-packed. The budget-friendly EverSewn Sparrow 30 Sewing Machine is versatile.
Essential accessories include New Broidery Tear Away Machine Embroidery Stabilizer Sheets, Sulky Temporary Spray Adhesive, Brother Colors Polyester Embroidery Thread Kit, Black White Polyester Embroidery Thread Set, and Ultimate Thread Nippers Precision Snipper and Seam Cutter.
These insights will help you make an informed choice for your monogramming projects.
1. Singer 9960 Quilting Sewing Machine 600 Stitches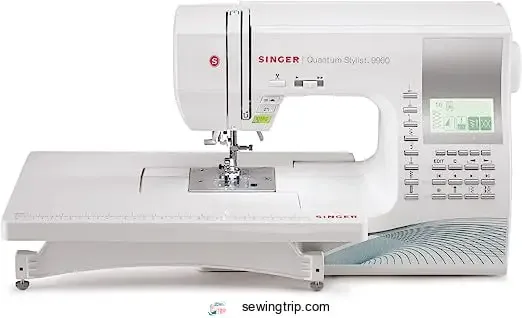 View On Amazon
The Singer 9960 model excels at personalizing quilts with 600 stitches, including 5 fonts for fancy monograms and applique. It offers ease of use, creative potential. The LCD screen provides visibility when picking stitches.
Twin needle settings prevent skipped stitches. Extras like the extension table, LED light, and multiple presser feet equip you for any project. Yet within its versatility remains precision – the 25-year warranty attests to Singer's standards.
Let your creativity flow through each font and built-in stitch, while efficiency keeps frustration away.
Includes 600 built-in stitches with 5 alphanumeric fonts
Fast sewing speed at 850 stitches/minute
Automatic needle threader for convenience
LCD displays stitch functions
Comes with extension table and presser feet
25-year limited warranty
Occasional jamming issues reported
Not for heavy-duty sewing
Manual not beginner-friendly
Smaller work area than longarm quilting machines
2. Brother Sewing Quilting Machine 1850 Built-in Stitches LCD Display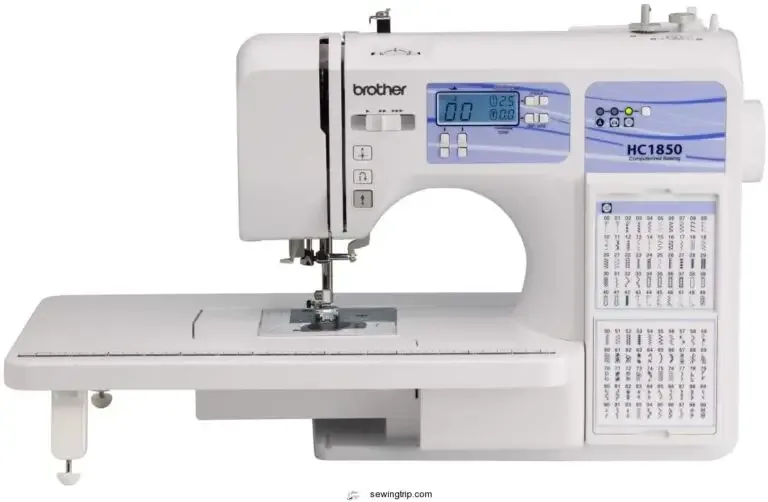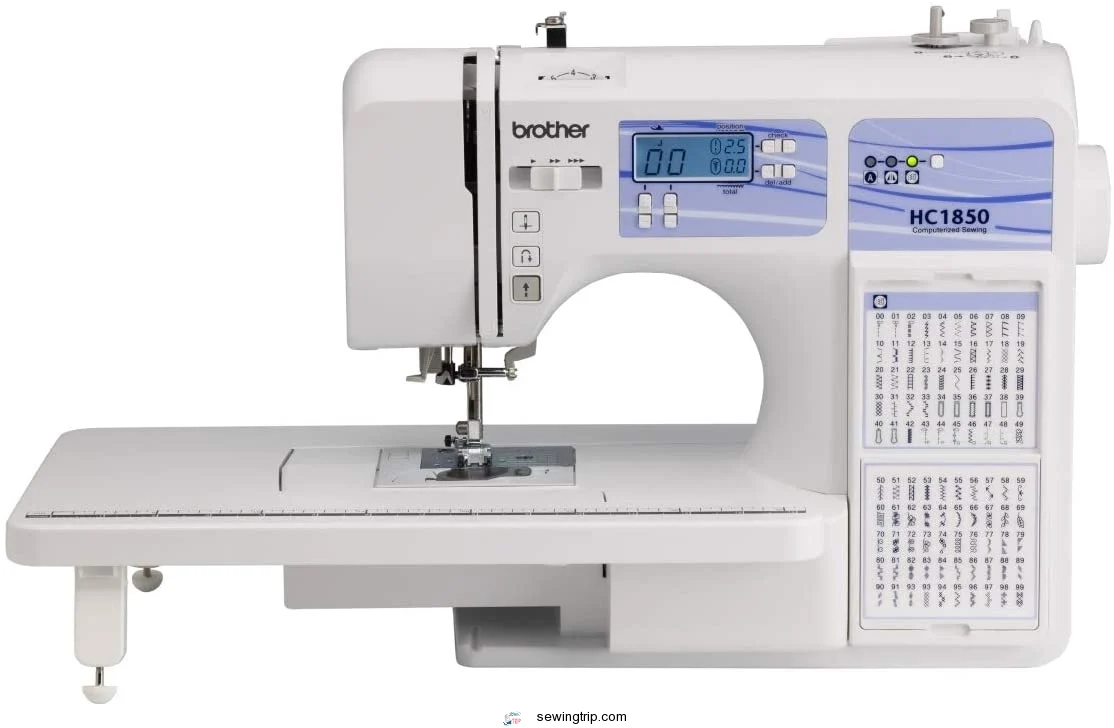 View On Amazon
You'll love the lightweight Brother HC1850 with 185 built-in stitches for tackling sewing and quilting projects with ease. We know the automatic threader may jam occasionally, but the bilingual instruction guides will have you monogramming and decorative stitching quickly.
With 55 alphanumeric sewing stitches, you'll adorn towels and t-shirts with letters, numbers, and symbols immediately.
While unsuitable for heavy-duty use, the multiple presser feet, LCD display, and exceptional feed system allow precise embroidery of simple designs, quilting, and garment mending. Stay assured the 25-year limited warranty protects your investment as you explore your creative talents.
Lightweight and portable
Wide selection of built-in stitches
Bilingual instruction materials
Multiple presser feet included
LCD display for stitch selection
25-year limited warranty
Not suitable for heavy-duty sewing
Automatic threader may jam occasionally
Limited to basic monogramming designs
3. Janome Computerized Quilting Sewing Machine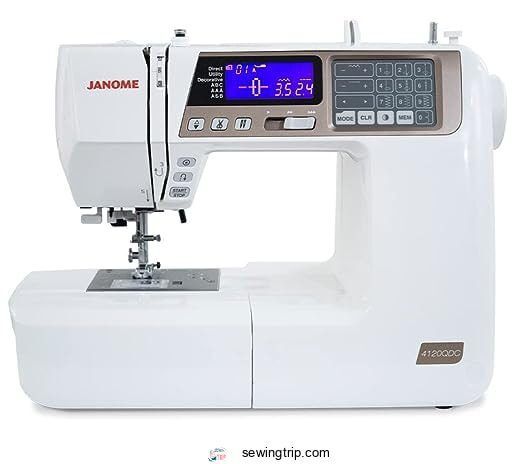 View On Amazon
With a robust built-in stitch library, automatic threader, and intuitive controls, you'll find this Janome satisfies your crafty versatility needs. The 120 built-in stitches give you plenty of decorative options while the dedicated alphabet set is ideal for adding monogrammed personalization to projects.
The computerized panel with LCD display allows easy selection and adjustment of stitches.
Sewing tasks are further simplified with handy buttons for automatic thread cutting, reverse stitching, needle up/down and more. The top loading bobbin is jam resistant for smooth sewing. Though it may seem noisy next to quieter models, customers praise the overall ease of use.
With handy accessories like a hardcover and instructional media, this machine aims to make sewing and embroidery accessible. It provides the creative freedom you crave with sufficient functionality at a reasonable price point for hobbyists.
The Janome's standout features equip you to take on an array of DIY projects with ease and enjoyment.
Computerized stitch selection
Built-in alphabet for monograms
Top loading bobbin system
LCD display screen
Automatic thread cutter
Instruction booklet and CD
Louder than other machines
Limited to smaller monogram font
Extension table quality varies
4. EverSewn Sparrow 30 Sewing Machine Computer Controlled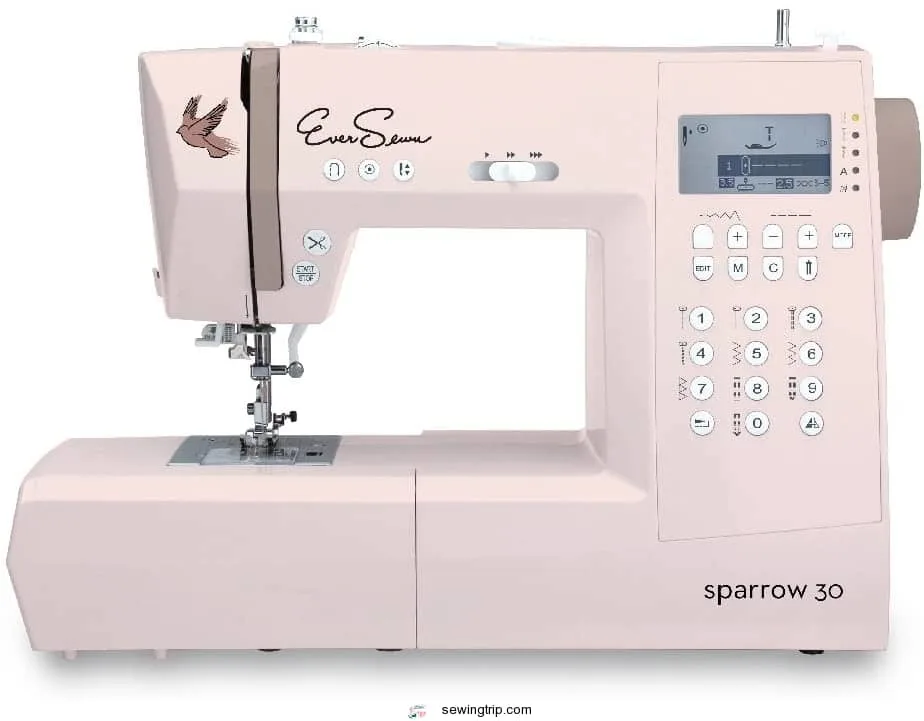 View On Amazon
Controlling a computerized sewing machine, you grab 310 stitch patterns and 2 full alphabets for free-motion and personalized projects with this high value EverSewn Sparrow 30 setup.
This computer-controlled pink machine whirs away as your fingertips glide across buttons customizing stitches. Personalized embroidery takes shape with the full alphabet while quilt blocks emerge from creative combinations.
The extension table provides a spacious work area to handle large pieces and free-motion techniques. Adjust the width up to 7mm for unique decorative accents as this electric sewing machine brings your visions to life.
310 built-in stitches for creativity
Memory function to save combinations
Extension table included
Durable metal construction
Needle up/down and start/stop features
Some bobbin housing issues reported
Durability concerns at the price
Not needed for basic sewers
5. Husqvarna Viking Jade 35 Sewing Embroidery Machine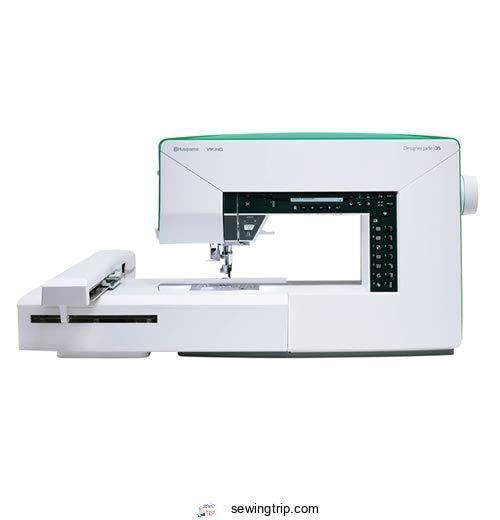 View On Amazon
Have this Husqvarna Viking embroidery machine and all its bells and whistles if you're eager to venture into machine embroidery. The compact Jade 35 boasts 70 built-in designs, USB pattern loading, and 120 stitches for monogramming, quilting, and embellishment projects.
While handy for crafters, expect a learning curve mastering the multifaceted functions. The patented Sewing Advisor offers step-by-step guidance, but some users still find the overly complex menus frustrating.
Embroidery performance and tension receive mixed reviews from owners. Compare warranty coverage if considering this feature-rich but temperamental model.
Compact size
Built-in embroidery designs
Diverse decorative stitches
Sewing Advisor feature
Complex menus and functions
Mixed embroidery performance
Tension problems reported
Durability concerns and breakdowns
6. New Broidery Tear Away Machine Embroidery Stabilizer Sheets
View On Amazon
You shape beauty by delicately securing your fabric to the New Broidery stabilizer like an artist preparing a blank canvas, letting those creative juices flow as you effortlessly tear away the backing to reveal your masterpiece.
This medium weight tearaway stabilizer strikes the ideal balance for light to medium density embroidery designs. The polyester material prevents puckering and slipping yet tears away with zero residue.
Your needle glides smoothly without snagging, allowing your creative visions to blossom into existence. Shape the future through liberating inspiration. Design the life you dream in thread. Discover inner voice and self-expression with each monogrammed gift. Let this high quality stabilizer empower your sewing success.
Tears away cleanly after stitching
Good for light to medium density embroidery
Works well on t-shirts, towels, bags
Easy to use and cost-effective
Too thin for dense in-the-hoop designs
Not ideal for heavy embroidery projects
May leave some loose threads behind
7. Sulky Temporary Spray Adhesive Four Ounce
View On Amazon
Fabric layers can't slide with Sulky's repositionable spray adhesive securing your materials temporarily. This non-toxic, odorless spray adhesive provides a light hold that decently sticks to fabric. It disappears after 2-5 days without staining, so you can reposition pieces as needed while working on your project.
The 4 oz aerosol can lets you adhere patterns, join quilt layers, or attach appliqués without pinning. Precise spray control and minimal overspray make application easy. While the temporary bond may not last very long for some projects, it allows effortless repositioning.
Overall, this quality adhesive offers an effective temporary solution for securing fabrics and patterns when sewing, quilting or crafting.
Precise spray direction
Minimal odor
Disappears without staining
Allows repositioning
Temporary hold may not last long
Not ideal for dense or heavy materials
8. Brother Colors Polyester Embroidery Thread Kit 550Y
View On Amazon
Appreciate the seasons of your life with colors as vibrant as your experiences. Give your next embroidery project a burst of vibrancy with the complete Brother Colors Polyester Embroidery Thread Kit. This kit contains 63 spools of high-quality 100% polyester thread in a rainbow of rich hues that'll bring any design to life.
Each 550-yard spool resists fading and breakage, ensuring your hard work maintains its beauty. The included color chart helps match each thread to Brother machine hues so your projects emulate the colors you see on screen.
Housed in a convenient storage box, this kit makes selecting and organizing threads effortless.
Whether you're just starting your embroidery journey or perfecting your technique, this colorful assortment has you covered. Let it inspire you to embroider cherished memories and designs glowing with nuance and dimension.
Contains 63 colors matching Brother embroidery machines
550 yards of thread per spool
Fade and breakage resistant
Convenient storage box with color chart
Vibrant, rich thread hues
Provides a full range of color options
Colors may not match all Brother displays precisely
Lacks some specialty threads like metallics
Storage box takes up space
9. Black White Polyester Embroidery Thread Set
View On Amazon
The Black White Polyester Embroidery Thread Set includes 5500 yards of thread on each spool, meeting ample needs for machine embroidery projects. With large cones holding black and white thread, you'll get a versatile duo of go-to thread colors.
Suitable for various embroidery machines, this polyester thread kit offers cost savings for stocking up. The 90 weight thread withstands machine embroidery while staying thin. Users report the thread lacks premium sheen and feel.
Yet for standard needs, the generous yardage at a competitive price prove handy.
5500 yard spools provide plentiful thread
Works with major embroidery machine brands
Affordable for stocking up
Lacks silky feel and sheen
Prone to breaking more than premium threads
Can be fuzzy without smoothness
10. Ultimate Thread Nippers Precision Snipper and Seam Cutter
View On Amazon
Snip precisely through fabric and thread with these durable, nickel-plated Italian thread nippers. The alloy steel construction and memory steel spring provide smooth, effortless cutting every time. The spring mechanism reduces hand strain while the nickel plating resists corrosion.
Satisfy your inner perfectionist by gliding through fabrics and threads, leaving behind clean, sharp edges. Experience precision in motion with every satisfying snip. Ideal for sewing, crafting, bonsai, and detail work requiring a delicate yet powerful touch.
Make quick work of cutting tasks without fraying thanks to the quality materials and manufacturing.
Durable nickel-plated alloy steel construction
Corrosion resistant
Smooth, easy cutting motion
Reduces hand strain
Sharp, precise blades
No snagging or fraying
Great for detailed work
Not stainless steel
Some issues with packaging
Occasional quality control problems
Here Are 12 Things to Consider When Choosing an Embroidery Machine

When selecting an embroidery machine for monogramming, first consider the brand's reputation and customer satisfaction. Also verify that the machine offers essential features like an automatic thread cutter and needle threader, and check that it has the versatility you need in terms of hoop sizes and built-in designs.
Be sure to check the availability of local support and warranty options in case you require assistance later on.
Brand reputation and customer satisfaction
You'll want to vet a brand's reputation before investing in their embroidery machine. Research reviews, join user groups, and ask around about reliability and customer service. Quality brands earn loyalty through consistent performance, responsive support, and delivering on promises.
Compare warranty coverage and service options too. Prioritize makers with proven track records for quality construction, longevity, and meeting customers' needs.
Essential features and versatility
Look for features like automated thread cutting and needle threading mechanisms on your machine. Critical functions like these save time and prevent frustration during the embroidery process. Evaluate versatility by examining available hoop dimensions, built-in design selections, and the ability to upload external files.
Maximum hoop dimensions allow more design flexibility. A library of built-in patterns provides inspiration, while import capabilities let you customize. Prioritize features that suit your creative vision, skill level, and budget. Essential machine capabilities unlock your personalized monogramming potential.
Support and warranty options
Consider choosing a home brand machine based on the dealer's reputation and level of support.
Warranty coverage length
Quality of customer service
Dealer reputation and expertise
Machine longevity and upgradability
Availability of technicians for service
Choosing a reputable dealer with excellent support helps ensure your machine investment is protected. A dealer with a good reputation and high-quality customer service demonstrates their commitment to supporting customers long-term.
Assessing the dealer's expertise and staffing can indicate their ability to properly service machines and fulfill the warranty. Prioritizing machine longevity and upgradability ensures your investment will last.
Ultimately, selecting a dealer that excels across all of these factors provides the best assurance that your machine purchase will be supported throughout its lifetime.
What is a Monogram?

Combining letters into a design personalizes items, reflecting style. Monogramming takes initials or names and artistically merges them into a unified design. This allows you to customize clothing, accessories, home decor and more with a personal touch.
Monograms encapsulate the romance of passing down hand-embroidered heirlooms. Or they can exude preppy sophistication when embroidering a sportcoat.
Design your monogram style based on the item and intended effect. Keep it classic with initials only in a traditional intertwined style. Get creative with full names, meaningful symbols and artistic font styles. Monogramming opens up endless possibilities to make things uniquely yours.
Explore different layouts and fonts until you find the perfect monogram that resonates. With customization so accessible nowadays, infuse personal flair into everyday items.
What is a Monogramming Sewing Machine?

A monogramming sewing machine embroiders personalized monogram designs consisting of letters onto fabrics. It allows you to easily add custom embroidered initials, names, or short phrases to clothing, linens, accessories, and more for a special personalized touch.
Monogramming machines have built-in embroidery capabilities and alphabet fonts designed for stitching single initials or two to three letter combinations in the traditional interlocking monogram style.
Look for models with multiple alphabet fonts for variety, an embroidery hoop large enough for most projects, and easy design uploading via USB. Many feature an LCD screen and color touch controls that make choosing designs, editing, and stitching simple.
With the right monogramming machine, you can create unique embroidered gifts, customize garments, embellish home decor, and more at your own pace and from the comfort of home.
Explore specialty features like character spacing adjustment and kerning for your perfect monogrammed creations.
Choosing the Right Embroidery Machine for Your Needs

When choosing the best embroidery machine for monogramming, compare key features like built-in fonts, maximum hoop size, and editing capabilities. You'll need to decide between a dedicated monogramming machine or a full-featured embroidery machine, which offers more versatility for custom designs.
Trusted brands like Brother, Singer, and Janome provide quality monogramming and embroidery machines for all skill levels.
Key features to consider
You'll love the automatic thread cutters and ample hoop sizes that give you tons of design flexibility. When comparing monogramming versus embroidery machines, prioritize key features like built-in fonts, design editing capabilities, and maximum hoop size over unnecessary bells and whistles.
Reputable brands like Brother, Singer, and Janome offer quality models with essential functions for monogramming and creative possibilities. Evaluate sewing capabilities along with embroidery field size to ensure versatility for clothing, quilting, and home decor projects.
Consider a multi-needle machine if planning steady embroidery production. The perfect monogramming machine empowers your unique visions.
Monogramming vs embroidery
Monogramming requires specific machines, while embroidery offers more creative possibilities.
Monogramming uses preset fonts and limited design options compared to embroidery machines.
Embroidery provides complete design freedom with endless fonts, sizes, and placement options.
Monogramming machines have restricted field sizes that limit design scale.
Embroidery machines accept a wide range of design file formats for total customization.
Rather than settling for a machine with just a few built-in monogramming fonts, opt for an embroidery machine to unlock your creative potential. With the right embroidery machine, you can create any monogram style you desire along with so much more.
Best brands for monogramming
Brother delivers some of the best monogramming machines for hobbyists – their PE800 model comes fully loaded with 138 built-in designs and 11 lettering fonts. For home crafters, they provide user-friendly features, built-in designs, tutorials, and support.
Janome and Singer also offer quality monogramming features on certain models. Check for built-in fonts, easy editing, and design capacity when selecting a machine. Warranties vary – some offer 10-25 years limited. Compare reputable brands like Brother, Janome, Singer, Husqvarna Viking when buying.
Local dealer support is invaluable for training, maintenance, and servicing your embroidery machine.
Frequently Asked Questions (FAQs)
What sewing techniques help get clean results when monogramming garments? Tips on proper hooping, stabilizer use, and stitching techniques to achieve quality embroidery on finished garments are not provided.
Use tight hooping and cutaway stabilizer for a crisp finish. Opt for lightweight stabilizers like tearaway on delicate fabrics. Avoid stretching the fabric when hooping. Line up the hoop grid with pattern placement guides for accuracy.
Always use the required topping to prevent stitches from sinking into the garment.
Conclusion
Ultimately, choosing the right monogramming machine for your needs is a matter of personal preference and budget. When selecting a machine, consider essential features like automatic thread cutting and needle threader, as well as hoop size and design versatility.
Opt for a brand with a good reputation and customer satisfaction, plus warranty and on-site service options. For a home business, a multi-needle machine is better for commercial use than a flatbed machine.
And for those looking for a top-of-the-line machine, the Husqvarna Viking Jade 35 is a great pick with its 200mm sewing surface, 700 stitches-per-minute, and 70 built-in embroidery designs. With a bit of research and knowledge, you can find the perfect monogramming machine for your home business.