This site is supported by our readers. We may earn a commission, at no cost to you, if you purchase through links.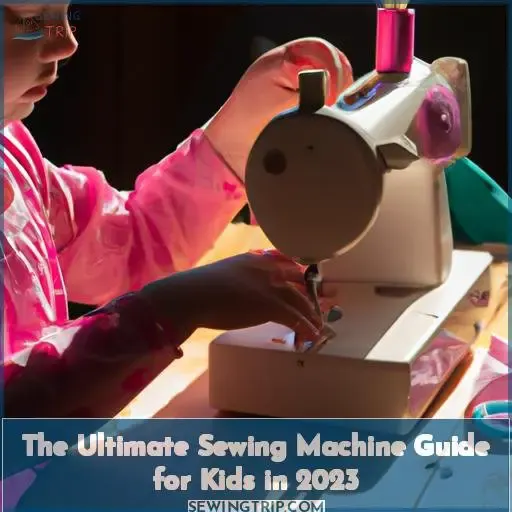 You're ready to find the perfect sewing machine to help your child unlock their inner designer. I know how exciting and daunting it can be to purchase their first machine. Rest assured – with the right features, any kid can master sewing and embrace their creativity.
Let's start with safety. Look for rounded edges, no exposed needles, and easy bobbin winding. Don't sacrifice size – a lightweight, portable machine allows them to sew anywhere while building confidence.
Now for the fun part – decorative stitches, swift speeds, and brilliant colors transform learning into play. Help them grow by matching user-friendly controls with their skills. Before you know it, they'll be sewing creations that reflect their unique style.
With the right tools, you'll witness their passion blossom as they gain a valuable skill for life.
Key Takeaways
Safety features are important for child sewing machines.
Start with simple projects and advance skills over time.
Consider the child's age, dexterity, and interests when choosing a machine.
Sturdy and mechanical models are good options for beginners.
Top 10 Best Child's Sewing Machines
Here are some tips to consider when looking for the best child's sewing machine. Focus on beginner-friendly features such as portability, ease of use, and safety guards. Top-rated choices include the Janome Fastlane Fuchsia for its simplicity, the Brother XM1010 for its versatile stitch options, and the Singer 3232 for its budget price.
Kid-specific models like the Cool Maker Sew N Style and Sew Crazy encourage creativity and skill-building. Assess your child's age and skill level, and then select a machine that will grow with them.
Janome Fastlane Fuschia Basic Sewing Machine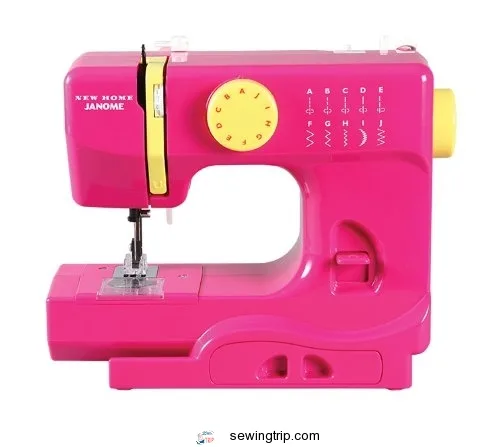 View On Amazon
You'll breeze through portable projects with the Fastlane's simplicity and featherweight design. Weighing just 5 pounds, this compact sewing machine is perfect for beginners or sewing on the go. Its top drop-in bobbin, 10 built-in stitches, threading diagrams, and finger guard ensure ease of use wherever your crafting takes you.
The Fastlane's free arm and accessory storage add versatility for repairs, quick garment alterations, and small, creative works.
Lightweight at only 5 lbs
Portable for sewing on the go
Free arm for sleeves and pant legs
Storage for accessories
Easy threading and controls
Only 10 built-in stitches
Smaller workspace
Not suitable for heavy fabrics
Limited sewing speed
Brother Sewing Machine XM1010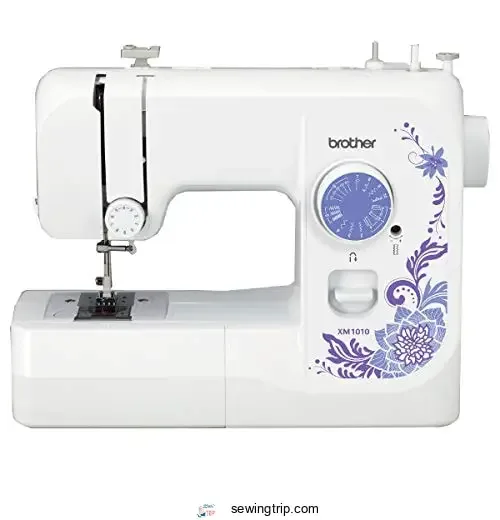 View On Amazon
The Brother XM1010 has got your back with user-friendly features for learning the sewing basics. This versatile sewing machine is perfect for beginners to advanced sewers. It offers a selection of 10 built-in stitches, including utility, decorative, and auto-size buttonhole options.
Threading the needle is a breeze, thanks to the threading diagram printed right on the machine.
Budding fashion designers will appreciate the free arm, which is great for sewing sleeves, pant legs, and other cylindrical items. Creativity and confidence can thrive with the instructional DVD, manual, and included accessories like sewing feet and needles.
Versatile for beginners and beyond
Useful built-in stitches
Easy threading and bobbin system
Free arm good for sleeves, legs, and more
Instructional tools included
No backstitch feature
Limited stitch options
Accessories not built-in storage
Singer Simple 3232 Sewing Machine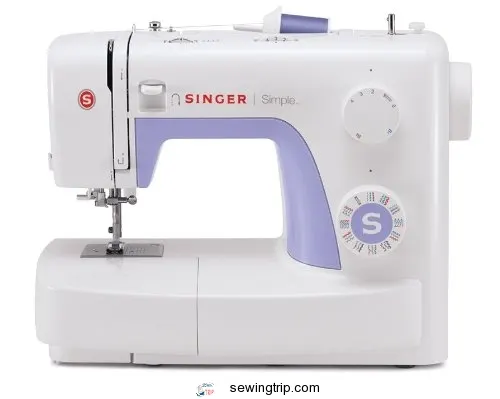 View On Amazon
You'd appreciate the Singer Simple 3232's sturdy build but lightweight portability, making it a fan favorite for easing into sewing without breaking the bank. Despite its budget-friendly price, this machine boasts a heavy-duty metal interior frame that keeps things stable when learning those stitches.
The 12.2-pound weight makes it light enough to move between projects, yet heavy enough to stay put during use.
While not meant for heavy-duty projects, its simpler features help new sewists get acquainted with the craft. The automatic needle threader and top drop-in bobbin simplify setup and minimize frustration.
With practice, tricky tension adjustments and winding become second nature. While lacking premium details, the 3232 offers good value for money.
Overall, it's a smart choice for trying a new hobby without overspending.
Sturdy internal metal frame
Portable 12 lb weight
Automatic threader
Drop-in bobbin
25-year warranty
No premium features
Tricky bobbin winding
Tension needs adjusting
Needle threader takes practice
Cool Maker Sew N Style Sewing Machine
View On Amazon
Kids'll go wild customizing projects with the Sew N Style. This magic machine lets 6-8 year-olds design st■ animals, bags, and accessories without real needles. Just brush the fabrics back and forth until they bond. Embellish creations with pom poms, sequins, ribbons – the options are endless.
Spark imagination by following patterns or sewing freestyle. The easy push-button operation and enclosed needle ensure safety for little hands.
Though not a true sewing machine, the Sew N Style allows kids to develop skills and creativity alongside adult sewers. Guidance is still required to prevent frustration. Refills do add cost over time. Overall, it's a playful intro to sewing with lots of cute customization potential.
Safe, no needles
Encourages creativity
Customizable projects
Lets kids sew too
Requires refills
Can't use own fabric
Needs supervision
KPCB Kids Sewing Machine
View On Amazon
Ain't this mini machine mighty perfect for beginner sewing adventures with all its kid-friendly features? With parental guidance, won't it let your little crafter get creative right away with the included DIY kit, while the safety controls provide peace of mind? This lightweight, safe, and easy-to-use sewing machine is ideal for kids to learn basic skills.
Fun intro to sewing for kids
DIY materials to start projects
Safety features like a finger guard
Affordable price point
Not suitable for heavy-duty sewing
May require parental guidance
Some issues like jamming, foot pedal problems
Varmax Sewing Machine With Extension Table Electric Sewing Machine for Beginners
View On Amazon
You've got this – start small with the Varmax and build your confidence. Before you know it, you'll be sewing up a storm!
The Varmax sewing machine is a great starter model for beginners looking to gain skills at home. With its compact size, extension table, built-in light, and easy controls, you can tackle simple projects with ease.
For now, focus on getting comfortable with sewing basics. Embrace the process of learning, be patient with yourself, and let your inner creative genius shine through!
Compact and lightweight
User-friendly for beginners
Good price point
Safety features like needle guard
Fun intro to sewing skills
Not suitable for heavy-duty projects
Limited built-in stitches
Manual threading can be tricky initially
Spiegel Sewing Machine
View On Amazon
You can master basic stitches on the Spiegel in no time. With its user-friendly design and easy-to-follow instructions, even first-time sewers will be able to complete simple projects with just a little practice.
The adjustable settings allow you to find the right tension and stitch length for your fabric.
With 32 built-in stitches to choose from, you'll have plenty of options to unleash your creativity.
Affordable price
Lightweight and portable
Good for beginners
32 built-in stitches
Bobbin cover can be tricky to snap in
Tension adjustment takes some effort
Plastic parts may be less durable
Magicfly Mini Sewing Machine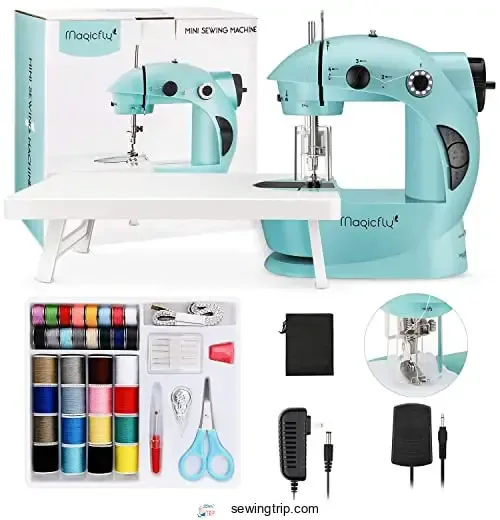 View On Amazon
This compact sewing machine is great for minor repairs and lightweight fabrics. The Magicfly Mini Sewing Machine offers the basics you need to get started with introductory sewing projects.
At just 8 inches tall and under 8 inches wide, it's small enough to store in a drawer or bring along in its included storage bag. It runs on batteries or AC/DC power, granting flexibility in where you can use it.
With simple controls, one stitch type, and fixed stitch width, it's designed for lightweight patching, hemming, crafts, and minor mending tasks. While it lacks premium features, it provides an affordable way to gain firsthand sewing experience.
Practice threading, winding bobbins, adjusting tension, and guiding fabric through the machine. As your skills progress, move on to larger machines with more capabilities. For now, focus on developing coordination and familiarity with sewing fundamentals.
The Magicfly Mini won't replace a heavy-duty machine, but it opens the door to sewing for novices. Approach it as a learning tool, and you may just get hooked on this handy DIY skill.
Portable and lightweight
Good starter machine
Low price point
Only one stitch type
Not suitable for heavy fabrics
Lacks features of full-size machines
Sew Mighty Mini Sewing Machine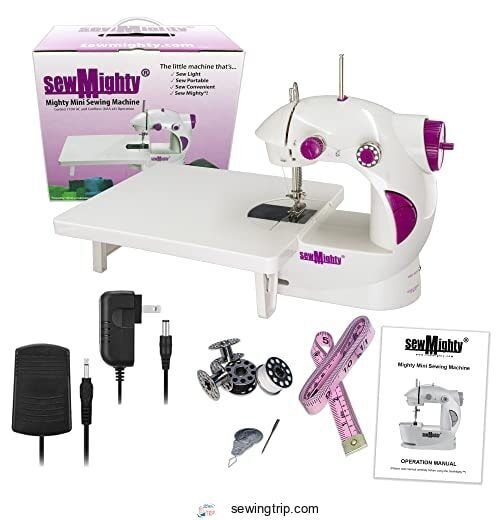 View On Amazon
The Sew Mighty Mini's portability makes it easy to transport this lightweight starter sewing machine anywhere. As an expert in children's sewing machines, I can assure you that this user-friendly model is ideal for beginning sewers of all ages.
It has safety features like a protective finger guard, allowing kids to start developing essential skills under supervision. The two-speed motor gives ultimate control for learning at your own pace. Additionally, it has an automatic bobbin winder and integrated light, providing convenience in a compact size.
Whether you're at home or on the go, the Mighty Mini has you covered for basic mending projects, hems, and more. It is perfect for budding creatives seeking to master their craft, as it grants the power to turn imagination into reality.
Despite its simplicity, it is mighty and opens up a world of DIY possibilities. You can let your inner designer shine by sewing bags, pillows, plushies, and other fun accessories. With practice, the Mighty Mini helps unlock the potential for more advanced projects down the road, allowing you to upgrade as your skills progress.
Portable and lightweight
Beginner-friendly
Safety features
Affordable price
Limited stitch options
Not suitable for heavy fabrics
Smaller project capacity
Sew Crazy Sewing Machine With Magic Sequin Headband
View On Amazon
With parental supervision, kids aged 8+ can develop essential sewing skills and encourage creativity through sensory play with the Sew Crazy starter set. The real working sewing machine comes with useful accessories like bobbins and needles to start sewing right away.
The magic sequin headband provides creative tactile stimulation as the sequins change color when brushed. Together, these toys help kids gain dexterity, problem-solving, and design skills.
Real working sewing machine
Needle guard for safety
Fun, creative headband included
Allows kids to develop sewing skills
Portable and lightweight
Parental supervision required
Small parts may pose choking hazard
Batteries required for lighting feature
Not suitable for heavy-duty projects
Noise may be bothersome
What Features to Look for While Purchasing a Sewing Machine for Kids?

When buying a sewing machine for your kid, prioritize user-friendly features that match their skill level.
Look for safety features like needle guards and finger protectors.
Make sure it has easy bobbin loading and thread guides.
Choose simple stitches and adjustable speed controls.
Pick a lightweight machine your child can manage.
Consider how the machine will grow with your child. Start with basic techniques, then upgrade to computerized options as their skills progress. Choosing a machine that's easy and safe will build their confidence. With practice, junior sewists can unlock their creativity, graduating from simple projects to designing advanced clothing patterns and button designs using various foot pedals, stitches, and thread tensions.
What to Look for When Buying Sewing Machines for Kids

You'll need to decide between mechanical or computerized machines and consider essential safety features when buying a sewing machine for your child. Mechanical models are often easier to operate and understand for beginners, while computerized machines offer more functionality that kids can grow into.
Focusing on key safety features like needle guards and finger protectors allows kids to explore sewing creativity while safeguarding from potential hazards.
Mechanical or Computerized?
You'd go manual for their first machine. Focus on something basic, with key skills like bobbin winding and needle threading. Avoid too many bells and whistles initially. A simple, mechanical machine allows them to master the fundamentals.
Once their skills progress, you can upgrade to a computerized model with more stitches and accessories included. The goal is building confidence through mastery of each skill, ensuring quality stitching and comprehension of tutorials.
Safety Features
Choose machines with guards over needles and motors to keep little fingers safe as children learn to sew.
Look for safety features like:

Finger guards to prevent needle injuries
Low voltage motors to prevent electric shocks
Lockable power buttons so settings can't be changed
Enclosed bobbin areas with no pinch points
Built-in LED lights that illuminate the stitching area clearly
Adjustable sewing speeds that allow you to set the pace
Multiple stitches and fabric guides that grow with your child's skills
Sturdy screw-on presser feet that prevent slipping for stability
Prioritize age-appropriate functions, settings, and accessories so your child can gain confidence mastering sewing basics on a safe, smart machine.
Frequently Asked Questions (FAQs)
What age is best to introduce sewing to kids?
The best age is around 8 when their fine motor skills start blossoming like the first tulips of spring. Guide eager hands as they thread the needle's eye, keeping a close watch like a mama robin. Nurture their creativity and pride in making; give wings for their talents to soar.
Should I look for a warranty when purchasing a child's sewing machine?
Definitely look for warranties! You want durability and longevity when investing in an introductory sewing machine. With kids learning, they can be rough on machines. Warranties give peace of mind when selecting the best fit for your child's interests and needs.
Are there safety concerns with kids using sewing machines?
Research shows that 30% of ER visits for sewing injuries involve children. It is important to supervise their use, opt for kid models with safety features, set speed limits, and ensure that little fingers stay clear of needles.
What projects can kids make with a starter sewing machine?
You can make simple pillows, tote bags, aprons, scrunchies, blankets, and plushies. Start with pre-cut felt or fleece for no-fuss projects. Add appliques, pom poms, ribbons to personalize items.
Is it better to buy new or used for a child's first sewing machine?
Buy used. You feel hopeful when discovering hidden treasure. Assess safety and ease together.
Conclusion
You've got the skinny on finding just the right sewing machine for your young one. With all the doodads nowadays, focus first on safety and ease of use. Choose options that let them create at their level.
Invest in quality and durability so they can sew for years. With practice, you'll be surprised how quickly they'll stitch up some seriously swell projects! Matching machine features to their age and skills is the bee's knees for creativity and confidence.