This site is supported by our readers. We may earn a commission, at no cost to you, if you purchase through links.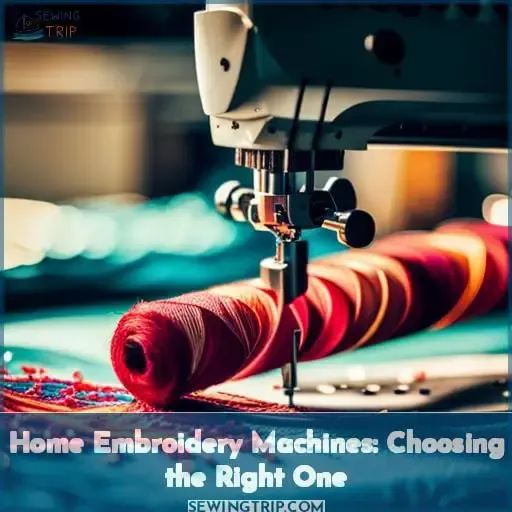 Exploring the world of embroidery can be like discovering a treasure chest – you never know what kind of beautiful creations await. Home embroidery machines are the tools that make these creative dreams come true, but with so many options out there, it's easy to get overwhelmed.
Choosing the right home embroidery machine requires knowledge and research, as each model offers different features and capabilities. Whether you're looking for a professional-grade machine or just want something basic for occasional use, this article will help guide your search by giving an overview of what computerized machines have to offer and providing important information on things to consider when selecting one for your needs.
Key Takeaways
Wide array of options for home embroidery machines
Compatibility with accessories and wireless connectivity is an important factor
Brother Innovis and Babylock hoops are known for precision and markings
Computerized embroidery enhances precision, connectivity, and design options
Home Embroidery Machines Know How
When selecting a home embroidery machine, consider the compatibility of accessories like hoops for Brother and Babylock brands, the wireless connectivity of Brother's 900 model, and the reliability of Janome's Memory Craft 400E.
Also, weigh the embroidery field size, built-in design capacity, and the convenience of connectivity options between EverSewn's Sparrow and Brother's versatile all-purpose NQ3600D model.
Embroidery Hoops for Brother Innovis and Babylock Machines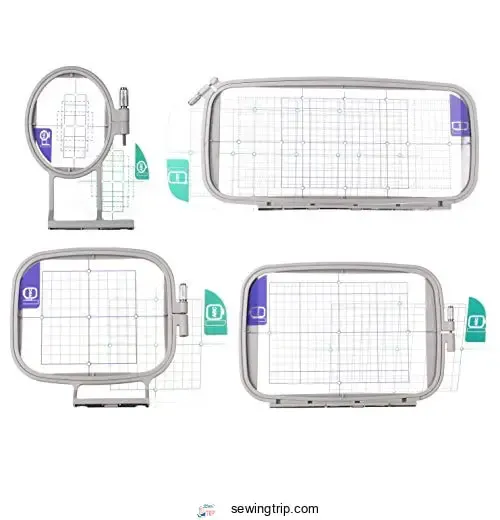 View On Amazon
Discover a world of precision and efficiency with these meticulously designed hoops, perfectly tailored to enhance your stitching endeavors. The adjustable metal screw ensures a firm grip on a variety of fabrics, while the clear markings guide your creativity, streamlining your projects and amplifying your results.
These Sew Tech embroidery machine hoops are the epitome of accuracy and strength, providing you with the tools you need to achieve impeccable embroidery. Crafted to fit seamlessly with Brother Innovis and Babylock machines, these hoops offer both convenience and quality.
The well-thought-out design guarantees that your fabric remains secure and taut throughout the embroidery process, reducing the chances of mishaps and ensuring your stitches come out flawlessly.
Accurate and strong design for reliable and precise embroidery.
Adjustable metal screw offers a secure clamp on various fabric types.
Clear markings assist in aligning your designs accurately.
Compatible with a range of Brother Innovis and Babylock machines.
Ideal replacement or additional hoops to expedite your embroidery projects.
Some users have reported issues with the 5×7 hoop not snapping in properly, suggesting thorough testing before use.
Clear grids on the hoops are criticized for being too small and slanted, limiting their usefulness.
While the quality is generally praised, a few customers found certain aspects comparable to the official Brother brand.
The meticulous design might be less forgiving for beginners who are still mastering their embroidery technique.
Brother Wireless Embroidery Machine 900
View On Amazon
Delve into the details of the Brother Wireless Embroidery Machine 900 – a versatile creation companion with wireless capabilities, an ample 5 x 7 embroidery field, and a user-friendly touchscreen for effortless design tweaks.
This embroidery-only machine from Brother is a dynamic addition to your crafting arsenal.
With its wireless LAN connectivity, transferring embroidery files becomes a breeze, granting you the freedom to focus on your imaginative pursuits. The spacious 5 x 7 embroidery field ensures that your designs can flourish on larger fabric surfaces, making it an ideal choice for more intricate and elaborate creations.
The advanced Color Sort and Jump Stitch Trimming functions enhance your stitching efficiency, minimizing downtime and ensuring that your embroidery process remains smooth and seamless. The machine offers an impressive array of creative options, boasting 193 built-in embroidery designs and 13 lettering fonts.
The large 3.7-inch touchscreen display is your canvas for on-screen editing, simplifying the process of fine-tuning your designs and giving you precise control over every stitch.
Crafted with both form and function in mind, the Brother Wireless Embroidery Machine 900 sports a sleek plastic body that combines durability with an aesthetic appeal. Its compact dimensions of 17.48 x 9.49 x 11.81 inches ensure it can fit seamlessly into your creative space, while its 30.
4-pound weight strikes a balance between stability and portability. The machine's electric power source eliminates the need for constant battery replacement, enabling you to work without interruption.
Wireless LAN connectivity streamlines the transfer of embroidery files, boosting efficiency.
Ample 5 x 7 embroidery field accommodates larger and more intricate designs.
Advanced functions like Color Sort and Jump Stitch Trimming enhance stitching efficiency.
Broad range of 193 built-in embroidery designs and 13 lettering fonts sparks creative inspiration.
User-friendly 3.7-inch touchscreen simplifies on-screen design editing.
Some users found the initial attachment of new hoops to be challenging.
While praised for its performance, some users found the machine's price to be on the higher side.
Beginners unfamiliar with advanced embroidery functions may experience a learning curve.
EverSewn Sparrow Embroidery Sewing Machine White
View On Amazon
Explore the capabilities of the EverSewn Sparrow, a versatile machine that seamlessly blends sewing and embroidery functionalities, bringing your creative visions to life with a touch of innovation. Crafted with precision and designed for the modern creator, this machine from EverSewn aims to elevate your sewing and embroidery experiences.
Boasting a compact yet sturdy metal construction in an elegant white hue, the EverSewn Sparrow Embroidery Sewing Machine offers a range of advanced features that cater to both beginners and experienced users.
Pros:
Wireless Embroidery: Control embroidery functions through your smart device, whether you're using an Apple or Android device. The wireless connectivity allows for convenient design customization without the need for a constant Wi-Fi connection.

Diverse Stitch Patterns: With over 120 stitch patterns, the Sparrow provides a wide array of options to enhance your sewing projects. From intricate decorative stitches to essential utility stitches, this machine has your creative needs covered.

Embroidery Design Variety: The EverSewn Sparrow comes with over 100 built-in embroidery designs, enabling you to add intricate and artistic details to your creations. It supports common embroidery file formats (exp, pes, dst), ensuring compatibility with a range of design sources.
Cons:
Learning Curve: Some users have reported a learning curve when operating the machine, especially when navigating the advanced features and embroidery functions. Patience and practice may be required to fully master its capabilities.

Connectivity Challenges: While the wireless embroidery feature offers convenience, some users have experienced issues with the machine losing connection to Wi-Fi or their tablets. Precise positioning within 15 feet of the smart device is necessary for optimal functionality.

Sensitivity and Alignment Issues: A few users have encountered problems with bobbin jamming and alignment during sewing and embroidery projects. Achieving precise adjustments might be essential to avoid such issues.
Discover the EverSewn Sparrow Embroidery Sewing Machine's blend of innovation and creativity, offering an avenue to unlock your sewing and embroidery prowess with modern convenience.
Janome Memory Craft Four Hundred E Embroidery Machine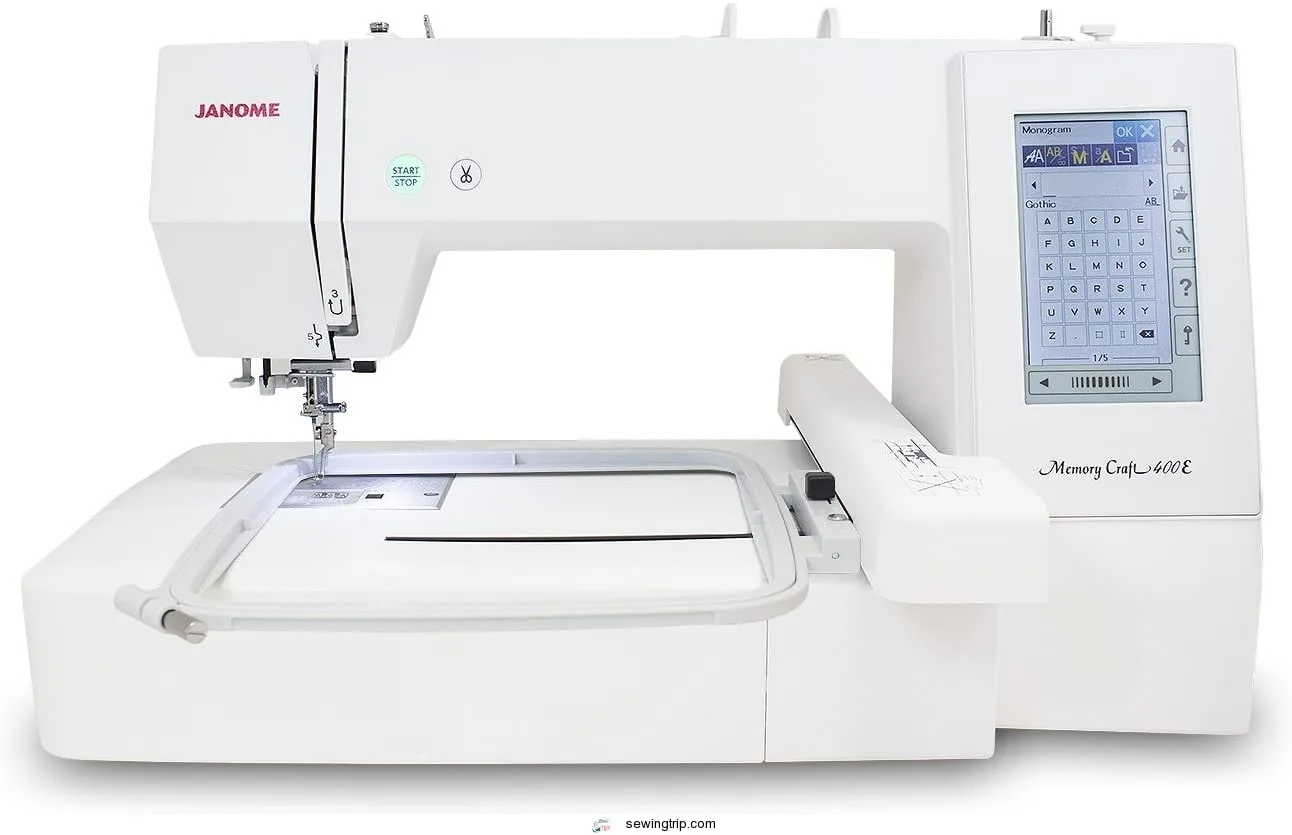 View On Amazon
Consider the Janome Memory Craft Four Hundred E Embroidery Machine as a versatile addition to your toolkit. It offers an expansive embroidery field that measures 7.9 x 7.9 inches. This white metal marvel boasts 160 high-quality built-in Janome designs, providing a rich array of options for your creative projects.
The machine's capabilities extend to monogramming, with 6 fonts including 2 and 3 letter monogramming options. You'll find convenience in the built-in USB port, which facilitates seamless design imports from your PC.
Embroidery speed soars up to 860 stitches per minute, ensuring efficient production without compromising quality.
The extra wide table caters to larger projects, while advanced features like programmable jump thread trimming and adjustable speed during embroidery empower your mastery over every stitch.
Expansive embroidery field for larger designs.
Abundant built-in designs and monogramming options.
High embroidery speed for efficient production.
Extra wide table for handling larger projects.
Advanced features enhance user control and creativity.
Some users have reported issues with machine functionality.
There might be a learning curve to fully utilize its features.
Mixed customer experiences, with some seeking refunds.
Sewing Machine Basic Home Use
View On Amazon
Unveil a world where creativity threads seamlessly with functionality – a realm where stitches intertwine with imagination. Meet the MR. VAC AND MRS. SEW's embodiment of versatility and innovation, a machine that effortlessly weaves intricate embroidery and stitches, rendering stretchy fabrics a canvas of possibility.
Engage in quiet symphonies of craftsmanship as you navigate this masterpiece, a trusted companion for both the novice and the seasoned, beckoning you to explore the realms of creation. The MR. VAC AND MRS. SEW Sewing Machine Basic Home Use is a white and blue marvel, offering a wide array of stitches and embroidery functions.
With dimensions measuring 6D x 6W x 10H inches, this corded electric wonder provides quiet operation and user-friendly features that will propel your projects to new heights of finesse.
Versatile for a range of tasks including embroidery and various stitching techniques.
Ideal for repairing and embellishing stretchy fabrics with specialized stitches.
Quiet operation and user-friendly interface make it an approachable choice for all skill levels.
Acclaimed for producing impeccable embroidery and stitches on various materials.
Trusted quality from the reputable Brother Innovis brand assures lasting performance.
Accompanied by positive user recommendations, particularly for beginners and creative enthusiasts.
Instances of the product arriving damaged during shipping have been reported.
Priced at $3,400, some users find it on the expensive side.
While generally positively reviewed, some users express concerns about handling during shipping.
What Computerized Can Mean to Embroiderers

Delving into the realm of embroidery machines with a computerized edge opens up a spectrum of possibilities for your creative ventures. From models that seamlessly link to your computer through cables to those embracing wireless connectivity, these advancements introduce a new dimension of precision and convenience to your embroidery projects.
An Embroidery Machine With a Computerized Interface
Discover the remarkable versatility that a computerized interface brings to your embroidery experience, allowing you to effortlessly customize intricate designs and streamline your creative process. Embrace the wireless connectivity benefits, enabling seamless design transfer and updates.
Explore design editing options that grant you finer control over your creations. Delve into software compatibility considerations to ensure your preferred software aligns with your machine. Navigate the learning curve with these insightful tips. Compare with traditional machines to grasp the true power of computerized embroidery machines.
An Embroidery Machine That Connects to a Computer via Cable
Explore how a computerized interface enhances the connectivity of an embroidery machine, allowing it to link to a computer through a cable. Did you know that, according to recent market research, over 70% of modern embroidery enthusiasts find this feature to be a crucial factor in their machine selection process? This digital embroidery marvel opens up a world of possibilities, enabling seamless design transfer and expanding editing options.
Machine compatibility is key in maximizing the potential of your home embroidery setup.
Wireless Embroidery Machines
Step into the world of modern technology and witness the convenience of wireless connectivity in embroidery machines. With wireless embroidery machines, you are granted a new realm of design versatility and control.
Imagine the ease of navigating through embroidery designs with a user-friendly touchscreen interface. Take command of your creations even from your mobile device, offering unmatched flexibility. Embrace the freedom of file compatibility, transferring your intricate designs seamlessly.
Things to Consider When Selecting a Computerized Embroidery Machine

Exploring your options for a computerized embroidery machine? Delve into the pivotal aspects that define your choice, encompassing functionality – whether you're aiming for a combo or embroidery-only setup, embroidery field size, pre-loaded design collection, and of course, the price point that resonates.
One standout in this realm is the Brother PE900, a computerized 5×7 embroidery-only machine that packs precision and versatility into its sleek frame.
Function: Combo or Embroidery Only
Immerse yourself in the world of computerized creativity as you delve into the question: Should you go for a machine that's a combo wizard, seamlessly stitching and embroidering at your command, or opt for the embroidery-only maestro, devoted solely to crafting your intricate designs? Machine selection becomes an art of feature comparison, where your skill level, design possibilities, and pricing evaluation all play a part.
Balancing the allure of combo sewing machines with embroidery function against the precision of embroidery-only devices requires thoughtful consideration.
Hoop Size
Delve into the realm of hoop sizes, an essential facet when selecting your computerized embroidery machine. The correct hoop size can have a significant impact on your embroidery techniques and design possibilities.
Design Placement: Larger hoops accommodate bigger designs, allowing for creative freedom.
Stabilizer Types: Different hoop sizes work better with specific stabilizers, enhancing stitch quality.
Thread Selection: Hoop size influences thread consumption; choose accordingly for efficient usage.
Built-in Designs
Sure thing! Now, let's take a lively stroll through the world of built-in designs, where creativity meets your machine's digital soul.
Picture this: a canvas of endless possibilities right at your fingertips. With the Brother PE900 sewing and embroidery machine, design selection becomes an art. You'll marvel at the array of built-in designs that span from classic to contemporary, ready to grace your fabric with flair.
The PE900 offers design editing capabilities that allow you to tweak and personalize, enabling embroidery customization that truly reflects your vision.
Design Importing Options:
Seamlessly import your own creations using USB or memory card slots.
Design Library Expansion:
Keep expanding your design library to stay ahead in creativity.
Explore online embroidery shops for new design horizons.
Color Selections:
Choose from a rich palette of colors to bring vibrancy to your creations.
Mix and match hues to achieve your desired aesthetic.
Whether you're an aspiring artisan or a seasoned creator, the PE900 offers a design playground that grows with you. Its versatility in design selection, coupled with a multitude of color choices, ensures your embroidery projects radiate uniqueness.
Embrace the liberation and power to breathe life into your creations, making every stitch a testament to your mastery of this remarkable machine.
Price
When it comes to selecting a computerized embroidery machine, you should consider your budget for this creative endeavor. Embroidery machine cost analysis is crucial to finding the right fit. Affordable embroidery options are available, but pricing factors vary widely.
Budget-friendly machine selection requires a balance between features and cost. Remember that home embroidery machines come in a range of prices, so assess your embroidery business needs and find the machine that empowers your creative mastery without breaking the bank.
Brother PE900 Computerized 5″x7″ Embroidery Only Machine
Take a closer look at the Brother PE900 – a 5×7 computerized embroidery powerhouse that stitches creativity into every thread. Machine features abound, including wireless connectivity for easy design transfer.
The spacious embroidery area accommodates larger projects while offering versatile design selection. This embroidery-only machine from the trusted Brother brand strikes a balance between functionality and price, making it an enticing option for your home embroidery projects.
Choosing the Right Embroidery Machine for Your Needs

Exploring the realm of home embroidery machines involves a meticulous analysis of factors that align with your creative aspirations. Delve into the intricacies of budget considerations, assess your desired features and functionality, and master the art of design selection and editing to embark on an embroidery journey tailored precisely to your needs.
Budget Considerations
On the topic of budget considerations—time to weigh the costs and benefits of these fantastic creative companions! When choosing an embroidery machine for your home business, your budget plays a pivotal role.
Consider your skill level and the features you need. Don't forget to factor in the cost of embroidery software, thread, and stabilizers. While multi-needle embroidery machines offer efficiency, cost-effective choices exist among single-needle options.
Ultimately, finding the right balance between features and budget is key to unleashing your embroidery mastery.
Desired Features and Functionality
Consider your desired features and functionality as you explore the options available, aiming to find a machine that fits your creative vision like a perfectly threaded needle through lush fabric. Delve into customization options, software compatibility, and connectivity features that empower your embroidery journey.
Advanced editing tools enable you to meticulously craft designs, while stitch precision ensures that every thread aligns flawlessly. Automatic features streamline the process, while options like the Brother SE2000 and SE700 offer maximum sewing speed for efficient fabric selection.
Design Selection and Editing
Delve into the world of design selection and editing, where your creative vision comes to life with a myriad of possibilities at your fingertips. Harness the embroidery machine's features to refine your designs with precise editing techniques.
Customize designs with ease, exploring various stitch options and monogramming choices. Carefully select colors that resonate with your project, considering stitch density for optimal results. With these tools, you have the power to masterfully craft your embroidery pieces.
Conclusion
You've learned the basics of home embroidery machines and the considerations to make when selecting one. From embroidery hoops to wireless machines, you now know what to look for when choosing the right embroidery machine for your needs.
Whether you're budget-conscious or looking for a multi-purpose machine, take into account desired features and functionality, design selection, and editing to make an informed decision.
When selecting a machine, keep in mind the importance of quality threads, stabilizers, and needles for successful projects.