This site is supported by our readers. We may earn a commission, at no cost to you, if you purchase through links.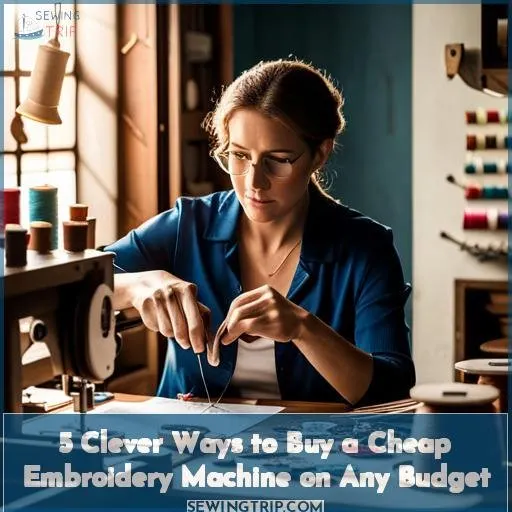 Euphoria fills you as your own custom creations come to life before your eyes. With an embroidery machine, you hold the power to design distinctive pieces expressing your creativity. Even on a tight budget, buying a cheap embroidery machine is completely possible if you know where to look.
Focus your search on key features like built-in designs, LCD touchscreens, and editing capabilities to find a high-value model.
With the right research and realistic expectations, you'll soon be stitching custom shirts, blankets, and more without overspending. Let's explore the savviest ways to snag an affordable embroidery machine fitting your needs and wallet.
Key Takeaways
Compare combination machines versus dedicated embroidery models based on features and budget.
Look for affordable options under $500 like Brother, Singer, and Eversewn models.
Prioritize features like built-in designs, LCD screens, and automatic needle threaders when choosing a model.
Research the costs of supplies like quality threads, stabilizers, and hoop sizes. Factor these into your overall budget. Buying cheap machines means spending more on materials.
Consider buying a used or refurbished machine if you are on a tight budget. Look for reputable sellers and test machines thoroughly before purchasing.
Determine Your Needs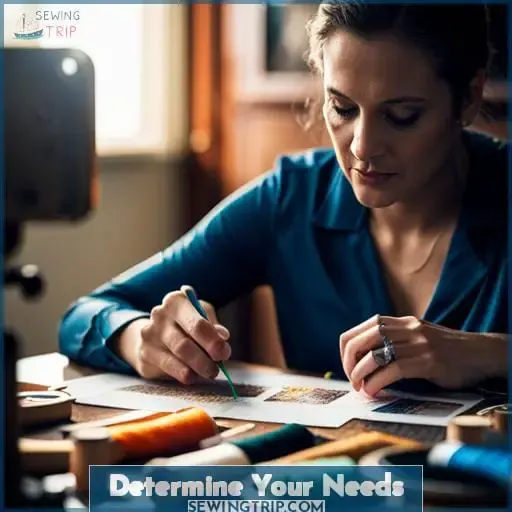 Getting started in machine embroidery can seem overwhelming, but with a few key decisions, you'll be stitching away in no time. Before purchasing your first embroidery machine, you'll need to decide if a combination sewing and embroidery machine or an embroidery-only model best suits your needs and budget.
Also, consider which hoop sizes you prefer for your projects and if having built-in designs or the ability to easily import them is important.
Combination or Embroidery Only
Before plunking down cash on a new embroidery machine, ask yourself whether you want a combo or single-purpose model. A combo machine sews and embroiders, so it is ideal if you want both. But dedicated embroidery models often have larger hoops, faster speeds, and more built-in designs.
Review your budget and project plans to decide which suits you best. Test both types if possible.
Desired Hoop Sizes
You'll stitch best when you first assess the hoop sizes you'll be wanting. Think through your planned projects and space needs for designs before buying your machine. Large hoops allow bigger designs, but small hoops work better for shirts or hats.
Choose a model with a few hoop sizes to handle all your ideas. Test-drive machines to get the feel for different hoops. Pick the ones suiting your style, whether maximum coverage or detailed monograms.
Ability to Find Designs
Search the web for free SVG files to convert into embroidery designs. Many sites offer SVG files that you can easily turn into embroidery patterns.
Buy embroidery design kits that come with tons of patterns included. Some kits contain hundreds of designs to get you started.
Let your creative side run wild and digitize your own original embroidery designs.
Scan images like clip art, line drawings, or your own sketches and turn them into embroidery files.
With the right embroidery machine, your design options are virtually unlimited. Searching online, purchasing kits, creating your own, and scanning images offer ways to find inspiring embroidery patterns that will help build your skills.
Set Your Budget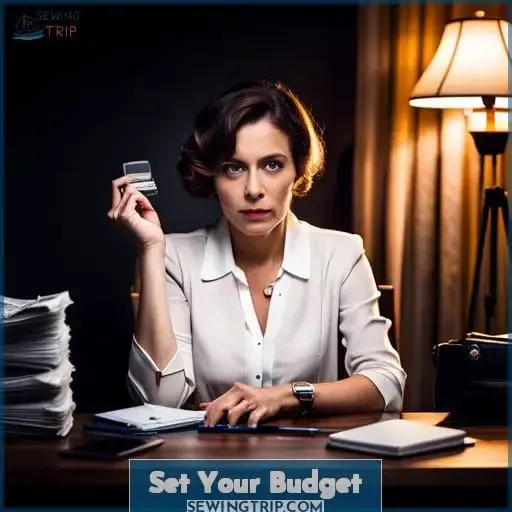 Consider your finances when selecting an embroidery machine. Cheaper models like the Brother PE535 offer basic functions at a reasonable price. More expensive machines have faster production rates and bigger hoops, but buy the least expensive model that has the features you need.
Look for budget models around $200-400 to get started with 4×4" or 5×7" hoops.
Moving up to the $500-1000 range provides larger hoops up to 6×10" size.
Top of the line embroidery-only machines over $1000 offer the largest hoops like 8×12" and fastest speeds.
Set a price range then compare features between models in that budget to get the best machine you can afford.
Research Affordable Models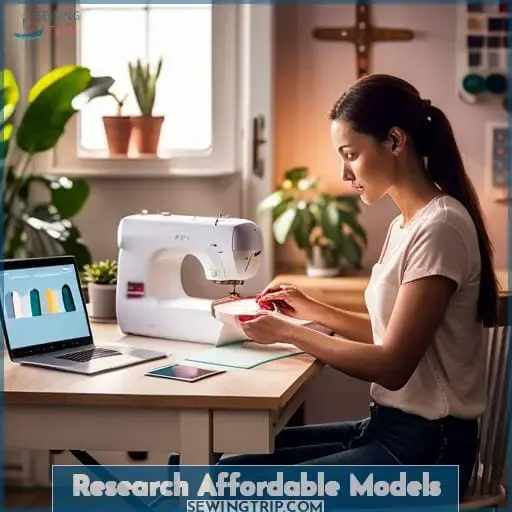 Looking for a budget-friendly embroidery machine to start monogramming and embellishing? Three popular models to consider under $500 are the user-friendly Brother PE535, the feature-rich Singer Futura XL400 with its large hoop size, and the compact Eversewn Sparrow X2 that's great for small spaces.
Let's explore the key features of these affordable options to find the best match for your needs and budget.
The Brother PE535 is an excellent entry-level home embroidery machine that's easy to use even for beginners. It comes with 70 built-in designs, 120 frame pattern combinations, and 5 lettering fonts. The 4 x 4 hoop size is sufficient for most projects. This lightweight 25-pound machine is portable and good for small home businesses.
The Singer Futura XL400 offers more advanced features like a large 5 x 7 hoop size suitable for quilt blocks, jacket backs, and jumbo designs. It has 250 built-in designs and 6 fonts with unlimited combinations. The Futura XL400 allows you to edit designs on the LCD touch screen and has a high embroidery speed of up to 800 stitches per minute.
This is a great intermediate machine with ample features at an affordable price point.
For those short on space, the Eversewn Sparrow X2 is the most compact model that can fit easily on a tabletop. It's lightweight at just 12 pounds but comes loaded with 90 built-in designs and 3 monogramming fonts.
The hoop size is 4 x 4. Bluetooth connectivity allows wireless design transfer. The Sparrow X2 packs impressive features into a portable machine perfect for small home or craft businesses.
When choosing an affordable embroidery machine, consider your skill level, space constraints, and types of projects envisioned. Hopefully exploring specifications of these sub-$500 options helps identify the right reasonably-priced machine suitable for monogramming, crafts, light garment embellishing and more to begin your embroidery journey.
Brother PE535
Fall in love with the precious, budget-friendly Brother PE535.
The under $400 price leaves money for supplies.
The 4×4 hoop is great for starters.
It has 138 built-in designs and 11 fonts.
The PE535 gives you an introduction to embroidery without draining your bank account. With 138 built-in designs and 11 lettering fonts, you can embroider a wide variety of projects on its compact 4-inch-square hoop.
This computerized Brother model has easy editing functions to customize designs. While having no bells and whistles, the low price leaves room in your budget for embroidery supplies to go with your new machine.
Singer Futura XL400
Delight in the affordable computerized embroidery of the Singer Futura XL400 with its generous hoop size. This versatile Singer machine comes with embroidery software offering multiple options. Adjust designs right on the vivid color touchscreen using the intuitive editing features.
Get embroidery, sewing, and quilting functionality in one reasonably priced machine. The XL400 unlocks your creativity with its generous 8 by 12 inch hoop size to embroider designs.
Eversewn Sparrow X2
You'll love the compact design and user-friendly interface of the Eversewn Sparrow X2, making it a great entry-level embroidery machine for beginners without skimping on features. The Sparrow's clever extension table slides out for more workspace when embroidering.
It comes with basic editing features to personalize designs using Eversewn's intuitive embroidery software. Perfect for small projects, the Sparrow X2 gives you professional results in small quantities without breaking the bank.
For hobbyists looking to embroider, this mighty little machine delivers the embroidery essentials.
Compare Key Features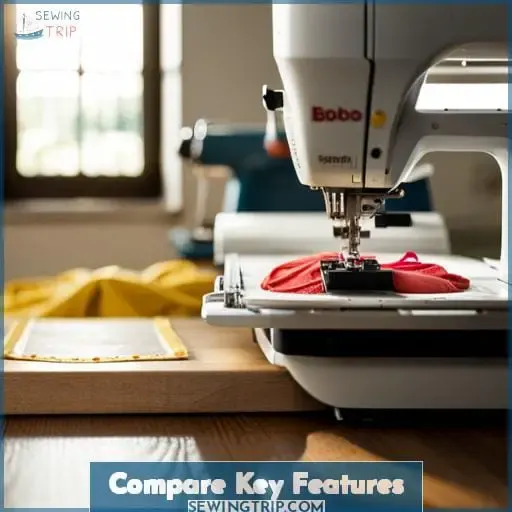 Looking to buy a budget-friendly embroidery machine? When comparing models, first check the built-in designs, LCD touchscreens, and automatic features. Built-in designs offer a variety to get started without buying more, while LCD touchscreens make editing right on the machine easy.
Handy automatic features like thread trimmers and needle threaders save time and hassle when embroidering.
Built-in Designs
More built-in designs mean less hunting for the perfect pattern, so you'd be thrilled if these affordable embroidery machines offered hundreds of designs right out of the box!
The Brother PE535 has 70 built-in designs and 5 lettering fonts.
The Singer Futura XL400 boasts 250 built-in designs and 6 fonts.
The compact Eversewn Sparrow X2 comes with 90 built-in designs and 3 fonts.
Built-in designs offer convenience and versatility.
Having a plethora of built-in designs at your fingertips allows endless experimentation with different patterns and motifs to embellish your projects. You can take designs straight from the machine and stitch them out, sparing you the hassle of sourcing extra designs elsewhere.
LCD Touchscreens
With touchscreen LCDs, you can swiftly navigate designs and edit them on-screen. The responsive interface lets you see your creations come to life in vivid color before stitching, making selecting stitches effortless.
You can also customize motifs and view edits in real time. Vibrant LCD displays keep your project in focus, transforming digital designs into embroidery masterpieces with precision. Touchscreens provide effortless editing and vivid visuals for embroidery crafting.
Automatic Features
Automated features allow your embroidery ideas to stitch out perfectly every time. The Brother CS7000X offers automatic buttonholes that adjust to your fabric thickness for professional results. Its expansive variety of included stitches can handle all your sewing tasks. This user-friendly sewing machine makes embellishing fabric effortless with one-touch selection of stitches and easy threading, saving settings along the way.
Say goodbye to frustration and let the automated functionality unleash your inner embroidery artist.
Evaluate Editing Capabilities

When evaluating editing capabilities, consider these key factors: You'll want to have the ability to edit thread colors to customize designs. Resizing, rotating, and spacing adjustments enable altering designs to fit your project.
Splitting larger designs assists with tackling more intricate patterns in sections.
Edit Colors
You can alter thread colors on affordable embroidery machines to customize designs.
Change to match your project colors
Select alternate shades for dimension
Switch colors to fit your personal style
Computerized machines make embroidery easy by allowing you to preview and edit thread colors right on the LCD touchscreen before stitching out designs. This provides endless customization of built-in and imported motifs on sewing machines such as the Husqvarna Viking and Janome Artistic Digitizer.
Alter Size and Angle
Resize and rotate your designs right on the machine before stitching them out. With a versatile sewing machine, you can easily scale motifs up or down and tilt them at an angle. On good machines and higher-end models, this upgrade allows for maximum customization so your projects reflect your vision as an embroidery artist and experienced sewer.
Split Designs
Splittin' Designs
Splittin' designs lets you break up big motifs and rearrange 'em however you like.
Separate elements into individual pieces
Rearrange sections of a design
Remove parts you don't want
Mix and match pieces from multiple designs
Smart splittin' opens up a world of creative possibilities for your next project.
Consider Supply Costs

When starting out with an affordable embroidery machine, don't skimp on the supplies. You'll need quality embroidery threads, stabilizers, and hoops that are suited for beginners. Investing in the proper materials will help you learn the basics and set yourself up for embroidery success on a budget machine.
Low-cost supplies can lead to headaches, so get good-quality threads in a range of popular colors, stabilizers to support the fabric as you stitch, and hoops that hold your material taut.
With a well-stocked thread and notions kit, an economical machine, and some practice, you'll be creating custom embroidered designs in no time.
Threads
Checkin' thread colors before startin' helps match the design. Pick quality threads in the right shades – avoid cheap weak threads that tangle and break.
| Brand | Price | Quality |
| --- | --- | --- |
| Sulky | $$ | Excellent |
| Isacord | $$$ | Superb |
| Coats & Clark | $ | Decent |
| Gutermann | $$ | Very good |
| Madeira | $$$ | Top notch |
Matchin' thread colors takes a keen eye, but prevents surprises later. With quality threads, your embroidery will turn out picture perfect.
Stabilizers
Don't skimp on stabilizers, y'all – quality backings make your designs pop! Did you know using the right stabilizer for your project reduces nearly half of embroidery headaches down the line?
Tear-away for wovens: Supports stitches without distortion.
Cut-away for knits: Prevents stretching and puckering.
Water-soluble topping: Keeps stitches from sinking into fabric.
Adhesive backing: Holds fabric taut in the hoop.
Choose the right stabilizer for your fabric and design to avoid frustration later.
Hoops
Y'all gotta have the right hoop size for those epic designs!
| Small Hoops | Large Hoops |
| --- | --- |
| 4×4 in | 8×12 in |
| 5×7 in | 10×10 in |
| 6×10 in | 12×12 in |
Choose a hoop just big enough for your design. Too small and fabric can't move freely.
Find Designs

Don't overlook free online designs and converting your own graphics. Searching the internet can uncover an array of free embroidery patterns and tutorials, expanding your creative options at no extra cost.
Converting jpeg, png or svg files into embroidery designs is also surprisingly straightforward with the right software tools. With some effort, you'll unlock unlimited design potential and personalized projects without paying for individual designs.
Free Online Designs
Here are tons of free embroidery designs online to use with your affordable machine. Search sites like Embroidery Library for free patterns, or browse Etsy for inexpensive professionally digitized designs.
Download designs in multiple formats to ensure compatibility with your machine. An ergonomics expert recommends positioning your sliding switch for needle position to avoid strain. Listen for beeping sounds as cues to change thread color in stitch patterns. With free designs and patience, you'll be creating custom embroideries on a budget.
Convert Graphics
Scan or import a picture, then use the software tools to trace an outline and define the stitch areas. The program converts your art into a digital embroidery pattern file compatible with your embroidery machine.
Digitizing software allows you to take any image and convert it into an embroidery design. By scanning or importing a picture, you can use the software tools to trace an outline and define stitch areas.
This converts the artwork into a digital embroidery pattern file that is compatible with your machine. Just transfer the file to the machine and your image will be embroidered onto fabric with thread art.
Learn Maintenance Tips

Regular cleaning is important to maintain your inexpensive machine's performance. Wipe down the exterior and carefully remove any lint or debris from the bobbin area, using the manufacturer's recommendations.
Replace the needle regularly, as a dull needle can cause issues. Oil any points recommended in the manual to prevent friction buildup. Monitor the machine for any loosening screws or worn parts and replace as needed.
Don't wait for full failure – replace bobbins, presser feet, needles and any other parts at the first sign of wear. With proper care and maintenance, even an affordable embroidery machine can continue embroidering beautifully long after the warranty period ends.
Mixing up cleaning, inspection and part replacement as needed will help maximize your machine's longevity.
Cleaning
Don't let a dirty machine foul up your embroidery. Regularly wipe down the presser feet, sewing area, and bobbin casing to prevent lint and thread tails from gumming things up. A clean machine runs smoothly and prevents skipped stitches or thread breaks. Quick cleanings between projects keep your embroidery pristine.
Following the manual's cleaning tips maintains your investment and saves you from frustrating tangles later on.
Replace Worn Parts
Check tension discs, presser feet, and feed dogs for signs of wear. Replace them if grooved or damaged.
Frequently oil and lubricate moving components. This reduces friction and wear.
Inspect needles, bobbins, and hook mechanisms. Immediately replace them if bent, dull, or corroded.
Worn parts impair performance and cause frustrating problems. Promptly replacing them keeps your machine running smoothly for years.
Troubleshoot Common Issues

When starting embroidery, needlework novices will likely encounter some frustrating hurdles. The three most common problems to troubleshoot are thread breaks, improper tension, and hoop slippage. Learning to quickly identify and fix these snags will have you stitching smoothly again in no time.
Thread Breaks
Keep tension consistent to prevent thread breaks on your affordable embroidery machine. Use quality thread and check that it is following the recommended path from spool to needle with no snags. Set the top tension between 4-6 and adjust the bobbin case tension to match. Use the correct needle – a sharp embroidery needle.
Check the needle insertion, hoop tension, and stabilizer. Slow your speed if needed.
Uneven tension is caused by improper settings or damaged parts. Adjust tension or replace worn parts. Use good quality embroidery thread instead of weak, linty thread. Dull, bent, or wrong needle types cause issues.
Sharp embroidery needles are best. Lint and dust buildup causes debris. Clean the race and bobbin area regularly. Fabric slipping in the hoop leads to loose hooping. Secure fabric taut in the hoop.
With some adjustments and care, you can resolve persistent thread breaks and enjoy trouble-free embroidering on your budget-friendly machine. A little maintenance goes a long way in keeping your affordable embroidery machine running smoothly.
Tension Problems
Replace any damaged or worn tension discs to ensure proper thread control.
Clean under the tension discs regularly to prevent buildup.
Adjust the top thread tension to between 4-6 for balanced stitching.
Match the bobbin tension to the top thread.
Use quality embroidery thread for best results.
With simple maintenance and adjustments, you can smooth out tension problems and keep your budget-friendly embroidery wonder sewing like a dream.
Hoop Slippage
You'd be wise to secure the fabric tautly in the hoop to prevent slippage during stitching. As an embroidery artist, I know a loose hoop invites disaster. Check the hoop tension and tighten the screw to grip the material firmly.
Use stabilizer under delicate fabrics. Finally, rehoop the project if the fabric shifts, so your design sews true.
Frequently Asked Questions (FAQs)
What embroidery software is compatible with affordable embroidery machines?
You can use free embroidery software like Embrilliance Essentials with most affordable machines. This provides basic digitizing and editing features to customize designs before stitching them out. Purchasing add-on modules unlocks advanced capabilities as your skills progress.
Do I need to know how to digitize designs before I can embroider them?
You don't need to digitize designs first. Many ready-made designs can be purchased and used right away. Focus on learning machine operation and basic embroidery techniques as you get started. Then explore digitizing later as you gain experience and want more customization.
What fabrics are best for beginning embroiderers?
When starting embroidery, use medium weight cotton fabrics like quilting cottons or broadcloth. These fabrics have an even weave and mid-range thickness that allows designs to stitch out cleanly without puckering.
After mastering cottons, advance to knits, then delicate fabrics like satin or chiffon once you build your skills. Stay away from heavy weight materials like canvas or denim until you gain more practice.
How can I get good results embroidering hats and bags?
Use stabilizer inside the hat and under bag fabrics to provide support. If possible, hoop the item; otherwise use sticky stabilizer to keep the fabric taut. Carefully position and size your design for the particular shape of the hat or bag.
Tack down edges of the fabric inside hoops to prevent shifting. Set the machine to pause for color changes so you can check design alignment and adjust as needed.
What tips are there for hooping fabric properly?
When hooping fabric, be sure to use the right size hoop for your design. Tighten the outer hoop just enough so the fabric is taut but not stretched. Use spray adhesive or stabilizer to prevent shifting. Center the design in the hoop carefully.
Conclusion
You've got this! With a bit of research and bargain hunting, finding an affordable embroidery machine that suits your needs and budget is totally achievable. Don't let the fancy features intimidate you – even entry-level models can unleash your creativity.
Stay focused on the essentials like hoop size and built-in designs, and don't forget about ongoing costs for supplies. Take advantage of free resources to build your design library. With some clever shopping tactics, anyone can become an embroidery artist on the cheap.