This site is supported by our readers. We may earn a commission, at no cost to you, if you purchase through links.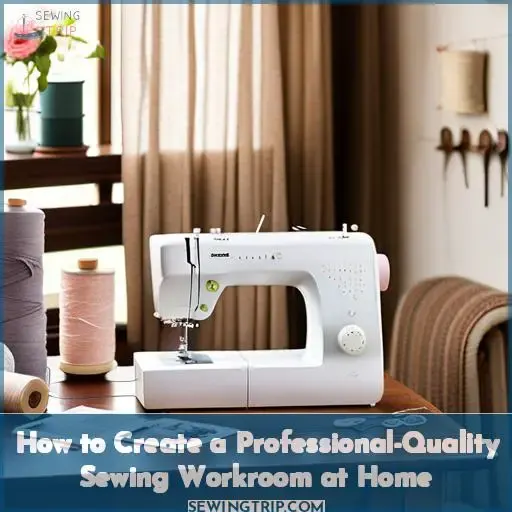 You don't have to be alone at your sewing machine anymore. Let's make your sewing space a place where inspiration comes alive and creativity flows. With some thoughtful planning for space, budget, and tools, you can feel a new power rising within.
The professional-quality sewing workroom you've dreamed of is closer than you think. All it takes is a willingness to invest in yourself. Then watch as this desire for mastery transforms into garments you'll love wearing.
Your sewing journey awaits! How to create a professional-quality sewing workroom at home provides the steps to get started.
Key Takeaways
Size appropriately for machine, cutting, storage, and movement
Ensure good lighting – natural or lamps – to avoid eye strain
Maintain tidiness for organization and a professional look
Gradually increase storage and tools as budget allows
Your Physical Space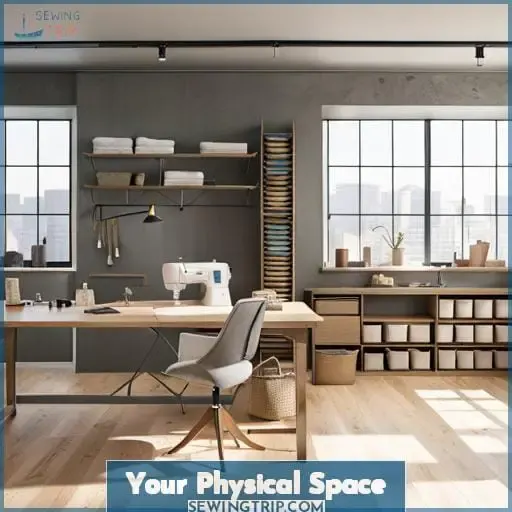 When setting up your sewing space at home, start by considering the size, lighting, and cleanliness. You'll want a room large enough to accommodate your sewing machine, cutting area, and storage solutions while having space to move around comfortably.
Proper lighting is essential, whether from ample natural light or well-placed lamps; you'll strain your eyes and waste time struggling in a dim workspace. Maintaining tidiness as you work helps you stay organized and focused. With some planning for those key elements, you can create a professional-quality sewing room right in your own home.
Size
Start small to begin upgrading your space. Cobwebs hover overhead as the window ushers in fresh air. Begin by recycling furniture hidden in the basement, attic, or garage. Start stashing extra trash cans about to corral the scraps.
Wrangle those hazardous cables underfoot into submission. Position that trusty iron near ample fabric atop a sturdy table. Gradually increase storage and tools as space permits to elevate your home sanctuary into a professional-quality sewing workroom.
Light
Though bare bulbs illuminate the space, finding the upgrade to daylight-balanced artificial lights inspires your professional aspirations. Comfort-wise, eliminate glare with strategic overhead and task lighting. Position natural light near the sewing machine while lamps illuminate your tools, ironing, and gravity feed steam iron.
Well-placed lamps highlight pleated draperies spread across the table, revealing the fabric stash's true colors.
Cleanliness
Tidy up between projects so your space constantly feels fresh.
Daily sweeping schedule
Tools organization system
Fresh wall decor
Dedicated cutting station
Hidden trash solutions
Quality work comes from a clean workroom. Your home sewing space deserves the same standards as a professional studio.
Your Budget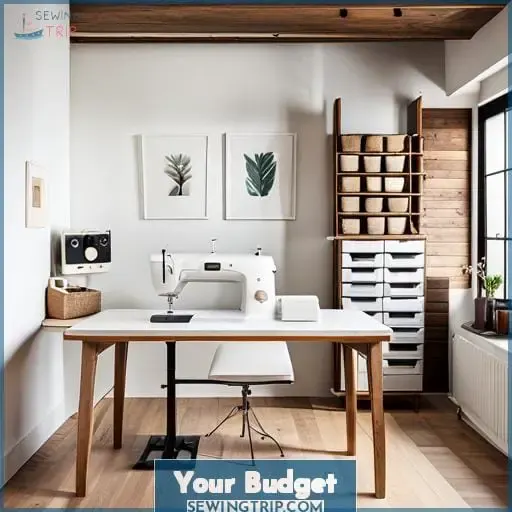 Invest wisely in quality tools to upgrade your space over time, gradually building your dream sewing sanctuary on a budget.
Start with the basics – a sturdy machine, shears, and an iron. Add storage as you go – shelves, baskets, and a cabinet. Task lighting lets you see stitches clearly. A large cutting mat makes cutting fabric easy.
Splurge on a few pro tools – a dress form to perfect fit and an industrial machine for heavy fabrics. They transform your skills. An adjustable chair and custom work table create an ergonomic sewing space.
Quality fabric and notions elevate results. Take it slow building your studio. Let your skills and projects guide tool purchases. No need to buy everything at once. With strategic choices, you'll create a professional sewing oasis, even on a tight budget.
| Essentials | Nice Upgrades | Dream Tools |
| --- | --- | --- |
| Basic machine | Storage cabinet | Industrial machine |
| Shears | Cutting mat | Coverstitch machine |
| Iron | Task lighting | Adjustable chair |
| Notions | Upgrade machine | Custom work table |
| Ruler | Quality fabric | Dress form |
Your Tools

You'll wanna upgrade your tools over time to really trick out your home sewing space. Start with quality basics like hand-fitted tools for precision work. Upgrade lighting with pro lamp adapters or resize fuel lighting for detail tasks.
Monitor monogram storage system options to keep your space and mind organized. Use folding tables before investing in a yardage-friendly work table. Swap the household iron for a gravity feed model that steams and heats faster. Skip the pleated drapes and tricky cutting for now.
Prioritize your tool upgrades for hated tasks first. Proper pressing, cutting, and sewing tools reduce struggle and wasted time. Your home workroom can rival the quality of a professional studio with strategic upgrades over the years.
Your Storage Style

Looking to create a professional-quality workroom in your home? First, decide if you'll pack up tools each time or leave them set up. Then, get inspired thinking about storage accessories you love – drawers, pegboards, shelves? With some planning, you can make any space work for sewing.
Do You Have to Pack Up Your Machine and Tools After Each Use?
Leaving your machine set up saves time, but covering it keeps the dust off. Tidying tools between projects brings a sense of order. But leaving your space as-is keeps your creative juices flowing. Find balance between the two extremes.
Cover your machine or stash tools when not sewing if it brings you joy. Just don't waste precious shop time repeatedly setting up.
What Type of Storage Accessories Excite You?
Having organizational tools tailored to your style makes sewing feel effortless. Specialty fabric storage, thread caddies, and specialty rulers excite your inner crafter. Curate upholstered seating and bespoke storage to create an inspiring sanctuary.
Master blind hems and drapery with quality tools close at hand. Let your style shine through a space built just for you.
Choose Your Tools for Quality and Purpose

Upgrade hated tasks first with quality tools suited for purpose, lest frustration sow bitterness in your home workroom.
Invest in needles that glide like silk to banish pricks.
Choose shears that slice fabric cleanly in one slice.
Find a thimble that molds to your finger to end sore pushing.
Grab an iron that smooths fabric consistently.
Treat yourself to a chair that cradles you comfortably for long stretches.
Quality tools empower your sewing mastery. Select each purposefully to upgrade hated tasks predictably. Quality brings relief from frustration's thorns. Savor your home workroom transformed with tools that elevate your artistry consistently.
Make Your Space Work for You

Choosing the right tools tailored to your projects and budget will set you up for sewing success. Now it's time to make your space work for you! Envision your ideal sewing sanctuary. Plan workflow and storage solutions to support efficiency. Display inspiring fabrics or finished garments.
Manage your time by keeping tools and materials organized. Create systems that spark creativity yet allow you to find things fast.
A tidy, well-equipped sewing room feels like a professional workroom. When sewing flat panels, first spread fabric smoothly to avoid wrinkles. Measure and cut panels to the needed length, allowing enough fabric. Then hem panels and linings, removing selvage sides first.
Your customized sewing space promotes skill-building and empowers your sewing dreams.
Upgrade Your Fabric Stash

Shop quality fibers as if you're building a personal fabric library. Invest in premium materials to elevate your sewing skills. Explore designer fabrics and fancy notions to enhance your projects. You'll notice a significant difference when working with high-quality pattern fabric.
While hemming drapery made from heavier fabric may require more effort, the results will be impressive. Shorten the lining on all sides of the fabric to prevent sagging. With experience handling premium materials in a workroom, you'll gain confidence in your sewing abilities at home.
Frequently Asked Questions (FAQs)
What are some good online resources for buying fabrics and notions?
You can find quality fabrics at big online shops like fabric.com, but also check smaller sellers on Etsy with rare finds like hand-dyed silks. The thrill of discovering hidden gem fabrics makes sewing exciting. Take time to browse for your perfect fabrics.
How can I find sewing classes or workshops in my local area?
As an expert seamstress, my advice is to use online groups and social media to connect with local sewing enthusiasts.
What are some ways to be environmentally friendly with my sewing projects?
Reuse fabrics from old clothes or thrift shops. Choose natural fibers like organic cotton. Look for eco-friendly notions. Compost scraps or donate to schools. Air dry finished projects.
How do I choose sewing patterns that match my skill level?
Choose patterns with simple lines and few pieces as a beginner. Check the back of the pattern envelope for suggested skills required and match them to your experience. Start with a simple project to build confidence, then delve into more complex constructions once you have a few projects under your belt.
What should I do if I run into issues with my sewing machine or other tools?
When your sewing machine acts up, take a deep breath and be patient. Troubleshoot methodically, checking thread tension, changing the needle, cleaning lint – the issue is often simple. If needed, consult your manual or an expert for guidance. Stay positive and take it one stitch at a time.
Conclusion
Measure twice, cut once. Your home sewing space holds infinite potential. Whether it's a small corner or an entire room, tailor your tools and techniques to fit the available space and budget. Start small with quality essentials, build up your fabric stash, and expand as your skills progress.
Let creativity flow by making your sewing sanctuary uniquely yours. With thoughtful choices guided by experience, nurture your inner artist in a workroom made for crafting masterpieces.