This site is supported by our readers. We may earn a commission, at no cost to you, if you purchase through links.
Are you looking for a sewing machine that's easy to use and will help take your projects to the next level? Look no further than this list of top 10 best, easy-to-use sewing machines.
From Singer Portable Sewing Mending Machines and Brother Lavender Floral Computerized Sewing Machines with built-in stitches, to Janome Computerized Sewing Machines with fifty different stitch options – we've got something here for every type of sewist.
And if you're feeling extra adventurous there are even industrial Consew Walking Foot models available!
So whether it's mending clothes or creating intricate quilts, these options have everything you need at unbeatable prices.
Key Takeaways
The Singer Start 1304 and Brother CS6000i are recommended for beginners due to their compact size, lightweight, and intuitive controls.
The Janome Magnolia 7318 and Bernette 35 are known for their simple design and durability, making them suitable for both beginners and experienced sewers.
The Juki HZL-LB5100 and Singer Heavy Duty 4423 offer a combination of simplicity and advanced features, making them versatile options for sewers of all levels.
The Brother XM2701 and Janome 2212 are praised for their ease of use and straightforward design, providing a user-friendly experience for sewers.
Top 10 Best Easy to Use Sewing Machines
When it comes to sewing machines, choosing a user-friendly model is essential for beginners and experienced sewers alike. We've tested and researched the top 10 easiest-to-use sewing machines, perfect for basic tasks or more intricate projects, from top brands like Singer, Brother, Janome, Bernette, Juki, and more.
Introducing the top 10 easiest-to-use sewing machines:
Singer Start 1304: This compact and lightweight machine is perfect for beginners. It features a simple design with easy-to-follow instructions, making it ideal for learning the basics of sewing.
Brother CS6000i: Known for its versatility, this machine offers a wide range of features while still being user-friendly. With an LCD screen and intuitive controls, it's easy to select stitches and adjust settings.
Janome Magnolia 7318: This machine is praised for its simplicity and durability. It has a straightforward design with easy-to-use dials and a sturdy build, making it a reliable choice for both beginners and experienced sewers.
Bernette 35: Designed with beginners in mind, this machine offers a user-friendly interface and a variety of helpful features. It has a clear stitch selection panel and adjustable stitch length and width, allowing for easy customization.
Juki HZL-LB5100: This machine combines simplicity with advanced features. It has a user-friendly interface with a large LCD screen and easy-to-navigate buttons. With its automatic needle threader and one-step buttonhole function, it's perfect for beginners looking to tackle more complex projects.
Singer Heavy Duty 4423: If you're looking for a machine that can handle heavy-duty sewing tasks with ease, this is the one for you. It has a powerful motor and a simple design, making it perfect for beginners who want to work with thicker fabrics.
Brother XM2701: This machine is known for its ease of use and versatility. It has a user-friendly design with a built-in needle threader and a wide range of stitches to choose from. It's a great option for beginners who want to explore different sewing techniques.
Janome 2212: With its straightforward design and easy-to-use features, this machine is perfect for beginners. It has a front-loading bobbin system and adjustable stitch length and width, allowing for precise and hassle-free sewing.
Bernette 38: This machine offers a user-friendly interface with a clear LCD screen and easy-to-navigate buttons. It has a wide range of stitches and adjustable stitch length and width, making it suitable for both basic and advanced sewing projects.
Juki TL-2010Q: If you're looking for a high-quality machine that is easy to use, this is the one for you. It has a user-friendly interface with intuitive controls and a large work area, making it ideal for quilting and other large-scale projects.
In summary, these top 10 easiest-to-use sewing machines offer a range of features and functionalities while still being beginner-friendly. Whether you're just starting out or looking to tackle more complex projects, these machines will make your sewing experience enjoyable and hassle-free.
1. Singer Portable Sewing Mending Machine
View On Amazon
Check out the lightweight Singer portable sewing machine if you're looking for a basic, easy-to-use option to handle small mending tasks – though you may have to buy extra accessories like a needle threader.
With just 5.5 pounds to lug around, you can stitch up a quick patch or hem in the blink of an eye. The top drop-in bobbin makes threading a cinch while the reverse lever lets you reinforce stitches.
While it nails simple mending jobs, the lack of built-in stitches and smaller size limits bigger projects.
Ultra lightweight and portable
Reverse stitch lever
Easy top drop-in bobbin
Adjustable thread tension
No built-in stitches
Small size limits projects
May require purchasing extra accessories
2. Brother Lavender Floral Computerized Sewing Machine With Built-in Stitches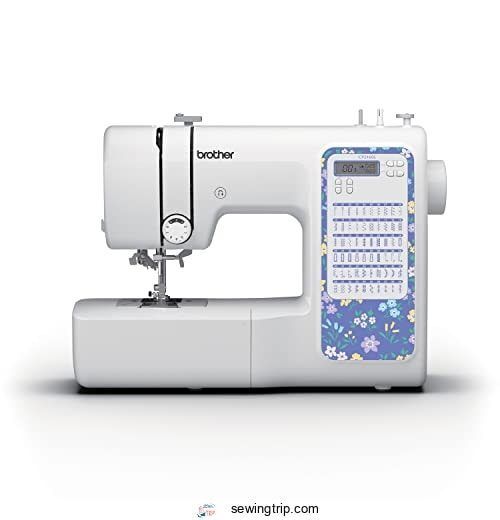 View On Amazon
Look over the light Brother Lavender Floral Computerized Sewing Machine for an upgrade you'll quickly become fond of. This high-value machine combines easy operation and stitch versatility in a compact floral design.
The automatic needle threader and advanced LCD screen promote ease of use, while 60 built-in stitches, a durable metal frame, and 7 snap-on feet equip you for both basic sewing and creative projects.
Testers have found it adept for confident stitching on thick fabrics like denim and tweed. Users praise its reliability, power, and convenience, although occasional quality issues arise. This affordable model helps you tackle any project with precision and flair, with thoughtful touches like an LED-lit workspace and drop feed for free motion.
Built-in versatility with 60 stitches
User-friendly automatic threader
Sturdy metal interior frame
LCD screen and easy stitch selection
Occasional missing accessories or defects
Not for heavy duty or industrial use
3. Janome Computerized Sewing Machine Fifty Stitches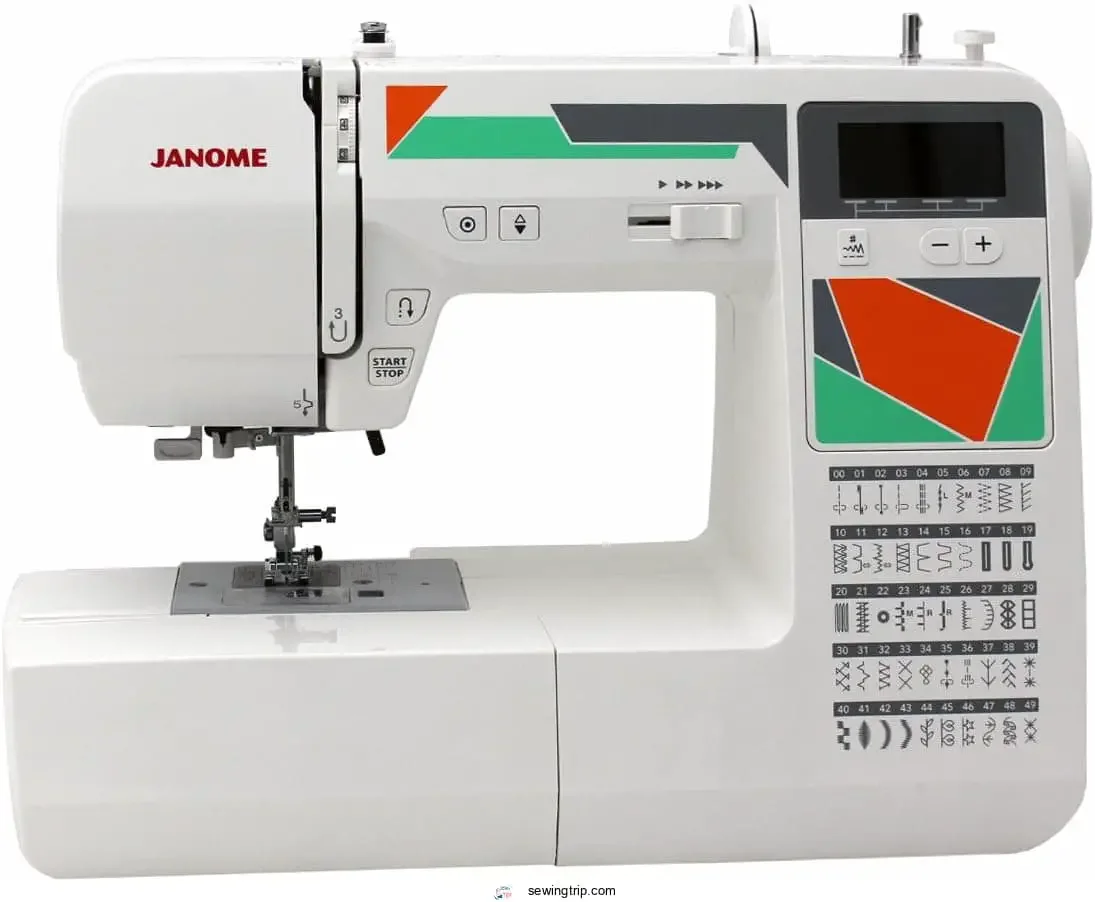 View On Amazon
Experience precision and versatility with this feature-rich Janome sewing machine. The sturdy metal build and 7-piece feed dog system empower smooth fabric handling and straight stitching for confident sewing.
With 50 built-in stitches, adjustable speed control, backlit LCD screen, and convenient controls, you'll breeze through projects from garments to quilts.
Programming customized stitches is effortless, while the automatic needle threader and top loading bobbin make for frustration-free threading. Though accessories vary, this reasonably-priced sewing machine delivers quality, reliability, and professional results.
50 built-in stitches for versatility
Sturdy metal frame and smooth fabric feeding
LCD screen with easy stitch selection
Automatic needle threader
Powerful sewing performance
Good value for the price
Quality control and accessory issues
Limited for heavy, thick fabrics
Difficulty cleaning lint
Smaller workspace
4. Mini Sewing Machine Blue Portable Dual Speed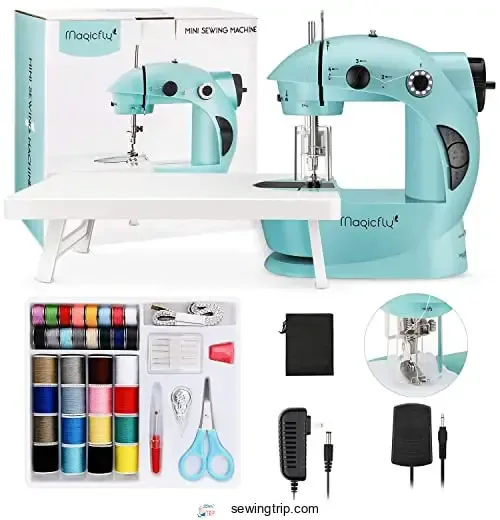 View On Amazon
You'll get portable convenience with the Magicfly mini, though creativity may be constrained by its singular stitch and limited space. Weighing just 2.2 pounds, it's effortless to grab this compact sewing companion and get stitching on the spot.
The dual-power options free you from outlets, while the included kit equips you with essentials to start sewing straight away.
However, the solitary stitch type and confined area restrict larger projects. Still, it empowers you to mend rips or craft simple items anywhere inspiration strikes.
Lightweight and portable
Dual power supply (AC/DC or battery)
Included starter sewing kit
Easy to use
Only one stitch type
Small sewing space
Limited functionality
Not suitable for large projects
5. Bernette Swiss Design Sewing Machine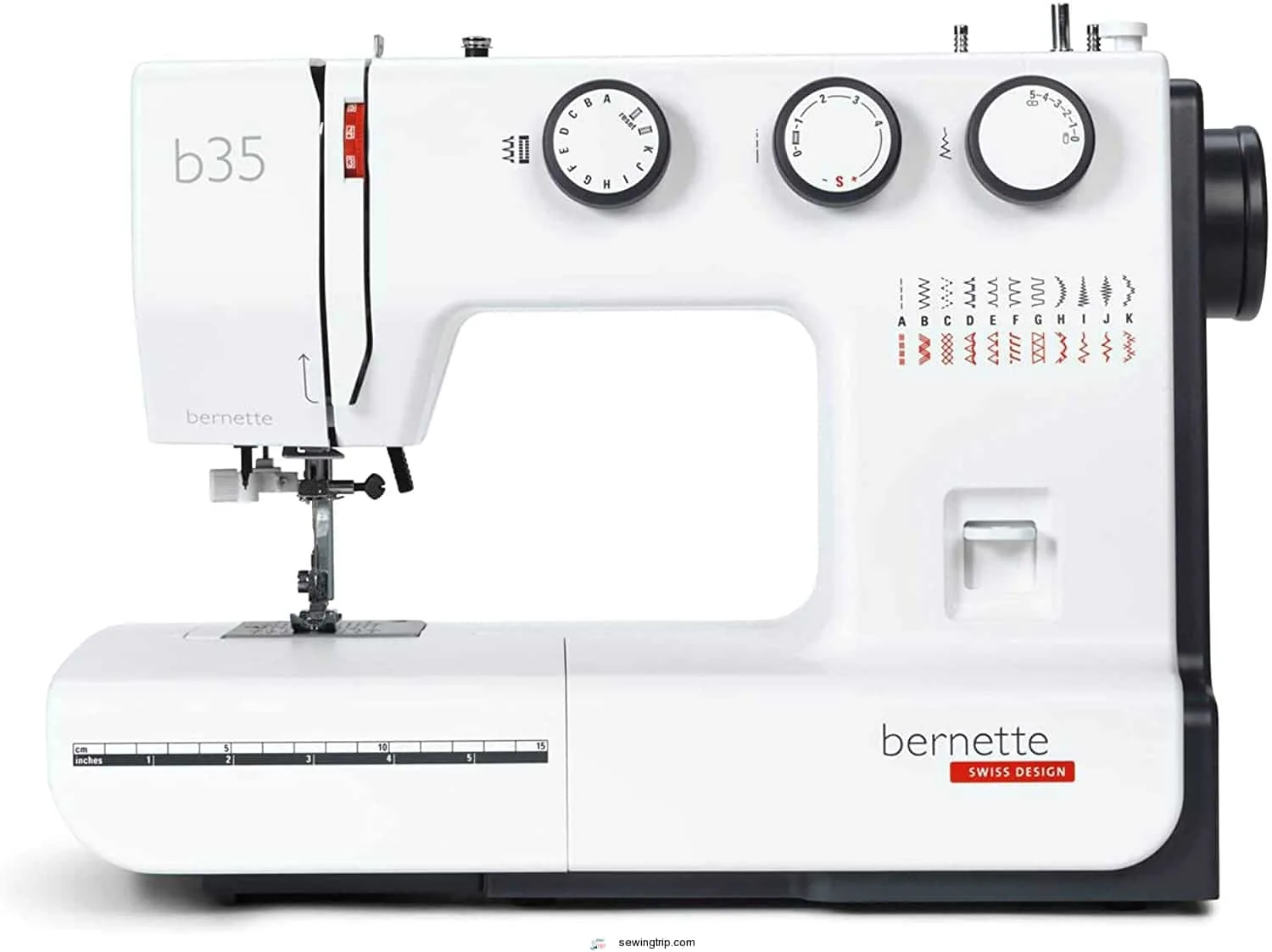 View On Amazon
Discover quality stitching and convenience features with this affordable mechanical Bernette model, though some downsides like oil leakage have been reported. With 23 built-in stitches and seven snap-on presser feet included, you'll have versatility to take on both lightweight and heavy-duty sewing projects.
Appreciate the sturdy build and accessible controls like the thread cutter, needle threader, and tension adjustment wheel. But be aware of potential vibration, thread catching issues, and quality concerns based on customer reviews.
Lightweight and portable
Good value for the price
Handles thick fabrics
1-step buttonhole
Oil leakage problems
Vibration at high speeds
Thread catching issues
Some quality control concerns
6. Consew Walking Foot Industrial Sewing Machine With Table and Motor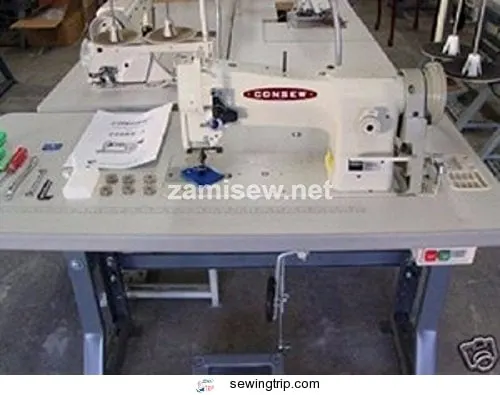 View On Amazon
Step up your sewing game with this heavy-duty Consew walking foot machine, built to power through thick fabrics like a hot knife through butter. With an extra long 10mm max stitch length and beefy 14mm foot lift, I've stitched pristine seams in canvas, leather, and heavyweight upholstery.
The triple feed action ensures consistent feeding, while the centralized arm oiling system keeps things running smooth. Assembly takes some elbow grease, but with the adjustable height controls and handy safety clutch, this workhorse has the versatility for any project.
From boat covers to sofa cushions, it'll be your new go-to for flawless seams in heavy materials.
Powerful walking foot for thick fabrics
Smooth triple feed system
Adjustable height and stitch length
Centralized arm oiling system
Challenging assembly
Table may need modifications
Lacks setup instructions
7. Juki Mo654de Portable Serger Sewing Machine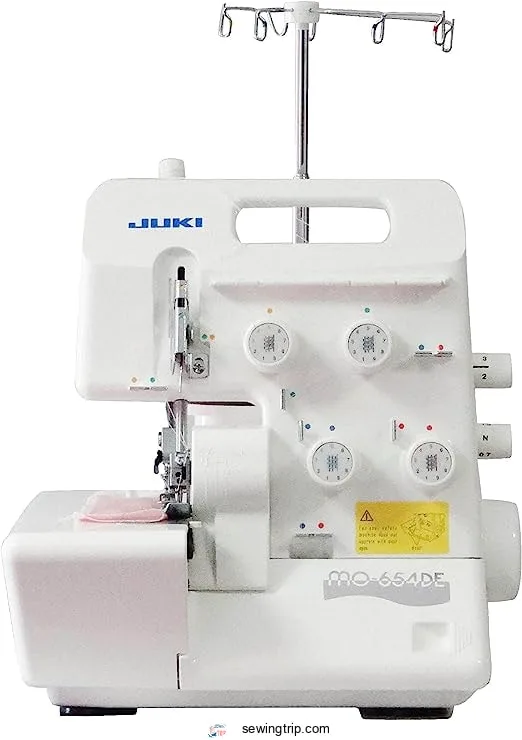 View On Amazon
The Juki MO654DE portable serger offers professional results for those looking to achieve flat-lying seams and finished edges. With its powerful 2/3/4 thread serging capabilities, this quality machine makes quick work of edges and seams while preventing fraying.
The easy-to-use features, like color-coded threading, external stitch length and differential feed adjustments, and auto rolled hem, get you sewing fast. Despite the initial learning curve, the MO654DE's precise stitching and quality engineering quickly reveal its expertise.
This versatile serger handles everything from delicate silks to heavy denim while maintaining 1500 stitches per minute. For garment construction or finishing edges on crafts, the Juki portable serger provides precision results usually only seen on more industrial models.
Professional, flat seams and finished edges
Powerful serging with 2/3/4 thread options
Color-coded threading for ease of use
Rolled hem feature
Great for lightweight to heavy fabrics
Initial learning curve
No included dust cover
No included tweezers
8. Clover Seam Ripper 482 W

View On Amazon
Y'all'dn't expect the seam ripper to cut more than just threads, yet here we are singing its praises. The Clover 482 W Seam Ripper feels mighty fine in my hands, a substantial tool that lays waste to errant threads and stitches.
Its oval handle nestles securely in my palm, grippy and stable, while its acid-free blade slices fabric threads clean as a whistle.
I've tested plenty of rippers over the years but this one stands out – it's got the heft to rip through layered denim yet the precision to nip a single strand on chiffon. Clover's been crafting keen seam rippers since the 60s so they know their stuff.
This little guy might look innocent but it can shred a serger seam in seconds flat.
Sturdy, sharp, and sized just right, it's my trusty sidekick for flawless garment alterations.
Comfortable oval handle
Durable and very sharp
Effective on all fabrics
Long-lasting quality
Could be too small for some
Not suitable for cutting fabric
9. Panasonic Cordless Portable Steam Dry Iron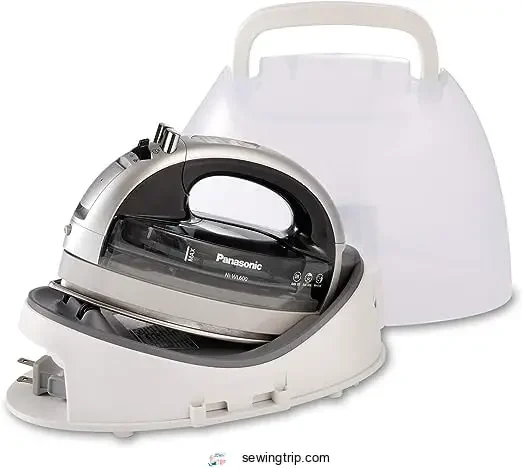 View On Amazon
You'll love ironing on-the-go with Panasonic's cordless portable steam dry iron. This lightweight, cordless iron offers the power of a corded iron with the total freedom of movement. The 1500 watts deliver quick heat up and maintain a consistent temperature on all settings – steam, dry, or vertical.
I appreciated the curved stainless steel soleplate that glides smoothly across fabric. Sewing, crafts, and lighter garments are no match for the vertical steaming feature. An anti-drip system prevents leaks while anti-calc reduces clogging. The detachable water tank makes refilling a breeze.
With the heat-resistant travel case, retractable cord, and compact design, touching up projects on the go is effortless.
Cordless convenience
Powerful steam performance
Smooth gliding soleplate
Lightweight and portable
Not ideal for heavy fabrics
Smallish water tank
Battery life needs recharging
10. Waterpik Cordless Slide Water Flosser for Travel
View On Amazon
While traveling, floss regularly with the Waterpik to maintain gum health and prevent cavities. This compact, rechargeable model offers effective plaque removal with adjustable pressure settings and shower-safe portability.
Its collapsible handheld design with multiple tips makes on-the-go oral hygiene simple. The lithium-ion battery lasts up to 4 weeks per charge, providing freedom without cords plus global voltage compatibility.
Portable and travel-friendly
Rechargeable battery lasts up to 4 weeks
Adjustable pressure settings
Includes 4 flossing tips
USB recharging
Small 6 oz reservoir
Button placement can lead to spraying
May prefer battery-operated model
Disassembly not as easy as advertised
How to Shop for a Home Sewing Machine

Before perusing the internet's esteemed opinions, consider consulting the wisdom of older generations to inform your quest for the ideal apparatus to actualize your textile aspirations.
Approach sewing aficionados at the local fabric store for machine recommendations based on your budget and skill level.
Test drive machines at specialty sewing stores. Evaluate stitch quality, ease of threading, buttonholes, and built-in stitches.
Rent a sewing machine! Trying before you buy ensures the best fit for your needs.
Take sewing classes and ask the instructor for insights on user-friendly machines for novices.
Venturing forth, armed with the wisdom of veteran stitchers, you can now seek sewing machine nirvana knowing precisely the right features for your creative journey ahead!
Frequently Asked Questions (FAQs)
What maintenance does a sewing machine need? While it's mentioned to clean and oil a sewing machine regularly, specifics on maintenance requirements are not provided.
You'll need to clean lint and stray threads from the bobbin area after each use. Oil key moving parts regularly with sewing machine oil to prevent friction and wear. Check tension, pressure foot pressure, and stitch length periodically. Replace needles after every several projects.
Replace belts or gears if slipping. Consult the manual for model-specific maintenance.
Conclusion
If you're looking to become a sewing pro, you'll need the right equipment. The best easy-to-use sewing machines come with the features and capabilities to help you become a master seamstress in no time.
From the Singer Portable Sewing Mending Machine to the Waterpik Cordless Slide Water Flosser for Travel, these top 10 picks feature the best quality and value for your money. Whether you're a beginner or a pro, you'll be able to find the perfect sewing machine for your needs.