This site is supported by our readers. We may earn a commission, at no cost to you, if you purchase through links.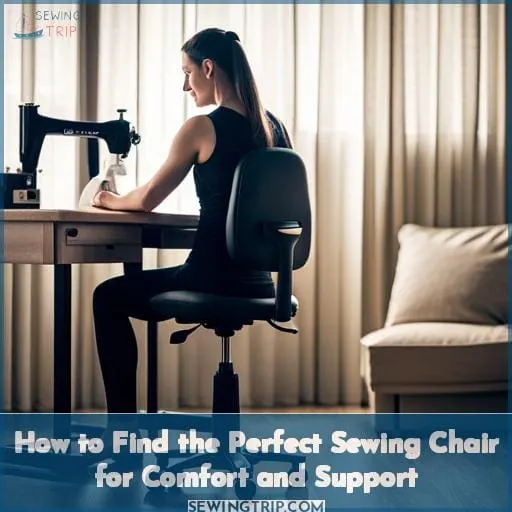 You've finally carved out space for your dream sewing room. Now it's time to choose the centerpiece – your sewing chair. This decision deserves thought since you'll park here for hours cutting, stitching, and creating.
Don't settle for an ordinary desk chair that forces you to hunch over your machine.
A height-adjustable sewing chair with lumbar support protects your back so you can sew in comfort. You'll find the right chair with a few simple steps. Let's measure your space and consider the seat size, adjustability, and special features you need.
I'll outline key ergonomic factors that allow you to customize your sewing chair to your body.
By investing in the best chair for your needs, you can sew for hours without joint or muscle strain. Finding your perfect, supportive sewing chair ensures delightful sewing marathons rather than painful ones.
Now let's discover the ideal chair to bring both happiness and health to your sewing.
Key Takeaways
Take measurements of your body and the space where you plan to sew. Compare these measurements to the dimensions of potential chairs to find the ideal fit.
Look for a chair with adjustable height and lumbar support. Proper posture is crucial when sewing for long periods.
Consider padding, armrests, and special features based on your needs. Thick padding prevents discomfort. Armrests provide support. Specialty chairs cater to specifics like embroidery or quilting.
Thoroughly inspect and test used chairs before purchasing. Sit in the chair and adjust it to ensure all features work properly and the chair is sturdy.
Key Features for Sewing Chairs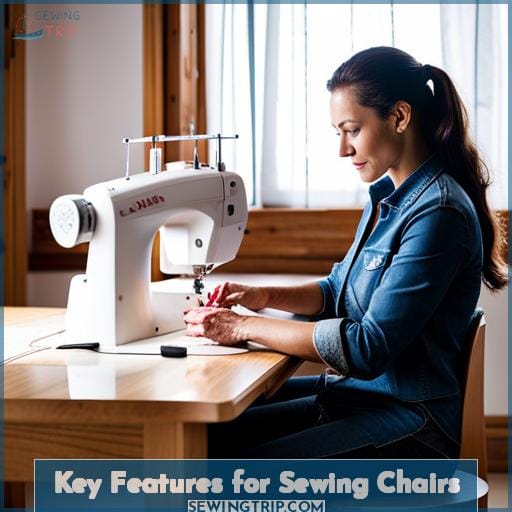 Finding the right sewing chair often feels like searching for the perfect needle in a fabric store. Consider height adjustability, supportive backrests, mobility options, and padding when selecting a chair to prevent strain during long sewing sessions.
Testing different chairs and customizing the fit will lead you to the model that keeps you sewing comfortably for hours.
Height Adjustability
You'll want to adjust the chair height so your feet are flat on the floor and your elbows are bent at 90 degrees without hunching or stretching. Having the right chair height prevents fatigue and discomfort while sewing. Look for an adjustable chair that allows you to easily customize it to your measurements.
This ensures proper positioning tailored to your body, keeping you comfortable for the long term.
Supportive Backrest
Embrace the chair's protective spine as your own to alleviate sewing's strain. A supportive backrest cradles your spine's natural curve, promoting healthy posture over long creative sessions. Look for adjustable lumbar support and a breathable mesh or cushioned design. Let the chair bear sewing's burden so you can craft unencumbered.
Mobility Options
Roll into creative freedom as these chairs' wheels grant effortless motion between projects.
Swivel 360 degrees between machine and scrap bin.
Lock wheels for stability or release for mobility.
Adjustable height positions you perfectly.
Glide unencumbered between tasks with the ideal adjustments. Your chair becomes an extension of your body, moving intuitively to support each stage of the creative process.
Padding and Upholstery
Cushion your creative flow with padding tailored to your comfort needs. Let form embrace function as you nestle into the chair, becoming an extension of your own body. Faux leather and smooth padding caress you, bolstering endurance through even marathon sewing sessions.
Built-in storage cradles supplies at your fingertips, releasing you to create. Adjustable angles and heights free you from constraints. Like your machine's foot pedal, this personalized throne sets you gliding through each quilted landscape with delight.
Find the Right Size and Shape

When determining the right size and shape for your sewing chair, first take measurements of the space where you plan to place it. Consider not just the chair's footprint but also how much area you'll need to comfortably roll back from your sewing machine or table.
Next, think about your body's proportions and how to adjust the seat height so it supports your posture. The types of projects you'll work on can also influence the ideal proportions. Garment sewing may benefit from a narrower chair that allows you to cross your legs, while quilting could require a wider seat for layers of fabric.
Measure Your Space
Measure out the dimensions of your sewing space before shopping so you grab a chair that actually fits. Knowing the layout ahead of time prevents squeezing a too-large chair into a tiny nook. While seated, your knees should tuck underneath the sewing table or machine. Extend your elbows out to envision arm space needed.
Factoring in how you sit, stand, and move will determine the ideal chair proportions.
Don't just eyeball it – take exact measurements of the floor area and opening. Compare these numbers to spec sheets so you choose a task chair narrow enough to maneuver around tight corners.
Proper posture depends on selecting a seat depth that supports your legs. Finding that perfect fit creates a sewing sanctuary tailored to you.
Consider Body Size and Projects
You're gonna want a chair that actually fits your body and the projects you work on most often. Consider your height and weight when looking at load capacities and seat dimensions. Chairs like the Arrow H7013B have a hydraulic lift to adjust between 16.5-23 inches for proper elbow positioning whether sitting or standing.
For plus size quilters, look for wider, sturdier models rated for 300-500 lbs. Petite sewers should ensure a chair lowers enough to keep feet flat. Don't overlook lumbar support – ideal sewing chairs contour to your back's natural curves.
And removable armrests allow free range of motion for garment construction compared to chairs with fixed arms.
Ultimately, the right chair matches your body, sewing style, and projects. A customizable fit encourages good sewing posture all day long.
Important Adjustments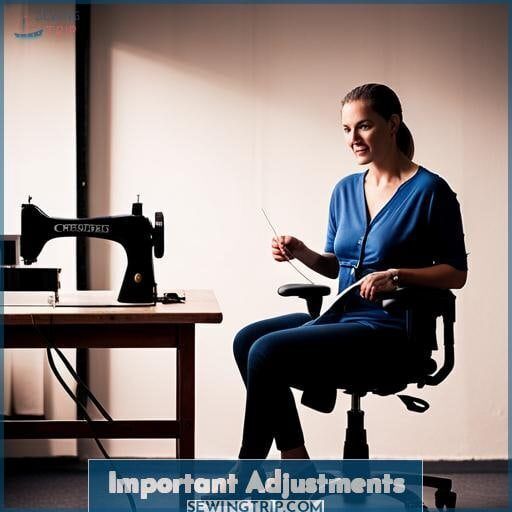 Before selecting your ideal sewing chair, consider key customizable features that provide proper ergonomic support during long sewing sessions. Begin by finding a chair that allows you to adjust the height so your elbows are at a 90 degree angle to the table and your feet are flat on the floor.
You'll also want adjustability for lumbar support to maintain good posture and alleviate back strain, as well as flexible armrest options that allow free movement around the machine.
Customizable Height
Sit upright in the chair with feet flat on the floor.
Adjust the height until the elbows form 90-degree angles.
Raise or lower the chair so the forearms are level with the sewing table.
Use pedal extenders or footstools if needed for proper leg positioning.
Finding the ideal height lets you maintain good posture and arm angles for comfort and precision when sewing.
Lumbar Support
Adjust the chair's lumbar support to hug your lower back like a warm quilt on a chill night. Let it cradle you, supporting the curve of your spine while you sew for hours on your latest masterpiece. Optimal lumbar support maintains the spine's natural curvature, reducing strain.
Look for adjustable lumbar to fine-tune the fit, ensuring your back stays comfy. Quality ergonomic design provides this essential feature. Don't slouch, my creative friend—a chair with good lumbar support lets you sit up straight and makes all the difference in comfort.
Armrest Options
Don't let armrests restrict your freedom of movement – flip 'em up or take 'em off if needed.
Armless for full range of motion
Height adjustable to fit elbows
Padded for resting forearms
Removable for access to machine
You're the master of your sewing domain, so choose a throne that serves your needs. Fixed armrests cramp your style? Go modular with flip up or detachable options. Padded arms offer comfy perches when hand sewing or quilting.
Or say arrivederci to armrests completely for unimpeded access. Customize your setup for ergonomic support and flexibility.
Chair Materials and Durability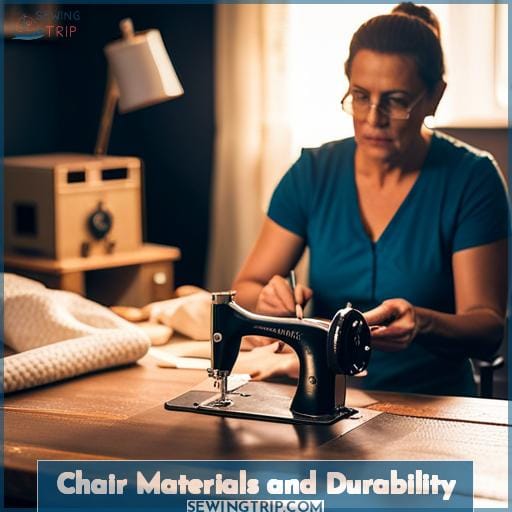 Check the chair's materials and construction for durability when test driving options, since you'll want something that holds up through years of projects. The best sewing chairs combine sturdy frames with durable, comfortable fabrics that meet your style.
Look at materials like faux leather or bonded leather for an affordable leather-look that's easy to clean. Real leather looks upscale but requires more care. Mesh chairs offer breathability though some find they lack cushioning for all-day comfort.
A chair fully padded with dense foam keeps its shape but can get hot. Combine mesh back with a padded waterfall seat for both support and cooling airflow.
Don't underestimate the importance of high-quality foam and upholstery. Sit in display models to test cushioning over time. Scrutinize stitching and seams, check reviews for longevity, and consider integrated storage features that can extend the chair's usefulness.
While you want padding for comfort, go for smoother, non-textured fabrics that won't attract lint and threads. With a selection of neutral colors, you can easily incorporate a new chair into your existing sewing sanctuary.
Finding the balance between sturdy and comfortable materials ensures your sewing chair withstands years of inspired sewing sessions.
Assess Extra Features and Budget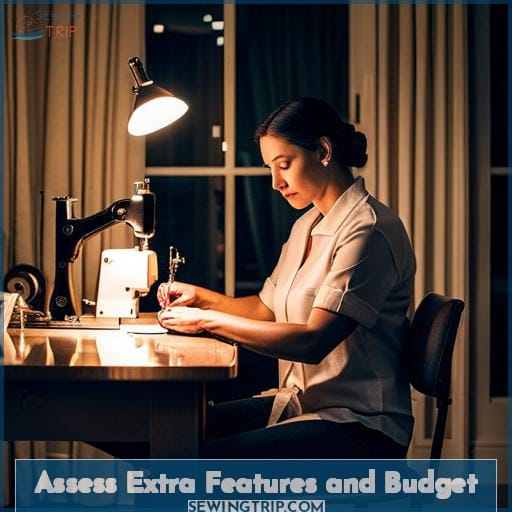 Consider splurging on the fully loaded model with all the bells and whistles if your budget allows, 'cause those extra-fancy features'll have you sittin' pretty for years to come!
When outfitting your dream sewing room, don't underestimate the power of a few special upgrades to take your stitching comfort to the next level. We're talking built-in storage compartments for your notions, adjustable lumbar supports and armrests tailored to your spine's natural curve, even high-tech memory foam that molds to your shape.
With the perfect ergonomic chair, you'll be able to tackle even the toughest sewing tasks in total comfort.
Now some of those top-tier options might cost you a pretty penny. But just think – no more backaches after a marathon quilting session, and you'll finally have a place to stash your thread snippets instead of fishing them out from under the table every time.
Consider it an investment in your creative passion that'll pay back dividends in productivity and inspiration for years to come.
Compare Integrated Vs Standalone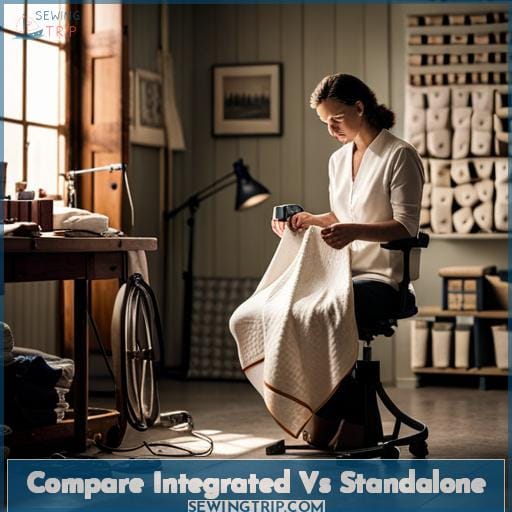 You might prefer an integrated chair built into your machine for a consistent sewing setup, but a standalone offers more flexibility. As an avid sewist yourself, you're familiar with how the perfect chair is key to an inspired, comfortable sewing space.
With an integrated chair, everything's designed to work together in fixed alignment – no fussing with adjustments between projects. This unified setup keeps you in an optimal sewing position at all times. However, integrated chairs are specifically sized for certain machine models.
A standalone chair gives you more options to find the perfect fit. Look for height adjustability, lumbar support, and cushy padding to customize your seating. Consider mounted storage pockets or a removable kneepad. Swivel ability makes reaching your whole workspace a breeze.
Test different chairs to find the best ergonomic fit for you. Splurge on a fully loaded standalone with all the adjustable bells and whistles if you can.
Buy New or Used?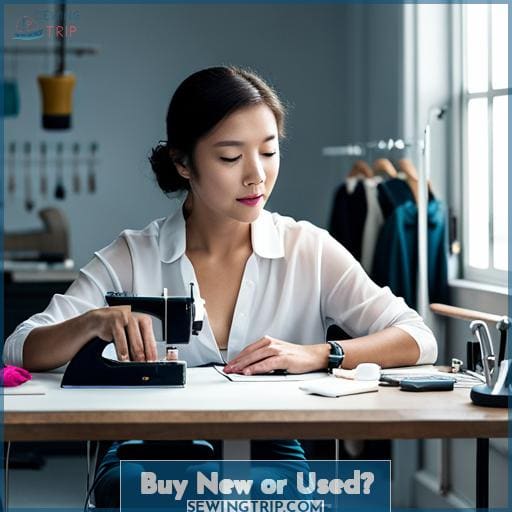 When scouring the classifieds for your throne, whether pre-owned or box-fresh, prioritize adjustable elements over aesthetic frills, lest discomfort depose you. As an avid stitcher, comfort reigns supreme. Without proper back support or the ability to customize the height, even the trendiest chair becomes a torture device.
Seek out adjustable features like seat height, adjustable arms, and lumbar support before considering color and pattern. Sit-test any secondhand chair to ensure the levers and knobs still function properly.
While buying new guarantees everything works right out of the box, don't become bedazzled by fixed embellishments that limit modifications down the road. Splurging on a luxury chair seems sensible until those immobile armrests impede your cross-body stitching.
Favor simple, reliable models where you can swap parts like kneepads and slipcovers. With change being the only constant in sewing, choose adaptable over decorative.
Building your dream sewing sanctuary requires seeing beyond the surface. Whether thrifting retro finds or investing in ergonomic must-haves, let adjustability and comfort lead you to the perfect chair.
Surround yourself with furniture facilitating free movement and proper spinal support. Then adorn your adaptable haven with touches reflecting your style. Once your oasis nurtures bone, muscle and soul, creativity flows freely.
Boss Office Products Perfect Posture Delux Fabric Task Chair Blue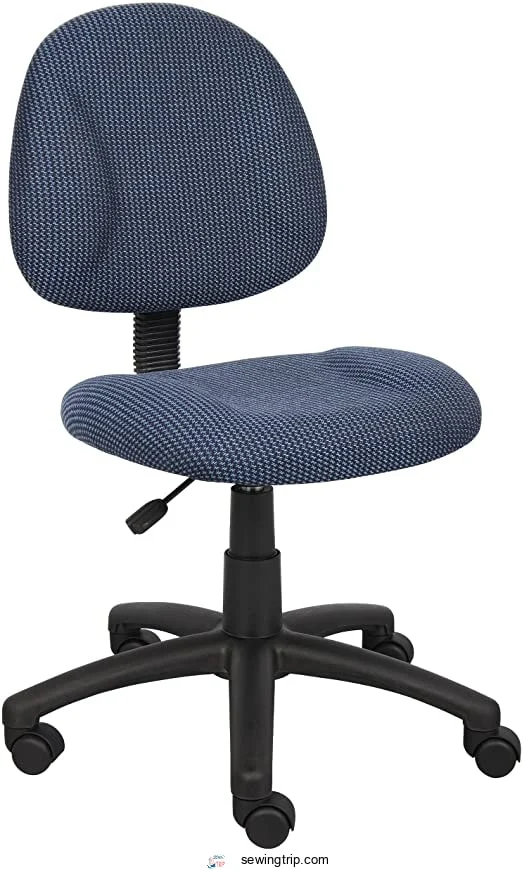 View On Amazon
The Boss Office Products fabric task chair's adjustable height and tilt controls help maximize your sewing comfort, though its minimal customization lacks the ergonomic personalization that avid stitchers need.
As an occasional sewer, you may find this budget-friendly chair provides adequate lumbar support and mobility during short sewing sessions. However, for marathon quilting or embroidery projects, the chair's limited adjustments like fixed armrests and small seat may strain your body over time.
While suitable for basic sewing tasks, lack of customization in the backrest angle, arm width, and seat depth makes it tough to tailor the chair to your unique proportions. This can cause hunching and slouching when seated for long periods. While more economical, investing in advanced ergonomic features now pays dividends in comfort down the road.
You deserve a sewing sanctuary encouraging the free flow of inspiration from needle to fabric. Seek out chairs with adjustments matching the intricacy of your work. Do your research, visit local showrooms, and test models mimicking your seated sewing position.
Let your shoulders relax and elbows open to find your perfect fit. Once you discover the chair custom-made for your creative needs, your inspiration will overflow.
Affordable price point
Tilt tension and height adjustment
Upholstered seat and back
Limited ergonomics lacking arm, seat, and back customization
Lower weight capacity than some heavy-duty models
Prone to premature wear of upholstery
Frequently Asked Questions (FAQs)
How do I adjust the height on a hydraulic lift sewing chair?
Pull up on the lever under the seat to raise the chair. The chair will rise as you lift the lever. Release the lever when you reach your desired height. That allows you to customize the height for your sewing space.
What kind of flooring is best for rolling sewing chairs?
Sewing kindredness, moving those fabrics across slick hardwood floors can feel as slippery as walking on ice. Opt for grippy yet smooth carpet, so that you can float around your creative space freely while keeping your chair steady.
Now shift any which way your heart desires without fear of wheels slipping out from underneath you.
Where can I buy replacement parts for my sewing chair?
You can find original manufacturer parts on the company's website or from an authorized retailer. Check your chair's owner's manual for specifics. Replacement casters, hydraulic cylinders, arm rests, and upholstery kits are commonly available parts.
Call customer service with the model number if you are unsure. Sometimes do-it-yourself fixes also work.
How often should I lubricate the moving parts on my sewing chair?
You'll want to oil those moving parts every few months, hon. Take care of that chair and it will support you through years of happy sewing.
Are there any sewing chairs designed specifically for left-handed sewers?
There are left-handed sewing chairs, hon! Models like the Janome from Sew Steady have the machine on your left so you don't have to reach awkwardly.
Conclusion
The ideal sewing chair really comes down to one thing – how it fits you and your projects. What provides all-day comfort for one person might cause cramps in another after just 20 minutes. At the end of the day, it's about testing different chairs to find the one that works best for your unique body and needs.
Sit in various chairs, actually putting your bottom on the seat to get a feel for the specifics. Play around with the buttons and sliders to adjust the chair and find your perfect fit.