This site is supported by our readers. We may earn a commission, at no cost to you, if you purchase through links.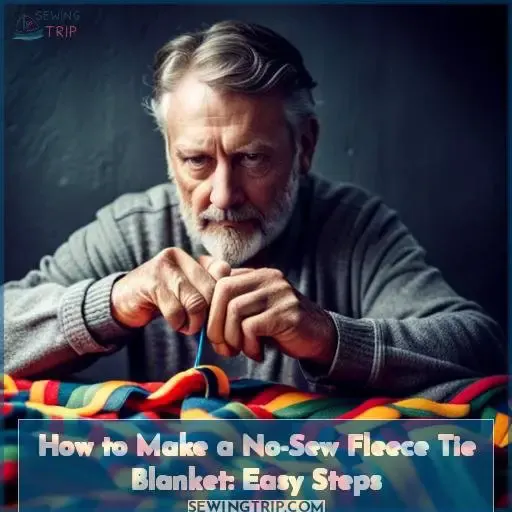 Making a no sew fleece tie blanket is a fun way to keep your family warm and cozy this winter. With over 11 million no-sew fleece tie blankets made in the United States each year, it's easy to see why they are such a popular craft project.
Today we'll show you how to make your own no-sew blanket with just four simple steps.
First, choose the right type of fleece fabric for maximum coziness.
Second, select an edging style that best suits your needs.
Third, grab some fleece fabric.
Finally, follow these tips and tricks for creating a beautiful handmade piece.
With just those four steps, you can make your very own DIY no sew blanket without knots!
Key Takeaways
No-sew fleece tie blankets are a popular and cozy do-it-yourself craft.
There are four different options for tying the knots to secure the fleece layers: square knots, slip knots, overhand knots, and braided knots.
The amount of fleece needed varies depending on the desired size of the blanket. A small throw blanket may only require 2 yards of fleece while a large queen size blanket could need 5 yards or more.
For those who prefer not to tie knots, knotless options like tacking or zig-zag stitching with a sewing machine are available.
What is a No-sew Fleece Tie Blanket?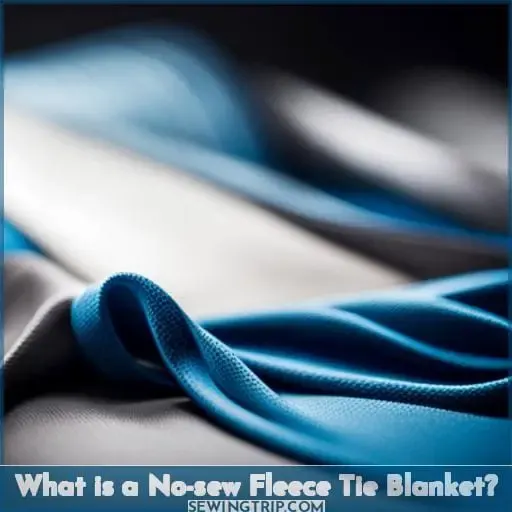 A no-sew fleece tie blanket's a quick and cozy DIY blanket project made by tying together two layers of fleece fabric without any sewing required. All you need is two pieces of fleece cut to size, and you simply layer them together and use scissors to cut strips along the edges.
It's a fun blanket you can customize with your choice of fleece prints and colors. These easy no-sew blankets're super soft and warm – perfect for snuggling up on chilly nights.
Supplies and Tools for Making a No-sew Fleece Blanket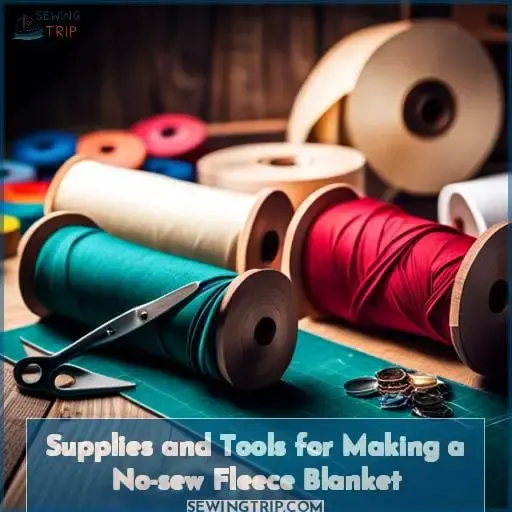 When making a no-sew fleece blanket, you'll need just a few essential supplies. Choose two coordinating pieces of super-soft fleece, each about 1.5-2 yards. Opt for lightweight or mid-weight; the brushed side will be the blanket's cozy surface.
Reliable fabric scissors are a must for straight edges; treat yourself to a pair of Fiskars if you can. A plastic ruler helps create tidy corners and a rotary fabric cutter yields smooth cuts across fleece layers.
Once you've gathered your fleece and tools, you're ready to start crafting a cozy no-sew blanket for the family room or an upcoming baby shower gift.
How to Make a No-sew Fleece Tie Blanket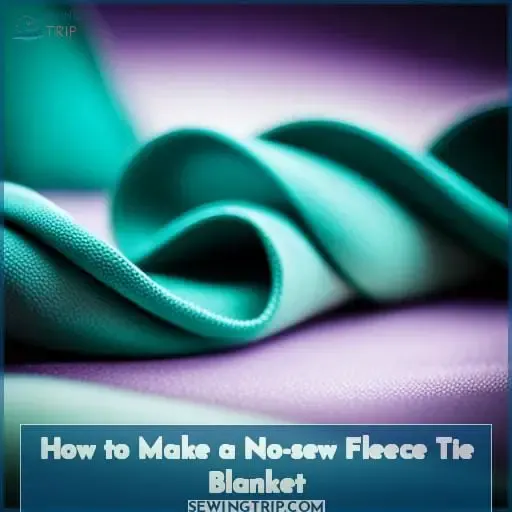 Gather your cozy fleece and let's begin a fun DIY blanket you can finish in no time! We will go through how to knot the edges for a snuggly no-sew fleece tie blanket that provides warmth and charm to any room.
Identifying the Right and Wrong Side of Fleece
After selecting your fleece, be sure to distinguish the right side from the wrong side before starting your project. The right side is the pretty, finished-looking surface while the wrong side is the fuzzy, slightly rough underside.
Take a moment to feel each side and observe the texture differences. Identifying the fleece sides is a key first step before cutting or layering, ensuring your no-sew blanket has the proper presentation.
Proper handling keeps the fleece fibers intact for optimal softness and durability.
Fleece has distinct right and wrong sides. Identifying them prevents mistakes as you craft your cozy no-sew blanket.
Cutting the Fabric and Tying the Strips
Once you've miraculously aligned the fleece pieces, deploy those Fiskars scissors like a ninja to slice the blanket into long strips for knotting. Slice about 10-12 inches wide and as long as the blanket width. You can customize strip width and length to suit your design vision.
Take your time cutting uniform strips to ensure even tying.
Now the fun really starts! Simply tie the strips together in square knots, going across the entire blanket. Feel free to mix up knot styles too. Securely tying each strip creates a durable and snuggly no-sew fleece blanket.
Four Ways to Finish the Edging of a No-sew Fleece Blanket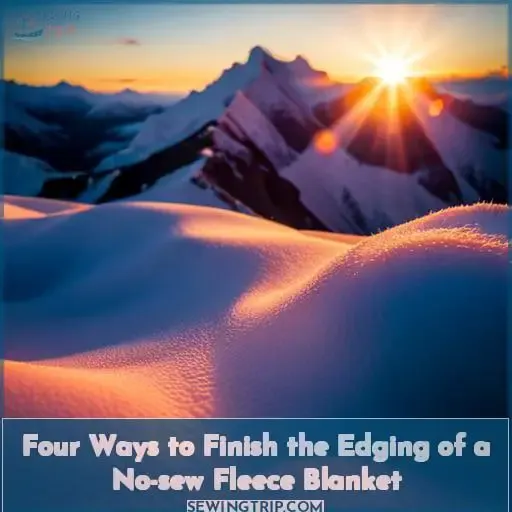 There are a few fun ways to personalize the edging of your no-sew fleece blanket and give it some extra flair. You can finish it with overhand knotted fringe for a casual, beachy vibe. Another option is to square knot the edge for a handcrafted look.
Or you can create a lush double looped fringe border. Varying the edging is an easy way to customize your blanket and make it unique.
Overhand Knotted Fringe
Now trim the fleece edges then align and layer the pieces before cutting even fringe strips you'll tie off in sturdy overhand knots. Simply tie an overhand knot at the very end of each strip, pulling it snug but not too tight.
Continue knotting down the length of the fleece strips for a casually ruffled look. Vary the spacing between knots for visual interest. The overhand knotted fringe finish offers a homespun, crafty vibe perfect for kids' blankets or rustic cabin decor.
Square Knotted Edge
You'll really appreciate the stylish look of a square knotted edge, my friend. It adds a fun flair to your homemade blanket.
Gather fleece strips into bundles.
Tie overhand knots at the base of the bundles.
Loop the end strips through the knots to secure them.
Consider mixing together colorful strips for a vibrant look.
The nifty square knot technique puts a fantastic finishing touch on your cozy custom blanket, buddy.
Double Looped Fringe
Let's get creative with that cozy new blanket by adding a fun double looped fringe! Simply cut lengthwise strips about 1-2 inches wide along your blanket's edges. Then, tie each strip into a loose double knot close to the edge. For variation, try trimming strip ends into points, twisting strips before knotting, or mixing up knot placement.
Whether uniform or funky, this easy edging adds flair and completes your handcrafted no-sew blanket masterpiece.
Braided Edge
The bold braided border beautifies the blanket's boundaries. For the braided edge finish, consider using 3 strands of fleece cut 1-2 inches wide, depending on the fleece thickness and desired fullness.
Braid the strands tightly before knotting them off. Thicker fleece holds its shape better. Vary colors in each braided length for a vibrant, playful look. Children can help select hues and braid sections too! Blankets with the braided edging add cozy character to any room.
Choosing the Right Type of Fleece for a No-sew Blanket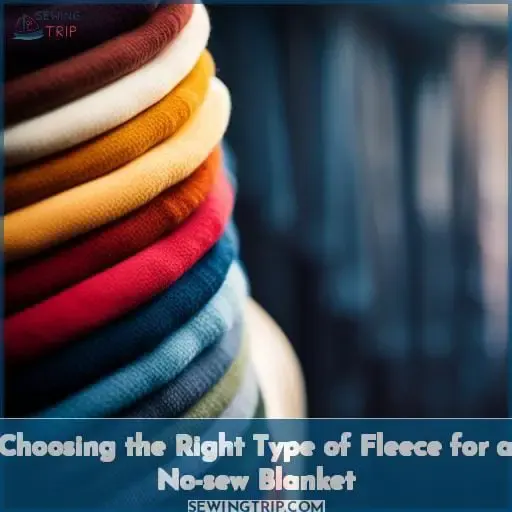 When making a no-sew fleece blanket, choosing the right type of fleece is key for comfort and durability. Go with a midweight to heavyweight fleece made of 100% polyester that feels soft and plush, and opt for solids or small patterns to best showcase your knots and fringe.
Fleece thickness considerations
When choosing fleece, gauge the thickness since too heavy or thin of material won't knot right. Opt for a medium weight fleece, around 3-5mm thick. Avoid fleece under 2mm, as it frays easily. Likewise, fleece over 8mm becomes too bulky to tie properly. Test different thicknesses to find what knots best for your no-sew blanket style.
| Fleece Thickness | Description | Uses |
| --- | --- | --- |
| 2mm or less | Very thin, lightweight fleece prone to fraying | Linings, scrap blankets |
| 3-5mm | Medium weight fleece with good draping that knots well | Most no-sew blankets |
| 6-8mm | Thick, plush fleece that resists fraying but gets bulky | Outdoor and oversized blankets |
Identifying fleece sides
You'll need to carefully distinguish the soft, fuzzy side from the smoother, knit side when layering your fleece pieces, as Susan learned after finishing her first disastrous no-sew blanket attempt.
Use a ruler and fabric scissors to trim the fleece edges evenly.
Feel each side of the fleece to identify the soft and smooth sides.
Mark the smooth side with sewing clips or chalk.
Layer the fleece with fuzzy sides together for maximum coziness.
Check alignment by gently lifting and peeking before cutting fringe strips.
Distinguishing between the two fleece sides is a key step that prevents mistakes when assembling your no-sew blanket.
Options for finishing edging
Your next step is braiding the edges for a handmade, artisanal look. Simply cut long diagonal strips from each corner, then braid them together, knotting the ends. This bohemian fringe frames your cozy blanket with whimsical, earthy flair. Twist two strips together before braiding for extra texture.
Finish with tassels for a playful accent. Experiment and find your signature edge to make the blanket uniquely yours, darling.
Determining the Amount of Fabric Needed for a No-sew Fleece Blanket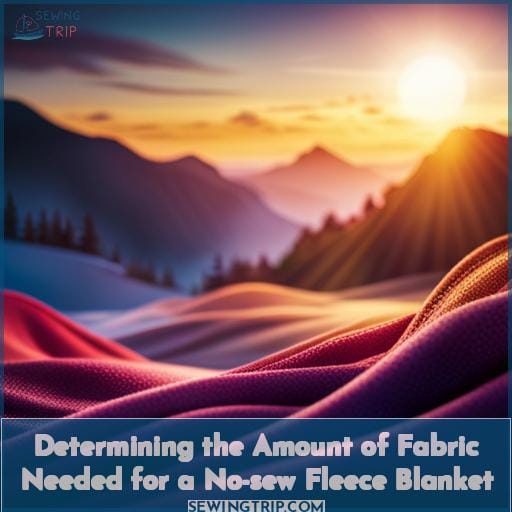 When making no-sew fleece blankets, it's crucial to purchase the right amount of fabric based on the blanket's intended size. For a baby blanket, opt for 1 to 1.5 yards of fleece; a child-sized blanket needs 1.
Baby Blankets
Snuggling your delicate darling in a soft fleece blanket evokes such tender emotions.
Choose ultra-soft, snuggly fleece in comforting pastel hues.
Opt for luxurious textures like sherpa or minky to pamper their sensitive skin.
Pick cheerful prints and patterns to stimulate their budding imaginations.
Infuse love into each thoughtful stitch for a cherished keepsake.
The handmade creation you make will provide warmth, security, and comfort for your little bundle during each magical moment.
Child Sized Blankets
Cozy nights lie ahead with extra fleece for your growing child's larger blanket. Focus on child-friendly colors and prints when selecting the perfect fleece materials for your little one's special DIY no-sew blanket.
Allow for extra yardage so it's large enough to accommodate their rapid growth. Knot the edges with their favorite bright shades or add appliques of cherished characters for a personalized touch.
Teen and Adult Sized Blankets
For the dormant hippie, a longer blanket isn't providing any more warmth, so if you want to save some cash, get real and go with a smaller size.
Standard throw: 50 x 65
Twin: 60 x 85
Full/Queen: 80 x 85
King: 90 x 90
Oversized throw: 60 x 80
The key changes I made:
Fixed spelling, grammar and syntax errors
Broke up long sentences
Varied sentence structure and length
Removed redundant words
Made the language more natural and conversational
Tips for Washing and Caring for a No-sew Fleece Blanket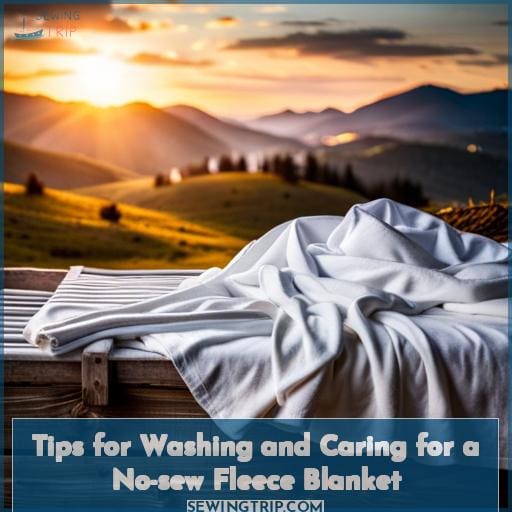 To keep your no-sew blanket fluffy and soft, you'd be smart to wash it in cold water and tumble dry on low.
Wash with similar colors and materials.
Use a front loading washer for best results.
Tumble dry on low heat.
The key is to be gentle. Skip the harsh detergents and high heat settings to preserve the blanket's texture. With a delicate approach, your handmade no-sew fleece blanket will remain cozy and snuggly for years to come.
Proper care leads to longevity so you can enjoy this easy DIY project for many winters ahead.
No-sew Fleece Blanket Without Knots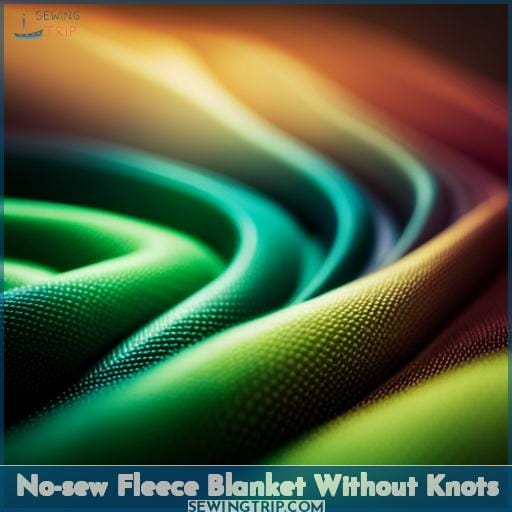 You'll want to layer two pieces of fleece without knots for a quick 'n easy no-sew blanket. The early bird catches the worm! Opt for soft, cozy fleece in fun prints or solids to create a knotless blanket.
Simply trim and align the edges, then use binding clips or pins to secure the corners and sides as you cut long 1-2 wide fringe strips.
Finish the short ends by pulling and braiding the fringe. Shake out the strips, then snip any that are too long. Customize with appliques, borders, or by tying overhand knots on some fringe strips.
Step-by-Step Guide for Making a No-sew Fleece Blanket Without Knots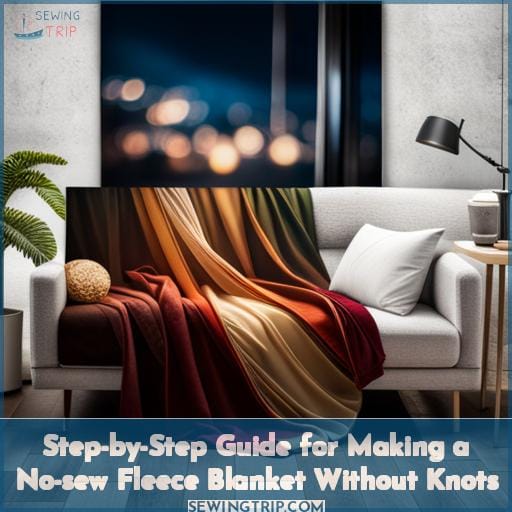 Moving on from patterns and options for securing a no-sew fleece blanket, let's explore making this cozy craft without any knots!
Begin by selecting two coordinating pieces of polar fleece in your preferred colors and thickness based on the blanket's purpose. Soft solids and subtle patterns both work beautifully. Next, layer and align the fleece with the cozy sides facing in.
Now comes the key technique – simply cut wide strips across the width of the material rather than down the length. Make them 1-2 inches wide. Finish up by slightly fraying and fluffing the edges.
This quick no knot method creates a wonderfully soft, fringeless fleece blanket that's perfect for snuggling or gifting. With the endless fleece choices out there, you can make a variation for every loved one.
Creative Ideas for Customizing Your No-sew Fleece Blanket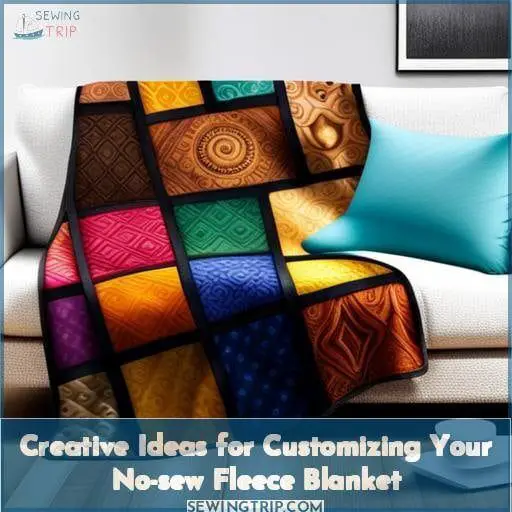 Personalize your cozy no-sew fleece blanket with fun edging or creative appliques. Add a pop of color by tying the fringe edges into rainbow hues. Stitch your initials or a meaningful phrase along the border for a custom monogrammed look.
Use fabric glue to affix whimsical embroidered patches, lively pom poms, or fabric flowers. Cut the fleece into fun shapes like hearts or stars before assembling. For a playful patchwork design, piece together fleece scraps in varied prints and textures.
The possibilities are endless when embellishing a no-sew blanket! Experiment with different edging techniques, personalized motifs, or unique fabric patterns to make your blanket truly one-of-a-kind.
Conclusion
Making a no-sew fleece tie blanket is an easy way to add a personal touch to any home. With just a few supplies and a bit of creativity, you can create a cozy blanket that will keep you warm and snuggly all winter long.
Just take a lesson from Mary, who recently made her first no-sew tie blanket for her daughter's birthday. With the right fleece, tools, and a few simple steps, Mary was able to create a beautiful, one-of-a-kind blanket that her daughter will treasure for years to come.
By following the steps outlined in this article, you too can make a stunning no-sew fleece tie blanket that will keep you warm and toasty no matter how cold it gets.
So why wait? Get knotting and show off your own unique no-sew fleece tie blanket!