This site is supported by our readers. We may earn a commission, at no cost to you, if you purchase through links.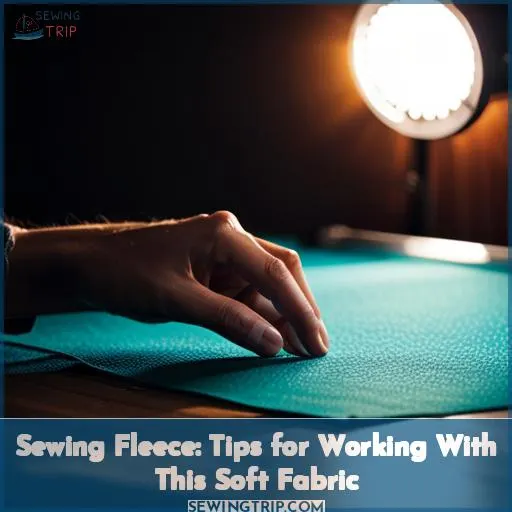 You love curling up with fleece! But even super soft fleece requires a few tricks of the trade to sew like a pro. We're gonna tackle fleece fabric and how to tame this cozy, fuzzy fabric for flawless projects.
With fleece's crazy-stretchy bias and fluffy nap, precision is key. But armed with the right needles, thread, and marking tools, fleece is a cinch to sew. We'll review clever finishes and pressing so your fleece creations keep their loft and shape through countless launderings.
To master fleece, we must understand it – the qualities that set it apart from other fabrics. Then we can apply specialized techniques at each step, from cutting to pressing and sewing.
Key Takeaways
Purchase extra yardage for layout along the nap direction.
Use ballpoint needles; size 80/12 or 90/14 works well.
Interface fleece to prevent wavy seams and hemming.
Clean the machine thoroughly after fleece projects to remove lint.
Tips for Sewing Fleece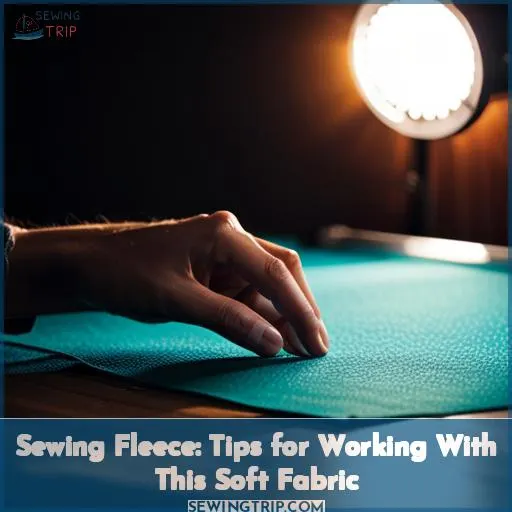 When sewing with fleece fabric, keep in mind that it has nap and a right and wrong side. Unlike woven fabrics, fleece edges don't fray, so seam finishes aren't needed. However, fleece stretches a lot along the cross-grain, so staystitch curved seams.
As a very bulky fabric, look for ways to reduce bulk through seam styles, trimming seam allowances, and avoiding heavy interfacing or facings.
Use With Nap Yardage Requirements
When cutting fleece, it is important to follow the nap yardage requirements so that the fabric pile faces the same direction.
Match pattern pieces in the same direction.
Cut adjoining pattern pieces in the same direction.
Lay out all pattern pieces facing the nap direction.
Purchase extra yardage as indicated on the pattern envelope.
Fleece Has a Right Side and Wrong Side
Remember to notice fleece's textures – one is fluffier than the other.
Fleece has a distinct right and wrong side. The knitted structure creates a fuzzy pile on one side that feels deliciously warm and soft. This polyester fiber fabric lacks fraying and has minimal bulk. Select the cozier fluffy side for the public side of your sewing project.
| Right Side | Wrong Side |
| --- | --- |
| Fluffy pile | Smoother surface |
| Warm & soft | Less plush feel |
| Fuzzy texture | More compact knit |
Raw Edges Do Not Fray, Seam Finishes Not Necessary
You'll never believe how fleece's edges stay smooth without any finishing!
No fraying means no zigzag stitches or pinking shears needed.
Just cut and go – skip those serged seams and hems.
Raw edges won't curl or distort, even after washing.
Fleece's looped pile structure keeps edges neat so you can stitch stress-free. Simply cut, sew, and wear! No tedious seam finishes required.
Fleece Has Stretch, Especially Along Cross-Grain
Y'all gotta watch out for fleece stretching along the cross-grain. When cutting fleece, match the pattern lengthwise grain to the fabric length.
Find Ways to Eliminate Bulk
Fusing an interfacing strip where zippers go reduces fleece bulk there.
Grade seam allowances
Clip and notch curves
Serge finished edges
Press open or to one side
Use lightweight fusibles
Containing fleece bulk makes professional-looking garments.
Always Buy Quality Fleece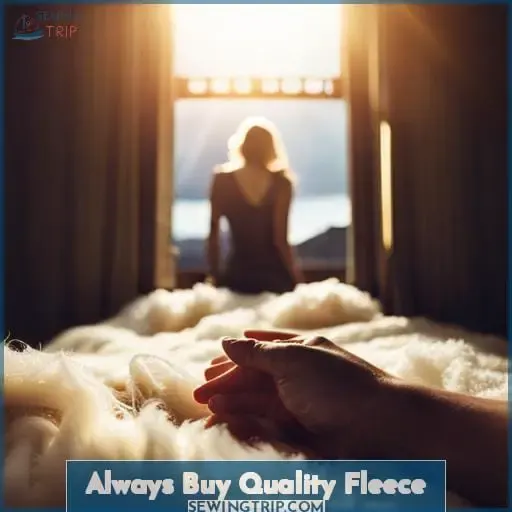 When sewing with fleece, always start with quality fabric. Look for anti-pill fleece from reputable brands at your local fabric store or online retailer. Interface fleece prior to construction to prevent wavy seams and hems. Use a low-heat iron, test on scraps first, and only finger-press completed projects.
For clean finishes, try bound, surged, or double-stitched rolled hems on fleece.
Where to Buy Quality Fleece
Check fabric stores for anti-pill polyester fleece with a tight knit for the best quality. Seek brands like Polartec and Malden Mills for durable, high-performance fleece. Feel the hand of the fleece to test softness and stretch. Quality fleece won't shed lint or pills.
Interface Fleece to Prevent Wavy Stitching
Leave your wobbly fleece rings out in the cold for my amusement, friend. Isn't that more fun than taking the time to properly interface it yourself?
Iron-on interfacing to fleece seams and hems.
Use lightweight knit or tricot interfacing.
Preventing wobbly seams takes planning, not luck. Interfacing provides structure, preventing frustrating tucks along seams and hems.
How to Properly Press Fleece
Use a lightweight press cloth like silk organza when pressing fleece. It will let steam through without scorching the fleece's surface. Finger press only and avoid high heat to prevent damaging the fleece's fibers and stretch.
Hemming Techniques for Fleece
Secure fleece hems with a serger or zigzag stitch since the fabric won't hold creases.
Use double-fold hem bands for stability and structure.
Interface hem allowances with lightweight fusible tape.
Anchor hems with angled stitching across corners.
Secure starting and stopping points with backstitching.
Test different methods on fleece scraps before hemming your finished project. Fleece wants to move around, so take steps to contain edges for a professional finish that will withstand laundering.
Needles for Sewing With Fleece

Let's move on to the needles you'll need for sewing with fleece. You've got a great fleece fabric – don't ruin it with the wrong needles! Make sure to choose the right needle type and size for fleece.
Ballpoint needles glide smoothly between the loops without snagging. Stretch needles also work well since they have more flex for the stretchy fleece. A size 80/12 or 90/14 needle will be about right. It should push the fleece threads aside instead of piercing them.
Match the needle to the thread thickness too. And remember to change needles often since fleece dulls them quickly with all that lint buildup. Choosing the perfect needle will let your machine stitch beautiful seams in fleece.
Fleece Cutting Tips

When working with fleece fabric, you'll want to pay special attention during the cutting process. Since fleece has a definite nap or pile, you'll need to lay out pattern pieces following the layout diagram's nap arrows.
Be sure to thoroughly clean your cutting tools and workspace often to prevent the buildup of fuzzy lint. Take time as well to test different marking tools on scrap fleece before using them on your final pieces.
Use With Nap Layout
You'll want to plan the fleece pattern layout on the fabric's nap direction.
Cut single layers, not folded.
Align the top/bottom pattern pieces in the same direction.
Place the pattern border along the selvedge.
The straight grain should run parallel to the selvedge.
The nap will go down the garment, like fur on a bunny.
Cleaning Up Lint From Fleece
After cutting fleece, you gotta brush that machine clean.
Here's what you need to clean fleece lint from your machine:
| Tool | Use |
| --- | --- |
| Soft paintbrush | Brush inside nooks and crannies |
| Tweezers | Pluck out stubborn bits |
| Compressed air | Blow away loose fuzz |
| Lint roller | Roll over flat surfaces |
Keeping your machine crumb-free helps it sew smoothly as butter.
Experiment With Marking Tools
Use a chalk pencil when marking fleece to avoid leaving permanent lines. Trace stitching lines lightly on the wrong side of polar fleece with chalk. Keep your cutting tools sharp for accurate cuts through the thick fabric. Erase any stray markings so they do not show on the finished project.
Seam Finishes for Fleece Fabric

When it comes to finishing seams and hems on fleece, you've got options! Unlike woven fabrics, fleece's raw edges won't fray, so you can leave them unfinished if you'd like. However, containing fleece's stretchy nature with thread helps structure your project.
Serged seams neatly compact fleece's pile. Or stitch hems and seam allowances with a zigzag or decorative stitch. A turned and stitched hem finishes edges smoothly. Binding seams masks their bulk beautifully.
Play around with thread colors – contrasting hues won't show as much against fleece's texture. Keep stitches close together and long to prevent rippling. Remember to match thread type to fabric type for best results.
Whichever seam finishes you choose, test them out on scraps first. Then show off your fleece's fun texture with perfectly finished seams!
Basting Multiple Layers of Fleece

Got a bit tangled in that fleece, didn'tcha? Carefully smooth those fuzzy layers and grip 'em firmly in place with Wonder Clips before stitchin' you up!
Lay out all your fleece pattern pieces in order and pin them together with regular pins.
Place Wonder Clips approximately every 3-4 inches along the edges to hold layers securely.
Remove regular pins as you go and replace with clips. The wide grip holds thick fleece firmly and the colors help you keep pieces straight!
With a good grip on those floppy fleece layers, you can maneuver them under the presser foot easily and decorative stitch to your heart's content.
Using Clips to Hold Fleece Together

You'll find the Clover Wonder Clips quite handy for keeping fleece layers in place while sewing your new project. Simply position the clips along the edges of your fabric pieces before cutting into the fleece with your sharp cutting tools.
The strong grip of the clips will prevent the knitted fabric layers from shifting as you cut out the pattern pieces. Before stitching fleece seams on your machine, test your stitch settings on a scrap piece of fleece first.
The clips allow you to maintain correct seam allowances when joining fleece since the fabric won't hold creases. Their fun colors will make sewing fleece decorative stitching a breeze. With Wonder Clips securing the fabric, you can focus on guiding the fleece through the machine to achieve professional results.
Using a Stitch Starter When Sewing With Fleece

Start by running the needle down into the fleece a few stitches before lowering the presser foot to grip the fleece in place.
When working with slippery fleece fabrics, use these 3 tips for a smooth start:
Engage the locking feature on your machine to anchor the first few stitches.
Try a stitch starter, which is a soluble stabilizer that dissolves after sewing. Position it under the presser foot to hold layers steady.
Use a clip or binder clip on thick fleece to keep it from sliding before stitching.
With some simple tricks like these, you'll have an easier time managing fleece fabrics for a frustration-free sewing experience.
Lightening Up Your Hands When Working With Fleece

Keep fleece fabrics flowing freely beneath nimble fingertips as you craft, preventing drag that taxes the hands.
| Stage | Tip |
| --- | --- |
| Prep | Use a Teflon pressing sheet when fusing to allow fleece to glide. Trim seam allowances narrow. Opt for simple set-in sleeves over flat construction. Choose soft, pliable fusibles that fuse at low temps. |
| Sew | Slide fleece layers using a Supreme Slider or parchment paper. Don't pull; let feed dogs draw fabric under the presser foot. FLOAT fleece by lifting the presser foot when changing directions. |
| Finish | Reduce bulk with graded seams and notched curves. Check elastic casings for trouble spots. Use a silicone thimble for hand stitches. |
Avoid overworking fleece's soft surface and delicate pile. With mindful handling and strategic choices, keep projects flowing from cut to finish.
Dritz Sheer Silk Organza Press Cloth

Protect garments when pressing by lightly dampening a reusable Dritz Sheer Silk Organza Press Cloth and placing it between your iron and the fabric.
Allows steam to penetrate without scorching.
Creates a barrier against shine marks.
Protects delicate fabrics from heat damage.
Can be reused many times with proper care.
When working with fleece, a lightweight press cloth is your best friend. The Dritz organza press cloth shields your projects from scorching while still letting steam reach the fabric. Simply dampen and place it between your iron and fabric. With this reusable tool on hand, you can press fleece safely to get perfectly finished creations.
White Fusible Knit Stay Tape

Bond the seam allowances and finish raw edges of your fleece project with this soft, knit stay tape that fuses on with just the heat of an iron. As an experienced sewist, you know fleece's stretchy nature can make seams distorted.
Reinforce them with this knit tape. Just position it along the seam's edge, cover it with a press cloth, and apply a hot iron to bond it in place.
The tape's stretch moves with the fleece, and its softness prevents irritation. Use it to neatly finish any raw fleece edges too – collar, sleeves, hem. With just the heat of an iron, this tape fuses right on to brush the edges, tidying your cozy fleece creation.
Containing fleece's bulk boosts a polished look for your homemade garment or craft.
Clover Wonder Clips

Slide into accurate seam allowances with Clover Wonder Clips' calibrated guide scale. You'll love gliding smoothly along layers to temporarily secure tricky spots before final stitching. These handy plastic clips open wide to grip multiple fabric layers, so you can quickly clip woven cottons, knits, fleece, and more at key points.
Their slide base prevents snagging delicate woven fabrics as you work. With knits, take care placing embellishments carefully and stay-stitch curved seams to avoid stretching. For best results, opt for a longer stitch length on your sewing machine when attaching Wonder Clips.
Frequently Asked Questions (FAQs)
What's the best way to clean fuzz and lint off my sewing machine after working with fleece?
After fleece projects, use a soft brush instead of air to gently remove lint inside your machine. Then, dampen a lint roller and run it over the presser foot and feed dogs. Lastly, wipe the bobbin area with a swab dipped in rubbing alcohol.
My fleece fabric gets very wrinkled. What's the best way to remove wrinkles?
When pressing fleece, use a low iron temperature and a press cloth. Dampen a sheer organza cloth, place it over the fleece, and then gently press. This protects the delicate pile of the fleece from scorching. Never iron fleece directly.
For wrinkles, simply finger press the seams and hems so that the fleece stays soft.
How can I prevent my sewing machine needle from getting damaged when sewing thicker fleece?
Switch to a topstitch or jeans needle when sewing fleece – their sharper point and stronger shaft will pierce dense fleece easily without bending. Lower your presser foot pressure too, so the needle can penetrate the fleece without resistance.
What types of patterns and garments are best for beginners to sew with fleece fabric?
For beginners, choose simple boxy patterns like pillow covers or rectangular blankets to get comfortable handling fleece. Move onto easy garments with few pattern pieces like basic pullovers or pants. Fleece's stretch and lack of fraying make it more forgiving.
I'm having trouble controlling and guiding the fleece fabric through my sewing machine. Any tips to prevent this?
You'll want to use a Teflon foot and pair that with a roller or walking foot to help feed the fabric evenly without getting trapped or distorted. Lowering the presser foot pressure can help too. Go slow, support the fabric as it feeds, and check tension often.
Conclusion
Follow these and you'll be ready to conquer any soft and fuzzy project with confidence! By understanding fleece's qualities like nap, stretch, and no-fray edges, you can employ smart layout, pressing, and seam finishing strategies to avoid headaches.
With quality materials, the right tools, and a few tricks for tackling lint and bulk, you will create beautiful fleece garments and accessories to delight in wearing.