This site is supported by our readers. We may earn a commission, at no cost to you, if you purchase through links.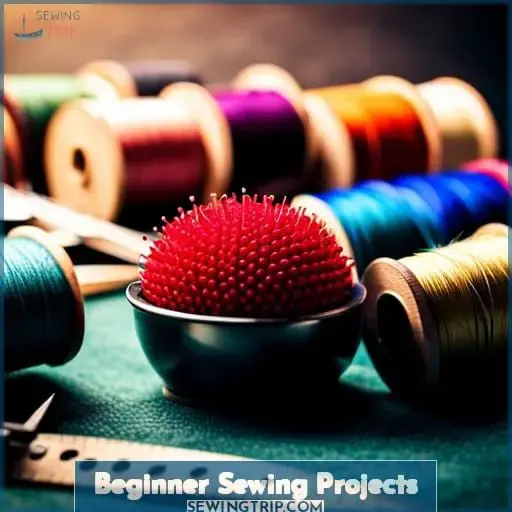 Your sewing machine beckons. Thread slips smoothly through the needle as you contemplate infinite possibilities.
Whether you're just beginning or brushing up skills, you'll find inspiration in these creative sewing projects. From aprons to zipper pouches, they're all fun, useful beginner sewing projects to try.
We'll cover everything from useful gadgets to wearable fashions to decorative home accents. With step-by-step instructions, you can whip up quick gifts, kid-friendly toys, and practical items for yourself.
Don't be intimidated; with the right tips and fabric, sewing can be liberating. Let your creativity flow as we explore what you can make.
Grab your scissors – it's time to start sewing!
Key Takeaways
Beginner sewing projects offer a wide range of creative possibilities for various purposes, including wearables, useful items, and home decor.
These projects combine style and practicality, enabling individuals to create functional accessories like zipper pouches and phone-charging stations with their unique fabric choices.
Novice sewers can enhance their skills by crafting pattern weights for improved precision, while drawstring gift bags provide a personalized touch for versatile gifting options.
From elevating dining experiences with fabric napkins to adding comfort and color to outdoor spaces with DIY pillows, beginners can embark on projects that cater to their interests and needs.
Six Categories of Beginner Projects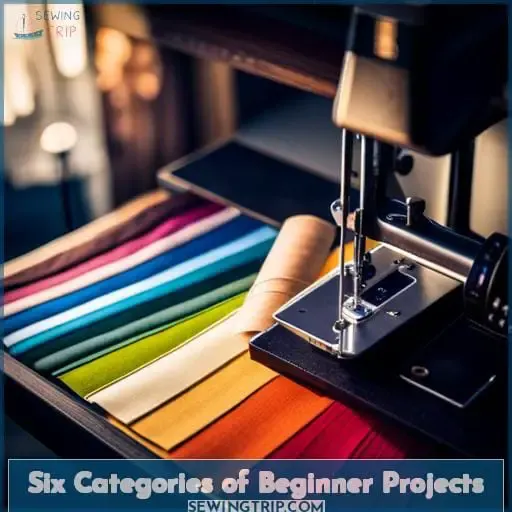 Your creative fingers can bring to life useful and gift-worthy items, including wearable creations, through these novice sewing endeavors. Begin with simple projects, like sewing a jeans pocket onto a bag for a decorative touch.
Move on to creating quilted placemats, which make for wonderful gifts for family and friends. Another idea is crafting a sturdy carryall bag, perfect for weekend trips. If you're looking for a way to upcycle fabric scraps into fun home decor, try making cork coasters.
As your skills progress, you'll graduate from beginner to intermediate sewing patterns and tutorials. This advancement allows you to create personalized clothing, st■ animals, and more. Remember, with practice, patience, and persistence, you'll be amazed at what you can create using just a needle and thread.
Sewing unlocks a world of DIY possibilities, allowing you to transform fabric into handmade treasures for yourself and your loved ones.
Useful Sewing Projects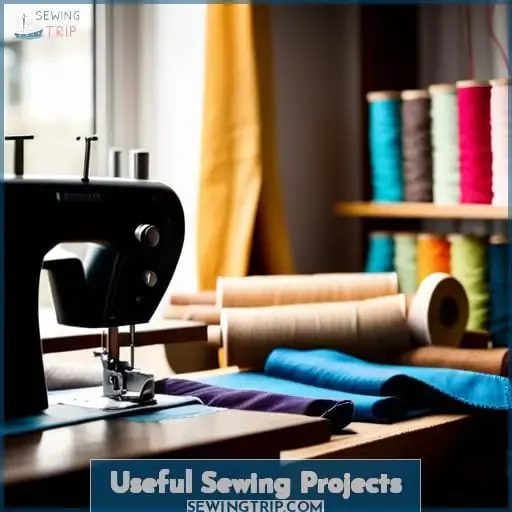 Looking to enhance your sewing skills with practical projects? Why not try your hand at sewing useful items such as a phone-charging station, a portable first-aid kit, a zipper pencil pouch, or pattern weights? These straightforward projects will allow you to practice key techniques while creating handy gadgets and organizers you'll reach for time and time again.
Phone-Charging Station
In a stroke of luck, this simple tutorial teaches you how to sew a convenient phone-charging station, helping you keep your charging cord organized while adding a stylish touch to your home decor. You can personalize it according to your preferences: incorporate pockets for a portable power bank, create a tailored phone case pocket, or even integrate a holder for a phone armband.
This introductory sewing project not only elevates your living space but also enhances your sewing skills.
Portable First-Aid Kit
Crafting a portable first-aid kit stands as a crucial endeavor within the realm of beginner sewing projects. This undertaking amalgamates practicality with style, resulting in an indispensable addition to your creative arsenal.
Opt for a compact and travel-friendly fabric that resonates with your personal preferences. Within this kit, assemble an array of first aid essentials, ranging from band-aids to antiseptic wipes, all the way to tweezers and more.
This meticulous curation ensures that you remain well-equipped for impromptu mishaps during your travels. Take the opportunity to tailor the design according to your aesthetic inclinations, utilizing the spectrum of available sewing patterns.
This process will aptly showcase your innate artistic flair, while concurrently upholding a state of perpetual readiness for any unforeseen bumps and bruises that might arise.
Zipper Pencil Pouch
Take a seemingly ordinary zipper pouch, and watch as you effortlessly transform it into a stylish statement piece that showcases your flair for combining functionality and fashion.
Zipper pouch techniques open up a world of creative possibilities. You'll find your sewing machine becoming a tool for artistic expression as you choose the right fabric – ranging from vibrant prints to elegant solids – and add custom embellishments.
Elevate your beginner sewing projects with these easy sewing ideas. Your zipper pouch can be more than just an accessory; it's a testament to your crafting journey.
Pattern Weights
Exploring the creation of DIY pattern weights can enhance your sewing precision and style. These ingenious tools help stabilize your fabric while cutting, adding a touch of flair to your workspace. With a plethora of fabric choices available, you can unleash your creativity to match the aesthetics of your sewing room.
Whether you opt for floral or geometric designs, selecting different weight variations for various projects allows you to elevate your beginner sewing skills. Craft these functional yet decorative items to add to your collection of simple projects, providing both utility and sewing inspiration.
Sewing Gift Ideas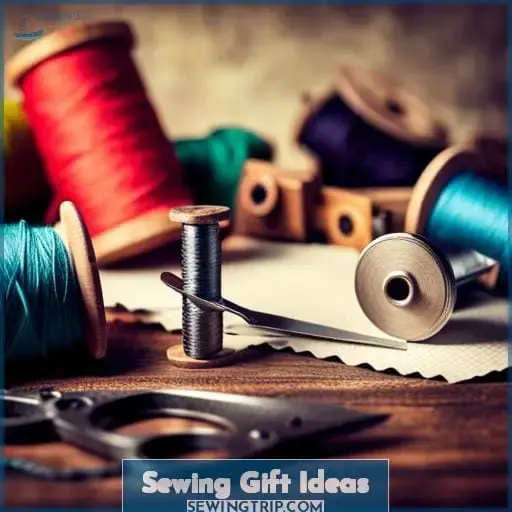 Dive into the realm of considerate sewing gifts with these delightful projects! Create charming Drawstring Gift Bags for that extra personal touch, craft Fabric Koozies that blend style and functionality, put together a Travel Manicure Kit for pampering on-the-go, and sew up a chic Scalloped Sunglasses Case to stylishly protect those shades.
Drawstring Gift Bags
Delight in crafting charming and versatile drawstring gift bags, transforming simple fabrics into elegant holders for your heartfelt presents.
Explore various drawstring gift bag styles, ranging from sleek and minimalistic to whimsical and vibrant. When selecting fabric for your drawstring bags, you have the opportunity to tailor each one to the recipient's taste.
Get creative with drawstring closures by incorporating ribbons, cords, or even braided fabric, adding a unique touch to your creations. Make your drawstring bags even more special by personalizing them with the recipient's name or a meaningful motif.
Consider engaging in upcycled drawstring projects for an eco-friendly spin on gifting. These beginner sewing projects serve as perfect sewing gift ideas, combining simplicity and thoughtfulness in every stitch.
Fabric Koozies
Let your creativity flow and craft some fabulous fabric koozies – the perfect way to infuse your gift-giving with both style and utility. These DIY beverage holders don't just keep drinks insulated but also let you showcase custom designs, making each piece a unique masterpiece.
Stitching techniques that beginners can easily master breathe life into these fabric koozies. Elevate your sewing crafts and delight your loved ones with these quick sewing projects, which also double as charming DIY party favors.
Travel Manicure Kit
Craft an elegant and compact travel manicure kit that's perfect for on-the-go grooming. Create a considerate handmade gift with these beginner sewing projects. Whether sewing for kids or crafting gifts for friends, this travel-friendly design emerges as a champion.
Within this grooming set, nail care solutions are meticulously packed, adding a personal touch to your on-the-go beauty routine. Uncover the sheer delight of sewing vital tools into functional, travel-sized treasures.
Scalloped Sunglasses Case
Create a fashionable Scalloped Sunglasses Case that adds a personalized touch to safeguarding your eyewear. Select from an array of fabric options to match your unique style. Engage in beginner sewing projects with this chic case, as you practice scalloped edge techniques for a lively and playful finish.
Enhance the design further with floral embellishments, showcasing your inherent creativity. Whether crafting for yourself, kids, or friends, this case combines practicality with fashion – a true beginner's delight.
Wearable Creations for Beginners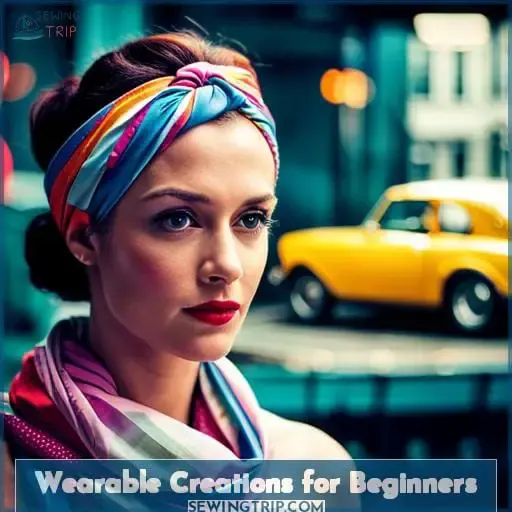 Embark on an exhilarating journey into the realm of wearable creations! Let your sewing skills flourish as you immerse yourself in projects like charming pillowcase dresses and tops that seamlessly blend comfort with style.
Immerse yourself in crafting an effortless clutch that elegantly houses your essentials, and within just 30 minutes, fashion a practical apron that effortlessly merges utility and flair. And remember to delve into the art of crafting fabric headbands, infusing a hint of personalization into your everyday ensemble.
Pillowcase Dresses and Tops
Transform mere fabric into flowing garments, where imagination takes shape and fabrics become charming expressions of style and comfort. Experience enchanting pillowcase dresses and tops that embody the essence of creativity in every stitch.
Dive into a world of Pillowcase Dress Variations – from playful ruffles to sleek A-line silhouettes.
Infuse your unique touch with Top Embellishment Ideas, elevating a simple dress into a canvas of personal flair. Make confident fabric choices with our Fabric Selection Tips, ensuring your chosen material perfectly complements your vision.
Follow our Sizing Guidelines for a comfortable fit that adapts as you grow. Take it a step further by adding functional and fashionable Pockets to your creations. These beginner sewing projects, designed with forgiving fabric, mark the beginning of your journey into wearable wonders.
Easy Clutch
Design a chic and functional clutch that seamlessly complements your wardrobe, transforming it into an ideal accessory for any occasion. Clutch variations are plentiful, ranging from envelope styles to fold-over designs.
Choose a fabric that resonates with your style, whether it leans towards being bold and vibrant or classic and understated. Consider incorporating embellishments like buttons, beads, or embroidery to infuse your clutch with a unique touch.
For troubleshooting aimed at beginners, prioritize refining your cutting techniques and mastering fundamental stitching methods. By becoming a part of the sewing community, this clutch could potentially become your most accomplished sewing project yet—a stylish stride in your sewing journey.
30. Minute Apron
Craft an efficient yet stylish addition to your daily routine with a 30-minute apron that effortlessly embraces both functionality and flair. Select fabrics that resonate with your personal style, ensuring comfort and durability.
Infuse your apron with imaginative pocket ideas – envision pockets of varying sizes for enhanced versatility. Explore embellishment techniques such as embroidery or fabric paint to create a truly unique piece.
Remember to explore different tying styles that align with your comfort. Elevate your attire while honing your skills through online sewing courses.
Fabric Headbands
Elevate your style effortlessly with these Fabric Headbands – a quick and charming addition to your accessory collection, bringing a touch of personality to your ensembles.
Delve into the world of Fabric Headband Variations where you can experiment with different widths and styles to suit your taste.
Enhance your creations with Headband Embellishment Ideas like bows, buttons, or fabric flowers, adding a unique flair to each piece.
When Choosing Headband Fabrics, go for lightweight and comfortable materials that match your outfits.
Ensure a comfortable fit by following Headband Sizing Tips and explore various Headband Elastic Options for a secure and cozy wear.
Home Decor Sewing Projects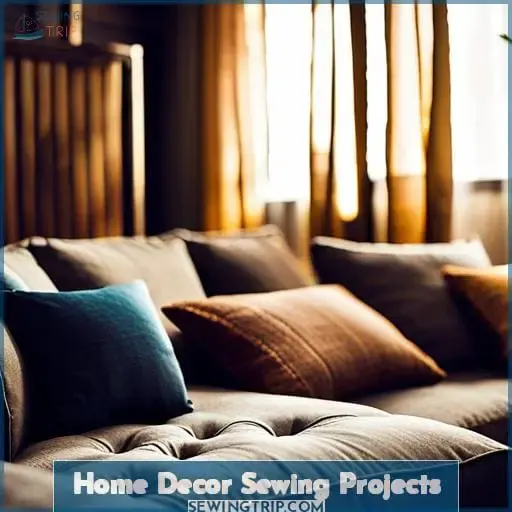 Explore the realm of home decor sewing with these captivating projects. Craft an effortless and quick table runner to adorn your dining area. Design fabric napkins for an extra touch of elegance. Experiment with a fringed table runner to infuse delightful texture.
Construct an outdoor pillow to enhance comfort on your patio. Immerse yourself in the art of sewing by creating a fur-trimmed pillow cover, adding both coziness and style to your living space.
Quick Table Runner
Whip up that charming table runner in record time – it's akin to preparing the stage for the grand debut of your dining area! Immerse yourself in the realm of beginner sewing with our swift fabric table runner project.
You'll adore experimenting with a plethora of table runner variations, ranging from seasonal designs to imaginative embellishments. Express your unique style while mastering vital sewing skills. Select from an array of beginner table runner patterns and craft a statement piece that radiates warmth and elegance.
Fabric Napkins
Explore the art of fabric napkin folding as a captivating endeavor that infuses an eco-friendly touch into your festive table settings. Enhance your dining experience by fashioning fabric napkins that effortlessly exude charm.
Take pleasure in the process of handpicking fabrics that resonate with your personal style—perhaps even coordinating with your placemats for a harmonious look. Experience a sense of liberation as you craft these personalized gems, considering the addition of delicate embroidery for a unique touch.
Fringed Table Runner
Craft an enchanting table centerpiece by creating a fringed table runner that emanates a hint of rustic charm and lends an aura of cozy elegance to your dining space. Enhance your décor with these fringe techniques, offering a delightful tactile element.
Experiment with diverse color variations to match your theme. Explore a range of styling options, suitable for casual gatherings as well as formal dinners. Amplify the allure by pairing complementary fabrics, and contemplate DIY embellishments for a personalized touch.
Outdoor Pillow
Create captivating and craft fashionable outdoor cushions that infuse a burst of color and lavish comfort into your open-air seating area, imbuing it with an entirely new, lively, and snug ambiance. Opt for weather-resistant textiles to ensure their endurance. Delve into nature-inspired motifs such as leaves, florals, or geometric arrangements that harmonize with the outdoor environment.
Enhance your pillows by incorporating ideas for adornments like fabric trims or buttons.
Fur-Trimmed Pillow Cover
Fur-Trimmed Pillow Cover
Transform a basic pillow into a haven of luxury by incorporating a lavish, fur-trimmed cover that exudes an aura of opulence, captivating your guests.
Cozy Accents: Infuse warmth into your space with the soft edges of faux fur.
Embellishment Ideas: Experiment with contrasting fabrics and textures to add a personalized touch.
Trim Variations: Choose from sleek trims to wild and fluffy options, offering diverse styles.
Stitching Tips: Attach fur seamlessly using hand stitching or a machine, ensuring a polished final look.
Kid-Friendly Sewing Projects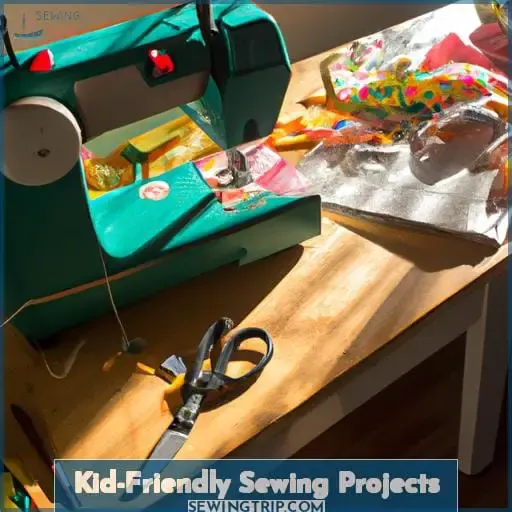 Discover the realm of sewing with your little ones by immersing yourselves in our assortment of projects designed for kids! Craft adorable Sea Turtle Softies as a team, sew up snug Burp Cloths to add comfort, construct a practical Diaper and Wipes Holder for on-the-go convenience, fashion a cozy Kids' Pillow Bed perfect for playtime or naps, and envelop your bundle of joy in the warmth of a Simple Baby Blanket.
Allow your creativity to flourish as you embark on these charming sewing ventures tailored for both beginners and children.
Sea Turtle Softie
Craft an adorable sea turtle plushie for your little ones to snuggle with, or as a charming addition to their room decor. Opt for vibrant, kid-friendly fabrics that evoke the magic of the ocean. Infuse a touch of creativity with embroidered embellishments—think of colorful shells or expressive eyes.
When sewing, prioritize safety by securely attaching the embellishments. During the stuffing process, ensure a plush yet huggable texture. Revel in creating these sea turtle softies with your kids, igniting joy and fostering connections.
Burp Cloths
Explore the world of crafting practical yet creative accessories that cater to your child's needs. Immerse yourself in burp cloth designs where absorbent fabrics meet personalized options, making parenting a delightful journey.
Stitching techniques transform fabric into functional and stylish essentials. These charming cloths not only keep things clean but also serve as thoughtful baby shower gifts.
Diaper and Wipes Holder
Craft an adorable container for your child's essentials with this delightful Diaper and Wipes Holder. It provides practicality and portability for parents on-the-go, keeping baby's diapers and wipes organized and within reach in this convenient fabric pouch.
Create this useful accessory in a fun print for your little one using scraps left over from that adorable dress you sewed for sewing camp. With simple stitches and easy-to-follow instructions, you'll have a customized diaper bag that brings joy during diaper changes.
Kids' Pillow Bed
Shape a comfortable pillow bed for kids using your hands. To ensure utmost comfort, adhere to these stuffing tips: fluff the filling for consistent plumpness and lasting support. Start by measuring the desired pillow dimensions, taking into account the pillow size and the intended purpose of the pillowcase.
Then, select a fabric that suits the child's style and provides comfort. Once you've sewn the pillowcases, gently insert the pillows, crafting a cozy haven for relaxation.
Simple Baby Blanket
Cherish a handmade baby blanket sewn with love for your little one. Opt for soft flannel fabric in a gentle color palette. Embroider simple designs such as the baby's name or birth date for that personalized touch.
Complete it with a rolled hem or tied knots. This uncomplicated beginner's project creates a charming baby shower gift.
Must-Know Sewing Tips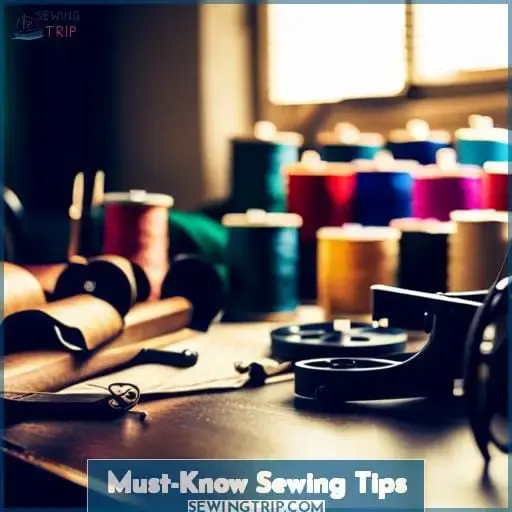 Here we're diving into some sewing must-knows! Time to level up your skills and leave those cute kid creations behind. Sewing might seem daunting, but having a few fundamentals in your back pocket truly makes all the difference.
These four tips will infuse you with confidence at the machine:
Choose fabrics wisely – opt for materials suitable for the project type and your skill level.
Practice proper stitches – go for a straight stitch when sewing seams, and switch to zigzag when dealing with knits and finishing edges.
Trace patterns with precision, taking your time and remembering to pivot at corners.
Apply clean finishes – think about using techniques like French seams or zigzagging raw edges.
With these techniques at your fingertips, you'll feel more assured when taking on any project. Don't let the details throw you off track. Ease into the process, let your creativity flow, and above all, have fun! Sewing is truly liberating once we release the grip of perfectionism.
Best Beginner Sewing Project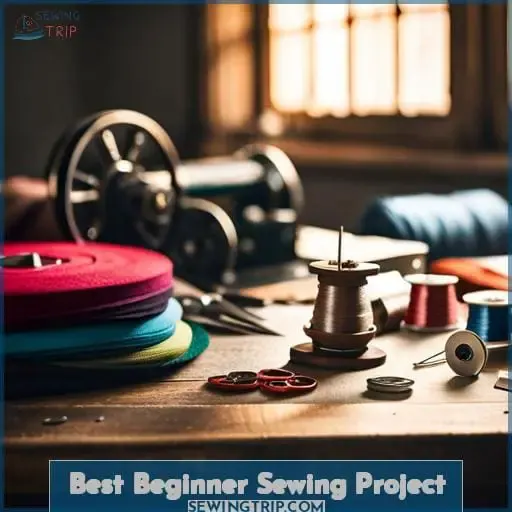 Round up some fabric scraps and get ready to have a blast creating an adorable sock critter—it's the perfect way to kick off your sewing journey! For your first project, dive into crafting a charming tree pillow.
This delightful endeavor not only lets you repurpose an old sock but also allows you to hone those basic yet essential hand-sewing skills.
Begin by flipping the sock inside out. Now, let's stuff it with batting, giving your pillow-to-be that plushy, comfy feel. Next, time to flex your stitching muscles! Grab some decorative fabric snippets—leaves, ornaments, whatever speaks to you—and sew them on to craft the cutest tree design.
Want to take it up a notch? Incorporate pom poms and rickrack. These additions bring an extra pop of texture that'll make your creation even more captivating. And voilà! What do you get? A quirky decorative pillow ready to jazz up your couch or make for a heartwarming holiday gift.
So there you have it—an easy, exciting beginner project that's bound to get you hooked on sewing. Your newfound skills will be on display, and you'll have a tangible, huggable piece of art to show off.
Quick Sewing Projects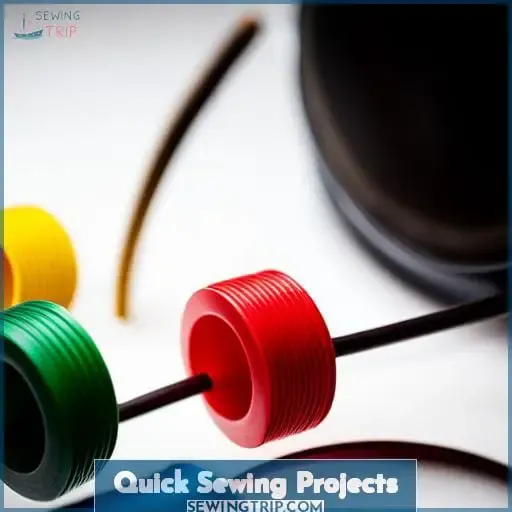 Make adorable st■ animals in an afternoon with these swift sewing projects. Equip yourself with basic sewing supplies: thread, needles, pins, scissors, and fabric scraps or old garments earmarked for recycling.
Allow your imagination to roam while crafting charming plushies. Stitch up a sock monkey. Create a dog or cat from a worn sweater sleeve. Fashion a simple bear or bunny. These quick and enjoyable projects enable you to hone essential skills—cutting, pinning, hand-sewing, stuffing, and adding details such as ears, eyes, tails, or snouts.
In no time, a handcrafted menagerie of furry companions will grace your space. Rapid triumphs bolster confidence, cultivating anticipation for your upcoming sewing exploits.
Forgiving Fabric Choices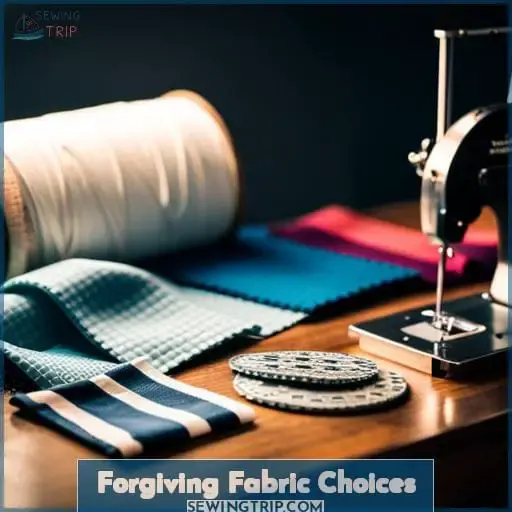 When you're just starting out, go for fabrics that are beginner-friendly. Opt for inexpensive rayon, durable canvas-weight cotton, or non-fraying fleece. Ideal for novices are soft cotton blends and forgiving knits, like jersey. These options won't leave you frustrated like slippery satin or delicate silks might.
Focus on mastering construction techniques rather than wrestling with challenging fabrics. Leave the temperamental textiles for later, after you've honed your skills. Let forgiving fabrics be your companions for now.
Their easygoing nature will help you build confidence at the sewing machine. With each completed project, you'll experience the satisfying sense of accomplishment we all crave. Keep at it! Your skills will flourish with every stitch, and soon you'll be ready to bring your creative visions to life with any fabric you desire.
Conclusion
Knitting all your newfound sewing skills together is just like stitching quilt pieces—one square at a time. With patience and practice, you'll assemble your sewing knowledge into a beautiful creation.
Don't be afraid to make mistakes and unravel a few seams. The most important thing is that you're challenging yourself with beginner sewing projects, keeping those creative juices flowing. Even if you're ripping out stitches now and then, you're gaining experience that brings you closer to mastering the sewing machine.
Take it one project at a time and relish the journey of crafting handmade treasures!