This site is supported by our readers. We may earn a commission, at no cost to you, if you purchase through links.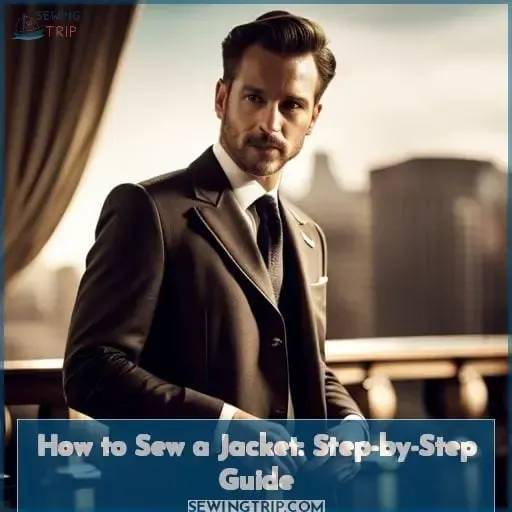 Are you ready to make your own stylish jacket? According to the American Apparel and Footwear Association, 83% of Americans aged 15 and above own at least one article of clothing they purchased.
Sewing a jacket is an exciting way to add something unique and special into your wardrobe! With this step-by-step guide, you'll learn how to sew a jacket like a pro in no time.
From gathering the necessary materials, choosing the right pattern for your skill level all the way through adding features like pockets or collars – we'll go over everything so that you can create something perfect for any occasion.
So let's get started on learning how to sew a stunning custom made jacket!
Key Takeaways
Properly press seam allowances.
Use quality sewing tools.
Choose appropriate fabrics, interfacing, and closures.
Follow the correct procedure for setting in sleeves: pin the sleeve cap to the armhole, easing any fullness and matching notches; sew the seam starting and stopping precisely at the marked seamlines; trim and grade seam allowances; press seam open or to one side; understitch if desired to prevent the seam from rolling to the outside.
Materials & Supplies List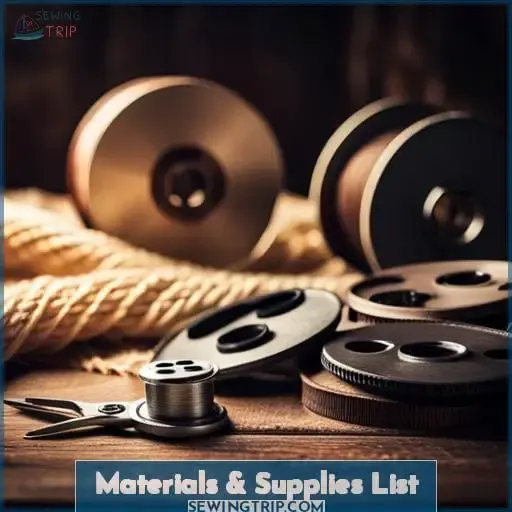 Let's prepare to begin sewing your fashionable new jacket! First, collect your fabrics, interfacing, closures such as buttons or zippers, thread, and needles. Once you've gathered these key supplies per your pattern's specifications, you're ready to turn those materials into a stylish garment that's uniquely yours.
Fabrics
For jacket materials, select durable yet comfortable fabrics like medium-weight cotton twills. Lining fabrics such as silk or Bemberg optimize shape and drape. For weather resistance, consider tightly woven fabrics including denim or canvas.
Let the jacket's style and intended climate guide your fabric choices. Quilting cottons work for casual looks. Prioritize quality materials as they facilitate creative expression. Appropriate fabrics make all the difference in actualizing your vision.
Interfacing
Your garment's looking sharp thanks to quality interfacing giving shape to those shapely lapels. Carefully applied interfacing builds up collars, facings, and front edges for a tailored finish. Choose lightweight options for soft jackets, and fusible hair canvas for shapely structure.
Allow interfacing to extend just beyond the seam line. Apply to individual fabric pieces before sewing to prevent unwanted stiffness.
Lightweight sew-in interfacing for soft shaping
Medium-weight fusible interfacing for crisp edges
Hair canvas for tailoring and 3D shape
Self-adhesive fusible interfacing for easy application
Full interfacing coverage on lapels and collar
Closures (Buttons, Zippers)
Next, consider the closures like buttons or zippers required for your jacket design. Determine whether buttons or a zipper best suit the garment's style and your skills. Plan for bound buttonholes or standard machine buttonholes. Allow ample fabric for concealed zippers.
Select quality buttons or zippers to elevate the jacket. Play with different fastening options like toggles, hooks, or snaps for a unique look. With the right techniques, installing either buttons or zippers will polish off your handcrafted jacket.
Thread and Needles
Thread is crucial when constructing a jacket – choose resilient ones like polyester core spun with cotton wrapping for seam durability and ease of removal. Invest in quality needles – sharps for wovens, stretches for knits. Match thread weight to fabric.
Use polyester thread in the bobbin. Finish seams with a zigzag or overlock stitch. For hand sewing, wax thread and knot ends. Proper tools empower your sewing skills for any jacket.
Choosing the Right Pattern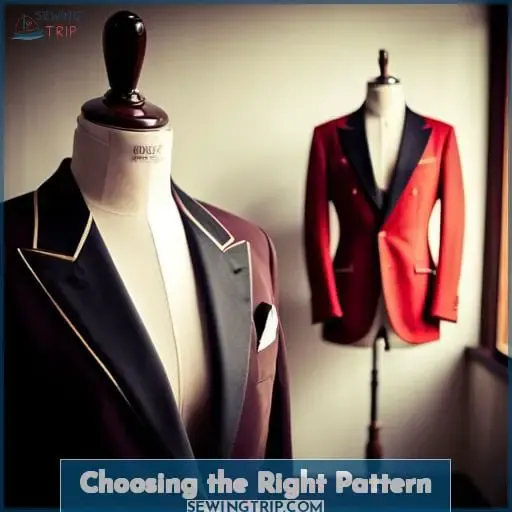 Welcome! As a fashion designer, I'd like to discuss how to choose the right pattern when sewing a jacket. For beginners, look for patterns labeled easy or beginner – they'll have fewer pieces and simpler construction.
More advanced sewists can select patterns with tailored touches like notched collars, bound buttonholes, and lining.
Beginner-Friendly Patterns
Look for jacket patterns labeled easy as a novice sewer. Simple kimono and boxy styles make great beginner jackets. Choosing a lightweight Ponte knit or medium-weight woven fabric with minimal seams and details allows you to practice sewing techniques.
Vintage and contemporary jacket styles offer versatile options. Consider your climate when selecting fabric to make a wearable garment. Focus on fit, construction, and finishing for your first jacket before tackling advanced pattern details.
Advanced Patterns
Choose an advanced pattern if you're an experienced sewer looking for a greater challenge. Advanced patterns feature intricate design details like tailored collars, bound buttonholes, and fitted sleeves that require mastery of advanced techniques.
Expert pattern selection allows for creative fabric choices and design variations. Seek expert advice to conquer the fitting challenges of these sophisticated styles. Embrace the thrill of executing advanced skills as you sew stunning, customized garments that empower your inner fashion visionary.
Preparing the Pattern and Fabric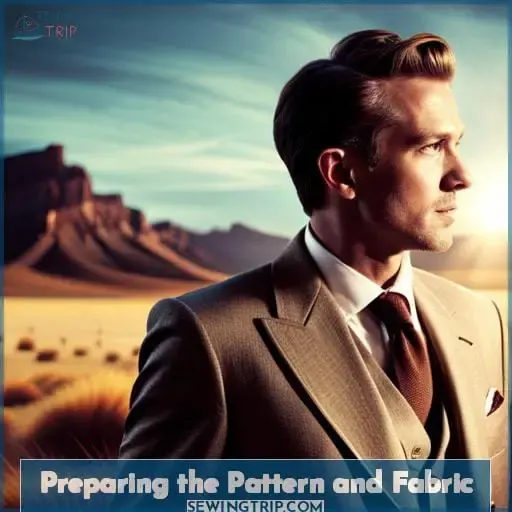 Before you begin sewing your jacket, it's vital to properly prepare the pattern and fabric. First, cut out all the pattern pieces, removing any creases with a dry iron. Next, straighten the grain on your fabric and utilize a single-layer layout when cutting to guarantee the most precise pattern matching.
Cutting Pattern Pieces
Prepare the pattern by carefully cutting out all jacket pieces along marked lines for smooth precision. Trace key details like grainlines and notches using a fabric marker. Prep the fabric by ironing it flat, then double check the grain is straight before cutting.
Use a rotary cutter, quilter's ruler, and cutting mat for accuracy. Take your time cutting each piece, aligning them precisely to the grainline.
Straightening the Grain
Pull the fabric taut across the cutting table and cut along the crosswise grain to straighten it before laying out your pattern pieces. When your fabric grain is straight, your pieces will hang properly. Take this preparatory step to enable efficient construction down the line.
Well-aligned pattern pieces yield a jacket that drapes correctly and withstands wear. Your forearm will thank you later for this initial effort as you sew balanced seams around the hem with your sewing machine.
Single-Layer Layout
Lay out the fabric in a single-layer style for efficient cutting. This minimizes fabric waste by allowing pattern pieces to be positioned optimally. Using one layer also prevents fabric shifts while cutting. Carefully align the lengthwise and crosswise grains of the fabric before placing and pinning the pattern.
Mindfully cut each piece, leaving ample seam allowances. A single-layer layout streamlines preparation for constructing a well-fitting jacket.
Sewing the Jacket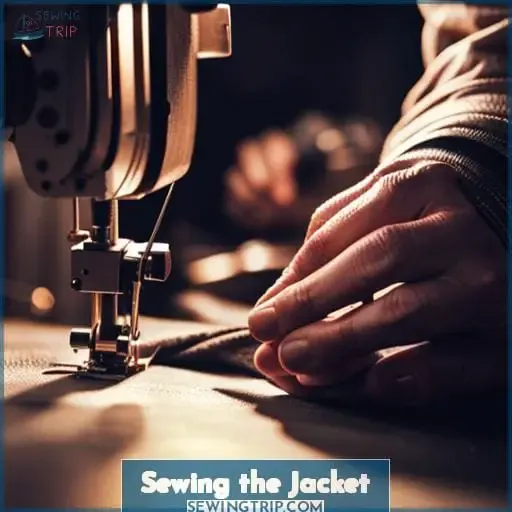 When preparing to sew your jacket, start by assembling the lining first so you can catch any fitting issues without ruining your fashion fabric. Next, sew the back pieces, then the front pieces, shoulders, and side seams in that order; remember to press each seam flat before opening it and use a ham on curved areas for smooth shaping.
Assembling the Lining First
Stitch the lining first to quickly address any fitting issues before constructing your jacket.
Cut the lining fabric.
Stitch the princess seams.
Check the fit.
Assembling the lining ahead allows for fitting adjustments and avoids fatigue later. Choose a smooth, lightweight fabric like silk or rayon to prevent bulk. Next, construct the jacket, incorporating any changes.
Order of Sewing Steps
After assembling the lining, start with the back and side-back jacket pieces. Next, add the front and side-front pieces. Then, attach the shoulders and side seams. Lay out the pieces strategically for sewing efficiency.
Press seams flat, then open. With jacket assembly in order, achieve a lined tailored jacket. Don't forget pressing techniques and collar attachment. Finish edges on the sleeves. Insert shoulder pads for structure. Follow the steps, and you'll know how to sew a jacket.
Importance of Pressing
Making your jacket fit just right requires diligently pressing seam allowances flat before opening them up.
Invest in a good steam iron and tailor's ham.
Press each seam flat, then press open.
Use a sleeve board for sleeves and other curved areas.
Check your iron's heat setting for the fabric.
Proper pressing techniques are essential for shaping jacket seams and getting crisp finishes when learning how to sew a jacket.
Serger-Finishing Techniques
You're going to love serger-finishing edges for smooth, tidy results! A serger's overlock stitches encase raw edges in thread with a professional finish. Compared to traditional seams, serging prevents fraying and reduces bulk. For flawless insides, serge sleeve hems, linings, and seam allowances.
Experiment with decorative threads and varied stitch settings. Mastering serging takes practice, but the rewards include the freedom to sew couture-quality garments.
| Thread Tension | Stitch Type | Uses |
| --- | --- | --- |
| Balanced | 4-thread overlock | Seam allowances |
| Looper tight | 3-thread overlock | Lightweight fabrics |
| Needle tight | Rolled hem | Sleeve hems |
Adding Features and Details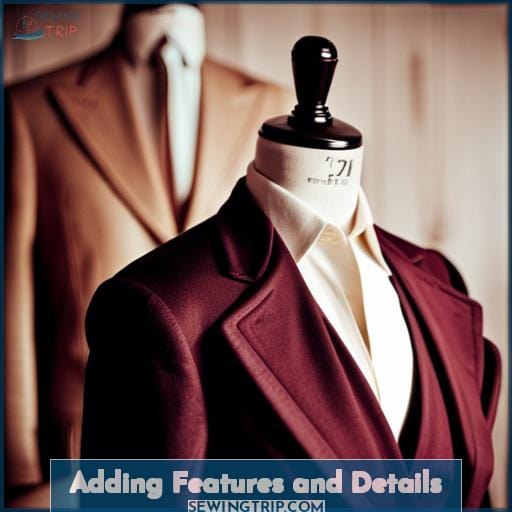 Hello there! Ready to sew some stylish jackets? Today we'll cover the key details that elevate your jacket to the next level. First, we'll sew professional-looking bound buttonholes. Next, we'll add sleek welt pockets.
After that, we'll attach the all-important collar and lapel. Finally, we'll finish with expert tips on properly setting sleeves. Our goal is simple: craft tailored, flawless jackets full of your personal flair.
Creating Bound Buttonholes
Craft clever hand-sewn covered buttonholes on your couture jacket for a custom, charming accent.
Interface buttonhole areas for stability.
Mark buttonhole placement precisely.
Snip center; sew sides by machine.
Clip corners; press open.
Hand stitch bar tacks for the finishing touch.
Shape distinctive bound buttonholes with care. Refine the handiwork – each stab of the needle cultivates your mastery. Let the thread glide through the fabric as you gain confidence in your capabilities.
Sewing Pockets
It's time to add storage with pockets before assembling your jacket. Consider placement; pockets look best proportionally spaced between princess seams or centered on plain fronts. Use shirring elastic or trim for a decorative touch. For functional pockets, interface openings and bartack stress points.
Practice straight stitching, pivoting corners precisely. Take care pressing; pockets show every ripple. Sew the lining last to hide stitches inside. Pick a style like welt or patch pockets keeping with your vision.
Attaching Collar and Lapel
Hit 'em with color as you gently press the metallic lapel, approaching the intricate details of your fabric masterpiece with attentiveness and precision. An interfaced collar brings structure when you sew it to the jacket. Match notches and ease edges.
Though lapel styles vary, construct them with precision, clipping curves and grading seam allowances. Contrast binding finishes the lapel edge with panache. Mind those roll lines and points. Patience brings perfection with collars and lapels. The right interfacing supports their shape.
Ease stitch rounded edges before sewing. With care, you'll master even the most complex lapels.
Set-in Sleeves
Prepare the lining for your sleeves by staystitching the sleeve caps. Next, pin the two pieces of your sleeves together, matching the notches. Side seam the sleeves from hem to notch. Press open. For easier insertion, grade the sleeve cap seam allowances.
Pin the sleeves to the jacket armholes with the notches aligned. Ease and distribute fullness evenly. Stitch slowly from notch to notch for a smooth sleeve fitting. Gently press the armhole seam toward the sleeve.
To shape the sleeve head, steam and finger press the sleeve cap over a tailor's ham.
Finishing Touches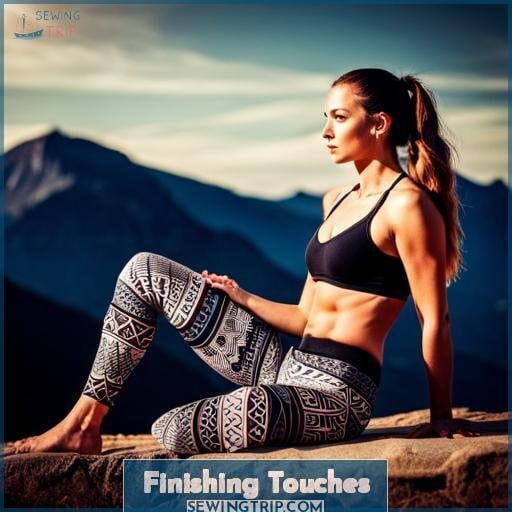 Greetings fellow sewists! As we near the end of constructing your jacket, it's time to focus on those essential finishing touches. Hemming the jacket and attaching shoulder pads and sleeve heads will provide a professional finish by supporting the shape and structure.
Hemming the Jacket
Complete the jacket's transformation by hand-hemming the final edges with care.
Press under seam allowances.
Hand stitch using small, even stitches.
Check jacket length in mirror.
With patience, the finishing touches elevate your creation. Expertly hemmed edges refine the silhouette. Savor the satisfaction of a jacket tailored to perfection. Your bold vision realized through meticulous technique and confidence.
Attaching Shoulder Pads and Sleeve Heads
Get your jacket looking sharp by attaching shoulder pads and sleeve heads. Line up the shoulder pad's curves with your jacket's armhole seam. Hand baste along the front edge to temporarily secure the pad. Attach the pad's back corners to the jacket's lining.
For sleeves, slide in a soft sleeve head to fill out the cap. Hand stitch the bottom edge to the sleeve's lining. Play with padding thickness for your ideal structure and silhouette. Experiment with shoulder pads and sleeve heads until you achieve the tailored look you want.
Sewing Tips and Techniques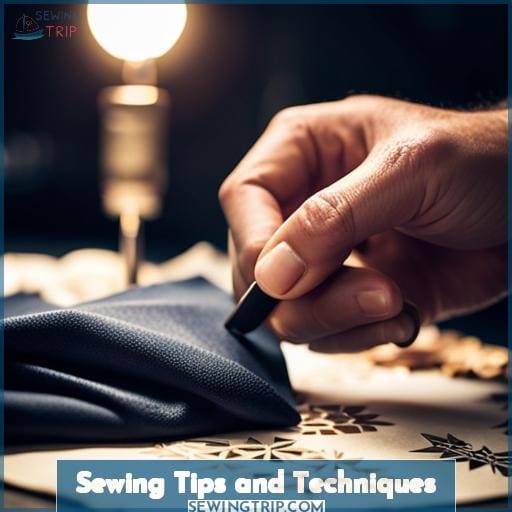 To start your jacket sewing project on the right foot, invest in quality tools like a sharp rotary cutter for smooth cutting and curved safety pins that grip layers securely when basting. Then use a specialized fabric marker like the Hera to neatly and temporarily mark darts, pleats, and quilting lines – its ink deposits vanish completely after ironing.
Using a Rotary Cutter
Slice through fabric layers swiftly with your sharp 60mm rotary cutter. Glide the rotary cutter along full fabric widths for efficient cutting. Maintain a sharp blade by promptly replacing dull ones. Left-handed crafters enjoy specialized rotary cutters designed for them.
Achieve smooth fabric cuts by using gentle pressure and guiding the rotary cutter ruler-straight. Proper blade depth prevents snagging. Store the rotary cutter upright to protect the blade edge when not cutting fabrics for your quilted jacket project or vintage quilt.
Marking Fabric With Hera Marker
Once you've sliced up your fabric with that rotary cutter, grasp the Clover 490 NV Hera Marker and gently glide its resin tip across your pieces to temporarily mark any straight lines or quilting patterns before stitching.
Like an artist mapping out a mural with chalk before lifting a paintbrush, the invisible ink from this refillable marker allows you to sketch out your vision on the fabric canvas, guiding your needle along the path toward a breathtaking finished piece.
With this versatile tool, you can effortlessly mark quilting lines on fabric before stitching for a flawless quilted masterpiece.
Basting With Curved Safety Pins
Save time basting layers with curved safety pins before quilting. The stainless steel pins securely grip fabric without shifting. Their curved shape easily penetrates multiple layers of fabric and batting. Reusable plastic cases keep your pins organized.
Choose size 3 pins for high loft batting.
Place pins diagonally across the quilt sandwich.
Space pins 4-6 inches apart.
Avoid delicate fabrics.
Remove pins as you sew.
Conclusion
Sewing a jacket is an art form and a skill that requires precision and dedication. From selecting the right pattern to perfecting the finishing touches, every step of the process is important. With the proper supplies and tools, the correct sewing techniques, and a little practice, you'll be ready to create a beautiful, stylish, and durable jacket.
So, let's begin! Gather your materials, choose the suitable pattern, prepare your fabric, and sew confidently.