This site is supported by our readers. We may earn a commission, at no cost to you, if you purchase through links.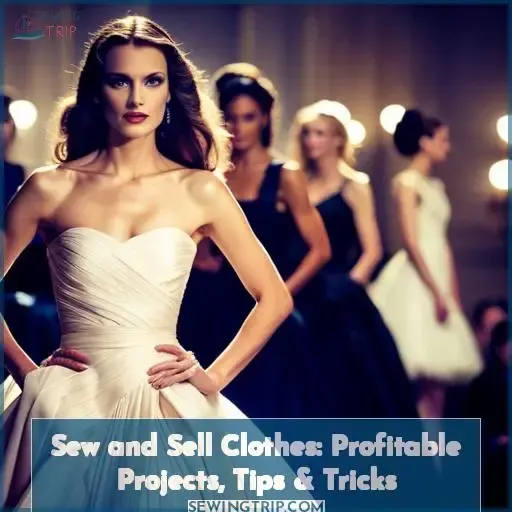 Ready to take your sewing skills from hobby to business? With the right tools and some creative ideas, you can start selling what you sew!
From finding customers to pricing projects, there are plenty of things for a beginner sewer or experienced seamstress alike to consider. To get started, it's essential that you have all the necessary supplies like fabric and patterns as well as a dedicated workspace.
Once these foundations are in place, decide where best to sell your creations – whether online stores such as Etsy or local craft fairs. Then consider which popular items are most profitable before setting prices with confidence.
Don't forget tips and tricks along the way like choosing attractive colors or unique patterns; these small details will make all the difference when it comes time for selling clothes!
With some preparation and planning, you'll be ready to turn those stitches into profits in no time.
Key Takeaways
Transition from a hobby to a sewing business with the right tools and creativity.
Identify profitable sewing niches, such as fashion accessories.
Decide where to sell, like on Etsy or at local craft fairs.
Implement online marketing and customer retention strategies.
Choosing Your Sewing Business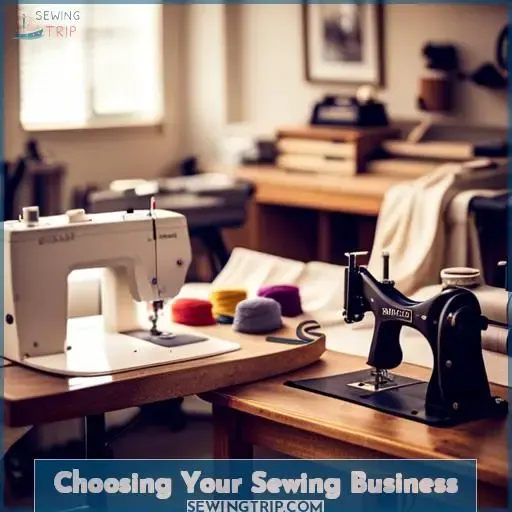 When starting a small at-home sewing business, finding your ideal niche and crafting goods to sell aren't enough: you also have to price and market your wares right to turn a profit. Conveying the value of handmade goods while earning a good wage takes skill, but craft fairs, Etsy, and smart pricing strategies can help you find sewing success.
Profitable sewing niches
Have you considered exploring unique fashion accessories as a profitable sewing niche, like handcrafted hair bows or fabric-wrapped bangles that showcase your style? These accessories allow you to tap into trends, express your creativity, and stand out in a competitive marketplace.
By analyzing demographics and staying updated on styles, you can identify profitable niches that highlight your original designs. Consider conducting market research to tailor your accessories to customer demand, and don't be afraid to take risks with new materials and embellishments.
Crafting and fabric management
Reinforcing seams and minding the selvedge when selecting fabrics for crafting quality clothes helps effectively manage fabrics to reduce costs. Carefully choosing patterns and colors that appeal to target customers is key. Storing materials properly avoids waste.
Sourcing quality materials at wholesale prices saves money. Shopping thrift stores finds unique fabrics.
Finding customers and pricing
You must determine an effective strategy for advertising and establishing fair pricing to find and retain customers for your sewing business. Research your target customers and local competitors to set competitive yet profitable pricing.
Utilize social media, craft fairs, and word-of-mouth referrals to reach potential buyers. Offer promotions to encourage repeat business and customer loyalty. Continuously improve quality and adapt to customer feedback.
Getting Started in Sewing Crafts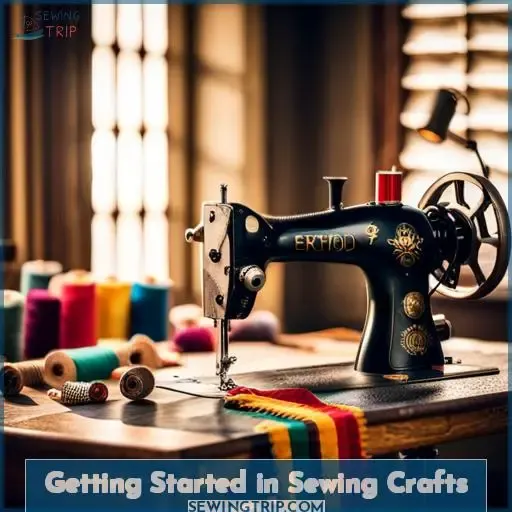 To begin sewing your own creations to sell and generate profit, first ensure you have the necessary equipment like a quality sewing machine, scissors, needles, thread, pins, measuring tools, and an iron.
Then, select sewing patterns matching your skill level and desired projects, purchase high-quality fabrics and scraps from craft stores or thrift shops, and organize a sewing space with proper lighting and storage.
Essential Sewing Tools and Supplies
Taking up sewing requires gathering certain fundamental tools and supplies before beginning projects. Essential items include a dependable sewing machine, quality fabrics, patterns, scissors, needles, thread, pins, a seam ripper, a measuring tape, and an iron.
Designating a sewing area with a spacious table and ample lighting enables you to neatly organize materials. Thoughtfully curating your sewing space allows efficiency in production and inspires creativity.
Investing in high-quality tools and fabrics ensures durability, accuracy, and customization for diverse sewing projects.
Finding Sewing Patterns and Fabrics
Moving along, sourcing quality fabrics and versatile patterns allows crafters to bring sewing projects to life. Pattern selection and fabric sourcing are key preparatory steps. Visit fabric stores to see the latest materials and trends.
Check out thrift stores for unique vintage fabrics. Use online resources like Etsy, eBay, and Spoonflower for custom prints. Craftsy has digital sewing patterns for beginners to advanced sewers. With some pattern adaptation, the possibilities are endless.
Setting Up a Sewing Space
Having a dedicated sewing space with good lighting and storage helps maximize efficiency when starting a sewing business. Optimize your workspace by placing adequate lighting near your machine. Install shelves, cabinets, and organizers tailored to your projects and materials.
Embrace creative solutions for storing tools, fabrics, patterns, and supplies. Consider an ergonomic chair, sewing table height, and arrangement to prevent fatigue. A thoughtfully designed sewing room fuels inspiration while providing efficiency for sewing projects.
Where to Sell Your Sewing Projects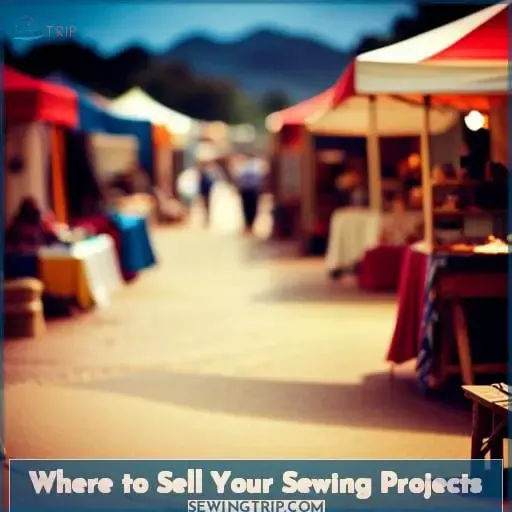 Looking to sell your homemade sewn crafts and clothes? Local craft fairs, setting up an Etsy shop, and participating in larger craft shows are great places to start connecting with buyers. Display your one-of-a-kind handcrafted creations at neighborhood craft fairs and markets to get customer feedback and make sales to local people, while launching an Etsy shop lets you sell on the internet to reach a more extensive audience of handcrafted shoppers.
Consider joining local Facebook craft groups too. That way you can advertise your products in your town and get valuable feedback from potential customers before investing money in a dedicated online shop.
Remember to take high-quality photos and descriptions of your pieces, so online buyers understand exactly what they would receive.
Local Craft Fairs
You can effectively grow your clothing sales through local craft fairs. Look for nearby fairs showcasing handmade works. Interact with fellow artisans. Price fairly based on expenses and perceived value.
Market cleverly, enticing patrons. Display eye-catching products, conveying quality and passion. Thrive by connecting personally with local buyers who appreciate the uniqueness of homemade goods. Carefully choose the right events to profitably sell your quality sewing projects.
Etsy Shop
Ready to shine like a diamond in the rough? Open an Etsy shop to showcase your stuff and sell your sewing creations online. With easy Etsy marketing, an online storefront lets you display product photography and custom creations.
Engage customers through pricing strategies and polished presentations. An Etsy shop empowers sewing crafters to sell handmade clothes, crafted accessories, and custom sewn goods globally. Pricing strategies and savvy marketing help artisans profit from quality craftsmanship.
Craft Shows
Create an eye-catching display with shelves, racks, and creative lighting.
Engage customers with product demos and inviting body language.
Offer limited edition and custom pieces.
Negotiate booth placement to maximize foot traffic.
Research pricing tactics and listen to customer feedback.
Craft shows allow makers to interact with customers and build their brand in a personal setting. With creative displays and engaging booth activities, sewers can showcase their products and skills.
Popular Sewing Projects for Profit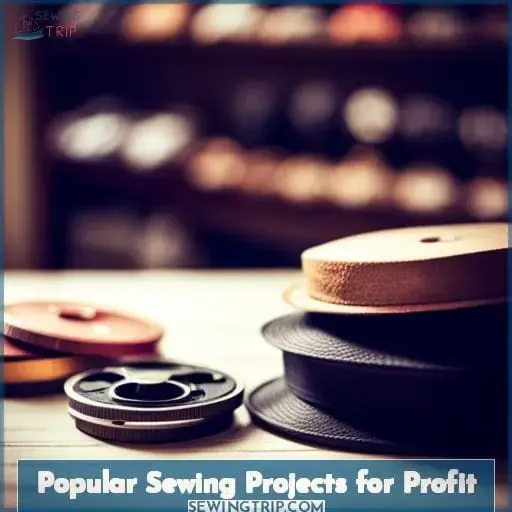 Popular sewing projects for profit include personalized pet clothes, unique baby bibs, and fashionable bags. Pet owners love custom clothes for their furry friends. Creating one-of-a-kind bibs with cute embroidery makes great baby shower gifts.
Consider your sewing techniques, fabric choices, and pricing when selecting projects. Research customer preferences in your area. Developing great marketing strategies helps promote your handmade items.
Sewing for profit requires planning, passion, and persistence. With creativity and skill, you can start a rewarding small business making money from your sewing talents.
Market on social media and at local craft fairs. Set reasonable prices based on materials and time.
Pricing Your Sewing Projects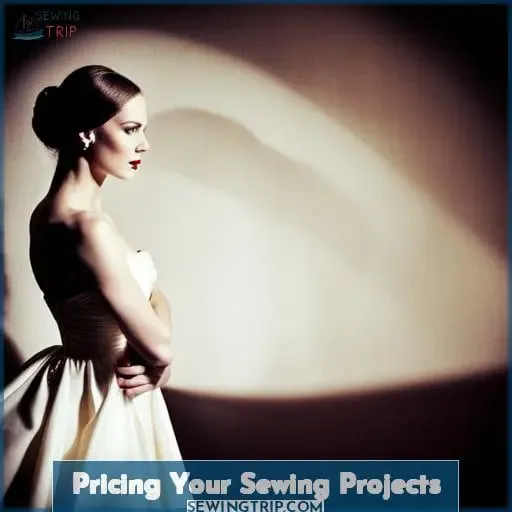 Take time to evaluate the value of your craftsmanship when pricing your sewing projects. Experienced sellers emphasize analyzing expenses and conveying quality to determine a fair selling price for handmade items.
Determining a Selling Price
To effectively price your handmade creations, you'll need to calculate your costs accurately if you're to turn sewing into a profitable side business.
Know your costs – materials, labor, overhead
Research competitor pricing
Consider perceived value
Optimize for profitability
Pricing your sewing projects needs astute business sense to find the sweet spot between covering costs and what the market will bear for your quality handmade goods. With sharp pricing strategies, your sewing skills can blossom into a lucrative business.
Insights From Other Sellers
You'll gain valuable pricing insights by reading sewing chat group discussions where experienced sellers share their pricing strategies. These groups let you engage with successful crafters who openly discuss everything from material costs to marketing tactics.
Experienced sellers suggest considering not just expenses but your time and skill level too when pricing handmade creations. Reading their stories gives you real-world wisdom on running a sewing side hustle and establishing smart pricing.
Making Money With Sewing at Home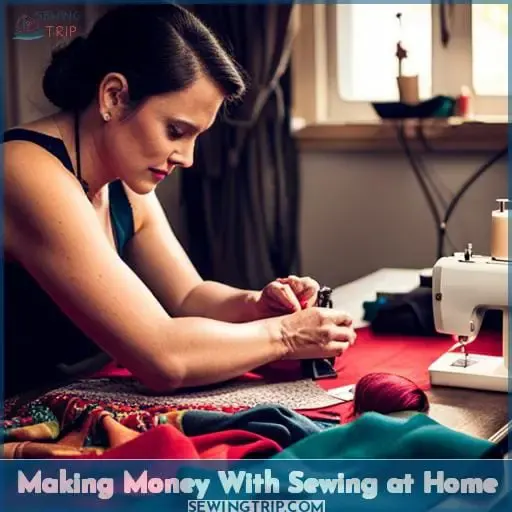 As a fellow crafter, I understand making money from sewing at home can be a rewarding pursuit. For optimal profit, consider stitching up popular items such as unique bags, kitchen-themed crafts, personalized baby gifts, doll clothes and toys, as well as dog accessories and apparel.
You may also want to try your hand at creating seasonal wares like holiday decorations and costumes that tend to sell well. Don't be afraid to get creative and put your own spin on classic designs. With a little passion and perseverance, a sewing side hustle can blossom into a steady stream of supplementary income.
Bags
After setting prices for your sewing crafts, delve into stitching practical bags like trendy totes or functional messenger pouches.
Tote bags with unique fabric prints
Drawstring backpacks for hiking or school
Fashionable purses with hand-embroidered details
Personalized makeup bags or pencil cases
With the right bag designs, fabric choices, and pricing strategies, you can craft quality handmade bags. Customize with initials or promote through social media. Identify your niche such as yoga bags or book sleeves.
Kitchen Items
For thinking of stitching up some kitchen shtick, better scope out what's cookin' your customers' goose first.
| Popular Kitchen Items | Key Considerations | Pricing Considerations |
| --- | --- | --- |
| Sewn kitchen towels | Absorbency, pattern | Time + materials costs |
| Custom aprons | Practicality, style | Material type + embellishments |
| Oven mitts & pot holders | Heat protection, grip | Level of insulation + fabrics |
Whipping up crafty kitchen wares like aprons, towels, and mitts can add some homespun charm to your handmade business. Just ensure your creations have got the goods to get 'er done in customers' cookspaces.
Personalized Gifts
Personalized gifts are a great way to show care and thoughtfulness. Monogramming or embroidering names or initials onto handkerchiefs, pillowcases, aprons or kitchen towels adds a special touch. Sewing custom labels with names or initials onto pajamas, tote bags, sweatshirts or other items opens up endless personalized gift ideas.
Wrap handcrafted, customized creations in coordinating fabrics and trims for an extra special presentation. Tailoring gifts according to the recipient's unique style and hobbies creates one-of-a-kind, meaningful presents they'll cherish.
When we personalize gifts with care and attention to detail, our loved ones feel seen, appreciated and valued.
Doll Clothes and St■ Toys
You'd be surprised at the demand for handmade doll clothes and toys – over 80% of parents prefer to buy these items from small businesses. Sew doll clothing using current patterns and fabrics. Customize store-bought toys with embroidery or fabric details for unique gifts.
Scrap fabrics make affordable materials. Handmade toys and doll clothes are profitable niches.
Dog Clothes
You can craft cute and customized dog clothes for profit. With pet humanization on the rise, there is demand for unique dog fashion. Showcase your sewing skills by creating paw-some bow ties, tutus, dresses, and sweater vests.
These accessories allow owners to indulge their four-legged friends. Consider making costumes for holidays or sports team spiritwear. Use bright, fun prints and high quality fabrics. Sell your items on Etsy, at pet boutiques, and at craft fairs.
Starting Your Own Sewing Business

After researching profitable sewing niches, vetting customers, and honing your craftsmanship, you'd start your sewing business by crafting a business plan. Define your brand identity and vision. Outline your sewing business goals, product offerings, pricing structure, marketing strategies, finances, and more.
Establish unique branding across your website, packaging, labels, and marketing materials. Implement targeted online marketing by optimizing and driving traffic to your website, showcasing products on social media, and networking within sewing communities.
Retain customers through excellent quality, responsiveness, loyalty perks, and personalized service. Continuously refine your pricing to account for fluctuations in material costs and time investments while conveying the value of your handmade creations.
Keep growing by adapting to customer feedback, exploring new offerings, and reinvesting profits to upgrade equipment, expand your studio, and scale production. With persistence and passion, your sewing skills and creativity can blossom into a thriving business.
Tips for Sewing Clothes to Sell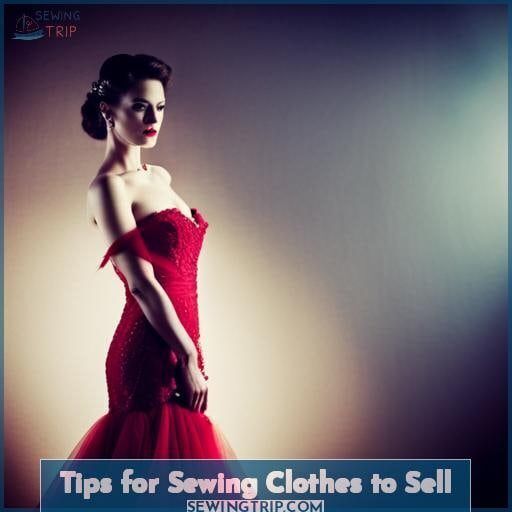 Master basic sewing techniques like hems, zippers, and fasteners. Quality craftsmanship is key.
Choose fabrics wisely. Consider durability, ease of care, and cost. Stay on trend with colors and prints.
Price fairly based on your time and materials. Compare to similar items. Offer sales occasionally.
Market creatively on social media and at local craft fairs. Engage customers for feedback and custom orders.
Sewing your own clothes to sell requires dedication but can be very rewarding financially and creatively. With smart strategies for sewing, pricing, and selling, you'll be on your way to a successful handmade clothing business.
Sewing Tips and Tricks for Success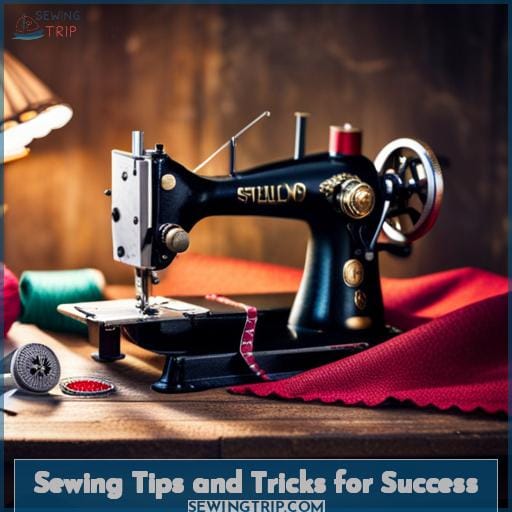 Focus first on mastering basic sewing skills like understanding fabrics, following patterns properly, and neatening seams before venturing into more advanced techniques.
Choose quality fabrics like cotton wovens and knits for beginner projects.
Take time to learn the functions of your sewing machine.
Practice key stitches like straight, zigzag, and buttonholes.
Press seams, darts, and hems as you go for a polished finish.
By starting simple and focusing on the fundamentals, you'll build skills and confidence to tackle more complex garments and increase your sewing proficiency over time. Patience and dedication in honing technique will propel you toward profitability in sewing ready-to-wear clothes to sell.
Frequently Asked Questions (FAQs)
How can I protect my sewing patterns and designs? You'll want to look into copyright and trademark protections to make sure your original patterns and designs are properly protected.
To protect your sewing patterns and designs, consider filing for copyright and trademark protection. This safeguards your intellectual property. Consult an attorney to ensure you follow proper legal procedures.
Then publicize your protected status to discourage infringement. Your creativity and hard work deserve defense against unauthorized use. It is wise to formally register your original creations so you can take legal action if needed.
An intellectual property lawyer can advise you on the specifics for your situation. Strategically announcing that your sewing patterns and designs are legally protected may deter would-be copiers. Your ingenuity and effort put into designing patterns should be shielded from improper duplication.
Conclusion
Savvy sewers can find success by sewing for profit in 2023. With the right knowledge, supplies, and tools, you can craft marketable clothes to sell. Start by identifying profitable niches and managing your fabric purchases wisely.
Learn to price your projects appropriately for your target customers. Consider sewing bags, kitchen items, personalized gifts, or even dog clothes – there are many profitable avenues for selling handmade sewn goods from home.
Research starting your own sewing business or get tips for successfully selling your handmade clothes. With the right advice, creative projects, and some handy tricks, you can turn sewing into a money-making endeavor this year.
The key is finding that profitable niche and pricing your handmade items correctly. Approach sewing as a business, equipping yourself with the necessary supplies, tools and skills. Then market your creations wisely. With diligence and dedication, sewing and selling clothes can be a rewarding way to make extra income in 2023.