This site is supported by our readers. We may earn a commission, at no cost to you, if you purchase through links.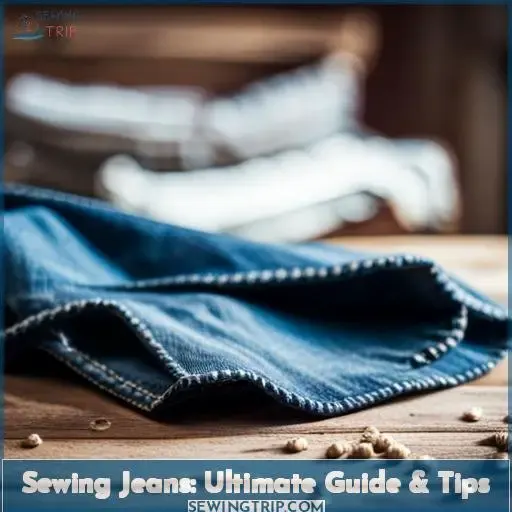 The allure of jeans is timeless. From their classic design to durable construction, it's no wonder they remain wardrobe staples for so many.
This guide teaches everything to know about sewing jeans. First, choose and prepare materials. Understand different denim types. Master techniques like pressing and hemming. Select patterns that flatter your shape and style.
With this help, crafting custom denim has never been easier!
Key Takeaways
Timeless Allure of Jeans – Jeans have an enduring, classic appeal that transcends fleeting fashion trends.
Essential Tools and Equipment for Sewing Jeans – To sew jeans properly, you'll need a heavy-duty machine and needle to handle multiple layers of thick denim fabric.
Importance of Denim Preparation – Proper washing, pressing and layout of the denim before cutting ensures the fabric retains its structure during construction.
Different Sewing Techniques for Jeans – Jeans can be sewn using various methods like flat-felling/lapping seams for durability, utilizing rivets at stress points or adding contrast stitching for decoration.
Preparing Your Denim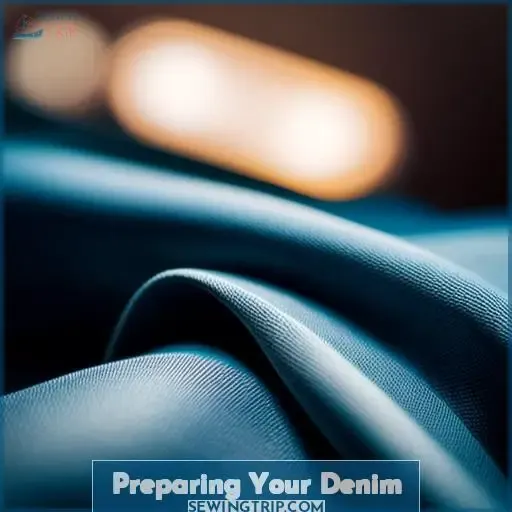 When sewing jeans, preparing the denim is an important first step. You'll want to pre-treat, cut, mark, and interface the fabric properly before beginning construction. Preparing the denim ensures your jeans will have a professional finish. Carefully cut out the pattern pieces, transferring any markings to the wrong side of the fabric.
Use interfacing on key areas, like pocket fronts, to add body and structure. Mark buttonholes and other details clearly. Take time to prep the denim and your jeans will have a clean, crisp look. With the right preparations, you'll achieve durable seams and smooth stitching.
Pretreating
Pretreat your denim by washing it separately in warm water without detergent or bleach first, so the fabric doesn't bleed or shrink when you start cutting and sewing. This prewash helps stabilize the fabric and prevents indigo dye transfer and unexpected shrinkage later.
Once it's pretreated, you're ready to start cutting out your pieces. With pretreated denim and your pattern picked out, you'll avoid headaches when constructing your jeans or denim jacket. Now you can start sewing your denim project with confidence, knowing your fabric's prepped and ready to go.
Cutting
Lay it flat and slice 'em on the grain. Lightweight denim can be cut on the fold. For heavyweights, slice layers flat – avoids sneaky stretching. Mark with chalk, match notches, mind the nap. Compare pattern pieces to your measurements – know your ease. Let those sharp shears glide – one clean slice.
Moving quickly keeps edges from fraying. Mark darts and pleats lightly – those get stitched away.
Marking
Soak your fabric in salt water to bring out the vivid blues and grays before carefully marking with tailor's chalk.
Use water-soluble fabric chalk for precise lines.
First, test markings on fabric scraps.
Mark before washing to avoid fading.
Use tailor's chalk for dark denim; use soap for light denim.
Follow the marked guidelines precisely. Strive for perfectly straight topstitching and creatively stitched pockets. Make small muslin tweaks to adjust the fit. Seek out quality rivets and hardware for an authentic look.
Interfacing
Next, be sure to cut the fusible tricot interfacing along the grainline, since denim needs stretch and flexibility. Pick the right interfacing to keep denim's durability while allowing flexibility. Cut tricot on grain so it'll stretch. Fuse gently to the wrong side per the instructions.
Your skills grow as you handle denim with finesse and purpose. With patience, the perfect pair awaits your practiced hands.
| Interfacing Type | Weight | Uses |
| --- | --- | --- |
| Fusible tricot | Lightweight | Shirts, blouses, lightweight jackets |
| Fusible weft | Medium weight | Casual jackets, pants |
| Fusible hair canvas | Heavy weight | Tailored blazers, suits |
Sewing Techniques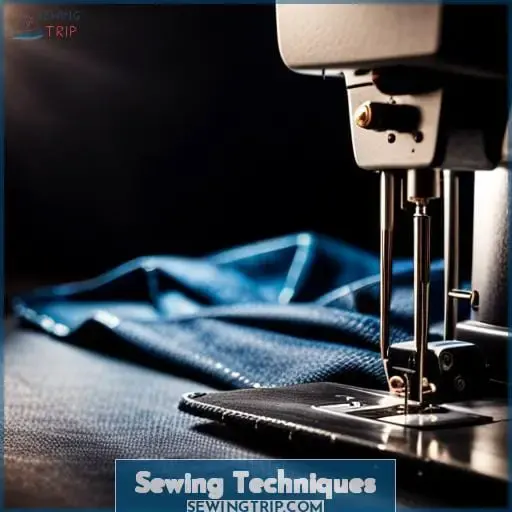 For sewing jeans, begin with the proper thread, needle, and pressing tools. Carefully finish the seams and hem using techniques friendly to denim for a sturdy, professional result.
Thread
You'll want to stock up on this Coats and Clark extra strong thread for jeans to tackle your denim seams and hems. The early bird gets the worm! Opt for a poly-cotton thread in tan or golden hues to blend with decorative topstitching.
Match thread weight to needle size, such as a Jeans needle 80/12 works with Tex 30-40 thread. Increase tension slightly for balanced stitching. Poly threads withstand friction, but cotton gives a vintage look.
Needle
Use Schmetz's specialty denim needles for sewing denim projects with ease. Selecting the right needle is essential for sewing denim. Schmetz Denim needles are optimized for piercing tough fabrics without bending or breaking.
Their larger eyes and scarves accommodate thicker threads. Pair these needles with durable threads to construct seams and hems that withstand wear without failing.
Pressing
Properly pressing your seams keeps denim flat and prevents bulk.
With the iron on the cotton setting, apply steam generously as you press seams open.
Let sections cool between presses and use a clapper to set the seam.
Give hems and waistbands an extra boost of steam before topstitching.
Seam Finish
Wowza! The faux flat-felled seams you finesse for your denim will be slick as a whistle and tougher than a two-dollar steak. After stitching the inseam, trim and grade the seam allowances. Fold one edge under and topstitch along the fold for a faux flat-felled seam.
Try mixing and matching techniques on each leg seam for interest. Add interest by stitching shapes or random lines on the legs before washing.
Hem
Once hemmed, your fashionable clothes will feel more finished and professional. When hemming jeans, finish raw edges with pinking shears or serging before folding up. Use clips, pins, or basting stitches to hold the hem in place. Consider a wider hem allowance, like 3/4 inch, to accommodate shrinkage.
For heavy denim, hammer the hem before sewing to flatten thick layers. Take care not to stretch the denim when stitching. Pressing the hem helps keep things tidy. Experiment with different hemming techniques and tools when making jeans at home.
Choosing a Jeans Pattern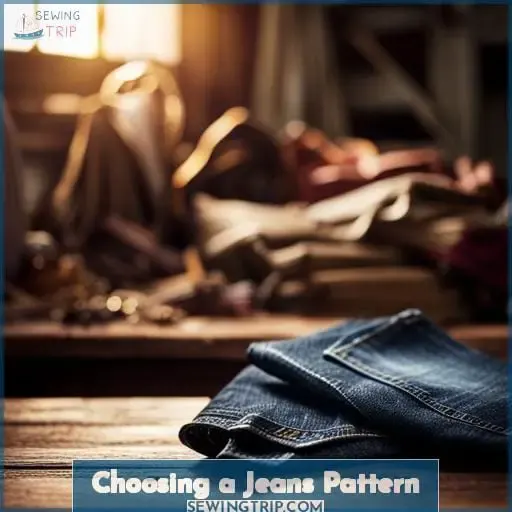 When sewing jeans, choosing the right pattern is crucial for a great fit. Consider options like Leonora for a denim skirt or Weston for high-waisted shorts that suit your style and current wardrobe needs.
Mixing up the length and structure of sentences can help the writing sound more natural. Varying vocabulary by using words like 'suit' rather than repeating 'fit' makes the language more engaging.
Leonora
You'll find the Leonora skirt pattern works great for lightweight stretch denim. The loose gathering and exposed back zipper promote a sense of liberty in the design. The silhouette has a feminine fit-and-flare A-line shape that flatters most figures.
Play up the denim style with bold contrast topstitching on the waistband, hem, and side seams.
Pretty panel shaping provides visual interest. Optional pockets keep hands cozy. Hem seams showcase visible topstitching.
With some creative topstitching, the Leonora makes a chic denim skirt perfect for weekends and layering. Try adding funky pockets or exposed bias binding along the hem for extra flair. The pattern's loose ease offers comfort while the stretch denim moves with you.
Sew it up in multiple washes of blue denim or branch out with black, white, or patterned lightweight denims too.
Weston
You can sew high-waisted denim shorts with the Weston pattern. Embrace the retro styling with a high waist, front pockets, and yoke detail. This unisex design allows you to play with denim shades, pops of color, and personalization touches like embroidered pocket flaps or shaped belt loops.
Practice professional techniques like flat-felled side seams, proper topstitching, and adding rivets or snaps.
Adelaide
Consider the lightweight denim dress of Adelaide as your next jeans project, bringing a breezy femininity through its flattering cut and carefree spirit. The Adelaide dress pattern offers adjustable straps and a full skirt with pockets for a fun denim dress.
Pair it with retro-inspired denim hardware and visible topstitching in a contrasting thread. Make fitting adjustments to the muslin before cutting into your lightweight denim fabric for the perfect breezy denim dress.
Understanding Denim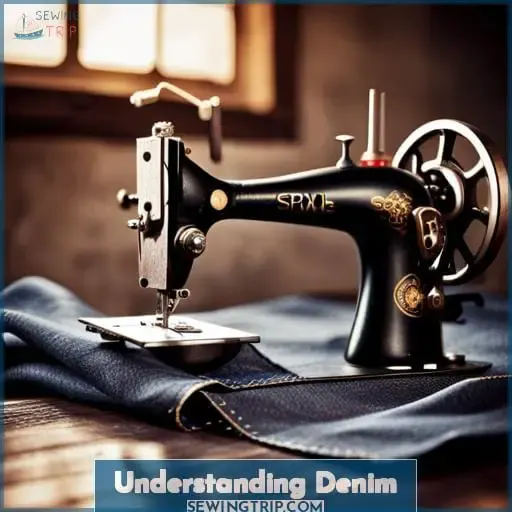 Whether you're drawn to the vintage look of denim or its durability, understanding the unique properties of this fabric is key for sewing jeans successfully. Originating as a French sailcloth in Nîmes called serge de Nîmes, denim's distinctive diagonal twill weave and 100% cotton content impart strength, shape retention, and comfort stretch when worn.
With care to prewash, interface, stitch, and press properly, you will avoid common pitfalls when constructing jeans and maximize denim's versatility.
Origins of Denim
Delving into denim's history provides perspective on today's durable duds. Denim originated in the French town of Nîmes, where the fabric was called serge de Nîmes. This twill-weave textile was durable and ideal for workwear. Levi Strauss & Co.
began manufacturing denim jeans in the 1870s. Denim became a staple fabric in the 20th century and evolved into a fashion icon that remains strong today.
Characteristics of Denim
Thankfully, denim fabric beckons you like an old friend with its sturdy cotton weave and signature diagonal ribbing that screams durability. Denim's characteristics make it the ideal fabric for casualwear and workwear apparel.
Weight – Generally 8-16 oz/yd2 – Provides structure and shape retention
Weave – Twill weave with colored warp & white filling yarns – Creates signature diagonal ribs and minimizes fraying
Fiber Content – Typically 100% cotton or cotton-polyester blend – Breathable with slight stretch for comfort
You can leverage denim's unique properties during your next project. Consult denim notions guides and online communities when selecting the right denim fabric.
Tools and Equipment for Sewing Jeans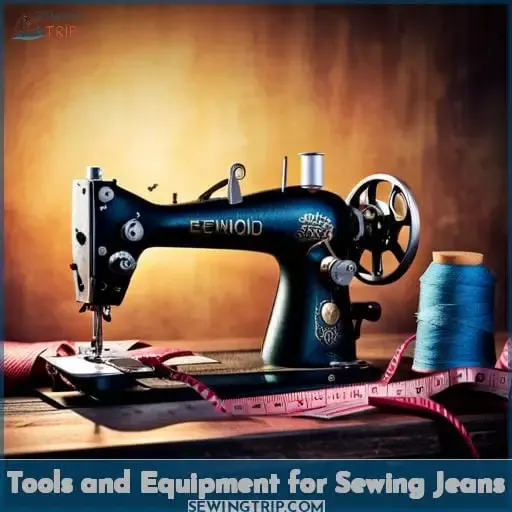 You'll make quick work of denim projects with heavy duty needles and thread. Having the right tools and equipment for sewing jeans will ensure success.
Denim needles (size 80/12-100/16) for piercing multiple layers
All-purpose polyester thread or heavier topstitching thread
Jeans presser foot to feed fabric smoothly
Rotary cutter, sharp shears, and fabric marker
Clapper and sleeve roll for crisp pressing
Don't let the thickness of denim intimidate you. With specialized denim sewing tools, you'll have the confidence to create durable garments that last. Focus first on selecting the proper needles and thread for your fabric weight. Then utilize products designed to control slippery denim layers, like the jeans foot.
Having the right equipment ensures even stitching and a polished finish on your handmade denim apparel.
Different Sewing Methods and Seams for Jeans

Now that we've covered the tools and equipment needed for sewing jeans, let's explore the different sewing methods and seams that bring durability and style to your denim creations.
Start by perfecting your topstitching techniques. This key detail not only reinforces seams, but also adds decorative elements. Play with thread weights and stitch styles. Then elevate the finish of your seams.
Consider serged seams for stretch denim or flat-fell seams for a clean finish on the inside. Strategically place rivets at stress points to increase longevity. Personalize your jeans by embellishing the back pockets – both the stitching and fabric choices offer creative opportunities.
Lastly, confirm the fit. Make minor adjustments to the pattern and finesse the waistband and side seams until your denim design hugs you perfectly.
Common Challenges in Sewing Jeans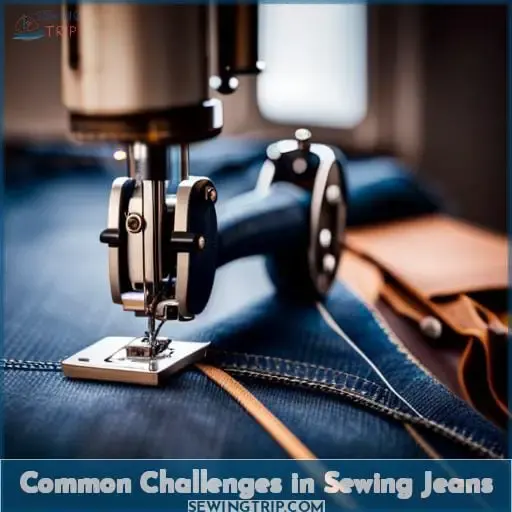 Sewing jeans presents unique challenges compared to other garments. You may encounter the following issues:
Improper fit requiring adjustments like taking in the waist or thighs.
Uneven topstitching from fabric thickness.
Embellishing back pockets demands precision.
Seam puckering from poor tension or fabric handling.
Dealing with denim stretchiness and sagging.
With patience and practice, you can master jeans construction. Try different needle types, test stitch settings, grade seams, and use starch when topstitching. Fit muslins and tissue fittings help immensely. Seek advice from denim sewing experts through books, blogs and online communities.
A 9 million ton building will not breathe, so hammer seams flat before stitching them.
Selvedge and Thread Choices for Jeans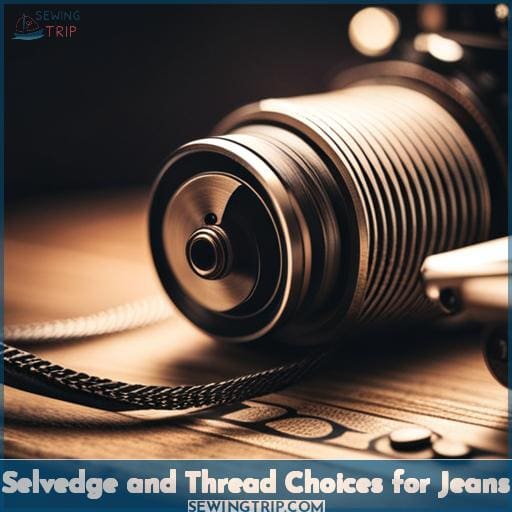 With the right selvedge and thread, your blues become radiant rays illuminating new creative paths. When sewing jeans, selvedge edges provide structure and prevent fraying. Opt for raw or colored selvedge for exposed design details.
Match lightweight thread to lightweight denim and heavyweight to heavy for strength. Polyester withstands friction; cotton has a natural look. For decorative stitching, use thicker topstitching thread.
Adjust tension and length for skipped stitches. Denim's diagonal twill weave has lengthwise grain flexibility but minimal crosswise stretch. Mark directional grainlines and patterns carefully. Test stitch settings on scraps first.
Finicky fabrics demand patience, but mastering tricky techniques is rewarding. Your handcrafted jeans will drape and move with your body beautifully.
Tips for Making Jeans at Home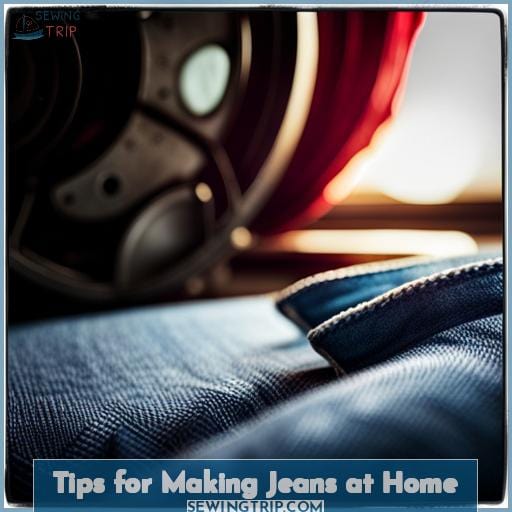 Care deeply to perfect your craft of jeanmaking. Invest in high-quality denim fabric, threads, rivets, and hardware. Master professional techniques like sewing darts, yokes, zipper flies, waistbands, belt loops, and pockets.
Follow a few key steps:
Choose the right denim weight and stretch for your pattern.
Make a muslin and fine-tune the fit.
Use the correct denim needle and thread.
Employ creative stitches and prints for a custom look.
With dedication to the details, you can sew amazing jeans that fit perfectly. Join online groups to learn from fellow makers.
Troubleshooting and Undoing Sewing on Jeans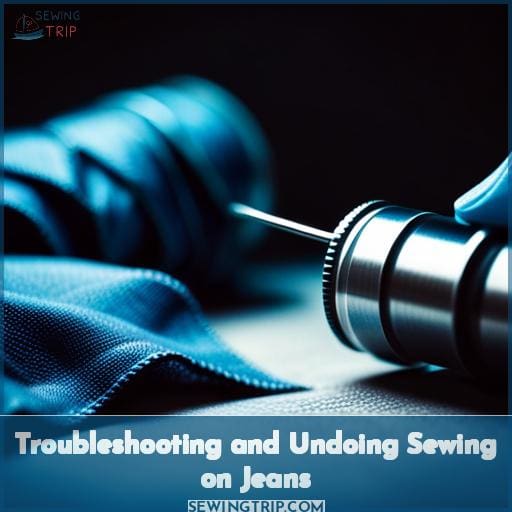 You'll want to unpick your sewing right away if you've made a mistake on those jeans. Carefully sliding a seam ripper under stitches is the best method for undoing sewing errors. Go slowly, lifting the fabric frequently, to avoid damaging the denim. Check bobbin tension and rethread the machine if skipped stitches are the issue.
For crooked topstitching, use a chalk pencil to remark a straighter guideline. Remove large hem allowances before re-hemming to the proper length. Adjust presser foot pressure if the fabric wasn't feeding evenly. Don't worry about mistakes – correcting errors is part of perfecting your skills.
Conclusion
With a bit of practice and the right tools, making jeans at home can be an incredibly rewarding experience. From mastering the perfect topstitching to finding the ideal pattern, sewing jeans is a great way to customize the perfect pair! This guide has all the tips and tricks you need to get started.
Understanding the properties of denim fabric and selecting the right thread and needle are important first steps. Then you can master the various techniques and methods for constructing jeans. With this knowledge, you'll confidently take on any denim sewing project with ease.
What are you waiting for? Start sewing your own jeans today!