This site is supported by our readers. We may earn a commission, at no cost to you, if you purchase through links.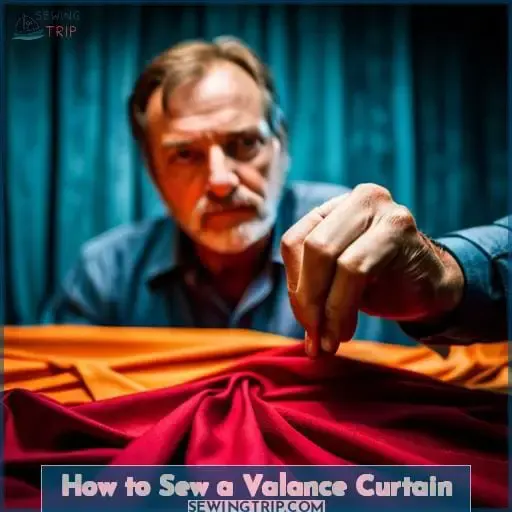 Exploring how to sew a valance is an exciting endeavor for any DIY enthusiast. After all, with the right tools and techniques, you can transform your window in no time! Whether you're looking to create a sleek modern look or something more traditional, learning how to make these curtains yourself gives you full control over the design process.
From measuring for your valance and cutting fabric accordingly to hemming edges and perfecting pleats or ruffles – we'll walk through each step of this journey together so that by the end of it, you'll have mastered sewing your own beautiful window treatment!
Key Takeaways
Measuring tape or ruler to determine window frame dimensions.
Fabric selection that complements room color scheme and textiles.
Essential supplies including threads, rulers, pins, and scissors.
Finishing touches such as trim, piping, and layers to enhance valance.
Supplies Needed to Sew a Valance Curtain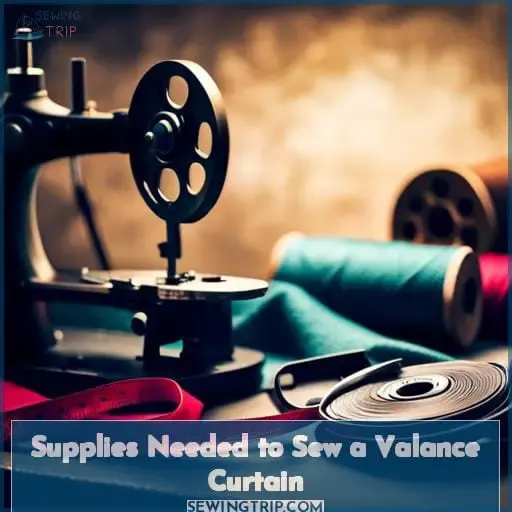 To create your perfect window treatment, you'll need a few key supplies for crafting a beautiful curtain to enhance your decor. Measuring techniques are crucial to ensure the valance fits perfectly on your window.
Use a measuring tape or ruler to determine the width and length of your window frame, as well as how far down you want the valance to hang.
Design inspiration is essential when choosing the style and design of your valance curtain. Consider browsing through home decor magazines or websites for ideas that match your personal taste and existing interior design.
Fabric selection plays an important role in creating a visually appealing valance curtain. Choose fabrics that complement both the color scheme of the room and any other textiles present, such as curtains or pillows.
Additionally, consider factors like fabric weight, texture, pattern repeat (if applicable), durability requirements (for high-traffic areas), and ease of maintenance when selecting materials.
Valances come in various styles ranging from simple straight designs to more elaborate swags or cascades with pleats or ruffles at different intervals along their lengths. Decide which style best suits your aesthetic preferences before purchasing supplies accordingly.
If desired, valance embellishments can add personality by incorporating trims such as beads, tassels, braids, among others. It's essential not only to add these but also to pay attention while sewing them.
Buying threads, rulers, pins, and good quality scissors should be considered while grabbing required items.
Remember all the above-mentioned tips about measuring techniques, fabric selections, valance styles, and embellishments would give an insight into what exactly is needed during the sewing process.
Measuring for Your Valance

Measure the width and length of your window, taking into account the desired size and placement of your window treatment. For a fabric valance, you'll want to measure the width of the window frame where you plan to hang it.
Additionally, consider how long you want your valance to be. Valance length typically covers either the top quarter or third of the window, but it's ultimately up to personal preference.
Once you have determined these measurements, add an extra 5 inches in width and 3 inches in length for hemming purposes. Hemming techniques can vary depending on which style suits your taste best – whether that's a clean folded edge or decorative pleats along with ruffle styles.
If you're opting for a no-sew option using plywood instead of fabric alone as part of the Type 1 method mentioned earlier, make sure to take accurate measurements when measuring the wood plyboard. This will ensure that you don't cut them too short or waste material by cutting longer than necessary dimensions.
By measuring accurately beforehand, you ensure that each step towards creating a tailored-made look is executed flawlessly thanks to meticulous calculations.
Step-by-Step Guide to Cutting Your Fabric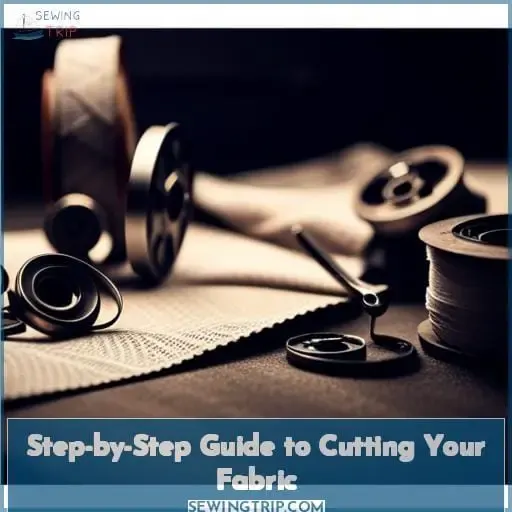 After prepping your workspace, carefully unroll your valance fabric and align the pattern before making precise cuts with sharp fabric scissors.
Measuring techniques are crucial at this stage to ensure accurate dimensions for your valance. Take into consideration the window width and desired length of the valance, adding a few inches for hemming purposes.
Fabric selection is also important as different fabrics will give varying results in terms of drape and appearance. Once you have chosen your fabric, it's time to start cutting! Use reliable cutting tools like a rotary cutter or fabric scissors that will provide clean edges without fraying or tearing the material.
Before making any cuts on your main piece of fabric, consider using smaller scraps first to practice hemming techniques such as folding over raw edges and sewing them down with a sewing machine or by hand using small stitches.
When ready to cut the actual valance piece, lay out your fabric layout flat on a large table or clean floor surface, ensuring there are no wrinkles or folds that could affect accuracy when cutting.
Use measuring tools like rulers to assist in creating straight lines during this process if needed, but be careful not to stretch or distort the material while doing so!
Take steady strokes with sharp shears along marked lines until all pieces have been cut according to measurements made earlier.
Sewing Techniques for Creating a Valance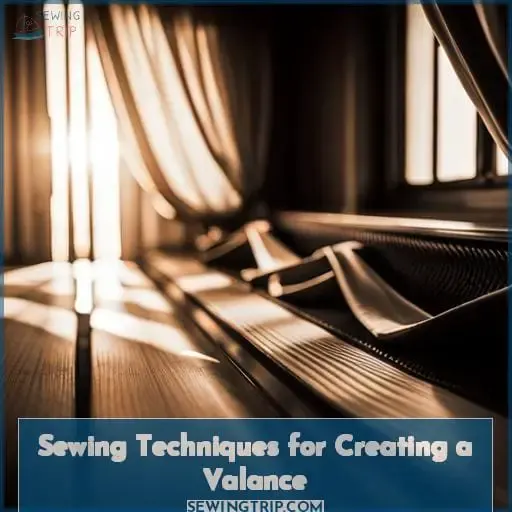 To achieve a polished and professional finish for your valance, you'll need to master the art of hemming the edges and creating pleats or ruffles. By carefully folding and stitching the fabric, you can create clean hems that prevent fraying while adding decorative elements like pleats or ruffles for added flair.
With these techniques in your sewing arsenal, your valances will have a tailored look that elevates any window decor.
Hemming the Edges
Create clean and polished edges on your fabric by folding and securing them with pins.
Hem Tape: Use hem tape to create a quick and easy no-sew hem. Simply fold the fabric over the tape, press with a hot iron to activate the adhesive, and secure it in place.
Edge Stitching: Sew a neat finish by stitching a straight stitch close to the edge of your folded fabric using matching thread.
Sewn Hem/Pocket: Create an elegant pocket at the top of your valance by folding over about 2 inches of fabric twice towards its wrong side or desired length if you prefer it shorter.
Valance Embellishments: Add decorative touches like trims or ruffle styles along the bottom edge for extra flair.
Creating Pleats or Ruffles
To achieve a more intricate and decorative look, gather the excess fabric at regular intervals to form pleats or ruffles. Pleat styles such as box pleats, inverted pleats, or knife pleats can add sophistication and elegance to your valance.
Experiment with different fabric gathering techniques like pinch-pleating or smocking for unique textures and visual interest. If you don't have access to a sewing machine, consider using alternatives like stitch witchery or fabric glue to secure your gathered folds in place.
Additionally, you can enhance your valance with various embellishments such as lace trimmings, ribbons, or buttons for added charm and personality.
Pleat Styles:
Box Pleat
Inverted Pleat
Knife Pleat
Fabric Gathering Techniques:
Pinch-Pleating
Smocking
Ruffling
Transforming a simple window valance into an eye-catching focal point is easy when you explore different ways of creating pleats or ruffles. By incorporating these techniques into your sewing project, you can elevate the style of any room while adding depth and dimensionality to the overall design.
As you experiment with various options, you'll discover that each type of fold creates its own unique aesthetic. From structured box pleats to flowing knife pleats, the possibilities are endless. Consider lining your valance with contrasting fabrics for added flair, and don't forget about practicality: including rod pockets on top will allow for easy installation onto drapery rods.
Additionally, don't be afraid to incorporate additional elements such as ribbon trims, lace accents, and even button embellishments. The key is to let your creativity shine and embrace personal touches that reflect your individual style.
Tips for Finishing Your Valance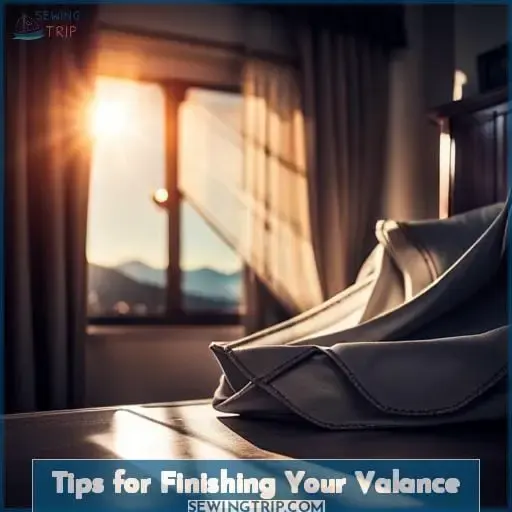 For a polished look, make sure to add decorative trim or piping to your window treatment. Adding this finishing touch can enhance the overall aesthetic and create a more sophisticated appearance.
There are various options when it comes to selecting fabric for your valance, allowing you to get creative with different patterns, colors, and textures. Consider using a table runner as an alternative fabric option for a unique and stylish look.
Another way to elevate the design of your valance is by incorporating different layers. Layering multiple valances in coordinating fabrics creates depth and visual interest in any room.
When it comes time for installation, tension rods offer an easy solution that requires no drilling or hardware installation on window casings. Simply adjust the rod's length according to your window width and place it inside the casing at desired height levels.
Tension rods work well with lightweight fabrics like sheer curtains or lace materials.
To secure fabric without sewing skills while maintaining neat corners, use square dowels instead of traditional round ones. They provide stability during the attachment process, preventing bunching which results from stapling directly into the wood frame.
Finally, consider using staples instead of sewing when attaching fabric to the plywood for an efficient and quick method. Add your finishing touch by incorporating decorative trim or piping around the fabric edges.
Choose from a range of trim options, such as fringe, tassels, pom-poms, or beaded details, to add a personalized look to your valance design.
Incorporating these tips will help you achieve professional-looking results even if you don't have advanced sewing skills!
How to Make a Window Valance From a Table Runner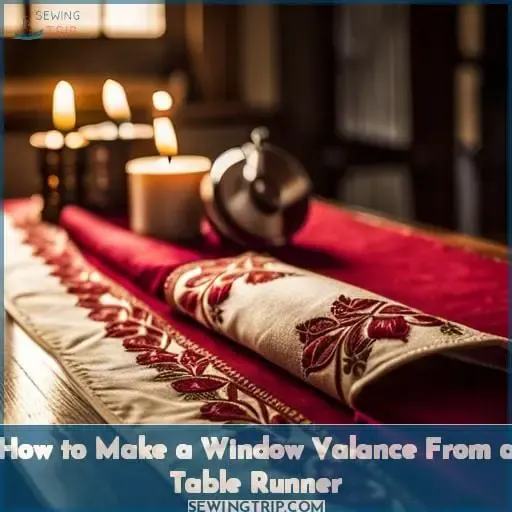 Use a decorative table runner to transform it into a stylish window treatment by folding and attaching it above your windows. Sewing techniques may not be necessary for this project, as you can easily create a beautiful valance using alternative materials and no-sew alternatives.
Measure your window: Start by measuring the width of your window to determine the size of the table runner needed for your valance.
Fold and attach fabric: Lay out the table runner on a flat surface, with its pattern facing down. Fold each end inward towards the center, creating pleats or folds that add dimension to your valance design.
Secure with decorative trims: To add extra flair to your valance, consider attaching decorative trims along the folded edges using fabric glue or adhesive tape strips specifically designed for fabrics.
Hanging options: There are different ways you can hang this modern valance. You could use curtain rod brackets placed just above the window frame so that they remain concealed when hung up. Alternatively, you could also use self-adhesive hooks attached directly onto the wall behind each end of the valance.
By following these simple steps, you can create an elegant and unique DIY window treatment without having to sew anything together.
DIY Modern Valance Ideas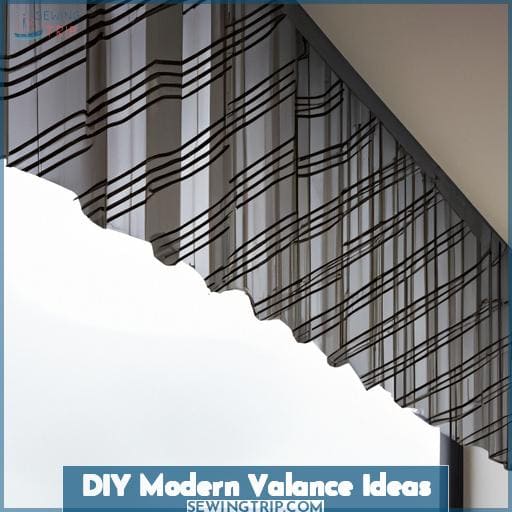 Explore various creative and accessible ideas to transform your windows with modern DIY valances. Modern valance designs offer a stylish twist to your window decor, and crafting them doesn't have to be complicated.
When it comes to valance fabric selection, consider opting for bold patterns or subtle textures that match your interior aesthetics. Remember, the right fabric can make all the difference in achieving the desired look.
Valance hanging techniques are essential to ensure a polished finish. Whether you're using a plywood valance or a dowel valance, secure them to the window casing with screws or brackets to ensure stability.
This also prevents any unsightly sagging that could detract from the overall appeal.
Valance color schemes play a pivotal role in tying the room together. Harmonize the colors with your existing decor or use the valance as a pop of contrasting hue to add visual interest. To take it a step further, consider valance embellishment ideas such as adding trims, tassels, or even stenciled designs to give your valance a unique and personalized touch.
With window casings as your canvas, cut plywood can be transformed into an elegant valance with clean lines. Alternatively, explore the simplicity of dowel valances, offering a more minimalistic yet chic appearance.
Whichever style you choose, modern valances provide a wonderful opportunity to elevate your window decorating game and achieve a sense of mastery and control over your home's interior design.
Top 5 Cordless Electric Scissors for Sewing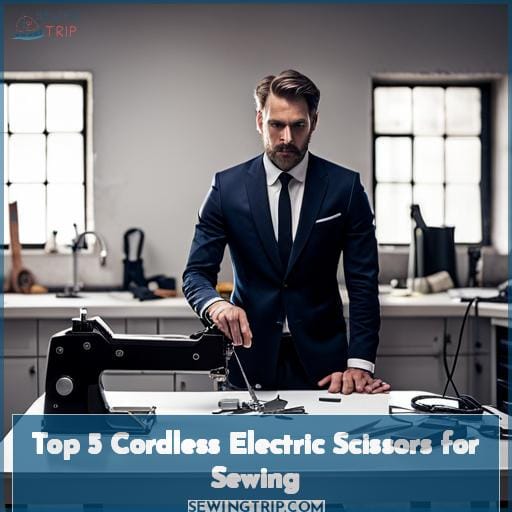 Try the WORX ZipSnip cordless electric scissors to effortlessly cut your fabric for the valance. The blades glide through fabric with precision thanks to the high torque motor and auto-sharpening system.
Never worry about running out of battery during a project again with the convenient LED indicators showing charging status.
Compare top options like:
KAI 5210 8-Inch Dressmaking Shears – All steel construction and micro-serrated blade prevent fabric slipping during cutting.
Singer Professional Series 8-inch Fabric Scissors – Titanium-coated blades remain sharp for over 10x longer than stainless steel.
Fiskars Softgrip Micro-Tip Pruning Snips – Perfect for detailed cuts, the micro-tip blades provide more control, ideal for tricky curved edges.
Look for features like sharp blades, lightweight handles, comfort grips, and blade coatings when selecting fabric scissors. Read reviews and customer ratings when comparing brands for the best sewing scissors to match your projects.
Find the right cordless electric scissors to take the effort out of cutting fabric for your stylish DIY valance.
Essential Tools for Sewing a Valance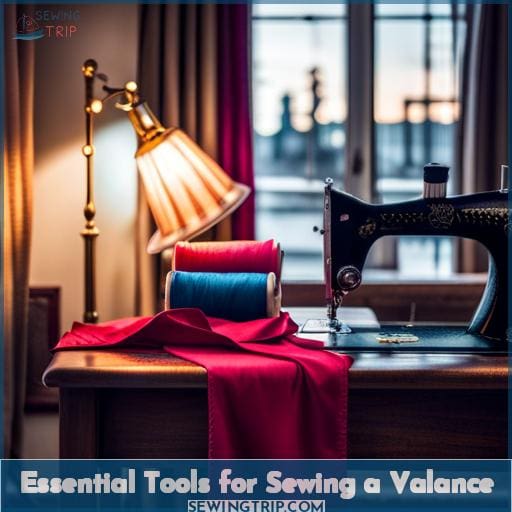 Your window valance will come to life with a few essential tools. For carefully measured cuts, reach for the precise PORTER-CABLE 14-Inch Chop Saw. Sturdy wooden dowels from the craft store provide structure within the folds, and a YEAHOME Upholstery Staple Gun Kit attaches fabric neatly behind the scenes.
PORTER-CABLE 14-Inch Chop Saw
Cut quickly and precisely with the Porter-Cable 14-inch chop saw. Its powerful 15-amp motor spins the durable 14-inch blade at 3,800 RPM to deliver clean cuts through wood, metal, and plastic. The quick-release clamp and adjustable miter fence allow you to securely hold material at precise angles up to 45 degrees.
A spark deflector provides operator safety while giving a clear line of sight. Grow your skills with tips on techniques, safety, cutting angles, projects, and selecting the right material. Before pictures of completed projects tell the story of mastery with this versatile chop saw.
Wooden Dowel Rods for Crafts
Stick with these smooth wooden dowels to easily build mini greenhouses and adorable plant stands for your home decor projects. Let your creativity run wild with the endless possibilities. Twist and turn the wooden sticks into imaginative shapes, structures, and designs.
Craft decorative accents like wreaths, wall art, centerpieces, and more. Use the natural dowels to add artistic flair to any space or construct useful organizing solutions. With practice and precision, transform the versatile rods into crafty keepsakes and impressive gifts for loved ones.
The only limit is your imagination when crafting with these fundamental materials.
YEAHOME Upholstery Staple Gun Kit
Attach your fabric to the plywood board with the heavy-duty YEAHOME staple gun kit for sturdy valance construction.
Accepts four staple types – D, U, T, pin – for versatility.
Heavy-duty steel build for durability when stapling fabric.
Adjustable power levels to suit soft and hard materials.
Ergonomic grip provides comfort during prolonged use.
Quick reload design enables efficient, continuous stapling.
With its all-steel construction and ability to handle 1000 staples of each type, the YEAHOME staple gun kit provides the power and versatility needed to securely fasten fabric for your custom DIY window valance.
How to Sew a Valance Without a Sewing Machine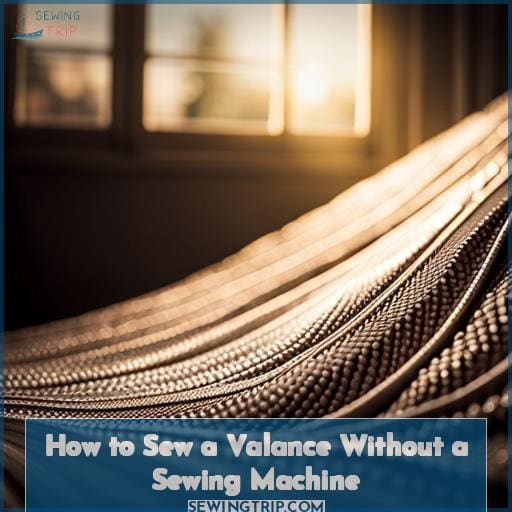 You'll achieve a custom look by folding and hemming the fabric according to the window measurements. While a sewing machine offers more elaborate options, you can craft beautiful no-sew valances with some clever hand stitching and creative material manipulation.
Try using iron-on hem tape for clean, finished edges along your folds. Apply it to the inner fabric edges as directed.
Embellish your valance fabric with appliques, trims, lace, or fabric paint before assembling.
Play with different fold styles – accordion, box pleat, inverted triangle – for unique shapes and fullness.
Secure your no-sew valance with Command hooks, Velcro, tie-backs, or rod pockets.
Mix and match complementary patterns and textures in your valance fabric layers. Contrasting colors and fabrics add visual interest.
With some ingenuity and basic hand stitching, you can design and install stylish no-sew valances that elevate your windows.
Conclusion
Creating a window valance is a rewarding experience that can truly transform the look of any room. With the right tools and techniques, you can craft a stunning valance that is sure to impress.
From fabric and plywood to a simple table runner, the possibilities are endless when it comes to sewing a valance. With the help of powerful cordless electric scissors, a chop saw, and an upholstery staple gun, you can easily craft a beautiful valance that is sure to make your home stand out.
So grab your supplies and get started on your own DIY valance curtain today!