This site is supported by our readers. We may earn a commission, at no cost to you, if you purchase through links.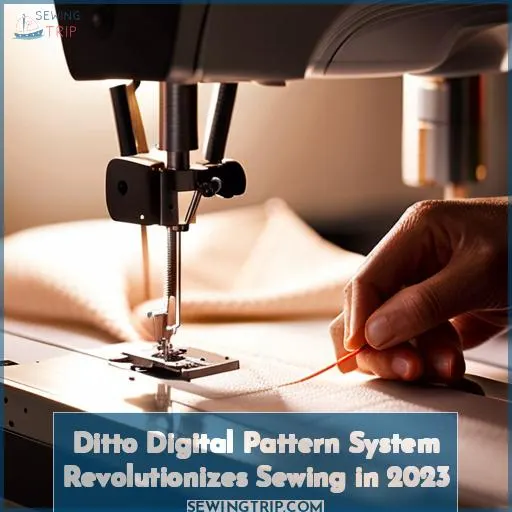 Free at last! You've been waiting, longing for this moment – the freedom to make clothes that truly express the real you.
With Ditto's revolutionary digital sewing technology, the future is threadbare no more. Let your inner designer break free from the confines of mass-produced patterns and sizes.
Ditto puts the power in your hands to craft the custom-fitted fashions your heart desires. This groundbreaking system is your key to unlocking a world of creative possibilities and inclusivity in sewing technology.
So go ahead, bring your boldest visions to life, and drape yourself in the one-of-a-kind clothes that reflect the beauty of your unique spirit.
The time is now to step into your destiny as the couturier you were meant to be!
Key Takeaways
Customizable digital patterns revolutionize sewing by providing perfect fit for all body types and unlimited creative options.
Powerful algorithmic intelligence enables seamless digitization of patterns, streamlining the design process.
Wireless projection and paperless functionality offer enhanced accessibility, portability, and efficiency.
Partnerships between established brands are paving the way for inclusive technological innovation in sewing.
A New Era in Sewing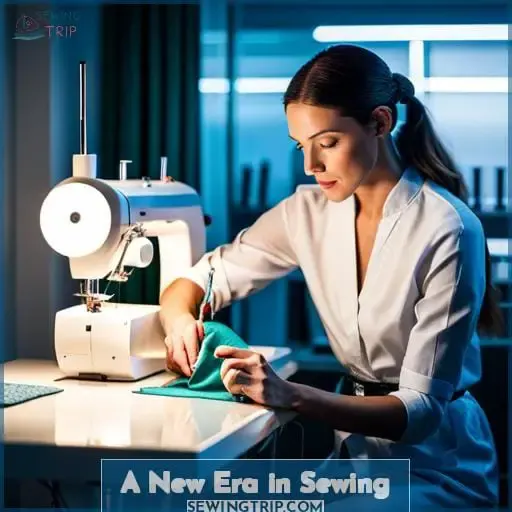 You're entering a new era of sewing with revolutionary technology that will change your design process forever. The innovative Ditto Digital Pattern System from Singer and Joann completely transforms traditional paper patterns into a customizable digital projection for any body shape or style.
Now you can create precision-fitted designs, adjust them in real time, and print physical projects, all with easy portability using this intelligent projection system. Ditto liberates your skills like never before by saving you time and giving you unlimited creative control.
Ditto Digital Pattern System
You're on the edge of your seat as Ditto revolutionizes your creative process! With digital shapes projected instantly, just imagine the clothing possibilities. Share original Ditto patterns with your sewing groups or sell your own designs. The Ditto app and platform empower you as a designer, freeing you to create inclusive fashions for all.
Ditto developers bring this innovative digital projection to life, ushering in a new era of fabric technology and pattern sharing.
Revolutionary Technology
Revolutionary Technology
What a game-changer you experience as Ditto's digital projection revolutionizes your creative process! This revolutionary technology brings custom fit and endless design options right to your home. With algorithmic intelligence, Ditto spent years in development to provide the ultimate in accessibility, inclusivity, and comfort for all bodies.
Ditto System Benefits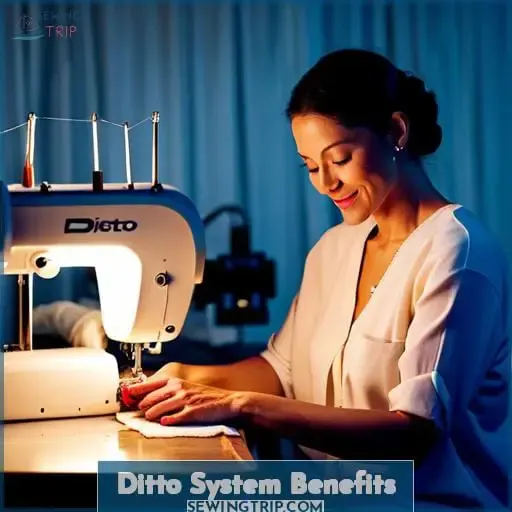 You're going to revolutionize your sewing with the game-changing Ditto system. It will save you hours of struggle by projecting customizable digital patterns for any body size. The portable projection setup allows you to design clothes anywhere without frustrating paper patterns.
Saves Time and Paper
Ditto eliminates the time and paper waste of traditional patterns. This smart scaling system provides an affordable, ecological alternative to pdf patterns and lofty goals. With custom measurements and digital convenience, Ditto offers everyday sewists a revolutionary capability beyond traditional paper patterns.
This intelligent projection system frees skills and creativity like never before.
Customizable Sizing
You can finally sew clothes that actually fit your measurements with Ditto's customizable sizing. Simply input your specific measurements into the Ditto app, and it will instantly resize any pattern to match your body.
Now, patterns adapt to you instead of the other way around. Say goodbye to size charts and alterations – with Ditto, your creations will fit you perfectly right off the sewing machine. Measurement-based customization unlocks freedom of fit and design for bodies of every shape and size.
Portable and Accessible
Pack it up and take it anywhere.
Set it up in seconds with no hassle.
Customize patterns on the spot for any event.
Ditto's wireless projection and inclusive adjustment empower you with pattern accessibility, letting you design solutions for ultimate comfort from any location. Say goodbye to ill-fitting standard sizes and say hello to custom templates tailored to your unique measurements, whether at home or on a cutting mat in the park.
This liberating technology makes patterns seamlessly accessible to home sewers anywhere.
The Future of Sewing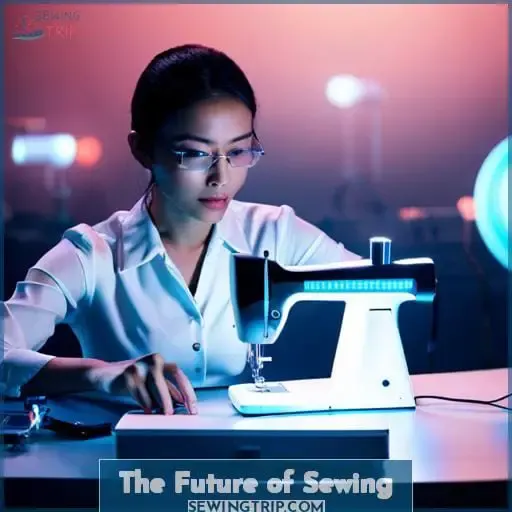 The future of sewing is bright as new technology opens doors! Ditto digital patterns allow anyone to design clothes that fit their style and body. This democratizes the once-exclusive world of fashion by empowering all sewists.
The innovative projection system also fosters inclusivity by adapting sizes for bodies of every shape.
Democratizing Design
Build your fashion empire without limits as Ditto breaks barriers and makes designing democratically accessible.
Sew your own vision as Ditto enables beautifully bespoke style without unique bodies or supplies limiting your dreams. With innovative algorithms, frequent updates that respond to the community enable a flexible, customizable future of sewing – with privacy secured.
Fostering Inclusivity
Soar to the heights of self-expression as Ditto empowers inclusive couture custom-fit for every body. Embrace your unique style with Ditto. Sewing patterns adapt to your measurements, not the other way around, celebrating the progress of the individual.
Fabrics sustainably sourced, software integrated, the sewing community growing. Design democratized, inclusivity fostered.
Empowering All Sewists
Design your destiny as Ditto unleashes your inner couturier. Feel the freedom of flawless fitting as virtual tutorials guide your scissors through custom alterations. Poly dryblend moisture-wicking properties empower your active lifestyle while tearaway labels enable you to anonymously share your own patterns.
Online communities connect real sewists worldwide. Shield flextech protects your ideas as seamless double-needle construction inspires you to design without limits.
Ditto Launch Details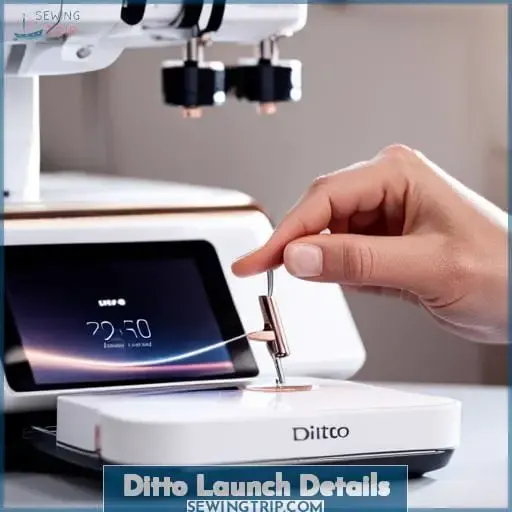 JOANN and Singer have cooked up something you're going to love! This March, they'll launch Ditto, a game-changing digital pattern system. With just a projector and an app, you'll have access to hundreds of patterns from all your favorite brands.
The days of struggling with paper are over – Ditto allows you to customize designs and adjust sizing in real time.
JOANN and Singer Partnership
You're revolutionizing fashion by teaming up with Singer to launch Ditto's groundbreaking digital patterns!
Unlimited design options with pattern diversity
Adapt sizing for all bodies with pattern scaling
Virtual sewing and fabric simulation
Partnering with Singer combines 170 years of expertise with JOANN's retail power. Offering a convenient single source, your joint venture creatively innovates sewing.
Available March 2023
Ditto is available to order in March 2023, bringing innovative digital sewing into your home. This revolution evolves apparel technology, serving creative souls. Patterns empower custom garments, inclusive fits, and designer skills for all.
Experience belonging through the inclusive future of craft. Textiles evolve with each stitch.
Hundreds of Patterns
Here are hundreds of patterns to jump into with Ditto's system, unleashing your inner designer while crafting custom garments that fit beautifully. Affordable subscriptions open endless design possibilities, inspiring creative expression through seamless custom clothing.
Go paperless with Ditto's patterns – hundreds of customizable patterns and more from major brands and indie makers, effortlessly adjusted for your perfect fit.
Expert Opinions on Ditto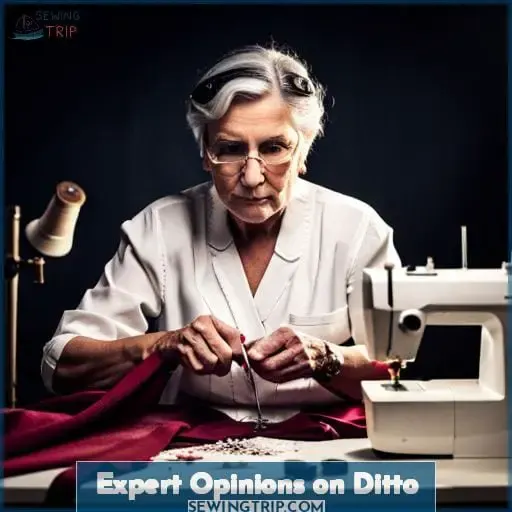 Sewists, get excited! Ditto is a total game changer for sewing that addresses key frustrations we've had for years. This super cool, simple system is revolutionary, saving hours of time and allowing anyone to design.
Ditto is the biggest innovation in sewing in over 160 years – finally, we can say goodbye to the limits of paper patterns.
Game Changer for Sewing
Stitch into the future as Ditto revolutionizes your creative process. With this brilliant innovation, your design dreams become reality. Bid goodbye to struggles with sizing and limitations. Personalize any look in seconds and actualize your visions.
Disseminate your creativity with the world – Ditto empowers you as the designer.
Addresses Key Frustrations
You're going to throw those pattern struggles out the window with this game-changing projection system. Just click, customize, and watch your visions emerge. Sewists rejoice at accessing thousands of patterns, adjusting them in real time.
This technology revolutionizes patterning for bodies of all shapes and sizes. Feel the joy of making garments that truly fit you.
Super Cool and Simple
It's super cool how simply you can adjust and customize patterns in real time with Ditto. In minutes, this portable system turns anyone into a designer. At events, project your unique creations, including custom sizes.
This easy setup saves paper and fosters inclusive fashion with designs like Elbeco, Ditto and Madalynne Intimates.
Frequently Asked Questions (FAQs)
How much does the Ditto system cost?
The Ditto digital pattern projection system costs $799 at launch for the complete portable package. However, a monthly subscription option begins at just $99, giving sewists access to an ever-expanding pattern library to unleash their creativity.
What sewing machines are compatible with Ditto?
You'll be thrilled to know Ditto works with any sewing machine! Simply set up the projector, calibrate your machine, and let Ditto's innovative tech customize patterns right before your eyes. This revolutionary system pairs seamlessly with all machines to unleash your creativity.
How many patterns are available at launch?
Hundreds of patterns are available at launch from top design houses. Sewers, the time is now to join the design revolution.
Can I use Ditto for quilting and craft patterns too?
Yes! Ditto unlocks unlimited quilting and crafting possibilities for you. Its versatile technology projects any pattern imaginable onto fabric, empowering your creativity.
Does Ditto work for knitting or embroidery patterns?
Conclusion
You, the inspired sewist, stand at the threshold of a brave new sewing era. Ditto's revolutionary technology gives you the keys to unlock boundless creativity and personalized design. With Ditto's precision and adaptability, no pattern or garment is out of your reach.
Sized for all, it places the future of sewing in your capable hands. You need only provide the vision; Ditto supplies an inclusive and empowering path to bring it to life. This groundbreaking sewing technology assists you in turning imagination into wearable art.